Sunday Open Thread | Tweeting Revolutions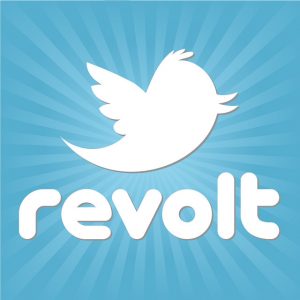 I'm starting off this post with the assumption that most, if not all of you, now know what Twitter is. A couple of months back, it was still pretty much unheard of, or at least not known very widely, but today, courtesy several recent world events, even those not well-versed with the internet have heard of Twitter!
I've been following the evolving situation in the Middle East, particularly Libya and Bahrain these days, on my Twitter feed. It really is fascinating how Twitter has shaped the face of modern revolutions by allowing people to directly post live updates for the world to see (and share like spreading wildfire!), in a very simple manner. One-hundred-and-forty characters are often enough to send your message across and inform, co-ordinate, communicate the latest happenings.
It's true that giving credit to social media sites like Twitter, alone, is neither appropriate nor representative of the facts. However, they have played a major role. When users tweet about the latest happenings, for example, it not only allows people to stay connected but also brings the issue to the world's attention. On Twitter, the 'trending topics' list is constantly updated with the most talked-about topics and keywords on the site, worldwide, allowing people from different nationalities to come into direct contact with one another. We saw that in the Egyptian revolution when protesters were tweeting and posting pictures from within Tahrir Square, the center-point of the uprising.
The Libyan government has clamped down on the internet so it has been difficult to get word out, particularly with the ban on international journalists reporting from Libya. However, stories and updates to leak out and again, we've seen many tweets on Twitter from within Libya, or by proxy. Several international news organizations like CNN have been able to enter Libya through difficult means and are sending reports now. CNN's Anderson Cooper, based in the US at present, has also been running regular programs and also encouraging people through his Twitter updates, to monitor the uprising and help the troubled people however they can. The work of Al Jazeera, also active on Twitter, has been unparalleled in broadcasting the latest updates from various Middle-Eastern nations.
Several tweets have been prominent on feeds, being re-tweeted (which basically means to share with others or reblogged, in tumblr-speak) at least over a hundred times up to many times that figure to make it to the top ranks. In fact, Muslim Matters' own writer, Br Youssef Chouhoud found two of his recent tweets become so popular that they became  'top tweets' under several hashtags (popular keywords on Twitter) related to the Libyan revolt. I think it's an excellent idea for more Muslims to get actively involved in areas where they can have a positive influence for change. It might seem like a small thing to do but, as with all movements, it's always individual effort coming together that has a beneficial impact. Coming back to Br Youssef's popular tweeting, here it is and some other tweets that I came across. Have a look…

____________________________________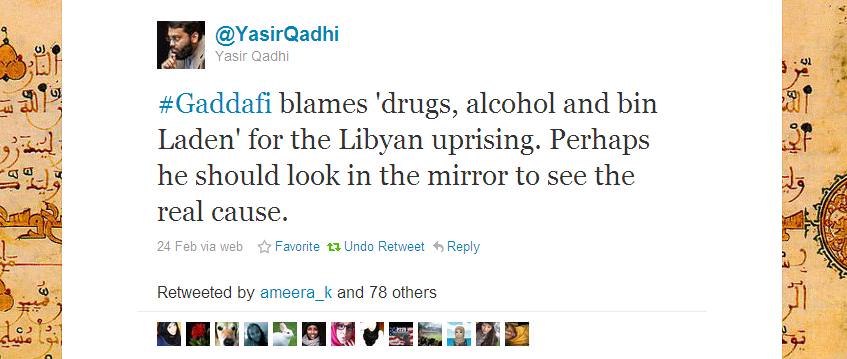 ______________________________________

____________________________________
And another top tweet by Br Youssef Chouhoud…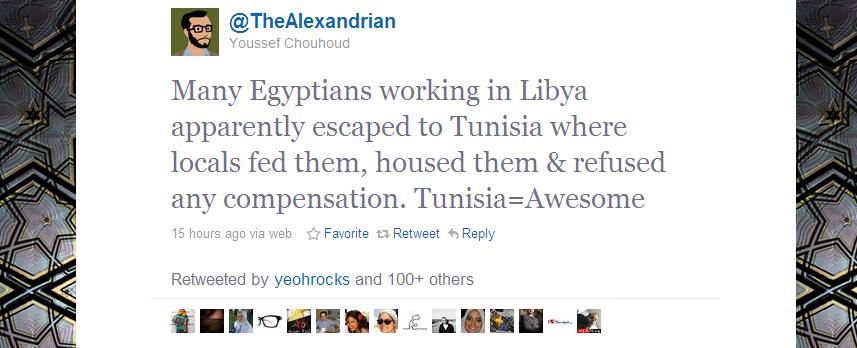 ___________________________________

So what's your take on this? Are you an active tweeter? Are there any particular people you follow on Twitter, who've been instrumental in getting the word out or keeping the discussion alive?