Sunday Open Thread 6/20/2010: Can Les Bleus Save France From Civil War?
The current trend of anti-immigration, anti-religion (read: anti-Muslim) legislation in Europe arguably began with France's landmark "Law on Secularity and Conspicuous Religious Behaviors and Symbols in Schools" in 2004. Colloquially dubbed the French headscarf ban for its disproportionate effect on young Muslim schoolgirls, this policy foreshadowed a wave of right-wing hysteria over the supposed Islamization of European cities and suburbs.
To this end, threats of a looming "Eurabia" have, particularly over the past couple of years, fueled assimilationist agendas across the continent. France, given its well defined national character and commitment to a strictly secular society, is one of the most austere proponents of this trend. Despite its seemingly hostile climate, however, the future of Islam  in France is hardly a forgone conclusion.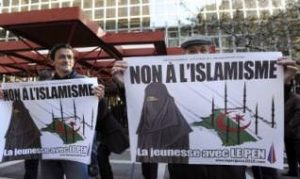 Certainly, there are a lot of reasons to be pessimistic about the prospects for French Muslims. From the niqab ban earlier this year, to the more stringent immigration policies it gave rise to, to the recent allowance of a provocative political poster in Southern France, it seems that French policies are continuing down an Islamophobic road. One prominent public intellectual in France, Eric Zemmour, predicts where this road will lead in his latest book Mélancolie Française. In addition to blaming the sorry state of France on past English provocation and current French political correctness, Zemmour, an Algerian Jew, asserts that France is doomed to civil war between Christians and Muslim "barbarians." What's more, he claims that he is only speaking what the (truly) French people are thinking.
Yet, there are also signs that Zemmour and his ilk underestimate both the adaptability of French Muslims and the tolerance of French society. Last week, for example, a planned "Pork and Booze" street party in a predominantly Muslim neighborhood was banned by French police. Even more heartening is the start of a new "mega-mosque" in Marseilles, a city home to a quarter million Muslims. In the near-term, however, the best opportunity for a shift in national sentiment towards Muslims is not likely to arise from a parliamentary office or construction site, but a soccer pitch.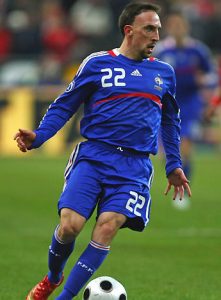 France is a soccer crazed national, and nothing would lift the national spirit more than a World Cup championship. Imagine, then, how the French would feel if a number of the individuals responsible for bringing them such joy were Muslim? Well, as it happens, there are more than a handful of (inshAllah practicing) Muslims starring on the French squad, including Frank Ribery, Nicolas Anelka, and Eric Abidal. Admittedly, France is a bit of longshot to win it all this year, but that seems fitting given Islam's seemingly underdog position in Europe. Here's at least one reason, then, to root for (instead of against) the French for the next couple of weeks.
Allez les bleus!