Zaid Karim, Private Investigator, Part 16 – Finding Anna
Nothing about this mission had gone as planned. I'd imagined I would sneak in, find Anna, sneak out, and leave with Niko. But it's said that no plan survives first contact with the enemy.

See the Story Index for Wael Abdelgawad's other stories.
Zaid Karim Private Investigator is a full length novel. Previous chapters: Chapter 1 | Chapter 2 | Chapter 3 | Chapter 4 | Chapter 5 | Chapter 6 | Chapter 7 | Chapter 8 | Chapter 9 | Chapter 10 | Chapter 11 | Chapter 12 | Chapter 13 | Chapter 14 | Chapter 15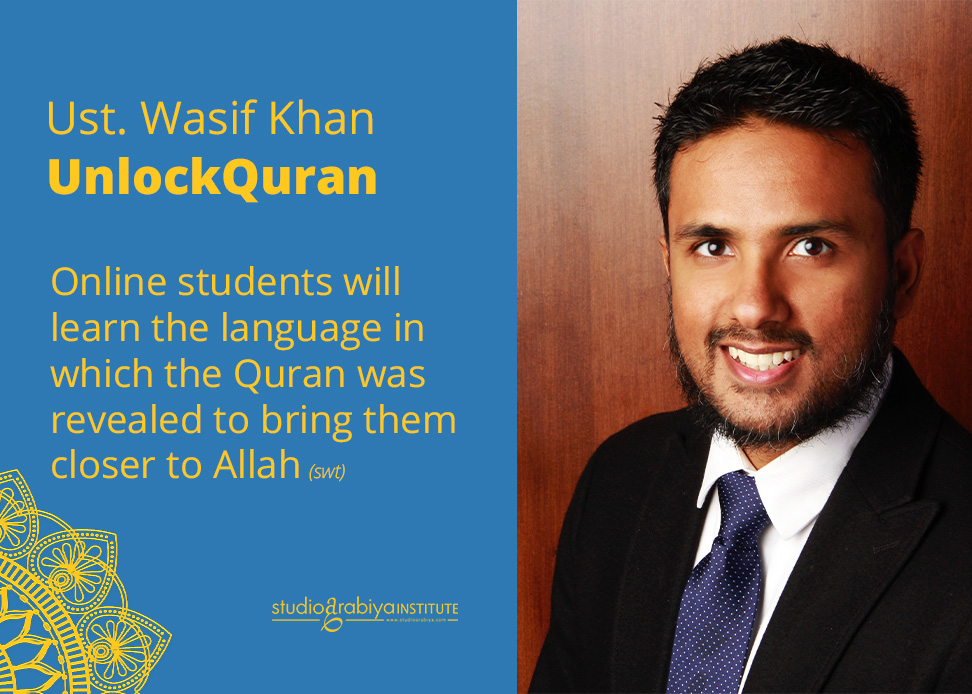 Wednesday, February 9, 2010 – 1:15 am
Ougadiri Island, Panama
The front door of the house – a huge wooden door that must have weighed a half a ton – swung open. A woman emerged, shouting and waving a half-full bottle of liquor. She was beautiful, petite and slender, and wore a white designer pantsuit, black heels and a white fur stole. Apparently no one told her that fur is now politically incorrect.
I lowered my arm slowly, awaiting developments.
A man emerged from the house. He wore slippers, underwear and a fur bathrobe that was open in front to expose his hairy chest and legs. A large automatic pistol was tucked into his underwear. That seemed like a stupid idea. He was short but wiry, with hair dyed the color of a beet salad. He spoke to the woman in a pleading tone, his hands out in supplication. He turned slightly, and I saw his profile. His right ear was missing. He was El Demonio.
The woman threw the bottle at him and – as he barely dodged it – screamed a long string of curses, some of which I understood. Among them was one word that struck my ears like the ringing of a gong: pedófilo. Pedophile.
My heart sank. I'd half hoped that El Pelado had been wrong, and that El Demonio's interest in Anna lay in some other direction. But it seemed the pimp had told the truth, and that El Demonio's wife or girlfriend or whatever she was knew it too.
The woman in the fur stole stormed over to the Rolls Royce and started it up. El Demonio shouted something but the woman roared straight for the gate, not slowing down at all. El Demonio hollered to the guards to open the gate. It began to slide open.
Too late. With a tremendous clanging, crashing noise, the woman barrelled headlong into the gate, which tore free from its hinges and flew into the air, coming down halfway to the treeline. The fence itself was partially pulled down, with at least once fence post torn from the ground. Sparks flew, illuminating the night sky like fireworks, and the hum of electricity through the fence abruptly cut off.
The woman didn't even slow down. She sped off down the road at a high rate of speed. The Rolls was barely dented, though one headlight was smashed.
El Demonio walked in a circle, raging and waving his arms. The guards exited the guardhouse to inspect the damaged fence and gate. The patrol vehicle pulled up, while two other guards came running out of the house.
One of the guards laughed upon seeing the destroyed gate. El Demonio rounded on the man, drew the pistol from his underpants and shot the man point blank in the forehead. The guard's body crashed to the ground, and the cartel boss fired twice more into the man's prone form.
He turned to the other men and yelled. Two of them hurried to the ATVs and sped down the road after the woman. The remaining guards conferred with El Demonio.
This was my chance. The fence near where I lay was partly torn from the ground. A gap of about a foot and a half at the bottom allowed enough room for me to crawl through. I began to move.
As I crawled beneath the fence, my belt caught on a ragged bit of metal that projected from the torn fence. I reached back slowly and tried to free it. I was not more than ten meters from where El Demonio stood with his man. My legs were hidden by the guardhouse, but my upper body was in plain sight. All they had to do was look up and they would see me.
I jerked at the belt, trying to free it. El Demonio gestured wildly toward the west, and he and his man turned in my direction. I flattened myself against the ground, pressing one ear to the warm earth, trying to look like a clump of weeds or a stone, or anything except what I was. I thougth flat thoughts: I'm a tortilla. I'm a pancake. Only then did I realize that my face was about two inches from a line of leaf-cutter ants. They marched past, each ant carrying a bit of leaf many times larger than itself. I'd heard they could denude an entire mango tree in a few days. I wondered what they'd do to my face if I got in their way.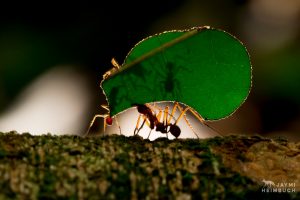 A brilliant yellow light burst across the island sky, followed an instant later by a tremendous booming sound that rolled across the forest from somewhere down west. Birds rose up by the thousands, while monkeys screeched in alarm. I moved my head the tiniest bit and peered behind me. A massive fire was burning far down at the western tip of the island, where the marina was located. Bits of flaming wrecking soared high in the air, arcing out over the forest and ocean, as if a flock of phoenixes had just taken flight. The yacht, I realized. The yacht had exploded.
El Demonio went apoplectic. His face turned as red as his hair and he began shrieking at the guards around him. He struck one and shoved another. I caught the words, esa loca mujer – "that crazy woman." El Demonio seemed to think the woman was responsible for blowing up the boat.
I was pretty sure it was not the woman. I was pretty sure it was Niko. I resisted the urge to laugh. That crazy maniac! I'd told him to disable the boats, not blow them to kingdom come.
One of the guards said something – it sounded like a question – and to my shock, El Demonio pulled the pistol from his pants and shot the man in the chest. The man fell and began crying in pain. The cartel boss disappeared into the house, then emerged with a set of keys. He started up the Lamborghini, which was bright red, and shot down the road toward the marina, brakes squealing as he rounded the bends. The guard in the patrol car followed. The two others still standing in the driveway conferred intensely, then lifted their wounded comrade – ignoring the dead one – and carried him to the last vehicle parked in the driveway, a smaller pickup truck that was coated in mud. They loaded the wounded man into the bed, drove right past me through the gate, and headed down the road. I had no idea where they were going.
I studied the house. There was literally not a single guard in sight. SubhanAllah! I reached back and pulled my belt loose from the snag. I crawled quickly through the hole, avoiding the ants, then rose lightly to my feet and ran toward the house, drawing my scuba knife. I slipped through the front door and dashed into the huge house.
In spite of the late hour, the house was brightly lit and smelled of baking bread. The interior was predictably huge, with a lobby big enough to hold three average houses. The lobby ceiling soared to the full height of the house. A circular staircase ran against the wall and rose all the way to the third floor, while second and third floor verandas circled the lobby, just as on the outside. Rooms and corridors ran off in four directions. Samba music played softly from somewhere upstairs.
The decor was an epic clash of hunting lodge versus French renaissance, as if a Russian trapper and a French noblewoman had declared war and chosen furniture and paint as their weapons. The massive mounted heads of jaguars, leopards and cape buffalos hung side by side with impressionist paintings of lakes and trees. Some of those paintings were probably worth millions. Antique French furniture shared space with bear skin rugs with the bear heads still attached.
I chose a corridor to my right at random and ran down it, then stopped in shocked horror, my feet nearly tripping over each other. On the walls on both sides were mounted human heads. They were not sculptures or wax models. They were real heads, preserved at the moment of death. They were the heads of older men and younger, hairy and bald, eyes closed or open and staring in perpetual dread. Some were scarred or bloodstained. These were the heads of El Demonio's enemies, no doubt. There were at least thirty.
God willing, I would not join them. What had I expected, tea and crumpets and a docent-led tour? I recovered my aplomb and ran on. I dashed through scores of lavishly appointed bedrooms, bathrooms that made Chausiku Sulawesi's look like a broom closet, and three large kitchens. There was an indoor pool, a bowling alley and a cinema. In one of the kitchens I heard talking. I glanced in to see two female cooks in white aprons apparently baking breads and pastries for the next day while another man washed dishes. I bypassed them without being seen. Aside from that, the entire floor was deserted. I returned to the lobby and mounted the stairs to the second floor. It was more of the same. Twice I saw guards on the outdoor verandas, but their attention was focused outward, on whatever was happening down by the marina, and they did not see me.
Donning the infrared goggles, I moved cautiously through a second floor bedroom that was the source of the softly playing samba music and that smelled of menthol lotion and pipe smoke. I froze when I realized that the two large lumps in the bed were an elderly couple with sleeping masks over their eyes. Maybe they were drugged, because the noises of the night didn't seem to have disturbed them at all. I prowled on quietly and moved up to the third floor, growing increasingly frustrated. I'd found no evidence that Anna was here at all.
I'd just begun my search of the third floor when a second explosion boomed outside, followed immediately by a third, smaller blast. The house's windows rattled in their frames and someone down on the ground floor cried out. The other two boats, was my guess. Whether it was Niko's doing or simply the fire spreading, I did not know. If it was Niko, then his work was done, and bravo. He'd disabled the boats as I asked.
Of course nothing about this mission had gone as planned. I'd imagined I would sneak in, find Anna, sneak out, and leave with Niko. But it's said that no plan survives first contact with the enemy. What my plan was now, I did not know.
In a third floor bedroom a maid screamed when she saw me, ducking and covering her head. I imagined I looked quite scary with the goggles on and a knife in my hand. "Silencio," I commanded her, then I moved on. I knew she might alert someone, but I would deal with that if it happened.
I passed through a huge glass-ceilinged atrium housing an indoor arboretum, where tropical trees and ferns filled the space with green warmth. The air was thickly damp, and a small waterfall cascaded down one wall into an artificial pool. The floor was earth, with trails meandering through the room. It was nearly an indoor forest.
I was tired, and my ribs ached. I doubted very much that Anna was hiding behind a banana tree. I turned to leave and found myself face to face with a six foot five behemoth with dark brown skin, a neck the size of a tree trunk and one of those pseudo-beards that is just a thin strip of hair along the jawline. He already had his rifle raised, and before I could react he slammed me in the face with the butt, knocking me to the ground. Luckily the night vision goggles caught the brunt of the blow. They shattered and became instantly useless. I snatched them off just in time to see the guard lean over me and attempt to bring the rifle butt down on my head.
That was a mistake. I couldn't count the times Malik Sulawesi had said to me, "Never lean. Anytime you lean you're off balance and vulnerable. Move your feet, kneel or squat, but don't lean."
As the rifle butt sped toward my face, I shrimped to the side, grabbed the guard's arms and pulled. He tumbled headlong over me, landing on his back beside me, the rifle slipping from his hands. I was on him like a viper, shooting my right arm between his arm and neck, reaching around to grasp my left biceps, and locking on a head-and-arm choke that was tighter than a vise. This choke compressed the carotid arteries, completely cut off the blood flow to his brain. The guy might outweigh me by a hundred pounds, if I could hold the choke he would be unconscious in six seconds, eight at the most. Fortunately it was my right arm applying the choke, not my injured left arm, or I'd never have pulled it off.
It was like holding a buffalo. He made grunting sounds, thrashed and tried to rise, but I dragged him back down, using his head for leverage. Two seconds. He tried to roll toward me but I based out, shooting my legs back, bracing the balls of my feet in the earth. Four seconds. He tried to roll away and this time succeeded. I was carried right over his body to land on my side with his weight atop me. I could hardly breathe myself, but I maintained the choke. Six seconds. Then the guy did something I wouldn't have thought possible. Moving ponderously, gnashing his teeth, he rose to his feet with me literally hanging from his neck. I dangled, feet in the air. I saw him reaching for a knife that hung in a sheath on a utility belt. The choke required both arms to maintain. If I let go, I'd lose whatever advantage I had against this brute. Eight seconds. He drew the knife, which turned out to be a huge hunting knife with one straight edge and one serrated. I was about to give up on the choke in order to defend myself against the knife – and probably get myself gutted like a fish – when the guard's arms went limp. He swayed, then crashed to the ground. I fell with him, but managed to land atop him so that his body took the brunt of my fall. I gasped with relief.
The guard would recover consciousness in perhaps thirty seconds. In a flash I released the choke, removed the guard's utility belt and searched it. It contained a communications radio, extra magazines for the rifle, mini binoculars, a tactical flashlight with crenellated edges for striking, and an expandable baton. I'd been hoping to find zip ties, but there were none of the control tools associated with police duty belts, like stun guns, pepper spray or handcuffs. I supposed El Demonio's security force was less interested in nonviolent control, and more interested in gleeful slaughter.
I looked around wildly. Some of the younger trees were tied to wooden stakes with short lengths of rubber tubing. I pried the knife out of the guard's meaty hand, ran to the trees and cut two lengths of rubber tubing. Dashing back to the guard I used the tubing to bind his wrists and ankles. Then I removed the man's boots, balled his socks and stuffed them in his mouth. Lastly I put on the utility belt and sheathed the knife. I was now carrying four knives, which would have been perfect if I were half human and half octopus.
The guard was literally snoring, taking a nap on the proverbial rowboat drifting gently down the stream. Applying the standard recovery technique for someone who's been choked out, I picked up his feet and shook them, sending blood to his head. He opened his eyes, looking around dazedly.
I squatted atop his broad chest. I drew my scuba knife and pressed the point against the side of his neck, gripping his chin with my other hand to hold his head in place. The knife bit into the skin, drawing a trickle of blood.
"That's a very sharp knife you feel pressing against your neck," I said in English. "You make one wrong move and I will cut your carotid artery like a fruit roll-up, do you understand? Blink once if you understand."
He blinked once, his eyes wide with a combination of fear and rage.
"Good. So you speak English?"
Again he blinked once.
"Alright. I'm going to take the gag of your mouth. You will say nothing except to answer my questions. If you call for help it will be the last thing you ever say." I turned my words into a snarl. "I consider you and your master to be filth. If you doubt my resolve, try me."
I removed the socks and the downed guard breathed deeply. "You are a dead man-" he began to say.
I stuffed the socks back in and dropped an elbow onto his left eye with all my body weight behind it. I felt one of the orbital bones shatter. The big guy grunted in pain. I pushed his head up, exposing his neck, and began to draw a shallow cut along the jawline. It wouldn't kill him, but might send a message.
"Mmmafffff!" His words were muffled but the tone of panic was clear. I removed the socks."Okay," he said. "I will cooperate." His left eye was swollen shut. Tit for tat. He smashed me, I smashed him.
I brought my face close to his ear and continued to press the knife into his neck. "I have only one question," I growled through gritted teeth. "And I swear to God, you will answer truthfully the first time or I will kill you. I have no patience left. None. You have once chance."
I meant every word, and the guard must have heard the verity in my words because he held his head very still as he whispered, "Fine. Ask your question."
"Where is the girl? The little girl, Anna? The one El Demonio bought from El Pelado."
"I don't know that name."
I gripped his hair, pulled his head up and began to dig the knife into his neck. The trickle of blood became a small stream. I hadn't cut his artery yet, just the skin.
"Wait!" His voice was frantic. "I swear I don't know the names of the girls, but they are kept in the outbuilding. The gray one on the south side of the house."
The girls. My God. There was more than one. Without another word I withdrew my knife and began to stuff the socks back into the guard's mouth.
"Ayuda!" he bellowed, calling for help.
I drove the blade into his larynx, cutting off the shout. Blood poured from his throat. I stuffed the socks into his mouth. He thrashed uselessly, his eyes wide with terror. I had not cut any major vessels. He'd never speak again, but had a chance of survival, if he received medical care in time. Whether that happened or not was not my concern.
I picked up the guard's rifle and recognized it right away. It was a Galil, an Israeli-made assault rifle. I'd carried one for a while when I was a bank robber. Horse used to take me, Deuce and Red out to the Mojave desert to train with a variety of weapons. I'd fired shotguns, bolt-action rifles, automatic handguns, revolvers, and all manner of assault rifles. I never knew where Horse procured all those weapons. We practiced firing at paper targets, bottles and cans, and we even had an automatic skeet shooter that allowed us to train against moving targets. I wouldn't have won any national shooting contests, but I was pretty good.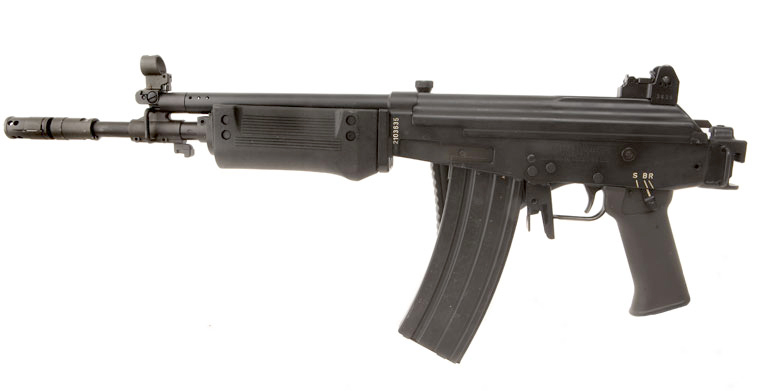 I took a shine to the Galil right away, and yes, I was aware of the irony of a jihadi (as I imagined myself) carrying an Israeli gun. It was a low maintenance weapon patterned on the Kalashnikov, but with the accuracy of an M-16. It was fed with a curved steel magazine with a 35 round capacity. My only complaint was that the AR, the standard rifle version, was a bit large for urban use, especially for a skinny teenager like I was then. Horse told me there was a popular SAR carbine variation with a shorter barrel, and an even more compact MAR variation for cops and airborne troops, but he hadn't managed to procure those.
Now here it was, a Galil MAR. The shoulder stock had been detached, leaving it with a pistol grip, a tiny barrel, and a curved magazine that looked ridiculously long by comparison. The entire thing was made of burnished black steel and could easily be concealed under an overcoat. Not that I had one.
I still did not intend to use the weapon, but between the maid who'd seen me and the guard I'd left bleeding, I expected the alarm to go up at any moment, at which point the advantage of stealth would be lost. I might be glad for the Galil if that happened. I slung at around my neck with the attached strap.
I descended the staircase, moving as quietly as I could, my scuba knife at the ready. I could only see out of one eye, so I had to turn my head constantly from side to side. As I approached the front door I saw that it was closed. I opened it incrementally, an inch at a time. A lean guard with a blond crewcut stood outside, his back to me. Like the other, he was dressed all in black and carried a rifle. I took a quiet step forward, then another. I was only one step away when the man sensed something and turned, rifle pointing at me.
I was on him like a komodo dragon – I've always had komodo dragons on the brain, I don't know why, maybe because it's a real thing that sounds unreal. I slammed the scuba knife into the side of his neck as I pushed away the barrel of his rifle. Blood sprayed into my face and neck and the guard fell like a toppled tree. He uttered only a surprised grunt, and didn't get off a shot, though his rifle clattered on the pavement. Grateful that he was not a large man, I dragged his body around the corner of the house to the south side, behind a stand of papaya trees intermixed with berry bushes. I opened his belt pouch and took the three rifle magazines he kept there, stuffing them into my pockets. One thing I'd learned in the field was that you could never have too many bullets. I knelt, catching my breath. No shout went up, and no guard came running, thank God.
Twenty meters upslope to my left stood a gray structure that looked like a garden shed. Beyond it, further upslope, was a second structure that could have been a guest house. I no longer had the night vision goggles, and it was dark on this side of the house, but there appeared to be nothing between me and the outbuildings but open grass. Darkness was my friend, so I figured I had a good chance of crossing that space unseen. I took a deep breath, said Bismillah, and ran for it.
I made it. The shed was constructed of stucco over cement, and had a heavy steel door that was secured with a sliding bolt. The bolt was closed, effectively locking the door, but there was no padlock securing it. There were no windows and no exterior AC units. I slid the bolt open as slowly and quietly as possible, gripped the metal handle of the door and pulled. The door opened with a creak of rusty hinges. I stood as still as a stone sculpture and listened. Nothing. The shed was completely dark inside, and a foul odor emanated from it. It stank of blood, vomit, bodily fluids and death. The smell made my skin crawl and my feet want to run. I fervently hoped and prayed that Anna was not in this building.
I entered the shed and pulled the door shut behind me, eliciting the same rusty whine. Only when it was all the way closed did I allow myself to take the tactical flashlight from "my" utility belt. With my knife still in the other hand, I clicked on the flashlight and shined it around the room.
I was in a chamber of horrors. The walls and floor were splattered with blood and gore. A drain in the floor was clogged with shards of bone, flesh and hair. Shackles were bolted to the floor and wall. A variety of tools hung from the walls. All were stained with blood. This was a torture box. The pain, terror and despair of the men who had been brutalized here, who had been killed here and dismembered, was a physical presence. I could smell it, taste it and feel it on my skin. It made me gag. I bent over and retched, but managed to hold it in. Then I turned off the flashlight, opened the door and fled that terrible place.
I shut the door behind me hurriedly, forgetting to be cautious. I don't remember if I slid the bolt closed. I didn't even check for guards. I simply ran from that abominable hole, stumbling up the slope toward the other building I'd seen, taking deep breaths, trying to slow my racing heart.
This was it. This was the final building on the property, as far as I could tell. If Anna wasn't here then – then what? I didn't want to think about that. I didn't want to consider what it might mean.
Ya Allah, I thought as I jogged up the hill. I wanted to say so much. I wanted to throw my prayer to the heavens with a voice that would light up the sky and shake the earth. I wanted to smash this island with a fist that would tear it apart and throw this entire compound into the sea. I wanted to be away from here, back with my wife and child in a place of safety and love. But most of all I wanted to find Anna Anwar and take her away from this evil place. All these thoughts and more roiled in my chest and stuck in my throat. I was too tired to formulate words, too heartsick and angry, so all I managed was Ya Allah, Ya Allah, Ya Allah.
Like the shed, this building was only one story high, but it was the size of a villa, with at least four or five rooms. Also, it had a large front window, though it was barred and curtained. Like the shed, this building's door was a massive slab of metal, but again it was secured only from the outside with a deadbolt. No lock. That meant that this villa, like the torture chamber, was meant to keep people in, not out. It was a prison. The fact that it was unlocked spoke to El Demonio's supreme command and confidence on this island.
Standing before the front window, I reached through the bars and touched the glass. It wasn't glass at all but some sort of thick shatterproof plastic. The villa was pitch black inside and I couldn't see a thing.
Moving as silently as I could, I made a complete circuit of the building. There were two other windows, both small and high on the wall. There were no other doors.
Returning to the front door, I slid open the deadbolt. This door was apparently better maintained than the other, because it opened without a sound. I slipped inside and closed the door behind me.
I shined the flashlight around, partly covering it with one hand to reduce the beam intensity. The light illuminated a large room that was like some adult's fever dream of a child's funhouse. There was a small inflatable bounce house, a ping pong table, a soda dispenser and soft-serve ice cream machine, a giant gumball machine, bean bags strewn about the room, and paintings of clowns all over the walls. Streamers hung from the ceiling, and here and there helium balloons bounced against the ceiling, their strings dangling down. Dolls were piled onto a child-sized pink leather armchair in one corner of the room. When the flashlight beam hit them, their eyes glittered and glowed like little possessed demon creatures. Dolls were scattered about on the floor as well. Several had been dismembered, their ams or heads pulled off. Some of the clown paintings had been disfigured as well, drawn over with crayon or marker. And, I noticed now, there was a large puddle of dried residue beneath the soft-serve machine, as if someone had deliberately poured ice cream onto the floor and left it there.
As bizarre as the room was, my heart soared, because I knew this was the place. If Anna was indeed a captive on this island, I was fairly sure she'd be inside this twisted funhouse villa.
To the right was what would have been a large kitchen, except that all the appliances had been stripped out. There was nothing in it but a sink. When my light hit it, dozens of cockroaches and silverfish scurried into the shadows.
I moved through the room to a hallway. A door opened off the left of the hallway into a large bathroom with a huge claw-footed tub and a mirror with light bulbs all around the sides. Again, cockroaches scattered.
A little further on my right I found another bedroom. When I shined the light into it, I was shocked into motionlessness. Wherever the light hit, dolls stared back at me. They sat on shelves on the walls, dangled by strings from the ceiling, and were piled on a bed against one wall. There were hundreds of them. Then I noticed something else and my blood turned to ice in my veins. The bed had restraints attached to the four posts. Leather cuffs were attached to chains and they were small, the size one would need to restrain a child. At the foot of the bed stood a tripod of the kind to which someone might attach a camera.
My hand tightened on the flashlight and my jaw clenched. I wanted to destroy this place and leave it an island of ghosts. I took a breath and forced myself to relax. I couldn't afford to let anger take over. I was not here to seek revenge or go on some vendetta. I was here for one thing only, and that was to find Anna.
There was one last room at the end of the hall and I moved toward it. Even before I reached it I heard scuffling noises from inside and the sound of a frightened whimper. My heart flipped over in my chest. I felt excitement, trepidation and fear, not fear for myself but over what I might find. I wanted to call out and say, "Anna, it's alright, you're safe now," but I dared not. I didn't know who was in that room. There might be a guard in there for all I knew, ready to blast me when I walked through the door.
There wasn't. I shined the light cautiously into the room. There were two sets of wooden bunk beds, a pile of defaced clown paintings on the floor in one corner, and a tiny, barred window high up on one wall. Finally my light came to rest on two pairs of terrified eyes. The two girls were backed into one corner of the room. A girl of perhaps twelve years stood in front. She was thin and barefoot, with long brown hair tied back in a ponytail. Her features were fine, and her bright green eyes flashed defiance. She wore a long cotton paisley nightgown, and might have been pretty if not for the bruises on her face and the look of desperation in her eyes.
Behind her a smaller girl huddled on the floor, covering her face with her hands. She wore a pair of ill-fitting shorts and a white t-shirt with food stains on the front. She had Anna Anwar's build, but I couldn't tell for sure.
I sheathed the scuba knife. There was nothing in my hands now but the flashlight. "Anna," I said gently. "Is that you?"
The huddled girl began to wail. The girl in front, in contrast, stood as straight as a stop sign, her shoulders back. "Tómame," she said. "Seré bueno para ti. Me va a gustar." Take me. I'll be good for you. You'll like me. She held out a hand, palm down, in a self-contradictory gesture that seemed to combine an invitation and a ward.
"No estoy aquí para eso," I said. "I'm not here for that. I"m a friend. Un amigo. Anna," I repeated softly. "I'm here to help you, to take you home. My name is Zaid. I'm a friend of your father, do you remember me?"
The wailing from the huddled child lessened. "My – my -" she stammered. "My father?"
"Yes." I smiled, knowing she couldn't see it but hoping she could hear it. Of course, I realized. What an idiot I am. They can't see me. I'm just a dark figure behind a bright light. I shined the light on my own face, and both girls gasped. Oh, crap. I'd forgotten that I was covered in the guard's blood. I must look like some kind of vampire.
"I know I look terrible," I said, wiping my face with one sleeve. "But I really am a friend of your father Tarek. I'm his old friend Zaid. He used to call me Stick. You and I have met before. You gave me flowers once at a party."
"You – you looked lonely."
I smiled and tears came to my eyes. I was amazed that she remembered that. "Yes," I said.
"I'm here to take you home."
"My mommy doesn't want me." I heard a shuffling sound and shined the light on the girls. The huddled child had gathered herself to stand beside the older girl. She was indeed Anna Anwar. Her eyes were red and puffy from crying, but aside from that she seemed unmarked. Though of course that did not mean she was… unharmed. I moved the light to the center of the floor between us.
"Your mommy loves you, but she can't take care of you right now. I'm taking you back to California. To Fresno."
"To my Daddy?"
The hope in her voice nearly broke my heart. This child had been betrayed in the worst possible way, and I didn't want to add to that by lying to her. But if I told her the truth, she might break down into despair, which wasn't what we needed right now. I needed her alert and paying attention. The guards would soon discover the injured guard and the dead one, if they hadn't already. When that happened, they would lock this whole place down and begin a search.
I chose a half truth. "Your Daddy can't take care of you either. I'm sorry sweetie. But you still have your grandparents. They love you and want you. So please, come with me now."
"My Nana doesn't want me."
What an odd thing to say. "She does. Your grandparents hired me to find you."
"No. My Nana doesn't love me."
I ran a hand through my hair and tried to control my exasperation. "Maybe that's true, maybe not. We'll work it out when we're out of here. I promise you, I swear by Allah, I will find a safe place for you. Come on now, Anna. We have to go."
"Oris too." Anna reached up and took her friend's hand. "You have to take her."
"Yes," I said emphatically. "Of course. Now come."
Anna rose, and a quick exchange took place between the girls in Spanish too quick for me to follow. I hadn't realized that Anna spoke Spanish.
"Okay," Anna said. "We're ready."
I nodded. "Do you have shoes? We'll have to run."
Oris fetched a pair of slippers from beneath the bunk bed, and Anna slipped on her Adidas sneakers, the same ones she'd been wearing in the school photo.
"When we get outside," I told them, "no matter what happens you stay behind me, stay quiet and keep on following me, do you understand?"
Anna translated for Oris, and we slipped out of the house in total darkness. I ran downhill toward the gate with the two girls close behind, sticking to the deepest patches of darkness as much as possible. I would have preferred to avoid the gate, as it was likely the guards had either returned or someone else had been stationed there. But there was no choice. It was the only way past the perimeter fence. The gap I'd crawled under was on the other side of the guardhouse and inaccessible from here.
I led the two girls past the torture shed and up along the side of the main house, skirting the spot where I'd dumped the blonde guard's body. I peered around the corner of the house. It was worse than I'd feared. There was no sign of the patrol car, and the Rolls and Lamborghini were still gone. Firelight still shone from the western end of the island. And the wrecked gate still gaped open. The problem was that there were now four armed guards stationed at the gate, two on each side.
I unslung the rifle and held it in my arms, flicking the safety off. In spite of being a different model than the one I'd carried, the configuration was familiar and comfortable. I closed my eyes. "O Allah," I breathed. "I'm not asking anything for myself. Do what you will with me. Strike me down if you choose. Take from me all worldly things, leave me without coin or love or breath if that is the price of success here. I can take it. I'm your servant to the end. But save these girls O Allah. That is all I ask."
I opened my eyes and looked at the girls. "Listen carefully," I whispered. "There are four men at the gate. The only way out is for me to kill them. You stay in hiding until I say, 'Go.' When I say, 'go,' you come out and follow me. We'll run through the gate then into the forest. The gunshots will be loud, but you keep on running, keep following me. Don't stop. Understand?"
Anna translated for Oris, and both girls nodded their heads. Their eyes were wide, and Anna's lower lip trembled as if she might cry. I simply had to trust that they would do as I told them.
I flipped open the magazine pouch and folded the cover behind the belt, so it would stay open. Then I said Bismillah and gripped one magazine between with my teeth. I didn't know how well trained these men were. They might be highly trained mercenaries, or run-of-the-mill gangsters with no real tactical training. As for me, I knew how to shoot, I was a skilled martial artist with the ability to adjust to new tactical information on the fly, and I had the biggest advantage of all – the advantage of surprise.
I stepped out from behind the corner of the house.
Only then did I see that there were two additional guards at the house's front door. They were immediately to my right, so I rounded on them and opened fire. From my perspective they were lined up one in front of the other. My first volley mowed them both down like grass. Without a pause I pivoted left, dropped to one knee and let loose on the two guards on the right side of the gate, in front of the guardhouse. I wanted to get them before they retreated into the guardhouse, and I did. One fell screaming, while the other flew backward and crashed into the guardhouse window, shattering it. Hey lay bent backward over the sill.
The two on the left had no cover. They dropped to their bellies and fumbled with their rifles. I rolled left, came to my feet, ejected the magazine and slammed in the one from my mouth, and cut loose on full auto, emptying the entire 35-round clip into the earth where they lay. The bullets chewed them to pieces.
A tremendous impact struck my left shoulder and sent me spinning to the ground. It was the guard who'd gone down screaming. He wasn't dead, and he'd put a bullet in me. My shoulder was numb, but I didn't feel the pain yet. I thrust in a new magazine, rolled to my right, stood, and advanced on the man. He shot at me but he was panicked and in pain, and the bullets went wide. I raised my weapon, aimed, and riddled the guy, killing him where he lay.
A volley rang out and I stumbled as my leg gave out. I rolled to my back and saw two guards on the second floor veranda, both firing at me. Bullets ripped up the earth all around me. I tried to return fire and got nothing but an empty click. I popped out the mag, inserted a new one, and calmly returned fire, sweeping a line of lead across the veranda. One guard's head rocked back as a bullet took him square in the forehead. The other dropped to his belly. I dropped the clip, put in a new one, and emptied it into the spot where he lay, firing right through the ornately carved wood. Chunks of wood flew in every direction and an entire section of the veranda railing broke loose and fell to the ground with a crash. I saw then that the guard lay in a heap against the wall of the house, dead.
I reached for another clip and found that I was out. I rose to one knee and tried my leg. A bullet had gone through the outside of my calf, taking a piece of my muscle with it. Blood poured down into my shoe. But I found that I could stand, as long as I kept most of my weight on the other leg.
"Anna, Oris," I called out. "Go! Follow me now." The two girls, to their credit, darted out from behind the house. I ran for the gate, hobbling badly, nearly dragging my left leg behind me, with the girls right on my heels. We passed through the gate, which was a scene of devastation, with pools and spatters of blood everywhere. I made a beeline across the clearing, heading for the forest to the southwest.
Gunfire sounded, and I heard the whine of a bullet as it whistled past my ear. Oris screamed, but she and Anna kept running. I looked back and saw a guard on the third floor veranda firing at us. At the same time headlights came up brilliant and white on the road almost directly ahead of us. There were at least two vehicles racing our way. And then my leg gave out on me again.
I pointed to the treeline. "Go!" I shouted. "Get to the forest and keep going. Hide, don't let anyone find you."
The girls stared at me, wide-eyed with terror. "Go!" I screamed, pointing. "Corre, corre!"
They ran.
I climbed to my feet once again. I saw now that there were in fact four vehicles: the Lamborghini, the patrol truck and the two ATVs. The Lambo stopped on the road, idling, but the pickup and the ATVs bounced into the clearing, coming right at me.
I had to lead them away from the girls. That was all that mattered. I drew the hunting knife and began hobbling back toward the gate. The pickup came roaring right toward me. The two ATVs, however, headed for the treeline, following the path the girls had taken. I stopped, drew my right arm back, and threw the hunting knife at the nearest ATV, aiming for the spot where it would be in about a second and a half. The knife sailed through the air, tumbled end over end, and missed. A shot rang out, and I saw a flash of light from the treeline. One of the ATV drivers screamed and tumbled from his vehicle, which flipped onto its side, wheels spinning and engine whining. Another shot came, and the other ATV did a wheelie, the front end shooting up in the air. The driver hit the ground and the vehicle landed atop him with a sickening thud.
Niko, I thought. It had to be Niko firing from within the forest. No no no, Niko, you were supposed to be long gone. What are you doing?
The pickup stopped directly in front of me and three men clambered out carrying rifles. One trained his weapon on my chest and approached me while the other two opened fire on the treeline.
I drew my scuba knife and took a fighting stance.
"No lo mates," El Demonio called out. "No lo mates." Don't kill him. The guard stepped forward and swung his rifle stock at my face. I ducked the blow, inserted my knife along the inside of his leg, and sliced his femoral artery wide open. Then I shoved him away. He fell, staring in horror at his leg, which was literally fountaining blood several feet in the air. He tried to stanch the flow with his hands, without effect. He'd be dead in seconds, I knew.
The two other guards rushed over to me. One, a hugely muscular man with skin as dark as lava rock, looked like he did nothing all day but eat beef and lift weights. He pointed a bulky black and yellow handgun at me and pulled the trigger. Except that it wasn't a handgun at all.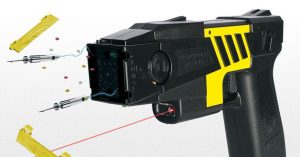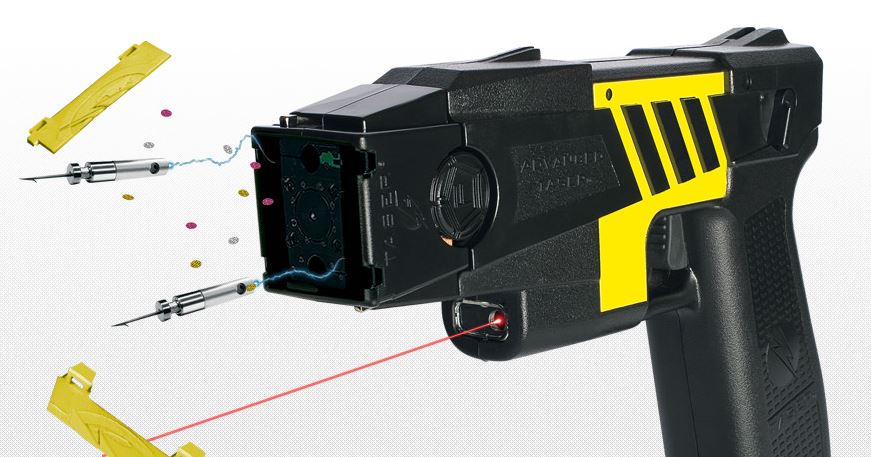 A pair of needles attached to wires flew at me. Not fair, I thought as I tried to dodge and failed. It's just not fair. The needles struck me in the back. Every muscle in my body went rigid, while my back felt like an entire pub full of Irishmen was using it as a dartboard. I fell, completely frozen, unable to control any of my muscles, though I could see the big guard through my peripheral vision as he approached, put away his Taser, lifted his rifle and brought the stock down a sledgehammer on my skull.
* * *
Cold water splashed my face and I half-gasped, half-screamed. I looked around wildly. Where was I? What was happening? An instant later pain hit me like a planet. There was hardly a part of me that did not hurt. My head ached as if it might split open, my right ribs felt tender and breakable; my left shoulder screamed with agony, and my left calf felt like some hungry fanged creature was eating it for dinner. Every muscle in my body felt sore and twitchy. And I couldn't move my hands or my legs.
I'd been stripped to my shorts and chained to the floor in a bare cement room with gore-spattered walls. A single bright bulb blazed directly overhead. There were tools hung on the walls, some I recognized and others that looked like medical implements.
It all came rushing back then. El Demonio. Ouagadiri Island. The torture chamber. I was in the torture chamber. El Demonio himself stepped into my field of vision. He'd put on a red track suit that nearly matched his ridiculous beet-colored hair. A pair of men flanked him. One was the muscle-swollen black man, the beefeater. He was so big he looked like he could probably not scratch his own back. The other was a short Latino man with a handlebar mustache, wearing a black leather cowboy hat.
To my surprise, my gunshot-wounded shoulder and leg had been bandaged. The bandages were soaked with blood, but the bleeding appeared to have stopped. I guessed that these guys didn't want me dying of blood loss before they could interrogate me.
El Demonio lifted one of those big black and yellow Taser guns and tapped it against his chin, grinning. He spoke in Spanish, first insulting my parentage and then rattling off a series of questions: Who sent you? Who do you work for? Who is with you? Where are your compatriots? Where are the girls?
These last two questions made me smile. El Demonio didn't have Niko or the girls. He hadn't found them. Maybe Niko had the girls, and was at this very moment heading back to the mainland with them on the fishing boat.
The hairstyle-challenged cartel leader must not have liked my smile, because he pointed the taser at my belly and fired. My body convulsed and arched, jerking against the chains that held me. My teeth clamped together so hard I thought they'd break.
"Quien te envio?" he demanded. Who sent you?
My chest heaved as I gulped air. "Santa Claus sent me," I replied in English. "He said to tell you you've been a bad boy, and you're not getting any presents for Christmas."
El Demonio laughed and spoke in English. "Oh, so you are NorteAmericano? You know, you kill eleven of my men. Eleven! Who blow up the boats? Who is with you? Where are the girls? Are you DEA?" he demanded. "CIA?"
"Neither," I said. "I'm CRC."
He frowned. "What is CRC?"
"Can't Remember Crap."
"Hmm." El Demonio made a hand gesture to Beefeater – the muscular guard – who handed him another type of Taser, the kind that must be touched directly to the skin. El Demonio pressed a button and a blue arc of electricity snapped up between the poles. It buzzed and crackled as he kneeled down beside me and brought it close to my face. I thought he would ask another question, but instead he simply touched the device to my mouth.
Again my entire body clenched and arched. My jaws snapped shut and I bit the inside of my cheek hard. My mouth filled with hot, coppery blood. My lips burned like slices of meat on a barbecue.
"Llámame cuando dé respuestas," El Demonio said to his men. Call me when he gives answers. He exited the room.
The Panamanian cowboy took a few choice implements off the hooks on the walls, then pulled up a folding chair beside of me. He began to torture me as Beefeater watched. He started with the skin of my inner thighs, and moved on to my toenails. There was neither joy nor malicious intent in his actions. I think that was the worst part of it all – the coldness of it, the matter-of-fact monstrousness of their cruelty. As he tortured me, he repeated the same questions in Spanish. Who did I work for? Who was with me? Where were the girls?
I gave no answers. That's not to say that I took it like a man. I screamed, groaned, and shouted until my voice failed. I bled, and I hurt. But I did not beg, and I gave no answers. Give me credit for that, if nothing else.
At least twice I lost consciousness. The first time they revived me with another bucket of water in the face. At some point Cowboy went on a break and Beefeater took over. Apparently not being one for finesse, he began by simply beating me on the face, chest and arms with a rubber hose. One of my bottom incisors broke loose and I spat it out. At some point he said to me in English, "You alone here. No one know, no one care. Why you no speak? You speak, all dis finish. You speak, we give you food, water, let you rest. No one comin' to help you, man."
At Beefeater's claim that I had been abandoned, Surat Ad-Duha flowed into my mind like a cool mountain spring. I began to recite it out loud in Arabic, slowly. My words came out slurred, partly because my mouth had been damaged, and partly because I'd lost so much blood.
I knew this surah had been revealed after a period during which the revelation of the Quran to the Prophet, sal-Allahu alayhi wa-sallam, had come to a halt. The Prophet was anxious and confused, fearing he had done something wrong. The disbelievers scorned him, saying, "Muhammad's Lord has bidden him farewell."
Until Allah responded with these sweet words:
By the morning brightness, and the night when it covers with darkness, Your Lord has not abandoned you, nor has He detested [you]. And the Hereafter is better for you than the first. And your Lord is going to give you, and you will be satisfied. Did He not find you an orphan and give refuge? And He found you lost and guided [you], And He found you poor and made [you] self-sufficient. So as for the orphan, do not oppress. And as for the petitioner, do not repel. But as for the favor of your Lord, report.
I was not alone. No matter what these human beasts said, I knew better. I belonged to Allah. I was alive at this moment not by the agency of these pathetic, soulless men, but by Allah's mercy, and I would die not by these men's hands, but by Allah's decree only.
I recited the surah aloud through a broken mouth and burned lips, and when I opened my eyes I found Beefeater staring at me wide-eyed and trembling. The door opened with that same rusty-hinged squeal and Cowboy walked in. "Qué?" he said. "Que pasó?"
"He sayin' magic words," Beefeater replied. "Power words. No more for me, no more." He spun on his heel and left the room.
Not that his departure helped me. Cowboy just picked up where he'd left off.
The second time I fell unconscious, Cowboy revived me by digging a thumb into my eye. He spoke into a radio, and a few minutes later El Demonio entered the room carrying, of all things, a pair of rattan Kali sticks. He grinned and began to swing them in a classic sinawali or weaving pattern.
Two guards entered behind him, men I had not seen before. When they entered, sunlight shone through the open door. I was stunned. It was morning already. They'd been torturing me all night long. I'd had no idea.
They carried between them the limp form of a man. His head lolled, and his yellow shirt and jeans were completely stained with blood. It looked like he'd been shot somewhere in the abdomen. It was Niko.
El Demonio grinned at me. "Yes, we find your friend. And guess what, idiota?"
I didn't want to know. I didn't want to hear the words. The cartel leader, seeing the dread in my eyes, kneeled beside me and sneered. "We have the girls as well."
My will and determination deflated as if someone had just punctured me with a pitchfork. Through all the torture to which I'd been subjected, I had not wept, but now tears came to my eyes. The pain of my countless wounds hit me like the heat of the sun, and I felt despair for the first time. I wanted to curl around myself and die. All for nothing. It had all been for nothing.
El Demonio's men dragged Niko to the shackles on the wall and hung him up so that he dangled by his wrists. His hands turned white, indicating that the blood flow had been cut off. If he remained like that for long, he'd lose his hands.
The cartel leader swung the sticks through a series of patterns, showing off. He went through the Ikis pattern, Dog's Tail, Umbrella and Espada y Daga. Even through my despair, the analytical part of my mind, the part that had been studying stick and knife combat for most of my life, noticed that El Demonio's movements were fluid and natural, but his stick angles were off, and his footwork was entirely lacking. I pegged him as a mid-level student, though clearly he thought more of himself.
Returning to a six-count sinawali pattern, El Demonio pivoted without warning and struck Niko six rapid blows, three on the left and three on the right: temple, cheek, jaw, skull, ear, shoulder. The sticks made dull thwacking sounds against Niko's flesh and opened a cut on his forehead. At that, Niko opened his eyes. His lids were heavy, and I wasn't sure he saw me, but then he said, his words slurred, "I am sorry señor. I told you I will stay with you until the point of death." His eyes closed.
El Demonio lifted his sticks to beat Niko again.
No, I thought. No, no no. Each repetition of the word banished a bit of the despair that had enveloped me and replaced it with white hot determination. This was intolerable. This would not stand. I remembered the guard who had laughed at El Demonio's wife, and how the cartel leader had reacted by shooting the man. And then, when I'd smiled earlier, he'd Tasered me in the face. He couldn't stand to be laughed at.
So I took a chance. I began to laugh. It was artificial, of course, just a forced imitation of a laugh, but almost as soon as I began some switch flipped in my brain and I began to laugh for real. This entire situation was so unlikely, so absurd. How had I ended up here, being tortured in a cement shack on a Caribbean island, when just a week ago I was comfortably ensconced in my California office? Of course I hadn't known at the time that my office was comfortable, but everything was indeed relative, it seemed.
My throat was hoarse from screaming, so my laugh came out sounding the cough of a sick cow, but it was genuine, and El Demonio saw that. He turned away from Niko and his face flushed as red as his ridiculous hair. "Deja!" he screamed, ordering me to stop. "Deja eso!"
"It's just," I rasped, "you have this fully stocked torture chamber, and you're playing with sticks like a little kid. Sticks, really? Give me a break. Give me one of those and I bet I could beat you silly with it. Come on, you and me, one on one."
That was it, that was my play. If he didn't go for it, then we were all doomed. I watched as El Demonio's face returned to its normal color. An evil light came into his eyes.
"Really?" he said. "You think is easy? Okay, I give you a chance." He barked out an order in Spanish to the guards. They proceeded to unshackle me and Niko. Two guards hauled Niko out the door into the sunshine.
They came back and bent to lift me up.
"No," I growled. "Deja me. Don't touch me." As slowly as a wounded turtle I rolled onto my stomach, then pushed up onto my hands and knees. Like an animal, I crawled across that filth-stained floor until I reached the wall of the shed, where I used the wall to push myself to my feet. For a moment everything spun. I leaned against the wall, closing my eyes, and waited for it to stop. When it did, I walked out of that place of horror into the sunshine of a new day.
The guards tossed Niko's unconscious form into the bed of a pickup truck. They drove the short distance downhill to the circular driveway in front of the house. I followed on foot, moving very slowly and limping badly, mostly just dragging my left leg behind me. El Demonio, Cowboy and Beefeater flanked me. When we reached the driveway I saw the other patrol car parked there. Anna and Oris were indeed there, sitting in the cab. Anna's face was swollen from crying. Oris looked frightened but rock solid. What a child she was, what a human being.
There was something else: the body of El Demonio's wife lay in the bed of the truck, twisted unnaturally. Her formerly white pantsuit and white fur stole were stained crimson with blood.
El Demonio planted himself right in the middle of the circular flower bed around which the driveway ran. Maybe with his wife dead there was no one to object to him stepping on the petunias. He kept one stick for himself and threw the other down, gesturing for me to pick it up. I stepped into the flower bed, feeling the stalks break beneath my feet, bent to pick up the stick, and fell. Using the stick as a cane, I regained my feet.
Standing there dressed only in my underpants, I tipped my head back and let the morning sun shine on my face. I was covered in blood from head to toe. I'd urinated on myself during the night. My body was wrecked. I knew it and El Demonio knew it. I had no toenails left, and my feet were bloody, swollen masses. The skin on the front and inside of my thighs was shredded and torn, bleeding from dozens of places. My left leg barely functioned. Because of the gunshot wound to my left shoulder, my left arm was useless. My right eye was swollen shut. Every other part of my body was covered in welts and bruises, and I was dizzy from blood loss. I had maybe ten seconds of fight in me, if that. If it went beyond that I was done. All El Demonio had to do was dance in, strike me and dance out. If he waged a battle of attrition like that, I'd be helpless.
El Demonio shouted to his men. One of them rolled Niko out of the bed of the pickup. Niko's body fell and hit the ground with a dull thud. I knew my friend was either dead or dying, but there was nothing I could do. Cowboy dragged the two girls out of the other vehicle and forced them to their knees beside Niko, on the edge of the flower bed. Looking at me, seeing my ruined condition, Anna began to cry.
I wanted to say something to her, offer her some reassurance, but anything I might say would ring hollow. Trust in Allah, I thought, and He will feed you as He feeds the birds.
"Perhaps," my subconscious replied, "but will He save you? I'm not a bird, and I live in the real-"
SHUT UP! I hollered at my subconscious. Yes! He will! He will save, provide, nourish, reward, and redeem. One way or another, HE. WILL.
The cartel leader twirled his stick. "Are you ready?"
"Hold on. I have terms."
He cocked his head. "What means, terms?"
"Conditions. Condiciones. Every contest must have terms, something at stake, something to be won or lost."
He nodded slowly, still grinning. "I like. Say the terms."
"If I win, you let me, my friend and the girls go."
He eyed me thoughtfully, still smiling. "And if I win?"
"I'll tell you who sent me. Then you can kill me and let the others go."
El Demonio snorted. "No, amigo. No one send you, I see that now. You and this one-" he gestured contemptuously toward Niko's still form – "are amateurs. Maybe you are the father of one of the girls? Your identity is meaningless. Here is the terms. If you win, one of you will live. The rest of you die. This is the only term I offer. Choose now. Who will live?"
I racked my mind for a counter-proposal, anything I could say, anything to bait him with. But there was nothing. He was right. He held all the cards. This was only a bit of fun to him, an entertaining way to kill me, and perhaps a way to show off to his people and save face after last night's losses.
"Anna," I said. "The little girl. She lives." There was no other possible choice. I had come here to save Anna no matter the cost. I'd offered myself to Allah, bargaining my life away for hers. I asked for this. My only regret was Niko.
El Demonio nodded knowingly. "So it is the little girl you love, eh? Then listen this. When I defeat you, I will kill all except her. Your little Anna I will take back to the villa and do as I please. She will live, but as my slave." He grinned. "This is according to the terms, yes? Now no more talk. Vamo' hacerlo!" He twirled his stick in a figure 8 pattern and came straight at me, arrogant, not trying to feel me out at all. He probably thought he'd need only a few seconds to put me down. He might be right.
The feeling of either a knife or a stick in my hand was so familiar, so comforting. I had been training obsessively in Kali for almost twenty five years. The stick was as much a part of me as my own hand. Heck, for a long time, people had called me Stick. Holding a stick in my hand was like coming home.
Could an inanimate object impart emotions to a human being? Confidence flowed into me from the smooth rattan in my hand. I smiled from ear to ear, and felt the burnt skin of my lips split and begin to bleed. Mine was a smile of joy, acceptance and power. It was the smile of a man with nothing left to lose, a man trusting his fate to the Most Merciful God, a man willing to pay whatever price was asked of him. It was the smile of a man ready to die.
The poet struggles, Niko would say, and without struggle, what will he do? Without struggle and resistance there is no victory. Perhaps in that moment I was a poet. My writing tool was a rattan stick, my page the bed of flowers in which I stood barefoot and bloody, and the subject was life and death. I had given all I had. Whatever little remained I would leave here, in this flowerbed, and it would have to do.
In my hoarse, raspy voice, I breathed "Allahu Akbar," and raised my stick to meet the oncoming attack.
* * *
Next: Chapter 17 – A Mountain in My Mind
Reader comments and constructive criticism are important to me, so please comment!
Wael Abdelgawad's novel, Pieces of a Dream, is available on Amazon.com.
Grit and Resilience: The Self-Help vs. Islamic Perspective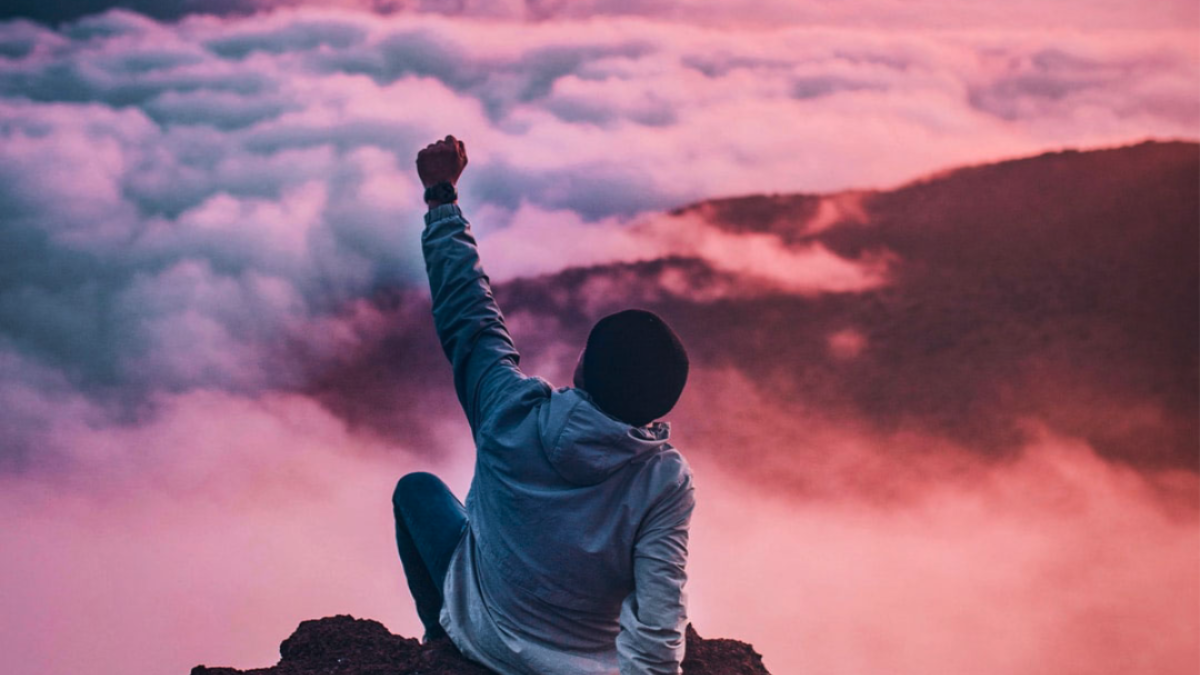 I don't really care about grit.
Persevering and persisting through difficulties to achieve a higher goal is awesome. High-five. We should all develop that. No one disagrees that resilience is an essential characteristic to have.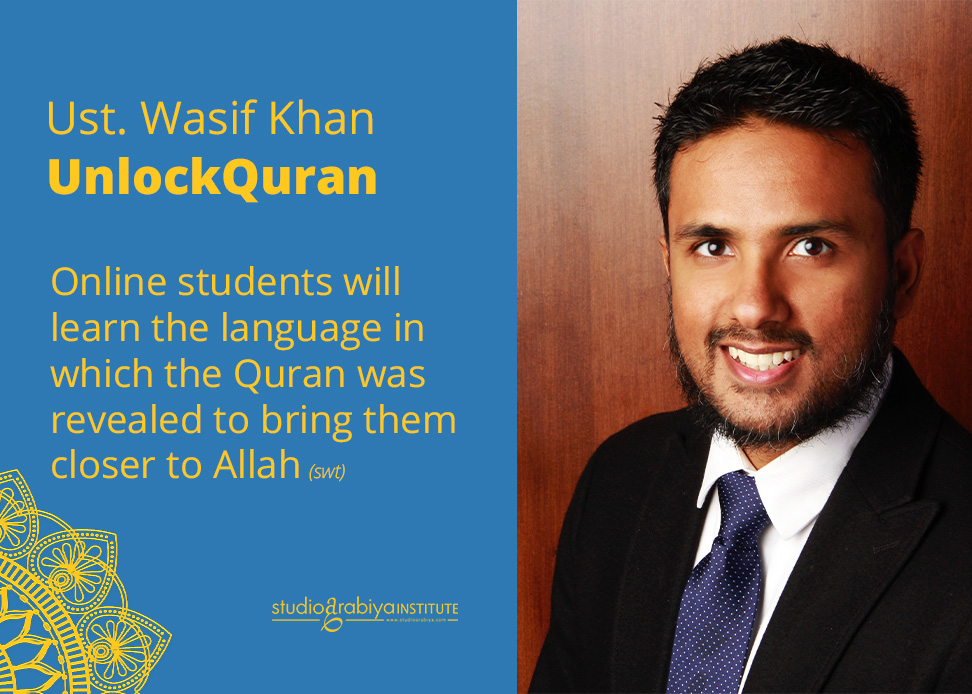 Somehow, this simple concept has ballooned into what feels like a self-help cottage industry of sorts. It has a Ted talk with tens of millions of views, podcasts, keynote speeches, a New York Times best-selling book, and finding ways to teach this in schools and workplaces.
What I do care about is critically analyzing if it is all that it's cracked up to be (spoiler alert: I don't think so), why the self-help industry aggressively promotes it, and how we understand it from an Islamic perspective. For me, this is about much more than just grit – it's about understanding character development from a (mostly Americanized) secular perspective vis-a-vis the Islamic one.
The appeal of grit in a self-help context is that it provides a magic bullet that intuitively feels correct. It provides optimism. If I can master this one thing, it will unlock what I need to be successful. When I keep running into a roadblock, I can scapegoat my reason for failure – a lack of grit.
Grit encompasses several inspirational cliches – be satisfied with being unsatisfied, or love the chase as much as the capture, or that grit is falling in love and staying in love. It is to believe anyone can succeed if they work long and hard enough. In short, it is the one-word encapsulation of the ideal of the American Dream.
Self-help literature has an underlying theme of controlling what is within your control and letting go of the rest. Islamically, in general, we agree with this sentiment. We focus our actions where we are personally accountable and put our trust in Allah for what we cannot control.
The problem with this theme, specifically with grit, is that it necessitates believing the circumstances around you cannot be changed. Therefore, you must simply accept things the way that they are. Teaching people that they can overcome any situation by merely working hard enough is not only unrealistic but utterly devoid of compassion.
"The notion that kids in poverty can overcome hunger, lack of medical care, homelessness, and trauma by buckling down and persisting was always stupid and heartless, exactly what you would expect to hear from Scrooge or the Koch brothers or Betsy DeVos." -Diane Ravitch, Forget Grit, Focus on Inequality
Focusing on the individual characteristics of grit and perseverance shifts attention away from structural or systemic issues that impact someone's ability to succeed. The personal characteristics can be changed while structural inequalities are seen as 'fixed.'
Alfie Kohn, in an article critical of Grit by Angela Duckworth, notes that Duckworth and her mentor while studying grit operated under a belief that,
[U]nderachievement isn't explained by structural factors — social, economic, or even educational. Rather, they insisted it should be attributed to the students themselves and their "failure to exercise self-discipline." The entire conceptual edifice of grit is constructed on that individualistic premise, one that remains popular for ideological reasons even though it's been repeatedly debunked by research.
Duckworth admitted as much in an interview with EdSurge.
There was a student who introduced himself having written a critical essay about the narrative of grit. His major point was that when we talk about grit as a kind of 'pull yourself up by your bootstraps,' personal strength, it leaves in the shadows structural poverty and racism and other things that make it impossible, frankly, for some kids to do what we would expect them to do. When he sent me that essay, of course, I wanted to know more. I joined his [dissertation] committee because I don't know much about sociology, and I don't know much about this criticism.

I learned a lot from him over the years. I think the lesson for me is that when someone criticizes you, when someone criticized me, the natural thing is to be defensive and to reflexively make more clear your case and why you're right, but I've always learned more from just listening. When I have the courage to just say, "Well, maybe there's a point here that I hadn't thought of," and in this case the Grit narrative and what Grit has become is something that he really brought to me and my awareness in a way that I was oblivious to before.
It is mind-boggling that the person who popularized this research and wrote the book on the topic simply didn't know that there was such a thing as structural inequality. It is quite disappointing that her response essentially amounted to "That's interesting. I'd like to learn more."
Duckworth provides a caveat – "My theory doesn't address these outside ­forces, nor does it include luck. It's about the psychology of achievement, but because psychology isn't all that matters, it's incomplete." This is a cop-out we see consistently in the self-help industry and elsewhere. They won't deny that those problems exist, they simply say that's not the current focus.
It is intellectually dishonest to promote something as a key to success while outright ignoring the structures needed to enable success. That is not the only thing the theory of grit ignores. While marketing it as a necessary characteristic, it overlooks traits like honesty and kindness.
The grit narrative lionizes this superhero type of individual who breaks through all obstacles no matter how much the deck is stacked against them. It provides a sense of false hope. Instead of knowing when to cut your losses and see a failure for what it is, espousing a grit mentality will make a person stubbornly pursue a failing endeavor. It reminds me of those singers who comically fail the first round of auditions on American Idol, are rightly ridiculed by the judges, and then emotionally tell the whole world they're going to come out on top (and then never do).
Overconfidence, obstinance, and naive optimism are the result of grit without context or boundaries. It fosters denial and a lack of self-awareness – the consequences of which are felt when horrible leaders keep rising to the top due, in part, to their grit and perseverance.
The entire idea of the psychology of achievement completely ignores the notion of morality and ethics. Grit in a vacuum may be amoral, but that is not how the real world works. This speaks powerfully to the need to understand the application of these types of concepts through a lens of faith.
The individual focus, however, is precisely what makes something like grit a prime candidate to become a popular self-help item. Schools and corporations alike will want to push it because it focuses on the individual instead of the reality of circumstances. There is a real amount of cognitive dissonance when a corporation can tell employees to focus on developing grit while not addressing toxic employment practices that increase turnover and destroy employees physically and emotionally (see: Dying for a Paycheck by Jeffrey Pfeffer).
Circumstances matter more than ever. You've probably heard the story (of course, in a Ted Talk) about the famous marshmallow test at some point. This popularizes the self-help version of delayed gratification. A bunch of kids are given a marshmallow and told that if they can avoid eating it for 5 minutes, they'll get a second one. The children are then shown hilariously trying to resist eating it. These kids were then studied as they grew older, and lo and behold, those who had the self-discipline to hold out for the 2nd marshmallow were far more successful in life than those who gave in.
A new study found that a child's ability to hold out for the second marshmallow had nothing to do with the ability to delay gratification. As The Atlantic points out, it had much more to do with the child's social and economic background. When a child comes from a well to do household, the promise of a second marshmallow will be fulfilled. Their parents always deliver. When someone grows up in poverty, they are more attuned to take the short term reward because the guarantee does not exist that the marshmallow would still be there later. The circumstances matter much more than the psychological studies can account for. It is far easier to display grit with an entrepreneurial venture, for example, when you have the safety net of wealthy and supportive parents.
Valerie Strauss writes in the Washington Post that grit discourse is driven by middle and upper-class parents wanting their spoiled kids to appreciate the virtues of struggling against hardship. Unfortunately, this focus on character education means that poor students suffer because less money will then be spent on teaching disadvantaged students the skills they need to be successful. Sisyphus, she notes, had plenty of grit, but it didn't get him very far.
Strauss asks us to imagine if a toxic dump was discovered near Beverly Hills, and our response was to teach kids how to lessen the effects of toxins instead of fixing the dump.
The grit discourse does not teach that poor children deserve poverty; it teaches that poverty itself is not so bad. In fact, hardship provides the very traits required to escape hardship. This logic is as seductive as it is circular. Pulling yourself up by the bootstraps is seen as a virtuous enterprise whether practiced by Horatio Alger's urchins or Silicon Valley's entrepreneurs (bootstrapping is a common term in technology finance circles). And most importantly, it creates a purported path out of poverty that does not involve any sacrifice on the part of the privileged classes. -Valerie Strauss
This approach is a way to appear noble while perpetuating the status quo. It provides the illusion of upliftment while further entrenching the very systems that prevent it. We see this enacted most commonly with modern-day Silicon Valley style of philanthropy. Anand Giridharadas has an entire book dedicated to this 'elite charade of changing the world' entitled Winners Take All.
The media also does its fair share to push this narrative. Stories that should horrify us are passed along as inspirational stories of perseverance. It's like celebrating a GoFundMe campaign that helps pay for surgery to save someone's life instead of critically analyzing why healthcare is not seen as a human right in the first place.
Islamic Perspective
Islamically, we are taught to find ways to address the individual as well as the system. Characteristics like grit and delayed gratification are not bad. They're misapplied when the bigger picture is not taken into account. In the Islamic system, for example, a person is encouraged not to beg. At the same time, there is an encouragement for those who can give to seek out those in need. A person in debt is strongly advised to pay off their debts as quickly as possible. At the same time, the lender is encouraged to be easygoing and to forgive the debt if possible.
This provides a more realistic framework for applying these concepts. A person facing difficulty should be encouraged to be resilient and find ways to bounce back. At the same time, support structures must be established to help that person.
Beyond the framework, there is a much larger issue. Grit is oriented around success. Success is unquestionably assumed to be a personal success oriented around academic achievement, career, wealth, and status. When that is the end goal, it makes it much easier to keep the focus on the individual.
The Islamic definition of success is much broader. There is the obvious idea of success in the Hereafter, but that is separate from this discussion. Even in a worldly sense, a successful person may be the one who sacrifices attending a good school, or perhaps even a dream job type of career opportunity, to spend more time with their family. The emphasis on individual success at all costs has contributed to the breakdown of essential family and community support systems.
A misapplied sense of grit furthers this when a person thinks they don't need anyone else, and they just need to persevere. It is part of a larger body of messaging that promotes freedom and autonomy. We celebrate people who are strong and independent. Self-help tells us we can achieve anything with the right mindset.
But what happens when we fail? What happens when we find loneliness and not fulfillment, when we lack the bonds of familial solidarity, and when money does not make us whole? Then it all falls on us. It is precisely this feeling of constriction that Allah

, give good news to those who are steadfast, those who say, when afflicted with a calamity, 'We belong to God and to Him we shall return.' These will be given blessings and mercy from their Lord, and it is they who are rightly guided." (2:155-157)
Resilience is a reflex. When a person faces hardship, they will fall back on the habits and values they have. It brings to mind the statement of the Prophet

that patience is at the first strike. He taught us the mindset needed to have grit in the first place,
"Wondrous is the affair of the believer for there is good for him in every matter and this is not the case with anyone except the believer. If he is happy, then he thanks Allah and thus there is good for him, and if he is harmed, then he shows patience and thus there is good for him" (Muslim).
He also taught us the habits we need to ensure that we have the reflex of grit when the situation warrants it –
"Whoever would be pleased for Allah to answer him during times of hardship and difficulty, let him supplicate often during times of ease" (Tirmidhi).
The institution of the masjid as a community center provides a massive opportunity to build infrastructure to support people. Resilience, as Michael Ungar writes, is not a DIY endeavor. Communities must find ways to provide the resources a person needs to persevere. Ungar explains, "What kind of resources? The kind that get you through the inevitable crises that life throws our way. A bank of sick days. Some savings or an extended family who can take you in. Neighbours or a congregation willing to bring over a casserole, shovel your driveway or help care for your children while you are doing whatever you need to do to get through the moment. Communities with police, social workers, home-care workers, fire departments, ambulances, and food banks. Employment insurance, pension plans or financial advisers to help you through a layoff."
Ungar summarizes the appropriate application of grit, "The science of resilience is clear: The social, political and natural environments in which we live are far more important to our health, fitness, finances and time management than our individual thoughts, feelings or behaviours. When it comes to maintaining well-being and finding success, environments matter. In fact, they may matter just as much, and likely much more, than individual thoughts, feelings or behaviours. A positive attitude may be required to take advantage of opportunities as you find them, but no amount of positive thinking on its own is going to help you survive a natural disaster, a bad workplace or childhood abuse. Change your world first by finding the relationships that nurture you, the opportunities to use your talents and the places where you experience community and governmental support and social justice. Once you have these, your world will help you succeed more than you could ever help yourself."
The one major missing ingredient here is tawakkul (trust in Allah). One of the events in the life of the Prophet

that epitomized grit, resilience, and perseverance was the Battle of Badr. At this occasion, the Companions said, "God is enough for us: He is the best protector."
"Those whose faith only increased when people said, 'Fear your enemy: they have amassed a great army against you,' and who replied, 'God is enough for us: He is the best protector,'" (3:173)
This is the same phrase that Ibrahim

, while displaying the utmost level of resilience, said when he was thrown into the fire, and it was made cool.
There is a core belief in Islam about balancing between fear and hope. Scholars advise when a person feels despair, they should remind themselves of the traditions that reinforce hope in Allah's forgiveness. When a person feels themselves sliding further and further into disobedience to Allah, then they should remind themselves of the traditions that warn against Allah's punishment. The focus changes depending on the situation.
Grit itself is a praiseworthy characteristic
There is no doubt that it is a trait that makes people successful. The challenge comes in applying it and how we teach it. It needs a proper level of balance. Too much focus on grit as a singular predictor of success may lead to victim-blaming and false hope syndrome. Overlooking it on the other hand, enables a feeling of entitlement and a victim mentality.
One purpose of teaching grit was to help students from privileged backgrounds understand and appreciate the struggle needed to overcome difficulty. Misapplied, it can lead to overlooking systemic issues that prevent a person from succeeding even when they have grit.
Self-help literature often fails to make these types of distinctions. It fails to provide guidance for balancing adapting the advice based on circumstance. The criticisms here are not of the idea of grit, but rather the myopic way in which self-help literature promotes concepts like grit without real-world contextualization. We need to find a way to have the right proportionality of understanding individual effort, societal support, and our reliance on Allah.
Our ability to persevere, to be resilient, and to have grit, is linked directly to our relationship with Allah, and our true level of trust in Him.
To stay up to date with more articles from Omar, sign up for his email list at http://ibnabeeomar.com/newsletter
To Kill a Muslim – Part 1
Yahya noticed the obscene gesture that the man across the street gave him, but he ignored it, and chose not to tell his wife Samira. He knew how deep racism ran in these small towns. He would just have to be patient.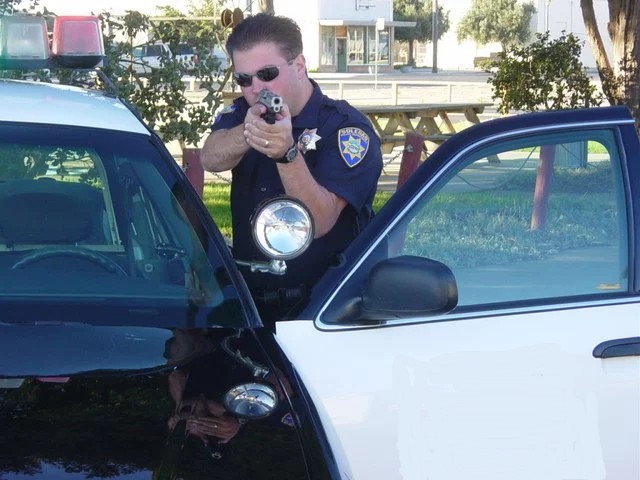 1. Ragheads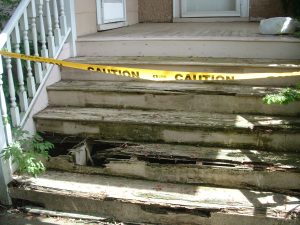 Nursing a warm beer, Chad sat on the ramshackle front porch with the rotting steps and peeling paint. His hand clenched tightly the beer can as he watched the filthy camel hugging family move in across the street. Liquid sloshed over his fist.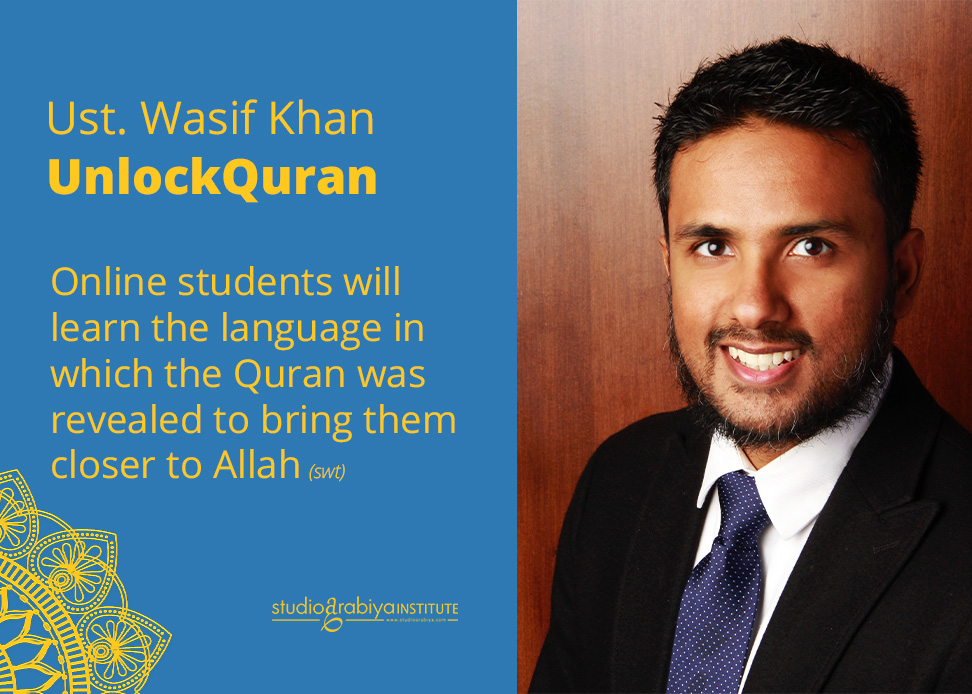 It was unbelievable. This was Alhambra, a white town in America. Trump's America. Making America great again, putting the freaks and coloreds back in their places. Sure, there were wetbacks in Alhambra – you couldn't escape them in California – but there were hardly any blacks, and there were certainly no terrorist camel huggers.
Until now. There they were across the street and two houses down, unloading a trailer hooked to a silver Honda Accord. It was a whole family of ragheads – a woman with her stupid oppressed scarf on her head, a little boy and girl, and the father. Chad studied the man with contempt. The guy was tall, maybe 6'1 or 6'2, and black. Well, maybe he was African or some such, 'cause he wore one of those long, colorful African shirts. His skin was mud colored, and his hair was short under that stupid beanie. He was skinny though. Chad was pretty sure he could kick the guy's ass. The man noticed Chad looking and waved. Chad flipped him the bird. The man frowned and went on moving his crap.
Chad spent a lot of time sitting on the porch nowadays, ever since he'd been fired from his loss prevention job at Walmart. That still made his jaw clench and his vision go red every time he thought about it. Some black dude – a gangbanger no doubt – had tried to shoplift box of tampons, of all things, and Chad stopped him. A scuffle ensued. Chad recovered the tampons, but the banger got away. And Walmart fired him. Said he'd violated the terms of service of his employment, which required no physical engagement of any kind. You were supposed to ask the thief to return the goods, but if they refused you were not supposed to stop them, follow them, or "engage" in any way, due to the liability to other customers if the encounter turned violent.
So the shade goes off scot-free, and Chad gets fired. A law abiding, hard working, white American gets fired for doing the right thing. It made him want to smash something. Actually it made him want to smash someone, ideally his Filipino woman boss at Walmart, but any foreigner would do.
So here he was, twenty two and unemployed, nothing but a high school diploma to his name, sitting on his mom's porch. All his old high school friends had jobs and girlfriends. Some even had wives. A couple had gone to college.
It wasn't right. His life wasn't supposed to turn out like this. He'd been a track star in high school – hundred meters and hurdles – and was supposed to have gone to college on a scholarship, but he'd blown out his knee, and they'd all abandoned him. It was like, if you weren't of use to people, they didn't give a crap about you. You were disposable. Blood sucking leeches. They'd given his spot on the track team to a black kid, a sophomore. Kid probably couldn't even read. Was that piece of crap out there now, living the life that should have been Chad's? How could this happen in Trump's America? That was the problem, that it hadn't been Trump's America back then. It had been Barack Hussein's America, the Commie Muslim traitor, damn his terrorist soul.
He seethed with the unfairness of it. He was no genius, he knew that. But he'd been a good runner, talented. He'd had the opportunity to make something of himself, to be the first in his family to go to college. He could have been more than his parents. A teacher maybe, or even a lawyer. His mother survived on welfare and what she could beg, borrow or steal from her string of boyfriends.
As for his dad, sure, Chad admired him in some ways – the man had been a shot caller in the Aryan Nation prison gang, able to point a finger and have another man killed. He'd been looked up to and respected. And he'd taught Chad what it meant to be a proud white man, standing up for your race and not taking any crap from coloreds. But let's face it, Dad had spent 90% of his adult life in prison, and in the end had died the way he lived, with a knife in his gut. That wasn't what Chad wanted for himself.
Plus, if Chad was being honest, he'd evolved beyond this father's way of thinking. His father always used to say that the coloreds – no matter the shade – were filthy and inferior and should all be eliminated, even if that meant a race war across the face of America. It was a certainty, according to him, that the race war was coming. RaHoWa, he used to call it – Racial Holy War. The coloreds were secretly plotting to wipe out white America. It was an assault on the white, Christian values that had built everything worldwide in the modern world.
But when Chad had worked at Walmart he'd been forced to work with people of all colors and even folks from other countries like Filipinos and Chinks. He´d asked a few of them about RaHoWa, trying to find out about their plans to destroy the white race, but they seemed genuinely clueless. Chad slowly realized that RaHoWa was a myth, and that the coloreds were ordinary people like himself. They liked the same sports teams he did, played the same video games, watched the same shows. Yeah, they ate some weird crap and some of them smelled different, and their music was garbage. And they weren't as smart of course. That was a fact. White people were the smartest, they had invented everything. That was why they ran the world. But the point was that the coloreds weren't evil.
He had come to the conclusion that what was needed was not a race war, but separation. Let the coloreds live in their own neighborhoods and go to their own schools. Let them marry their own women and breed their own brats. And Chad and the white people would do the same. Live and let live. Not the Filipino bitch who fired him of course, he still wanted to bust her head open. But the others, yeah.
But the Muzzies – the Islamics – that was a different story. They were terrorist, cult following traitors. Not normal people. Muzzies were evil and sick in the head. Everybody said so. Plus, they lied as part of their sicko religion. It was called takaya or some crap. What kind of twisted bullcrap was that? They beheaded people, for Christ's sake. If you were Christian in their country they would cut off your head with a hunting knife. They were devil worshipers. They should all either be kicked out of the country or killed. Period. And then Mecca should be nuked, and that would be the end of it.
But instead of taking care of business, the government was letting them go around like normal people. Even Trump had wimped out. The evidence was right in front of Chad's eyes. Ragheads in his neighborhood, on his street. It was insane. How could terrorists go around openly showing off their rags? Where was Homeland Security? That was a good idea, actually. See something, say something, right? He took his phone out of his pocket and called 911.
2. Moving Day
Yahya Mtondo noticed the young man across the street staring. He waved, and when the fellow gave him an obscene gesture in return he frowned. In the old days – that is to say, in his angry and lost years of his youth – he would have marched straight over there and punched the man in the face, and damn the consequences. But he wasn't that man anymore. So here merely shook his head and turned back to the job of moving.
His wife Samira must have noticed his expression. "What's wrong habibi?"
He forced a smile. "Nothing's at all, mchumba wangu." Usually he called her mpenzi wangu – my love. But when he wanted to tease her he called her mchumba wangu, my homemaker. It was actually a term of endearment in his native Kenya, or at least it was what his dad always used to call his mom, may Allah have mercy on them. But he knew it annoyed Samira. In any case, he wasn't going to tell her about the young man across the street. Samira tended to worry – she even had anxiety attacks sometimes – and he didn't want to give her anything more to stress over.
"Just tired from the fast," he added. "But I love it. I feel so light and free. I'm a bird doing loop de loops. Oooh!" He spread his arms. "My feathers are as cool as ice."
Samira rolled her eyes. "You're such a nut."
He had not been crazy about the idea of moving to this poor, mostly white enclave in Central California, about twenty miles northeast of Fresno. He knew from experience how deep racism often ran in such towns. And he had two strikes against him in these people's eyes, since he was both African and Muslim. Not that he was ashamed. He was proud of his Kenyan heritage, and was grateful that Allah had guided him to Islam.
They were here because his wife had just completed her medical residency in Fort Worth, Texas, where they'd moved from, and Alhambra Community Hospital had unexpectedly offered her a fellowship in her specialty of oncology. The salary was not spectacular, but it was better than she'd earned as a resident. Between that and his income as a rideshare driver, plus the low property values here in Alhambra, they'd been able to buy a house for the first time, alhamdulillah – thanks to God for all His blessings.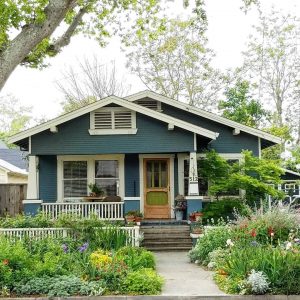 The best part of all was that there was no ribaa involved. No interest. They'd gone through a group called Central Valley Islamic Finance, which helped qualified Muslims to buy cars and homes without interest. Yahya was deeply relieved about that. He ́d made plenty of mistakes in life, but so far he'd managed to avoid the sin of ribaa, sometimes making great sacrifices in the process.
It felt like an achievement. He could see himself on Yawm Al-Qiyamah – the Day of Resurrection – standing before some great angel who held in his hand a parchment listing Yahya´s sins, each with a small checked box: anger, resentment, cursing, jealousy, ingratitude, and more. But then Yahya ́s eyes would settle on the one little unchecked box – Ribaa. He would point to it excitedly, saying, ̈Look, look!̈ And he ́d hope that it might perhaps, offer him a chance for safety on that Day.
It was pretty sad, he knew, when avoiding a major sin was your last chance for salvation. Welcome to the 21st century. Or maybe that was a cop-out. He sighed.
̈Come on babe, tell me. What is it?̈ His sweaty-faced wife touched his cheek. She was always so alert to any sign of inner turbulence on his part.
He smiled. ¨Nothing.¨
She slid her arm through his. ̈Look at our house. Our house. SubhanAllah.¨
He set down the box he had tucked under one arm and studied the house. 701 Minarets Avenue. They had taken the street name as a sign. Their own little homestead, their own piece of earth – of course it all belonged to Allah, but it was theirs to care for. He would import a few elephants and a lion and call it Little House on the Serengeti. He chuckled at his own joke.
The house was small for a family of four – only 1,100 square feet. But it was cute – a little Craftsman bungalow built in 1901, painted teal with white trim, and featuring a small covered veranda to relax on when the weather go too hot, as it often did here in Central California. The yard was planted with wildflowers and native shrubs, while an immense magnolia tree grew in the front yard, casting shade over most of the house, its thick, waxy leaves glowing deep emerald in the morning sun. Some sort of songbird trilled from deep in the tree, praising God in its own language. Yahya loved it.
As an added bonus, Samira's family lived in Los Angeles, only a four hour drive from here.
Allah the Most High had opened a door for them, and they'd walked through, taking the path that the Most Wise chose for them. Yahya knew in his heart that there would be good in this path, or Allah would not have set them upon it. That was trust, tawakkul. Doing your best, then putting your life in Allah's hands and trusting Him to bring you through whatever obstacles you faced. Tawakkul was not, as some thought, naivete. Yahya had not lived an easy life. He ́d experienced terrible tragedies, and had walked through trench and terror, metaphorically speaking, just to stay alive. No, tawakkul was a choice and a mindset. It was faith.
As for the young man across the street, Yahya would make an effort to reach out to the neighbors, get to know them. Weren't Muslims commanded to be kind to their neighbors? Only through kindness could an enemy become a friend.
He kissed his wife on the temple and bent down wearily to pick up the box.This was Ramadan, and Yahya's energy level was at rock bottom. He hadn't taken any food or water in many hours. Fortunately, all the family's possessions fit into a small U-Haul trailer, and the moving was nearly done. That was one advantage of being poor, he thought wryly. It made moving easier.
Ten minutes later, hefting a 6-foot bookshelf and turning, he almost tripped over Sulayman, his four-year-old son, who had picked up a table fan by the cord. Yahya resisted the temptation to chide the boy. The irritability he felt was a byproduct of his hunger and weariness from the fast. Part of the challenge of Ramadan was to overcome that irritability and replace it with compassion. Instead of anger, to give love. Instead of resentment, to exercise generosity. Instead of self-absorption, to expand your sphere of concern to include your family, neighbors, the community, the Muslim ummah, and finally the world. That was Ramadan, and that was Islam.
Sulayman and his three-year-old sister Amirah were only trying to help in their little way. But yeah, they were getting underfoot. He was about to suggest they go play inside the house when he heard sirens approaching. It sounded like there were a lot of them, and they were close. Curious, he set the bookshelf down in the driveway. The sirens kept getting louder, and a moment later a black-and-white Alhambra police cruiser careened around the corner, then another right behind it, tires squealing. Yahya didn't know what was going on – a burglary in the neighborhood, or a domestic dispute maybe? – but he wanted his family out of harm's way.
"Samira," he said urgently. "Take the kids into the house, please. Right away." His wife had also paused to see the source of the commotion. She stood near the front door of the house, her hands gripping tightly on the box of dinnerware she was carrying. Like him, she was tall – about 5'10" to his 6'1" – and though she was Palestinian, her skin was a beautiful shade of brown that fell somewhere between copper and mahogany. Her purple hijab concealed long black hair that she typically wore loose beneath her scarf.
While Yahya was quiet and contemplative, Samira could be loud. She had a laugh that rang out, and a smile that stretched a mile wide. People were drawn to her brash and bubbly personality. Only those who knew her best understood the insecurities and worries that she hid beneath that bright and happy laugh.
As the wailing sirens mounted Samira dropped the box. Whatever was inside shattered when it hit the ground. She scooped up the kids, lifting them bodily off the ground, and disappeared inside the house.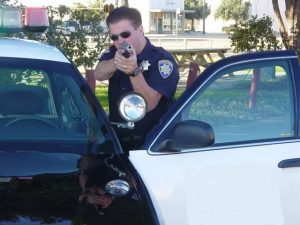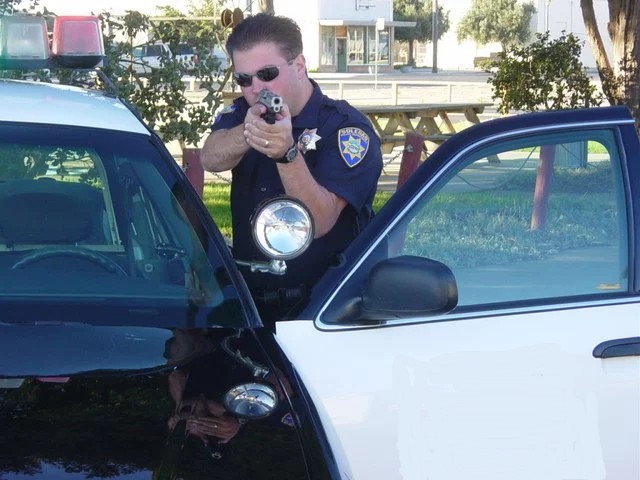 What on earth? What had gotten into her? Yahya was about to go after her when the police cars skidded to a halt in the street in front of his own home. Doors were thrown open, and officers kneeled behind them, pointing their guns at his house. Yahya looked around in confusion. Was a fugitive hiding in his yard?
"Put your hands on your head," someone bellowed through a loudspeaker, "and get down on your knees!"
Again Yahya looked around. Surely they did not mean him?
"You with the hat and the beard! Put your hands on your head and get down on your knees! This is your last warning!"
SubhanAllah, they did mean him! He considered protesting or at least asking for clarification. Then he looked at the barrels of the firearms pointing at him, one of which was bright yellow for some reason – some kind of phaser pistol? he thought crazily – and realized this was not the time for anything less than obedience. Moving slowly so as not to alarm the cops, he put his hands on his head and went down to his knees. Two offers charged forward, their weapons trained on Yahya's chest. One pulled his hands behind his back and handcuffed him, then shoved him forward. He fell, turning his face to the side at the last second and striking his cheek on the driveway. The impact made him grunt in pain. He thought he heard the muffled cries of his wife or children from inside the house. They were probably watching through the window.
This was not something he would have ever wanted them to see. He struggled to rise up, to say to the officers, "Come on now, what's this all about?" He was not personally afraid. It was never his way to be afraid of people or the things people did. He was good with God and trusted in the path. He just didn't want his children to see their father being treated this way.
The cops tased him. He didn't understand at that moment what was happening. Every muscle in his body seized in a terrible cramp. His limbs thrashed uncontrollably and his torso flopped like a dying fish on the floor of a boat. His vision went red as agonizing pain blasted his consciousness. He still heard his family screaming, and in the distance he heard laughter as well – triumphant, mocking laughter. The agony seemed to go on forever, then vanished without a trace, leaving no remainder of pain.
He regained control of himself and turned his head to look at the officers. The one who'd tased him stood rigid, his arms in a classic firing pose, his muscles quivering. He was young and slender, pasty white with red hair and a prematurely receding hairline. What Yahya noticed most of all, however, was that the man was petrified. His eyes were wide with fear. SubhanAllah, what was he so afraid of? He was staring as if Yahya were some mythical monster laying in the driveway, like an abominable snowman. Except he wasn't an abominable snowman. He was an abominable Muslim, apparently.
"Hey," Yahya said in what he hoped was a soothing tone. "It's alright. I'm not-"
"Shut up, faggot!" one of the officers bellowed, and once again the electricity coursed through him. He spasmed and fell hard, striking his mouth this time. Then he felt hard objects hitting him, striking his legs and back. A hammering blow clapped the side of his head, and darkness descended upon his mind.
* * *
Next: Part 2 – The Black Jesus
Reader comments and constructive criticism are important to me, so please comment!
See the Story Index for Wael Abdelgawad's other stories on this website.
Wael Abdelgawad's novel, Pieces of a Dream, is available on Amazon.com.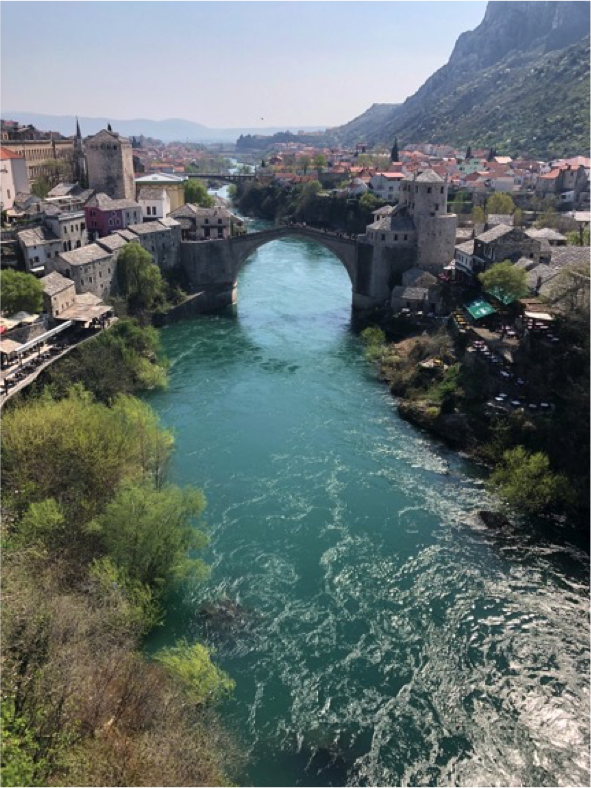 I have been to 35 countries, from Japan and China in the Far East, to Mexico and Columbia in South America, to Egypt and Morocco in North Africa, and there has not been another trip that was as profound in so many ways as my last trip to Bosnia. Go Visit Bosnia.
Besides Bosnia's natural beauty, affordability and hospitality, the enrichment that comes from learning about a different culture, its cuisines, its complicated politics, and a genocide not yet 25 years old, is one that turns tourism into an experience not easily forgotten.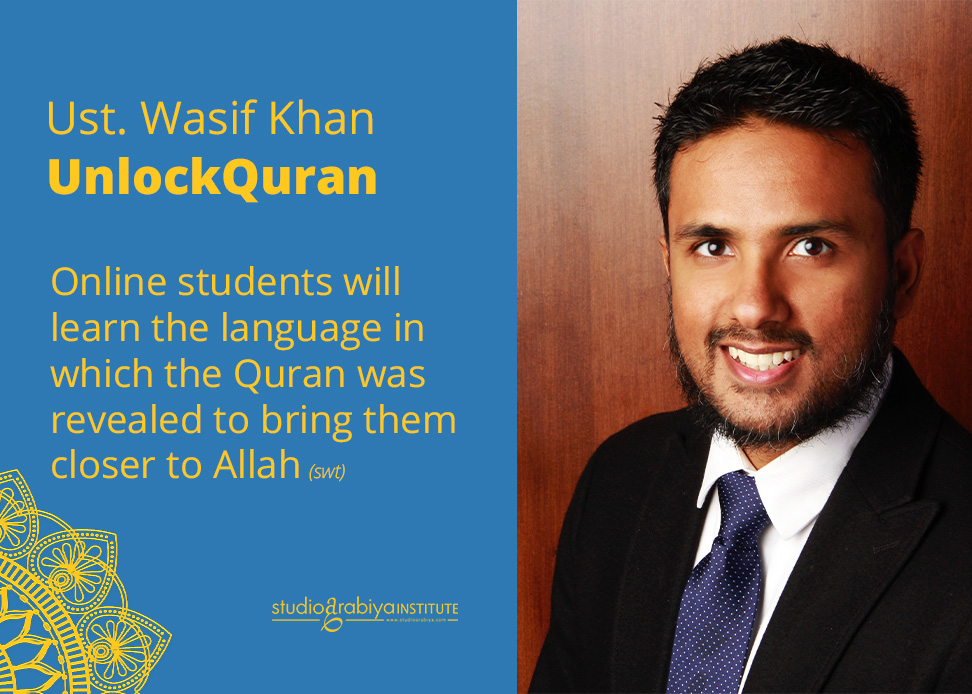 To the last point, why do human beings travel? What is it about a new destination that is appealing to us? Fun can be achieved in your neck of the world, so why wander? There are those who live in picture-perfect Switzerland but love to travel to remote deserts of Africa or the beaches of Indonesia. That is because traveling through new lands is a human instinct—a yearning to experience different cultures, foods, and environments.
Moreover, there is nothing more precious in life than experiences. Those who have had a sudden onset of terminal disease at an early age have an important perspective from which we can all learn. Why? Because the knowledge that you are dying quickly ends any sense of immortality, and what truly matters is crystallized. When asked what is it that they cherished most in their lives, pretty much all of them mentioned how the satisfaction from experiences such as travel beats the enjoyment of material riches any day.
What is an experience? Is it a fun week at Disney? Is it an adventure-filled trek through mountains? Is it going to a place to learn a new language? Actually, all of them are experiences, and it is not just going to a new place, but it is what you make out of that travel. If it is just fun, games, and shopping, have you really enriched your own life? Or have you missed out?
So when we planned our trip to Bosnia, many in our circle were a bit surprised as Bosnia is not on most travelers' bucket lists. Muslims generally have Turkey and Malaysia in their must-visits "halal trips", but after my trip to Bosnia, I feel that all Muslim travelers should add Bosnia to their short-list. Bosnia is a Muslim majority country, but barely so with about 50% Muslims, 30% Serbian Orthodox Christian and 15% Croat Catholics. I know this concerns many people, so let me add that food is generally halal unless you are in a non-Muslim village. Your guide will ensure that.
However, let me add that Bosnia is not just good for Muslims (just as Turkey and Malaysia appeal to everyone); people of all faiths can enjoy from the enriching trip to Bosnia.
Our trip began with selecting a reliable tour operator. While people tend to skip operators, preferring to book directly, I firmly believe that a professional should organize your first trip to a relatively unknown destination. I can honestly say I would have missed 50% of the enrichment without the presence of Adi, a highly educated tour guide, who was such a pleasant and friendly person that we almost felt him part of the family. The tour company itself belongs to a friend who worked for a major international company, before moving to his motherland to become part of Bosnia's success. At the end of this article, I am providing contacts with this tour company, which MuslimMatters is proud to have as its partner for any Balkan travel.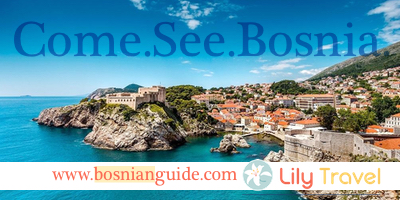 Coming to the trip, I am not going to describe it in the sequence of the itinerary, but just some of the wonderful places we visited and the memorable experiences. We had 10 days for the trip and I would say a minimum of one week is needed to barely enjoy what Bosnia has to offer. However, two weeks if available would make it less hectic and give more time to absorb most of what Bosnia has to offer.
Our trip started in Sarajevo, a beautiful city. Even though it's Bosnia's largest city, the population is around half a million. Remember Bosnia itself has a relatively small population of 3.5 million. An additional 2 million people in the Bosnian diaspora are spread throughout the world, mostly due to the Balkan wars of the 1990s. We walked through the old town and heard amazing stories from our guide. Although I have never been to Jerusalem, I have seen its pictures and can see why many people refer to Sarajevo as the "little Jerusalem". We heard the interesting story about the assassination of the Archduke of Austria in 1914 (the Austria-Hungarian empire controlled Bosnia at the time) and the beginning of World War 1. We visited the Ottoman bazaar, the City Hall, the Emperor's Mosque, and many other interesting areas.
Sarajevo
Like most cities in Bosnia, a river flows right through the center of Sarajevo.
The magnificent building that houses Sarajevo City Hall is located in the city of Sarajevo. It was initially the largest and most representative building of the Austro-Hungarian period in Sarajevo and served as the city hall. During the siege of Sarajevo that lasted over 3 years, Serbs targeted this building, focusing on destroying a rich collection of books and manuscripts inside it, and it was essentially burned down. After years of reconstruction, the building was reopened on May 9, 2014.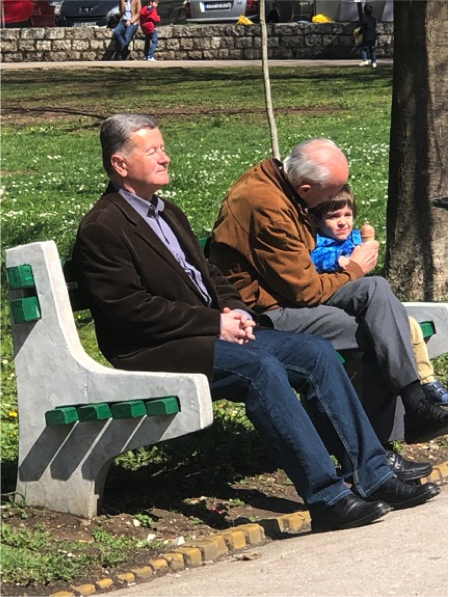 As we were walking on the streets, I took a picture of a man sitting carefree on the bench near the garden. I found this man's peaceful enjoyment of the weather fascinating. He was in his own world— eyes closed and smiling.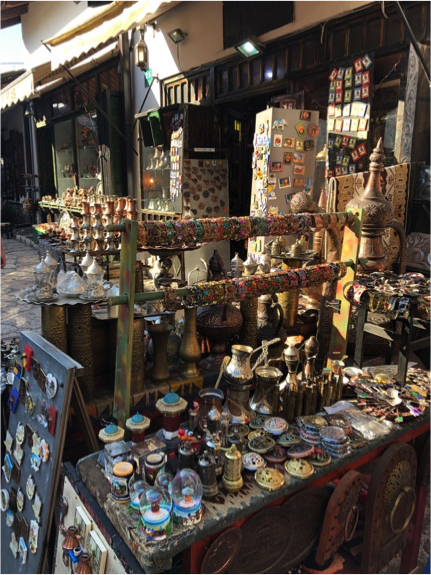 As you go into the Old Town, you will find many shops like this one in the picture of metal-crafts. Bosnians have been historically folks with mastery in metal and wood crafts. One historic shop that still functions and has some fabulous wood pieces is shown in the pictures.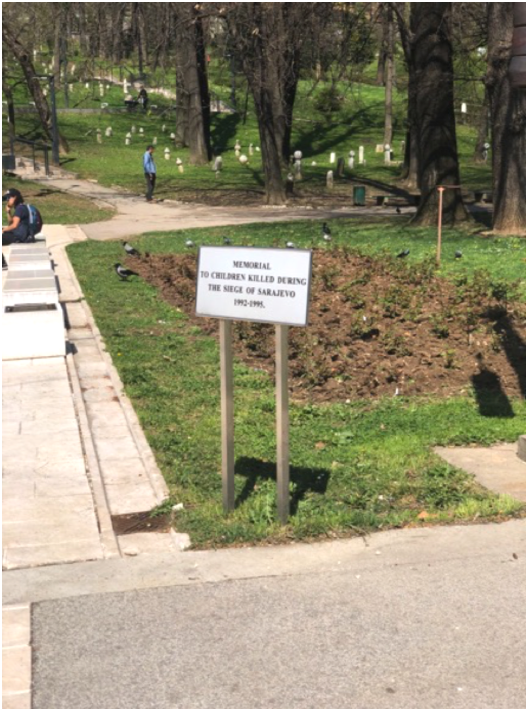 As you go through the city, you will find many graveyards as well, reminding everyone of the longest modern age siege of Sarajevo. One particular grim reminder is a memorial near the city center dedicated to the children who were killed during the war.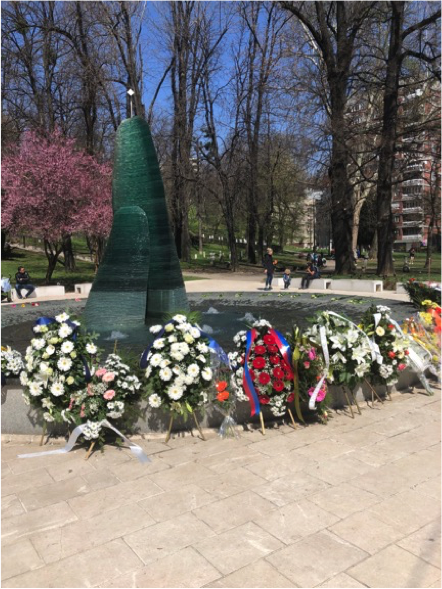 Our trip coincided with the annual somber anniversary of the beginning of the siege, April 5, 1992. Bouquets of flowers adorned the remembrance area.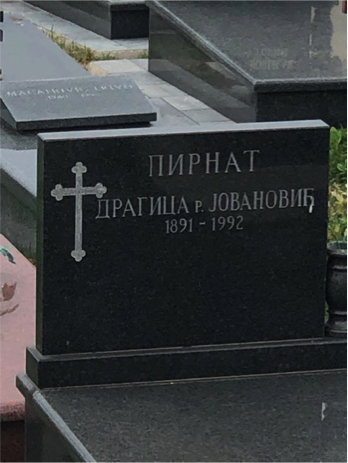 Another major graveyard (massive area) has graves of Bosnian Muslims, Bosnian Serbs (Orthodox Christians) and few Bosnian Croats (Catholics). They fought against each other with the oppressor by all accounts being the Serbs. Now they all lie together next to each other. The white tombstones are Muslims, the black ones Serbs. One pic shows a particular Serb person who lived 101 years, only to die in the first year of the war. Most of the tombstones indicated the year of death during 1992-95, the war years. Some of the white tombstones have "Sehid" written which means martyr. Interestingly, Serbs use Greek letters and other Bosnians Latin, so most signs are in both languages.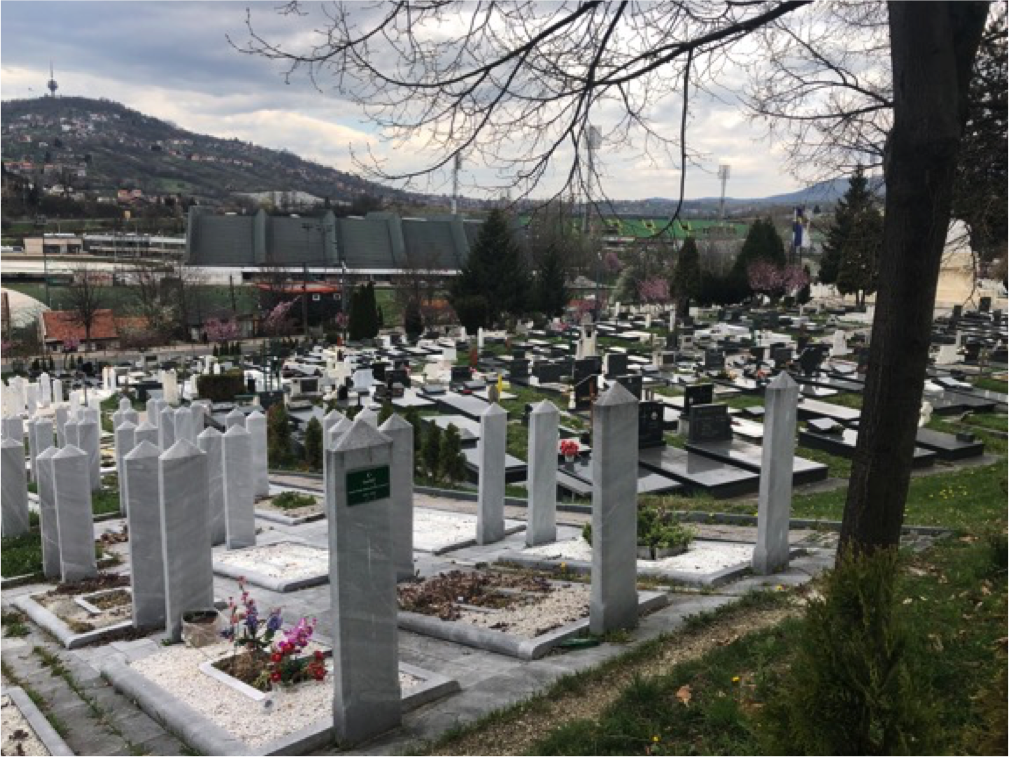 You can go up to a café in Hecco Deluxe Hotel, which is Sarajevo's oldest "skyscraper" and just absorb a 360 view of the city.  I was able to take one picture that captured the signs of all three major religious groups in Bosnia, as labeled in the photo. However, this is also a reflection of a country divided with 3 presidents, one from each religious group. Remember that the massacres were conducted by mostly Bosnian Serbs (not Serbian Serbs) and at some point, the Bosnian Croats also backstabbed the Bosnian Muslims (for example by destroying the vital ottoman old bridge in Mostar). Croatia and Serbia were planning to divide Bosnia between themselves but the Bosnian Muslims held their own until finally, NATO stepped in. It remains shocking how genocide could happen in the 90s in the heart of Europe. And it says a lot about the hypocrisy of the "West" in general. Many Bosnian Muslims remain bitter about it and I find it amazing that despite living among their potential killers, no revenge attacks have taken place. The political situation remains stable but tenuous— extremely safe but one political crisis away from going downhill. However, everyone is war fatigued and in case of a crisis, most people intend to just leave the country than to fight again.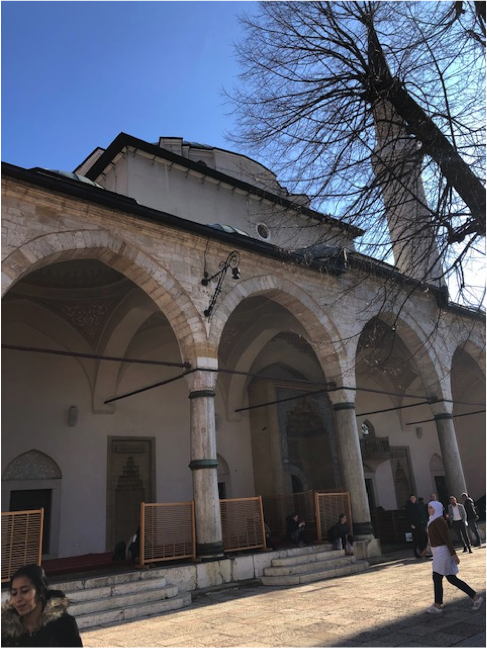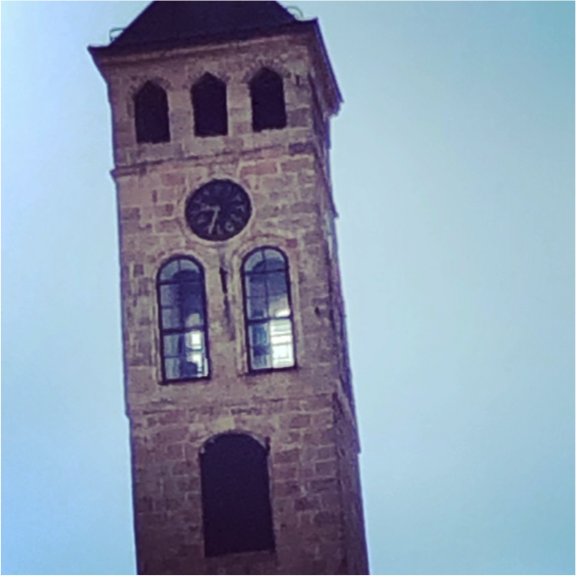 In the old city, you will also find the famous Gazi Husrev-beg Mosque that was built in the 16th century; it is the largest historical mosque in Bosnia and Herzegovina and one of the most representative Ottoman structures in the Balkans. A very interesting facet of the mosque is the clock tower. This is probably the only clock in the world that starts at dawn and ends at dusk. Every day, a caretaker adjusts the time to reflect the actual hours. So whenever you look at it, you will know how many hours to Maghrib prayers!
Another interesting feature and a reflection of the concern for animals is the watering hole structure set up for stray cats and dogs. It kind of looks like a toilet seat, with the purpose that an animal like a cat may climb the seat and drink from the small water reservoir that is constantly filled by the caretakers.
If you want to shop for normal stuff, there is the Sarajevo City Center (SCC). It has all the popular international brands, but what I found interesting is that the prices were in many cases even lower than American prices, which if you have been around, is quite rare. So if you are coming from the Middle East or Europe, definitely check this mall out.
Vrelo Bosne: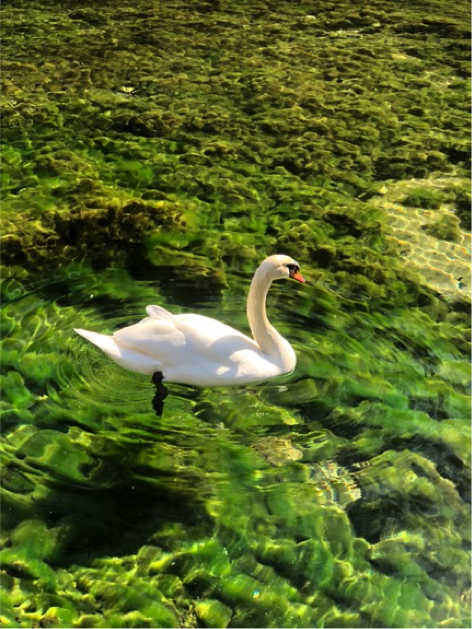 Just outside Sarajevo in the outskirts of the city, you a public park, featuring the spring of the River Bosna, at the foothills of the Mount Igman on the outskirts of Sarajevo. This beautiful park and the spring is a remarkable sight. It is a must see when you visit Bosnia. Crystal clear water allows you to see the entire waterbed. A beautiful white swan swam, followed by a couple of gorgeous ducks.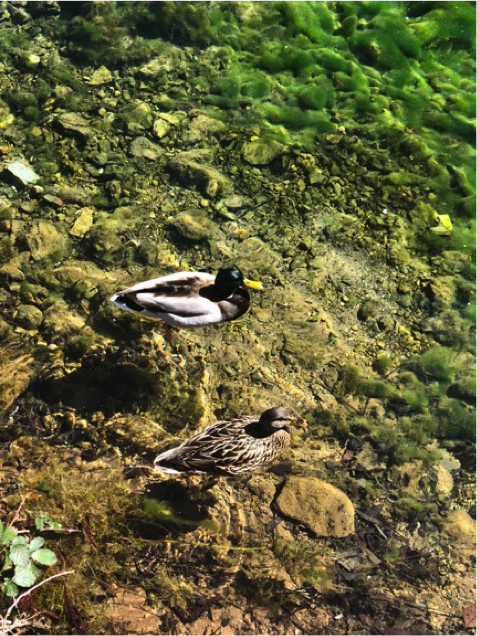 Museum Tunnel of War:
This small museum showcases the tunnel that was built underneath the airport tarmac by Bosnian Muslims in order to carry food, supplies and even arms. It was called "Tunnel of Hope" and constructed between March and June 1993 during the Siege of Sarajevo. While the Bosnian Serbs besieging the country were armed to the teeth with weapons from the ex-Yugoslavian army, an embargo of weapons was applied, essentially making Bosnian Muslims sitting ducks. Such was the treachery of the international community. This tunnel helped the Bosnian Muslims protect Sarajevo from total surrender. You can see the names of those killed here.
A truck driver on the "exit" side of the tunnel would then transport these supplies up and down some treacherous mountains. The driver's wife is still alive and has a small shop that sells souvenirs—be sure to visit and buy some.
Blagaj
This is a village-town in the southeastern region of the Mostar basin. Here we relaxed and ate fresh fish at the source of the Buna River, right next to where the water sprung out from the mountains underneath a cave. This is one of those dining experiences where the scenery makes your food even more enjoyable than it would have otherwise been.
Travnik

This is a town and municipality and the administrative center of Central Bosnia Canton. It is situated about 50 miles west of Sarajevo. Historically, it was the capital city of the governors of Bosnia from 1699 to 1850, and has a cultural heritage dating from that period. Here you see a pre-Ottoman Fort (1300s) is still in great shape. It stands on top of the hill with mountains behind it so no one could enter the city without being spotted. The scenery from the top is also fantastic as seen in the picture. The oldest mosque of the city was built here. There were 20 mosques were built in the city, of which 17 survived to date.

Jajce
It is situated in the mountains; there is a beautiful countryside near the city, rivers such as the Vrbas and Pliva, lakes like Pliva Lake, which is also a popular destination for the local people and some tourists. This lake is called Brana in the local parlance. In 1527, Jajce became the last Bosnian town to fall to Ottoman rule, and you will see the gate to the city that fell to the Ottomans.  The 17-meter high Pliva waterfall was named one of the 12 most beautiful waterfalls in the world.
Mostar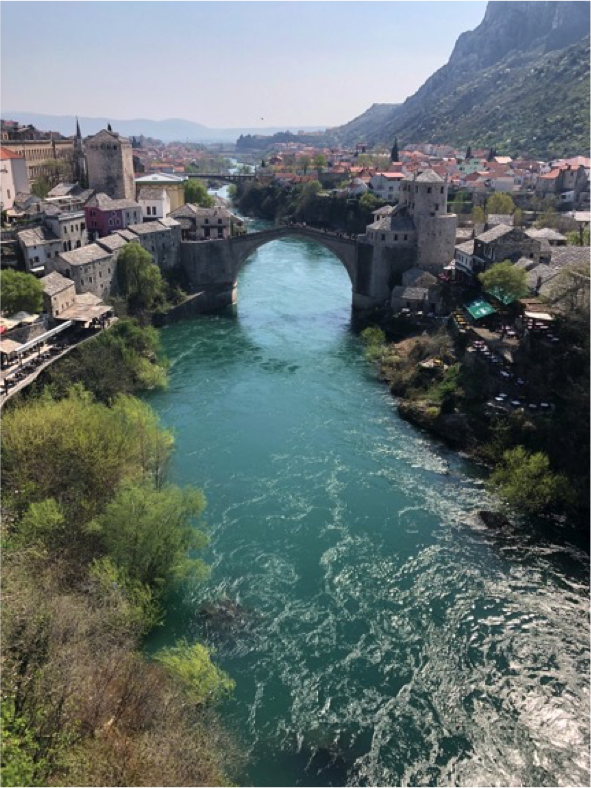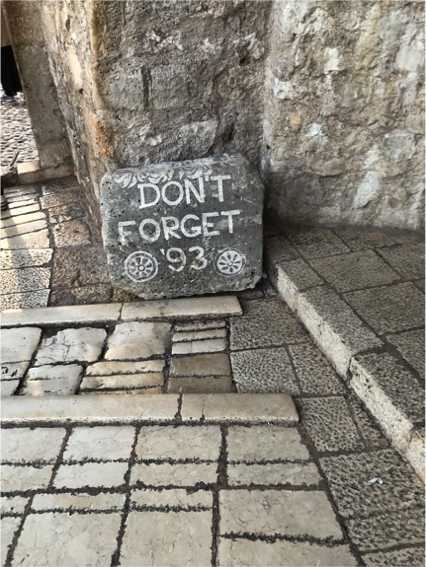 It is situated on the Neretva River and is the fifth-largest city in the country. Mostar was named after the bridge keepers (mostari) who in the medieval times guarded the Stari Most (Old Bridge) over the Neretva. The Old Bridge, built by the Ottomans in the 16th century, is one of Bosnia and Herzegovina's most visited landmarks and is considered an exemplary piece of Islamic architecture in the Balkans. The Old Bridge stood for 427 years until the Croatian army destroyed it in an act of treachery in November 1993. It was rebuilt and reopened in July 2004 with support from various nations.
Mostar is a beautiful city. You can also shop here and like all of Bosnia, you will not be haggled or conned (something that has become a feature of doing business in Turkey, unfortunately). There is one large shop that sells bed-sheets, table covers, etc. owned by a guy from Kosovo. You will not miss it if you are going through the bazaar. That is worth buying if you like such stuff.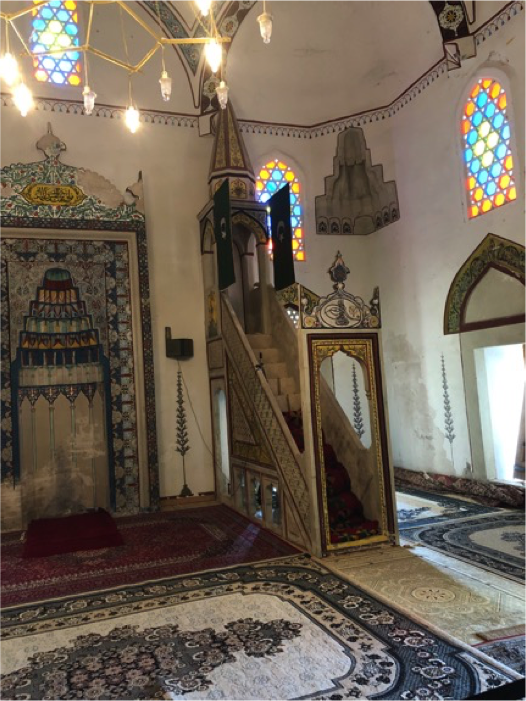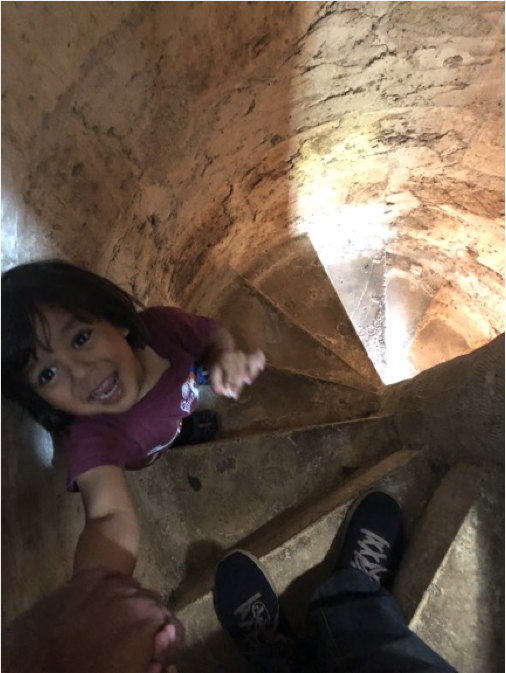 Not far from the Old Bridge, you can climb up a narrow staircase to a top of a mosque minaret and have another breath-taking view of the city and of the Old Bridge itself. The climb is not terribly difficult but may be a stretch for the elder.
Olympic Mountains Bjelasnica
Bjelašnica is a mountain in central Bosnia and Herzegovina. It is found directly to the southwest of Sarajevo, bordering Mt. Igman.  Bjelašnica's tallest peak, by which the whole mountain group got its name, rises to an elevation of 2067 meters (6782 feet). This is one of the resorts that hosted the 1984 winter Olympics. The main hotel here serves delicious food. If you are a skier, then the many mountains of Bosnia make for perfect (and very cheap) skiing options.

Srebrenica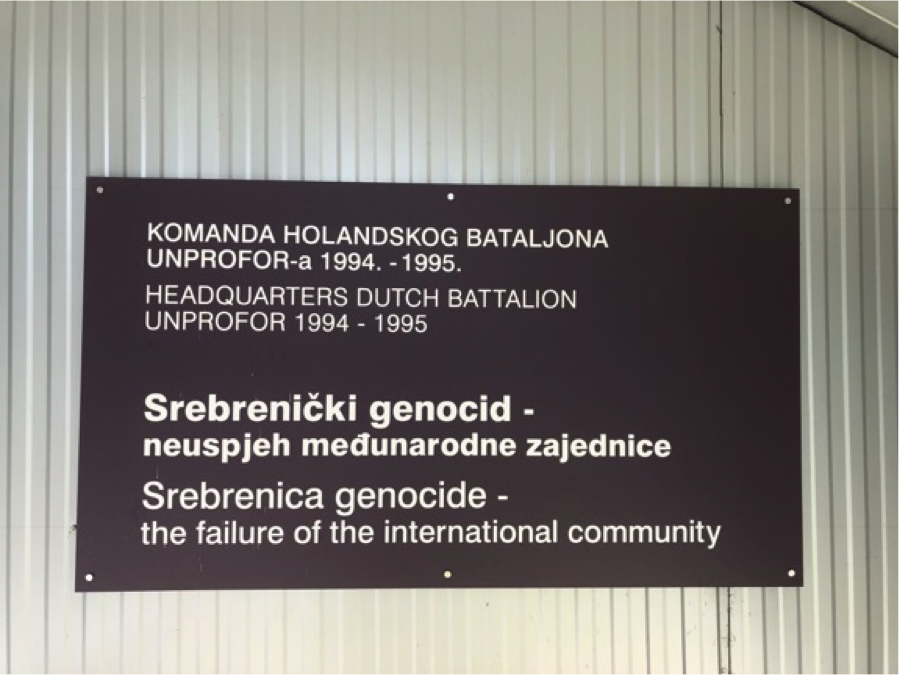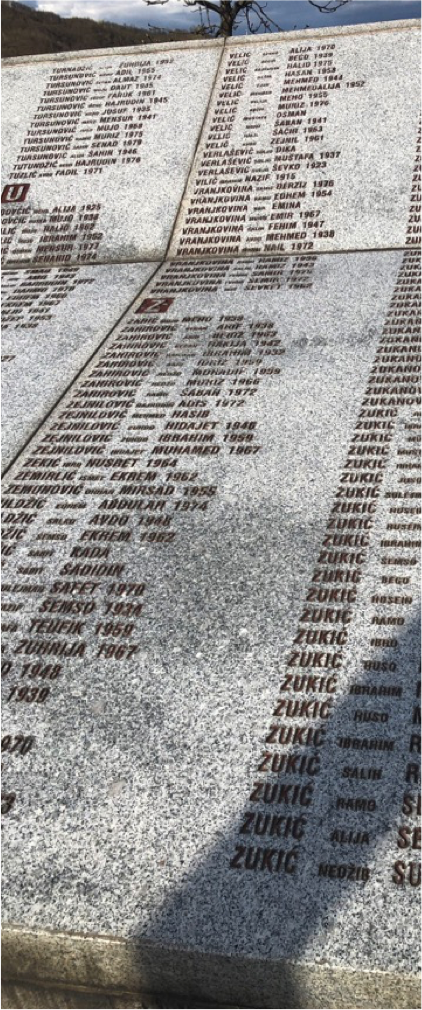 Epicenter of the Bosnian genocide, where 8372 civilians were murdered as the world watched callously. This is a must when you visit Bosnia. The genocide museum houses stories and eyewitness accounts. It is in one part of a massive warehouse that used to be a factory for car batteries before it became the command post for the UN designated Dutch army, sent to protect the Bosnian Muslim civilians, but later turning into cowards who gave up thousands for slaughter.
We met a survivor whose to this date chokes as he recalls his escape, walking 60 miles sleepless, hungry to reach Bosnian territory. Shakes you to the core.
Till today, not all bodies have been found or identified. Some of the bodies were moved to secondary graves by the Serbs to hide evidence. The green posts are the discoveries between one July 11 anniversary to the next— to be converted to white tombstones.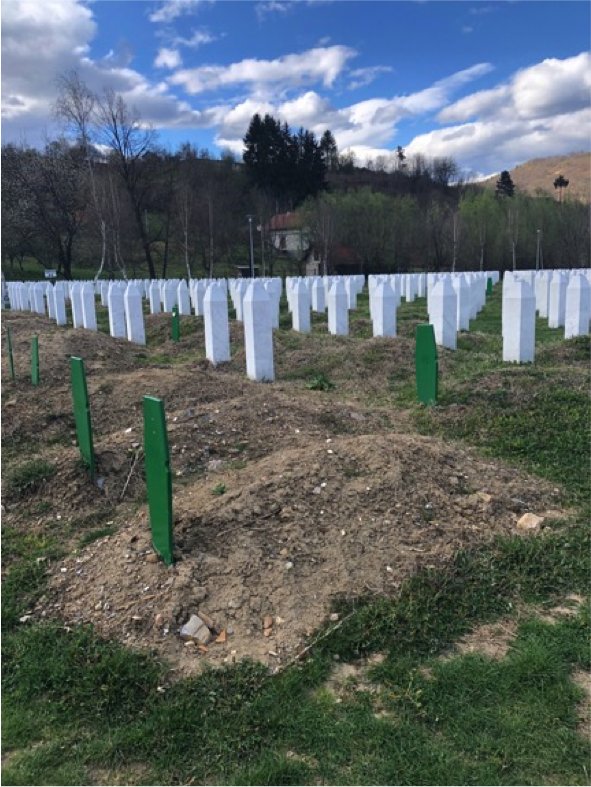 This day trip by far was the most moving. A genocide that shook us 25 years ago, but that we only heard of, is brought to life here. The museum offers stories and footage of the genocide. The graveyard makes your heart sink.
Unfortunately, this genocide is mostly forgotten and is something that we must never forget. Just as visits to Auschwitz are important to remember the Holocaust, we must make Srebrenica a place to visit, such that it becomes a history that we must never forget.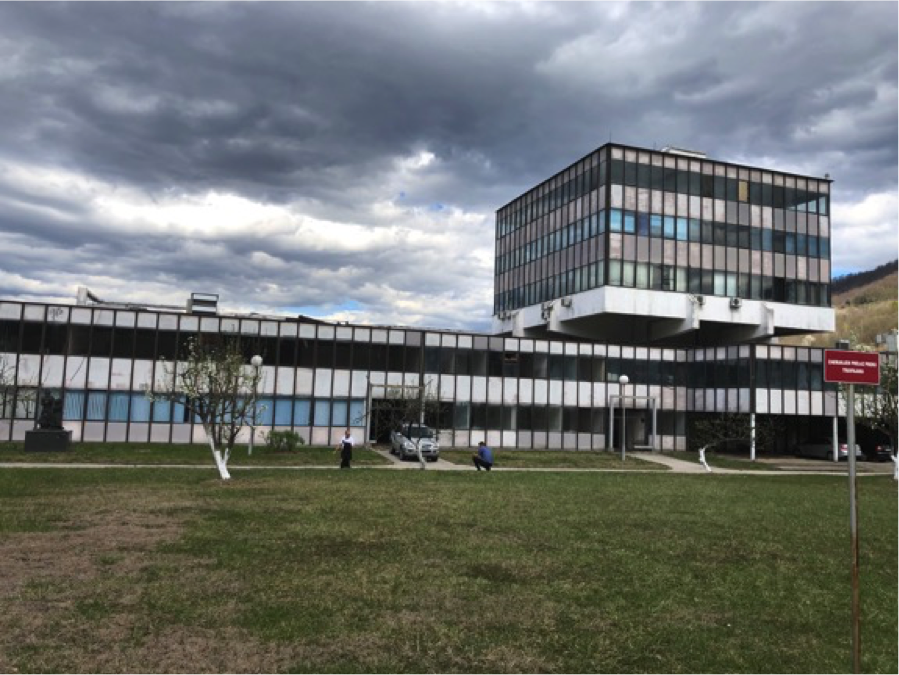 Other places of interest (not all-inclusive by any means):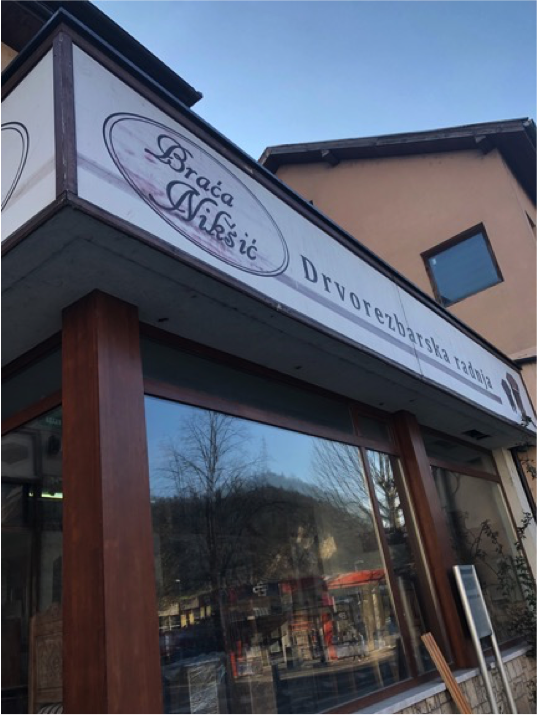 On the way back from Mostar to Sarajevo, be sure to stop by Konjic where you can stop by a very old woodcarving shop that to this date provides fabulous woodcrafts.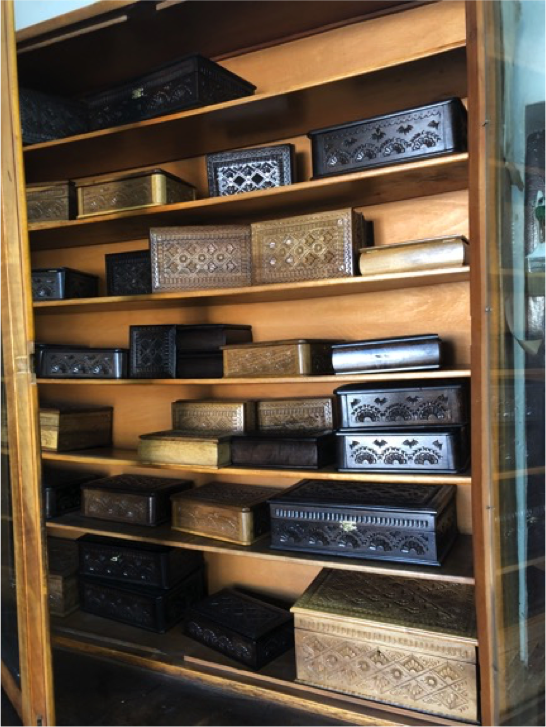 You can also stop by Sunny Land, a small park where you can ride an alpine roller coaster that kids (and adults) will definitely enjoy. A bit further from this location, you can see the remains of the bobsled structure, built for the 1984 Winter Olympics.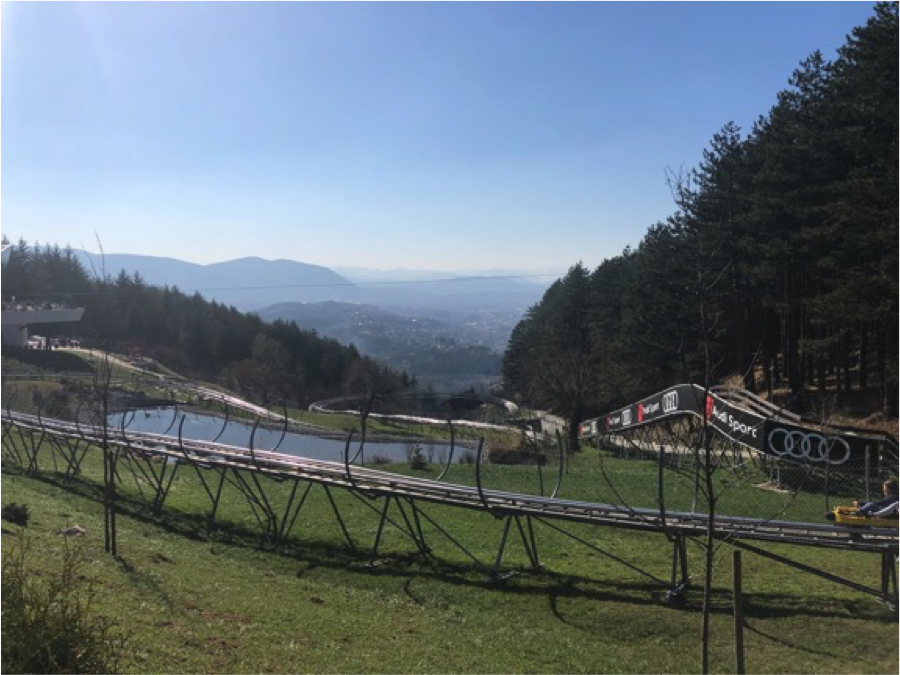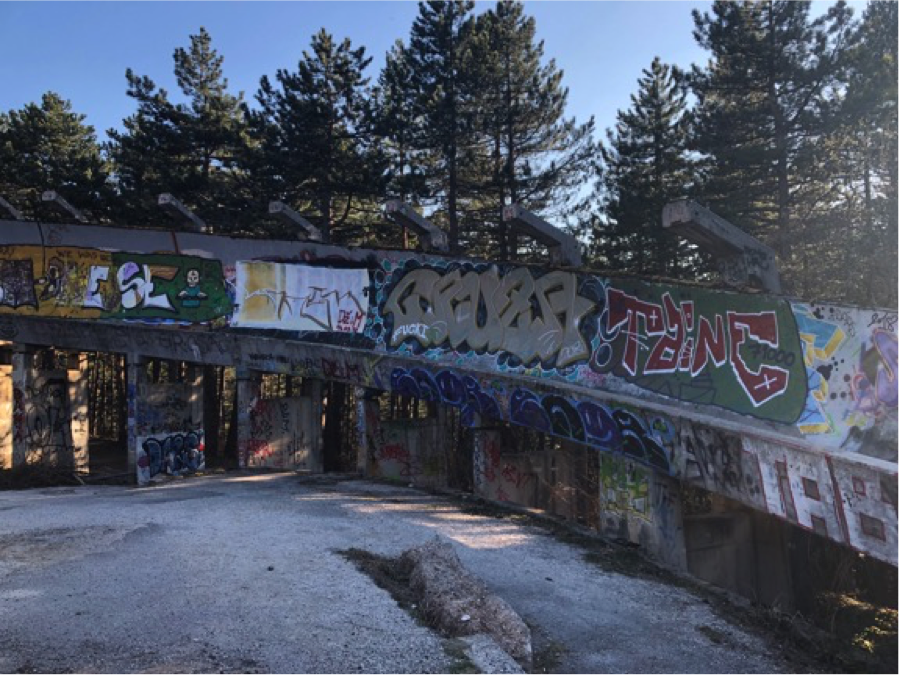 Our guide was The Bosnian Guide.