Zaid Karim, Private Investigator, Part 17 – A Mountain in My Mind
El Demonio came ahead grinning nonchalantly and whirling his stick through the air, completely unafraid of any opposition I might mount.

See the Story Index for Wael Abdelgawad's other stories.
Zaid Karim Private Investigator is a full length novel. Previous chapters: Chapter 1 | Chapter 2 | Chapter 3 | Chapter 4 | Chapter 5 | Chapter 6 | Chapter 7 | Chapter 8 | Chapter 9 | Chapter 10 | Chapter 11 | Chapter 12 | Chapter 13 | Chapter 14 | Chapter 15 | Chapter 16
El Demonio came ahead grinning nonchalantly and whirling his stick through the air. He walked straight toward me, completely confident in his abilities and unafraid of any opposition I might mount. After all, I was seriously wounded and barely able to walk. What threat could I be?
As I watched him come, I was convinced that he was little more than a novice with three or four years of training at the most. For one thing, an experienced Kali practitioner would never attack in a straight line. We always move at angles, keeping the enemy guessing and seeking to destroy the enemy's limbs while staying out of range ourselves.
El Demonio might think his few years of training made him an expert. That was common in martial arts. People believed that a first degree black belt (which could generally be attained in three to five years) made a person into a clone of Bruce Lee.
I was on a different level from the cartel boss and I knew it. This was not arrogance or boasting, but a realistic assessment. I'd been wielding a stick since the age of seven. Anyone who trains seriously in martial arts knows that those who began as children and never stopped training possess a poise, grace and insight no one else can match. A child's developing brain is plastic, like a map still being drawn. As the child soaks up knowledge, the brain routes its pathways to maximize the use of this knowledge. The brain says, "Oh, this Kali stuff is important? Then I will adapt myself and devote maximum resources to understanding Kali, and I will develop the body's abilities congruently." This is why the vast majority of Olympic athletes, symphony musicians and chess masters are those who began as children.
Kali long-range fighting, known as largo mano, relied heavily on footwork. I could not fight at that range, since I could barely walk. I would have to bait El Demonio, get him to drop his guard, and draw him into corto or close range, where I could get my hands on him and use my stick as a force multiplier in a grappling contest. Beginning Kali fighters rarely understood this type of weapons grappling, known as dumog. Maybe I could neutralize El Demonio's physical advantages.
Of course even if I won I'd be killed. I'd cross that high-wire when I came to it.
The scarlet-haired cartel boss waded in with a descending strike to my head, trying to split my skull from the get-go. I raised my stick into an umbrella, a type of angled block, and deflected the blow easily. I pretended, however, that I'd barely managed to save myself. I cried out in alarm and crouched as if frightened. El Demonio laughed in glee and paused to look around at his men, who laughed along with him. He then turned to me and aimed a blow at my ribs.
I made the choice to take the hit. I knew it would hurt, but I needed him to think he had me beat. In retrospect, it was a bad decision on my part. The stick hammered my already fractured rib. I felt something give way inside me, and my right side detonated into an eruption of pain. I dropped to one knee and coughed up blood, which poured down my chin. I could guess what had happened. My rib had snapped all the way through and punctured my lung.
El Demonio swung a backhanded blow at me from the right, and because my right eye was swollen shut I didn't see it coming. Pain burst like a firework in my right ear and I fell to the ground lying on my side atop my own stick, my head filled with a loud whine like a swarm of bees. I sensed El Demonio looming over me – maybe his body blocked the sun, or maybe I heard his self-satisfied chuckle – and rolled onto my right to look up with my left eye.
The evil little cartel boss raised his stick high, preparing to bring it crashing down on my head. He was standing almost on top of me, his feet only inches from my face.
There are certain things martial arts novices have in common. One is that if you have a stick in your hand, they expect you to only strike with the stick. If you have a knife, they expect only the knife. They forget that you still have hands, feet, elbows, knees and every other weapon the body can bring to bear. A novice stick fighter typically does not expect a wrestling match.
I made my move. I dropped my stick, rolled into El Demonio's legs and hugged them with my right arm. He lost his balance and fell to the ground with a cry of surprise. As he fell I punched him in the groin as hard as I could. He gave a shout of pain and rolled onto his side, clutching himself. I retrieved my stick and crawled up behind him. I intended to apply a choke, but I could not use my left arm or leg. So I slipped the stick around his neck in reverse, with my palm facing me, then threw my right leg over the stick and hooked it with the back of my knee. I now had El Demonio's head trapped inside the triangle formed by my right leg and arm, and the stick. I sat back and pulled with every shred of strength I had, arching my back, using my core muscles.
El Demonio thrashed his arms and legs wildly and made gagging noises. This was not a blood choke. The stick was directly across the front of his throat, cutting off his breath and slowly crushing his windpipe. Choke holds like this had been banned in police departments across America because they often resulted in the death of prisoners. Such chokes were also banned from mixed martial arts, even when applied only with an arm.
The cartel boss kicked his legs and scrabbled with his hands at the earth, tearing flowers out of the ground. I held the choke. The stick dug into the back of my knee, and my hand began to go numb. I was in more pain that I'd ever experienced in my life. Every breath was agony. I was dizzy, and couldn't tell up from down. I coughed up more blood. I could taste it going down my throat as well, hot and metallic. There was a roaring sound in my ears, and beyond that I heard El Demonio's men shouting, ordering me to release their boss. No doubt they'd shoot me any second. But I held the choke. El Demonio stopped fighting, and only twitched like a person in a bad dream. Still I held the choke. He stopped moving altogether. He was dead.
I dropped the stick and fell back, gasping for air. I felt like I was underwater. I noticed almost with curiosity that my fingernails had turned blue. I pushed myself up onto my knees. That was the best I was going to get. There was no way I could stand.
El Demonio's dozen men stood around me in a wide circle. Some were pointing their rifles at me, some not. Their expressions registered a range of emotions. Some looked shocked. Beefeater looked satisfied, and I could have sworn he had a trace of a smile on his face. Cowboy was stone faced, unreadable.
I met their gazes, letting my eyes move from one to the next. "He's dead," I announced. It hurt to talk. "I saw how he treated you. He shot two of you last night with his own hand. You're free of him now. Leave this place. Do whatever you want with your lives. Let me and my friends go. We have our own boat. Just let us go." Though truthfully I couldn't imagine how I'd get to the boat, or how I'd get Niko there, even if he was still alive.
"Yes," Beefeater said. "You may go. We will-"
Cowboy shot him. The mustachioed torturer in the black leather cowboy hat simply pointed his rifle and shot Beefeater dead center in his chest, then put another two rounds in him as he lay on the ground round-mouthed and wide-eyed.
Some of the guards flinched. One crossed himself. One laughed. A younger guard – a short, mahogany-skinned man with a narrow face and a trimmed beard – looked like he wanted to throw up.
"I'm in charge now," Cowboy announced in Spanish. "Does anyone have a problem with that?"
All except for the young guard said, "No sir." The young guard simply stared at Beefeater's lifeless body. I wondered if they had been friends.
Cowboy shot the young guard. At this a few of the guards actually cried out in surprise. Cowboy named two of the older guards, then gestured to Niko and the girls. "Put them in the middle with him," he said, pointing to me, "and kill them all."
"That wasn't the deal," I said in a voice that sounded like sandpaper on stone. It hurt to talk. Everything hurt.
Cowboy eyed me with all the feeling of a mako shark. "Your deal was with that piece of basura." He gestured with his chin toward El Demonio's body. "No El Demente, no hay trato." No Demented One, no deal. "As much as I detest that pedófilo, it would damage my reputation irreparably if I let the killer of El Demonio go free."
"I would not-" I began.
"Callete!" he bellowed, shutting me up.
One of the older guards grabbed Niko's feet and dragged him across the ground, leaving a trail of blood across the zinnias, amaryllises and other flowers of the garden. So much blood. Niko's skin was pale. When was the last time he'd moved or opened his eyes? The guard deposited my friend beside me in the flower bed. Another seized the two girls by their arms, ignoring their cries, and pulled them to stand beside me. Then he retreated to the perimeter of the flower bed.
Cowboy pointed one by one to five guards, including the two older ones.
"Preparados!" he shouted. Ready.
The five appointed executioners raised their rifles and pointed them at me, Niko, Oris and Anna. One guard, a muscular and slightly pudgy man in his thirties with pale skin and a cleft chin, looked uncertain and reluctant, but lifted his rifle anyway, and kept his mouth shut.
"Get down," I urged Oris and Anna. "Lie down beside me." I took their hands and pulled them gently to lie on the ground, face down.
"Apunten!" Aim.
I hunched over Niko and the girls, covering them with my body and arms. "Close your eyes, girls," I told them, filling my voice with as much reassurance as I could. "It will be okay. Close your eyes. I love you both." And it was true, I did love them. I loved Anna Anwar, the daughter of my good friend, a child who'd been abandoned by everyone. And even though I didn't know Oris, I loved her for her bravery, and her attempt to protect Anna.
I coughed up another mouthful of blood. The edges of my vision were gray, and even though the weather was tropical I shivered with cold, my teeth chattering. I still felt the pain that suffused my entire body, but it seemed to be retreating, as if the pain had become a thing separate from me, a living creature that nuzzled up against me. I held it and trembled, not with fear but with cold. I'm dying, I realized. The thought did not frighten me, but made me sad. Sad for Hajar, to whom I would be only a memory of a man she knew when she was small. Sad for Anna and Oris. Sad for Niko and his family.
I held my breath, expecting at any second to hear the command, Fuego! – Fire!
Instead a roaring, thrumming sound filled my ears. Was this death? Was it another thunderstorm? I raised my head, and with one good eye I saw the source of the noise as it came into view. Two large, camouflage-green helicopters soared up from behind the cliff on the southern side of the island, only a few hundred meters away.
All the guards similarly craned their heads, some shading their eyes to see the helicopters more clearly.
"Fuego!" Cowboy screamed, and I didn't know if he meant that the men should fire at me and my companions or at the helicopters. I put my head down and braced myself for the impact of bullets tearing through me. The air erupted with the sound of gunfire… and I was still alive. I looked up to see the guards firing on the helicopters, or at least trying to. The two helicopters moved as fast as falcons, flying in formation, making a huge circle around our position. I saw that both copters had twin machine guns mounted on either side of the cockpit, massive circular cannons with multiple barrels. Beside them were what looked like missile batteries. There were actually two cockpits in each copter, one on top of the other, with the upper one presumably housing the gunner.
The helicopters opened fire, and the world turned into a thunderstorm of sound and light. Those machine guns spun too fast for the eye to see, pouring death onto the island. The sound was an uninterrupted, ear-splitting whine. All around me men screamed and fell. I dropped my head again and covered the girls and Niko as well as I could.
When the firing stopped, I looked up to see that all the guards around me were dead, their bodies torn to pieces by the powerful guns of the helicopters. Cowboy had actually been cut in half at the waist. One of the helicopters continued to hover to the west of the house, while the other touched down outside the perimeter fence twenty meters southwest. A lone figure dismounted and strode toward me. He was a tall man wearing a green jumpsuit, black army boots and a black helmet with a face shield and an attached microphone. He also wore a nylon shoulder holster containing a large handgun. He approached until he stood above me. Then he removed the helmet, and I saw his face.
It was a thin face, with hollow cheeks and a long, crooked nose. He wore a neatly trimmed goatee, and his perfectly styled hair, once black, was now mostly gray. His name was Yusuf Arosemena Cruz, and as he stared down at me his eyes were full of rage.
The rage, I was sure, was not directed at me, but at the men who had abused me so terribly.
He kneeled beside me and spoke in English. "Do you have people in any of these houses?" He made a gesture that encompassed the huge house and the outbuildings.
My chest rose heavily and fell. My breaths were growing ragged, each one more and more of an effort. I couldn't find air to speak, so I only shook my head no.
Yusuf lifted the helmet and spoke into the microphone. "Destruyelo todo. Light it up." He looked at the hovering helicopter, raised a hand, and made a gesture, swinging his fist in a circle, then popping his fingers open.
Twin streaks of fire lanced from the hovering helicopter toward the main house. A split second later the building exploded in a massive fireball that shook the earth beneath me. I shut my eyes against the tremendous yellow and red brightness. A blast of hot air and sheer force bowled me over onto my back. Looking at the sky, I saw clouds beginning to gather. Or was that my vision turning gray? Another explosion came, then another. Judging from the direction of the sound, the chopper had blown up the torture house and the prison villa as well. Black smoke rose into the sky, blotting out the clouds. Or was that my vision turning black?
I moved my lips. No sound emerged, but the shahadah was on my tongue, gracing my final moments. Another explosion. I saw no sky anymore, only darkness. I didn't know if my eyes were open or closed. Another, more distant explosion. Closed. They must be closed. I'm done. It's all you now, Ya Allah. It's all you. The thought brought with it relief and grief, two opposites that should never go together but somehow did.
Yes, my eyes were definitely closed.
* * *
I dreamed.
I stood alone in a dark building, wearing only my underpants. I belonged in this lifeless, gloomy place. I had no business in the world of the living anymore. Patches of purple and motes of crimson swirled before my eyes. Something about the space – the way the sound of my breathing echoed, perhaps – told me the building was huge and empty. In the distance a doorway opened, and I squinted my eyes against the rectangle of light. The figure of a woman stood silhouetted, her hair billowing. She began to walk toward me, her footfalls the only sounds in the cimmerian space. She stopped in front of me, and only then did I see that she was Safaa. I turned my back, not wanting to be seen, not wanting my failure, shame, and near-nakedness to be exposed. She placed her hands on my back, her fingers firm and warm on my shoulder blades. I exhaled a sigh of relief and tipped my head back, overwhelmed with feelings I could not describe…
I walked into an expensive restaurant and saw Safaa sitting alone at a table. She looked elegant and beautiful in a vanilla white hijab and a long-sleeved white gown that glittered with tiny diamonds. I sat at another table and watched her surreptitiously. She kept glancing at the door as if she were waiting for someone. She had a small dish of caraway seeds and was arranging them on the table to spell something. A white limo pulled up outside and she stood. A tear more brilliant than any of the diamonds she wore ran down her dusky cheek. When she was gone I went to the table to see what she had written, but the seeds had been disturbed, and I couldn't read the words…
A spider-borne disease wiped out everyone in the world but me, Safaa and Hajar. I wanted to fly to another planet, but Safaa refused to come with me…
My crazy friend Niko came up with a scheme to sell stolen vacuum-packed salmon to the Kuna Indians. The cops were after him and he wanted me to take the salmon and finish the job…
I was a special investigator for the police, looking into a murder at a rich man's mansion. A witness handed me a gun in a plastic bag and said, "This is the murder weapon. The murderer's name is Zaid Karim"…
I stood amid the ruins of the Monterey Bay Aquarium. All the glass tanks had been shattered and the fish lay flopping on the ground. Their eyes rolled toward me as they said, "Save us, Zaid." But I could not because I had no water to put them in…
I lay on my back in a hospital bed, unable to move. The lights overhead hurt my eyes. Tubes ran into me, and monitors were attached to my chest. I was bandaged practically from head to foot. I heard a sound and rolled my eyes. In the bed next to mine, Niko lay on his back. His eyes were closed and his chest rose and fell slowly…
Except I didn't think that last one was a dream…
I opened my eyes and again found myself in the hospital bed. Maybe I made a sound, because a voice said, "Zaid? Zaid, habibi." It sounded like Safaa, but of course that was impossible. Or was it? I was so confused. I heard a chair scraping and the sound of footsteps. Before the footsteps reached me, my eyelids became suddenly as heavy as lead curtains, and I tumbled into a silent and subterranean sleep.
* * *
I awoke to the sound of bird song, and the feeling of warm sunshine on my face. For a long time I lay with my eyes closed, listening to the trills and calls. Was I in my apartment at Ashlan Meadows, where I lived with my wife and child? Was it Saturday morning? Was Safaa making breakfast?
I opened my eyes and immediately knew I was not in my apartment. The ceiling was way too high, and built of huge wooden beams. I lay in a king-sized behemoth of a bed with fluffy pillows and a quilted comforter. The room was spacious and high-ceilinged, with huge wooden timbers supporting the ceiling. Islamic art, of all things, hung on the walls – beautiful paintings of domed masjids and ancient cities. Set amid the paintings, a row of delicate yellow orchids grew in a carved wooden planter mounted on the wall. A border of green and blue tiles with Islamic geometric designs ran along the walls at the base.
The room smelled of lemon and jasmine. I turned my head to the left and saw a floor-to-ceiling sliding glass door that opened onto the most beautiful place I'd ever seen in my life. The glass door was open, and a cool breeze blew in through the screen door behind it. This was definitely not Panama city, though the air was still humid and damp.
A bodyguard stood just outside the door, facing away from me. He wore civilian clothes – jeans, boots and a buttoned shirt – and I didn't see a gun, but his posture and bearing were unmistakable.
In the foreground, a huge, grassy expanse sloped down to a large blue lake. The green sweep was interspersed with tall mango trees ripe with fruit. In the background clouds of mist poured down from the tops of forested hills. It was like a scene from Paradise, or like one of those nature posters they sell for ten dollars at the record store.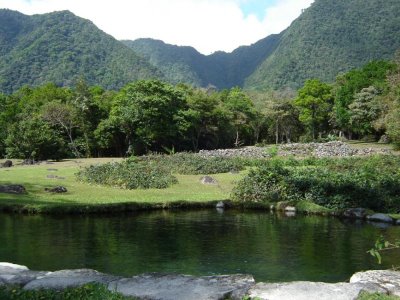 A horse went by at a gallop. A girl of perhaps fifteen years sat atop it, laughing and calling out to someone. She wore a riding outfit with black boots and a form-fitting red hat with a small bill. A moment later two other girls came into view, riding at a trot. They were Oris and Anna. But who were Oris and Anna? How did I know those names? Another child came into view, this one a much younger girl riding a pony that was led by a short, middle-aged man with almond-brown skin and wearing a cowboy hat. This last child was Hajar, my daughter.
Seeing this I laughed out loud, because this was obviously a dream and a weird one at that. If Safaa were here as well it would be perfect, as if my subconscious where throwing my every hope into one sweet narrative, whether it made sense or not.
This thought had no sooner touched my mind than I heard Safaa's voice.
"Zaid?" she said. "You're awake? Alhamdulillah, alhamdulillah!"
I turned my head to the right and there she was, rising from a rustic sofa hewn from whole tree limbs and covered in blue and green cushions. Her eyes were tired and her spring-patterned green and yellow hijab was askew, as if she'd been sleeping in it. She rushed to my bedside and took my hand in hers. She bent down and pressed her forehead to mine, saying, "Habibi, I'm so happy you're awake. When I thought I'd lost you I…" Her voice broke into a sob. "It nearly crushed my heart."
I laughed again, though my throat was dry and my voice rusty.
Safaa's face colored. "Why are you laughing?"
"Because," I said, "this is such a crazy dream. How did I come up with this?"
Safaa's mouth fell open, then she laughed and punched me in the chest. "You jerk! This isn't a dream."
"Ouch!" That punch really hurt. It set off dull aches throughout my upper body. Was a person supposed to feel pain in dreams? I couldn't remember. And who were those girls, Oris and Anna? I should know, it was on the tip of my tongue… something about… Tarek. My friend Tarek Anwar.
It all came rushing back. Tarek, Tarek was dead. And I'd been hired to find his daughter. And… Panama. Niko. El Pelado. Ouagadiri. El Demonio.
I was dead. I was dead, and this was Jannah, Paradise, with Safaa telling me she loved me, and Hajar, Anna and Oris all riding horses together. It could be nothing else. But then why was there an IV in my arm, and why did my body hurt? A sense of panic rushed through me like a flash flood. Something was wrong. Something was wrong with the world. Was this all an illusion? Was I trapped in some bizarre, hyper-real nightmare?
I tried to sit up and immediately grimaced and fell back. It wasn't that I was in pain, though now that I became more aware of my body there were indeed vague, ghostly pains in my left leg, left shoulder and right side. But what shocked me was how weak I was. I was like a newborn kitten. I lay in bed, breathing hard from the exertion of trying to sit up. I was so confused, and although this house, the mountains outside, and the fact that my family were here were all lovely, my confusion over what was real and what was imaginary disturbed me so much that my breathing became rapid and shallow. "I need to wake up from this," I moaned. "I need to wake up."
"Habibi." Safaa came close again, taking my face in her hands and kissing me. Her lips were warm, and tasted of pineapple. I'd wanted this for so long. I'd yearned to feel her touch again, to be safe and comforted in her arms, and yet I was strangely unmoved by it. Her kisses did not stir my heart, and her presence, rather than comforting me, set my nerves on edge, like the pins and needles one gets when their limbs fall asleep. Yet more evidence, I thought, that this Safaa was not real. If she were my Safaa, I would be more excited.
She stroked my cheek. "You're not asleep." She kissed me again. "Does this feel like a dream? You were injured very badly, but you're alive."
She felt real, tasted real, looked real.
"But the real Safaa doesn't love me anymore," I said softly, to myself as much as to to her. "And if this is real then what is this place? Why am I not dead?"
"I can answer that," a man's voice said.
I looked to the doorway to my right and saw none other than Yusuf Cruz. He looked just as I remembered from prison – tall, gaunt and bearded, with introspective brown eyes – except instead of the army greens we'd worn in prison, he was dressed in tan slacks, a Hawaiian shirt, and sandals.
Seeing his face, a memory rose in my mind like a hot geyser. Yusuf standing over me wearing a jumpsuit and pilot's helmet. El Demonio's house exploding, and a tremendous fireball mushrooming into the sky…
"We are in the town of El Valle de Anton, in the mountains of Coclé province, in Panama. The tourist agencies call it Crater Valley. And this is my home." He gestured to the sliding glass door and the expansive lawn, trees and lake outside. "You are here because this is where Allah decreed you should be. That is what you taught me, yes? That Allah is the Planner and Master of all things?"
Unbelievable. This dream, this hallucination, kept throwing apparitions at me. It would not release me, and it angered me. I looked to Safaa, challenging her. "How could you be here? And Hajar? It doesn't make sense."
She held my hand between hers and caressed my palm with her fingertips. It tickled. "You don't understand, Zaid. It's been three weeks since brother Yusuf rescued you. You were terribly wounded. You nearly died. You were in surgery for four hours, then the ICU for a week, and recovery for another week. Yusuf tracked down your parents and they called me. We came straightaway. You've been in and out of consciousness, but this is the first time you've been lucid."
I stared. So… this was real? I survived? And what about… "Niko," I said sharply. "Where is Niko?"
"He is alive," Yusuf said from the doorway. "He was here, but he has returned to Panama for now."
Niko was alive… I let that sink in. Alhamdulillah. He'd been so badly wounded, I was afraid that he – wait a minute. I looked at Yusuf. "You said, 'he's alive.' Not, 'he's good, or he's fine, or he's well.'"
Yusuf looked down. "Yes. He was shot twice, you know. He will have a long recovery. You can see for yourself when you are well enough."
Twice? I hadn't known that. There was something else Yusuf and Safaa were not telling me, I was sure of that. Another thought came to me. "You blew up the compound."
Yusuf set his jaw. "Yes. And good riddance."
"There were civilians in that house. Service employees, and an elderly couple."
My tall friend went very still. "I did not know that." He made a small, apologetic gesture with his hands. "Casualties of war. If I had known… Well. I did not know."
"Maybe you didn't care, huh? Maybe the opportunity to kill a rival drug dealer was too good to pass up. Mission accomplished."
Yusuf frowned. "I am not a drug dealer. I was true to my word, hermano. All my businesses interests are legitimate."
I snorted. "Is that why people turn pale when I mention your name? I appreciate you helping me, but as soon as I can walk I'll be on my way." Suddenly I was fed up with all this talk. "I want to see the girls," I told Safaa. My tone was harsh. After all the months of hostility and icy contempt from her, I didn't understand her reasons for being here, or for showing me all this affection. I didn't trust her, I realized. That was a first. I'd always trusted her implicitly, ever since we were kids. But when I'd called her before going to Ouagadiri and she wouldn't talk to me, that had been the final straw. My feelings for her had gone as cold as a prison cell in November. And as for Yusuf, I didn't believe a word out of his mouth. With the reputation he had, and this clearly luxurious estate he lived on, how could he be straight?
"Anna, Oris and Hajar," I repeated. "I want to see them." I rubbed my throat. It was so dry that it hurt to speak.
"Okay." Safaa spoke in a placating tone, as if I were an octogenarian with Alzheimer's, insisting that I wanted to talk to Charlie Chaplin. "I'll go call them. And I'll get you something to drink." She left the room.
Yusuf dragged a heavy log-hewn armchair across the room and sat beside me. "You did a great thing, hermano, saving those girls. I always knew you were destined for greatness."
I gave him a flat look. "I'm disappointed in you. I believed you were done with crime. I thought you were sincere."
Yusuf smiled. "I'm telling you the truth, hermano. I am done with crime. I own a real estate development firm. We have major projects all over Panama."
"Then why is everyone afraid of you?"
He sighed. "You can thank my ex-wife for that. Berliza, I told you about her? She was the one who was into Santeria. Anyway, when I went to prison she took over and ran the cartel in my name. As a woman, she would not have been taken seriously. So she told everyone she was acting on my orders. She was more ruthless than I ever was. She killed people by the scores. She ordered the assassination of the deputy minister of justice. She killed a lieutenant who betrayed her by shooting him with a grenade launcher. She did all this in my name." He gave a disgusted shake of his head. "I didn't know about it until I got out. Then I divorced her. I have a new wife now, her name is Yasmeen." He smiled. "She makes me very happy."
"And now? Is Berliza still running your gang?"
"It's not my gang. And yes, Berliza is still in charge. We have a…" He threw his hands up. "An unspoken agreement. She lets me live, and I allow people to think I am still in charge. I am helpless in this matter, hermano. If I spoke against her publicly she would destroy me faster than you can say hasta luego. Perhaps she would go after my family. Power has gone to her head. She has become a gila monster."
"So you're out of the crime business, but you just happened to have two assault helicopters available?"
"No," he said patiently. "I heard from brother Qayyum that you were asking about me. He's a good friend. I traced your steps. When I learned about El Pelado's death, I guessed where you were going. I bribed a Colombian general to let me borrow those choppers for a few hours. It was pure coincidence that I arrived when I did. You can thank Allah for that, not me."
"And the bodyguard?"
"I'm not a drug dealer. But many people think I am. That creates enemies."
Three girls came running into the room, followed by the teenaged girl I'd seen riding at a gallop outside, and a petite Muslim woman in her thirties, carrying a baby boy with alert black eyes. The woman had fine Spanish features, and wore an expensive looking riding outfit.
Hajar dashed straight to me, leaped onto the bed and threw herself onto my chest, wrapping her arms around my neck. She wore sneakers, leggings, and a touristy Panama t-shirt. Her hair was extra curly, maybe because of the the humidity here in Panama.
"Mommy was afraid you would died," Hajar informed me. "I could tell. But I knew you wouldn't died, because you promised. But you have too many boo-boos, Baba! You have to not play rough with the Panama people."
"Okay." The weight of Hajar's body on my chest hurt, but I gave no outward sign of that as she snuggled into my chest.
Anna Anwar came close to the bed – I noticed that Oris made a motion as if to pull her back, then let her hand fall – and held my hand where it rested on Hajar's back. "Thank you Uncle Zaid," she said seriously. "Thank you for saving me." Her skin was a beautiful cocoa shade, her eyes the color of fall leaves just turning from green to brown. She seemed, if not happy, at least not terribly traumatized. Perhaps, living with Angie, she'd become used to hardship and chaos.
Oris was another matter. She stood with the teenaged girl against the wall, beneath a painting of the green dome of Masjid An-Nabawi. Oris looked a million times better than the last time I'd seen her. She was well dressed in a long green skirt and an expensive looking blouse that was too big for her. She'd gained a few pounds, which was a good thing, as she'd been skin and bones when I saw her in that nightmarish villa. But her eyes darted this way and that, and the dark circles beneath them spoke of haunted days and sleepless nights. I could only guess what El Demonio had done to her. She would have a long and hard road back, I was sure.
Safaa returned with a glass of water. She held it to my lips as I drank greedily, then pulled it away, saying, "Slow down. Let's leave room for some food."
At the mention of food, my stomach rumbled loudly, like a sleeping komodo dragon that had just awakened. I was, I realized, hungry enough to eat the entire annual food export of Panama.
Hajar reached up and grasped my ear lobe, caressing it between two fingers like she often did. "Baba," she said, "you're so old and warm."
"Oh," I told her. "I have some bad news. I lost Little Deer. I'm sorry, sweetie. It was stolen from the car I was riding in."
Hajar lifted her head and regarded me solemnly. "That's okay, Baba. Maybe the person who stoled it needs somebody to love. And Little Deer will make him happy."
I smiled. "Yes. Maybe."
"Have you met everyone?" Safaa asked. I shook my head, looking to Yusuf.
"I'm sorry for my rudeness," he said, stepping forward. "I didn't want to intrude. This is my wife, Yasmeen." The petite woman stepped forward and Yusuf draped an arm around her shoulders. The difference in their heights was remarkable.
Yasmeen gave me a tight smile that did not quite touch her eyes. "Please be welcome in our home," she said in accented English. "Is a pleasure to meet you."
"Likewise," I said. "Encantado. I am grateful for your hospitality."
Yusuf gestured to the teenaged girl who stood with Oris. "Nora, my daughter. She's been teaching the girls to ride."
I greeted her and thanked her for her attention to the girls. She must be Yusuf's daughter by his first marriage, as fifteen years ago he had just entered federal prison. He would have missed most of her childhood. I wondered how he'd managed to repair that damage, or indeed if he had.
"And my son," Yusuf concluded, rubbing the baby's head. "I named him after my personal hero."
"Ma-sha-Allah." I thought back to the many conversations we'd had in prison. "Uhh, that would be 'Umar ibn Al-Khattab, right?"
"Yes, he is my hero, but I mean my other hero. Zaid."
"Yes?"
He laughed. "That is my son's name. Zaid."
"Oh." I didn't know what to say. I was his hero? I didn't feel like a hero. What good had I done Tarek Anwar, or Angie Rodriguez, or the civilians who'd been killed on Ouagadiri, or even the young guard who'd been shot by Cowboy for his reluctance to execute me, Niko and the girls? Speaking of Niko, what good had I done him? What were Yusuf and my wife hiding about his condition? I'd dragged him into this whole mess, and he'd been shot and nearly died. Hero? I felt a wave of bitterness wash over me, and my eyes welled up with the intensity of my self-loathing. I was no hero.
Yusuf smiled, no doubt mistaking the reason for the tears in my eyes, thinking that I was moved by his naming the boy after me.
I suddenly felt tremendously weary and weak. My embrace of Hajar loosened, and the ceiling spun above me.
"Zaid?" I heard Safaa say, but it seemed to echo from the end of a tunnel. Hands lifted Hajar off my chest. I heard voices and the shuffling of feet. I thought I might pass out, but the ceiling gradually wound down and came to a stop. When I recovered my senses, I found the room empty except for me and Safaa, who stood beside me, holding my hand.
I disengaged my hand from hers. "I want you to leave."
"What do you mean?"
"Take Hajar and go back to California. When I'm well enough to travel I will bring Anna to her grandparents. I've paid Hajar's child support and more, so I expect full shared custody of Hajar going forward. I'd like to see her every weekend, and I'll pick her up from school on Tuesdays and Thursdays as well. Maybe I'll take her to the park or something, then bring her home. We can discuss a divorce settlement later."
Safaa stared at me open-mouthed. "You don't know what you're saying. You're delirious." She put a hand on my forehead, checking for a fever.
"I know exactly what I'm saying. I almost died here, and if I had I would have died alone, not only physically but emotionally as well, because the woman who should have loved me abandoned me instead. I've tried with you. Allah is my witness, I have tried. But I have nothing left. I'm done trying."
"But.. I…" She straightened and nodded. "I see what you mean. And I'm sorry you had to go through that. But I haven't made myself clear. I want us to get back together. I love you, Zaid Karim Al-Husayni. I want us to be a family again."
The words washed over me like a cold wind. They should have left me gibbering in ecstasy, but instead they made me want to retreat into myself. They made me angry. "Tell me something. Do you still think I had an affair with Karima?"
"No. Not anymore."
"Really? That's interesting. What changed your mind?"
"Uhh…" Safaa stammered and looked as if she'd rather pick up a rattlesnake and make out with it than answer the question. I met her eyes with a blank stare and waited.
"Farah Anwar," she said finally. "She's telling everyone that you had something to do with Tarek Anwar's death, and that you stole ten thousand dollars from her and ran away."
Infuriating, but not surprising. Was there no end to that woman's mischief? "And?"
"And, well, I know you loved Tarek and tried to help him. You would never do anything to harm him. And I came here, and I see that you not only found Anna like you were hired to do, but you pushed harder and farther than anyone could have asked."
"Ahh." I snorted and shook my head. I'd thought I was done being disappointed by Safaa, but a fresh wave of it rinsed my heart in vinegar and left me grimacing. "Now I get it. You came down here to see if I really stole the money like Farah claims."
"No! I mean, maybe. Only a tiny bit. But now I see that Farah lied."
"So you finally figured out that she's a chronic liar, and you deduced that she lied to you about me. Congratulations. You win the door prize, which you can collect on the way out. You do not, however, win me."
Safaa gave me a pained, confused look. "Why are you talking like this? You've never spoken to me like this, ever."
I dropped the sarcasm. "I told you, I'm done. Don't you understand, Safaa? It's easy to believe in someone when you're confronted with evidence that they're truthful. But marriage is supposed to be more than that. It's supposed to be believing in someone because you love them. Because they're your twin soul and your heart, and you trust them. Because they're the shoulder you lean on, the person you want to stay with until you walk together in the tall grass of Jannah. You and I had that once but you threw it away on the word of a bitter old woman. I didn't destroy our marriage. You did. What you feel now is perhaps regret or guilt. The realization that you made a mistake. It's not love. I don't know when you stopped loving me or why. Maybe you saw me struggling as a taxi driver and a P.I. and concluded that your hopes for me were misplaced, that I'd always be poor and struggling. I don't know and I don't care anymore."
Safaa began to cry. "Do you… do you not love me anymore?"
I felt like a heel and a cad. I couldn't stand to see Safaa unhappy. I never could. But everything I'd said to her was true.
"I do," I told her truthfully, my tone more gentle now. "You are a mountain in my mind. For so long all I've wanted was to lie in your green meadows, listen to your streams, feel the trembling of your granite when you avalanche. I still want that. I want to lose myself in your spring, summer and fall. I just don't want to be frozen alive by your winter. I don't want to spend my life searching for the hidden pass that leads to your heart, then end up like the Donner Party, cannibalizing myself. I-" Words failed me. I was more tired than I'd ever been in my life. I felt that my bones would turn to powder at any moment, and my heart melt like wax.
"I can't anymore," I whispered. My lower lip trembled and tears trickled from my eyes, though I wasn't even sure why. I was just so overwhelmed. "I have nothing left. Take Hajar and go. I divorce you."
If Safaa made a reply, I did not hear it. My eyelids came down like stage curtains at the end of a show, and I fell asleep.
* * *
Next: Chapter 18 – A New Light
Reader comments and constructive criticism are important to me, so please comment!
Wael Abdelgawad's novel, Pieces of a Dream, is available on Amazon.com.
Retire Aladdin To The Ends Of The Earth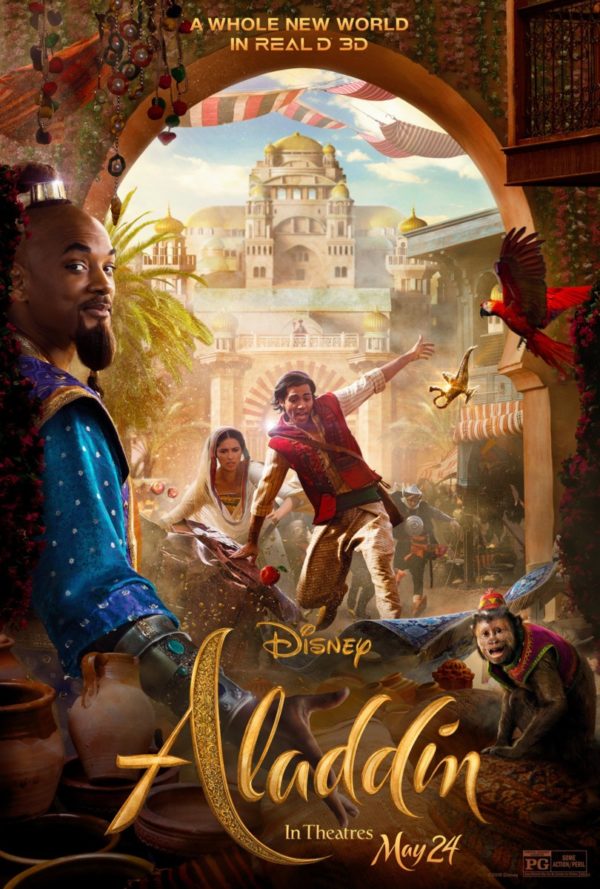 By Jinan Shbat
I grew up in an upper-middle-class suburb in Ohio, where I never felt different than the kids in my neighborhood. Sure, my siblings and I had odd-sounding names, and we spoke a second language. But to our neighbors and classmates, we were white, like them. However, that perception changed when I was 11-years-old, when a Disney cartoon movie named "Aladdin," was released based off of a character created by a French orientalist at the height of Orientalism. At first, my siblings and I were excited because we thought Disney had made a movie that represented us. However, shortly after the movie came out, the questions began.
Are you from Agrabah?
Do you have a magic carpet? Are you going to be married off to someone your parents choose? Do you have outfits like Jasmine?" My head was swarming with all these questions, and I admit, I was intimidated. A little scared, too. I didn't know how to answer them, and so I just shook my head and walked away.
My parents thought they were doing us a favor by buying the movie and have us watch it anytime other kids came over to play. This just created a larger divide between us, and soon my siblings and I were the "other." It made me hyper-aware of my brown skin, my visiting foreign grandparents, and my weird-sounding name that no one could ever pronounce correctly. As I grew up, the movie and its racist, Orientalist tropes followed and haunted me. Anytime anyone found out I was Arab, they would ask, "oh, like Aladdin?" I didn't know how to answer that. Was Aladdin Arab? South Asian, Persian? These were all different ethnicities, yet the movie seemed to be an amalgamation of them all, set in a fiction land I could not identify.
Why is Disney's Aladdin Harmful?
It may not seem like a big deal to be misidentified in this way, but it is. And these stereotypes that have been present in Hollywood for decades are a huge disservice to our communities- all our communities- because when you misidentify a person's culture, you are saying that all people of color are interchangeable— which is dehumanizing.
With the new release of the live action version, "Aladdin" is reinforcing the trauma and obstacles we have had to fight for the last 30+ years. The addition of a diversity consulting firm made Disney look good; it showed good faith on their part to receive feedback on the script to try and improve it.
However, issues remain with the original story itself, and no amount of consulting will change that.
Although the Aladdin remake was marked by controversy over Disney "brown-facing" its white cast, and despite original Aladdin's racist history, last weekend Disney's live-action version soared to $207.1 million globally. Money experts tell us that the remake success comes from the "power of nostalgia"- that is, the film's ability to connect with feel-good memories.
The original production is the second highest grossing film project in Disney history. Last weekend, millions flocked to the remake in record numbers, despite critics' negative and mixed reviews.
The accompanying Aladdin Jr. play is also a major concern, sales of which will skyrocket because of the film. Disney only recently removed the word 'barbaric' in its description of Arabs in the opening song. Many more problems abound, but Disney promises through its licensing company, Music Theatre International, to keep the concepts explored in the original production intact.
A Whole New World Needs Less Anti-Muslim Bigotry
From my perspective, as an organizer that fights a huge Islamophobia network in my daily work, it would be a disservice to my work and our community to sit by and allow racist, Islamophobic, orientalist tropes to make their way into our theaters, homes, and schools. What exactly is not a big deal in this movie? The depiction of Arabs and South Asians as one demographic, the storyline of forced marriage, power struggles, a black man playing a genie literally bound by chains to a lamp?
Hollywood's history of Islamophobia needs to be rectified. There is a plethora of writers, actors and creative minds with alternative positive portrayals of Muslims, Arabs and South Asians. Our consumer appetite must shift to embrace authentic stories and images about people like me.
Aladdin is beyond repair; in its original form, it is problematic. No number of meetings with executives will fix the problems that are still prevalent. It should be retired, indefinitely, and put on the shelf with all the other racist caricatures from Hollywood history.
It's our duty to speak out- and if you don't believe we should, then you can choose to stay silent. I cannot.
Jinan Shbat is an organizer in Washington DC.
Making Eid Exciting for Kids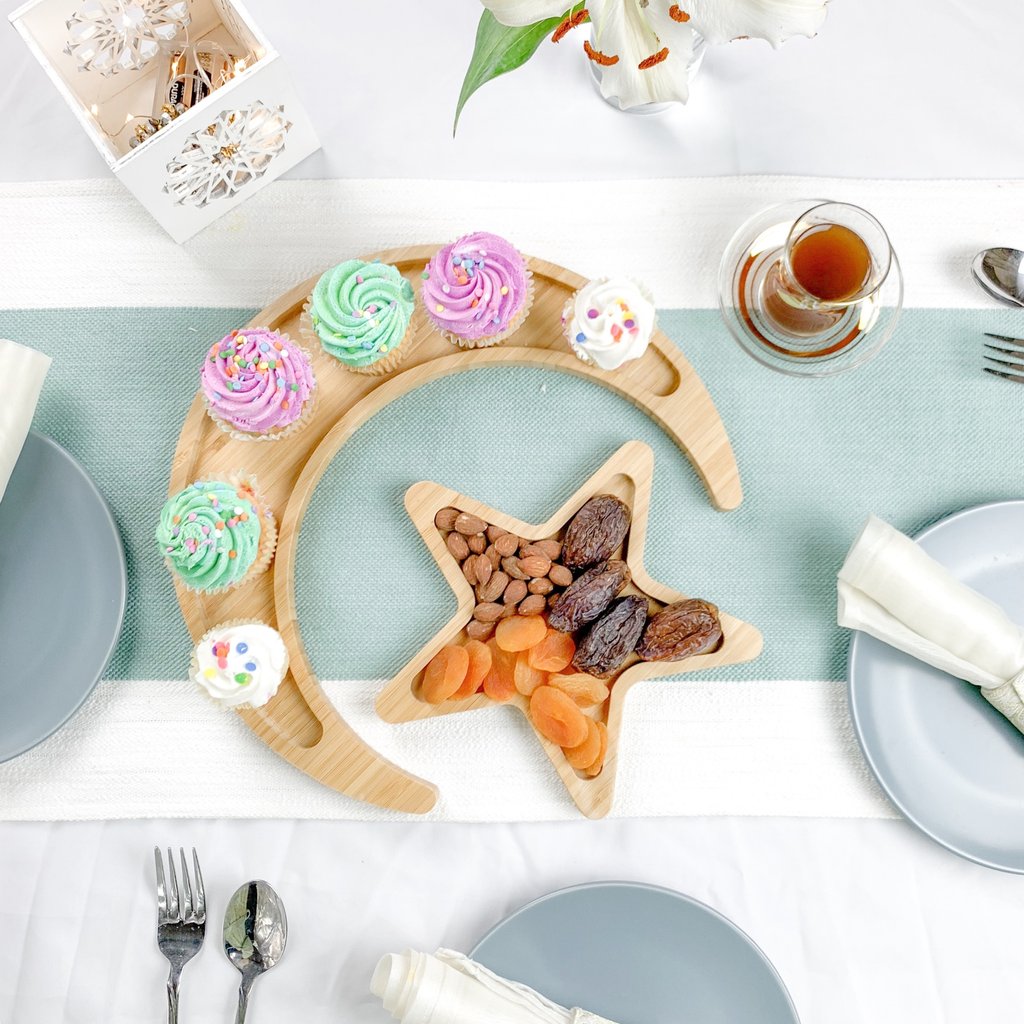 Ramadan and Eid are the most important holidays of our religion, but are we as parents putting enough effort into them? For those of us who live in non-Muslim countries, Ramadan and Eid can look dull in comparison to Christmas, Halloween, Easter, etc. There is little to no recognition of Muslim holidays outside of our homes and masjids.
Unlike Muslim countries, where markets, streets, television and the general population all foster a sense of connection to the month of blessing, Ramadan and Eid pass by mostly unnoticed in the circle of our kid's friends.
The reality is that our religious festivals are competing with the attention of other more glittery celebrations of the West. We want to make Islamic festivals a real part of our children's lives. We want to create memories, want our kids to love our festivals and our deen, so how do we inspire our kids to love Ramadan and Eid?

While I don't believe we need to compete with our Christian neighbors, I firmly believe we have a responsibility to make all of our religious obligations meaningful and as well as fun, exciting and educational for our kids.
As we get close to Eid, here's how can you make it memorable for your children:
Welcome Eid in your Home by Decorating
Between the fabulous DIY Eid decorating projects out there on the internet and the wide range of home décor offered by Muslim owned businesses, you have a good number of options to decorate your home during Eid.
Gone are the days of tacky Eid décor. With the selection and quality Eid décor that are available, you are sure to find something that goes with your existing home décor. Whether your style is traditional or modern, glam or chic, you'll find some Eid decoration in a variety of color and theme to match your taste.
You'll be surprised how lights and a garland can add the Eid spirit to your home. Involve the kids in decorating your home for Eid to get them in the mood and inspire them to love Eid. It's always a pleasure to see the sparkle in their eyes as you turn decorating the house a family activity.
Take your children to Eid Salah
Eid salah is a fundamental part of Eid festivities. Make sure you take your kids with you for the Eid prayer. If Eid falls on a weekday, get an excused absence for your child. Most schools have a religious celebration exemptions policy and you should be able to get the kids out for the Eid salah if not the entire day.
On route to the Eid prayer, make it a family tradition to say the Eid Takbeer –
'Allahu Akbar, Allahu Akbar. La Ilaaha Illallahu Wallahu Akbar, Allahu Akbar wa Lillahil Hamd'
Teach them the spirit of giving by handing out candy or small gifts such as Eid pencils, Eid wrist bands, small favors to the kids they meet during Eid Salah.
Surprise your kids with gifts
"Exchange gifts, as that will lead to increasing your love to one another."  Prophet Muhammad ﷺ [Al-Bukhari]
Only is it a Sunnah to give gifts, children are ecstatic when they receive presents. It's a win-win situation. I like to give Islam inspired gifts during Eid. Books are great to present, especially when you pair them with the experience of reading them together or spending some quality time doing an activity together.
For smaller kids, check out these prayer rugs and these feeding sets. For older kids, puzzles are dua cards are my go-to gifts along with some toys and stationery that they may want. If you want to keep the tradition of giving money out on Eid morning, package your bills in these beautiful envelopes before giving them out.
Plan a party for their friends
While it's traditional for families to visit one another, a little extra effort can mean that kids get to enjoy something geared towards them. Children love kid friendly parties, let them enjoy themselves by planning something different with them. With many Muslim families opting out of birthday parties, why not throw a party for your kids on the eve of Eid (a.k.a chand raat) or Eid Day? Plan a chance for them to make Eid crafts, and decorate Eid cookies.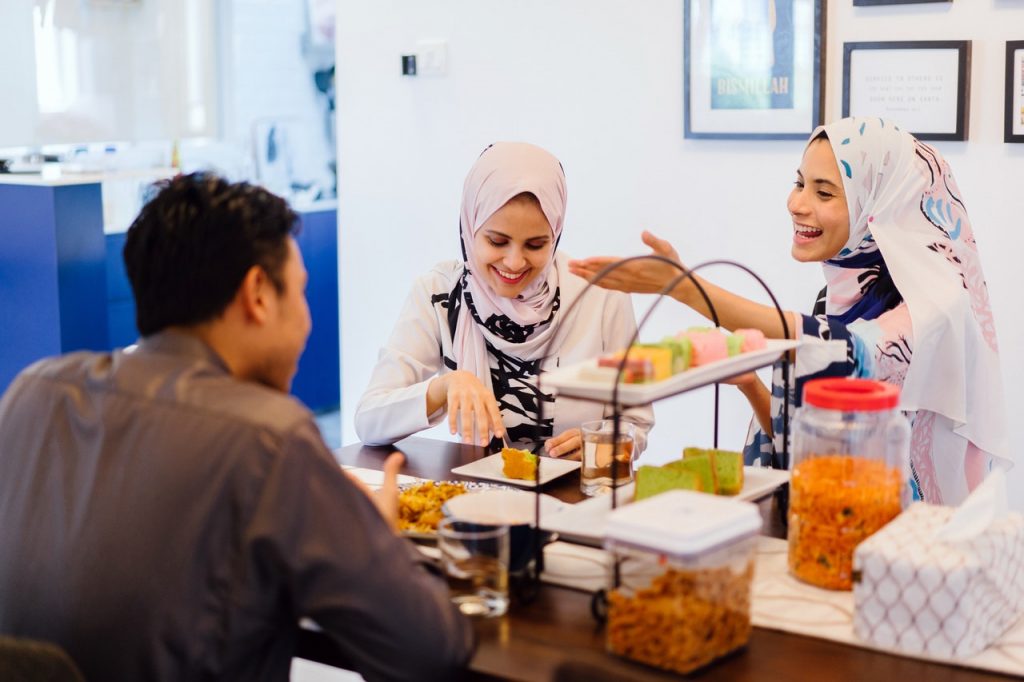 Making Eid exciting for children isn't just about lights and fun, it also about building a lasting Muslim identity. In a time when Islamophobia and discrimination are the norms, we can use our holidays as opportunities to engage and invite our communities and schools in active dialogue about Muslim holidays in a positive, relevant light. This, in turn, serves to teach our own children, not only spiritual acts but also how to be progressive and active members of our society.
Eid Mubarak
The Fast and the ¡Fiesta!: How Latino Muslims Celebrate Ramadan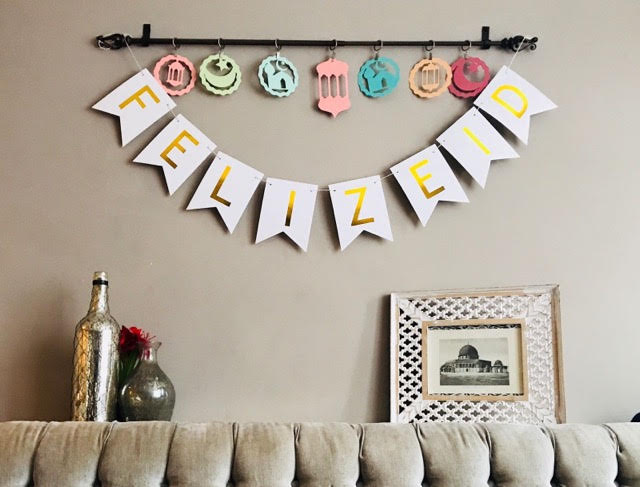 When the month of Ramadan is approaching, the Ortiz-Matos family begins to prepare the only way they know how, Puerto Rican style. Julio Ortiz and his wife, Shinoa Matos, reside in Brooklyn, New York. They are both Puerto Rican converts to Islam and their native tongue is Spanish. They have been Muslim for two decades each and married for close to 14 years. The couple has three children, ages 9, 7, and 5. Although Shinoa is also half Greek, she identifies herself as part of the ever-growing Latino Muslim population, a community that is bringing its very own sazon, or Latin flavor, to spice up Islamic holiday traditions.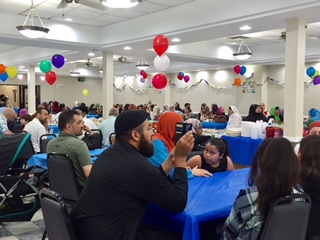 Preparations for Ramadan for this Muslim familia, or family, consists of planning together with their children to get them excited about the fasting season. They discuss how they will plan out the month in order to reap its many rewards, and the husband and wife decide on a schedule so they can alternate between attending the taraweeh prayers and babysitting. With the help of their children, Julio and Shinoa make a list of foods and ingredients they will need for their suhur, or pre-dawn meals, and iftar, their dinner after breaking the fast. These feasts will feature a variety of Puerto Rican dishes such as pollo guisado (stewed chicken), sorullos (corn dumplings stuffed with cheese), pasteles (meat-filled dumplings made out of root vegetables, green bananas, and plantains), tortilla española (Spanish omelets), empandas (meat-filled turnovers), and finger foods such as guava, cheese, and Spanish olives, coupled with the iconic Ramadan dates.
Right before Ramadan, the Ortiz-Matos home is decorated with typical fiesta décor, shining lights, pom poms, and banners in Spanish. One of their most unique Ramadan and Eid traditions is dressing up in Puerto Rican cultural attire. Shinoa explains, "My husband can usually be found wearing a guyabera (Caribbean dress) shirt in different colors along with a matching kufi. My sons will also wear tropical shirts with their own kufis. This year I am planning on dressing all my children in typical jibaro (Puerto Rican country) clothing, complete with my daughter in a bomba skirt and my sons with machetes and sombreros de paja (straw hats)!" To prepare for Eid, they redecorate the house with Feliz Eid (Happy Eid) signs and fill decorative bowls with traditional Puerto Rican sweets made with coconut, passion fruit, and pineapple.
As converts, Julio and Shinoa know the isolation that new Muslims can feel during the holidays, so they also make a habit out of spending the month with fellow Latinos and converts. Not only does Shinoa want to make sure that no one is spending Ramadan and Eid alone, she also wants her children to feel a sense of belonging. She said, "This helps to reinforce the (concept of a) Latino Muslim community in the eyes of our children because even though all Muslims are brethren, it is important for them to be able to see representation in others they associate with."
Even though they live in Brooklyn, Julio and Shinoa often attend the North Hudson Islamic Educational Center, or NHIEC, in New Jersey. This mosque across the Hudson River caters to the predominately Hispanic population of Union City and its surrounding areas. Due to its location, NHIEC is the home of one of the largest Latino Muslim communities in the nation and has been catering to their growing needs by providing simultaneous Spanish interpreting of Friday sermons, an annual Hispanic Muslim Day for the past two decades, and continuous educational programs specially geared towards Spanish-speakers and new Muslims of Hispanic heritage. During Ramadan, NHIEC offers iftar events catered by local Latino restaurants, like the Peruvian eatery, Fruit Punch, or the Arab/Hispanic fusion buffet called Fiesta. They also host potlucks, in which Latino Muslim converts and veterans alike breakfast by sharing their country's typical dishes. The mosque is decorated with streamers, balloons, and flags from all 21 majority Spanish-speaking countries.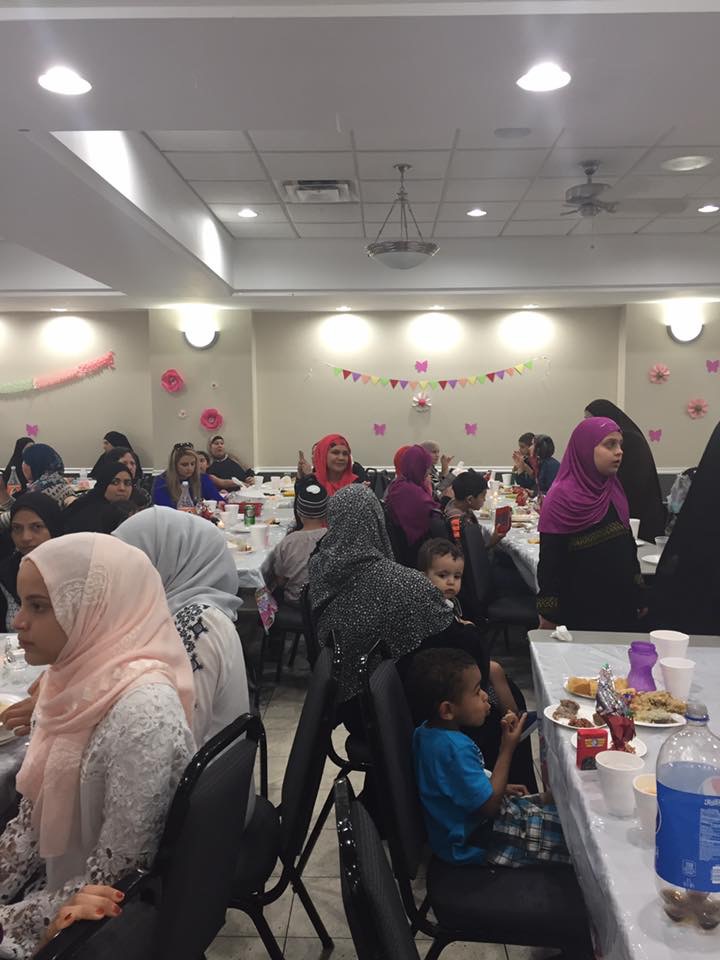 Halal on the Hudson
Union City may be known as "Havana on the Hudson" because of its large Cuban population, however, South Americans like Ecuadorians and Peruvians are also plentiful. Nylka Vargas is a mixture of both; residing near NHIEC, this Latina conversa (convert) is a social worker by day and an active member of NHIEC's dawah committee by night. She and her Syrian husband plan out their Ramadan by renewing their intentions, assessing their spiritual needs, crossing out to do items, cleaning, and clearing their schedules for the month. While subtle decorating is also part of the prep, Nylka prefers to set aside a quiet space at home for prayer and reflection.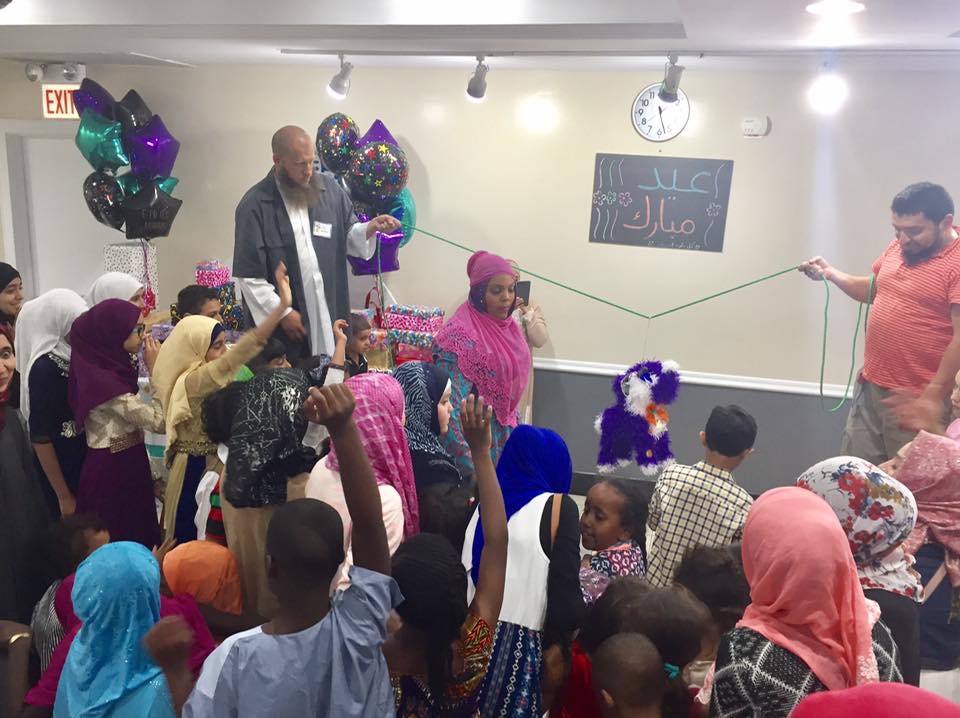 It is in the mosque where she works passionately alongside other Latino Muslims to make the month of Ramadan memorable for fellow Latinos. Due to most Latin American Muslims converting to Islam, their relatives are usually non-Muslims who do not celebrate Ramadan or Eid. Nevertheless, NHIEC provides an inclusive atmosphere, where converts are invited to bring their families to break fast and enjoy the festivities. They host yearly dawah and converts Ramadan programs, an annual grand Iftar for converts with Latin dishes, converts get-together iftars, and a program called "Share Your Iftar with a Convert" to actively encourage the community to break their fast with new Muslims. They also teach Ramadan prep classes, arts & crafts for children, and organize a converts Eid extravaganza.
Nylka says, "We take much pride in bedazzling and giving our Eid Party a custom touch with all kinds of Eid decorating pieces and an entertainment combo. It is always about what the community wants." One of Nylka's fellow dawah committee members is Flor Maza. Flor is a Salvadorian convert and mother of three married to an Egyptian Muslim. Ramadan is an exciting and busy time for Flor, who is a full-time pastelera (baker); she caters to the NHIEC community, literally, decorating and preparing all kinds of postres (desserts), both Spanish and Arabic. She has learned how to prepare typical Egyptian dishes and sweets and alternates between these and Latin-inspired foods for iftar.
"I have not lost my culture, but I am learning from other cultures," she joyfully explained, "All cultures are beautiful." Flor believes that Ramadan is a time to learn tolerance, patience, compassion, and gratefulness, and to collaborate in doing good. She demonstrates this by sharing her delicious meals and confections with the community during the many NHIEC events. When asked if anything distinguishes her as a Latina Muslim, she said, "Anyone can recognize a Latino Muslim because we, Latinas, are helpful, we preserve our culture and are proud of our language."
NHIEC is one of a few Islamic centers in the U.S. where guests can experience the festivities of Ramadan and Eid in Spanish. When the time for Eid prayer comes, the Muslim community in Union City and surrounding areas, pray outside either in a park or in a local school's soccer field. Non-Muslim neighbors hear the Takbirat al Eid, witness the Eid prayer, and listen to the sermon that follows on the loudspeakers, while admiring huge green banners with golden letters that read, "Happy Eid, Eid Mubarak (in Arabic script), and Feliz Eid."
A Mexican, Haitan, and Puerto Rican Ramadan
Eva Martineau-Ocasio was born in Mexico to a Mexican mother and Haitian father and she was brought up speaking Spanish at home. She is married to Ismail Ocasio, a Puerto Rican who was raised Muslim in New York by convert parents. They have three girls, ages 6, 3, and 6 months and reside in Brooklyn. While they have always practiced their faith, the couple has become more diligent about making Ramadan extra special and memorable for their children.
The focal point of their Ramadan décor is a table spread with Islamic and Ramadan-themed books (some in Spanish, others in English), arts and crafts, tools, calendars, and projects they will use to celebrate Ramadan. As with the Ortiz-Matos family, great care is given to set the mood for the commencement of the Month of Mercy. As Eva explained, "We prepare ahead of time by reading books and telling stories to remind ourselves about Ramadan. We use lights, banners, and homemade decorations to make Ramadan special in our home. In recent years, my sister and I even opened a small online shop to sell some of our decor." With her girls, the young mother, nurse and midwife student weaves prayer mats for their dolls and paints small glass linternas (lanterns) to display on their holiday table.
While other Muslim families have similar routines to welcome Ramadan, what sets the Martineau-Ocasios and other Latino Muslims apart is the way they have tailored their cultural traditions to adapt to Islamic practices. "Food and language play the largest roles in shaping the way we experience Ramadan outside of the important religious-based practices," Eva said, "I strive to make Ramadan as special and exciting for my children as Christmas was for me growing up." The family enjoys fast-breaking meals representative of their unique mix of Mexican, Puerto Rican, and Haitian culture. Some of their staples include tacos, fajitas, frijoles refritos (refried beans), Haitian style beef BBQ ribs, Haitian black rice, Puerto Rican arroz con maíz (yellow rice with corn), and even American Mac and Cheese.
They also celebrate with the general community and enjoy breaking fast with Arab and South Asian cuisine, as well. As a family, they attend Ramadan gatherings at the Muslim Community Center (MCC) and the MAS Brooklyn mosque in New York, where they are recognized as being Latino Muslims because of their language, Spanish, which they use with their children.
Ramon F. Ocasio, Ismail's father and Eva's father-in-law, shares a deeper perspective about celebrating Ramadan as a Puerto Rican Muslim of well over four decades. Ocasio was born in the Bronx and raised in El Barrio, Spanish Harlem in Manhattan. He embraced Islam in 1973. For this father and grandfather, nothing identifies as uniquely Latino in his practice of Ramadan aside from the food. He says, "My family prepares iftars featuring Latin cuisine for some masjids, both suburban and in the inner city. Just food, no unique decor. Food is the common denominator. Aside from that, there is nothing I can point to that is uniquely Latino in our celebrations." His personal favorites are pasteles, roasted leg of lamb (a halal substitute for pernil, a traditional pork dish), arroz con gandules (rice with pigeon peas), and flan (a custard dessert with caramel sauce).
When his children were young, he admits that things were a little different, with Eid gatherings in the park that drew thousands of Muslims, trips to Toys'R'Us for presents, movies, games, and outings. "Seasons change, families grow, our method of celebrating will change with it," Ocasio reminisces, "During a span of forty plus years, it can change quite a bit. As parents, we've tried our best to make Ramadan and Eids special for our children. For the most part, we have been successful."
Ramadan for the Latino Muslims of Chicago
Another Latino Ramadan legacy is being constructed west of the Tri-State area, in the Windy City. Rebecca Abuqaoud is the founder and director of Muslimahs of Chicago and a community organizer at Muslim Community Center at Elston Avenue (MCC), and at the Islamic Community Center of Illinois (ICCI). She hails from Lima, Peru, and she and her husband, Hasan Abuqaoud, have three children. Rebecca has been involved in organizing Ramadan events for the Latino community and for Muslim women and children for many years.
One of these is the annual, "Welcoming the Arrival of Ramadan," where female speakers are invited to present, and babysitting is provided to ensure mothers are able to attend. The dinner consists of a potluck, and attendees share their cultural dishes. Guests can choose from a variety of ethnic foods, including arroz con gandules, arroz chaufa (Peruvian rice), salads, pollo rostisado (rotisserie chicken), chicken biryani, and other Pakistani and Arab delicacies. This event began as an initiative for Spanish-speakers only, at the request of Latino Muslim women, however, it has grown to become a bilingual affair and draws anywhere from 60-80 attendees.
Rebecca is known in her community for dedicating her time to sharing her years of experience, Islamic knowledge, and wisdom with others. She said, "I really love being with my Latino sisters, I understand the help and support they need in their journey to Islam. I've been blessed to have knowledgeable Islamic teachers in my life and now it's time to pass that knowledge to my new sisters in Islam; I thank Allah for such an opportunity." Among other social events during Ramadan, Rebecca holds a Halaqa Book Club for ladies in Spanish at the ICCI, and for Eid, she assists with the Eid Potluck Fiesta at MCC.
In the North of Chicago, Ramadan and Eid is a family affair, and this includes the children of Latino converts. During Ramadan, mothers are encouraged to decorate their homes and the masjid to make the season exciting for their children. In the mosque, Rebecca and other volunteers prepare fun activities for them related to Eid, such as a puppet show, decorating paper plates, creating Eid greeting cards for their families, and pretend "baking" cookies and cupcakes with play-dough. The children also enjoy listening to other kids recite the Qur'an and chatting over pizza, snacks, cake, and juice.
The Eid Potluck Fiesta at MCC, sponsored also by Ojalá Foundation, is an effort that began to create a safe space for converts to celebrate Eid together. Everyone is invited to attend and can bring dishes to share. The walls are decorated for the occasion and candy-filled piñatas are set up for the children. Not only do the Latino Muslims enjoy these festivities, but also diverse members of the community who join them in the unifying celebration that is the culmination of the Month of Mercy and Forgiveness.
Feliz Eid
All the Latino Muslims who participated in this interview mentioned that the most significant aspect of Ramadan is the same across the board: to gain the maximum benefit from the intense self-reflection, fasting, constant prayer, spiritual cleansing, and dedication to the Qur'an. Cultural practices and celebrations are secondary to the religious aspect of Ramadan. However, the collective sentiment of those who converted to Islam is that they feel a sense of loss when they are celebrating Eid without their extended non-Muslim family. There is always, "something missing."
Latino culture is hugely family-centered, and thus, holidays are often a time to reunite with relatives. Eva Martineau summed it up as this: "For converts, missing out on the family aspect of any celebration can leave us with a sense of sadness and longing." Her suggestion, and that of other Latino Muslims is that, like NHIEC, ICCI, and MCC (in NY and Chicago), Islamic centers across the U.S. should host Ramadan and Eid events catering to not only Latino Muslims but converts in general. As individuals, fellow Muslims can also host those who may otherwise not have anyone to break the fast with, in their iftars and Eid celebrations. This will provide those newer Muslims with that sense of brotherhood and sisterhood they long for, and maybe in return, they can taste some of those yummy ethnic dishes.
Feliz Ramadan!
Note: A modified version of this article appeared in Islamic Horizons Magazine May/June 2019 edition.