Zaid Karim, Private Investigator, Part 8 – Badger
I was heartened by Badger's prediction that Safaa and I would reunite. He possessed deep insights. His prognostications always came true, a fact that I could not explain but had learned to trust.

See the Story Index for Wael Abdelgawad's other stories.
Previous chapters of this story: Chapter 1 | Chapter 2 | Chapter 3 | Chapter 4 | Chapter 5 | Chapter 6 | Chapter 7
"I do care," I said, and it was true. I always cared. That was my problem. One of my problems, anyway.
I told Chausiki everything, narrating a very near version of the truth, leaving out only Imam Abdus-Samad's name. I said I'd been recruited by Horse, whose real name I did not know, and explained how in my youthful stupidity and zealousness I'd believed myself to be a part of some greater Islamic struggle.
I told her how Red had ultimately died protecting me. How he bled out in my arms, talking about his love for his family. How we left his dead body in front of the hospital. I looked down as I described this last part, my face hot with shame. "That was when I quit," I said. "I loved uncle Malik. If I could go back and change – "
"But you can't."
She was right, of course. We sat in silence. I lifted my eyes finally and watched the winter sunlight sparkling on the surface of the pool. My hair was still wet, and every time the breeze blew a chill went through me. My life was in Chausiku's hands now. If she told Badger, I was a moldering corpse waiting to happen.
Again she seemed to read my mind. "You are a husband and a father. I see how much you love your daughter." Her tone was stiff, belying the kindness of the words. "In spite of everything, you are Amiri's only true friend, or so he believes. Don't worry. I'll keep your secret. But don't presume to judge me. You have no idea what I've been through. I lived by my ideals for thirty years, and what did it get me? A dead husband and a pile of unpaid bills. When Malik died, I was penniless. I went to the masjid for a loan and they turned me away. I was homeless for a while, did you know that?"
I shook my head.
The corners of Chausiku's mouth turned down in bitterness. "I lived in a shelter downtown, and sometimes in a cardboard box. Do you know what saved me?"
"No."
"Amiri. My son. He stepped up, became a man, took care of me. So don't you dare come in here and lecture. You haven't slept in a box. You haven't suffered the humiliation of relieving yourself on the street, having people look at you like you're subhuman. I tried living a principled life. Then I grew up. Can you understand that?"
I nodded, saying nothing.
"Get dressed."
I did. In the bathroom, I noticed that the strand of hair I'd placed carefully on my belongings was gone. They had searched my clothing as well, and perhaps looked through my wallet and phone. It didn't matter. I had nothing to hide anymore.
When I returned to the patio, Chausiku said, "Be in front of the used bookstore at Van Ness and McKinley in an hour. Amiri will meet you there."
"Oh, and Zaid," she added as I turned to leave.
"Yes, Auntie?" I met her gaze, finally. She sat at the patio table with legs crossed and hands resting primly on her knees. Her spine was erect, her eyes as flat as flint stones.
I had a sudden memory of sitting at the kitchen table in the Sulawesis' old house on First Street, along with Aziz, Amiri, Titus and Tarek – all five of the Five Musketeers. We chatted about baseball and skateboards and Kali, and ate hot cornbread with butter. Chausiku's given name, I knew, was Amanda. She'd become a Black Panther revolutionary in the early seventies and adopted the name Chausiku, which, she liked to remind us, meant "born at night." "What do you think?" she'd ask us. "Do you see the night stars in my eyes?" I would look at her and yes, it seemed like her sparkling black eyes held the answers to the mysteries of the universe, and that I could see the twinkling of the stars in their depths.
Now, there were no stars in her eyes. She sat there looking angry, rich and sadly pedestrian, seemingly unconcerned that she had betrayed everything she once believed in.
"You are no longer welcome here," she said. "Don't come back."
* * *
Friday, February 5, 2010 – 11:15 am
Fresno, California
I had time for a quick detour before heading to the bookstore. I knew that Safaa would be in class, but I needed to see her.
The Fresno Islamic Academy was a small school, funded as much by donations as by the monthly tuitions. It was located on Shaw west of Cedar, not too far from Masjid Fresno, the oldest masjid in town. The front door at FIA was always locked during school hours. I knocked, and the door was opened by the receptionist, a young Somali woman named Asma. She knew me and greeted me with a smile.
A small Pakistani-looking boy sat in a chair in the reception area, rhythmically filling his mouth with air and making popping sounds with his lips. I wondered if he was waiting to see the principal for some infraction.
"Ali," Asma commanded the boy. "Go get sister Safaa." Pleased at this reprieve from whatever doom awaited him, the boy leaped up and dashed through the open door that led into the school corridors.
"Cool hat," Asma commented.
I nodded but said nothing. The last thing I needed was for Safaa to accuse me of flirting with the receptionist. Sensing my mood, Asma went back to work, and I took the boy's chair and waited.
Time ticked by. I checked my watch repeatedly, aware that I had an appointment across town with one of the most dangerous men in America.
"What is it?" Safaa stood before me, arms akimbo. "I'm in the middle of class. This had better be important." She wore a long black skirt that was a little too tight for my liking – I mean, I liked it fine, but I didn't think it appropriate for everyone else – along with a long-sleeved blue blouse and a burgundy hijab. She looked and sounded about as happy to see me as a judge staring down at a repeat offender who stood before the bench accused of yet another crime.
In spite of the irritation on her face, she was a vision. Her skin was dark for an Iraqi, somewhere between copper and coffee. She'd been teased about that as a child, she once told me. She had often complained about her nose being too big as well, as well as other imperfections that she saw or imagined in herself.
In my eyes, she was as lovely as a tree. I found her utterly beautiful from crown to roots.
I stood. "Could we talk in private? I have something for you."
"What is it? I'm busy. If you can't respect my job and my time, I might have to file a restraining order."
"It's important."
She clucked her tongue. "Fine." She turned and walked away. I followed her into the unoccupied computer room two doors down from reception. The computers sat on long tables that circumnavigated the walls. The FIA had come a long way since I was a student there. Back then it was bare bones. No computers, no science lab, no athletic equipment. Just pure academics, and a couple of ping pong tables for fun.
"How have you been?" I said. "I've missed you."
Safaa pursed her lips and made no reply.
"You've been so cold and angry lately," I commented.
She didn't like that. "Why is that a problem?"
I opened my hands in a helpless gesture. "Because we're husband and wife. Because we have a daughter together. Because I thought we loved each other."
"This is outrageous," Safaa snapped. She turned to leave.
"Okay, hold on!" I withdrew an envelope from my pocket and handed it to her.
"What is this?"
"Five thousand dollars. That's my child support backlog, and a little extra. I'd like to set up a regular visitation schedule with Hajar."
"Wow." The anger was replaced by surprise, at least momentarily. "You're on a case?"
"Yes. Can I tell you one more thing?"
Her jaw tightened. "What?"
"I'm disappointed in you."
Her mouth fell open and her eyes widened. "You're disappointed in me? In what bizarro universe does that make sense?"
"I've never been unfaithful to you. Wallahi I never wanted to, or even considered it. You and Hajar are everything to me in this dunya. I love you. When I pray, I pray for you to fulfill your dreams. When you smile, it heals my heart. Just thinking of your laughter makes me happy. When you feel the chill of the world upon you, I yearn to warm you with my arms. When you're tired, when you're down on yourself, I have enough faith in you for both of us."
I hadn't planned this lyricism or memorized it in advance. Safaa had always brought out the poet in me. I wished that I could turn my words into almond blossoms and scatter them at her feet. I wanted to feel her head resting on my shoulder once again. I wanted to be a shelter and a garden for her when dark days came, as they always do in this life.
I had to drop the hammer, though. I had to shake her up.
"Yet," I continued, "you choose to listen to rumors and gossip spread by people with bad intentions, rather than believe in me, your husband. I thought you were better than that. In fact, I know you are better than that."
For the first time since our separation, I saw a chink appear in her armor. Uncertainty passed across her features like a cloud across a winter sky. Her mouth opened but no words came out.
She found her tongue. "I'll email you about visitation." With that she turned and walked away.
I counted it as a victory. One does not traverse Antarctica in a day. There were a lot of people in the community who mistrusted me, a lot of voices arrayed against me. That didn't matter. In the end, all that mattered was trust. If I could somehow open Safaa's eyes and restore her trust in me, the love between us would return like spring rain after a drought, I was sure.
I loved Safaa, but I didn't understand her sometimes. I'd found as I got older that I was beginning – just beginning – to know myself, to know who I was. Unfortunately I still had no idea who anyone else was.
* * *
In spite of its expansive name, the Bookazon was a cluttered corner of tranquility a few blocks from City College, not far from Masjid Madinah. Formerly a three bedroom house, it was jammed from floor to ceiling with mostly used books, though there was some new selections as well. In spite of the crowding, the owners had managed to fit several comfy armchairs into corners here and there. I sometimes went in after Jum'ah. I'd sit in one of those comfy chairs and read for an hour or more, and the management never seemed to mind.
I arrived five minutes ahead of my appointed time to find that the sign on the door had been turned to the "Closed" side. That was unusual. The Bookazon didn't normally close at lunchtime. Two women – one a hip-hoppy Asian, the other an attractive Latina – stood near the entrance, one on either side.
The Asian woman was small and could have been any age between twelve and twenty five. Her hair was either cropped short or tucked under her Fresno Grizzlies baseball cap. She could almost have passed for a boy in her baggy basketball shorts, gray sweatshirt and black Adidas hi-top shoes.
The Latina was my height. She had lustrous black hair, full lips, and a hard cast to her hazel eyes. She was dressed like a college student in jeans, a City College sweatshirt and stylish brown boots.
I approached the door to try the knob and maybe peer through the window, but the Latina stepped to bar my way.
"Closed for lunch," she said in English that might have sounded unaccented to anyone else. I have a good ear for accents and could hear her Mexican ancestry in the slightly lisped "s" in "closed" and the o-sounding "u" in "lunch."
"I'll look myself if you don't mind." I moved to step around her but she blocked me again and – like a Vegas magician doing a hey presto – pressed the barrel of a silver automatic pistol against my forehead, jamming it into me hard enough to tip my head back. She was fast. I hadn't even seen her draw the gun.
"You best get steppin', cabron," the Latina said quietly but intensely. "Before I drill your dome. We'll see what comes out. Brains or frijoles negros."
My nostrils dilated and my teeth clenched, not because of her calling me a bastard or saying I had black beans for brains, but because of the gun at my forehead. I had a vast internal reservoir of anger, love, guilt, grief and outrage, and it was never more than a nerve's length away. I could access it in an instant, for good or bad, like a tap that is under pressure and needs only a quarter turn of the handle to send forth a geyser.
"Dale cabron," I snarled in Spanish, returning the insult and daring her to shoot. "But you best look down before you pull that trigger." The full-lipped Latina glanced down to see the blade of my knife pressed against the inside of her thigh – my own hey presto to match hers. Her eyes widened slightly. The knife was angled up, so that the Latina could not step away without cutting herself.
"That's your femoral artery," I informed her. "I cut that and you'll bleed out in six seconds. The knife is razor sharp. It'll go through your jeans and skin like a bullet through paper. Even if you shoot me, I'm gonna slice you open on the way down."
A gun cocked and I felt yet another steel barrel press into the base of my skull beneath the brim of my fedora.
"Don't you hurt her!" the Asian girl screamed. "Put the knife down or I will freakin' cap you right now."
"Go ahead," I said, fighting to keep a grin from breaking out on my face. I wanted to laugh, not because I didn't take the Asian seriously, but because I always wanted to laugh when my life was on the line. "If you do, your girl is dead." Then I recited the shahadah – the Muslim testimony of faith – in Arabic, out loud. I was fully prepared to die in that spot, standing on the sidewalk on Van Ness Avenue on a cool February morning.
My behavior made no sense. In prison I'd survived by being ready to die. When a man sees that you are willing to die to defend your property, your dignity and the smallest right that he might seek to infringe, he turns around – if he has any sense – and walks away.
Now, though, things were different, I had a wife and daughter who I loved. I had a career, shaky and erratic though it might be. I had freedom, relative youth, the wispy sunshine on my face, and the blessing of faith. I had everything to live for, but here I was, challenging this woman to pull the trigger because I didn't know how to conduct myself as a free man, and could not shut off the electric thrill that ran through me at the prospect of violence.
I was a mess. I knew that. I was a flawed personality, a damaged machine. All my cylinders were firing, but something was busted in the gearbox, and the grinding of my spirit was so loud I wondered that the whole city couldn't hear it.
The Latina and I were so close our noses almost touched. I smelled lemon and chiles on her breath. Her eyes were large and dark, and I thought that if I stared into them I might become mesmerized and forget who and where I was. Then, to my surprise, the corners of her mouth turned up in the barest hint of smile. "You wouldn't happen to be Stick, would you?" she said softly.
"You know my name," I assented. "So you must know whether you plan to kill me or not."
The Latina withdrew the gun and stuffed it in her waistband, hiding it beneath the baggy sweatshirt. "Yo, it's cool, Pinkie," she said to her friend. "Put the gun away."
The pressure of the gun disappeared from the back of my head. I folded my knife one-handed and stepped back where I could see them both. Pinkie was – true to her name – pink-faced with fear or rage. She'd tucked her gun away but still had her hand on the grip, I could tell.
The Latina nodded in greeting. "I'm Jelly. This is Pinkie." She inclined her head toward the bookstore. "Badger's waiting for you inside."
I turned my back on the ladies, feeling fairly confident that they would not shoot me. As I opened the door and entered the store, an argument ensued between Pinkie and Jelly. Apparently Pinkie was angry because she thought Jelly was flirting with me. I supposed the two of them were a couple.
Only in Badger's world – or in an elliptical orbit around his world – could I meet people for whom threatening to kill someone was a form of flirtation.
* * *
The bookstore was deserted. The lights were off and there were no customers, and not even a salesperson or cashier behind the register. I found Badger in one of the back rooms, sitting in an armchair with one leg draped casually over the arm, reading The Downfall of Communism and Capitalism by Ravi Batra.
My old friend Amiri Malik Sulawesi, who went exclusively by the name Badger these days, was shorter than me at 5'6" or so. He was the color of cafe au lait, and was wiry and strong. He wore black slacks, comfortable-looking brown walking shoes, and a blue trenchcoat over a white t-shirt and bulletproof vest. I had no doubt that he had one or two guns secreted on his person somewhere.
I wasn't surprised to see him reading a treatise on economics and social philosophy. Badger was the most brilliant human being I had ever met. In school he'd achieved straight A's even though he barely studied. He could glance at a page and absorb the content in seconds. Furthermore, he would remember it years later. I recall seeing him at the age of ten, sitting on the playground during recess, reading Locke's Essay Concerning Human Understanding – a memory that came back to me years later when I had to study it in university. In Kali class he always beat me during sparring sessions, not because he practiced more than me – no one in the group practiced as obsessively as I did – but because he was able to instantly internalize whatever was taught, intuitively grasping the underlying principles of body mechanics, so that he did not have to remember specific techniques per se.
He could have been anything he wanted. Neurosurgeon, astronaut, technology innovator, anything. He could have changed the world.
"Seems to me that book is obsolete," I commented by way of greeting. "Communism has already fallen, and capitalism is taking over the world."
"Yeah homey," Badger replied, "but you know this book was written in 1978. Batra said Communism would fall within twenty five years, and twelve years later the Berlin wall come tumblin' down. Man was a genius. He predicted that capitalism was doomed to extinction as well. He says here that money was meant to serve man, not the other way around, and that the abandonment of spirituality and social justice under unregulated capitalism is unsustainable. He proposes a quadrivisional model of society with acquisitors, money lenders, thinkers and warriors. He says capitalism is run by the money lenders and acquisitors, and out of the rubble of its collapse will come the rise of the warriors and thinkers. Basically he suggests that these four cultural classes rise and fall in cycles."
"Some of that sounds like Islamic philosophy," I pointed out. "I mean the part about spirituality and social justice. Capitalism and Communism are flip sides of the same coin. They're both systems based on the distribution of wealth. Islam instead proposes a society based on human values, where everything begins with submission to Allah and compassion for one's fellow man. Instead of allowing people to hoard wealth, or forcibly taking it away, Islam establishes systems, like zakat and the abolition of usury, that prevent the accumulation of too much wealth in the hands of a few. Plus, Islam encourages people to share their wealth fee sabeel-illah."
Most of this was knowledge I had acquired from Shaykh Rashid during my time in Qatar. He'd been keen to teach us the Islamic worldview, rather than just halal and haram.
Badger pointed at me and clucked his tongue. "You've been reading Sayyid Qutb. That part about human values is straight out of Milestones on the Path."
He was right. Milestones was one of the books I'd studied in high school. But it surprised me that Badger recognized it. "I didn't know you read Islamic books," I said.
Badger stood from the chair and stretched. "Of course homie. Ain't nothin' new under the sun." He waggled the book back and forth. "Whatever solution these thinkers stumble on, Islam beat 'em to it. I wouldn't be surprised if Ravi Batra read Milestones too."
"And what's your take on it?"
"Oh, Ravi Batra is right. Modern capitalism is unsustainable, not only for the reasons he described. Technology gonna snatch the means of production away from the bourgeoisie and put it in the hands of the common man. It's already happening. A child can write code. Anyone can set up an online store, any writer can indie publish. Open source software be better than commercial. And 3D printing gonna do the same for physical goods. It won't be long before you can download open source digital blueprints for any object, then print that object in plastic. Even a open source house. You'll download digital plans into a CNC machine that'll cut the wood. The pieces come out numbered and built to slot into each other. No tools required. Voila, instant house."
"That's incredible." I didn't ask Badger if he was sure that such a thing was possible. If he said it, it was almost certainly true.
"Yeah homie. So what happens then? A lotta manufacturers operate on razor-thin margins. People start making their own stuff, these vertically structured corporations topple like dominoes. What other things nations war over?"
I tongued my front teeth, thinking. "Energy. Land. Water."
"Precisely. In twenty years, solar and fuel cell technology gonna be so efficient, oil and coal will be obsolete. That'll turn the world upside down right there. That leaves only land reform, since the means of food production is soil and shovel. If every homeowner start plantin' vegetables and fruits 'stead of grass, these corporate growers and their patented GMO crap go belly up."
"What about water?"
Badger nodded. "True dat. Future wars gonna be over water. Thing is," he went on, "these trends gotta play themselves out. Before capitalism falls we'll see extreme separation of rich and poor. Think Brazil, China, South Africa, but worse. Riots, chaos, anarchy. I'd say fifty years 'fore it all crashes down. What do I care, though? Men like you and me thrive in chaos."
I shook my head and laughed. "You maybe. Not me. I have a wife and child."
"Yeah, how they doin'?"
"Safaa and I are separated."
He curled his bottom lip in surprise. "Hmm. That won't last. Keep doin' what you do, she'll come around."
"Why do you say that?"
"'Cause you a good man and she a good woman. One in a thousand, both of you."
"Huh." I was heartened by Badger's prediction. He possessed deep insights. His prognostications always came true, a fact that I could not explain but had learned to trust.
"What about you?" I asked. "What are you up to these days?"
Badger shrugged. "Rippin' and runnin' like always, how I do. Git up to git down."
Badger's broken speech annoyed me. He'd grown up speaking the King's English. He was perfectly capable of grammatically correct syntax. He was playing a part, I knew. Showing people what they expected to see, or maybe allowing people to underestimate him so he could spring the whammy at the right moment. In any case it wasn't my business to tell him how to talk.
I rolled my eyes. "I meant aside from that. Don't you have anything else going?"
"Just the game, brother. Always the game."
I looked around. "What's with the store? Where is everyone?"
"Oh you know, I shut the place down to browse. I can't be mingling with strangers. The bounty on me is up to a million dollars."
"And the owners let you do that?"
"I am the owner, or my corporation anyway. I own lots of businesses this side of town."
That made sense. How else could he launder all that cash he stole? He couldn't funnel it all through his mom. That would attract attention.
Badger shelved the book, approached me and without warning threw a straight right cross, not pulling the punch at all. I parried it easily, and came over the top with a forearm strike that would have smashed him in the nose if he hadn't blocked it. Badger caught my strike, rolled his elbow over my arm and pulled me into a hug.
"You a sight for a tired heart, brother," he said, then stepped back.
"You don't want to pat me down?"
"Naw homey. If I can't trust you I got nothin' left."
"Your mom's bodyguard patted me down. In fact your mom made me take a dip in the pool, I'm guessing to make sure I wasn't wired."
He grinned. "The higher the bounty go, the more paranoid she get."
"You could do something else with your life, you know. You could do almost anything."
He waved this off. "Anyway watchu need? Mom say you need help with a case."
I told him about the case and everything I'd learned. "Do you know why the Cambodian Bulldogs might be looking for Tarek?"
He shrugged. "Sound to me like T-Bone maybe scored some dope on consignment and didn't pay up. Or he borrowed money maybe."
Apparently everyone knew Tarek's nickname but me. "Okay, well what about Angie? Do you know where she might have gotten the forty five thousand? Have you heard of any dealers getting robbed recently?"
He shook his head. "Ain't no one crazy enough for that."
"Except you."
"Fo' shore. Why you think they call me Badger?"
"Because you're short and fuzzy headed?"
He laughed. "You know, anybody else talk to me like that I put a bullet in 'em."
"Must be nice. Well, I need to find Tarek ASAP. I hear he's living in one of the drug dens on Jamestown. I don't know that area."
"You need a guided tour." He nodded. "I can do that. Come on."
Badger stuck his head out the front door of the bookstore and whistled loudly through his teeth. Then he threaded his way through back through the store. I followed him through a yellow wooden door into a small stockroom, and from there through a rear exit that consisted of a thick wooden door with a vertical deadbolt and a heavy duty metal screen door. He peered out the back window for a moment, then exited through the door.
In the parking lot behind the store, the women were already waiting. The Latina – Jelly – sat behind the wheel of a yellow Corvette convertible, parked back-in against a low brick wall. Pinky stood beside the passenger door, her hand tucked beneath her sweatshirt, no doubt gripping her gun. She flashed a hand sign to Badger, which I assumed was the all-clear.
It wasn't unusual for Badger to take on helpers. I wondered what had happened to the curly-headed Mexican youth he'd been working with last time I saw him. Badger's partners were not jumped in or beholden to him in any way. They were equals, free to depart. Maybe the boy had gone back to school, or moved away. Or maybe he was rotting in an early grave. I didn't ask because I didn't want to know.
A young white guy with acne and black hair tied in a ponytail stood in the parking lot, smoking an electronic cigarette. The smoker gave Badger a genial nod. "You done Mr. Badger sir?"
"Yeah. Thanks, Jerry."
"Anytime, Mr. Badger sir."
I chuckled at that. Mister Badger. Like he was a character from Wind in the Willows. "How much you pay that kid?" I asked when we were seated in the car, Badger and I in the backseat and the women in the front.
"A lot more than he used to make at Barnes and Noble, tell you that. Listen here, 'fore we go looking for Tarek, I need your help with a li'l su'm su'm'."
"What?"
"Little job we got planned."
My internal alarm bells began to ring as if the entire neighborhood were burning down. There were no "little jobs" where Badger was concerned.
"Hold up," I objected. "You want me to help you move furniture or wash your car, I'm down. But if you mean what I think you mean, forget it. I'm on the straight and narrow, Badge. Sirat al-mustaqeem. I have a family to think about."
"It ain't all that. All you got to do is drive. You come 'round askin' for my help, well I need yours."
I rubbed my hand over my cheeks and forehead. This was a bad idea. Everything I was trying to cultivate in life: compassion, patience, sincerity – all these qualities were like trees struggling in a drought, while Badger was a forest fire that would incinerate them in an instant. I shouldn't have come to him. I could find Tarek on my own. It would just take longer, and wear out a lot more shoe leather, and be more dangerous.
But no. I didn't have time for that.
"Okay," I said.
"Que bien," Badger enthused in perfectly accented Spanish. "Good man. Andale, Jelly. Vamonos!"
"Pull around to my car for a sec," I requested. My car would probably be safe parked in front of Bookazon for a few hours, but I wasn't leaving the money and gun. I activated the trap and withdrew the remaining cash. It was just under three thousand. I also took out my gun, which I strapped to my ankle.
I hopped back into the convertible, and ten minutes later we sidled up to the curb in a quiet residential district off Kings Canyon Avenue. This was a lower-income neighborhood, but the residents took pride in their smaller sized homes and older cars. The homes were well maintained, and the yards neatly mowed and trimmed. At this time of day, with the adults mostly at work and the kids at school, the neighborhood was quiet.
Badger took a pair of binoculars from the seat pocket in front of him and handed them to me. "Green house halfway up the block, other side," he said.
I peered at the house in question. It looked like any other house in the neighborhood, except that a tall, heavyset bald man in a purple track suit sat in a rocking chair on the front porch. He looked like a Pacific Islander, maybe Samoan or Tongan. He was reading one of those little Archie comic books that are sold on the aisle racks at the grocery store.
Moving the lenses around, I saw that the windows of the house were heavily barred.
"You see the front door?" Badger asked.
I studied it. "Looks like an ordinary wooden door."
"It ain't. That's a veneer. Underneath it's heavy duty steel."
"So?" I didn't need to know how he knew that.
"So what do that tell you?"
"It tells me," I said flatly, "that it's a stash house, and whatever you're up to I don't want to be involved."
"Once me and Jelly effect entry," Badger said as if I had not spoken, "you pull the car directly in front of the house and wait. You know the Q-Ball towing yard two miles southeast of here, by 99?"
I nodded.
"Once we all in the car, you burn rubber straight for that yard. That's all you gotta do."
With that, Badger, Jelly and Pinkie exited the car. Pinkie stripped off her outer garments and tossed them into the front passenger seat, revealing a slender, feminine body in a black mini skirt and semi-transparent black sleeveless blouse. She took off the ball cap and shook out a mane of long, silky black hair. Lastly she shucked the Adidas sneakers and slipped on a pair of black high heels that she took from under the car seat.
I averted my gaze, aware that it was rather a strange situation in which to practice Islamic modesty. It was easy to look away. Pinkie at her best couldn't compare to my wife Safaa. Safaa was a true beauty. If my life were a fairy tale, Safaa would be the princess, and I'd be the toad.
As Pinkie strolled casually up the sidewalk toward the stash house, Badger and Jelly opened the trunk of the car and began their own transformations. Jelly donned a bulletproof vest and black ski mask that she pulled over her face. Badger was already wearing a vest, and he too added a ski mask. Both of them strapped on utility belts. To the belts they attached holstered 9 mm Glock pistols and green canisters that looked like Thermoses with pockmarks and handles.
"Are those grenades?" I asked, stunned.
"Flash bangs," Jelly replied. "M84's."
"I can't be a part of this, Badge. You have to do this some other time." My heart was beginning to thud in my chest. I'd been a part of operations like this many, many times, and I'd paid the price. This was the last place in the world I wanted to be.
Badger worked the slide on his Glock, popped in a magazine and slid off the safety. "Ain't no other time. There's normally two guards, but one of 'em make a lunch run every day at this time. You in it to win it, Stick. We movin' and groovin'."
Badger and Jelly completed their ensembles by hefting short-barreled Mossberg shotguns with black pistol grips. They looked like commandos about to take on the army of a small European nation. Last of all, Jelly slung a large black messenger bag over one shoulder.
"I suggest you take off that Fedora," Badger said, "and put on Pinkie's ball cap. You stand out like Omar Sharif at a KKK rally." With a last nod to me, Badger said, "Eyes open, Stick." He and Jelly ducked low and scurried up against the houses on the same side of the street as the stash house. Keeping low, they hugged the walls of the houses and slipped forward, darting across open spaces and using trees and shrubbery as cover.
Cursing under my breath, I scurried into the front seat. The engine was still running, never having been shut off.
Not for the first time in my life, I asked myself how I kept ending up in these preposterous situations.
Peering through the binoculars, I saw Pinkie stroll right up the short flight of steps to the stash house's porch, her slim hips swaying, her long black hair stirring in the late winter breeze. She began to flirt with the big Samoan in the rocking chair. She smiled, flipped her hair, and touched his arm lightly. After a few minutes the Samoan stood and knocked on the front door. Someone inside must have said something, because the Samoan called out a reply, and the door opened.
By that time, Badger and Jelly were already in position, crouching beside the low wall that edged the steps up to the porch. As soon as the door opened, Jelly stood and fired her shotgun into the Samoan's belly from less than five feet away. I almost dropped the binoculars in shock. I don't know why I was surprised. I knew what Badger and his people were like, and I'd certainly seen – and committed – my share of violence in the world. But to be so outrageously cold-blooded! I made up my mind to simply drive away. I'd never agreed to be part of a murder.
I adjusted the binoculars and saw to my amazement and relief that the big Samoan was not down. His face twisted with rage as he reached behind his back, presumably for a weapon. Jelly charged up the steps and fired into the Samoan's chest from almost point blank range. The man folded almost in two and collapsed to the ground. Jelly fired into him once more for good measure.
Meanwhile Pinkie caught the door before it could close, pulled it all the way open and propped it open with the chair the Samoan had been sitting on.
By this time Badger was up the steps as well. He and Jelly hugged the wall on each side of the door. They both removed flash-bang grenades from their utility belts, pulled the pins and threw them into the house. A second later there was a tremendous crack of noise and a burst of light through the window and open door that made me wince even in broad daylight.
This entire operation, from the first shot fired to the tossing of the flash bangs, had taken no more than seven or eight seconds. It was obvious they had practiced this maneuver many times.
Badger was first in. He charged in crouched low, firing his shotgun as he went, and Jelly followed immediately, pausing only to unclip her roll of duct tape and toss it to Pinkie. The slender Asian girl rolled the Samoan over and duct taped his hands behind his back, then his ankles and finally his mouth. What was the point of that if the man was dead? Lastly she took a huge pearl-handled handgun from his waistband, and followed the others into the house.
I scurried around to the front seat of the car and pulled up in front of the stash house. Gunfire had erupted inside the house, along with shouts of anger and screams of pain. I reached down to my ankle and drew my gun. The gunfire inside the house intensified, and what sounded like a fully automatic machine gun roared into life. It was hair-raisingly loud, shattering the stillness of this neighborhood like a bomb. My heart raced and my hands jittered.
The gunfire went on. I heard the pop of handguns, the booming of shotguns, and the continued scream of the machine gun. The windows of the house shattered. Chunks of wood flew from the walls as bullets tore through. A bullet struck the car with a loud pang, and I ducked low in the seat.
Gradually the gunfire diminished until it was just the occasional shotgun blast, punctuated by ripping volleys from the machine gun. Someone screamed something that I couldn't make out.
This wasn't right. They should have come out by now. The continued gunfire was a bad sign. There was no doubt that some of the residents would have called 911 by now. Multiple police cars were probably already racing this way. If I remained here, I'd be nabbed as an accomplice to whatever had happened inside the house. I could very well spend half my life in prison.
On the other hand, I could not abandon Badger. He was a bad man, I was under no illusions about that. One might even call him evil. But he was my friend. I could not leave him here.
I also could not leave the big Samoan dying on the front porch.
I put my hands on my head and squeezed. La ilaha il-Allah, I said to myself. La ilaha il-Allah.
I am a man of action. I don't always make the right choice. Sometimes I make dismayingly bad choices. But I don't sit still and wait for the world to decide on my behalf. Right or wrong, I act.
I opened the car door, stepped out and ran toward the stash house.
***
Next: Zaid Karim Private Investigator, Part 9: Stash House
Reader comments and constructive criticism are important to me, so please comment!
Retire Aladdin To The Ends Of The Earth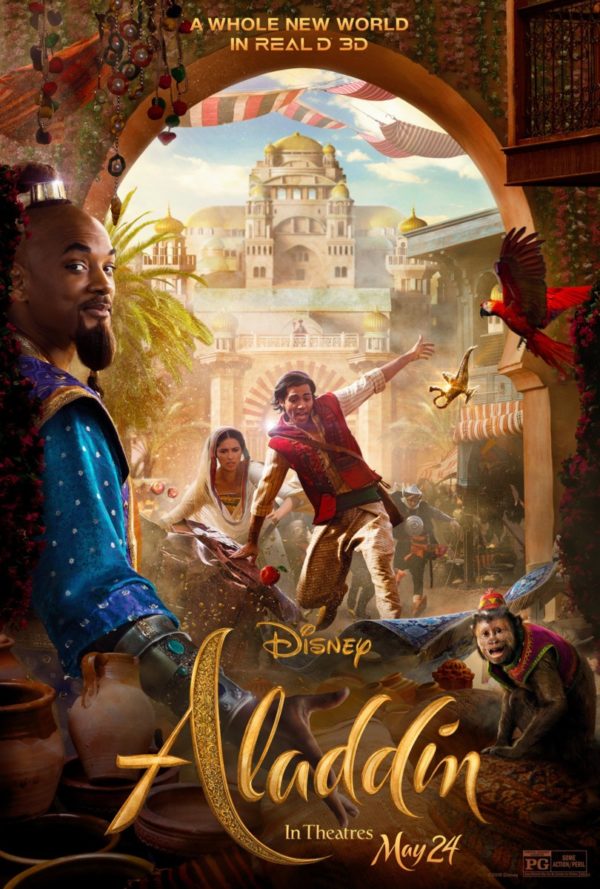 By Jinan Shbat
I grew up in an upper-middle-class suburb in Ohio, where I never felt different than the kids in my neighborhood. Sure, my siblings and I had odd-sounding names, and we spoke a second language. But to our neighbors and classmates, we were white, like them. However, that perception changed when I was 11-years-old, when a Disney cartoon movie named "Aladdin," was released based off of a character created by a French orientalist at the height of Orientalism. At first, my siblings and I were excited because we thought Disney had made a movie that represented us. However, shortly after the movie came out, the questions began.
Are you from Agrabah?
Do you have a magic carpet? Are you going to be married off to someone your parents choose? Do you have outfits like Jasmine?" My head was swarming with all these questions, and I admit, I was intimidated. A little scared, too. I didn't know how to answer them, and so I just shook my head and walked away.
My parents thought they were doing us a favor by buying the movie and have us watch it anytime other kids came over to play. This just created a larger divide between us, and soon my siblings and I were the "other." It made me hyper-aware of my brown skin, my visiting foreign grandparents, and my weird-sounding name that no one could ever pronounce correctly. As I grew up, the movie and its racist, Orientalist tropes followed and haunted me. Anytime anyone found out I was Arab, they would ask, "oh, like Aladdin?" I didn't know how to answer that. Was Aladdin Arab? South Asian, Persian? These were all different ethnicities, yet the movie seemed to be an amalgamation of them all, set in a fiction land I could not identify.
Why is Disney's Aladdin Harmful?
It may not seem like a big deal to be misidentified in this way, but it is. And these stereotypes that have been present in Hollywood for decades are a huge disservice to our communities- all our communities- because when you misidentify a person's culture, you are saying that all people of color are interchangeable— which is dehumanizing.
With the new release of the live action version, "Aladdin" is reinforcing the trauma and obstacles we have had to fight for the last 30+ years. The addition of a diversity consulting firm made Disney look good; it showed good faith on their part to receive feedback on the script to try and improve it.
However, issues remain with the original story itself, and no amount of consulting will change that.
Although the Aladdin remake was marked by controversy over Disney "brown-facing" its white cast, and despite original Aladdin's racist history, last weekend Disney's live-action version soared to $207.1 million globally. Money experts tell us that the remake success comes from the "power of nostalgia"- that is, the film's ability to connect with feel-good memories.
The original production is the second highest grossing film project in Disney history. Last weekend, millions flocked to the remake in record numbers, despite critics' negative and mixed reviews.
The accompanying Aladdin Jr. play is also a major concern, sales of which will skyrocket because of the film. Disney only recently removed the word 'barbaric' in its description of Arabs in the opening song. Many more problems abound, but Disney promises through its licensing company, Music Theatre International, to keep the concepts explored in the original production intact.
A Whole New World Needs Less Anti-Muslim Bigotry
From my perspective, as an organizer that fights a huge Islamophobia network in my daily work, it would be a disservice to my work and our community to sit by and allow racist, Islamophobic, orientalist tropes to make their way into our theaters, homes, and schools. What exactly is not a big deal in this movie? The depiction of Arabs and South Asians as one demographic, the storyline of forced marriage, power struggles, a black man playing a genie literally bound by chains to a lamp?
Hollywood's history of Islamophobia needs to be rectified. There is a plethora of writers, actors and creative minds with alternative positive portrayals of Muslims, Arabs and South Asians. Our consumer appetite must shift to embrace authentic stories and images about people like me.
Aladdin is beyond repair; in its original form, it is problematic. No number of meetings with executives will fix the problems that are still prevalent. It should be retired, indefinitely, and put on the shelf with all the other racist caricatures from Hollywood history.
It's our duty to speak out- and if you don't believe we should, then you can choose to stay silent. I cannot.
Jinan Shbat is an organizer in Washington DC.
Making Eid Exciting for Kids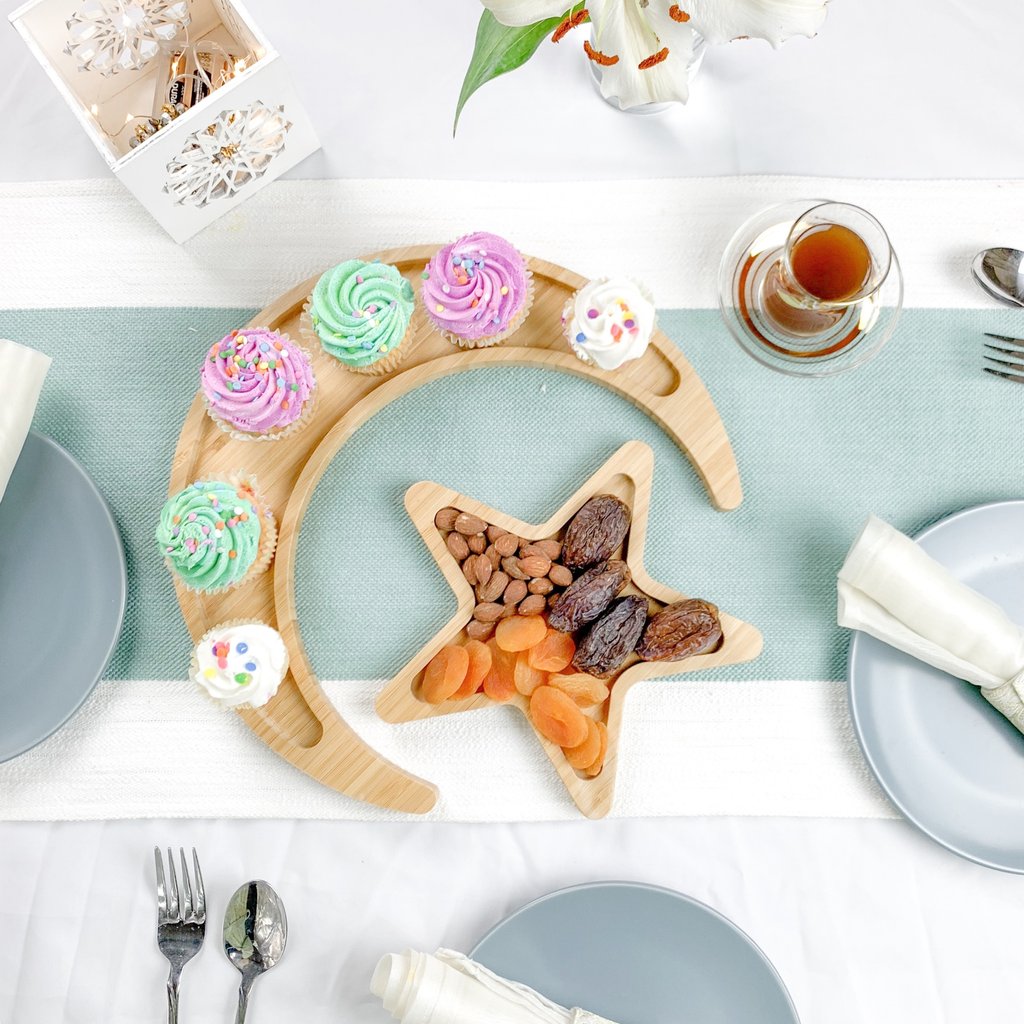 Ramadan and Eid are the most important holidays of our religion, but are we as parents putting enough effort into them? For those of us who live in non-Muslim countries, Ramadan and Eid can look dull in comparison to Christmas, Halloween, Easter, etc. There is little to no recognition of Muslim holidays outside of our homes and masjids.
Unlike Muslim countries, where markets, streets, television and the general population all foster a sense of connection to the month of blessing, Ramadan and Eid pass by mostly unnoticed in the circle of our kid's friends.
The reality is that our religious festivals are competing with the attention of other more glittery celebrations of the West. We want to make Islamic festivals a real part of our children's lives. We want to create memories, want our kids to love our festivals and our deen, so how do we inspire our kids to love Ramadan and Eid?

While I don't believe we need to compete with our Christian neighbors, I firmly believe we have a responsibility to make all of our religious obligations meaningful and as well as fun, exciting and educational for our kids.
As we get close to Eid, here's how can you make it memorable for your children:
Welcome Eid in your Home by Decorating
Between the fabulous DIY Eid decorating projects out there on the internet and the wide range of home décor offered by Muslim owned businesses, you have a good number of options to decorate your home during Eid.
Gone are the days of tacky Eid décor. With the selection and quality Eid décor that are available, you are sure to find something that goes with your existing home décor. Whether your style is traditional or modern, glam or chic, you'll find some Eid decoration in a variety of color and theme to match your taste.
You'll be surprised how lights and a garland can add the Eid spirit to your home. Involve the kids in decorating your home for Eid to get them in the mood and inspire them to love Eid. It's always a pleasure to see the sparkle in their eyes as you turn decorating the house a family activity.
Take your children to Eid Salah
Eid salah is a fundamental part of Eid festivities. Make sure you take your kids with you for the Eid prayer. If Eid falls on a weekday, get an excused absence for your child. Most schools have a religious celebration exemptions policy and you should be able to get the kids out for the Eid salah if not the entire day.
On route to the Eid prayer, make it a family tradition to say the Eid Takbeer –
'Allahu Akbar, Allahu Akbar. La Ilaaha Illallahu Wallahu Akbar, Allahu Akbar wa Lillahil Hamd'
Teach them the spirit of giving by handing out candy or small gifts such as Eid pencils, Eid wrist bands, small favors to the kids they meet during Eid Salah.
Surprise your kids with gifts
"Exchange gifts, as that will lead to increasing your love to one another."  Prophet Muhammad ﷺ [Al-Bukhari]
Only is it a Sunnah to give gifts, children are ecstatic when they receive presents. It's a win-win situation. I like to give Islam inspired gifts during Eid. Books are great to present, especially when you pair them with the experience of reading them together or spending some quality time doing an activity together.
For smaller kids, check out these prayer rugs and these feeding sets. For older kids, puzzles are dua cards are my go-to gifts along with some toys and stationery that they may want. If you want to keep the tradition of giving money out on Eid morning, package your bills in these beautiful envelopes before giving them out.
Plan a party for their friends
While it's traditional for families to visit one another, a little extra effort can mean that kids get to enjoy something geared towards them. Children love kid friendly parties, let them enjoy themselves by planning something different with them. With many Muslim families opting out of birthday parties, why not throw a party for your kids on the eve of Eid (a.k.a chand raat) or Eid Day? Plan a chance for them to make Eid crafts, and decorate Eid cookies.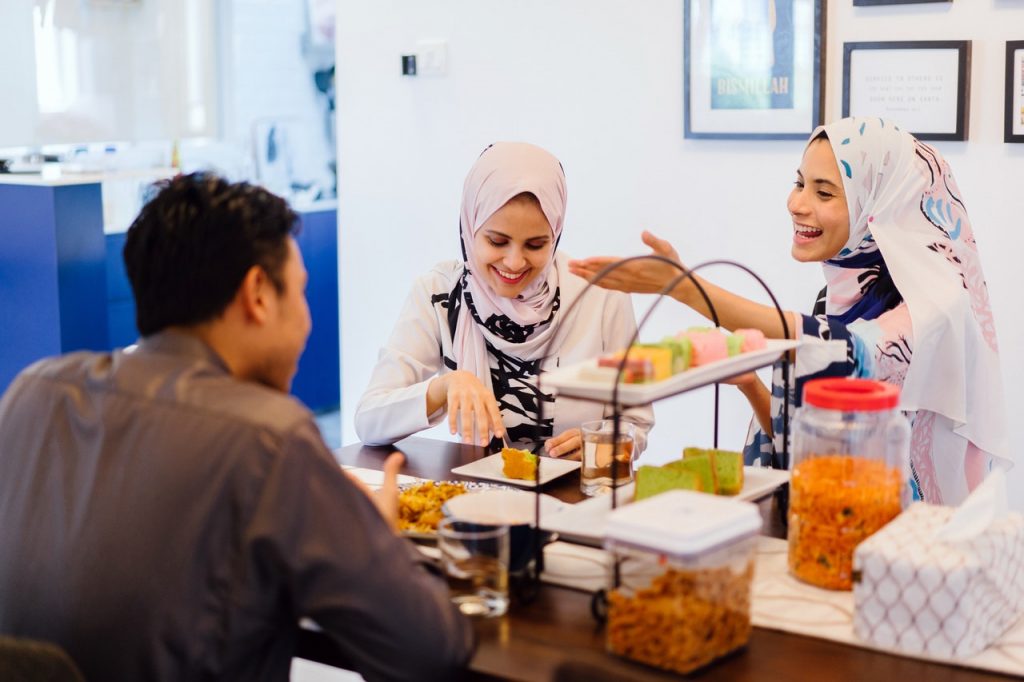 Making Eid exciting for children isn't just about lights and fun, it also about building a lasting Muslim identity. In a time when Islamophobia and discrimination are the norms, we can use our holidays as opportunities to engage and invite our communities and schools in active dialogue about Muslim holidays in a positive, relevant light. This, in turn, serves to teach our own children, not only spiritual acts but also how to be progressive and active members of our society.
Eid Mubarak
The Fast and the ¡Fiesta!: How Latino Muslims Celebrate Ramadan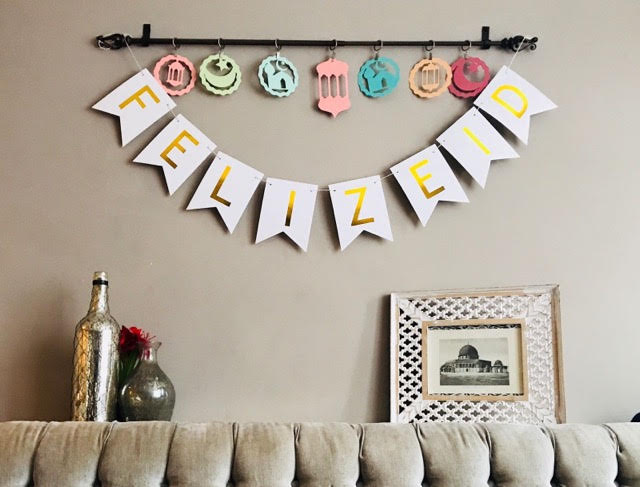 When the month of Ramadan is approaching, the Ortiz-Matos family begins to prepare the only way they know how, Puerto Rican style. Julio Ortiz and his wife, Shinoa Matos, reside in Brooklyn, New York. They are both Puerto Rican converts to Islam and their native tongue is Spanish. They have been Muslim for two decades each and married for close to 14 years. The couple has three children, ages 9, 7, and 5. Although Shinoa is also half Greek, she identifies herself as part of the ever-growing Latino Muslim population, a community that is bringing its very own sazon, or Latin flavor, to spice up Islamic holiday traditions.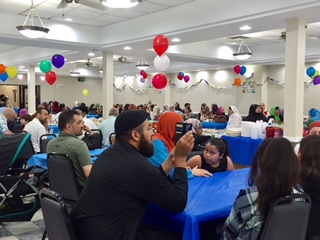 Preparations for Ramadan for this Muslim familia, or family, consists of planning together with their children to get them excited about the fasting season. They discuss how they will plan out the month in order to reap its many rewards, and the husband and wife decide on a schedule so they can alternate between attending the taraweeh prayers and babysitting. With the help of their children, Julio and Shinoa make a list of foods and ingredients they will need for their suhur, or pre-dawn meals, and iftar, their dinner after breaking the fast. These feasts will feature a variety of Puerto Rican dishes such as pollo guisado (stewed chicken), sorullos (corn dumplings stuffed with cheese), pasteles (meat-filled dumplings made out of root vegetables, green bananas, and plantains), tortilla española (Spanish omelets), empandas (meat-filled turnovers), and finger foods such as guava, cheese, and Spanish olives, coupled with the iconic Ramadan dates.
Right before Ramadan, the Ortiz-Matos home is decorated with typical fiesta décor, shining lights, pom poms, and banners in Spanish. One of their most unique Ramadan and Eid traditions is dressing up in Puerto Rican cultural attire. Shinoa explains, "My husband can usually be found wearing a guyabera (Caribbean dress) shirt in different colors along with a matching kufi. My sons will also wear tropical shirts with their own kufis. This year I am planning on dressing all my children in typical jibaro (Puerto Rican country) clothing, complete with my daughter in a bomba skirt and my sons with machetes and sombreros de paja (straw hats)!" To prepare for Eid, they redecorate the house with Feliz Eid (Happy Eid) signs and fill decorative bowls with traditional Puerto Rican sweets made with coconut, passion fruit, and pineapple.
As converts, Julio and Shinoa know the isolation that new Muslims can feel during the holidays, so they also make a habit out of spending the month with fellow Latinos and converts. Not only does Shinoa want to make sure that no one is spending Ramadan and Eid alone, she also wants her children to feel a sense of belonging. She said, "This helps to reinforce the (concept of a) Latino Muslim community in the eyes of our children because even though all Muslims are brethren, it is important for them to be able to see representation in others they associate with."
Even though they live in Brooklyn, Julio and Shinoa often attend the North Hudson Islamic Educational Center, or NHIEC, in New Jersey. This mosque across the Hudson River caters to the predominately Hispanic population of Union City and its surrounding areas. Due to its location, NHIEC is the home of one of the largest Latino Muslim communities in the nation and has been catering to their growing needs by providing simultaneous Spanish interpreting of Friday sermons, an annual Hispanic Muslim Day for the past two decades, and continuous educational programs specially geared towards Spanish-speakers and new Muslims of Hispanic heritage. During Ramadan, NHIEC offers iftar events catered by local Latino restaurants, like the Peruvian eatery, Fruit Punch, or the Arab/Hispanic fusion buffet called Fiesta. They also host potlucks, in which Latino Muslim converts and veterans alike breakfast by sharing their country's typical dishes. The mosque is decorated with streamers, balloons, and flags from all 21 majority Spanish-speaking countries.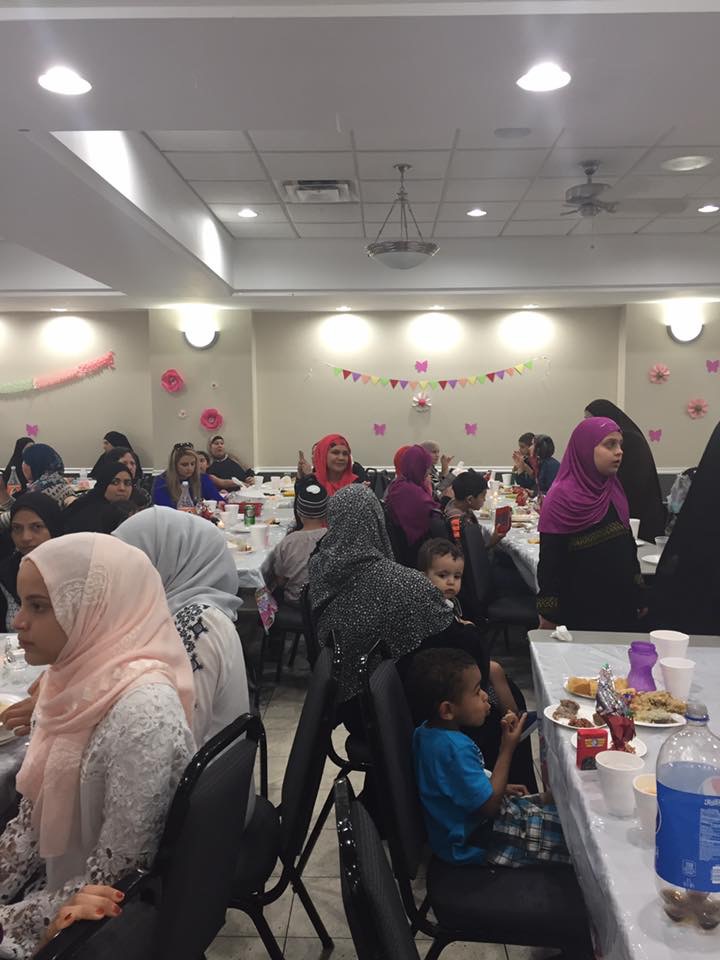 Halal on the Hudson
Union City may be known as "Havana on the Hudson" because of its large Cuban population, however, South Americans like Ecuadorians and Peruvians are also plentiful. Nylka Vargas is a mixture of both; residing near NHIEC, this Latina conversa (convert) is a social worker by day and an active member of NHIEC's dawah committee by night. She and her Syrian husband plan out their Ramadan by renewing their intentions, assessing their spiritual needs, crossing out to do items, cleaning, and clearing their schedules for the month. While subtle decorating is also part of the prep, Nylka prefers to set aside a quiet space at home for prayer and reflection.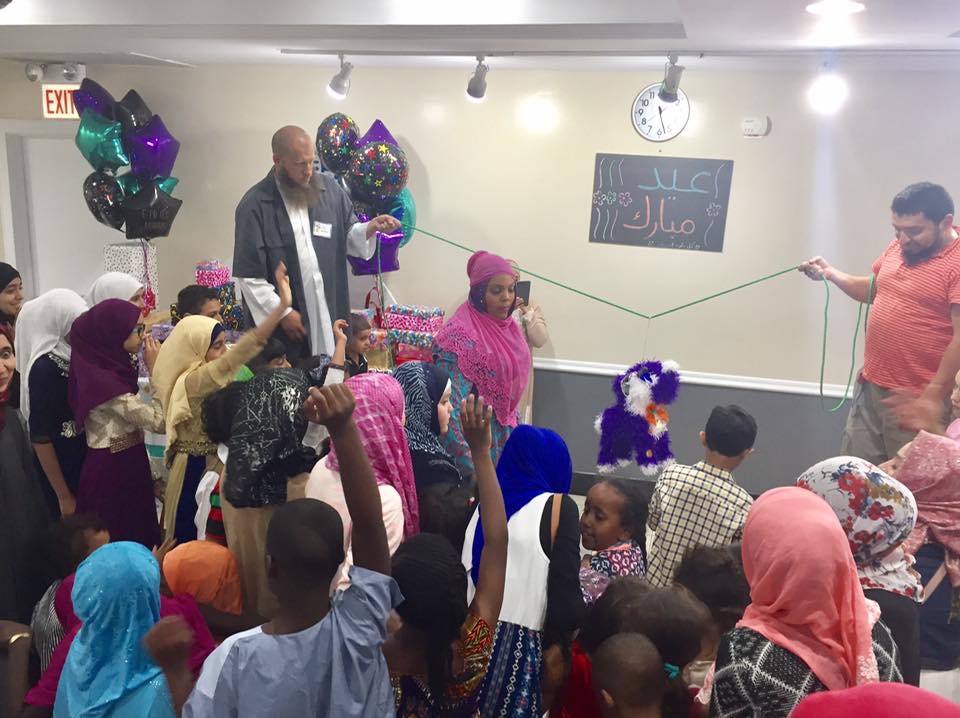 It is in the mosque where she works passionately alongside other Latino Muslims to make the month of Ramadan memorable for fellow Latinos. Due to most Latin American Muslims converting to Islam, their relatives are usually non-Muslims who do not celebrate Ramadan or Eid. Nevertheless, NHIEC provides an inclusive atmosphere, where converts are invited to bring their families to break fast and enjoy the festivities. They host yearly dawah and converts Ramadan programs, an annual grand Iftar for converts with Latin dishes, converts get-together iftars, and a program called "Share Your Iftar with a Convert" to actively encourage the community to break their fast with new Muslims. They also teach Ramadan prep classes, arts & crafts for children, and organize a converts Eid extravaganza.
Nylka says, "We take much pride in bedazzling and giving our Eid Party a custom touch with all kinds of Eid decorating pieces and an entertainment combo. It is always about what the community wants." One of Nylka's fellow dawah committee members is Flor Maza. Flor is a Salvadorian convert and mother of three married to an Egyptian Muslim. Ramadan is an exciting and busy time for Flor, who is a full-time pastelera (baker); she caters to the NHIEC community, literally, decorating and preparing all kinds of postres (desserts), both Spanish and Arabic. She has learned how to prepare typical Egyptian dishes and sweets and alternates between these and Latin-inspired foods for iftar.
"I have not lost my culture, but I am learning from other cultures," she joyfully explained, "All cultures are beautiful." Flor believes that Ramadan is a time to learn tolerance, patience, compassion, and gratefulness, and to collaborate in doing good. She demonstrates this by sharing her delicious meals and confections with the community during the many NHIEC events. When asked if anything distinguishes her as a Latina Muslim, she said, "Anyone can recognize a Latino Muslim because we, Latinas, are helpful, we preserve our culture and are proud of our language."
NHIEC is one of a few Islamic centers in the U.S. where guests can experience the festivities of Ramadan and Eid in Spanish. When the time for Eid prayer comes, the Muslim community in Union City and surrounding areas, pray outside either in a park or in a local school's soccer field. Non-Muslim neighbors hear the Takbirat al Eid, witness the Eid prayer, and listen to the sermon that follows on the loudspeakers, while admiring huge green banners with golden letters that read, "Happy Eid, Eid Mubarak (in Arabic script), and Feliz Eid."
A Mexican, Haitan, and Puerto Rican Ramadan
Eva Martineau-Ocasio was born in Mexico to a Mexican mother and Haitian father and she was brought up speaking Spanish at home. She is married to Ismail Ocasio, a Puerto Rican who was raised Muslim in New York by convert parents. They have three girls, ages 6, 3, and 6 months and reside in Brooklyn. While they have always practiced their faith, the couple has become more diligent about making Ramadan extra special and memorable for their children.
The focal point of their Ramadan décor is a table spread with Islamic and Ramadan-themed books (some in Spanish, others in English), arts and crafts, tools, calendars, and projects they will use to celebrate Ramadan. As with the Ortiz-Matos family, great care is given to set the mood for the commencement of the Month of Mercy. As Eva explained, "We prepare ahead of time by reading books and telling stories to remind ourselves about Ramadan. We use lights, banners, and homemade decorations to make Ramadan special in our home. In recent years, my sister and I even opened a small online shop to sell some of our decor." With her girls, the young mother, nurse and midwife student weaves prayer mats for their dolls and paints small glass linternas (lanterns) to display on their holiday table.
While other Muslim families have similar routines to welcome Ramadan, what sets the Martineau-Ocasios and other Latino Muslims apart is the way they have tailored their cultural traditions to adapt to Islamic practices. "Food and language play the largest roles in shaping the way we experience Ramadan outside of the important religious-based practices," Eva said, "I strive to make Ramadan as special and exciting for my children as Christmas was for me growing up." The family enjoys fast-breaking meals representative of their unique mix of Mexican, Puerto Rican, and Haitian culture. Some of their staples include tacos, fajitas, frijoles refritos (refried beans), Haitian style beef BBQ ribs, Haitian black rice, Puerto Rican arroz con maíz (yellow rice with corn), and even American Mac and Cheese.
They also celebrate with the general community and enjoy breaking fast with Arab and South Asian cuisine, as well. As a family, they attend Ramadan gatherings at the Muslim Community Center (MCC) and the MAS Brooklyn mosque in New York, where they are recognized as being Latino Muslims because of their language, Spanish, which they use with their children.
Ramon F. Ocasio, Ismail's father and Eva's father-in-law, shares a deeper perspective about celebrating Ramadan as a Puerto Rican Muslim of well over four decades. Ocasio was born in the Bronx and raised in El Barrio, Spanish Harlem in Manhattan. He embraced Islam in 1973. For this father and grandfather, nothing identifies as uniquely Latino in his practice of Ramadan aside from the food. He says, "My family prepares iftars featuring Latin cuisine for some masjids, both suburban and in the inner city. Just food, no unique decor. Food is the common denominator. Aside from that, there is nothing I can point to that is uniquely Latino in our celebrations." His personal favorites are pasteles, roasted leg of lamb (a halal substitute for pernil, a traditional pork dish), arroz con gandules (rice with pigeon peas), and flan (a custard dessert with caramel sauce).
When his children were young, he admits that things were a little different, with Eid gatherings in the park that drew thousands of Muslims, trips to Toys'R'Us for presents, movies, games, and outings. "Seasons change, families grow, our method of celebrating will change with it," Ocasio reminisces, "During a span of forty plus years, it can change quite a bit. As parents, we've tried our best to make Ramadan and Eids special for our children. For the most part, we have been successful."
Ramadan for the Latino Muslims of Chicago
Another Latino Ramadan legacy is being constructed west of the Tri-State area, in the Windy City. Rebecca Abuqaoud is the founder and director of Muslimahs of Chicago and a community organizer at Muslim Community Center at Elston Avenue (MCC), and at the Islamic Community Center of Illinois (ICCI). She hails from Lima, Peru, and she and her husband, Hasan Abuqaoud, have three children. Rebecca has been involved in organizing Ramadan events for the Latino community and for Muslim women and children for many years.
One of these is the annual, "Welcoming the Arrival of Ramadan," where female speakers are invited to present, and babysitting is provided to ensure mothers are able to attend. The dinner consists of a potluck, and attendees share their cultural dishes. Guests can choose from a variety of ethnic foods, including arroz con gandules, arroz chaufa (Peruvian rice), salads, pollo rostisado (rotisserie chicken), chicken biryani, and other Pakistani and Arab delicacies. This event began as an initiative for Spanish-speakers only, at the request of Latino Muslim women, however, it has grown to become a bilingual affair and draws anywhere from 60-80 attendees.
Rebecca is known in her community for dedicating her time to sharing her years of experience, Islamic knowledge, and wisdom with others. She said, "I really love being with my Latino sisters, I understand the help and support they need in their journey to Islam. I've been blessed to have knowledgeable Islamic teachers in my life and now it's time to pass that knowledge to my new sisters in Islam; I thank Allah for such an opportunity." Among other social events during Ramadan, Rebecca holds a Halaqa Book Club for ladies in Spanish at the ICCI, and for Eid, she assists with the Eid Potluck Fiesta at MCC.
In the North of Chicago, Ramadan and Eid is a family affair, and this includes the children of Latino converts. During Ramadan, mothers are encouraged to decorate their homes and the masjid to make the season exciting for their children. In the mosque, Rebecca and other volunteers prepare fun activities for them related to Eid, such as a puppet show, decorating paper plates, creating Eid greeting cards for their families, and pretend "baking" cookies and cupcakes with play-dough. The children also enjoy listening to other kids recite the Qur'an and chatting over pizza, snacks, cake, and juice.
The Eid Potluck Fiesta at MCC, sponsored also by Ojalá Foundation, is an effort that began to create a safe space for converts to celebrate Eid together. Everyone is invited to attend and can bring dishes to share. The walls are decorated for the occasion and candy-filled piñatas are set up for the children. Not only do the Latino Muslims enjoy these festivities, but also diverse members of the community who join them in the unifying celebration that is the culmination of the Month of Mercy and Forgiveness.
Feliz Eid
All the Latino Muslims who participated in this interview mentioned that the most significant aspect of Ramadan is the same across the board: to gain the maximum benefit from the intense self-reflection, fasting, constant prayer, spiritual cleansing, and dedication to the Qur'an. Cultural practices and celebrations are secondary to the religious aspect of Ramadan. However, the collective sentiment of those who converted to Islam is that they feel a sense of loss when they are celebrating Eid without their extended non-Muslim family. There is always, "something missing."
Latino culture is hugely family-centered, and thus, holidays are often a time to reunite with relatives. Eva Martineau summed it up as this: "For converts, missing out on the family aspect of any celebration can leave us with a sense of sadness and longing." Her suggestion, and that of other Latino Muslims is that, like NHIEC, ICCI, and MCC (in NY and Chicago), Islamic centers across the U.S. should host Ramadan and Eid events catering to not only Latino Muslims but converts in general. As individuals, fellow Muslims can also host those who may otherwise not have anyone to break the fast with, in their iftars and Eid celebrations. This will provide those newer Muslims with that sense of brotherhood and sisterhood they long for, and maybe in return, they can taste some of those yummy ethnic dishes.
Feliz Ramadan!
Note: A modified version of this article appeared in Islamic Horizons Magazine May/June 2019 edition.