Everyday Trump is Signing off on an American Spring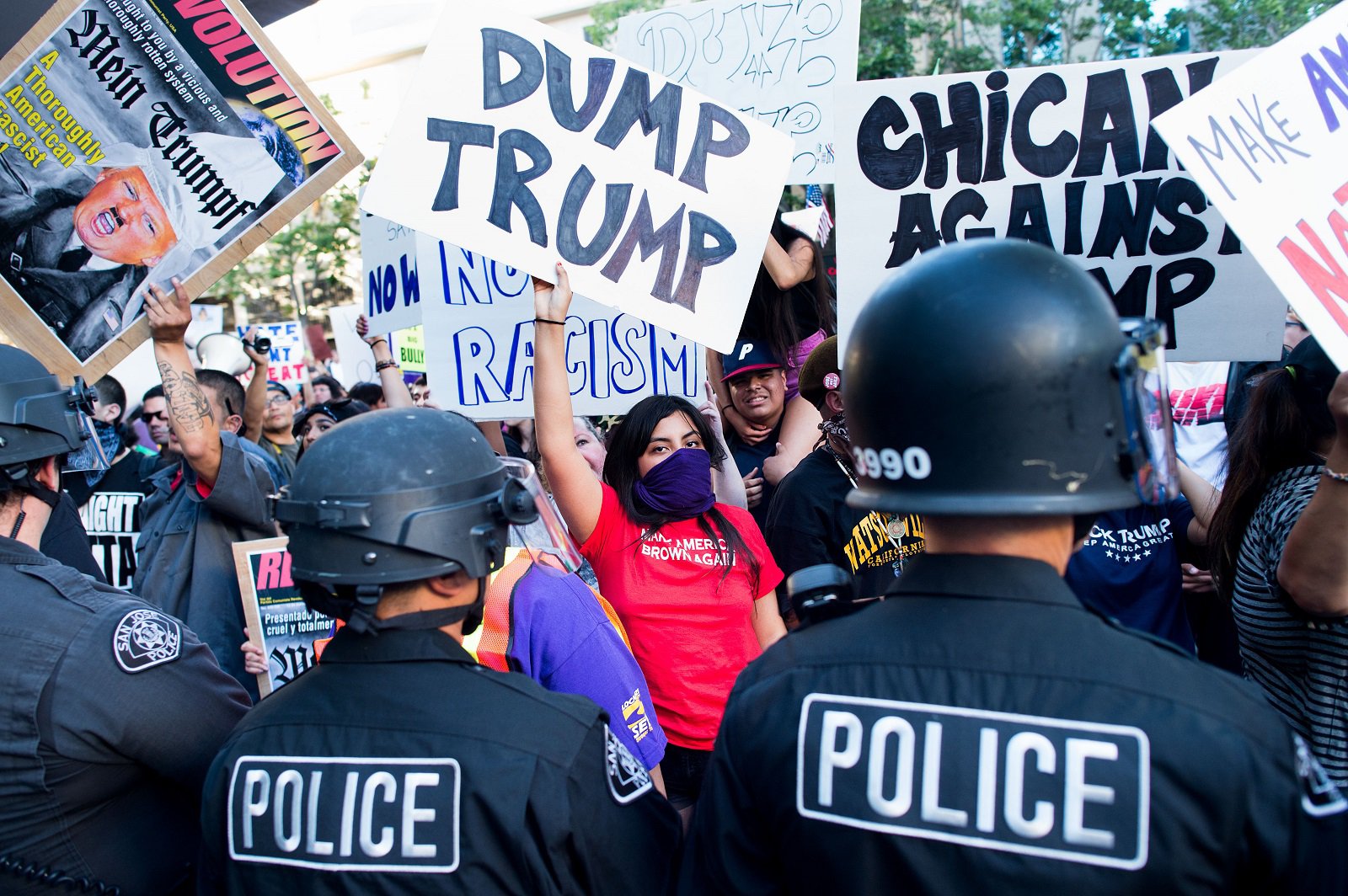 Our reality just set in
Donald John Trump took an oath of office, on a bible, for the Presidency of The United States of America, Friday January 20, 2017. His campaign, positioned as the calvary for white working class Americans collected the hearts and minds of his supporters like staples to magnets. Throughout all the jest, hot-takes, and naiveness, one critical component of this moment remains true. The Trump campaign's bulletproof vest was made of a population well-bought into what Dr. Cornel West has described as the "illusion of inclusion."
Well within our humming metropolises and calm rural townships is a sentiment that this shift in political might is akin to a rising south, a return to an order, made natural by the lash, bullet and billy club. For myself it comes at no extravagant surprise. 63% of White men who voted made a conscious decision that an openly bigoted billionaire without any government experience, was equipped to manage a nation. 53% of all white women who voted did so, despite our now President amusing his associates with noxious narratives of sexual assault. Many on the left are still in disbelief. Everyday of this regime is going to be a game of miseducated guessing on the part of the public, if we allow it. But this is what our
electoral college
and some of our better judgment bargained for.
It's difficult to even fathom who is ready to honor this baleful transaction. America has fixed President Donald Trump atop it's political pyramid. And in an era of the disposal of Flint, pillaging of Standing Rock, and the death of Aleppo, we are fortifying the energy for an American Spring. As far as it seems now, our President will naturally play Michael Buffer for the entire affair.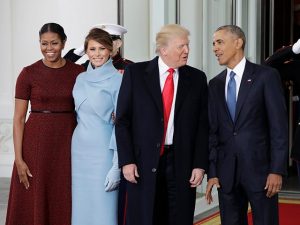 Distractions
His administration's first order of business to discuss in it's first ever press briefing was journalist's accurate coverage of an obvious drop in inauguration attendance when compared to former President Barack Obama on Monday. White House press secretary, Sean Spicer, delivered the memento subdued with the voice tone and gesturing of a high-schooler, upset he wasn't voted most likely to succeed. The press statement came on the heels of halting regulations for the ACA otherwise known as Obamacare, deletions of progressive issues on the whitehouse.gov website, and an appointment to secretary of defense, of a documented war criminal. That was this weekend.
Since then, a portion of his signed executive orders to move forward with the Dakota Access Pipeline, put a global gag order on entities that assist with abortions, build the infamous wall, and freeze federal hiring are already poised to corrode American infrastructure. President Trump, along with those who believe deeply in what he stands for, are setting fragile sails against a wind of people who by all accounts will not be left in the darkness. 
A day after his poorly attended inauguration, the international Women's March, Co-chaired by Muslim Civil Rights Activist Linda Sarsour, amassed 1.5 million people around the world, in opposition to his presidency. In San Francisco, Chicago, New York and Washington D.C., crowds swelled over creating a human gridlock. No march took place in any of the four cities mentioned, because it was impossible to move. Every day this week thousands have made home in the streets. Organizers from GreenPeace hung a banner from a crane adjacent to the White House that exclaimed "resist" on Wednesday January 25th. On the same day, New York City saw thousands gathered against religiously charged orders to halt asylum seeking in America for refugees from 7 Muslim-majority countries.
Yemen, Syria, Somalia and Sudan being among the top four. Open bigotry and Xenophobia, widely accepted by President Trump's base is sure to usher in the third contemporary iteration of mass resistance we've seen on this soil. Occupy Wall Street was targeted and maligned. Black Lives Matter is undergoing deep introspection. And I imagine that lessons eaten from both movements convey a pressing need to find a consensus on at least one thing. That one opposing force could be the reality of an unprecedented openly bought and hate-backed Presidency. A Presidency that is violently otherizing anyone who isn't submissive to its demagoguery day-by-day.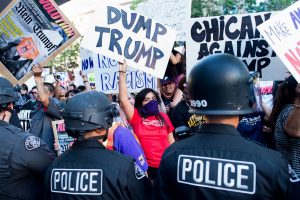 The price of resistance
As humans, it is likely going to take more than threats hurled across cyberspace for collective action. Pain will motivate our nation. It will be the pain of terminal illnesses suffocating formerly insured patients pushing their loved ones to the picket line. Undoubtedly middle-class America, in places like middle America, will have to experience the pain of rising mortgage rates while holding on to the working man's promise. And collectively, people of color will have to painfully take notice of an invigorated proxy war, against domestic and foreign "adversaries." This week President Trump even naively tweeted that if shooting continued in Chicago he would "send in the Feds."
Successful resistance does not look like the removal of a fascist President. It is the abolishment of the mechanisms that allowed him to take rulership on January 20, 2017. Winning has so little to do with public ridicule of the Trump administration, and everything to do with his followers treating their own diseased hearts. Our American spring also has to be one where marginalized people are surveying the oppressor that may live within themselves, in order to effectively push back against what's to come.
This country's yarn is fully complicated with hardened habits of abusing it's most vulnerable residents. To believe there won't be some coming storm emboldened by this historical truth is politically incompetent. By Friday, President Trump can clear the table with political maneuvers against all of those that fit "the description." Currently, our atmosphere resembles post 9/11, talks like reconstruction and acts like Orwell's 1984.
The energies of citizens fed up with the repressive status quo must be moved from mobilization to organization while they too hold a charge. We can only look to recent world events.  Observation of Middle-eastern springs show us two things, it is possible for the public to awaken from the robbery that is taking place by the wealthy, and that when pushed to the point of being ungovernable it is a human right to resist. Whether or not an American spring occurs in 4 months or tomorrow depends on the stroke of President Trump's pen and how well-behaved his enforcers are. Such are the times. 
Faith Community Stands With Peace And Justice Leader Imam Omar Suleiman During Right Wing Attacks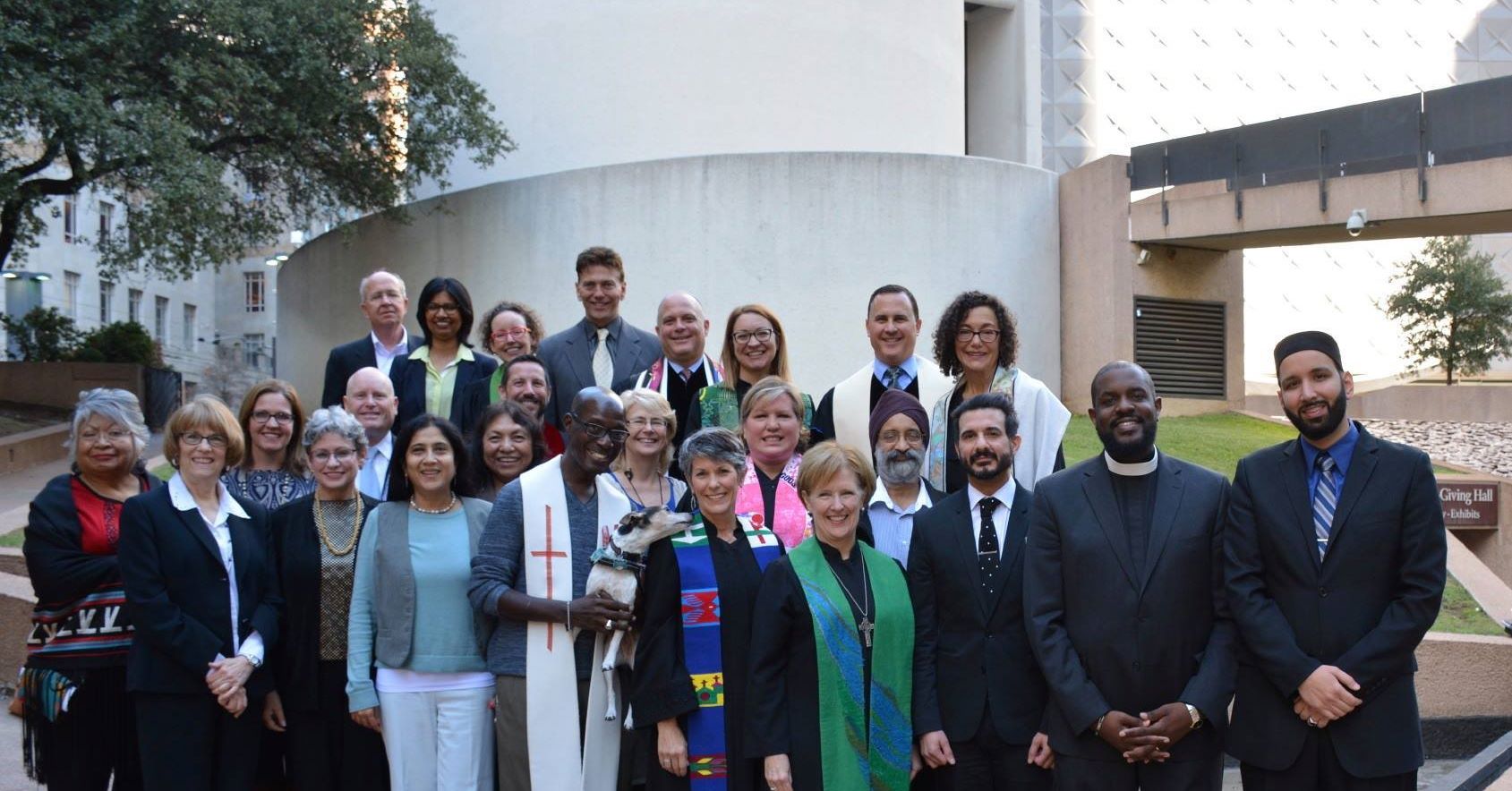 In a follow up to the right-wing media platforms attack on Imam Omar Suleiman – calling him anti-semitic, a common tactic used to discredit both Muslim activists, as well as criticism of Israel policies, Faith Forward Dallas issued a statement.
Faith Forward Dallas at Thanksgiving Square – Faith Leaders United for Peace and Justice is a Texas-based interfaith organization that has worked on many initiatives with Imam Omar Suleiman.

The statement reads:
"Imam Omar Suleiman a spiritual and moral voice for peace with justice!!!!!

Time after time in our city, in the United States and around the world, Imam Omar Suleiman has been a spiritual and moral voice for peace with justice. When others seek to divide, he calls for unity. Faith Forward Dallas at Thanks-Giving Square works to unite faith leaders for justice and compassion. Imam Suleiman has been a trusted leader among us. In the wake of his beautiful prayer to open the House of Representatives on May 9, he has received threats of violence and words of vilification when instead he should have our praise and prayers. We call upon people of good will everywhere to tone down the rhetoric, to replace hate with love, and to build bridges toward the common good.

Faith Forward Dallas at Thanks-Giving Square"
Commenters on the Faith Forward Dallas statement have left comments of support.
The group has invited locals and other leaders to endorse and share the statement. "Endorsed! I love and fully you Imam Omar Suleiman!" wrote Karen Weldes Fry, Spiritual Director at Center of Spiritual Learning in Dallas (CSLDallas), commenting on the statement.
Some commentators do not understand the manufactured controversy.  Heather Mustain writes, "What people are writing is so vile. They obviously didn't even listen to his prayer!" Imam  Omar Suleiman delivered the opening prayer in the US House of Representatives on May, 9th, 2019  at the invitation of Rep. Eddie Bernice Johnson (D) of Dallas, TX.
"I'm grateful for the faith leaders with whom I've built relationships with and served with for years that have shown full support throughout this process. Together we've stood with one another in solidarity in the face of bigotry, and in the support of others in any form of pain. We will not let these dark forces divide us," said Imam Omar Suleiman in response to the outpouring of love from the people he has worked with on the ground, building on peace, love, and justice.
#UnitedForOmar – Imam Omar Suleiman Smeared by Right-Wing News After Opening Prayer at US House of Representatives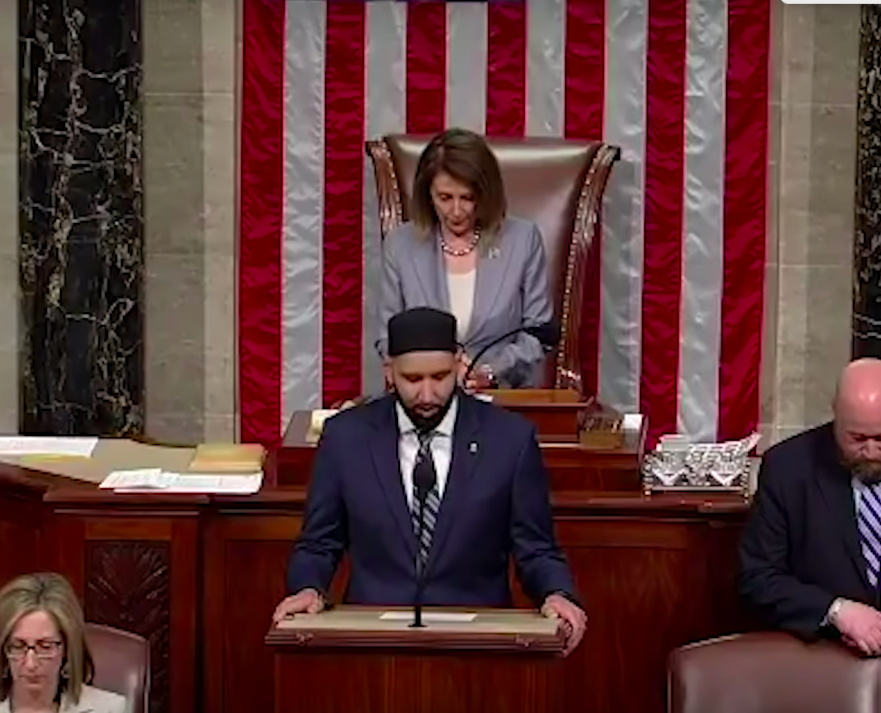 Sh. Omar Suleiman delivered the opening prayer in the US House of Representatives yesterday, May, 9th, 2019  at the invitation of Rep. Eddie Bernice Johnson (D) of Dallas.
Immediately since, right wing media platforms have begun spreading negative coverage of the Imam Omar Suleiman – calling him anti-semitic, a common tactic used to discredit both Muslim activists as well as criticism of Israel policies.

News outlets citing the criticism have pointed to a post from The Investigative Project on Terrorism or ITP, as the source. The  ITP was founded by and directed by noted Islamophobe Steven Emerson. Emerson's history of hate speech has been documented for over two decades.
Since then, the story has been carried forward by multiple press outlets.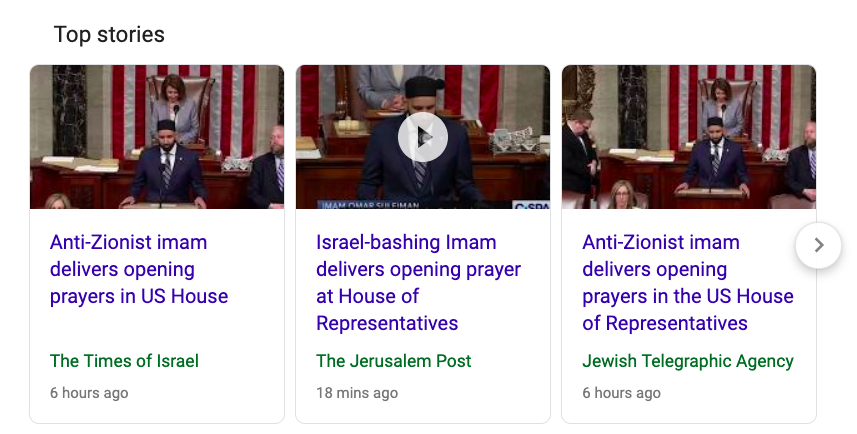 The immediate consequence of this has been the direction of online hate towards what has been Imam Omar Suleiman's long history of preaching unity in the US socio-political sphere.
"Since my invocation I've been inundated with hate articles, threats, and other tactics of intimidation to silence me over a prayer for unity," Imam Omar Suleiman says. "These attacks are in bad faith and meant to again send a message to the Muslim community that we are not welcome to assert ourselves in any meaningful space or way."
MuslimMatters is proud to stand by Imam Omar Suleiman, and we invite our readers to share the evidence that counters the accusations against him of anti-semitism, bigotry, and hate. We would also encourage you to reach out, support, and amplify voices of support like Representative E.B.Johnson, and Representative Colin Allred.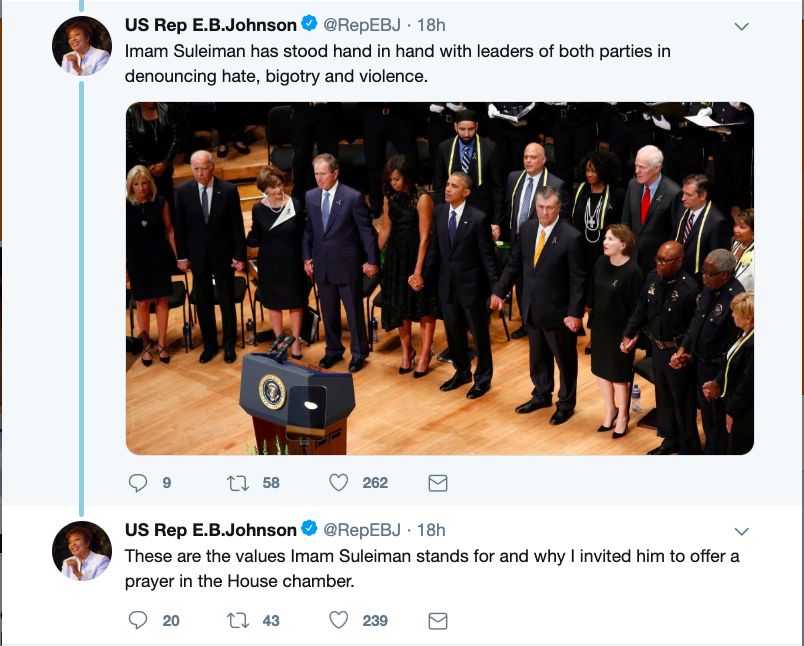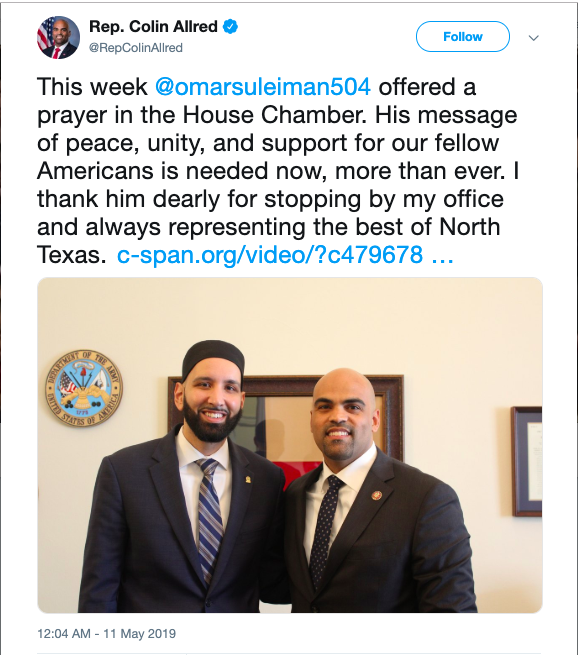 You can help counter the false narrative, simply by sharing evidence of Imam Omar Suleiman's work. It speaks for itself, and you can share it at the hashtag #UnitedForOmar
JazakAllahuKheiran
---
At an interfaith panel discussion, three North Texas religious leaders promoted understanding and dialogue among Muslims, Jews, and Christians. Amid a vexed political and social climate, three religious leaders in North Texas—a priest, an imam, and a rabbi—proved it's possible to come together in times of division. Source: DMagazine.com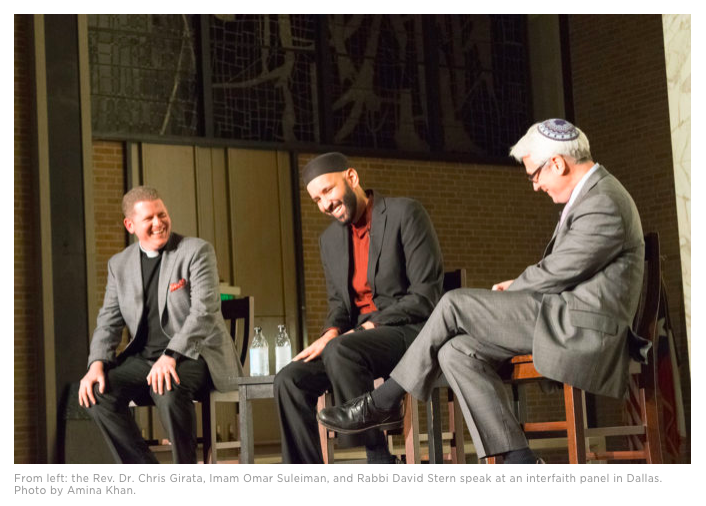 ---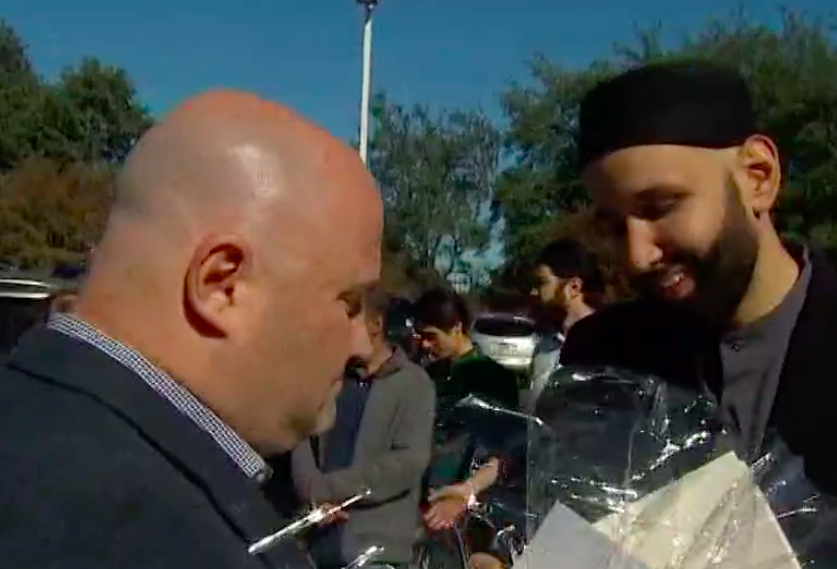 The congregation, led by Imam Omar Suleiman, penned more than 150 cards and letters. source: WFAA News
---
"We must recognize that the white supremacy that threatens the black and Latino communities, is the same white supremacy that spurs Islamophobia and antisemitism," -Imam Omar Suleiman
Source: Bend The Arc
---
"When any community is targeted, they need to see a united faith voice — that all communities come together and express complete rejection of anything that would pit our society against one another more than it already is." -Imam Omar Suleiman
Source: Kera News

---
Source: The Carter Center
---
Imam: After devastating New Zealand attack, we will not be deterred
"My wife and I decided to take our kids to a synagogue in Dallas the night after the massacre at Tree of Life in Pittsburgh to grieve and show solidarity with the Jewish community. My 5-year-old played with kids his age while we mourned inside, resisting hate even unknowingly with his innocence…" Source: CNN
Ben Shapiro Gets Wrecked on the BBC for Racism Against Palestinians and American Jews
Andrew Neil so thoroughly destroys Ben Shapiro that he has a snowflake meltdown and retreats in the middle of the interview to his own safe space, off-camera.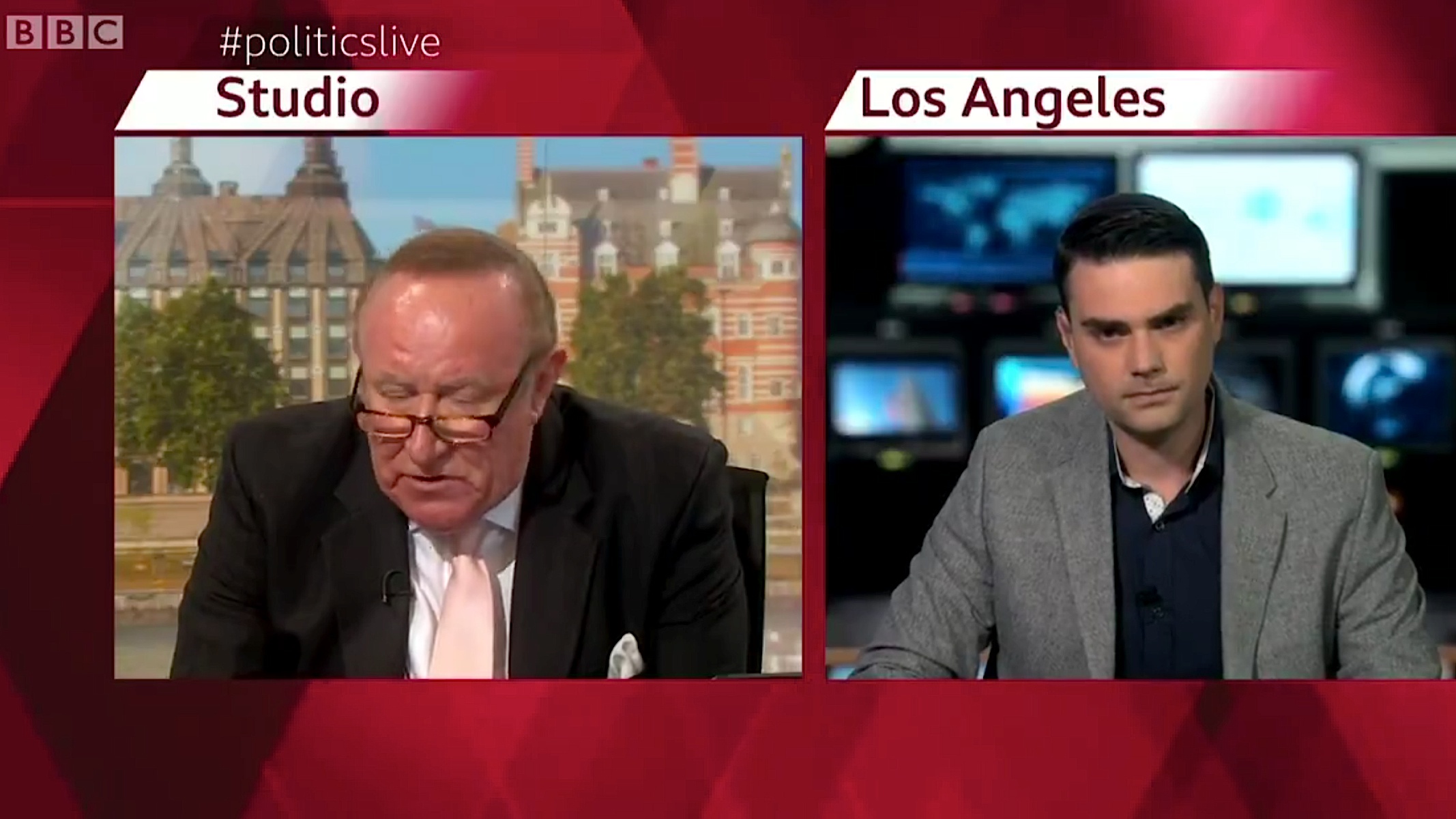 The video plays at the 10:00 minute mark where Neil begins to break down Shapiro on his statements about President Obama, Palestinians, and American Jews.
Let's set the context – popular conservative commentator Ben Shapiro, known for his aggressive debate style in the public square, visited the BBC to promote his new book.  The interviewer, Andrew Neil, after giving Shapiro a chance to introduce himself to the BBC audience, questioned him about the anger both the left and the right feel towards one another, and Shapiro's own role in stoking that anger and polar opposition within the Republican party over many years.

The reason for this line of questioning is because Shapiro claims this to be a problem in American discourse and fails to consider his own contribution to the problem, and it is this hypocrisy that Neil confronts him about.  Shapiro attempts to respond, but is promptly crushed by Neil's responses with Shapiro's own quotes.  For example, he brings up the following tweet written about Palestinians which Shapiro agrees was wrong but hasn't taken down:
Israelis like to build. Arabs like to bomb crap and live in open sewage. This is not a difficult issue. #settlementsrock

— Ben Shapiro (@benshapiro) September 27, 2010
Shapiro futilely attempts to respond, but Neil continues to quote Shapiro until he is left with no choice except to throw ad hominems at his interviewer, which were deftly turned back on Shapiro, leaving him to look even more petty for his attempted condescending remarks.  The end result is the man claiming earlier to welcome a spirited debate quickly found himself running away to lick his wounds.
Perhaps the greatest irony in this debate – Shapiro accused Neil of being an opinion journalist of the left-leaning variety, while Neil is a conservative and chairman of The Spectator, whose editorial outlook is conservative.