Who Gets to Point Fingers: Media Coverage of the Ft. Lauderdale Shooter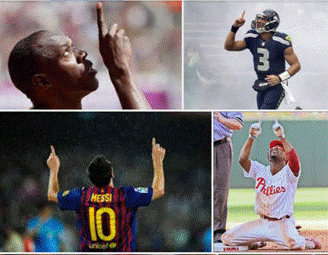 By Wendy Diaz
On January 6, 2017, which happens to be Three Kings Day -a holiday related to Christmas and widely celebrated in the Spanish-speaking world- a US military veteran of Puerto Rican descent opened fire in Fort Lauderdale-Hollywood International Airport killing five people and injuring eight in a senseless shooting rampage that ended with him running out of ammunition and surrendering to police.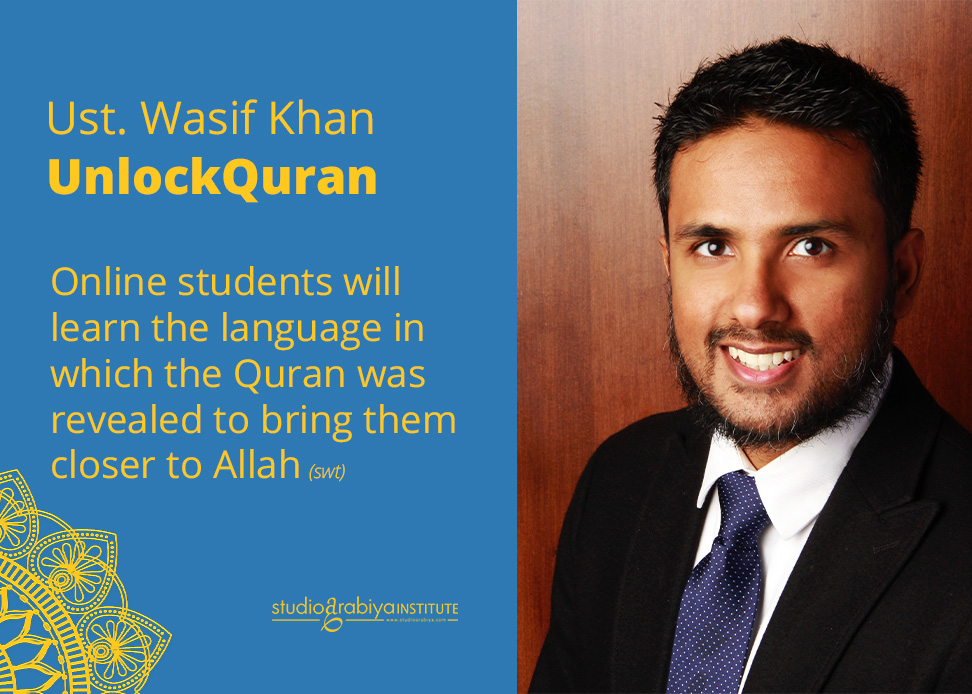 While the authorities still attempted to identify the motive that drove Esteban Santiago-Ruiz to load his weapon in the baggage claim area's restroom and randomly shoot his victims, the media had already scrambled together a profile for the disturbed young man.
He was 26 years old, born in New Jersey and raised in Puerto Rico. He joined the national guard and served in Iraq for a year, where he lost one of his close friends and came back "mentally disturbed," according to family members. He was allegedly delusional and had complained of hearing voices, being under the influence of "mind control" by government agencies, and claimed that he was being forced to watch videos of the Islamic State of Iraq and Syria (ISIS). He said he did not want to hurt anyone, but was obviously feeling inclined to do so.
He complained to his family about his nightmares and hallucinations, and they advised him to seek help. In remote Anchorage, Alaska, where he resided, he had visited an FBI office and explained his situation, describing the voices in his head that were inciting him to violence. Nevertheless, after a brief psychiatric evaluation and treatment in a ward that lasted a mere few days, he was released. Despite his history of mental instability and possible PTSD symptoms, he legally owned a weapon (that was returned to him after his release from the mental ward), and was able to check it into his luggage during his voyage from Anchorage to Florida. It was this same weapon that he used to carry out his horrific plan.
The Terrorism Scapegoat
Authorities had not ruled out terrorism as a motive, but it became evident that Santiago acted alone and that his history suggested psychological issues. Nevertheless, media outlets began digging into alleged ties to ISIS. Because he may have mentioned ISIS in his delusional chatter, the mass shooting was suddenly being analyzed as a possible act of "Islamist Jihadi terrorism," even though Santiago-Ruiz was not even a Muslim. These claims became more preposterous as news programs and internet articles began displaying a picture in which the suspect was wearing a keffiyeh and posing with a closed fist and a finger pointing to the sky, as proof of Santiago's allegiance to ISIS.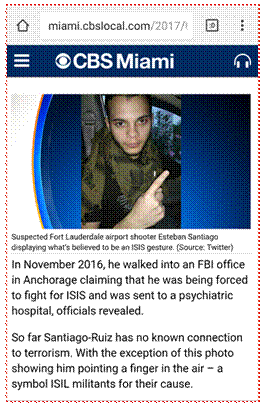 When Santiago-Ruiz's brother was interviewed by the media in Puerto Rico, he stated that he and his brother were raised as devout Christians, and that his brother did not convert to Islam, nor did he follow any radical ideology tied to a terrorist group. The last time he had spoken to his brother was just two weeks prior to the shooting.
He explained his brother's use of a keffiyeh, an Arabic headdress often used as a fashionable neck scarf by people of varying faiths worldwide, in the photograph in question, as a souvenir that he had bought during his tour in Iraq. His brother posed for a picture sporting the accessory around his neck and shoulders, just as many celebrities such as David Beckham, Kanye West, Rihanna, Chris Brown, Cameron Díaz, Colin Farrell, Shah Rukh Khan, and Rachel Ray have.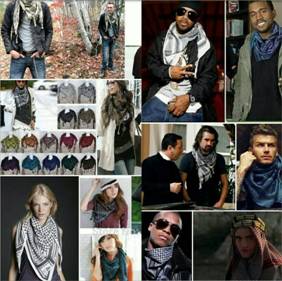 The keffiyeh, although originally an expression of Arab identity, is a fashion trend that has been embraced in celebrity culture, as well as popular culture across the US and throughout the world. However, the media is determined to link this piece of clothing to terrorism, and while doing so, maligning millions of people around the world who wear it. They profess that it is characteristically Islamic and tie it to radicalism, thus giving a false impression to the ignorant masses.
Symbolic Gestures In Islam
The finger pointing to the Heavens, also being scrutinized by the media and anti-Muslim groups as a symbol of ISIS, is neither an Islamic tradition nor is it exclusive to the Islamic faith. The references to this gesture in the traditions of the Prophet Muhammad

do not declare it an obligation or even a regular practice for Muslims, other than when Muslims are in the sitting position during ritual prayers, when they declare God's Oneness while pointing with the right hand which rests on the knee. However, this pointing is not towards the sky, but rather the finger is kept pointing straight.
Muslims may also point towards the sky when supplicating or speaking to God, but this is not a religious requirement. There are narrations which describe the Prophet Muhammad

as supplicating while pointing up, but he would also supplicate while holding both hands open with his palms towards his face.  When addressing his followers on the Day of Arafah during his Farewell Pilgrimage, he asked the people, "Have I not conveyed the message?" and they said, "Yes!" He asked again, "Have I not conveyed the message?" and they said, "Yes!" He asked a third time, "Have I not conveyed the message?" and they said "Yes!" Each time, he said: "O Allah, bear witness!" – pointing up to the sky and then at the people. (Agreed upon)
It was narrated that when a delegation came to the Prophet

to ask about how to practice Islam properly, he responded, "I order you to observe four things and forbid you from four things: to believe in Allah, i.e. to testify that None has the right to be worshipped except Allah." The Prophet

pointed with his finger indicating one and added, "To offer prayers perfectly: to give Zakat, and to give one-fifth of the booty you win (for Allah's

sake in charity). I forbid you to use Ad-Dubba', An-Naquir, Al-Hantam and Al-Muzaffat, (Utensils used for preparing alcoholic liquors and drinks)"  [Bukhari and Muslim]
It has become common for Muslims to declare the testimony of faith, or the Shahadah, while pointing up to acknowledge that their worship and faith is only for Allah

, or God Almighty, alone, as indicated in the above narration. However, there are few references to this gesture being used or encouraged on a regular basis by Prophet Muhammad's

companions and other generations after them when embracing Islam. It is not an obligation, and thus not necessarily symbolic of the religion itself or of pledging allegiance to God or to any Muslim ruler.
Moreover, pointing towards the sky with a single finger is nothing new to other religions or to pop culture.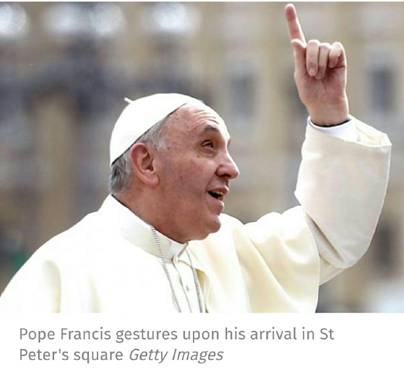 Famous paintings, such as Da Vinci's Christian rendition of Saint John the Baptist, depicts this famous religious figure pointing to the Heavens.
Oftentimes, after a basketball player scores points or a soccer player makes a dramatic goal, they celebrate by pointing towards the sky.
When an MMA fighter wins a championship or when an Olympian earns a medal, they also use this common gesture.  It signifies recognition and respect towards a Supreme Being, known to Muslims and people of other faiths as "The Most High," or the Lord and Creator who dwells above the Heavens. For religiously-affiliated individuals, to point skywards is to acknowledge that God is in control and scoring a victory can only be achieved through His Grace. It can also symbolize "being first" or being "the number one", "the best," etc.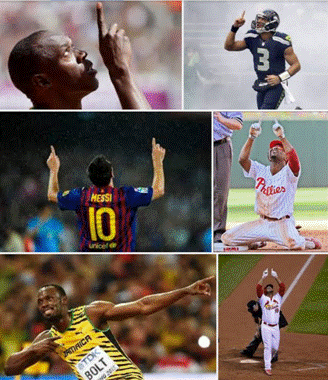 Pointing Fingers, Literally
To say that pointing up when one poses for a picture or when declaring God's Oneness represents terrorism or a terrorist group just because its members have been depicted as doing so, is tantamount to asserting that making the sign of the cross is emblematic of paedophilia, only because a considerable amount of Catholic church clergy have been accused or found guilty of lewd acts with minors. It is claiming that the Virgin of Guadalupe is a symbol of the Mexican drug cartel because its thugs and traffickers venerate her and have her image tattooed on their bodies. It is accusing baseball fans of radicalism for wearing foam fingers!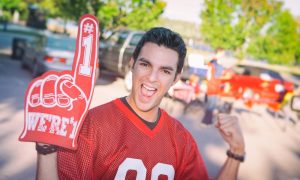 The fact of the matter is, that a religious symbol or gesture should never be associated with criminal activity only because criminals have used it for whatever reason. It is irresponsible and is an attempt to censure religious expression and freedom. Ironically, it is the very same people who claim they are the champions for freedom of speech who promote the suppression of religious expression, whether it be religious symbolism, worship, or attire.
While ISIS is considered globally as a terrorist organization, its members and sympathizers claim it to be an "Islamic caliphate" or empire which has expanded from Iraq to Syria, with affiliate groups in Africa and other parts of the Middle East.  As with most terrorist groups, their motives are political in nature, however, Western media have proclaimed that spreading Islam is their driving force and their mission is to eliminate the disbelievers or infidels from the face of the Earth. This cannot be further from the truth, because in the very same book that is read by more than 1.7 billion Muslims worldwide, God commands that there be no compulsion in religion [(لاَ إِكْرَاهَ فِي الدِّينِ) The  Holy Quran 2:256]. The Quran, as well as the teachings and traditions of Prophet Muhammad

and his followers, promote religious tolerance, and the overwhelming majority of the victims of ISIS and similar groups are Muslims. The bottom line is that just because a group makes an outrageous claim or takes ownership of a symbol without right does not make it credible.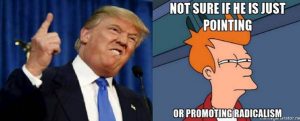 There are other symbols manipulated by ISIS in its propaganda, such as its use of a black flag decorated with the Islamic declaration of faith, "There is nothing worthy of worship but Allah and Muhammad is His Messenger," however, this does not represent Islam or Muslims. They have merely hijacked this statement and used it to promote their own agenda and to recruit naïve or uneducated individuals. Similarly, radical groups such as the Ku Klux Klan have taken the cross as an emblem, but the vast majority of Christians denounce their hateful teachings.
Time to Take a Stand
The American public has become increasingly numb to violent crimes other than those perpetrated by people with ties to the Islamic religion because of the mainstream media's role in demonizing Islam and Muslims. Their slogan has often been, "Not all Muslims are terrorists, but all terrorists are Muslims," which is, in and of itself, a blatantly false statement. Whenever an act of terror occurs, the public is being conditioned to automatically assume it has been carried out by Muslims or that the perpetrator has ties to terrorist groups that are labelled "Islamic," even when there is overwhelming evidence to the contrary. There is nothing Islamic about terrorism, period. It is time for the mainstream media to stop its attack on the Islamic religion and Muslims, and for us, the American public to say, "Enough."
As far as the shooting rampage that occurred on this Three Kings Day, until proven otherwise, it seems to have nothing to do with ISIS; but rather with the failure of the veterans' healthcare system to provide proper care to a troubled serviceman. Military and government officials who knew about Santiago's murderous delusions and his possession of weapons and never did anything about it are equally to blame.  Although the FBI and the military knew of Santiago's psychological issues, the young man was allowed to roam freely and armed, and to travel with nothing but a gun in his baggage. In addition, he sought aid in dealing with his mental health problems, but his cries for help fell on deaf ears. Now Santiago's five victims are gone, and he remains to face retribution with a possible death penalty sentence looming, but the entire Muslim community continues to be on trial for crimes they never committed.
Kashmir: Gateway in Turmoil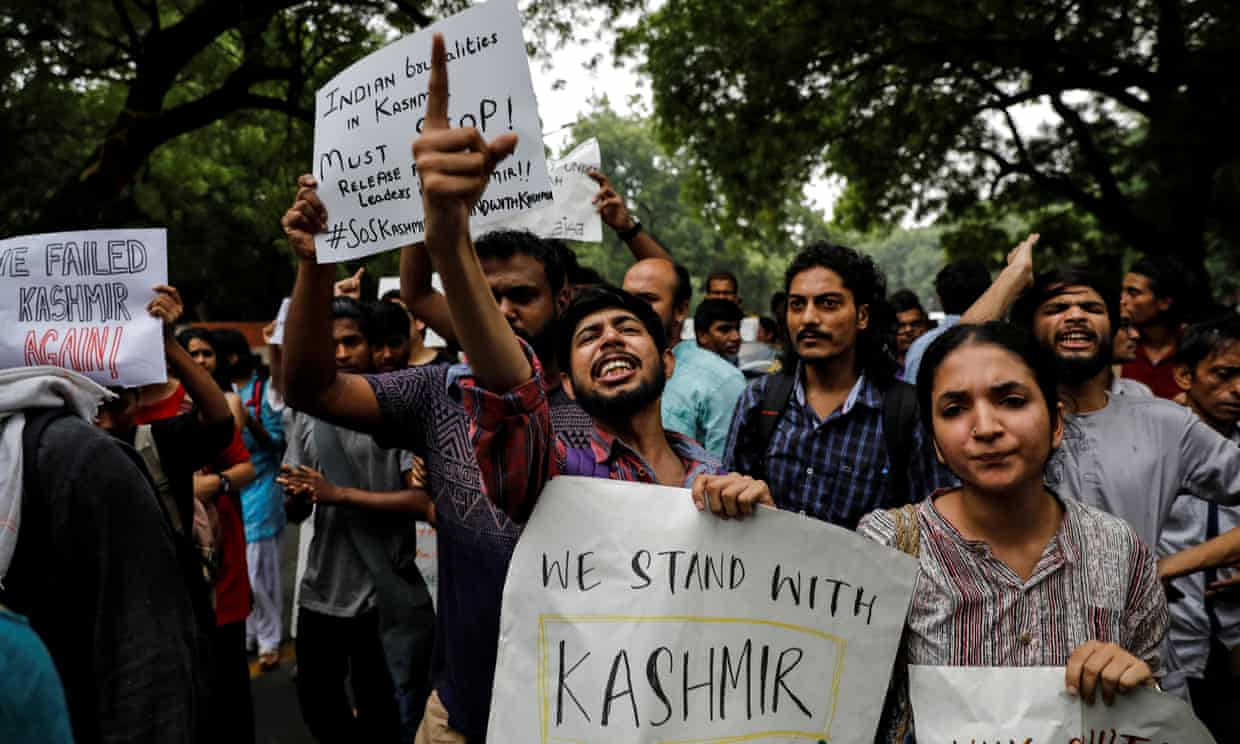 A dark day looms over Indian-Administered Kashmir, a Muslim majority region at the heart of a dispute between Pakistan and India. The two countries are at odds over its governance, with direct impact to the welfare and security of the Kashmiri people. On Tuesday 8-6-19, the Indian Parliament passed a bill that strips Kashmir of statehood and places them under indefinite lockdown.
"Kashmiri leaders are appealing to the world to stop the imminent genocide of Kashmiris. Genocide Watch in Washington, DC has already issued a Genocide Alert for India, the so-called "largest democracy in the world" because it has cancelled citizenship of four million Indian citizens, mostly Muslims. This reflects the early stages of a genocide in process." –Soundvision.com
Kashmir is home to massive energy resources, such as oil and natural gas, non-ferrous metals, uranium, gold, and is abundant in hydropower resources. These too are factors considered in the political movements of India and China. Kashmir's geopolitical advantages are no secret, and adding China to the political struggle makes three countries trying to benefit from Kashmir's geographical position.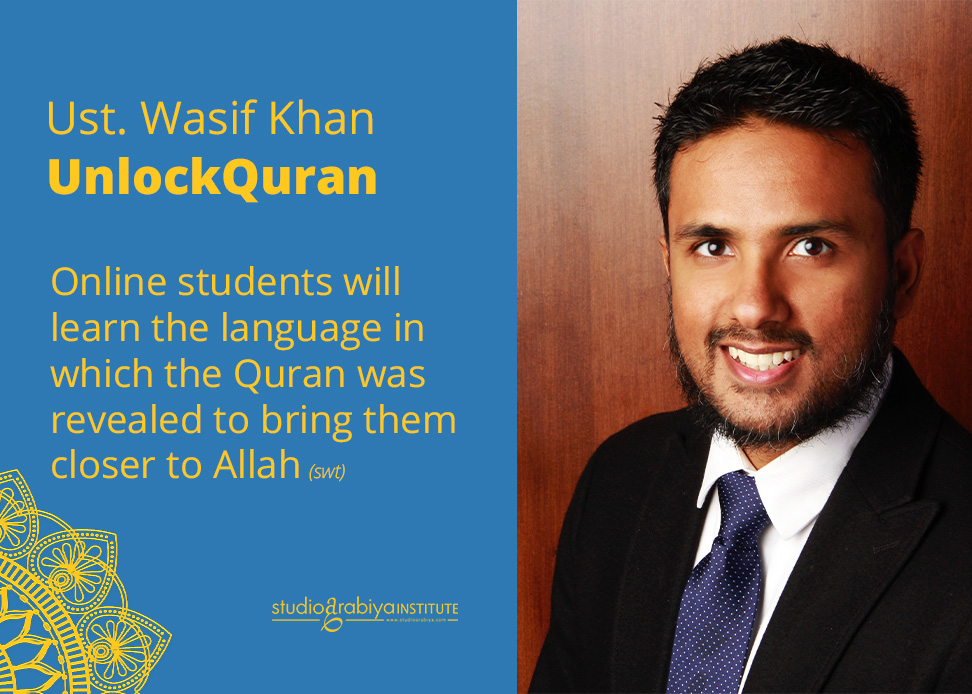 Kashmir neighbors the Xinjiang Uyghur borders, and China has played a role in both areas. China's stronghold on Xinjiang revolves around access to Europe and Central Asia. China needs Kashmir to access the Arabian Sea and the Indian Ocean. Kashmir is landlocked between China, Pakistan, and India. Pakistan hopes to use infrastructure built under the CPEC initiative to connect by land directly to both China and Central Asia. With that said, Pakistan wants to take advantage of its geographic positioning by serving as a gateway to Afghanistan, then Central Asia, using the CPEC corridor (the China-Pakistan-Economic-Corridor), which has parts of that corridor that go through Pakistan-controlled Kashmir.
This is upsetting India. India's ambassador to China, Gautam Bambawale, made a comment in an interview about CPEC saying it "violates our territorial integrity. India believes the CPEC project undermines Indian sovereignty because it passes through a Pakistan-administered part of Kashmir that is still claimed by India." India also fears the chances of a People's Liberation Army presence or even a Chinese naval base in Pakistan's Gwadar seaport, as part of the CPEC corridor.
India has been working on its own project, International North-South Transport Corridor (INSTC), it is intended to link trade routes between India and Central Asia, Russia, and Europe. Unlike its competition (Pakistan and China), India is unable to directly trade through the land to those regions using INSTC. To make this corridor successful, India will need to collaborate with Iran and use their ports.
India needs Kashmir, and Modi is using hateful nationalism to get the people to support his actions. The part of Kashmir that is needed is not under India's control, and must be occupied in order for India to have direct access to Central Asia, Russia, and Europe. 
Birds of a feather flock together.
Israel's Minister for Construction and Housing Yifat Shasha-Biton, while addressing a conference of Indian realtors' body Confederation of Real Estate Developers Association of India (CREDAI), called India an "economic power" with whom Israel shares common values.  India using colonization tactics has made allies with the Israeli government, a master on occupation and oppression. 
"Kashmir is under siege…do not let the enforced silence drown our voices.":
Please keep the people of Kashmir in your prayers. We cannot sit idly while this occupation continues. SoundVision has shared 5 things anyone in America and Canada can do. 
A message from a Kashmiri
"Around 10 pm, a message flashed across our phones announcing that, as per the request of the central government, all domestic networks were to be shut down indefinitely. All mosques, any place equipped with a loudspeaker, began announcing total curfew from 5 am tomorrow……..
You have stripped us of our rights and incited unrest yet again into a peaceful and beautiful place. This time, I pray, you will not escape the international consequences your actions deserve. Rest assured Kashmiris will not break and Kashmir is not gone. Our stories, our language, our heart and our people are stronger than any country can dream. Even under these circumstances, I am sure inshaAllah one day we will be free. One day, Kashmir will be free." Sanna Wani via Twitter
Muslims for Migrants | A Joint Letter By Imam Zaid Shakir & Imam Omar Suleiman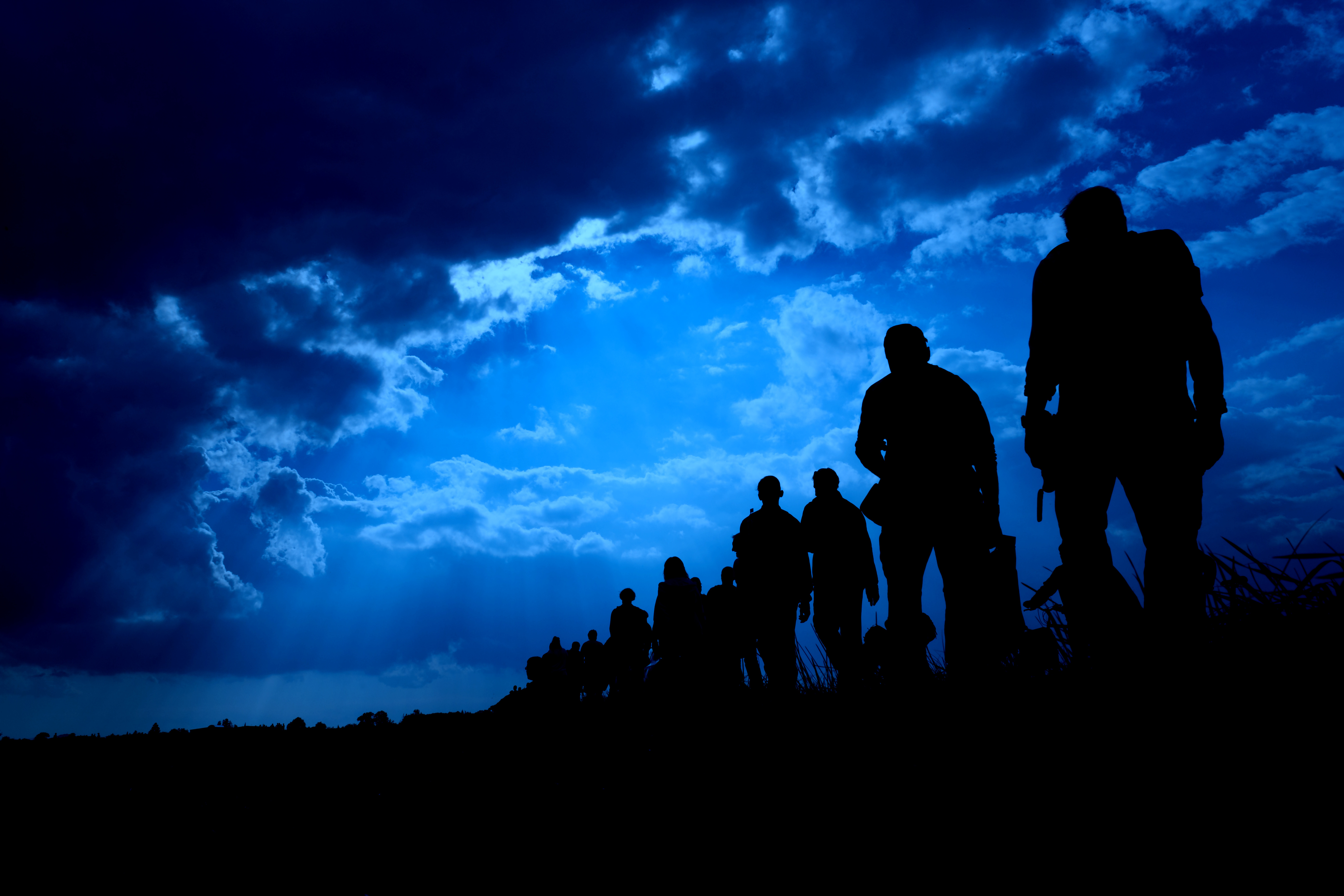 Abu Huraira (May Allah be pleased with him) reported: The Messenger of Allah (peace and blessings of Allah upon him) said, "He who gives respite to someone who is in straitened circumstances, or grants him remission, Allah will shelter him in the shade of His Throne, on the Day of Resurrection, when there will be no shade except its shade." (Tirmidhi, 1306)
He also said, "There is no leader who closes the door to someone in need, one suffering in poverty, except that Allah closes the gates of the heavens for him when he is suffering in poverty." (Tirmidhi, 1332)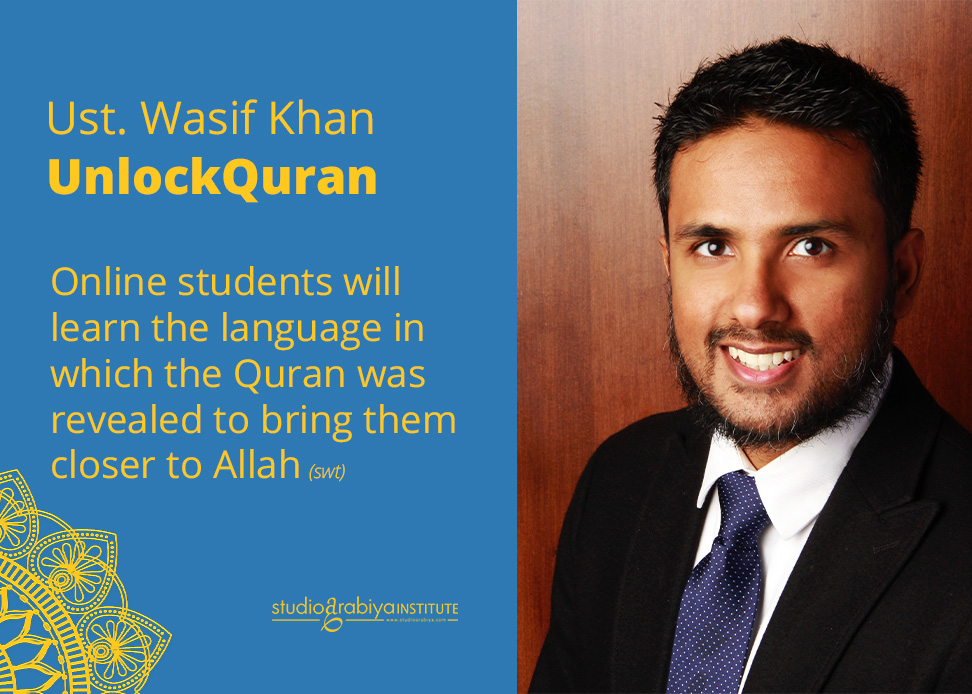 The message is clear, the way we treat the most vulnerable of Allah's creation has consequences to us both individually and collectively, and both in this life and the next.
As the humanitarian crisis at the southern border deepens, there is a deafening silence from most corners of the American Muslim community. One might ask, "Why should that silence be concerning?" Shouldn't the nation of the Prophet (peace and blessings of Allah upon him) who was himself an orphan and a migrant sent as a mercy to the worlds be the first to be moved with the images of children in cages? Migration and asylum are God-given rights that individuals and nations would do well to respect. These rights are affirmed in the Qur'an and the Sunnah of our Prophet Muhammad (peace and blessings of Allah upon him).
Concerning migration, the Qur'an states unequivocally: 
As for those whose souls the angels take while they are oppressing themselves, the angels will say to them, "What was your former state?" They will respond, "We were oppressed in the land." The angels will counter, "Was not Allah's earth spacious enough for you to migrate therein." (4:97)
 The oppression referred to in this verse specifically focuses on persecution because of faith, but the general meaning of the wording can accommodate any form of oppression which involves the denial of a person's Divinely conferred rights.
Migration lies at the very heart of the prophetic tradition in the Abrahamic religions. Abraham himself was a migrant. His son Ismail was a migrant. The Children of Israel along with Moses were migrants, as was Jesus. Not only was our Prophet Muhammad (peace and blessings of Allah upon him) a migrant, he twice sent many of his Companions (May Allah be pleased with them) to Ethiopia to seek the protection of the Negus. The fact that the Muslim calendar is dated from the migration of the Prophet (peace and blessings of Allah upon him) from Makkah to Madinah indicates the lofty place migration has in the life of the Muslim community and in the consciousness of its members. 
Additionally, history records the massive migrations of those Muslims who fled from oppressive, tyrannical, violent rulers or invaders. One of the most famous examples we can relate in this regard is the massive westward migration of those escaping the advancing Mongol hordes. Among those refugees was the great poet, Rumi, who along with thousands of others fled his home in Balkh, located in present-day Afghanistan, eventually settling in Konya, in the heart of Anatolia. Others migrated for economic reasons. The historian, Richard Bulliet, theorizes that the economic collapse of Khurasan, a once-thriving Sunni intellectual hub in eastern Iran, led to the migration of large swaths of its population to Syrian and Egypt. In his view, the many scholars among those refugees led to an intellectual revival in the lands they settled in.
As for asylum, it can be granted by both the state and an individual Muslim to individuals or groups. The foundations of this principle in prophetic practice was established during events which occurred during the conquest of Makkah. The Prophet

, as the de facto head of state, issued an oath of protection to the people of Mecca when he declared, "Whosever enters the house of Abu Sufyan is safe. Whosoever casts down his weapons is safe. Whosoever closes his door [and remains inside] is safe." (Sahih Muslim, 1780) Ibn Ishaq's version adds, "Whosoever enters the [Sacred] Mosque is safe." (Narrated in Sirah Ibn Hisham, 4:35)

Those enjoying these protections from the Prophet (peace and blessings of Allah upon him) had not committed a crime and although they had not traveled to another land seeking refuge, the description of their land had changed from one under the authority of the Quraysh to one under the authority of the Prophet (peace and blessings of Allah upon him). In this "new" land they were being guaranteed safety and subsequently freedom even though they had not yet embraced Islam.
 A related event is Imam Ali's sister, Umm Hani, granting asylum to al-Harith bin Hisham and Zuhayr bin Ummayya that same day. When faced with the prospect of their execution by her brother, Imam Ali, she locked them in her house and went to the Prophet (peace and blessings of Allah upon him) to inform him that she had granted them asylum. The Prophet (peace and blessings of Allah upon him) responded, "We grant asylum to those Umm Hani has granted asylum to and we protect those Umm Hani has extended protection to." (Sirah ibn Hisham, 4:42) In other words, the entire Muslim community, globally, is bound to respect the oath of protection or asylum granted by even an individual Muslim.
This idea of the entire Muslim community respecting a grant of asylum extended by even a single Muslim is strengthened by the Hadith:
 The protection of the Muslims is one and the least of them can grant it. Whosoever violates the asylum extended by a Muslim upon him falls the curse of Allah, His angels and all of humanity. Never will an obligatory or voluntary act be accepted from him. (Bukhari, 3172)
Allah

praised the Ansar of Madinah for how they loved those that migrated to them and preferred them even over themselves. (Quran: 59:9) They bore no resentment to those that migrated to them and sought reward only from Allah for sustaining them. They knew that supporting those in need was only a means of goodness in their lives rather than a burden. These powerful Islamic teachings have been codified by our scholars into a sophisticated system of amnesty, asylum, and respect for the status of refugees.
Hence, when we view the sickening conditions those migrating to our southern borders are exposed to, we should be touched and moved to action knowing that our religion grants those fleeing persecution, oppression, or ecological devastation, the right to migrate and to be duly considered for asylum. Our actions, however, must be based on principle and knowledge. We should further vigorously defend the dignity our Lord has afforded to all human beings, and our obligation to assist those who are suffering from recognized forms of oppression.
We must also understand that the rights to migration and asylum have been codified in the most widely accepted Muslim statement on human rights: The Cairo Declaration of Human Rights in Islam, Article 12; the Universal Declaration of Human Rights (UDHR), Article 14; the American Declaration of the Rights and Duties of Man (ADRDM), Article 27; and the American Convention on Human Rights (ACHR), Article 22. The United States is a signatory party to the UDHR, and by way of membership in the Organization of American States (OAS), reluctantly accepts the authority of the ADRDM and the ACHR, although she has never ratified the latter two.
Our view on this issue should also be informed by the knowledge of our own country's history as a nation of immigrants in the Native's land. It should further be shaped by understanding the way nativist and white supremacist tendencies have fueled xenophobic and exclusivist policies and how in many instances our sometimes misguided policies have created many of our most vexing human rights challenges. It must also be informed by our obligation as American citizens.
For example, we need to understand that the overwhelming majority of families, children and individual adults arriving at our southern border from the "Northern Triangle" of El Salvador, Guatemala and Honduras are fleeing intolerable levels of violence. That violence is not just that of ruthless street gangs, such as MS-13, it also emanates from government-sponsored death squads, many of which were organized and trained by the CIA or the US military at the former School of the Americas based at Fort Benning, Georgia. The infamous Battalion 316 of Honduras was an American-trained death squad responsible for hundreds of extrajudicial killings in that country during the 1980s and into the 1990s as well as the kidnapping and torture of thousands of Honduran citizens during the same period. These death squads are beginning to reappear in the wake of a wave of right-wing regimes assuming power throughout Latin America.
The combination of American political and economic pressure through the mechanisms of neocolonialism used to control and systematically under-develop former and present "banana republics," the International Monetary Fund (IMF), plutocratic regimes increasingly beholden to Washington DC, integrating the violence of both death squads and drug cartels into their crushing of both popular dissent as well as any attempts at economic diversification and stratification help to create the conditions producing the waves of migrants moving towards our southern border. Long before they sought to cross our borders, our borders crossed them.
Long before they sought to cross our borders, our borders crossed them.
Despite the history, the way that the Trump administration has chosen to deal with the current crisis, largely for cheap race-baited political gain, has challenged the God-given rights to migration and asylum, exacerbated the humanitarian crisis at the border, and diminished the standing of the United States internationally. It is critical to understand, however, that just as the policies producing the floods of migrants from parts of Latin America are not uniquely a product of the Trump administration, Trump is not the first racist to occupy the White House. We could mention Richard Nixon, who famously embraced Kevin Philip's "southern strategy," to wrest the south from the control of the Democrats; we could mention the KKK-loving, segregationist, Woodrow Wilson; we could mention the slave-driving, genocidal ethnic cleanser Andrew Jackson, as well as others.
What makes Trump unique, as Greg Grandin emphasizes in his latest book, The End of the Myth, is that Trump is a racist who has appeared at a time America is no longer, via conquest or economic domination, expanding her frontiers. With the ensuing erasure of the myth of American exceptionalism, the "American people" can no longer point to our global economic or political domination as the difference between "them" and "us." 
Unable to deflect our nagging national problems, one of the most vexing being the race issue, by looking outward, large numbers of white Americans are turning inward with xenophobic frenzy. That inward turn creates a focus on outsiders who threaten "our" rapidly disappearing "purity." Hence, the border, symbolized by the wall, becomes not just an indicator of national sovereignty, it becomes a symbol of white identity. A symbol Trump invokes with seldom matched mastery. Vested with the passion emanating from the defense of an embattled race, innocent brown children taken from their mothers and imprisoned in overcrowded, feces-stained gulags become easily dismissed collateral damage.
Generally speaking, the same playbook that has been employed against the Muslim and other immigrant communities, specifically refugees from the Middle East, has been employed against the immigrant community as a whole. In far too many instances, America's destructive foreign policy leaves helpless populations running to our shores, increasingly to be dehumanized and disregarded again in order to pander to the worst of our domestic propensities.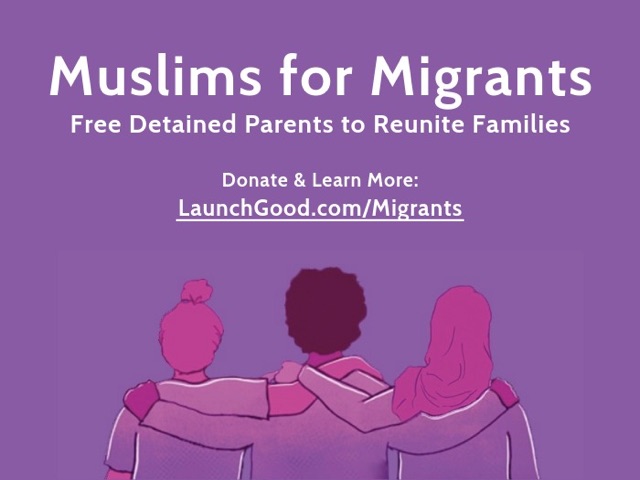 So we call upon the Muslim community to not only assist in efforts to support our migrant brothers and sisters but lead the way. Get involved in advocacy work, support immigrant justice organizations, join the sanctuary efforts and lend yourself and your wealth in whatever way you can to be at their aid. By the Grace of Allah, we have launched a campaign to reunite as many families as we can. The Prophet (peace and blessings of Allah upon him) said, "Whoever separates a mother from her child, Allah will separate him from his loved ones on the Day of Resurrection." (Tirmidhi, 1566) We hope that in reuniting families, Allah will reunite us with our beloved ones on the Day of Resurrection, and specifically with the beloved Prophet (peace and blessings of Allah upon him) in the highest gardens of Paradise.
Imam Zaid Shakir, Imam, Lighthouse Mosque
Imam Omar Suleiman, Founder & President, Yaqeen Institute for Islamic Research
Were Muslim Groups Duped Into Supporting an LGBTQ Rights Petition at the US Supreme Court?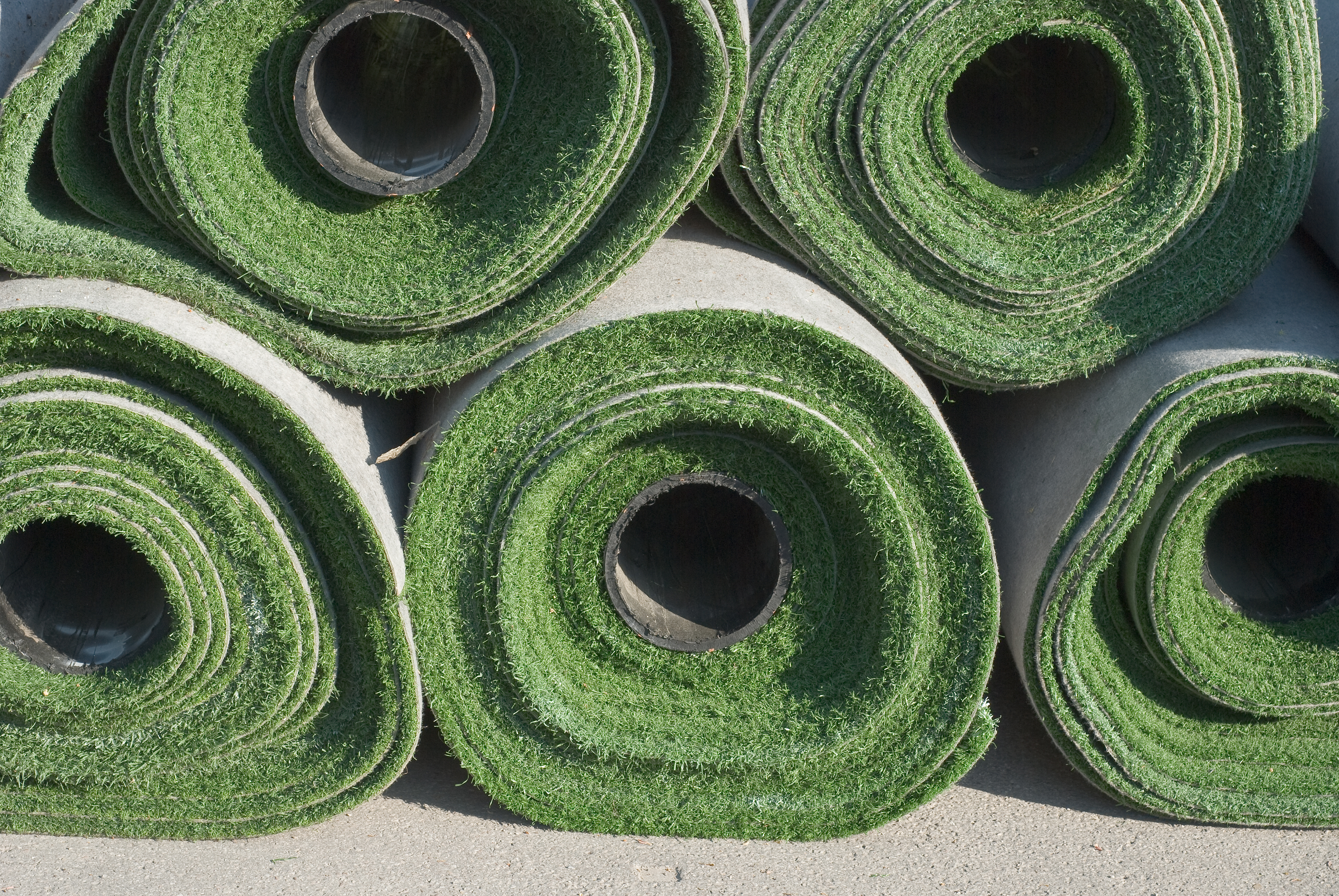 Recently several Muslim groups sent an amicus brief to the US Supreme Court to support LGBTQ rights in employment.  These groups argued"sex" as used in the Civil Rights Act should be defined broadly to include more types of discrimination than Congress wrote into the statue.
A little background. Clayton County, Georgia fired Gerald Lynn Bostock. The County alleged Bostock embezzled money, so he was fired. Bostock argues the real reason is that he is gay. Clayton County denied they would fire someone for that reason. Clayton County successfully had the case dismissed saying that even if Bostock is right about everything, the law Bostock filed the lawsuit under does not vindicate his claim. The case is now at the Supreme Court with other similar cases.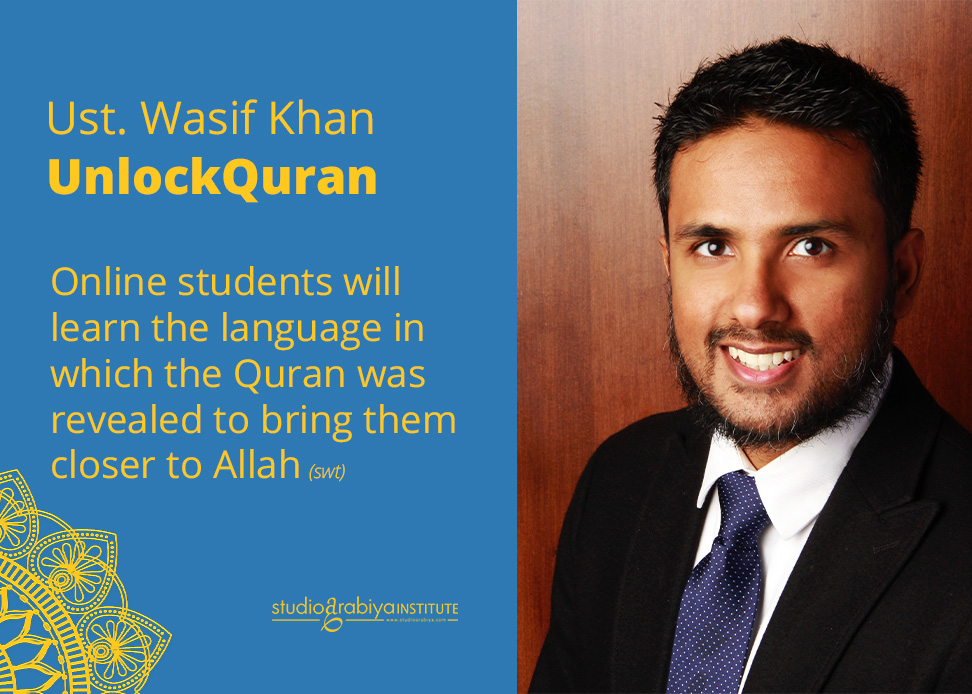 The "Muslim" brief argued the word "sex" should mean lots of things, and under the law (Title VII of the Civil Rights Act), LGBTQ discrimination is already illegal.  American law has developed to provide some support for this argument, but there have been divisions in the appellate courts. So this is the exact sort of thing the US Supreme Court exists to decide.
The Involvement Of Muslim Groups
In Supreme Court litigation, parties on both sides marshal amicus briefs (written arguments) and coordinate their efforts to improve the effectiveness of their advocacy, there are over 40 such briefs in the Bostock case. Groups represent constituencies with no direct stake in the immediate dispute but care about the precedent the case would set.
The Muslim groups came in purportedly because they know what it's like to be victims of discrimination (more on that below). The brief answered an objection to the consequences that could come with an expansive definition of the term "sex" to include gay, lesbian, and transgender persons (in lieu of its conventional use as synonymous with gender, i.e., male/female). In particular, the brief responded to the concern that "sex" being defined as any subjective experience may open up more litigation than was intended by making the argument that religion is a personal experience that courts have no trouble sorting out and that, like faith, courts can define "sex" the same way.
While this may be interesting to some, boring to others, it begs the question:  why are Muslim groups involved with this stuff? Muslims are a faith community. If we speak *as Muslims* is it not pertinent to consult with the traditions of the faith tradition known as Islam, like Quran, Hadith and the deep well of scholarly tradition?  Is our mere presence in a pluralistic society enough reason to ignore all this and focus on building allies in our mutual desire to create a world free of discrimination?
Spreading Ignorance
In July of 2017, the main party to the "Muslim" brief, Muslims for Progressive Values (MPV), was expelled from the Islamic Society of North America (ISNA) Convention bazaar.  I was on the Executive Council of the organization at the time but had no role in the decision. The reason: MPV was dedicated to promoting ignorance of Islam among Muslims at the event. The booth had literature claiming haram was good and virtuous. Propaganda distributed at the table either implied haram was not haram or alternately celebrated haram.
For any Muslim organization dedicated to Islam, it is not a difficult decision to expel an organization explicitly dedicated to spreading haram. No Muslim organization, composed of Muslims who fear Allah and dedicate their time to Islam can give space to organizations opposed the faith community's values and advocates against them in their conferences and events.  Allah, in the Quran, tells us:

Indeed, those who like that immorality should be spread [or publicized] among those who have believed will have a painful punishment in this world and the Hereafter. And Allah knows, and you do not know.
It would be charitable to the point of fraud to characterize MPV as a Muslim organization. That MPV has dedicated itself to promoting ignorance of the religion within the Muslim community is not in serious dispute.  The organization's leader has been all over the anti-Sharia movement.
Discrimination against Muslims is bad, except when it's good 
The brief framed the various organizations' participation by claiming as Muslims, we know what it is like to be on the receiving end of discrimination. This implies the parties that signed on to the Amicus petition believe discrimination against Muslims is a bad thing. For at least two of the organizations, this is not entirely true.
MPV is an ally of another co-signer of the Amicus petition, the Muslim Public Affairs Council (MPAC).  Both have records that show an eagerness to discriminate against Muslims in the national security space. They both applied for CVE grants. Both have supported the claim that Muslims are a national security threat they are somehow equipped to deal with. I have written more extensively about MPAC in the past; mainly, it's work in Countering Violent Extremism and questionable Zakat practices.
MPAC's CVE  program, called "Safe Spaces," singled out Muslims as terrorist threats. It purported to address this Muslim threat. In June of 2019, MPAC's academic partner released an evaluation Safe Spaces and judged it as "not successful" citing the singling out of Muslims, as well as a lack of trust within the Muslim community because of a lack of transparency as reasons why the program was a failure. Despite its legacy of embarrassment and failure, MPAC continues to promote Safe Spaces on its website.
MPV was a vigorous defender of MPAC's CVE program, Safe Spaces.  MPV's leader has claimed the problem of "radicalism" is because of CAIR, ISNA, and ICNA's "brand of Islam."
Law Enforcement Approved Islam
In 2011, former LAPD head of Counter-Terrorism, Michael P. Downing testified during a congressional hearing on "Islamist Radicalization" Downing testified in favor of MPV, stating:
I would just offer that, on the other side of the coin, we should create opportunities for the pure, good part of this, to be in the religion, such as the NGOs. There is an NGO by the name of Ani Zonneveld who does the Muslims for Progressive Values. This is what they say, "Values are guided by 10 principles of Islam, rooted in Islam, including social equality, separation of religion and state, freedom of speech, women's rights, gay rights, and critical analysis and interpretation." She and her organization have been trying to get into the prison system to give this literature as written by Islamic academic scholars. So I think there can be more efforts on this front as well.
Downing was central to the LAPD's "Muslim Mapping" program, defending the "undertaking as a way to help Muslim communities avoid the influence of those who would radicalize Islamic residents and advocate 'violent, ideologically-based extremism." MPAC was a supporter of the mapping program, which was later rejected by the city because it was an explicit ethnic profiling program mainstream Muslim and secular civil rights groups opposed.  MPAC later claimed it did not support the program, though somehow saw fit to give Downing an award. Downing, since retired, currently serves on MPAC's Advisory Council.
Ani Zonnevold, the President and Founder of MPV, currently sits on the International Board of Directors for the Raif Badawi Foundation alongside Maajid Nawaz and Zuhdi Jasser.
MPV has also been open about both working for CVE and funding from a non-Muslim source, the Human Rights Campaign, and other groups with agendas to reform the religion of Islam. It's hard not to see it as an astroturf organization.
Muslim Groups Were Taken for a Ride
Unfortunately, Muslim nonprofit organizations are often unsophisticated when it comes to signing documents other groups write. Some are not even capable of piecing together the fact that an astroturf organization opposed to Islam, the religious tradition, was recruiting them to sign something.
There are many Muslims sympathetic to the LGBTQ community while understanding the limits of halal and haram. Not everyone who signed the brief came to this with the same bad faith as an MPV, which is hostile to the religion of Islam itself. Muslims generally don't organize out of hostility to Islam. This only appears to be happening because of astroturfing in the Muslim community. Unfortunately, it was way too easy to bamboozle well-meaning Muslim groups.
Muslims are a faith community. MPV told the groups Islam did not matter in their argument when the precise reason they were recruited to weigh in on the case was that they are Muslim. Sadly, it was a successful con. Issues like the definition of sex are not divorced from Islamic concerns. We have Islamic inheritance and rules for family relations where definitions of words are relevant. Indeed, our religious freedoms in ample part rest on our ability to define the meaning of words, like Muslim, fahisha, zakat, daughter, and Sharia. Separate, open-ended definitions with the force of law may have implications for religious freedom for Muslims and others because it goes to defining a word across different statutes, bey0nd the civil rights act. There would be fewer concerns if LGBT rights were simply added as a distinct category under the Civil Rights Act while respecting religious freedom under the constitution.
Do Your Homework
Muslim organizations should do an analysis of religious freedom implications for Muslims and people of other faiths before signing on to statements and briefs. A board member of MPV drafted the "Muslim" Brief, and his law firm recruited Muslim nonprofit organizations to sign on. CAIR Oklahoma, which signed up for this brief, made a mistake (hey, it happens). CAIR Oklahoma's inclusion is notable. This chapter successfully challenged the anti-Sharia "Save our State" law that would have banned Muslims from drafting Islamic Wills. Ironically, CAIR Oklahoma's unwitting advocacy at the Supreme Court could work against that critical result. For an anti-Sharia group like MPV, this is fine. It is not fine for a group like CAIR.
CAIR Oklahoma is beefing up their process for signing on to Amicus Briefs in the future. No other CAIR chapter signed on to the brief, which was prudent. CAIR chapters are mostly independent organizations seemingly free to do whatever they want. CAIR, as a national organization needs to make sure all its affiliates are sailing in the same direction. They have been unsuccessful with this in the past several years. CAIR should make sure their local chapters know about astroturf outfits and charlatans trying to get them to sign things. They should protect their "America's largest Islamic Civil Liberties Group" brand.
Muslim Leaders Should Stand Strong 
American Muslims all have friends, business associates and coworkers, and family members who do things that violate Islamic norms all the time. We live in an inclusive society where we respect each other's differences. Everyone is entitled to dignity and fair treatment. No national Muslim groups are calling for employment discrimination against anyone, nor should they.
However, part of being Muslim is understanding limits that Allah placed on us. That means we cannot promote haram or help anyone do something haram. Muslim groups do not need to support causes that may be detrimental to our interests.  Our spaces do not need to be areas where we have our religion mocked and derided. Other people have the freedom to do this in their own spaces in their own time.
Some Muslim leaders are afraid of being called names unless they recite certain words or invite particular speakers.  You will never please people who hate Islam unless you believe as they do.  Muslims only matter if Islam matters.
If you are a leader of Muslims, you must know the limits Allah has placed on you. Understand the trust people have placed in you. Don't allow anyone to bully or con you into violating those limits.
Note: Special thanks to Mobeen Vaid.