Abu Eesa (AE) Humor Overload, Feminism and Apologies
By Amad
Emotions are on short-fuse these days. News travels at the speed of light, social media lights up in a heart-beat and any and all that we say, online or offline, faces scrutiny like never before. Not so long ago, the only way someone on one side of the globe would hear a publicly delivered speech in another part of the globe was is if it was recorded on a tape-recorder, and the recording transferred physically. By the time this exchange traversed, the story would be old and any responses would take far too long to effectively blossom into an outrage.
So it happened that Sh. Abu Eesa (popularly known as AE), an avid cricket fan, a British Imam of Pakistani origin, and a teacher at Al-Maghrib institute caught social media's attention and was suddenly thrust into the spotlight of significant female and male disdain.  Those who know AE on a personal level (I don't but know enough who do) believe that AE could have a dual profession as a comedian. But unfortunately for AE, sarcasm, especially of the British ilk, doesn't always translate very well in writing. One statements can find all his posts/comments intact on his Facebook page. They mostly relate to Abu Eesa's disdain for International Women's day (IWD) and for "feminists" in general. Those who have been following AE also know that he doesn't back off so easily, even for his own good.
Let's get straight to the point.
First of all, what AE is not? He is not a misogynist. He is not a sexist [Editors Note: Sexist jokes are hostile and considered being sexist]. It is very difficult for a true misogynist to masquerade as someone else in real life. Yet, any numbers of his female students, including my own daughter, consider him to be their favorite teacher. And interestingly it is due to a mixture of two personality traits—being extremely funny and being extremely respectful and kind to female students. Had AE really been a woman-hater, it would be projected in his personality on the floor. Racists, bigots of any type, cannot project something they are not, consistently and for a long time.
Let's also please agree that AE jokes and sarcasm went on for far too long. At some point, he should have sized the backlash, simply apologize for any misunderstanding and shut up the Facebook shop. He didn't, so in some ways the response wasn't entirely surprising, although the high level where it reached was. One can argue that many of those who have hopped on this crusade against him would not fit the typical Al-Maghrib student profile, and that some even might have more sinister agendas, but at the same time there were many sensible, religious Muslim women and men including many Muslimmatters folks) who found the entire issue completely unpalatable. Particularly offensive to many was the comment about rape. I believe Abu Eesa 100% that he meant this to be sarcastic hyperbole to make a point entirely opposite of the literal meaning. I get it. And perhaps I would not have understood the offense until I read the tweets of a particular Imanbuilder who was supportive of AE, until she read this comment as it touched a nerve within her about her past physical abuse. AE has posted a clarification on this issue and also includes a picture of the entire conversation, which provides more context for what he said. [Update: Sr. Maria @ImanBuilder spoke directly to AE and she appears to be satisfied with the apology and moving on- the tweet can be seen on my TL]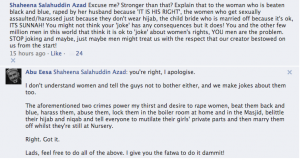 As I have watched this episode unfold rapidly, I have found myself torn on many fronts. For one, I am no fan of "feminism", especially the Muslim type. I appreciate the nuanced history of the terminology, I understand that it has evolved over the years, I get all that. But I also believe, for good reason, that there is more significant danger lurking underneath the flowery context provided. While many sincere believers carry this term with pride, without any evil motivations, I believe there (a) are many who don't share this sincere agenda, and (b) that the sincere ones are inadvertently helping the more sinister, less visible objective of a certain brand of feminism .These objectives include, for example, the desire to usurp Islamic authority in rights and roles of females in the society, such as women leading men in prayers.
My wife, Umm Reem, is on the forefront of discussing taboo subjects of all things having to do with women issues. She has been attacked personally for discussing such subjects. I take pride in standing by her and addressing the many issues that she talks about regarding the rights of Muslim women and when she openly discusses such sensitive subjects. She speaks for herself and for many in our communities who need to hear when cultural issues are conflated with Islam and used to oppress women. Having said that, there is still a role of positive traditions in all cultures that do not contradict Islamic principles. Sometimes in the spirit of misguided feminism, some of these traditions may be destroyed, leading to problems within spouses, and eventually those communities. I think (and hope) most Muslims will agree on basic objectives for Muslim women uplifting, especially in in repressive societies: no to domestic abuse, no to emotional abuse, no to disenfranchisement, yes to education, yes to more female voices, yes to more female scholarship. These are basic goals that Muslims have a long way to go on. It is like we are pursuing Mount Everest even though we haven't yet climbed a small hill.
And this is where we get all wound up. Instead of focusing on principles and objectives, we get wound up on terminology (even me). There are words and terms that evoke emotions, some negative, some positive. If indeed the term feminism evokes negativity in some quarters of the Muslim population, why do we need to shove it down everyone's throats? Wouldn't we better off by adopting more neutral terms that build positive energy and collaboration? Is our goal to reach an acceptance of the term "feminism" or is our goal to achieve the common basic objectives? I truly hope that we find a way to identify more positive terminology that all can agree and build-up on to achieve objectives that we all agree upon.
I digress again.
Shaykh Waleed, Vice President of AlMaghrib, said, "I do not like jokes or sarcasm on issues that are sensitive". I believe that this is at the heart of the learning from this episode. It is not sufficient that a person is sincerely not wishing harm in something they say, joking or serious. Rather, how the audience takes it is equally important. We do not have the right to be offensive, even if we don't mean to be offensive. And once we realize we have offended someone inadvertently, and it is obvious that the affected party is sincerely offended, then they have the right to receive an unconditional apology. Communication is complex, especially in this day and age of different cultures coming together on a common platform. How our statements are being received is becoming as important as what we are saying.
Abu Eesa messed up in not giving up.
He apologized. But his apology was wrapped up in too complex, too lengthy and too nuanced of a Facebook post. (Since then he has posted another apology). He is not anything like what his detractors who don't know him are making him out to be. And I hope he will simplify the apology, take a break from Facebook/twitter, and as they say in America, take a "chill-pill" (a British one will do). Time will heal and his true character of mercy and love, wrapped up in a great sense of humor, will radiate out eventually.
I also take this opportunity to do a mea culpa. I cannot count the multiple statements I have made, whereby I have put my proverbial foot in my mouth—where I was offensive, sharp, rash, harsh or plain stupid. Age has an amazing way of polishing character and calming emotion. I turned 40 last month and it is obvious to me now why the greatest, calmest, wisest man Mohammed

was granted prophet hood at 40. So if I offended you in any way, please accept my sincerest apologies. If you want me to personally apologize to you, leave a comment with a valid email and I will email you directly.
UPDATE

:
AE has offered
another apology
, which is much more clear-cut and I feel sufficiently unconditional. Furthermore, he has been discussing/apologizing personally to several sisters affected by it and I know this from first-hand information of those who he spoke to.
I also personally like this
article by Sana Saeed
. I don't have to agree with her on everything but at least she has used nuance and is balanced in criticism.