MuslimKidsMatter | Interview with Husna from Arabic with Husna Series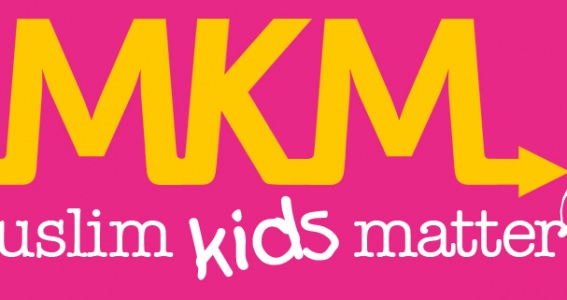 This summer I had the opportunity to meet Husna, eldest daughter of Ustadh Nouman Ali Khan.  Students all around the world, including my siblings and I, have learned a lot of Arabic grammar through watching and participating in the Arabic with Husna series on BayyinahTV.  This series has made such a huge impact on thousands of students worldwide that I was eager to hear Husna's perspective on the classes.  The shy, yet confident 11-year-old had many inspiring things to say when I interviewed her.
Husna has been studying Arabic with her father informally ever since she was five.  He taught her little by little until 2011 when he started "Arabic with Husna."  In the ten to fifteen minute videos posted on BayyinahTV, Husna's father teaches her Arabic grammatical concepts in an easy-to-understand and kid-friendly manner.  Not only has Husna benefited by gaining a very strong hold on Arabic grammar, but numerous subscribers of BayyinahTV have also learned from the videos.
These videos have been viewed in homes, schools, masjids, and Islamic community centers throughout the world by over 7,000 students.  When asked whether this knowledge disturbs her concentration during class, Husna said that she was initially a little shy and nervous about the camera.  But eventually she was able to ignore the camera.  "I don't feel awkward because the camera is behind me," she says.

When people approach her and ask her about the Arabic videos, Husna sometimes feels a little embarrassed.  She is happy that she has the opportunity to help lots of people, but she also "just likes being treated normal."
Husna enjoys the Arabic classes a lot.  She likes "sitting in a cozy room" learning a wonderful language.  "There really isn't anything I dislike about it," she says thoughtfully. "Except sometimes when he [my dad] tickles me, it's a little weird."  Husna appreciates her father as a teacher.  "I feel more relaxed because he is teaching."
Husna recognizes the importance of learning Arabic.  She strongly believes that learning Arabic is important for understanding the Qur'an.  "If I just read it and not understand it, then there's not much benefit," she states.  Husna wants to read the Qur'an and understand it directly.  She knows the Arabic classes are helping her get to that point and she encourages other kids to also study Arabic.
(Attention, writers!  Muslim Kids Matter is a regular feature at Muslim Matters.  New articles for kids are posted every other Sunday.  You're welcome to send in your entries to muslimkidsmatter@muslimmatters.org.)
Jannah Wall Art | MuslimKidsMatter
Assalam Alaykum wa Rahmatullah wa Barakatuh
Jannah Wall Art
We thought long and hard about what to focus on this Ramadan. We decided it would be motivation! The desire to do pray has to spring from motivation. Being obedient to parents has to spring from motivation. Racing to do any good deed has to spring from motivation. Children love rewards and what better reward and motivator to focus on, than Jannah itself, the best and ultimate reward.

Each day in Ramadan, the challenge is to read a description or two of Jannah, cut out a petal, and write the description in a few words on the petal. Children then need to stick the petals next to each other to make a flower. By the end of Ramadan, the children will have made a beautiful flower containing the descriptions of Jannah to hang up on their walls to remind them why they need to pray, be good to their parents, give charity and accumulate as many good deeds as possible.
Everything has been provided for you including the descriptions of Jannah, the petal template, a sample of what the flower should look like and step by step instructions. You just need to print and execute!
GET YOUR FREE RESOURCE NOW
https://ilmburst.lpages.co/ilm-burst-ramadan-treat

May Allah allow us all to witness Ramadan and make us from those who excel in worship throughout the blessed month.
Wassalam Alaykum
The Ilmburst Family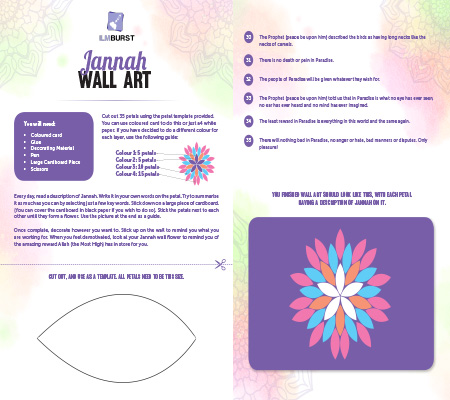 Power Up Kids Ramadan Days 8 – 11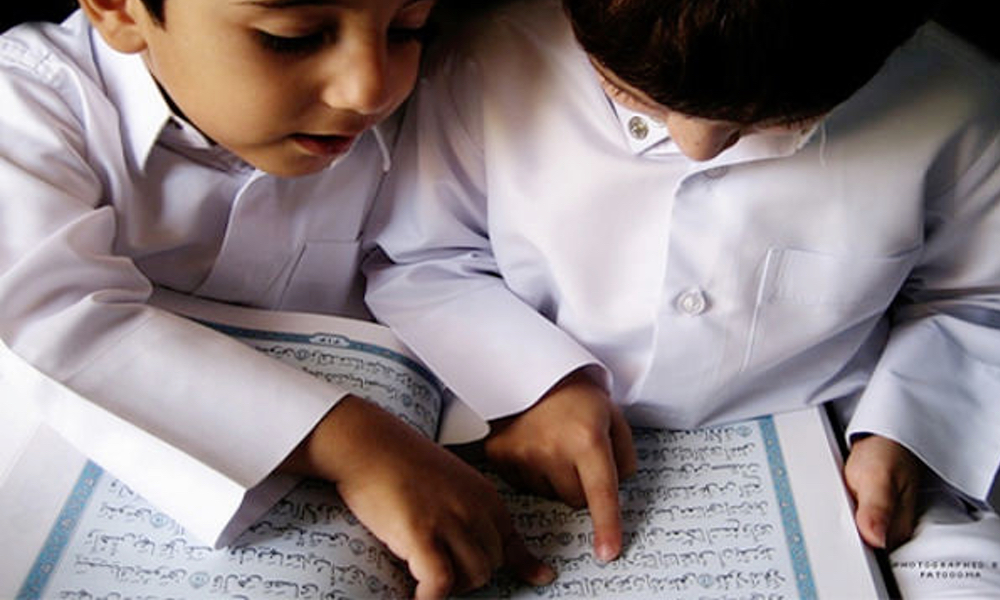 Welcome to Ilmburst's FREE Ramadan children's video series: Power Up Ramadan.
Each video comes with accompanying resources, to access them, please click this link,

Day 9: PATIENCE
Day 10: DU'A
Day 11: HOPE
Check out more Ramadan resources on the Ilmburst website.
Power Up Your Kids' Ramadan! Days 1-7