'You Deserve Racism Because You're Corrupt'
"And had Allah seen in them any good, He would certainly have made them hear [the message of Islam]. But even if He made them hear, they would surely turn away in aversion."

—Qur'an (Al-Anfaal, 8:23)

 ***
Black Ghetto Culture?
The man shuddered at what he saw. Gangs of boys killing each other at the pettiest of slights. In the name of territory, honor, or in defense of a fellow gang member who felt rebuffed, blood was spilled. And the killers were praised and honored for their ruthlessness. Entire neighborhoods were divided by these gangs. Some of the strongest youth would lie in wait for an unsuspecting member of a rival gang to pass, and they would pounce on them stealing all the money and valuables in the rival's possession. Some residents would be staggering about in drunkenness, and at times others walked around nude. Some women would become pregnant after committing fornication with several men and have no idea who the father was. Unwanted babies were aborted after birth or abandoned and left to die alone. And illiteracy was quite accepted and normal. Yet the nights were alive with such lively music and partying that a passerby would not suspect the depths of corruption behind the joyful sounds…
Anyone familiar with the culture of the "ghetto"—home to thousands of impoverished Black people in America—might find this scene chillingly familiar. But the man was not shuddering at America's infamous "Black ghettos." In fact, this was not America at all. What was unfolding before him was a vivid mental picture of the lifestyle of pre-Islamic Arabia, home to the greatest generation to ever have graced the earth: the Companions of Prophet Muhammad

…
'But They're Corrupt!'
Imagine this scene…
A woman suffering from domestic violence rushes to the local masjid for help and is told:  "Until you women correct your corrupt ways, men are allowed to abuse you. You brought this on yourselves."
Of course, the one uttering such an enormous insult has no genuine desire to help victims of abuse; but, remarkably, he imagines he does…
Allah says,
"When it is said to them, 'Make not mischief on the earth,' they say, 'Why, we only want to make peace!' Of a surety, they are the ones who make mischief, but they perceive not.'"

—Al-Baqarah, 2:11-12
These "peace-makers" are almost always present when an effort, or even progress, is being made in fighting oppression, abuse, and injustice. They remind abused women (and men) of the corruption of their gender group…and they remind victims of discrimination of the corruption of their blood.
 'They Deserve Discrimination'
"Black people are always complaining about racism," the woman said. "These people bring their ghetto culture to Islam and expect people to respect them. They need to learn some self-respect."
As jarring as these words may be, the sentiment is one that most of us are accustomed to hearing—if we are not uttering it ourselves. If it's not Black people who need to learn self-respect, it is Arabs and Pakistanis, Africans and Americans, men and women….and so on.
In other words, we all deserve discrimination because we're doing such a horrible of job of correcting our personal and collective problems.
Black Culture Corruption
Those who are inclined toward racism or self-hate will inevitably bring up the faults of the people they detest whenever discrimination is discussed. In America, it appears that African-Americans are not only the most fault-ridden group in the eyes of others, but the most likely candidates of discrimination—even in Muslim communities and masjids. And some argue this is because of their faults.
However, let's analyze "Black corruption" according to Allah's measure of ultimate good and evil.
The Breakdown: If we were to draw a pie graph of the racial breakdown of America, it would look roughly like this: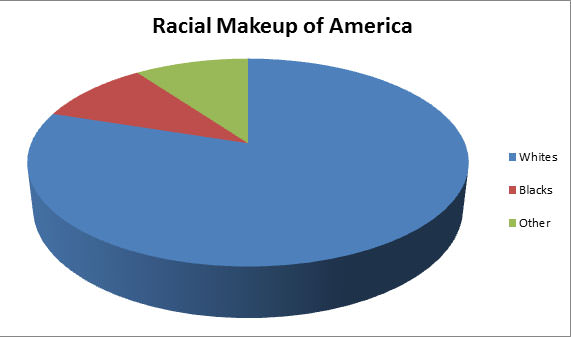 However, if we were to draw a pie graph of the racial breakdown of US-born Muslims, it would look something like this: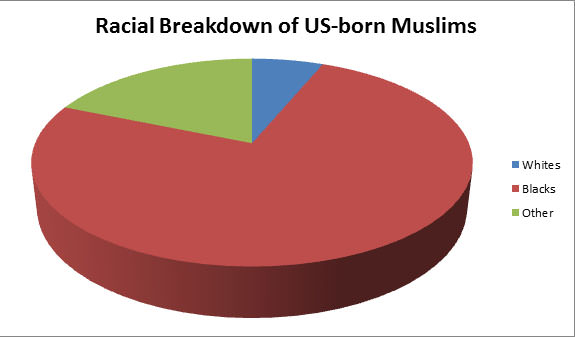 What's Your Point? My point is simply this: When we define good based on Allah's definition—hearts being open to Islam—we find that the most "corrupt" racial group (as defined by many humans' perception) is amongst the most honored and good in the eyes of Allah.
Nevertheless, let's not be dishonest here. It is undeniable that aspects of Black American culture—like aspects of pre-Islamic Arab culture—has much room for improvement and self-correction. However, this fact alone does not seal a person's fate as good or evil. In fact, the existence of "degenerate" cultural realities did not keep Allah from choosing the Companions of the Prophet as the greatest humans to ever live. And contrary to popular belief, after accepting Islam, the Companions did not completely shed their negative tendencies. What made them great was not their "perfection", but their commitment to supporting good and fighting corruption, as well as having strong faith in Allah, despite their human imperfections.
Allah says of them,
"You are the best of peoples ever raised up for mankind: You enjoin what is right and forbid what is wrong, and you believe in Allah."

—Ali 'Imraan, 3:110
Let Allah Decide
Anyone who has had the challenge of interacting on a daily basis with a group that's considered "the other"—whether Black, White, Arab, Pakistani, or what have you—knows the familiar shock of learning a cultural group's faults up close. And for many of us, we react by thinking (if not saying), "And they want to talk about us!"
I know this reaction because I have it myself from time to time: The more I travel and interact with "the other", the more grateful I am for the strong principles of standing up for right and standing strong against wrong that is deeply rooted in my "Black culture." And it's not without at least a trace of "Black pride" that I witness Arabs, Pakistanis, Indians, and many more rushing to the shores of America to benefit from the civil rights and justice that my people fought for—even as many scorn the very people who facilitated this for them.
But even as I regularly witness the corruption of racism from fellow Muslims—often more than what I witness from non-Muslims—I don't imagine that "they" deserve mistreatment because of this corruption.
I imagine only that our job as Muslims is not yet complete. There is much work to be done in supporting good and fighting corruption. And our first job is realizing that we are all in need of correction and improvement.
Those who are foremost in believing that any race or culture is amongst "the worst" need only to look at the history of pre-Islamic Arabia—and the demographics of Islam in America and abroad—to see whom Allah chose as His believers.
Because He chooses only the best.
Umm Zakiyyah is the internationally acclaimed author of the If I Should Speak trilogy and the novels Realities of Submission and Hearts We Lost.  She is now writing juvenile fiction stories under the name Ruby Moore. To learn more about the author, visit themuslimauthor.com or join her Facebook page.
Copyright © 2013 by Al-Walaa Publications.  All Rights Reserved.
WRITTEN FOR MUSLIMMATTERS.ORG