Ten Things You Didn't Know About The Kaaba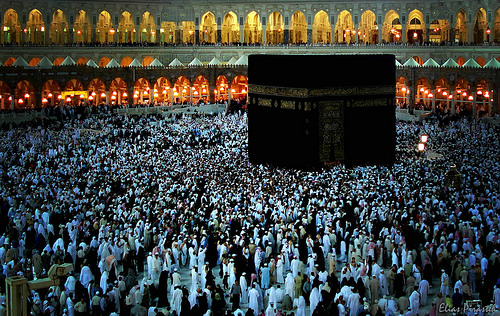 There is no place on Earth as venerated, as central or as holy to as many people as Makkah. By any objective standard, this valley in the Hijaz region of Arabia is the most celebrated place on Earth.
Thousands circle the sacred Kaaba at the centre of the Haram sanctuary 24 hours a day. Millions of homes are adorned with pictures of it and over a billion face it five times a day.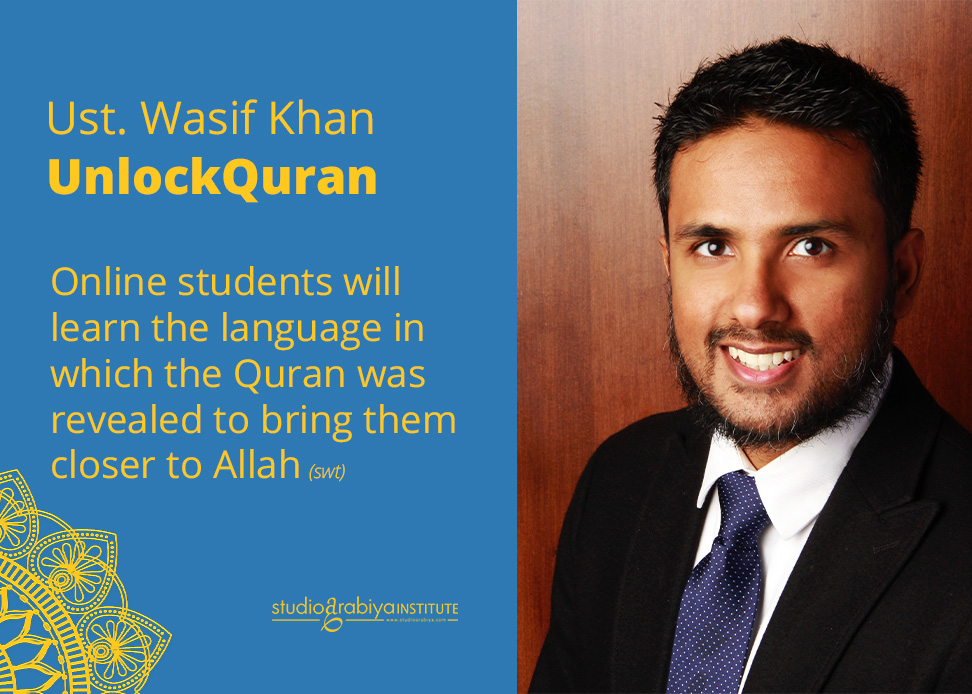 The Kaaba is the epicenter of Mecca.
The cube shaped building is at the heart of the most well-known real estate in the history of mankind; it is shrouded in black and its fair share of mystery.
Here are just a few things that most people may not know about the Kaaba:
10. It has been reconstructed several times
The Kaaba that we see today is not exactly the same Kaaba that was constructed by Prophets Ibrahim

and Ismail

From time to time, it has needed rebuilding after natural and man-made disasters.
Of course, we all know of the major reconstruction that took place during the life of the Prophet

before he became a Prophet

. This is the occasion when the Prophet

averted major bloodshed by his quick thinking on how to place the Black Stone using a cloth that every tribe could lift up.
Since then, there has been an average of one major reconstruction every few centuries. The last renovation took place in 1996 and was extremely thorough, leading to the replacement of many of the stones and re-strengthening the foundations and a new roof. This is likely to be the last reconstruction for many centuries (inshaAllah) as modern techniques mean that the building is more secure and stable than ever before.
9. It used to have two doors … and a window
The original Kaaba used to have a door for entrance and another for exit. For a considerable period of time it also had a window situated to one side. The current Kaaba only has one door and no window.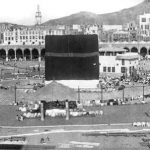 8. It used to be multi-coloured
We are so used to the Kaaba being covered in the trademark black Kiswah with gold banding that we can't imagine it being any other colour. However, this tradition seems to have started at the time of the Abbasids (whose household colour was black) and before this the Kaaba was covered in multiple colours including green, red and even white.
7. The keys are in the hands of one family
At the time of the Prophet

, each aspect to do with the rites of Hajj was in the hands of different sub-groups of the Quraish. Every one of these would eventually lose control of their guardianship of a particular rite except one. On the conquest of Makkah, the Prophet

was given the keys to the Kaaba and instead of keeping it in his own possession; he returned them back to the Osman ibn Talha ® of the Bani Shaiba family. They had been the traditional key keepers of the Kaaba for centuries; and the Prophet

confirmed them in that role till the end of time by these words
"Take it, O Bani Talha, eternally up to the Day of Resurrection, and it will not be taken from you unless by an unjust, oppressive tyrant."
Whether Caliph, Sultan or King – the most powerful men in the world have all had to bow to the words of the Prophet

and ask permission from this small Makkan family before they can enter the Kaaba.
6. It used to be open to everyone
Until recently, the Kaaba was opened twice a week for anyone to enter and pray. However, due to the rapid expansion in the number of pilgrims and other factors, the Kaaba is now opened only twice a year for dignitaries and exclusive guests only.
Watch the video attached here to witness the doors of the Kaaba being opened (at 50 seconds) – and the simultaneous gasps of a Million people as they cry out at this auspicious moment.
5. You used to be able to swim around it
One of the problems with having the Kaaba situated at the bottom of a valley is that when it rains – valleys tend to flood. This was not an uncommon occurrence in Makkah and the cause of a lot of trouble before the days of flood control systems and sewage. For days on end the Kaaba would be half submerged in water. Did that stop Muslims from performing the Tawaf? Of course not. As the picture below amply shows – Muslims just started swimming around the Kaaba.
Modern adjustments to the surrounding landscape and flood prevention techniques mean we may never see such sights again. Or will we? Check out this recent video.
4. The inside contains plaques commemorating the rulers who renovated it
For years many have wondered what it looks like inside the Kaaba. Relying on second or third hand accounts from those who were lucky enough to enter just wasn't satisfying enough. Then one lucky person who went inside took his camera phone in with him and Millions have seen the shaky footage online.
The interior of the Kaaba is now lined with marble and a green cloth covering the upper walls. Fixed into the walls are plaques each commemorating the refurbishment or rebuilding of the House of Allah by the ruler of the day. Watch the video below of the only place on Earth that you can pray in any direction you want, the House of Allah, the first place of worship for mankind – the Kaaba.

3. There are two kaabas!
Directly above the Kaaba in heaven is an exact replica. This Kaaba was mentioned in the Quran and by the Prophet

.
The Messenger of Allah

said narrating about the journey of 'Isra wal Miraaj
"Then I was shown Al-Bait-al-Ma'mur (i.e. Allah's House). I asked Gabriel about it and he said, This is Al Bait-ul-Ma'mur where 70,000 angels perform prayers daily and when they leave they never return to it (but always a fresh batch comes into it daily)."
2. The Black Stone is broken
Ever wondered how the Black Stone came to be in the silver casing that surrounds it?
Some say it was broken by a stone fired by the Umayyad army laying siege to Makkah whilst it was under the control of Abdullah ibn Zubair ®.
However, most agree that it was most damaged in the middle ages by an extreme heretical Ismaili group from Bahrain called the Qarmatians who had declared that the Hajj was an act of superstition. They decided to make their point by killing tens of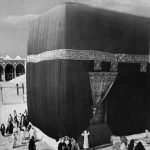 thousands of hujjaj and dumping their bodies in the well of Zamzam.
As if this act of treachery was not enough, these devils took the Black Stone to the East of Arabia and then Kufa in Iraq where they held it ransom until they were forced to return it by the Abassid Caliph. When they returned it, it was in pieces and the only way to keep them together was by encasing them in a silver casing. Some historians narrate that there are still some missing pieces of the stone floating around.
1. It's not supposed to be a cube shape
Yes, ladies and gentleman… the most famous cube in the world actually started out shaped as a rectangle.
I'll give you a moment to pick your jaws off the floor.
Right, where were we?
Oh yeah, the Kaaba was never meant to be a cube. The original dimensions of The House included the semi-circular area known as the Hijr Ismail.
When the Kaaba was rebuilt just a few years before the Prophet

received his first revelation, the Quraish agreed to only use income from pure sources to complete the rebuild. That meant no money from gambling, looting, prostitution, interest etc. In the ultimate sign of how deeply mired in wrongdoing the Jahili Quraish were, there was not enough untainted money in this very wealthy trading city to rebuild the Kaaba to its original size and shape!
They settled for a smaller version of the Kaaba and put a mud brick wall (called "Hijr Ismail" although it has no connection to the Prophet Ismail (A) himself) to indicate the original dimensions. Towards the end of his life, the Prophet

intended to rebuild the Kaaba on its original foundations but passed away before he could fulfill his wish. Apart from a brief interlude of a few years during the reign of Caliph Abdullah ibn Zubair ®, the Kaaba has remained the same shape that the Prophet

saw it in.
The history of the Kaaba is not just an interesting story from our past. The Kaaba is a real and present symbol that connects all Muslims together wherever they may be. It also connects us to our glorious and not-so-glorious past so that we may derive lessons and feel that we are a part of an eternal mission. In a day and age where Muslims are increasingly disconnected from our history,as well as each other, the Kabaa reminds us of our shared heritage and bonds. It is a symbol of unity in an Ummah sorely in need of it.
You may be interested in the other articles in this series…
9 Things you didn't know about the Prophet's Mosque
Lessons From Surah Maryam: 1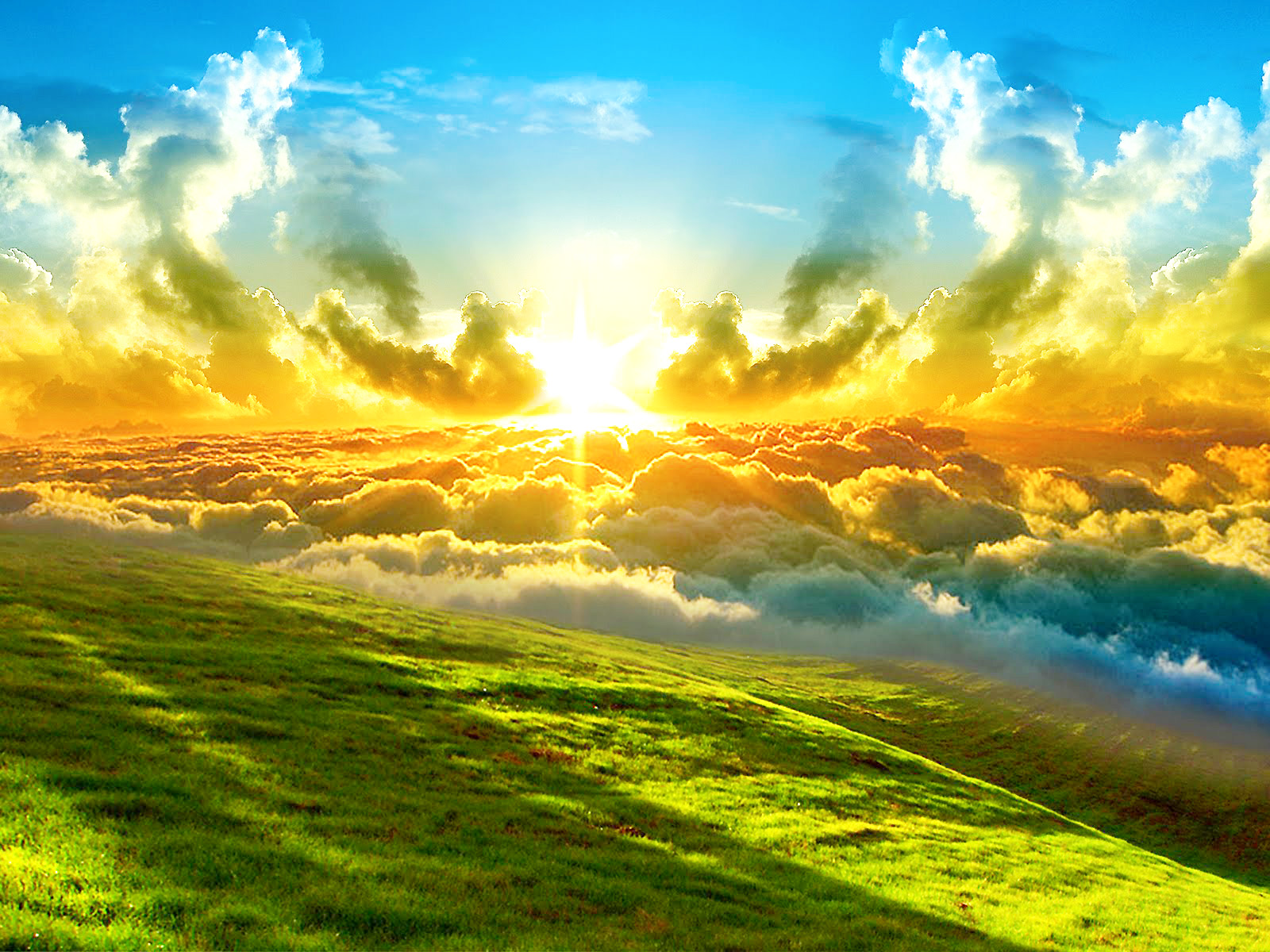 Alhamdulillah, it's a great blessing of Allah

that He has given us both the opportunity and ability to come here tonight to study and explore the meanings of His words in Surah Maryam. I'm truly grateful for this opportunity. May Allah

accept this effort from all of us and place it on our scale of good deeds.
Alhamdulillah, in our last series we were able to complete the tafsir of Surah Al-Kahf. InshAllah, in this next series, we'll be exploring the meanings, lessons, and reminders of Surah Maryam. Tafsīr is an extremely noble and virtuous discipline. The reason why it's so noble and virtuous is that it's the study of the divine speech of Allah

. As mentioned in a hadith the superiority of the speech of Allah over all other speech is like the superiority of Allah over all of His creation. There's nothing more beneficial and virtuous than studying the Quran. And by doing so we'll be counted amongst the best of people. As the Prophet

said, "the best amongst you are those who learn the Quran and teach it."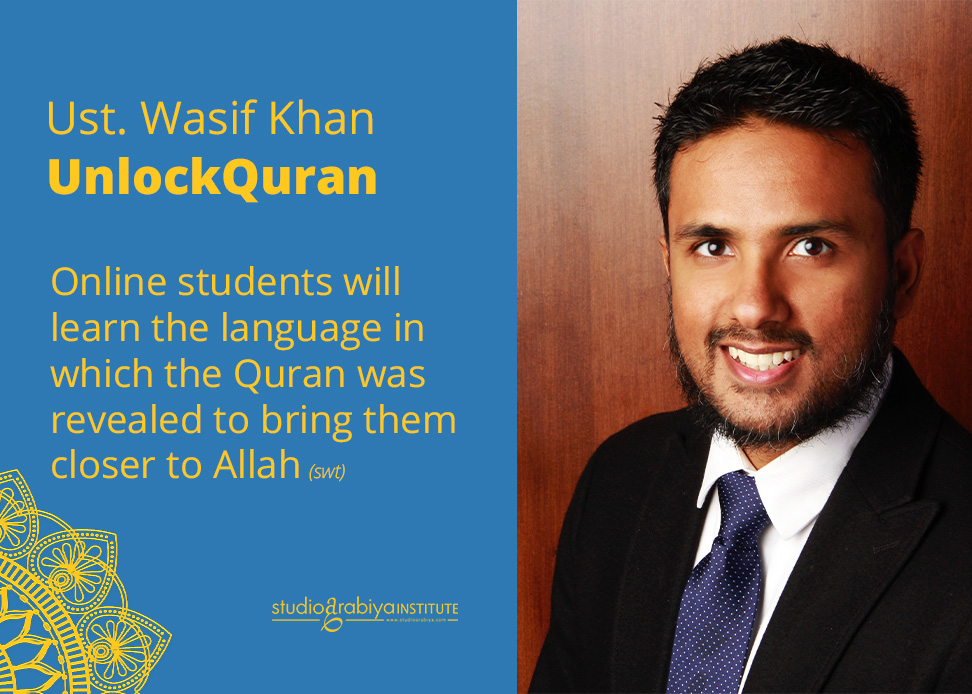 All of us need to build a stronger relationship with the Quran. The Quran is full of wisdom and guidance in every single verse and word. It's our responsibility to seek that guidance, understand it, contextualize it and more importantly act upon it. Tafsīr is such a unique science that it brings together all of the other Islamic sciences. While exploring a Surah a person comes across discussions regarding Arabic grammar and morphology, rhetoric, Ahādīth, fiqh, sīrah and all those studies that are known as the Islamic Sciences. One scholar described the Quran as an ocean that has no shore, بحر لا ساحل له. The more we study the Qur'ān the stronger our relationship with it will become. We'll become more and more attached to it and will be drawn into its beauty and wonder. The deeper a person gets into tafsir and studying the more engaged and interested they become. They also recognize how little they truly know. It develops humility. That's the nature of true knowledge. The more we learn the more we recognize we don't know. May Allah ﷻ allow us all to be sincere and committed students of the Qur'ān.
Surah Maryam
Surah Maryam is the 19th surah in the Quran. It is a relatively long Makki surah made up of 98 verses. Some commentators mention that it's the 44th Surah to be revealed, after Surah Al-Fatir and before Surah Taha. It has been given the name Maryam because Allah

mentions the story of Maryam (as) and her family and how she gave birth to Isa

miraculously at the beginning of the Surah. Just like other Makkan surahs, it deals with the most fundamental aspects of our faith. It talks about the existence and oneness of Allah

, prophethood, and resurrection and recompense.
The Surah is made up of a series of unique stories filled with guidance and lessons that are meant as reminders. One of the main themes of this Surah is mercy… It has been mentioned over 16 times in this Surah. We'll find the words of grace, compassion and their synonyms frequently mentioned throughout the sūrah, together with Allah's attributes of beneficence and mercy. We can say that one of the objectives of the Surah is to establish and affirm the attribute of mercy for Allah

. That's why all of the stories mentioned also have to do with Allah's mercy.
Another objective of the Surah is to remind us of our relationship with Allah ﷻ; the concept of Al-'Ubūdiyyah. These are the two major themes or ideas of this Surah; the concept of Rahmah and the concept of 'Ubūdiyyah (Mercy and Servitude).
The Surah can be divided into 8 sections:
1) Verses 1-15: The surah starts with the story of Zakariyya (as) and how he was given the gift of a child at a very old age, which was something strange and out of the ordinary.
2) Verses 16-40: mention the story of Maryam and the miraculous birth of Isa

without a father and how her community responded to her.
3) Verses 41-50: The surah then briefly mentions one part of the story of Ibrahim

, specifically the conversation he had with his father regarding the worship of idols. The surah then briefly mentions a series of other Prophets.
4) Verses 51-58: Mention Musa and Haroon

, Ismail

and Idrees

to show that the essence of the message of all Prophets was the same
5) Verses 59-65: compare and contrast the previous generations with the current ones in terms of belief and actions.
6) Verses 66-72: Allah

addresses the Mushrikoon rejecting their false claims regarding life after death and judgment.
7) Verses 73-87: continue to address the Mushrikoon and warn them regarding their attitude towards belief in Allah and His messengers. They also mention the great difference between the resurrection of the believer and the resurrection of the non-believer.
8) Verses 88-98: contain a severe warning to those who claim that Allah

has taken a child. They also express that Allah is pleased with the believers and mentions that one of the objectives of the Quran is to give glad tidings to the believers and to warn the non-believers.
Story
From various narrations, we learn that this surah was revealed near the end of the fourth year of Prophethood. This was an extremely difficult time for Muslims. The Quraysh were frustrated with their inability to stop the message of Islam from spreading so they became ruthless. They resorted to any method of torture that they could think of; beating, starving and harassing. When the persecution became so severe that it was difficult for the Muslims to bear it, the Prophet

gave permission to migrate to Abyssinia. "For in it dwells a king in whose presence no one is harmed." 10 men and 4 women migrated in the 5th year of Prophethood secretly. After a few months, a larger group of 83 men and 18 women migrated as well. This migration added more fuel to the fire. It enraged the people of Quraysh.
Umm Salamah [rahna]narrated, "When we stopped to reside in the land of Abyssinia we lived alongside the best of neighbors An-Najashi. We practiced our religion safely, worshipped Allah without harm and didn't hear anything we disliked. When news of our situation reached the Quraysh they started to plot against us…" They decided to send two delegates to persuade An-Najashi to send the Companions back by offering him and his ministers' gifts. The plan was to go to each minister with gifts and turn them against the Muslims. So they went to each minister with gifts and said, "Verily, foolish youth from amongst us have come to the country of your king; they have abandoned the religion of their people and have not embraced your religion. Rather they have come with a new religion that neither of us knows. The noblemen of their people, from their fathers and uncles, have sent us to the king asking that he send them back. So when we speak to the king regarding their situation advise him to surrender them to us and to not speak to them…" The minister agreed.
Then they went to the king, offered him gifts and said the same thing… The ministers tried to convince him as well. An-Najashi became angry with them and said, "No, by Allah, I will not surrender them to these two and I don't fear the plotting of a people who have become my neighbors, have settled down in my country, and have chosen me (to grant them refuge) over every other person. I will not do so until I summon them and speak to them. If they are as these two say I will give them up, but if they aren't then I will protect them from these two and continue to be a good neighbor to them as long as they are good neighbors to me."
al-Najāshī then summoned the Prophet's ﷺ Companions. When his messenger informed the Prophet's Companions that they were to appear before the king, they gathered together to discuss what they should do. One of them asked, "What will you say to the name (al-Najāshī) when you go to him?" They all agreed on what they would say to him, "By Allah, we will say what our Prophet ﷺ taught us and commanded us with, regardless of the consequences." Meanwhile, al-Najāshī called for his priests, who gathered around him with their scrolls spread out before them. When the Muslims arrived al-Najāshī began by asking them, "What is this religion for which you have parted from your people? You have not entered into the fold of my religion, nor the religion of any person from these nations."
Umm Salamah [rahna] narrated, "The Person among us who would speak to him was Jaʿfar ibn abī Ṭālib [rahnu] who then said, "O king, we were an ignorant people: we worshipped idols, we would eat from the flesh of dead animals, we would perform lewd acts, we would cut off family ties, and we would be bad neighbors; the strong among us would eat from the weak. We remained upon that state until Allah sent us a Messenger, whose lineage, truthfulness, trustworthiness, and chastity we already knew. He invited us to Allah – to believe in His oneness and to worship Him; to abandon all that we and our fathers worshipped besides Allah, in terms of stones and idols. He ﷺ commanded us to speak truthfully, to fulfill the trust, to join ties of family relations, to be good to our neighbors, and to refrain from forbidden deeds and from shedding blood. And he ﷺ forbade us from lewd acts, from uttering falsehood, from wrongfully eating the wealth of an orphan, from falsely accusing chaste women of wrongdoing. And he ﷺ ordered us to worship Allah alone and to not associate any partners with him in worship; and he ﷺ commanded us to pray, to give zakāh, and to fast." He enumerated for al-Najāshī the teachings of Islam. He said, "And we believe him and have faith in him. We follow him in what he came with. And so we worship Allah alone, without associating any partners with Him in worship. We deem forbidden that which he has made forbidden for us, and we deem lawful that which he made permissible for us. Our people then transgressed against us and tortured us. The tried to force us to abandon our religion and to return from the worship of Allah to the worship of idols; they tried to make us deem lawful those abominable acts that we used to deem lawful. Then, when they subjugated us, wronged us, and treated us in an oppressive manner, standing between us and our religion, we came to your country, and we chose you over all other people. We desired to live alongside you, and we hoped that, with you, we would not be wronged, O king." al-Najāshī said to Jaʿfar [rahnu], "Do you have any of that which he came with from Allah?" Jaʿfar [rahnu] said, "Yes". "Then recite to me," said al-Najāshī. Jaʿfar [rahnu] recited for him the beginning of Surah Maryam. By Allah, al-Najāshī began to cry, until his beard became wet with tears. And when his priests heard what Jaʿfar [rahnu] was reciting to them, they cried until their scrolls became wet. al-Najāshī then said, "By Allah, this and what Mūsa (as) came with come out of the same lantern. Then by Allah, I will never surrender them to you, and henceforward they will not be plotted against and tortured."
Describing what happened after the aforementioned discussion between al-Najāshī and Jaʿfar [rahnu], Umm Salamah

said, "When both ʿAmr ibn al-ʿĀṣ and ʿAbdullah ibn abī Rabīʿah left the presence of al-Najāshī, ʿAmr [rahnu] said, "By Allah tomorrow I will present to him information about them with which I will pull up by the roots their very lives." Abdullah ibn Rabīʿah who was more sympathetic of the two towards us said, "Don't do so, for they have certain rights of family relations, even if they have opposed us." ʿAmr said, "By Allah, I will inform him that they claim that ʿĪsā ibn Maryam is a slave."
He went to the king on the following day and said, "O king, verily, they have strong words to say about ʿĪsa (as). Call them here and ask them what they say about him." al-Najāshī sent for them in order to ask them about ʿĪsa. Nothing similar to this befell us before. The group of Muslims gathered together and said to one another, "What will you say about ʿĪsa when he asks you about him?" They said, "By Allah, we will say about him that which Allah says and that which our Prophet ﷺ came with, regardless of the outcome." When they entered into his presence, he said to them, "What do you say about ʿĪsa ibn Maryam?" Jaʿfar

said, "We say about him that which our Prophet ﷺ came with – that he is the slave of Allah, His messenger, a spirit created by Him, and His word, which he bestowed on Maryam, the virgin, the baṭūl."
al-Najāshī struck his hand on the ground and took from it a stick. He then said, "ʿĪsa ibn Maryam did not go beyond what you said even the distance of the stick." When he said this, his ministers spoke out in anger, to which he responded, "What I said is true even if you speak out in anger, by Allah. (Turning to the Muslims, he said) Go, for you are safe in my land. Whoever curses you will be held responsible. And I would not love to have a reward of gold in return for me hurting a single man among you. (Speaking to his ministers he said) Return to these two (men) their gifts, since we have no need for them. For by Allah, Allah did not take from me bribe money when He returned to me my kingdom, so why should I take bribe money. The two left, defeated and humiliated; and returned to them were the things they came with. We then resided alongside al-Najāshī in a very good abode, with a very good neighbor."
The response was simply amazing in its eloquence. A believer puts the needs of his soul before the needs of his body. Allah

starts the Surah by saying,
Verse 1: Kaf, Ha, Ya, 'Ayn, Sad.
Allah

starts Surah Maryam with a series of five letters. There are many different saying or explanations regarding these five letters. The most correct opinion is that these are from the broken letters. There are 29 different Surahs in the Quran that start with the broken letters. Only Allah

alone knows the meanings of these letters. They are a secret from amongst the secrets of Allah

, meaning that no one knows what they truly mean. Only Allah

knows their meanings so they are from amongst the Mutashaabihat, those verses whose meanings are hidden.
However, we do find that some great Companions, as well as their students, sometimes gave meanings to these words. For example, it's said that it is in acronym and each letter represents one of the names of Allah

. Kaf is for Al-Kafi or Al-Kareem, "haa" is for Al-Hadi, "yaa" is from Hakeem or Raheem, "'ayn" is from Al-'Aleem or Al-'Adheem, and "saad" is from Al-Saadiq. Others said that it is one of the names of Allah and it's actually Al-Ism Al-'Atham or that it's a name of the Quran. However, these narrations can't be used as proof or to assign definitive meanings. They offer possibilities, but no one truly knows what they mean.
Now the question should come to our mind that why would Allah

start of a Surah with words that no one understands?
1) To grab the attention of the listeners.
2) To remind us that no matter how much we know there's always something that we don't know.
3) These letters are the letters of the Arabic language and the Quran was revealed at a time that was the peak of eloquence of the language and it was their identity. The Quran was revealed challenging them spiritually and intellectually. The Arabs never heard these letters being used in such a majestic way.
4) To prove the inimitable nature of the Quran.
Allah then starts the story of Zakariyya

. Zakariyya

was one of the Prophets sent to Bani Israel. He was the husband of Maryam's paternal aunt. He was also one of the caretakers or custodians of Baitul Maqdis.
Heart Soothers: Mishari Alafasy
Heart Soothers: Imam Feysal Muhammad