Is Facebook hurting my Faith?
I am going to talk about something that's probably highly relevant to every single person reading this. That's right… I'm talking about Facebook. The chances of you having an internet connection and not having a Facebook profile, are quite low, so I'll make the assumption that you are a member of that site and move on from here. I'm sure there are lots of opinions on Facebook itself, whether it is or is not okay to be a member. However, again, the issue is not one of permissibility at the moment, but about what happens when you area member.
Of the many new things out there, Facebook is one that is affecting our lives in many different ways, both positive and negative. The great thing would be if we somehow prune the negatives and develop on the positives.
Is there a need to develop the positives and prune the negatives?
Yes, definitely. But, why?
I admit Facebook has its plus-points, such as sending people quick messages, exchanging photos, interacting with distant relatives, reaching out to a wide audience, etc. However, I've noticed I often end up spending more time on the website than is necessary or advisable. Wastage of time (Farmville, anyone?) is such a serious issue that I should be talking solely about this. Yet, there is another thing we do not realize, which is equally (if not more) important, and that is the issue of the content we are exposed to and what effect it has one our Iman.
Every day, our Facebook news feeds bring us information from our contacts. Status updates of all kinds, photos, shared movie clips, cartoons, music videos, news articles, game scores, applications, birthdays, anniversaries, likes and dislikes. Consciously or unconsciously, we're taking in information from multiple sources, unedited and uncensored. Sometimes, we do not even realize what we're seeing or reading, such is the level of exposure to it.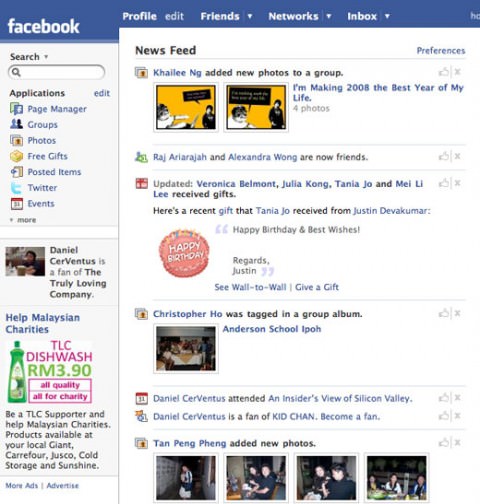 Depending on the kind of contacts one has, the newsfeed can be full of predominantly good and useful content or otherwise have more of the indecent, obscene, harmful or useless content. Even when the content is midway between those two types, what suffers most is the Iman. Yes, that precious treasure that we have, that makes all the difference in life. The difference between success and failure. Joy and sorrow. It's Iman in the heart that guides the actions of our limbs and the words that issue from our tongues. And one of the ways in which Iman wanes is being exposed to ugly and indecent content, no matter how strong we may assume ourselves to be.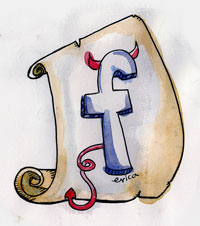 Recently, I began to notice just how, over time, my newsfeed was becoming increasingly polluted with obscenity and other content that I disliked. I'd tell myself that it's okay if I just skim over it and seek out the useful news but I actually ended up knowing more about who my cousin's cousin's favorite "pop idol" was than what Sheikh Yaser Birjas or Sheikh Muhammad Al Shareef had to convey that day. Then, there were long, pointless conversations with people that had no direction, no purpose and only lead to increasing sins of the tongue! In the case of indecent content, I'd try to quickly block it out before catching a glimpse but by the time it was gone from the page, too much had been seen already. The next natural step? Desensitization to filth and sinful content, such that it didn't repulse me any longer like it used to or should have!
It got to a point where the very idea of turning on Facebook was bothering me within, and yet, I did not want to leave the website because of the beneficial ways in which it could be used. One day, therefore, I decided to give my newsfeed the haircut it badly needed! Trim this, block that, unlike this, delete that… every time I came across things that I knew were harming my Imaan inside, I removed them. I'd always been concerned about missing out on vital news from some of my contacts, what my old friends were talking about, funny video clips a certain cousin shared… but the flip-side was more damaging so the decision was made.
The effect was almost instantaneous. It felt like having de-cluttered several old storage rooms and thrown out stuff I'd never used or got any benefit from. I felt light inside and my attitude towards Facebook also changed. No longer did I have to skim over content, or grimace upon having just discovered a new swear word. Instead, I eagerly and happily read what new there was. Alhumdulillah. And best of all, I didn't miss out on anything because it made me realize what interaction really means and not just superficial exchanges and random, pointless conversations with people. Now that all the meaningless chatter (read: noise) was swept away, there was room for meaningful discourse.
Our Prophet said, 'The example of a good pious companion and an evil one is that of a person carrying musk and another blowing a pair of bellows. The one who is carrying musk will either give you some perfume as a present, or you will buy some from him, or you will get a good smell from him, but the one who is blowing a pair of bellows will either burn your clothes or you will get a bad smell from him'. (Bukhari)
Several weeks on, I am now absolutely certain about the changes I've made. What we learn in Islam about the importance of keeping good, righteous company, is so true. Our surroundings influence our thoughts, moods and thus our actions. By trying to make sure that influence is pure and good, as much as possible, we can be happier and more optimistic people. The world in which we are living today sees no shortage of trials and things which seriously damage the strongest of Imaan. Can we afford to go on with unhealthy habits then, exposing our fledgling Imaan to such harm?
What do you think? Have you been making efforts to make your internet browsing experience better? Share away, so that we may all learn ways of improving ourselves, for the Pleasure of Allah

.
"O People who Believe! Fear Allah, and speak rightly.He will rectify your deeds for you and forgive you your sins; and whoever obeys Allah and His Noble Messenger, has indeed achieved a great success." (33:70-71)
Suggested reading: Sadaf Farooqi's personal views on Facebook