Ilm Summit 2010 July 30-Aug 1: Baba Ali, Best Student Khatirah, Yaser Birjas, Photos, and the Entertainment Night
Comedy Night
Ilm Summit 2010 had THE BEST entertainment session EVER. Sorry ICNA, ISNA, MSA, and any other conferences, you all just got SERVED.
My roommate Nihal Khan posted that on his Facebook status. And yeah, it was pretty hilarious. Except, you had to have been an Ilm Summit student and really ingrained in AlMaghrib student culture AND a student at this year's classes to understand the jokes.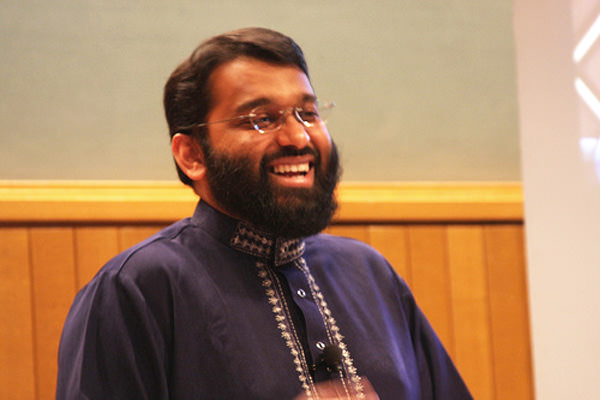 Nonetheless, the sheer talent on display, the scripting and special effects, as well as the participation of Shaykh Google himself (who reminded us that the key to being an optimist is to think of the glass as…a glass) made it a night to remember. Unfortunately, the whole event was Fight Club-ish about keeping a tight lid on event details, but I have to say, seeing Shaykh Yasir Qadhi reveal himself to be Shaykh Google definitely made my Ilm Summit (whoops, did I say that out loud?).
A Visit From Baba Ali
On Saturday, after we had concluded our final classes with Shaykh Yasir, Baba Ali randomly stopped by, and we asked him to tell us about his new project, so check it out below:
[youtube]http://www.youtube.com/watch?v=gui_M9Z0O8k[/youtube]
Saturday Night Banquet
For the second year in a row, Ustadh Wisam MC'ed the Ilm Summit banquet, and alhamdulillaah, for the first time ever, no shady halls to deal with, either in theory or practice. Awards were given out, poetry was read, upcoming AlMaghrib projects were presented, a video of students stealing shaykh Yasir's dissertation from his hotel room, and oh yeah, the return of Shaykh Yaser Birjas.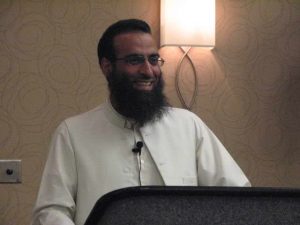 So Shaykh Love Notes broke down how he was able to escape from his wife who was due at any moment to attend one night of Ilm Summit.  He tells us she told him she felt guilty that he was missing out, and encouraged him to go for at least one day. He was, of course, making a cupcake at the time for them to have breakfast. While his heart said, "Yes! I'm outta here!" he replied, "No, I couldn't do that."  After his wife insisted he leave, and he put up token resistance to not just cave in so easily, he joined us for the final event of Ilm Summit.
Or so he thought.
The previous year, both Shaykh Yasirs held counseling sessions with students who wanted them, but there were none this year. At least, none until Shaykh Yaser arrived. From 1am to 5am, he ended up holding counseling sessions for 20 or more sisters. And, for those brothers remaining who wanted them, he was willing to give them counseling sessions at 10am, may Allah reward him for it.
Khatirah Evaluations
You may recall last year, students gave short khatirahs that were followed by critiques from our instructors. This program continued, and the final khatirah was given by our good brother Muhammad Ouyoun (from Chicago, represent!) on the importance of salaah (note:  I started recording this a little past the intro with my Droid [shameless plug] phone):
[youtube]http://www.youtube.com/watch?v=oBbLCUm8CuQ[/youtube]
And here's the follow-up evaluation from Shaykhs Yasir and Waleed:
[youtube]http://www.youtube.com/watch?v=5COpi-xDC8E[/youtube]
Conclusion
What's more is there to say?  Ilm Summit 2010 was an experience, and for reasons I'll insha'Allah elaborate on in future posts, perhaps even more beneficial in terms of personal growth than Ilm Summits I and II.  Below are the photos I took and one video I did with brother Shiraz on personal development.
[youtube]http://www.youtube.com/watch?v=iM2QBYFYfRw[/youtube]