UPDATE: Letters to Dr. Seuss: Umm Yousuf | Random House Consents!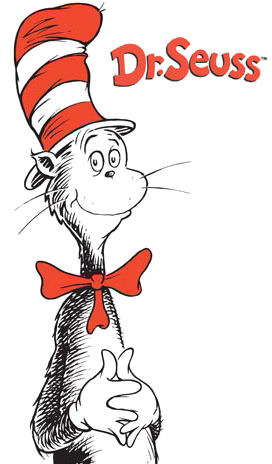 UPDATE: Alhamdulilah, Sr. Umm Yousuf's persistence paid off and Random House sent a very gracious letter that they will change the boy's "rumpled grimace" to a "nice bright smile".  This is a reflection on character of Americans (as opposed to the character of its government).  No argument… just a simple, "you are right, and we'll change it, and here is a gift too".  Forever Umm Yousuf's effort will be memorialized in the smile of this bald boy in this book: for many more kids to enjoy, even the ones who don't have hair for no fault of theirs.
Please take a moment to send a short note of appreciation to Random House, addressed to Alice Jonaitis via this contact page.

As most of our readers are probably aware, Shaykh Waleed Basyouni's son, Yousuf, was diagnosed with leukemia some months ago.  Umm Yousuf, Yousuf's mom, has been keeping up a blog where she opens up a little window into Yousuf's world, where we can all be part of Yousuf's progress towards health and betterment, insha'Allah. We'd like to share two letters that Umm Yousuf wrote "to Dr. Seuss",  touching upon something that we may find so trivial, yet what can have such an impact upon those for whom the issue has a completely different relevance. As you read these poems, make several dua's for little Yousuf, for his family, and for all other children and families facing this fitnah.
Also, consider writing to the Seuss Foundation, supporting Umm Yousuf's request, though we wonder if this would be the best address for this, or if it should be to Random House Publishers. If anyone has any better idea on contacts, pls add in comments, it would be much appreciated.
Dr. Seuss Foundation
Audrey S. Geisel
7301 Encelia Dr.
La Jolla, CA 92037-5279
—————————————————–
I looked forward to enjoying a nice trip to the bookstore the other day. I was checking out the kids books while Yousuf and Omar were running around on the pretend stage. They were having fun while I was looking for a book to read to them. I was browsing in my favorite section, Dr. Seuss' books. I came across one I hadn't seen before called "My Book About Me By Me Myself". It was a really nice idea where the kid fills in the blanks with their name, age and details about themselves. It asks like how many teeth you have, how big your feet are -and then you trace your foot. I came across a page when it talks about the hair; the length of it, what color is it etc. Anyway, all the pictures they give you that you can choose from are all smiling except the very last one which has no hair, ie. bald. The picture of the bald kid has a very sad face expression. As soon as I saw that, I closed the book right away worried that Yousuf might see it. I literally held my tears back and steered clear from that section. I know Yousuf may have seen me getting excited about a book, in the beginning, so therefore pick it up and look through it. I was a little heartbroken, and to say the very least, upset.
SO, I decided to write a letter to the Dr. Seuss Foundation…if there was one. I did a little research and surprisingly, Dr. Seuss' wife does have a foundation. He actually died in 1991, and get this from cancer!! The book was published in 1969, more then 20 years before he died. All I am asking for is that whoever is in charge of his books reprint them with the bald little kid having a smiling face just as all the other kids. Of course, I have to ask in a Dr. Seuss fashion. So here is goes:
Beyond the Grinches, the Hortons and Who's,

Came a page in a book that I wouldn't choose.
Strolling in the book store I came across my favorite section,
I looked up and down, of the rack, of this Dr,'s collection.
There was a book I hadn't seen before, I grabbed it right off the shelf,
It was called, "A Book About Me" By Me Myself!
I thought this would be nice for my son, age four,
I opened the book and began to read more.
It looked fun and exciting, another masterpiece of his,
As we have many of his books because of the whiz that he is!
Flipping the pages I came to page four,
And what to my surprise I dropped the book on the floor!
That book, "A book About Me" By Me Myself,
I put that book right back on the shelf!
There is a part of this page I wish I could go and delete,
For I'm afraid we don't even see on Mulberry street!
A kid picks their hair color, length and their style,
But there is one little boy who hasn't a smile.
All but one is smiling, and by this I am appalled,
All of the kids look happy except the one who is bald!
Usually getting another Dr. Suess book is a best buy,
I just left the book and started to cry.
My son who has cancer would be sad to know,
The boy who is sad has hair he can't grow.
So I am asking the author or the one with authority,
To make one little sick boy their priority.
Just as the red, the purple and the long hair,
Please put a smile, on the one bald, and be fair!
I'm wondering what happened to that kid on page four,
When the mailman came, did you open your door?
This is my second attempt in getting you a letter,
To make all the kids, with cancer, feel a little bit better.
Because not everyone has hair that they can go show,
But we believe they still smile as they did long ago.
Though a little bit sick and a little bit weak,
Kids who are sick can still grin cheek to cheek,
About this kid on page four, down the row and across,
Next to the green hair, and who has the hair loss,
That last little face with no hair and sad look,
Could you please take this picture right out of your book?
In the hospital we go, if you see where we've been,
Many bald kids and they each have a grin!
I love Dr. Seuss and don't want to give a bad rating,
But me and my son just keep wondering and waiting.
So this letter number two, in my effort, I write,
To please change this expression to a look of delight!