Imam Siraj Day, May 8th | The Very First Time I Met Imam Siraj – Yasir Qadhi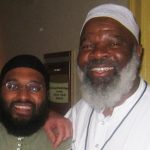 *MM is requesting all readers to join our initial campaign of $2000 $5000 (see bottom). If you make a donation, pls add a comment to encourage others (you can be anonymous or type in your name). This is peanuts compared to what we, the Muslims, have gained from him.
NOTE: The following is transcribed from the on-line fundraiser that was conducted last week; please excuse the punctuation errors and linguistic style.
When I was only 16 years old, I was really excited because Imam Siraj Wahhaj had come to Houston, TX. "Imam Siraj is coming to Houston!" I said. "This is the first time that I'm going to see him!" This was a time when there was no internet or videos of Imam Siraj, so I had never seen what Imam Siraj looks like.
I came early to the masjid and was waiting around, but he wasn't there yet. So I walked outside to do wudhu, and there was an elderly African American gentleman there.
He said, "Assalaamu alaykum, akhi, how you doin'?!"
I said, "Alhumdulillah, I'm doing fine," and we had a nice conversation. But I was wondering, "Who is this guy? I've never seen him before." And he was talking to me, a 16 year old at the time, wa'Allahi as if he was my uncle or something.
"How's everything? How's school going?" This and that. And I'm still wondering who this guy was. Then it clicked.
I asked, "Are you Imam Siraj…?!"
He smiled, and I'll never forget that smile, and said, "That's what they call me, akhi!"
SubhanAllah, this is why this man is an Imam. An anonymous kid comes up to do wudhu next to him, and he strikes up a friendly, loving conversation. It was such a touching moment for me. And that just touched my heart in a way I cannot express.
My dear brothers and sisters in Islam! Imam Siraj Wahhaj is man who has raised millions upon millions of dollars for the Muslim Ummah. Now he is in a time of need.
I remind myself and you of the Hadith of the Prophet sal Allahu alayhi wa sallam in which he said: "Whoever takes care of one problem of one Muslim, Allah subhanahu wa ta'ala will take care of a problem of his."
I encourage all of you to give what you can.
– Yasir Qadhi
MuslimMatters.org is joining MSA National today for Imam Siraj Day. The fundraiser from two weeks ago was short by $75,000 of the goal, and today, we're going to join in the cause to take care of our Imam's medical expenses.

With that, let's make it a goal for MuslimMatters.org readers to raise $2,000 $5,000 on Imam Siraj Day. InshaAllah the readers of MuslimMatters can easily meet this, if not more.

To donate for Imam Siraj Wahhaj's expenses, click the button below!

You can pay safely and securely online through the PayPal Donate button

Want to pay by check? Just send a check to the mailing address here:

Siraj Wahhaj
P.O. Box 312264
Atlanta, GA 31131