8 Christian Terrorists Arrested for Murder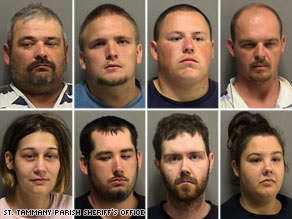 A group of 8 people, who believe in the fundamentalist Christian belief that the Aryan race is the superior race, engaged in an act of violent terrorism against an innocent woman. It can only be assumed this was one act of numerous incidents accumulating over the past few years of home-grown terrorists attempting to implement a fundamentalist religious doctrine on American society.
It's also quite clear from the pictures that they are a fundamentalist group, matching the physical profile of a typical redneck Christian fundamentalist. You can see the signs indicating that they are of the hillbilly sect in particular, in the two men on the top right. Some security experts have actually said the Saudi-Wahhabi terrorists pale in comparison to the Hillbilly-American terrorist group that has been in operation for decades now but flown under the radar.
CNN has picked up the story:
(CNN) — Eight people were arrested Tuesday, one on a charge of murder, in connection with the fatal shooting of a woman at a remote Louisiana campsite during what police say was an initiation ceremony for the Ku Klux Klan.

The woman, whose identity has not been confirmed, was recruited over the Internet to join the Klan by the suspects, said Capt. George Bonnett of the St. Tammany Parish Sheriff's Office.

The woman traveled from Oklahoma to Louisiana for the ceremony and was taken to a campsite near Sun, Louisiana, about 60 miles north of New Orleans.

On Sunday, the woman asked to be taken from the camp to a nearby town. An argument ensued, and the woman was fatally shot by the group's leader, Bonnett said.

Some of the suspects then tried to conceal the killing by burning the woman's personal items, he said.

Police received a tip about the killing and found the woman's body hidden under loose brush alongside a road, Bonnett said. The suspects, most of whom were still in the woods near the campsite several miles from where the body was found, were taken into custody without incident, he said.

The group's leader, identified as Chuck Foster, 44, was charged with second-degree murder. The others were charged with lesser crimes related to trying to conceal the killing, Bonnett said.

Authorities found weapons, several flags and six Klan uniforms in the area, he said.

Bonnett said he has not seen any Klan activity in the area in three years he has worked there. According to the Southern Poverty Law Center, there were seven active Klan organizations in Louisiana in 2007, the last time the civil rights law firm tracked hate groups.

None of these organizations was in the Sun area.
Now before anyone jumps down my throat, please realize the semi-satirical nature of this post (Yes, I feel the need to state the obvious).
I wonder what the reaction and coverage would be if 8 brown guys with beards had done this?