White Activism Is Crucial In The Wake of Right-Wing Terrorism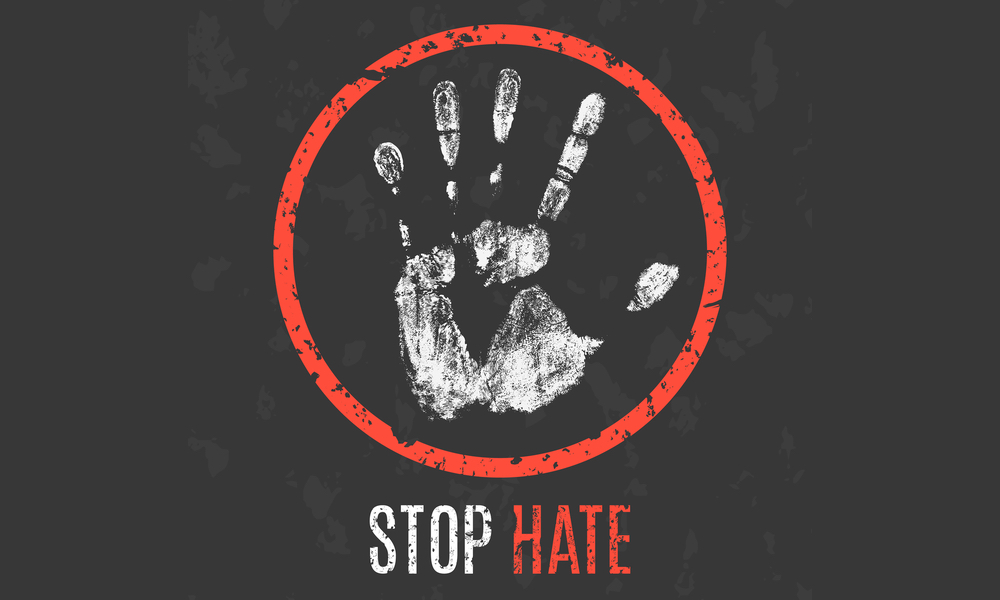 The vicious terrorist attacks at two mosques in Christchurch, New Zealand on March 15 were a punch to the gut for peace-loving people all over the world.  Only the most heartless of individuals could feel nonchalant about 70 innocent children, women, and men being killed or maimed mercilessly as they prayed. However, even a brief glimpse at comments on social media confirms that among the outpouring of sadness and shock, there are, indeed, numerous sick individuals who glory in Brenton Tarrant's deliberately evil actions. White supremacy, in all its horrific manifestations, is clearly alive and well.  
In an enlightening article in The Washington Post, R. Joseph Parrott explains,  "Recently, global white supremacy has been making a comeback, attracting adherents by stoking a new unease with changing demographics, using an expanded rhetoric of deluge and cultivating nostalgia for a time when various white governments ruled the world (and local cities). At the fringes, longing for lost white regimes forged a new global iconography of supremacy."
"Modern white supremacy is an international threat that knows no borders, being exported and globalized like never before," ADL CEO Jonathan Greenblatt said. "The hatred that led to violence in Pittsburgh and Charlottesville is finding new adherents around the world. Indeed, it appears that this attack was not just focused on New Zealand; it was intended to have a global impact." (link)
Many people want to sweep this terrifying reality under the rug, among them the U.S. President.  Asked by a reporter if he saw an increase globally in the threat of white nationalism, Trump replied, "I don't really. I think it's a small group of people that have very, very serious problems."
However, experts in his own country disagree.  A March 17 article in NBC News claims that, "The FBI and the Department of Homeland Security warned in a 2017 intelligence bulletin that white supremacist groups had carried out more attacks in the U.S. than any other domestic extremist group over the past 16 years. And officials believe they are likely to carry out more."
Although they may be unaware of — or in denial about –the growing influence of white supremacist ideology, the vast majority of white people do not support violent acts of terrorism.  However, many of them are surprisingly, hurtfully silent when acts of terrorism are committed by non-Muslims, with Muslims as the victims.
When a shooter yells "Allahu akbar" before killing innocent people, public furor is obvious and palpable.  "Terror attacks by Muslims receive 375% more press attention," states a headline in The Guardian, citing a study by the University of Alabama. The perpetrator is often portrayed as a "maniac" and a representative of an inherently violent faith. In the wake of an attack committed by a Muslim, everyone from politicians to religious leaders to news anchors calls on Muslim individuals and organizations to disavow terrorism.  However, when white men kill Muslims en masse, there is significantly less outrage.  People try to make sense of the shooters' vile actions, looking into their past for trauma, mental illness, or addiction that will somehow explain why they did what they did.  Various news outlets humanized Brenton Tarrant with bold headlines that labeled him an "angelic boy who grew into an evil far-right mass killer," an "ordinary white man," "obsessed with video games," and even "badly picked on as a child because he was chubby."  Those descriptions, which evoke sympathy rather than revulsion, are reserved for white mass murderers.
The media's spin on terrorist acts shapes public reaction.  Six days after the Christchurch attacks, millions were not currently taking to the streets to protest right-wing extremism.  World leaders are not linking arms in a dramatic march against white supremacist terrorism.  And no one is demanding that white men, in general, disavow terrorism.
But that would be unreasonable, right? To expect all white men to condemn the vile actions of an individual they don't even know?  Unreasonable though it may be, such expectations are placed on Muslims all the time.
As a white woman, I am here to argue that white people — and most of all white-led institutions — are exactly the ones who need to speak up now, loudly and clearly condemning right-wing terrorism, disavowing white supremacy, and showing support of Muslims generally.  We need to do this even if we firmly believe we're not part of the problem. We need to do this even if our first reaction is to feel defensive ("But I'm not a bigot!"), or if discussing race is uncomfortable to us. We need to do it even if we are Muslims who fully comprehend that our beloved Prophet

said,  "There is no superiority for an Arab over a non-Arab, nor for a non-Arab over an Arab. Neither is the white superior over the black, nor is the black superior over the white — except by piety."
While we might not hold hatred in our hearts individually, we do hold the power, institutionally.  If we truly care about people of color, peace, and justice, we must put our fragile egos aside and avoid "not me-ism."  The fact is, if we have white skin, we have grown up in a world that favors us in innumerable ways, both big and small. Those of us with privilege, position, and authority are the very ones who have the greatest responsibility to make major changes to society. Sadly, sometimes it takes a white person to make other white people listen and change.
White religious leaders, politicians, and other people with influence and power need to speak up and condemn the New Zealand attacks publically and unequivocally, even if we do not consider ourselves remotely affiliated with right-wing extremists or murderous bigots.  Living our comfortable lives, refusing to discuss or challenge institutionalized racism, xenophobia, and rampant Islamophobia, and accepting the status quo are all a tacit approval of the toxic reality that we live in.  
Institutional power is the backbone of racism.  Throughout history, governments and religious institutions have enforced racist legislation, segregation, xenophobic policies, and the notion that white people are inherently superior to people of color.  These institutions continue to be controlled by white people, and if white leaders and white individuals truly believe in justice for all, we must do much more than "be a nice person." We must use our influence to change the system and to challenge injustice.  
White ministers need to decry racial violence and anti-immigrant sentiment from their pulpits, making it abundantly clear that their religion does not advocate racism, xenophobia, or Islamophobia. They must condemn Brenton Tarrant's abhorrent actions in clear terms, in case any member of their flock sees him as some sort of hero.  Politicians and other leaders need to humanize and defend Muslims while expressing zero tolerance for extremists who threaten the lives or peace of their fellow citizens — all citizens, regardless of their religious beliefs, immigration status, or ethnicity.  New Zealand's Prime Minister Jacinda Ardern is an excellent role model for world leaders; she has handled her nation's tragedy with beautiful compassion, wisdom, and crystal clear condemnation of the attacker and his motives.  Similarly, Canadian Prime Minister Justin Trudeau demonstrated superb leadership and a humane, loving response to the victims in Christchurch (and Muslims in general) in his recent address to the House of Commons.  
Indeed, when they put their mind to it, people can make quite an impactful statement against extremist violence.  In January 2015 when Muslim gunmen killed 17 people in Paris, there was an immediate global reaction. The phrase "Je suis Charlie" trended on social media and in fact became one of the most popular hashtags in the history of Twitter.  Approximately 3.4 million people marched in anti-terrorism rallies throughout France, and 40 world leaders — most of whom were white — marched alongside a crowd of over 1 million in Paris.  
While several political and religious leaders have made public statements condemning the terrorist attacks in Christchurch, there is much less activism on the streets and even on social media following this particular atrocity.  Many Muslims who expected words of solidarity, unity, or comfort from non-Muslim family or friends were disappointed by the general lack of interest, even after a mosque was burned in California with a note left in homage to New Zealand.
In a public Facebook post, Shibli Zaman of Texas echoed many Muslims' feelings when he wrote, "One of the most astonishing things to me that I did not expect — but, in hindsight, realize that I probably should have — is how few of my non-Muslim friends have reached out to me to express condolences and sorrow." His post concluded, "But I have learned that practically none of my non-Muslim friends care."
Ladan Rashidi of California posted, simply, "The Silence.  Your silence is deafening. And hurtful." Although her words were brief and potentially enigmatic, her Muslim Facebook friends instantly understood what she was talking about and commiserated with her.   
Why do words and actions matter so much in the wake of a tragedy?  
Because they have the power to heal and to unite. Muslims feel shattered right now, and the lack of widespread compassion or global activism only heightens the feeling that we are unwanted and "other."  If 50 innocent Muslims die from terrorism, and the incident does not spark universal outrage, but one Muslim pulls the trigger and the whole world erupts in indignation, then what is that saying about society's perception of the value of Muslim lives?
To the compassionate non-Muslims who have delivered flowers, supportive messages, and condolences to the Muslim community in New Zealand and elsewhere, I thank you sincerely. You renew our hope in humanity.
To the white people who care enough to acknowledge their privilege and use it to the best of their ability to bring about justice and peace, I salute you.  Please persevere in your noble goals. Please continue to learn about institutionalized racism and attempt to make positive changes. Do not shy away from discussions about race and do not doubt or silence people of color when they explain their feelings.  Our discomfort, our defensiveness, and our professed "colorblindness" should not dominate the conversation every time we hear the word "racism." We should listen more than speak and put our egos to the side. I am still learning to do this, and while it is not easy, it is crucial to true understanding and transformation.
To the rest of you who have remained silent, for whatever reason:  I ask you to look inside yourself and think about whether you are really satisfied with a system that values some human lives so highly over others.  If you are not a white supremacist, nor a bigot, nor a racist — if you truly oppose these ideologies — then you must do more than remain in your comfortable bubble.  Speak up. Spread love. Fix problems on whatever level you can, to the best of your ability. If you are in a leadership position, the weight on your shoulders is heavy; do not shirk your duty.  To be passive, selfish, apathetic, or lazy is to enable hatred to thrive, and then, whether you intended to or not, you are on the side of the extremists. Which side are you on? Decide and act.
"A person may cause evil to others not only by his actions but by his inaction, and in either case, he is justly accountable to them for their injury."  — John Stuart Mill, On Liberty.  
For the past decade, writer Laura El Alam has been a regular contributor to SISTERS Magazine, Al Jumuah, and About Islam.  Her articles frequently tackle issues like Muslim American identity, women's rights in Islam, support of converts/reverts, and racism.  A graduate of Grinnell College, she currently lives in Massachusetts with her husband and five children. Laura recently started a Facebook page, The Common Sense Convert, to support Muslim women, particularly those who are new to the deen.
Sri Lankan Muslims To Fast In Solidarity With Fellow Christians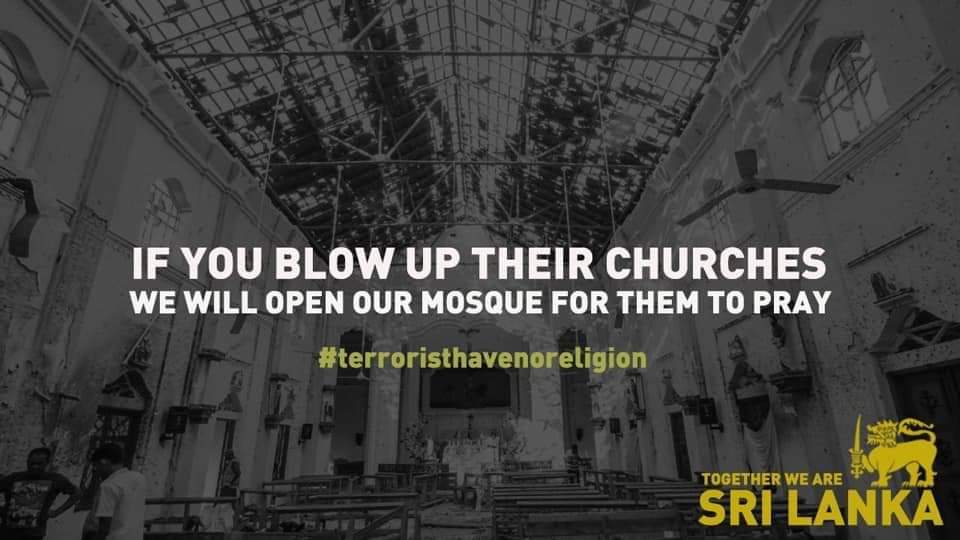 On Sunday morning Sri Lankan Christians went to their local churches for Easter services, as they have done for centuries. Easter is a special occasion for Christian families in ethnically diverse Sri Lanka. A time for families to gather to worship in their churches, and then to enjoy their festivities. Many went to their local church on Sunday morning to be followed by a traditional family breakfast at home or a local restaurant.
It would have been like any other Easter Sunday for prominent mother-daughter television duo, Shanthaa Mayadunne and Nisanga Mayadunne. Except that it wasn't.
Nisanga Mayadunne posted a family photograph on Facebook at 8.47 AM with the title "Easter breakfast with family" and had tagged the location, the Shangri-La Hotel in Colombo. Little would she have known that hitting 'post' would be among the last things she would do in this earthly abode. Minutes later a bomb exploded at the Shangri-La, killing her and her mother.
In more than a half a dozen coordinated bomb blasts on Sunday, 360 people have been confirmed dead, with the number expected to most likely rise. Among the dead are children who have lost parents and mothers & fathers whose families will never be together again.
Many could not get past the church service. A friend remembers the service is usually so long that the men sometimes go outside to get some fresh air, with women and children remaining inside – painting a vivid and harrowing picture of the children who may have been within the hall.
Perpetrators of these heinous crimes against their own faith, and against humanity have been identified as radicalised Muslim youth, claiming to be part of a hitherto little-known organisation. Community leaders claim with much pain of how authorities were alerted years ago to the criminal intent of these specific youth.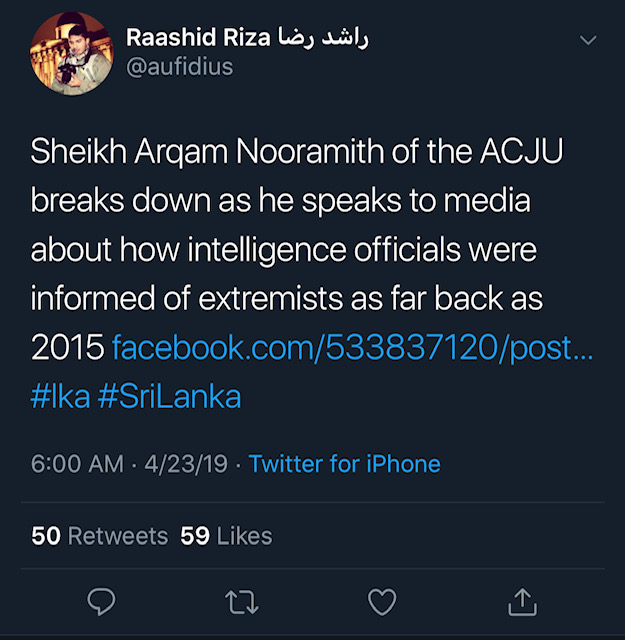 Mainstream Muslims have in fact been at the forefront not just locally, but also internationally in the fight against extremism within Muslim communities. This is why Sri Lankan Muslims are especially shaken by what has taken place when men who have stolen their identity commit acts of terror in their name. Sri Lankan Muslims and Catholics have not been in conflict in the past, adding to a palimpsest of reasons that make this attack all the more puzzling to experts. Many here are bewildered as to what strategic objective these terrorists sought to achieve.
Sri Lankan Muslims Take Lead
Sri Lankan Muslims, a numerical minority, though a well-integrated native community in Sri Lanka's colourful social fabric, seek to take lead in helping to alleviate the suffering currently plaguing our nation.
Promoting love alone will not foster good sustainable communal relationships – unless it is accompanied by tangible systemic interventions that address communal trigger points that could contribute to ethnic or religious tensions. Terror in all its forms must be tackled in due measure by law enforcement authorities.
However, showing love, empathy and kindness is as good a starting point in a national crisis as any.
Sri Lankan Muslims have called to fast tomorrow (Thursday) in solidarity with their fellow Christian and non-Christian friends who have died or are undergoing unbearable pain, trauma, and suffering.  #MyFastMySriLanka Terror at its heart seeks to divide, to create phases of grief that ferments to anger, and for this anger to unleash cycles of violence that usurps the lives of innocent men, women, and children. Instead of letting terror take its course, Sri Lankans are aspiring to come together, to not let terror have its way.
Together with my fellow Sri Lankan Muslims, I will be fasting tomorrow from dawn to dusk. I will be foregoing any food and drink during this period.
It occurs to many of us that it is unconscientious to have regular days on these painful days when we know of so many other Sri Lankans who have had their lives obliterated by the despicable atrocities committed by terrorists last Sunday. Fasting is a special act of worship done by Muslims, it is a time and state in which prayers are answered. It is a state in which it is incumbent upon us to be more charitable, with our time, warmth and whatever we could share.
I will be fasting and praying tomorrow, to ease the pain and suffering of those affected.
I will be praying for a peaceful Sri Lanka, where our children – all our children, of all faiths – can walk the streets without fear and have the freedom to worship in peace.
I will be fasting tomorrow for my Sri Lanka. I urge you to do the same.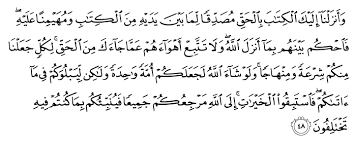 Had Allah willed, He would have made you one nation [united in religion], but [He intended] to test you in what He has given you; so race to [all that is] good. To Allah is your return all together, and He will [then] inform you concerning that over which you used to differ. Surah Maidah
My Heart Shook In New Zealand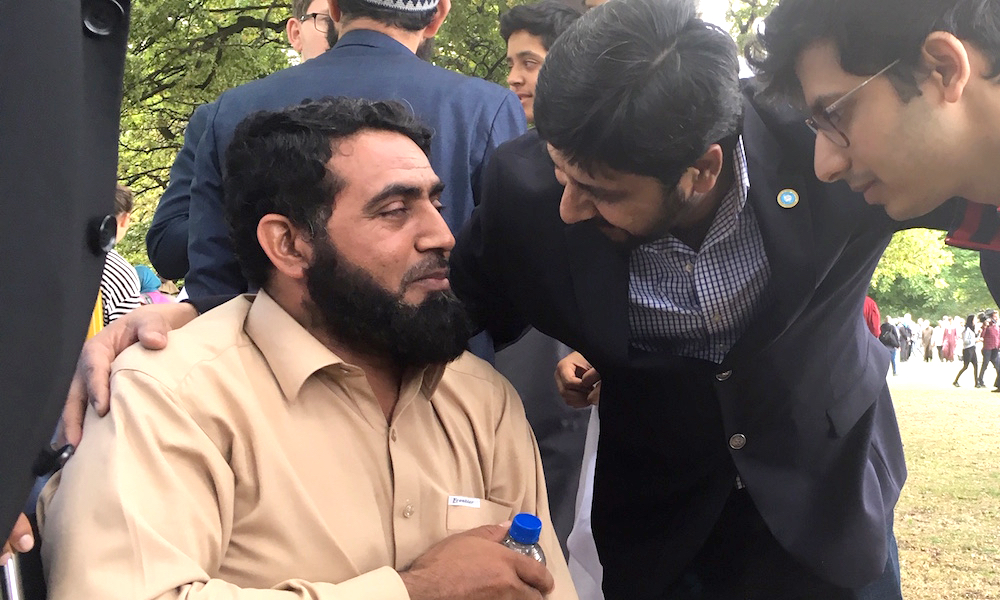 One would imagine that a person would be dead-tired and ready to crash in his bed after a grueling, 36-hour journey from Christchurch, New Zealand to Washington, DC. And I will admit, that was the way I felt. Yet somehow, all my somnolence vanished as soon as my head rested on my pillow and I closed my eyes to rest. A wave of recollections fell over me: memories of the survivors, the emotions they expressed, and their feelings of an uncertain future as they planned their lives after the loss of their family members. These feelings instantly took away all the desire to get rest and sleep. I sit upright now and begin writing this reflection of a once in a lifetime experience- a voyage of grief and hope to Aotearoa- land of the white cloud as the indigenous people call New Zealand.
With lost baggage, long flights and too many connections, at times it seemed unlikely that my eldest son Moaz and I would make it to Jumm'ah and Janazah prayers in Christchurch, New Zealand. But Allah

accepted our prayers so that we could fulfill the guidelines set by our beloved, the Prophet Muhammad

. We were able to fulfill one of the rights of a Muslim over the others; that when he is sick visit him, and when she dies, offer her funeral and be part of her burial.
Hagley Cricket Ground was supposed to have a cricket test match between Bangladesh and New Zealand that Friday. Commentators reckon that it would have been the final day of that test match. But the 22nd of March 2019, brought a much bigger crowd to this world-famous cricket ground than what anyone would have seen on the final day of that test match.
Officials and security directed us towards the VIP area as they wanted to pay respect to the guests who traveled all the way from the USA, Canada, and Australia. The environment of love, solidarity, and respect, coupled with the hijab-clad women standing in solidarity with Muslims in that enormous crowd, created an impact which cannot be articulated by mere words. Every single uniformed female officer was carrying their firearm while donning a hijab; creating a welcoming gesture in a rather somber and gloomy atmosphere.
I do not have the words to thank the leadership of Charity Australia and the Islamic Forum of Australian Muslims (IFAM) for providing us with logistics, facilitating meeting the families of the "shuhudaa" (martyrs) and arranging to visit those injured in the tragedy. ICNA, Helping Hand, and Charity Australia banners highlighting the slogans of "American Muslims stand in solidarity with Victims of Christchurch New Zealand" were the center of attention for thousands of local New Zealanders gathered in solidarity that day. Their hugs, sincere prayers and tearful eyes were the greatest gift that I want to share with everyone reading these reflections.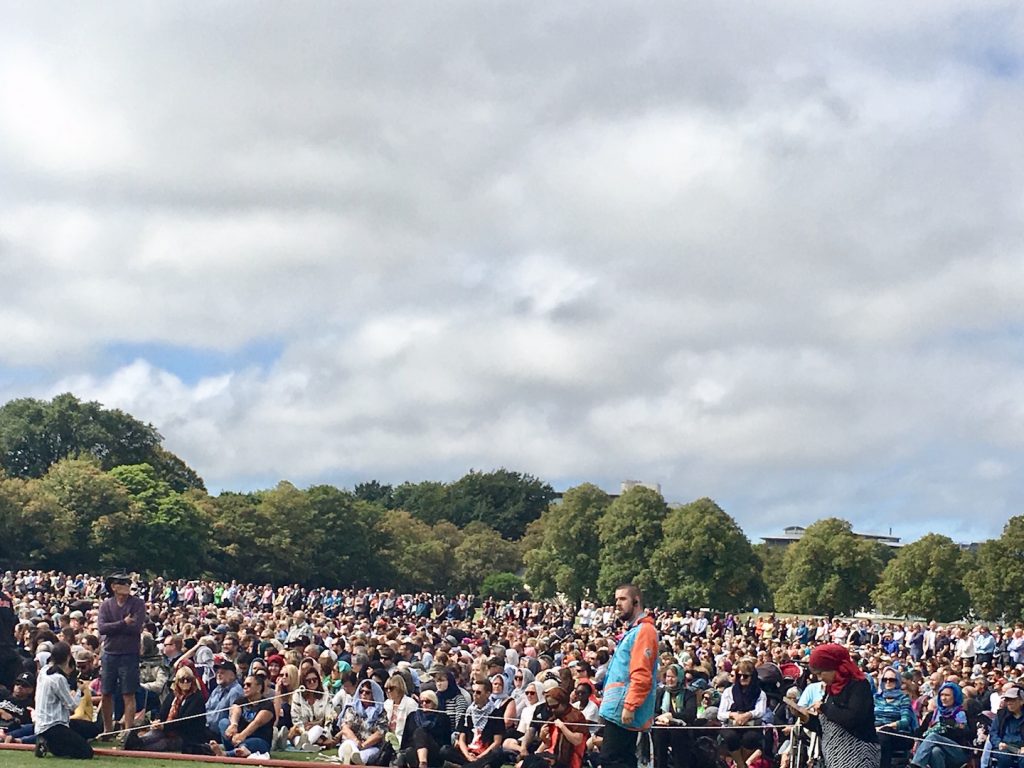 Right after Jumm'ah, the majority of the crowd attended the collective Janazah prayer of 27 of the martyrs. In those emotional moments, I met with the most courageous woman on earth, the wife of 51-year-old Shaheed Naeem and the mother of 21-year-old Talha Naeem, the two spirited souls who gave their lives to save others in the mosque that day. She is one of the strongest women I have ever met. She mentioned that her husband, Naeem, was a person who lived the life of a man of service, always ready to help others. She described Talha as an angel who was too pious and too noble to be away from Jannah too long. We heard similar feelings from Naeem's mother (grandmother of Talha) the next day when we visited their home.
The visit to the home of New Zealand's national soccer team player, Atta Elayyan (33), was not only emotional but also deeply inspiring. Atta lost his life and his father (the founder of Al-Noor Masjid) was severely injured during this brutal and hateful attack. There were several scholars from the United States, including Sheikh Omer Suleiman, in the visit to Atta's home. We could offer nothing to console the brave mother of this shaheed, who greeted us with words of courage and wisdom. We had no words to accompany the tears in our eyes, except prayers for the most noble young man who helped so many in coming close to Allah

.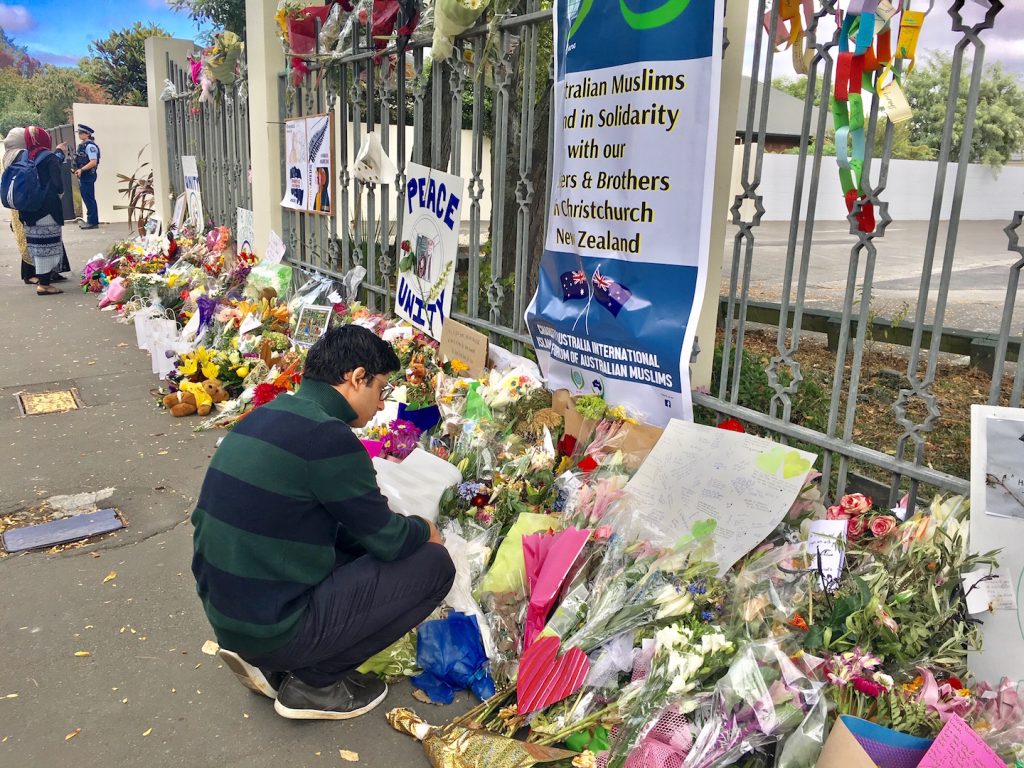 Our visits to Al-Noor Masjid and the Linwood Islamic Center were also filled with memories of love, harmony, and reverence. There was a continuous influx of hundreds of visitors, not only from New Zealand, but also from different countries including, but not limited to, Australia, Fiji, and Canada.  Thousands and thousands of flower bouquets and other items of love were left by these visitors. I was really thrilled to see that local Muslims left many Qur'ans and flyers with basic concepts of Islam and addressing the common misconceptions about Islam for those visiting. I witnessed many people visiting these mosques were taking those Qur'ans and other books with them in order to learn more about Islam.
We also met Mr. Aziz, the unsung hero who repeatedly attacked the killer with different objects including an empty gun —which the killer had discarded. The terrorist fired on Aziz multiple times, but Allah

not only saved him, but he also forced the killer to flee from the Linwood Islamic Center. Mr. Aziz was one of the reasons why the number of casualties in this mosque was only seven, compared to the 43 martyrs in Masjid Al-Noor. We also met certain individuals whom Allah

saved miraculously. A young man showed his trousers fenestrated with holes of bullets but had no signs of injury. The husband and wife who entered the premises of the mosque and only to be showered with a burst of 26 bullets while in their car, leaving it completely destroyed. Yet Allah

saved both of them while they took shelter in their vehicle.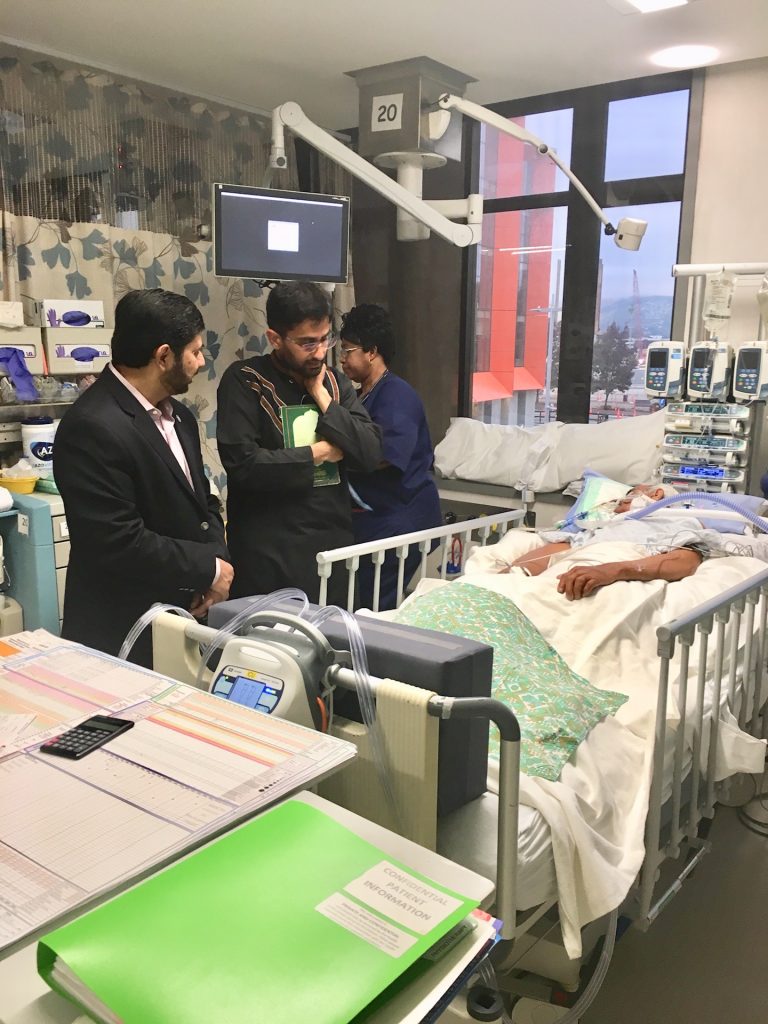 The visit to the hospital's ICU was simply heartbreaking but at the same time increased our resolve and commitment to help these families as much as possible. We encountered a Turkish brother who was in a coma for nine days and met his elderly parents, who spoke to us in the very little English they knew. The only thing which we could understand from their hushed voices was the request for du'a and tears of helplessness in their eyes. The 71-year-old father of a local Pakistani from Hafizabad, who had arrived two weeks ago to visit his son, was now on a ventilator fighting for his life. As a physician who has worked in ICU settings for a long time, I simply did not have enough medical reasoning which could have provided him any words of hope!! Similarly, I was not able to provide any glimmer of hope to a brother from Bangladesh whose wife will never be able to walk again and will be paralyzed for the rest of her life.
While I saw hope and felt resilience from every victim in that hospital, this hospital visit was brutally heartbreaking.
Lastly, I cannot imagine the pain, agony, and helplessness that the father of Mucad Ibrahim must feel after losing his 3-year-old son in his own arms. I gave him the longest hug possible, as he taught the whole world the meaning of Beautiful Sabr (Patience).
After seeing the devastation caused by the terrorist attack, and the work that must still be done to heal the community, Helping Hand USA, ICNA Relief Canada, and Charity Australia have formed an organization called the "Christchurch Family Support Network". The operations have already begun, and our team is on the ground. The first group of mental health professionals with a background in Islamic Integrated counseling are set to leave to provide victims and their families immediate psychological assistance.
We ask Allah

to accept our work, bring healing to the community, protect our brothers and sisters, and accept the shuhadaa' in the highest level of Paradise.
Dr. Mohsin Ansari is the Vice President Islamic Circle of North America (ICNA) and the Chairman of Helping Hand USA (HHRD)
Because Muslims Matter | Honoring The Martyrs Of #Christchurch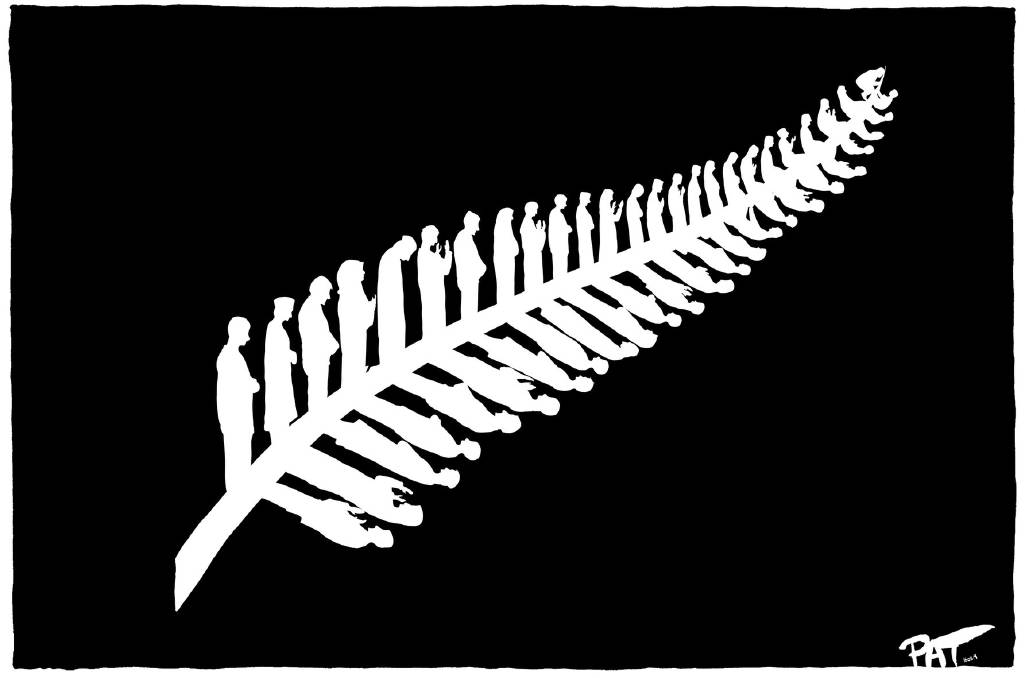 As the days go by, it is easy to forget the names and faces of the people who passed away. The horror of the act eclipses their memories. We do not want that to happen to our brothers and sisters in New Zealand.
اللهُـمِّ اغْفِـرْ لِحَيِّـنا وَمَيِّتِـنا وَشـاهِدِنا ، وَغائِبِـنا ، وَصَغيـرِنا وَكَبيـرِنا ، وَذَكَـرِنا وَأُنْثـانا. اللهُـمِّ مَنْ أَحْيَيْـتَهُ مِنّا فَأَحْيِـهِ عَلى الإِسْلام ،وَمَنْ تَوَفَّـيْتَهُ مِنّا فَتَوَفَّـهُ عَلى الإِيـمان ، اللهُـمِّ لا تَحْـرِمْنـا أَجْـرَه ، وَلا تُضِـلَّنا بَعْـدَه
Allaahum-maghfir lihayyinaa, wa mayyitinaa, wa shaahidinaa, wa ghaa'ibinaa, wa sagheerinaa wa kabeerinaa, wa thakarinaa wa 'unthaanaa..
O Allah forgive our living and our dead, those who are with us and those who are absent, our young and our old, our menfolk and our womenfolk… [7]