Navigating The Nouman Ali Khan Scandal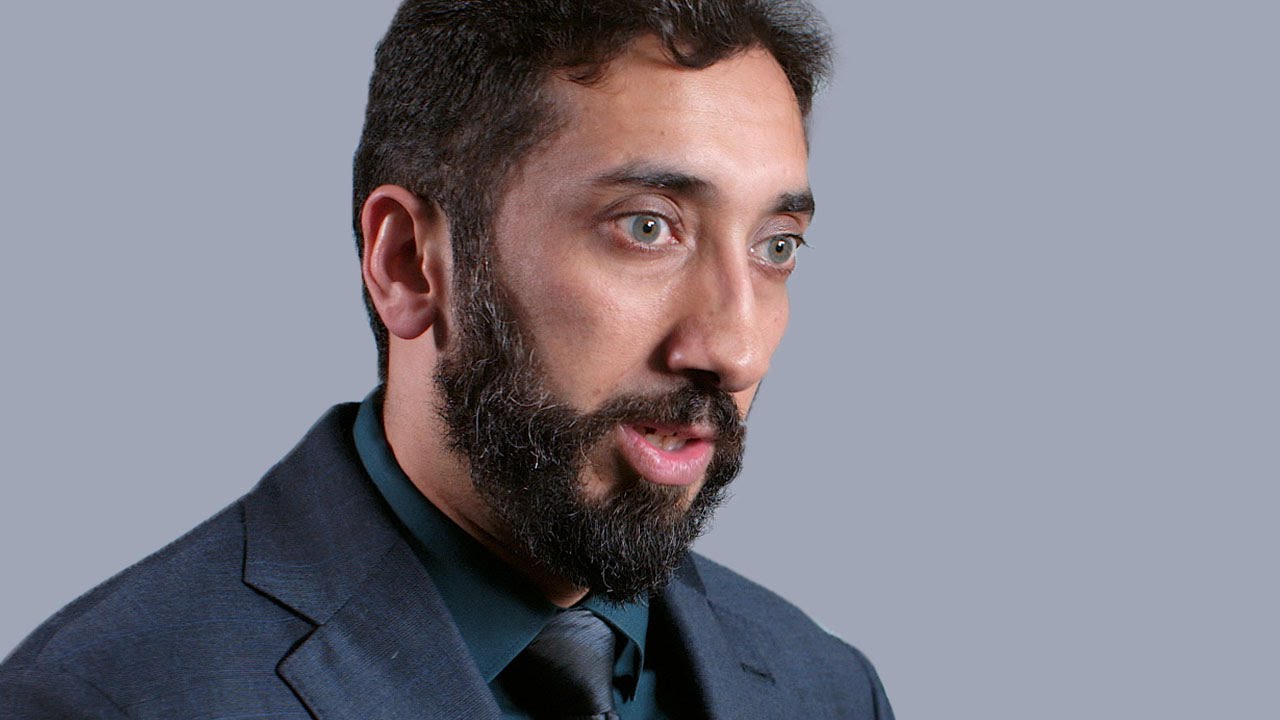 American Professor Randy Pausch famously said, "When there's an elephant in the room, introduce it." So let's talk about Nouman Ali Khan.
If you don't know who he is, don't worry. Two million followers on Facebook do, as do hundreds of thousands of students who benefitted from Bayyinah Institute, one of the most well-respected Arabic Studies institutions in the United States. Nouman Ali Khan is its founder and CEO.

This September 21st,  he was outed on Facebook by Omer Mozaffar, Muslim Chaplain at Loyola University of Chicago and Adjunct Professor of Theology. In a post that elicited over 2500 comments in less than 24 hours since its posting, Omer wrote:
"I have been working on a case regarding my friend of twenty years, Nouman Ali Khan. He confessed inappropriate interactions with various women, violating agreed-upon bounds of Islamic law. He also told lies to cover up those relationships, and filed threats of litigation against multiple parties to further hide his misconduct. I am calling on him to focus on repentance and reform. He is jeopardizing his soul and reputation; he is tampering with the Iman of so many of the students of his courses and lectures….

In a meeting with the above scholars and myself, Nouman agreed to stop public speeches until further notice, to get professional and religious counseling, and to cease all contact with those women. I had the responsibility to determine when he would be ready to speak again. I gave him an exception, allowing him to post previously recorded lectures, so long as they were not about marriage or gender matters…

This brings us to where we are today. Nouman has now broken his agreement with us and has been sending threats against each of us through his attorney." full post here
Within 24 hours of Omer's posting, Nouman Ali Khan posted a response as well. In it, he asserts his innocence and claims that enemies to himself and his family are conspiring to destroy him, and sums the situation up as follows:
"I have been divorced for nearly two years. The circumstances of my divorce are one of the most difficult and painful experiences of my life. Many rumors surrounded that event and I chose to remain silent to protect my children more than anyone else. After the passage of some time I did in fact pursue remarriage with the help of my family. Along that process I communicated with a few prospects with my family's knowledge and consent and that has been used, distorted and manipulated way out of proportion and turned into something it isn't. All such communications took place between consenting adults and there was nothing malicious or predatory about them. I fail to see how such interaction can render anyone a victim. These communications took place for a dignified purpose. Yet these are the communications that are being alleged as predatory." full post here
In a relatively short time, the Muslim world online has been split into two camps, one that believes the accusations and one that doesn't.  Both parties are shocked.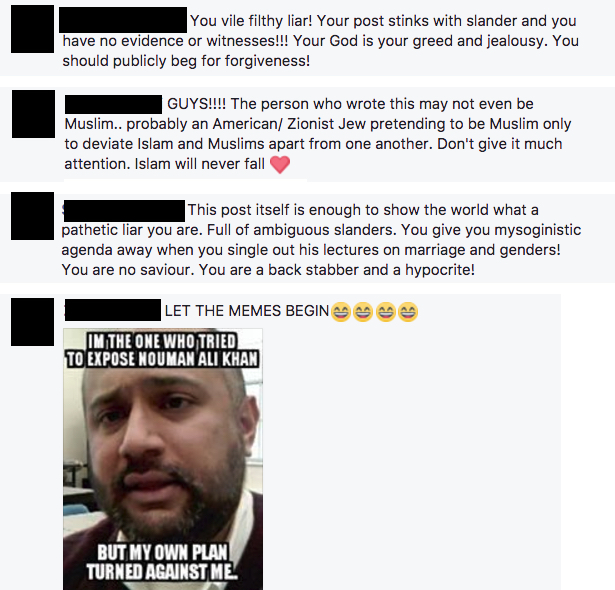 The overwhelming majority of responses to Mozaffar on Facebook – and remember, this is a story unfolding on Facebook itself – are incredulous, unconvinced, and offended on Nouman Ali Khan's behalf. Commenters on Omer Mozaffar's original post curse him, call him an apostate, and have gone so far as to suggest the accusations against Nouman are part of a Zionist conspiracy.
Angry commenters to Omer's post also suggest that he is either a fake profile, a fake person, or a fake in general – taking a stab at Nouman Ali Khan's reputation in a misguided show of Muslim jealousy.  This isn't the first time that Omer Muzaffar has made news in the Muslim community. Muzaffar was called to act as a mediator in February of 2015 when a prominent Chicago Imam -Mohammad Abdullah Saleem – was accused of sexual assault of a student as well as an employee at the Institute of Islamic Education. Saleem was its founder. He plead guilty on both charges.
Other shuyukh have spoken up in defense of Omer Muzaffar as well.
"A lot of you will be hearing about the Nouman Ali Khan case and will be in utter disbelief. It is very important to put things into perspective:

The accusations against him have been verified by multiple people, and some of them have even been confessed by him…" full post here
This is excerpted from a post by Navaid Aziz, Director of Religious Education and Social Services at the Islamic Information Society of Calgary. While Nouman Ali Khan distanced himself from Omer in his rebuttal post, Navaid Aziz is someone Nouman Ali Khan knows and loves, if Nouman Ali Khan's own words are anything to go by: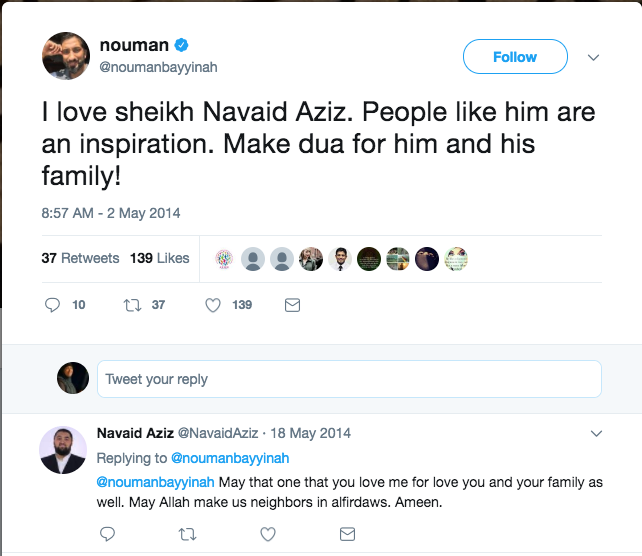 I love sheikh Navaid Aziz. People like him are an inspiration. Make dua for him and his family!
— nouman (@noumanbayyinah) May 2, 2014
To make matters grossly messier, screenshots of contact between Nouman Ali Khan and various women have been released (not by the collective of Muslim community keaders mediating this situation, ie. Omer Mozaffer), which include private conversations, shirtless selfies, and money transfer receipts.
On one hand, Nouman Ali Khan is a respected teacher whose founding and teaching at Bayyinah have been an undeniable benefit for the Muslim community world-wide. On the other hand, those accusing him are also respected and trusted in the Muslim community. If there's a third hand- given the painful complexity of the situation, what is the common Muslim supposed to do?
In a word: Nothing.
If you believe he is innocent…
If you believe Nouman Ali Khan is innocent; that the screenshots "proving" his guilt are fake, that his shirtless selfie is photoshopped, and the entire affair is a conspiracy meant to divide the ummah and undermine Muslim scholarship; then make dua for him and carry on benefitting from the good that Bayyinah provides in your life.
That is all.
Do not call people names. Do not slander other Muslim preachers for slandering your favorite Muslim preacher, because in doing so, you are committing the same sin that you're calling out. Do not invoke the wrath of Allah or curse those who you believe to be falsely accusing Nouman Ali Khan.
The Messenger of Allah, peace and blessings be upon him, said:
Verily, when a servant curses something, the curse rises to the heaven and the gates of heaven close upon it. It turns right and left and if it does not find somewhere to go, it will return to that which was cursed only if it deserved to be curse, otherwise the curse will return to the one who made it.

Source: Sunan Abu Dawud 4905, Grade: Hasan
You may feel very strongly that Nouman Ali Khan is being falsely accused, but only Allah knows if any person is truly deserving of His curse. In cursing Omer Muzaffar and those who agree with him, you are taking a serious risk. Remember- if the person you are cursing is not truly deserving of it – it will return to you instead. Be patient and fear Allah. Trust that in the end, as Allah says in Surah Isra ayah 81, that falsehood is bound to perish – whether you leave angry comments or not.

Seek refuge in Allah from Shaytaan and do not act – or update your status – in anger. Do not assume you have the right to any sort of righteous indignation on Nouman Ali Khan's behalf. You are not his ex wife or his children. You are not his colleagues at Bayyinah. You are not his friends or his family members.
In all statistical likelihood, you are at best an outsider to the affair, and your fury against those who disagree with you has zero effect on justice in Nouman Ali Khan's situation. You are neither the defense nor the prosecution. You have zero first-hand knowledge of the situation at all.
If you choose to decide that he is innocent because you love him and no amount of evidence will convince you otherwise, then take a step back and examine the religious devotion you are feeling. Remember that no one except Allah is perfect.

Do not be shocked at the suggestion that a religious personality could be accused of irreligious behavior. That sort of incredulity and disbelief is what shames real victims and discourages them from seeking justice. After all, Shaytaan goes out of his way to take down the righteous. The closer you get to Allah, the more likely Shaytaan will try to drag you down.
Do not conflate an "attack" on Nouman Ali Khan with an attack on Islam itself. Islam is with Allah, and Islam is not the sole domain of any one Muslim. Islam is not hurt by the sins of a scholar any more than it is hurt by the sins of an apostate. Don't be offended on Islam's behalf.
Do not conflate your "relationship" with Nouman Ali Khan to your relationship to Allah. Many commenters on the issue have said things like, "I could never believe this about Nouman, he guided me to Islam!" Nouman could not guide you to Islam any more than the Messenger of Allah

himself could guide his beloved uncle Abu Talib, who died a polytheist. Guidance is with Allah, not with any Da'ee or teacher.
If you wish to draw parallels to the Ifk- the incident when hypocrites in the Prophet's

community made up adulterous rumors about his wife Aisha RA, then remember this: we have his example of silent patience. Those with adab and knowledge stayed silent on the matter, and Allah caused the truth to be revealed.
Do not curse, not even those you believe to be wronging Nouman Ali Khan. Not even the Prophet

would do that to the people wronging him.  The Messenger of Allah was asked, "Messenger of Allah, invoke a curse for us against the idolators." He

replied, "I was not sent as a curser. I was sent as a mercy." [Sahih Al-Albani, Al Adab Al Mufrad 321]
Pray instead for their guidance and for the emergence of truth. Remember that because you have no first-hand knowledge of what has happened, you have no right to comment on his innocence. Or, for that matter, his guilt.
If you do believe he is guilty though…
If you do believe he is guilty of what he has been accused of, then take a moment to ask yourself this: do my own sins infuriate me as much as Nouman Ali Khan's do? If you committed zina, or cheated on your spouse, or had an inappropriate conversation with someone in privacy, did you benefit in any way from a public skewering? Or did Allah hide your sins and allow you to repent from them?
If you are convinced of his guilt and find yourself seeking out more details, answer this: are you responsible for his justice? Do you need to read every message and study every picture? Do you have any reason at all that you could give standing before Allah, to justify trawling through the public details of another Muslim's private sins to satisfy your morbid curiosity or moral outrage?
You don't.
You and the millions of Muslims – literally, millions – following this story are equally irrelevant regardless of whether you presume his guilt or not. While this story has entered the public sphere, at its heart this is still a private matter. There are faces and broken hearts behind the names. There are families who will have to pick up pieces and rebuild their lives long after your curiosity has been satiated. The purpose of Nouman's misdeeds being announced publicly – if you believe he is guilty – is to protect and prevent victims. Not to create hatred or entertainment within the Muslim community. That it is currently doing both is a poor indicator of our restraint as a community.
If you believe Nouman Ali Khan is guilty, and you cannot stand the sight of him, then don't watch his lectures. Do not, however, stop or discourage others from doing so. Allah commanded us to encourage good and forbid evil, and while you may not want to use Bayyinah books or watch Bayyinah lectures that is your choice.
The grammar books and educational lectures provided by other teachers at Bayyinah have nothing to do with Nouman Ali Khan's sins, and to discourage other people from seeking knowledge is of no benefit to the victims.
The people who work at Bayyinah are not complicit in his sins simply because they are his employees. The students at Bayyinah are not complicit in his sins because they are his students. The only parties complicit in Nouman Ali Khan's sins are those directly complicit in Nouman Ali Khan's sins.
You could argue that Bayyinah is Nouman Ali Khan's company, and you disapprove of his actions and don't want to support the business of a sinful teacher. Considering that all teachers and scholars too are human, and that all humans are sinful, you would be dead before you found that perfect person to learn from. Nouman Ali Khan's sins do not have any bearing on whether the contents of his previous lectures were correct or beneficial to you or not. If you found them inspiring before, one would hope it was due to your faith in Allah and independent of any faith in Nouman Ali Khan.
Do not lose faith in Islam. Islam is the religion of Allah, sent down by angels, transmitted by messengers and then bumbled-through by Muslims who sin night and day. Allah tells us so, literally-
 O My servants, you sin by night and by day, and I forgive all sins, so seek forgiveness of Me and I shall forgive you. full source here
Every scholar, every teacher, every person you have ever respected has sinned, is sinning, and will sin until they die. What makes a person "good" isn't lack of sin, it is the presence of repentance. 
Still though, if you believe Nouman Ali Khan is guilty, you could choose not to watch his lectures anymore.  Or you could watch them anyway knowing full well that every daee (caller) is a sinner, every last one of them, because it is equally as ridiculous to see all scholars as perfect as it is to see all scholars as angels.
A balanced view is that all scholars are all fallible. It is fitting and bittersweet then, to recognize that perhaps the only real difference between preachers you love and preachers you hate is whether their sins are private or not.
But do not use Nouman Ali Khan as an excuse to disparage all preachers. Or to disparage all male scholars. Or to disparage all men. You are as personally culpable for Nouman Ali Khan's sins as they are- which is none at all.
No one is responsible for Nouman Ali Khan's actions except Nouman Ali Khan. Allah will not question you – the uninvolved – about anyone's deeds except your own. Nouman Ali Khan – like all humans – will stand accountable on the Day of Judgment for those that he has wronged.  Imagine the irony if you stood accountable on the Day of Judgment for wronging Nouman Ali Khan instead.
Whoever does an atom's weight of good in this life will see it, and whoever does an atom's weight of evil will see it. Consider the weight of an atom, and consider whether or not you want to stand accountable before Allah for insulting Nouman Ali Khan or those who stand by him – even if you believe him to be guilty.
Do not insult Nouman Ali Khan. You have no right to insult anyone, regardless of their righteousness. You do not know whether he will repent to Allah. You do not know whether Allah will accept it. Imagine if Nouman Ali Khan had repented – imagine if the beauty, depth, and magnitude of his repentance so outweighed his sins that he became those beloved to Allah. Imagine if Allah forgave Nouman Ali Khan for his mountain of sins and wrote a mountain of blessings instead and yet you were still trashing him.
You have no way of knowing if and when Allah forgives Nouman Ali Khan, and while that is an important reminder, it's actually irrelevant to whether you are allowed to talk badly about him or not. You can argue that what your saying is true – if you believe he is guilty- but the definition of slander is to speak lies about your brother. The definition of backbiting includes any thing that your brother would not like you saying about him, even if it's true.
Don't say that Nouman Ali Khan is not your brother.
As long as he is a Muslim, he is your brother. Even if he is guilty, he is your brother. Those directly connected to him are responsible for giving him naseeha, and the very definition of naseeha is that your recommendations are for the betterment of the one you are advising. You are not his judge, jury, or executioner. You may be shocked, offended, or upset at his sins, but unless he has directly transgressed against you, you have no right to call for his humiliation or destruction.
No matter what you believe….
If the communal conversation about Nouman Ali Khan focuses no further than guilt or innocence, then we're wasting our time. Justice must be served, but we the uninvolved social media spectators, are not in the place to serve it. It is the role of the mediators, the community leaders, and those in positions of authority and actual evidence to do so.
So what should we be doing instead?
Seeing as how ignoring problems is zero percent effective in making them go away, now is the time to have important discussions about many, many things.
What are we doing to prevent emotional and sexual abuse in our communities?
How can we help protect our prominent Imams from situations that could lead to sins like these?
How does our community respond to the victims of cases like these, what support structures do we have in place?
How should the Muslim community hold its leadership accountable for abuses of position or power?
What, if anything, can we learn from this experience as a community?
And most importantly of all – how can we rebuild from this experience in a way that leaves us better prepared and less likely to freak out on a global level. In the things that sadden, shock, or throw the ummah for a loop, any situation that brings us closer to Allah through our response is good, and any situation that takes us farther from Allah – even when it makes us happy- is a failure.
May Allah have mercy on all of us, I seek refuge in Allah from Shaytan and from trolls, who are normal Muslim people that shaytaan tricks into letter their anger lead them. May Allah protect us all, and strengthen us as a community and unite us in our desire to please Allah and work for justice no matter the cost or consequence.
How Do Muslims Plan for Disability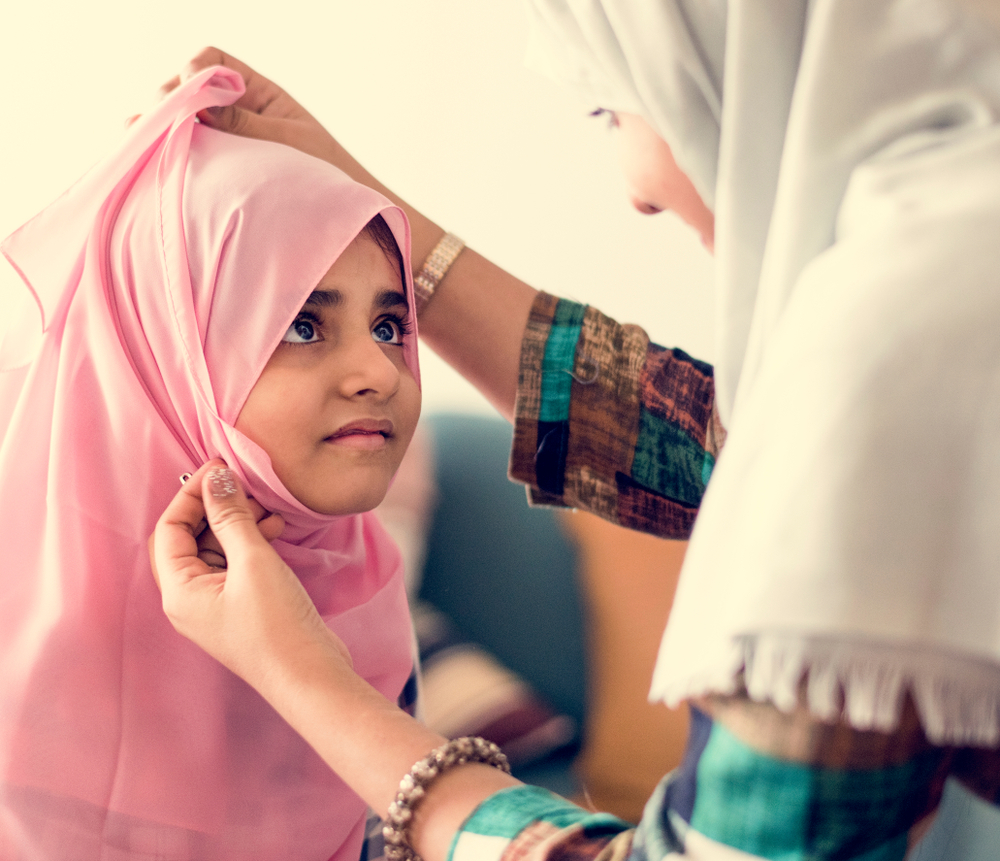 Families with children with disability have an extraordinary set of challenges and blessings.  Disability (or special needs) is a broad term.
Many disabilities will prevent what we often think of as "normal."  It may hinder or prevent educational opportunities, and employment. Many people with "special needs" can get educated, get married and live long and productive lives.  The problem for many parents of younger children with special needs is that they typically have no certainty about their children's future needs. Even if the situation looks dire, it may not stay that way.  

How do parents plan for a world where they may not be around to see how things will end up for their special needs children?  What can they do to help their children in a way that does not violate Islamic Inheritance rules?
Certain types of disability, especially the loss of executive decision-making ability, could also happen well into adulthood.  This can be a threat to a family's wealth and be the cause of internal conflicts. This is the kind of thing every adult needs to think about before it happens.  
The Problem
The issues are not just that parents believe their special needs child will need more inheritance than other children. Muslim parents usually don't think that. Some parents don't want their special needs child to get any inheritance at all.  Not because of any ill-will against their special needs child; just the opposite, but because they are afraid inheritance will result in sabotaging their child's needs-based government benefits.    
Many, perhaps most special needs children do not have any use for needs-based benefits (benefits for the poor).  But many do, or many parents might figure that it is a distinct possibility. This article is a brief explanation of some of the options available for parents of special needs children.  It won't go over every option, but rather those that are usually incorporated as part of any Islamic Estate Planning.
Please Stand By
Example:  Salma has three daughters and two sons.  One of her children, Khalida, 3, has Down Syndrome.  At this point, Salma knows that raising Khalida is going to be an immense challenge for herself, her husband Rashid and all the older siblings.  What she does not know, however, is what specific care Khalida is going to need through her life or how her disability will continue to be relevant. She does not know a lot about Khalida's future marriage prospects, ability to be employed and be independent, though obviously like any parent she has nothing but positive hopes for her child's life.   
In the event of her death, Salma wants to make sure her daughter gets her Islamic right to inheritance.  However, if Khalida needs public benefits, Salma does not want her daughter disqualified because she has her own money.
Her solution is something called a "stand-by special needs trust." This type of trust is done in conjunction with an Islamic Inheritance Plan and is typically part of a living trust, though it could also be a trust drafted into the last will.  I will describe more about what a special needs trust is below. For Salma, she is the Trustee of her trust. After she dies, she names her husband (or someone else) the successor Trustee. The trust is drafted to prevent it from becoming an "available resource" used to determine eligibility for public benefits such as Supplemental Security Income (SSI), Medicaid and other benefits that go with that.
If it turns out that Salma passes away when Khalida is 5, and her assets are held in trust for her until she is 18 and her Trustee determines she does not need a special needs trust, she will get her inheritance precisely like everyone else based on their Islamic right.  If she does need benefits, the Trustee will only make distributions to Khalida that would not harm her eligibility.
This way, there is no need to deny Khalida her inheritance because of her disability, and she is also making sure giving her daughter inheritance would not harm her daughter's healthcare or other necessary support.  
The Shape of Special Needs Trusts
A stand-alone Special needs trusts, which is sometimes called a "supplemental needs trust" the kind without the "stand-by" variation I described above, are a standard device for families that have children with special needs. A trust is a property ownership device. A Grantor gives the property to a Trustee, who manages the property for the benefit of a beneficiary. In a revocable living trust, the Grantor, Trustee, and Beneficiary are typically the same person.  
When the trust is irrevocable, the Grantor, Trustee, and Beneficiary may all be different people. In a special needs trust, the person with a disability is the beneficiary. Sometimes, the person with a disability is also the Grantor, the person who created the trust.  This might happen if there is a settlement from a lawsuit for example and the person with special needs wants it to be paid to the trust.  
In many if not most cases, the goal may not be to protect the beneficiary's ability to get public benefits at all. Many people with a disability don't get special government benefits.  But they do want to protect the beneficiaries from having to manage the assets. Some people are just more susceptible to abuse.
The structure of the arrangement typically reflects the complexity of the family, the desire of siblings and extended family to continue to be involved in the care and attending to the needs of the person with a disability, even if they are not the person directly writing checks.   
Example: Care for Zayna
Example: Zayna is a 24-year-old woman with limited ability to communicate, take care of her needs and requires 24-hour care.  Zayna has three healthy siblings, many aunts, uncles, and cousins. Her father, Elias, earns about $70,000 per year and is divorced. Zayna's mother Sameena cannot contribute, as she is on social security disability. However, Zayna's adult brother and sisters, brother in laws, sister in law and several aunts, uncles want to help Zayna meet her needs E.lyas creates a third party special needs trust that would ensure Zayna has what she needs in the years to come.
Zayna receives need-based public benefits that are vital to her in living with her various disabilities and her struggle to gain increasing independence, knowledge and dignity.  So the trust needs to be set up and professionally administered to make sure that when Zayna gets any benefit from her trust, it does not end up disqualifying her ability to get any needs-based benefit.  
Contributions to the special needs trust will not go against Islamic Inheritance rules unless made after the death of the donor.
If Zayna dies, her assets from the special needs trust will be distributed based on the Islamic rules of inheritance as it applies to her.
When disability planning is not about Public Benefits
Perhaps most families with special needs children do not use any needs-based public assistance.  They are still concerned about special needs and planning for it.
Example:  Khadija, 16, is on the autism spectrum. For those familiar with the autism spectrum, that could mean a lot of things.  For her parents, Sarah and Yacoob, other than certain habits that are harmless and easy to get used to, it means Khadija is very trusting of people. Otherwise, she does well in school, and her parents don't think she needs way more help than her siblings and she has just as good a chance of leading a healthy and productive life as any 16-year-old girl.  
The downside of being too trusting is that the outside world can exploit her.  If she ends up getting inheritance or gifts, she may lose it. The parents decide that when she gets her inheritance, it will be in a trust that would continue through her life.  There will be a trustee who will make sure she has what she needs from her trust, but that nobody can exploit her.
In some ways, what Khadija's parents Sarah and Yacoob are doing is not so different from what parents might do if they have a child with a substance abuse problem.  They want to give their child her rights, but they don't want to allow for exploitation and abuse.
Considering your own needs
There are many people who are easy marks for scammers, yet you would be unlikely to know this unless you are either a close friend or family member, or a scammer yourself.  While this often happens to the elderly, it can happen at just about any age. Everyone should consider developing an "incapacity plan" to preserve their wealth even if they lose their executive decision-making ability.   
There is this process in state courts known as "conservatorship." Indeed, entire courtrooms dedicate themselves to conservatorships and other mental health-related issues.  It is a legal process that causes an individual to lose their financial or personal freedom because a court has essentially declared them not competent to handle their affairs. Conservatorships are a public process.  They can cause a lot of pain embarrassment and internal family strife.
One of the benefits of a well-drafted living trust is to protect privacy and dignity during difficult times.
Example: Haris Investing in Cambodian Rice Farms
Haris, 63, was eating lunch at a diner.  In the waiting area, he became fast friends with Mellissa; a thirty-something woman who was interested in talking about Haris's grandchildren.  The conversation then turned Melissa and her desire to start a business selling long distance calling cards. Haris was fascinated by this and thought it made good business sense. Haris gave Mellissa $20,000.00. The two exchanged numbers. The next day, Mellissa's number was disconnected.
Haris's wife, Julie became alarmed by this.  It was out of character for her husband to just fork over $20,000 to anyone on the spur of the moment.  What was worse is that the business failed immediately.  
Three months later,  Haris meets Mellissa at the diner again.  She then convinces Haris to invest $50,000 in a Cambodian rice farm, which he does right away.   His wife Julie was pretty upset.
How living trusts helps
As it happened though, Haris, a few years before, created a living trust.  It has a provision that includes incapacity planning. There are two essential parts to this:  The first is a system to decide if someone has lost their executive decision-making ability. The second is to have a successor Trustee to look over the estate when the individual has lost this capacity.  This question is about Haris's fundamental freedom: his ability to spend his own money.
If you asked Haris, he would say nothing is wrong with him.  He looks and sounds excellent. Tells the best dad jokes. He goes to the gym five times a week and can probably beat you at arm wrestling. Haris made some financial mistakes. Everyone makes mistakes.
Julie, and his adult children Haroon, Kulsum, Abdullah, and Rasheeda are not so sure it's just a mistake.  The living trust created a "disability panel." This panel gets to vote, privately, in if Haris should continue to act as Trustee of his own money.  If they vote that he should not manage his own money, his wife does it for him.
The family has a way to decide an important and sensitive issue while maintaining Haris' dignity, privacy and wealth.   Haris's friends don't know anything about long distance calling cards or a Cambodian rice farm; they don't know he lost his ability to act as Trustee of his trust.  Indeed the rest of the world is oblivious to all of this.
Planning for everyone
Islamic inheritance is fard and every Muslim should endeavor to incorporate it into their lives.  As it happens it is an obligation Muslims, at least those in the United States, routinely ignore or deal with inadequately.  However, there is more to planning than just what shares go to whom after death. Every family needs to create a system. There may or may not be problems with children or even with yourself (other than death, which will happen), but you should do whatever you can to protect your family's wealth and dignity while also fulfilling your obligations to both yourself and your family.
Should Spiritual Leaders Who Violate Our Trust Be Forgiven?
Some people want to move past the indiscretions of community leaders quickly as though they never occurred while others wish to permanently blacklist them. This article examines a third option between the two that can be a win-win for the fallen leader, the victims, and the community.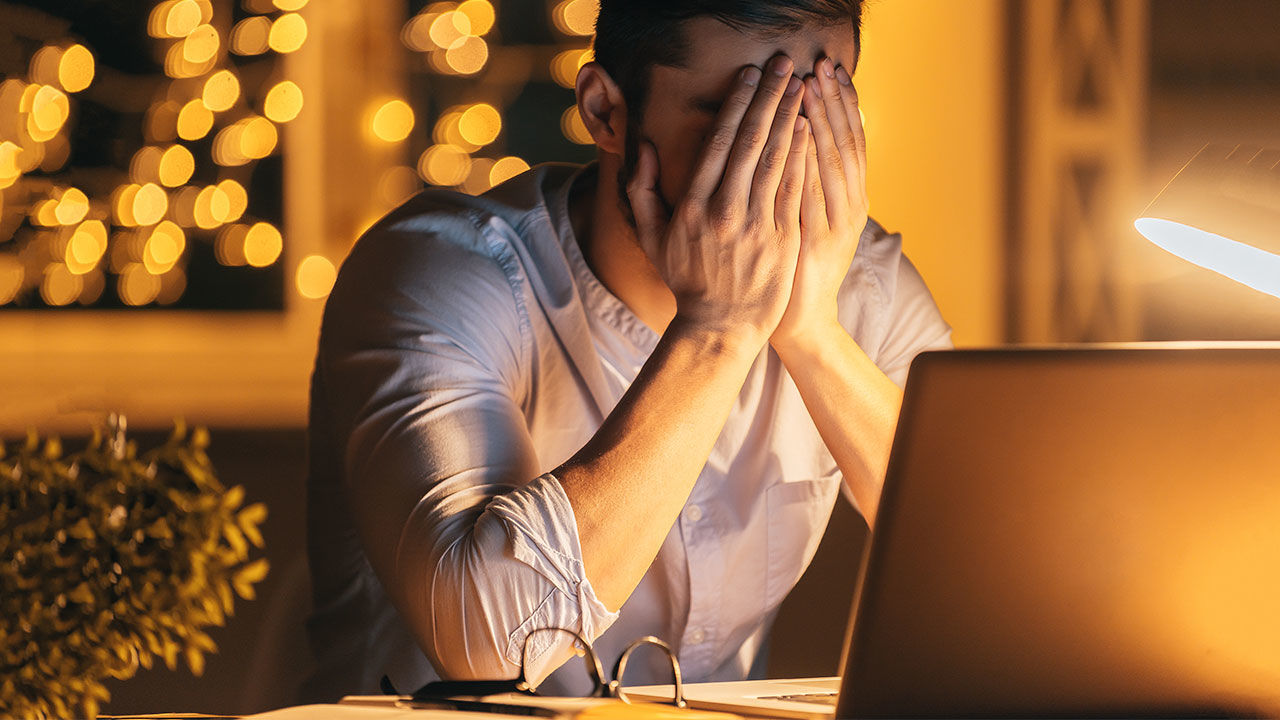 In the past couple of years, a number of simmering scandals among spiritual leaders became public knowledge and the subject of vigorous and often painful public debate.  As someone who has worked in the community dawah space the past 15 years, often acting as a bridge between past and present microcelebrity as well as non-celeb teachers to the community at large, one question I've been asked repeatedly – should community leaders who violate our trust be forgiven?  I'm often asked by people who aren't fanboys / fangirls taken by microcelebrity dawah culture or wearing spiritual blinders for non-celebs, and often don't even understand what has occurred.  Below I share answers I have heard as well as what I believe is fair and pragmatic in many (not all) situations.
Answer #1:  Yes, We Must Forgive Them
One group of people argue we should completely forgive them. No one is perfect, everyone is human and makes mistakes.  If we assume the mistake was truly made, then we should also forgive them and move on. Our faith is replete with statements about Allah's Mercy, and if we want His Mercy, surely we should also give it to others. Oftentimes, members who fall into this group don't actually believe the person in question is at fault and are trying to convince others either on the fence or against the individual to let it go. Of course, there are some who believe the violation occurred and not think it a big deal, while others may think the violation indeed was a big deal, and should still be forgiven. I can agree with some aspects of this, but not completely.

Answer #2:  No, They Should Never Be Forgiven
Another group believes that once a person commits a violation of trust, they are no longer to be trusted again. They should leave their positions and be ostracized from the community permanently. They are to be tarred and feathered and made an example of for life.  Members within this group oftentimes don't need to wait for evidence to arrive at any conclusion – they were judge, jury, and executioner well before there was a trial.  Not all members are like this, of course – some waited for evidence and then reached their conclusions that the gravity of the charges was too much and therefore the person should never be forgiven.
Answer #3:  It Depends – Forgive Them If They Take Ownership and Make Amends
In my view, the problem with the first group is they don't often see that the person did anything wrong, or if they did, it's trivial relative to the khayr, the good and benefit they bring to the community. They keep citing that Allah is forgiving, so we should forgive automatically, but in their haste, they forget that part of the process of making restitution is first sincerely regretting what one has done.
To sincerely regret, one must also move out of denial and into acceptance that they made a mistake. Once one admits failure, they can then ask to be forgiven, and then the aggrieved party is in a position to grant it. The community forgiving and re-integrating a person who refuses to take responsibility for their wrongdoing does neither them, their victims, nor the community any good. We continue to distrust the person and they continue to believe they can get away with whatever they wish because they are "special". Victims fear community integration, everyone becomes cynical about religion, and the cause of calling people to become better worshippers of Allah is harmed.
On the flip side, the second group is far too extreme in their view of justice. To ostracize that person and leave them no path of return means they have no means to redeem themselves, and de facto their families are casualties who must deal with the fallout of being pushed out of the community. I agree that none of us are perfect, and we all often make egregious mistakes. In my own experience, there are many instances where activists who advocate publicly for better are often involved privately in worse than those they go after.
That being the case, there is no person that can't be forgiven, and I would say we shouldn't leave aside this possibility in our dealings with those who fail us just as we expect it when we ourselves fall short, sometimes seriously so. I would add that we would lose the skills and talent of that person – if we believe in allowing people with criminal histories back into the general population and providing them with opportunities to become productive, reformed citizens, I don't see why we wouldn't offer the same to our community and religious leaders.
The key I believe is in following a process which includes the following for the individual:
Taking

Responsibility

:  They own responsibility for the mistake and acknowledge it was made.  No amount of denial, minimization, and spin will suffice.
Make Restitution:  First and foremost, they apologize and make amends as best they can with the victims.  If the issue went public, then they should apologize to those they were serving as a leader for their mistake as well. This includes handling financial compensation.
Remediating Oneself:  Enroll in counseling, therapy, mentorship, and / or group support programs to help them overcome their issues.
Being Held Accountable:  Work with others on concrete milestones of both behavior and programs that demonstrate their commitment to change.  Be able to show the community that they take reformation seriously and are committed to coming out of their mistake a better person, one who can even advise others of the mistake and how not to repeat it.
As someone who has worked in dawah and supported the ascension of numerous modern-day microcelebrity spiritual scholars and teachers, I and others like me act as a bridge between them and the community.  I do not speak for all of them, certainly, but I know that any leader who tries to re-integrate into the community without taking responsibility will continue to find that many will not support them. Most, in this case, feel a sacred duty to oppose their elephant-in-the-room integration to protect the community at large.
Likewise, I know that many like myself would be willing to overlook and forgive such individuals if they took responsibility for their behavior and demonstrated they were taking concrete steps to make amends for their mistakes.  The month of Ramadan is upon us, and sometimes one just has to rip the band-aid off, go through the process of feeling the pain of scrutiny for owning up, and then moving forward to forgiveness.  I won't promise it's easy or that everyone will change, but I can at least say many of us would have an easier time accepting individuals back into the community.
What's your view on these situations?
Cleaning Out Our Own Closets This Ramadan: Bigotry
Why Eliminating Hate Begins with Us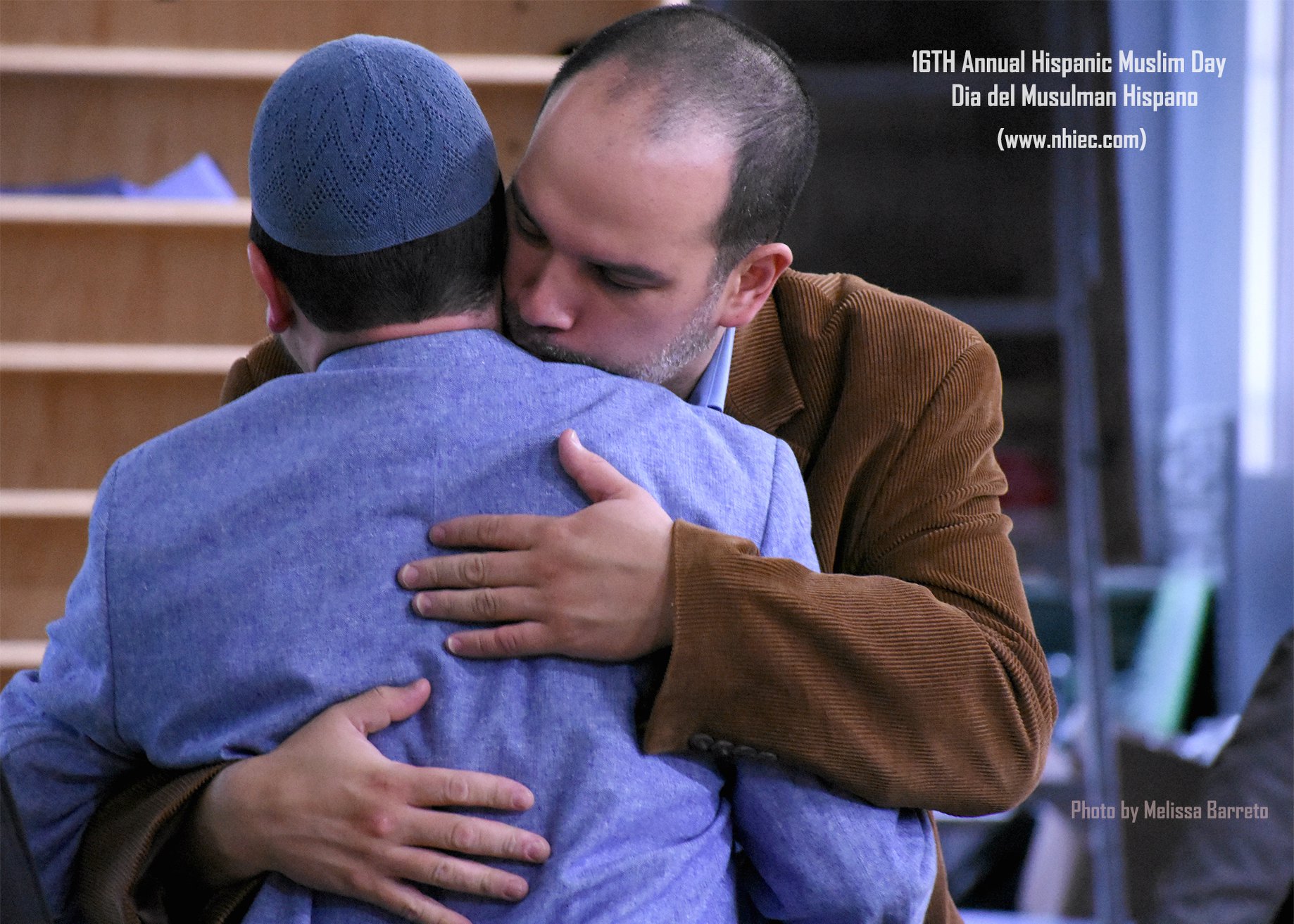 Before Muslims take a stand against xenophobia in the U.S., we really need to eradicate it from our own community.
There. I said it.

There is no nice way to put it. Muslims can be very intolerant of those outside their circles, particularly our Latino neighbors. How do I know? I am a Latina who came into Islam almost two decades ago, and I have experienced my fair share of stereotypes, prejudice, and just outright ignorance coming from my very own Muslim brethren.
And I am not alone.
My own family and Latino Muslim friends have also dealt with their daily doses of bigotry. Most of the time, it is not ill-intentioned, however, the fact that our community is so out of touch with Latin Americans says a lot about why we are often at the receiving end of discrimination and hate.
"Indeed, Allah will not change the condition of a people until they change what is in themselves…" (The Qur'an, 13:11)
Recently, Fox News came under fire for airing a graphic that stated, "Trump cuts aid to 3 Mexican countries," on their show, "Fox and Friends Weekend." The network apologized for the embarrassing error, but not before criticism of their geographical mishap went viral on social media. The reactions were of disbelief, humor, and repugnance for the controversial news channel that has become the archenemy of everything Islamic. People flooded the internet with memes, tweets, and comments regarding the ridiculous headline, Muslims included. American Muslim leaders quickly released statements condemning the lack of knowledge about the difference between Mexico and the nations of Central and South America.
Ironically, however, just about two months ago, my eldest son wrote an essay about the bullying he experienced in an Islamic school, which included insults about him being Mexican and "eating tacos" even though he is half Ecuadorian (South America) and Puerto Rican (Caribbean), not Mexican. I include the regions in parentheses because, in fact, many Muslims are just as geographically-challenged as the staff at Fox News. When a group of Hispanic workers came to replace the windows at his former school, my son approached them and spoke to them in Spanish as a means of dawah – teaching them that there are Latin American and Spanish-speaking Muslims. His classmates immediately taunted him saying that the laborers were "his cousins." Although my son tried countless times to explain to his peers the difference between his origins and Mexico and defended both, they continued to mock Latinos.
On another occasion, a local masjid invited a famous Imam from the Midwest to speak about a topic. My family and I attended the event because we were fans of the shaykh and admired his work. A few minutes into his talk, he made a derogatory remark about Mexicans, and then added with a smile, "I hope there aren't any Mexicans in the room!" A gentleman from the community stood up behind my husband, who is Ecuadorian, and pointed at him saying, "We have one right here!" Some people chuckled as his face turned red. The shaykh apologized for his comment and quickly moved on. We looked at each other and rolled our eyes. This was nothing new.
Once, I visited a Pakistani sister, and as I enjoyed a cup of warm chai on her patio, she turned to me earnestly and said, "You and (another Latina Muslim) are the only educated Hispanics I know." She then asked me why Latinos did not have "goals and ambitions" because supposedly, all the Hispanic students in her daughters' school only aspired to work in their parents' businesses as laborers. She went on to tell me about her Hispanic maid's broken family and how unfortunate it was that they had no guidance or moral values. I was shocked by her assumptions, but I realized that this was the sentiment of a lot of Muslims who simply do not know a thing about our culture or have not taken the time to really get to know us.
When I accepted Islam back in 2000, I never expected to hear some of the narrow-minded comments and questions I received from those people who had become my brothers and sisters in faith. After all, I came to Islam through the help of an Egyptian family, I declared the Shahada for the first time in the presence of people from Pakistan, and I was embraced in the masjid by worshippers from places like Somalia, Sudan, Palestine, India, Turkey, and Afghanistan. A white American convert gifted me with my first Ramadan guide and an Indian sister supported me during my first fast. I expected to be treated equally by everyone because Islam was for everyone and Muslims have been hearing this their whole lives and they preach it incessantly. I do the same now. As a Muslim Latina, I tell my people that Islam is open to all and that racism, colorism, classism, and xenophobia have no place in Islam.
Nevertheless, it did not take long for me to hear some very ugly things from my new multi-cultural community. I was questioned about whether I was a virgin or not by well-meaning sisters who wanted to find me a Muslim husband. My faith was scrutinized when my friend's family introduced me to an imam who doubted I had converted on my own, without the persuasion of a Muslim boyfriend or husband. I was pressured about changing my name because it was not "Islamic" enough. I was lectured about things that I had already learned because foreign-born Muslims assumed I had no knowledge. I was even told I could not be a Muslim because I was Puerto Rican; that I was too "out there," too loud, or that my people were not morally upright.
I know about good practicing Muslim men who have been turned down for marriage because they are Hispanic. On the other hand, I have seen sisters taken for marriage by immigrant Muslims to achieve citizenship status and later abandoned, despite having children. I have been approached by Muslim men searching for their "J-Lo," who want to marry a "hot" Latina because of the disgusting exploitation of Latina women they have been exposed to from television, movies, and music videos. I have made the mistake of introducing this type of person to one of my sisters and witnessed their disappointment because she did not fit the image of the fantasy girl they expected. I have felt the heartbreak of my sister who was turned down for not living up to those unrealistic expectations, and who continues to wait for a Muslim man who will honor her as she deserves. An older "aunty" once said to my face that she would never let her children marry a Latino/a.
I met a brother named José who was told that he had to change his un-Islamic Spanish name so that he would be better received in the Muslim community, even though his name, when translated to Arabic, is Yusuf! I have been asked if I know any Hispanic who could work at a Muslim's store for less than minimum wage 12 hours a day or a "Spanish lady" who can clean a Muslim's house for cheap. I have spoken to Latino men and women who work at masajid doing landscaping or janitorial services who have never heard anything about Islam. When I approached the Muslim groundskeeper at one of these mosques with Spanish literature to give them, he looked at me bewildered and said, "Oh, they are just contractors," as if they did not deserve to learn about our faith! I have heard that the child of a Latina convert was expelled and banned from returning to an Islamic school for making a mistake, once. I have been told about fellow Hispanics who dislike going to the masjid because they feel rejected and, worse of all, some of them have even left Islam altogether.
A few weeks ago, news was released about the sentencing of Darwin Martinez Torres, who viciously raped and murdered Northern Virginia teen, Nabra Hassanen during Ramadan in June 2017. The story made national headlines and left her family and the entire Muslim community devastated. Although the sentence of eight life terms in prison for the killer provided some closure to the public, the senseless and heinous act still leaves sentiments of anger and frustration in the hearts of those who loved Nabra Hassanen. Muslims began sharing the news on social media and soon, remarks about the murderer's Central American origin flooded the comments sections. One said, "An illegal immigrant from El Salvador will now spend the rest of his life in a U.S. prison where all his needs will be met, and his rights will be protected… When we attack efforts to stop illegal immigration and to deal with the criminals coming across the border every day, remember Sr. Nabra… we should all be united in supporting common-sense measures to ensure that our sisters do not walk in fear of attacks. (And no, this is not an 'isolated case'…)."
Although I was just as relieved about receiving the news that there was finally justice for our young martyred sister, I was saddened to see that the anti-Hispanic immigrant sentiment within our own community was exposed: To assume that Latino immigrants are "criminals coming across the border every day" is to echo the very words that came from current US President Donald Trump's mouth about immigrants prior to his election to the presidency. To blame all Latinos for a crime committed against one and claim it is not an "isolated case" is to do the same thing that Fox News and anti-Muslim bigots do when they blame all Muslims for a terror attack.
Why are we guilty of the same behavior that we loathe?
I do not like to air out our dirty laundry. I have always felt that it is counterproductive for our collective dawah efforts. It is embarrassing and shameful that we, who claim to be so tolerant and peaceful, still suffer from the very attitudes for which we blame others. As I write this piece, I have been sharing my thoughts with my close friend, a Pakistani-American, who agreed with me and said, "Just like a recovering alcoholic, our first step is to admit there is a problem." We cannot demand our civil rights and expect to be treated with dignity while we mistreat another minority group, and this includes Latinos and also other indigenous Muslims like Black Americans and Native Americans. I say this, not just for converts, but for my loud and proud, half Puerto Rican and half Ecuadorian children and nephews and others like them who were born Muslims: we need a community that welcomes all of us.
Latinos and Muslims share countless cultural similarities. Our paths are the same. Our history is intertwined, whether we know it or not; and if you don't know it, then it is time you do your research. How can we visit Islamic Spain and North Africa and marvel at its magnificence, and travel to the Caribbean for vacation and notice the Andalusian architecture present in the colonial era structures, yet choose to ignore our shared past? How can you be proud of Mansa Musa, and not know that it is said his brother sailed with other Malians to the Americas prior to Columbus, making contact with the indigenous people of South America (even before it was "America")? How can you turn your back on people from the countries which sheltered thousands of Muslim immigrants from places like Palestine, Lebanon, Syria, and Turkey after the collapse of the Uthmani Empire, many of which carry that blood in their veins?
We need to do a better job of reaching out and getting to know our neighbors. In recent years, the Muslim ban has brought Latinos and Muslims together in solidarity to oppose discriminatory immigration laws. The time is now to establish lasting partnerships.
Use this Ramadan to reach out to the Latino community; host a Spanish open house or an interfaith/intercultural community iftar. Reach out to Latino Muslims in your area for support, or to organizations like ICNA's WhyIslam (Por qué Islam) for Spanish materials. A language barrier is not an issue when there are plenty of resources available in the Spanish language, and we have the universal language that has been declared a charity by our Prophet, Muhammad

, and that is a welcoming smile.
There is no excuse.