Apology without Apologetics | Jonathan Brown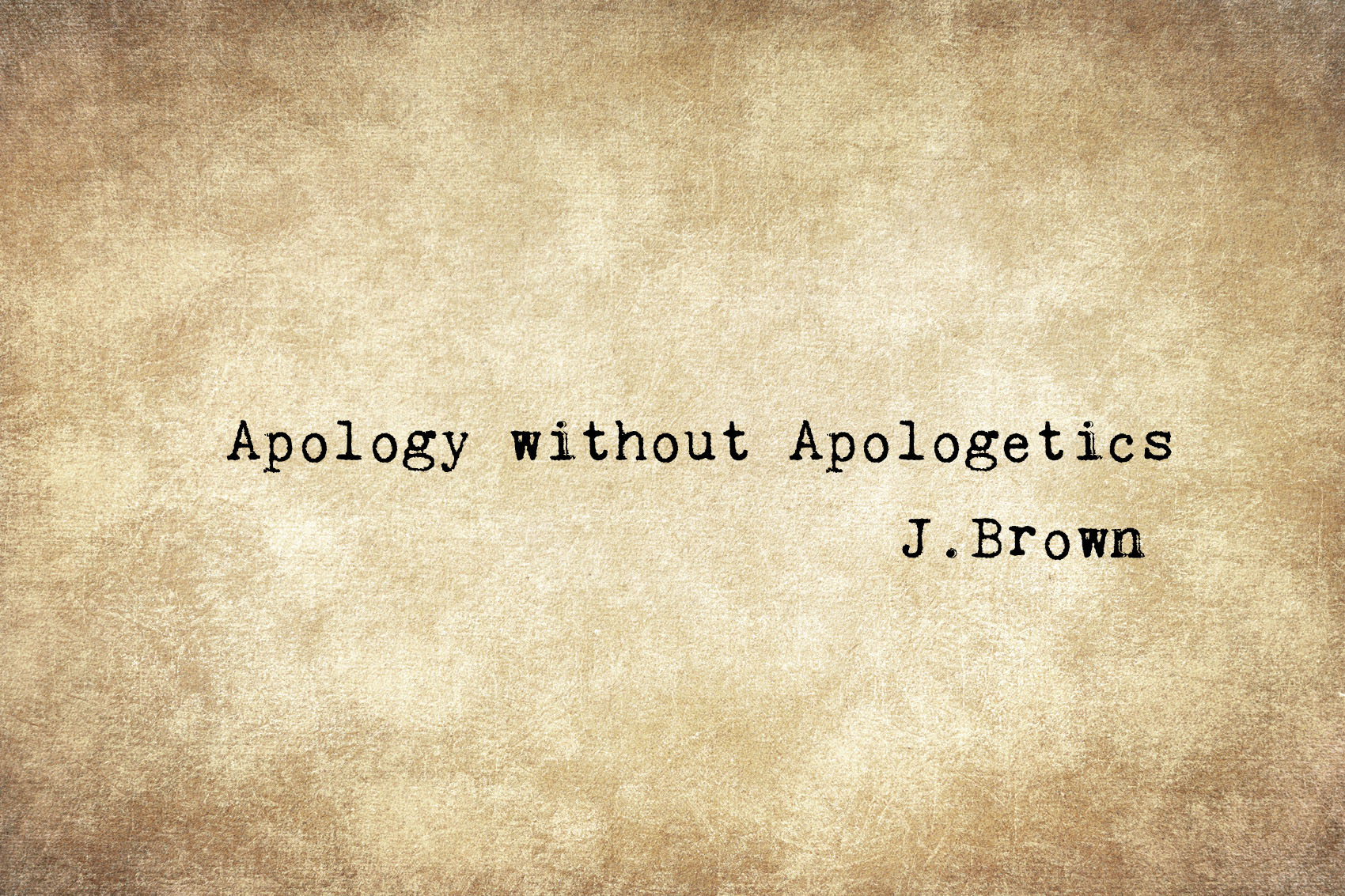 So I've learned a few things over the last couple of days. First, I want to apologize to those hurt by how I addressed the topic of slavery in Islam. I should listen to my wife more.  She always tells me that I talk about things too much like a scholar and not enough like a normal person. Topics like slavery are felt with the heart; I shouldn't talk about them like a disembodied brain (especially when my body and experiences don't reflect the subject). Second, when Alt-Right folk bombard you and your family with death threats and rape threats, it takes a toll on the body and spirit. Third, the support I've received has been incredible. The calls I got, the messages, the support offered to my family, the advice, they came from all over. In particular, the support I've received from academics around the world has literally brought tears to my eyes. Fourth, it's been amazing to see the Muslim community stepping up to the plate in these tough times. We as a community are really shaping up to meet the challenges ahead. We know our enemy, we know our allies, and we have each other's backs. We can disagree, sometimes bitterly, amongst ourselves, but we close ranks when one of us is attacked. I would go to the mat for any of you, even those I've fought with. No one benefits when the forces of bigotry, Islamophobia or unchecked state power win.
A few important points I've been asked about:

1) The many, many articles written by various shades of the Alt-Right about me have one thing in common: a clear agenda.  They take quotes out of context, chop sentences in half, and even flat out make up things that I "said." I haven't seen editing this creative since the last Guy Ritchie movie. My favorite is when they assume my description of some event a thousand years ago is me calling for it today. How are academics supposed to teach history if any discussion is assumed to be advocacy? The most complicated issues are also often the ones that we need to discuss the most. How can this happen if people are intimidated into silence?
2) People have been passing around a screenshot of a Facebook post I made in 2015, when ISIS and their sex slavery were dominating the news: Another post taken totally out of context.  Let me explain why I wrote that post: articles about Yazidi women being reduced to sex slaves by ISIS justifiably disgusted people. Many Muslims didn't know how to handle the fact that ISIS was claiming this was allowed in Islam. What I was trying to do in this post was to say that ISIS's sex slavery was a revolting symptom of a bigger problem: they had restarted slavery in the first place. And this was the result of a BIGGER problem: they didn't consider the Muslim governments of Iraq to be real Muslims. That means they didn't honor the protected status of religious minorities in Iraq, like the Yazidis. One of those protections is that they cannot be enslaved. But even this was just a symptom of a STILL BIGGER problem: ISIS doesn't consider anyone who is not ISIS to be Muslim. This means they don't care about the authority of Muslim scholars [of the past], who came to the consensus that slavery is prohibited.
I should have made my point more clearly. In the future, I'll listen to my wife more and be more sensitive in the tone I take.
3)  Rape in Islam: Rape in Islam is haram (prohibited).  It's a violation of the rights of a human and the rights of God. Even if there are not the four witnesses required to convict a rapist of the Hudud crime of forced zina (adultery, fornication), the act is still punished in the Shariah as an assault and physical injury, provable by two witnesses or, when appropriate, by circumstantial evidence. Rape as a violation of a woman's security and autonomy is among the most reprehensible of crimes. It is disgraceful to take my words on this out of context and project them as a justification for violence against women.
4)   Consent for Sex: Here the Shariah historically worked differently from modern laws on marital rape, which originated in the 1970s. But the effect is similar: protection. Within marriage, wrongs regarding sex were not conceived of as violations of consent. They were conceived of as harm inflicted on the wife. And in Islamic history wives could and did go to courts to complain and get judges to order husbands to desist and pay damages.  So yes, non-consensual sex is wrong and forbidden in Islam. But the operating element to punish marital rape fell under the concept of harm, not non-consent.
5)  Slavery in Islam: Muslims began curtailing slavery early on.  In the 1000s, the great Persian scholar Juwayni gave a fatwa that slave girls captured in Central Asia should not be sold as concubines. In the 1780s, the scholar-king of Senegal Abd al-Qadir Kan abolished slavery in his realm and banned the French from slave trading there (note: this preceded the beginning of organized abolition in Britain. In fact, the first abolitionists cited Kan as a model ruler). In 1846 (before Lincoln's emancipation proclamation), Ahmad Bey, the governor of Tunis, banned the slave trade there and emancipated all slaves in his realm. By 1900, many leading Muslim scholars had agreed that slavery should be prohibited. As Muslim states signed treaties banning slavery in the early twentieth century, the practice all but disappeared (if you're thinking, hey, what about bonded laborers today or convicts in America… I agree! That's the whole point I was making in my paper: don't get fooled by labels that make slavery invisible, look at the realities behind them. Watch the documentary 13th (link)).
A crucial point is that slavery isn't one thing.  It has varied dramatically across time and space, from the horrors of racist, inhuman chattel slavery on the plantations of the American South to mukataba in the Ottoman Empire. Mukataba was an emancipation contract for a fixed time and with rights to own property and marry; it was closer to being a wageworker in a 19th-century British factory than what we think of as American slavery. In the Islamic world, slaves actually ruled entire states. The ruling dynasty of one empire, the Mamluks, was all slaves. The administrative and military elite of the Ottoman Empire, the most powerful and richest people in the realm, were technically slaves of the Sultan.
In the Quran and Sunnah, the only avenue left for slavery was dealing with people who had been captured in war. All other forms were outright abolished. The Prophet

guaranteed them appropriate food, clothing, shelter and no overly taxing labor. They could be disciplined no more harshly than one's own kids. The Quran instructed owners to make mukataba agreements with slaves if they were fit and able to make it on their own, and Muslim scholars understood that it was better to keep those who were otherwise too old or unable to fend for themselves as slaves rather than setting them free to starve. The Quran and Sunnah made clear over and over that freeing slaves was one of the best deeds a Muslim could do. The Shariah saw freedom as the natural state (asl) of all humans. And, as the legal maxim stated, the Shariah "aimed towards freedom."
As Muslims spread out across the globe and new peoples and cultures entered the faith, existing traditions of slavery took on an Islamic veneer. Sometimes the humane values of the Shariah prevailed. Sometimes local customs and systems of exploitation continued, moderated only a little by God's law. Slavery in Islam was never tied to one race, but in certain times and places it could become racialized, as happened with the prevalence of black African slaves in Egypt in the 1700s-1800s.
Slavery of some sort has existed in almost every human society since the dawn of time. Moses, Jesus, the Buddha, Aristotle and Plato all considered the slavery in their times to be accepted features of life. Islam considered slavery, even in its restricted form, to be an 'incapacity,' an injustice (zulm), as the Muslim jurist Shaybani called it around the year 800 CE.  But it was an economic and social condition, and it was usually temporary. As economic life changed in the 1800s, Muslim societies saw that this institution could be gotten rid of completely. The great Egyptian scholar Muhammad Abu Zahra summed it up: Islam would welcome a day when slavery was banned.
The deep disgust we feel at slavery is precisely why we need to talk about it. Slavery in Islam raises the critical question of how we as Muslims deal with elements of our tradition that clash with values we feel deeply today. It forces us to think about whether right and wrong change over time. If they do, can we make universal claims about morality? Can we judge people in the past by present-day values, and can the past make moral demands on us today? If, on the other hand, right and wrong are fixed and don't change over time, then who in history defines them? Jesus or modern human rights? Aristotle or Lincoln? The Quran clearly sought to restrict and regulate slavery in Arabia at the time, and there's a strong argument that it aimed to end slavery altogether.  The Prophet Muhammad

freed every slave given to him. But how do I as a Muslim deal with the fact that God and the Prophet

did not abolish slavery altogether? Would it have been too economically disruptive, so that gradual abolition would be better? This was the answer offered by the famous scholar Rashid Rida, who pointed to the challenges America faced in integrating former slaves after the Civil War.
As a Muslim today, I can say emphatically that slavery is wrong and that Islam prohibits it. This has been the consensus of the ulama, and it's well within the power of states to prohibit what was previously allowed if doing so serves some public interest (maslaha) (this is known as taqyid al-mubah, restricting the permitted). It's easy for me to say this looking back on slavery in American history, because our American slavery was a manifestation of the absolute domination of one human being by another that is, in my opinion, a universal wrong across time and space.
You can download my first paper on the issue here (download), and follow along for the next two on the subject.
Faith Community Stands With Peace And Justice Leader Imam Omar Suleiman During Right Wing Attacks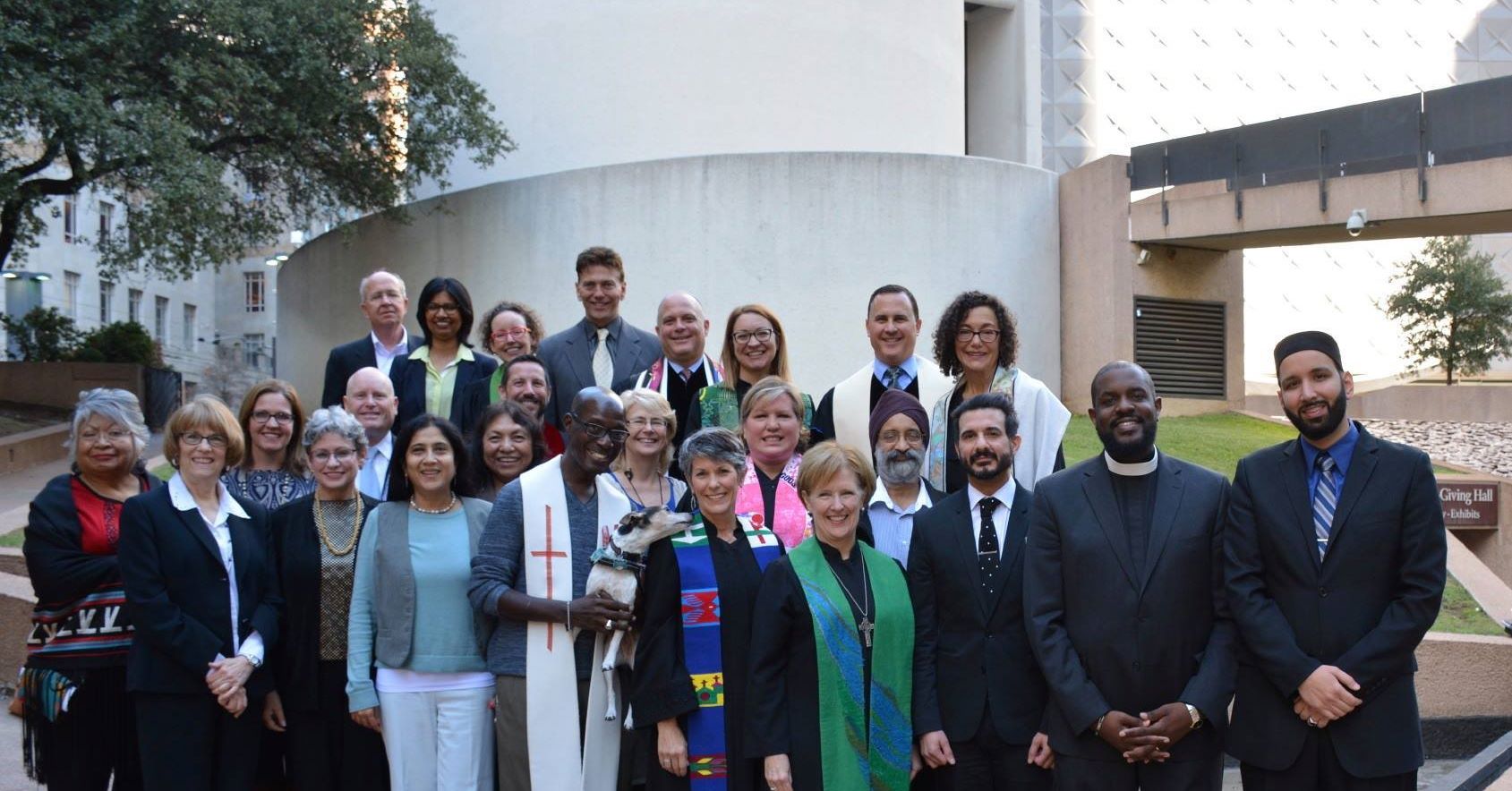 In a follow up to the right-wing media platforms attack on Imam Omar Suleiman – calling him anti-semitic, a common tactic used to discredit both Muslim activists, as well as criticism of Israel policies, Faith Forward Dallas issued a statement.
Faith Forward Dallas at Thanksgiving Square – Faith Leaders United for Peace and Justice is a Texas-based interfaith organization that has worked on many initiatives with Imam Omar Suleiman.

The statement reads:
"Imam Omar Suleiman a spiritual and moral voice for peace with justice!!!!!

Time after time in our city, in the United States and around the world, Imam Omar Suleiman has been a spiritual and moral voice for peace with justice. When others seek to divide, he calls for unity. Faith Forward Dallas at Thanks-Giving Square works to unite faith leaders for justice and compassion. Imam Suleiman has been a trusted leader among us. In the wake of his beautiful prayer to open the House of Representatives on May 9, he has received threats of violence and words of vilification when instead he should have our praise and prayers. We call upon people of good will everywhere to tone down the rhetoric, to replace hate with love, and to build bridges toward the common good.

Faith Forward Dallas at Thanks-Giving Square"
Commenters on the Faith Forward Dallas statement have left comments of support.
The group has invited locals and other leaders to endorse and share the statement. "Endorsed! I love and fully you Imam Omar Suleiman!" wrote Karen Weldes Fry, Spiritual Director at Center of Spiritual Learning in Dallas (CSLDallas), commenting on the statement.
Some commentators do not understand the manufactured controversy.  Heather Mustain writes, "What people are writing is so vile. They obviously didn't even listen to his prayer!" Imam  Omar Suleiman delivered the opening prayer in the US House of Representatives on May, 9th, 2019  at the invitation of Rep. Eddie Bernice Johnson (D) of Dallas, TX.
"I'm grateful for the faith leaders with whom I've built relationships with and served with for years that have shown full support throughout this process. Together we've stood with one another in solidarity in the face of bigotry, and in the support of others in any form of pain. We will not let these dark forces divide us," said Imam Omar Suleiman in response to the outpouring of love from the people he has worked with on the ground, building on peace, love, and justice.
#UnitedForOmar – Imam Omar Suleiman Smeared by Right-Wing News After Opening Prayer at US House of Representatives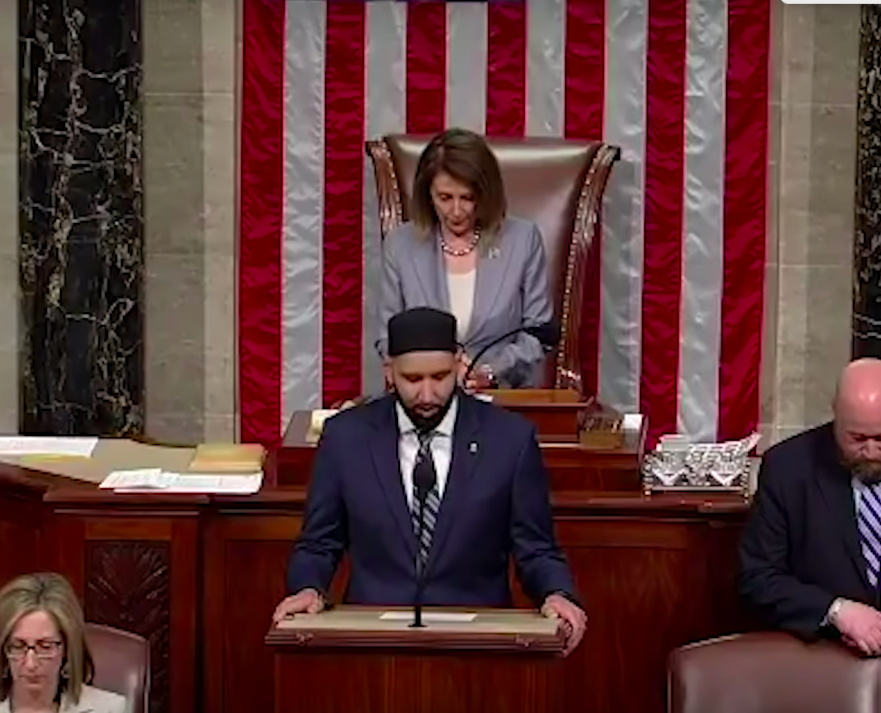 Sh. Omar Suleiman delivered the opening prayer in the US House of Representatives yesterday, May, 9th, 2019  at the invitation of Rep. Eddie Bernice Johnson (D) of Dallas.
Immediately since, right wing media platforms have begun spreading negative coverage of the Imam Omar Suleiman – calling him anti-semitic, a common tactic used to discredit both Muslim activists as well as criticism of Israel policies.

News outlets citing the criticism have pointed to a post from The Investigative Project on Terrorism or ITP, as the source. The  ITP was founded by and directed by noted Islamophobe Steven Emerson. Emerson's history of hate speech has been documented for over two decades.
Since then, the story has been carried forward by multiple press outlets.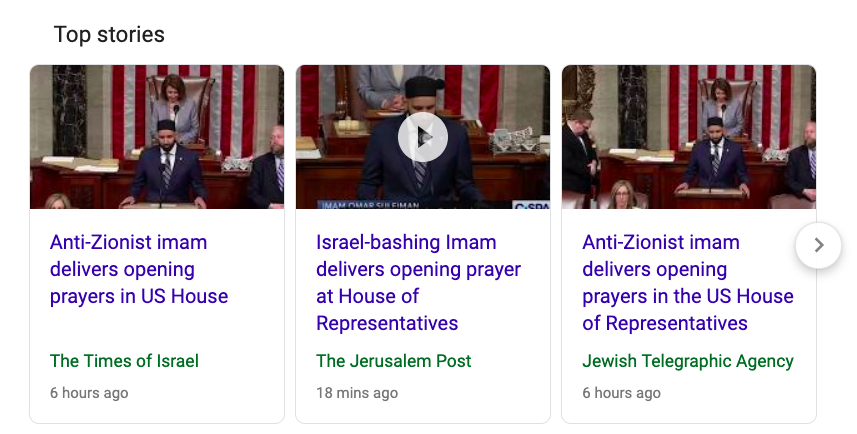 The immediate consequence of this has been the direction of online hate towards what has been Imam Omar Suleiman's long history of preaching unity in the US socio-political sphere.
"Since my invocation I've been inundated with hate articles, threats, and other tactics of intimidation to silence me over a prayer for unity," Imam Omar Suleiman says. "These attacks are in bad faith and meant to again send a message to the Muslim community that we are not welcome to assert ourselves in any meaningful space or way."
MuslimMatters is proud to stand by Imam Omar Suleiman, and we invite our readers to share the evidence that counters the accusations against him of anti-semitism, bigotry, and hate. We would also encourage you to reach out, support, and amplify voices of support like Representative E.B.Johnson, and Representative Colin Allred.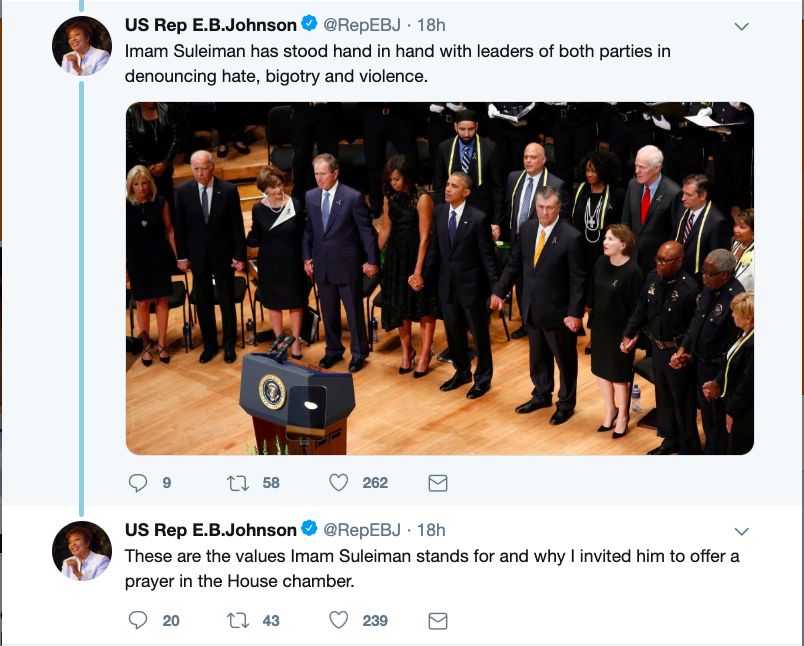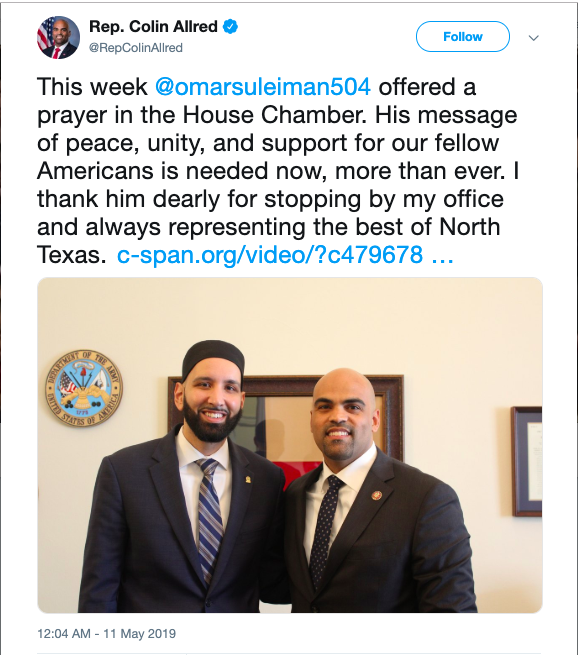 You can help counter the false narrative, simply by sharing evidence of Imam Omar Suleiman's work. It speaks for itself, and you can share it at the hashtag #UnitedForOmar
JazakAllahuKheiran
---
At an interfaith panel discussion, three North Texas religious leaders promoted understanding and dialogue among Muslims, Jews, and Christians. Amid a vexed political and social climate, three religious leaders in North Texas—a priest, an imam, and a rabbi—proved it's possible to come together in times of division. Source: DMagazine.com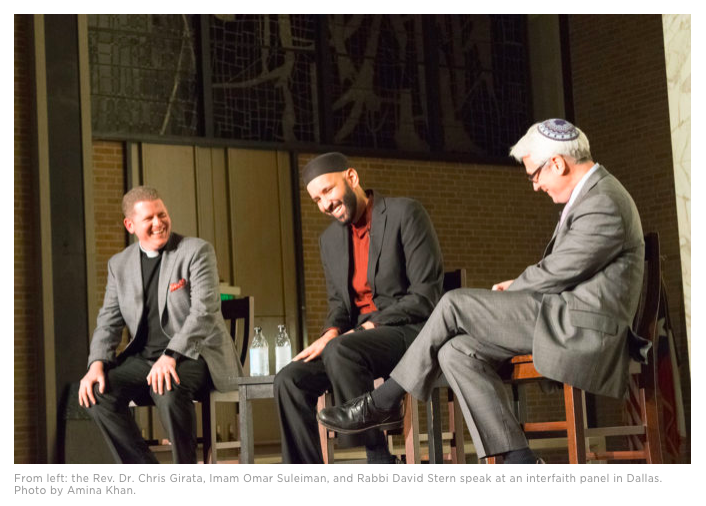 ---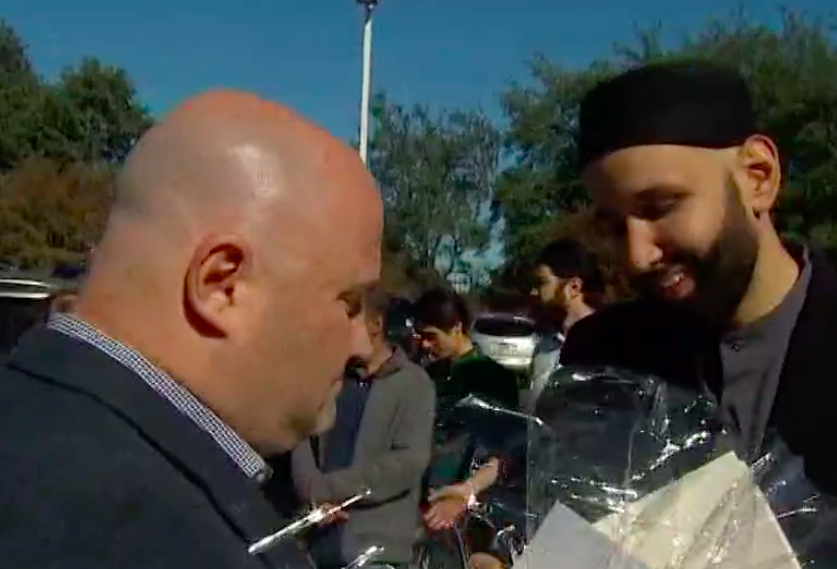 The congregation, led by Imam Omar Suleiman, penned more than 150 cards and letters. source: WFAA News
---
"We must recognize that the white supremacy that threatens the black and Latino communities, is the same white supremacy that spurs Islamophobia and antisemitism," -Imam Omar Suleiman
Source: Bend The Arc
---
"When any community is targeted, they need to see a united faith voice — that all communities come together and express complete rejection of anything that would pit our society against one another more than it already is." -Imam Omar Suleiman
Source: Kera News

---
Source: The Carter Center
---
Imam: After devastating New Zealand attack, we will not be deterred
"My wife and I decided to take our kids to a synagogue in Dallas the night after the massacre at Tree of Life in Pittsburgh to grieve and show solidarity with the Jewish community. My 5-year-old played with kids his age while we mourned inside, resisting hate even unknowingly with his innocence…" Source: CNN
Ben Shapiro Gets Wrecked on the BBC for Racism Against Palestinians and American Jews
Andrew Neil so thoroughly destroys Ben Shapiro that he has a snowflake meltdown and retreats in the middle of the interview to his own safe space, off-camera.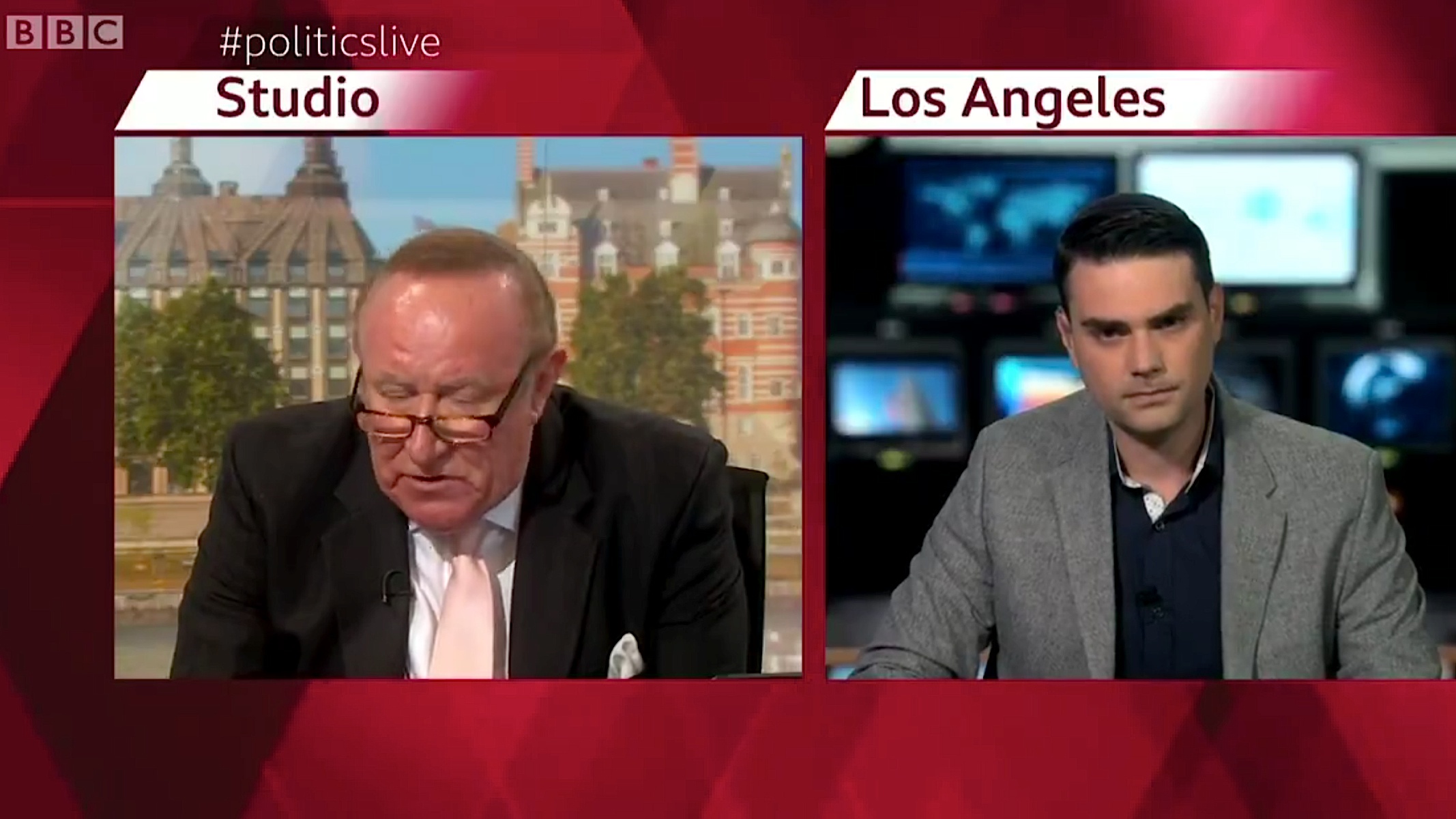 The video plays at the 10:00 minute mark where Neil begins to break down Shapiro on his statements about President Obama, Palestinians, and American Jews.
Let's set the context – popular conservative commentator Ben Shapiro, known for his aggressive debate style in the public square, visited the BBC to promote his new book.  The interviewer, Andrew Neil, after giving Shapiro a chance to introduce himself to the BBC audience, questioned him about the anger both the left and the right feel towards one another, and Shapiro's own role in stoking that anger and polar opposition within the Republican party over many years.

The reason for this line of questioning is because Shapiro claims this to be a problem in American discourse and fails to consider his own contribution to the problem, and it is this hypocrisy that Neil confronts him about.  Shapiro attempts to respond, but is promptly crushed by Neil's responses with Shapiro's own quotes.  For example, he brings up the following tweet written about Palestinians which Shapiro agrees was wrong but hasn't taken down:
Israelis like to build. Arabs like to bomb crap and live in open sewage. This is not a difficult issue. #settlementsrock

— Ben Shapiro (@benshapiro) September 27, 2010
Shapiro futilely attempts to respond, but Neil continues to quote Shapiro until he is left with no choice except to throw ad hominems at his interviewer, which were deftly turned back on Shapiro, leaving him to look even more petty for his attempted condescending remarks.  The end result is the man claiming earlier to welcome a spirited debate quickly found himself running away to lick his wounds.
Perhaps the greatest irony in this debate – Shapiro accused Neil of being an opinion journalist of the left-leaning variety, while Neil is a conservative and chairman of The Spectator, whose editorial outlook is conservative.