How to Own a Mansion Bigger Than Shaq's in 12 Minutes
Many years ago, during  a trip to Florida, I happened to drive near a town named Windermere. I had heard that this was a place where several celebrities and athletes live. I was curious to see what their mansions looked like, so I stopped by one of the nearby stores and asked if my assumption was correct and they confirmed that this town included homes of athletes such as Tiger Woods and Shaquille O'Neal.
I decide to drive by to see their mansions. Upon arriving in the vicinity, I noticed that the mansions were in a gated community. So I drove up to the gate and there was a security guard who asked me if I needed any help and I told him I wanted to drive around to view some of the mansions. He told me that I couldn't just drive around like that. Then I asked what if I wanted to purchase one, won't I have to be allowed to drive in? I purposely said at the beginning of this post "many years ago" :)
The security guard smiled and told me: no person comes to purchase a house in this area unless a real estate agent accompanies them. I thanked him for clarifying things for me; I reversed with the car and drove off…
According to Star Maps, the following is Shaq's 11 bedrooms and 13 bathrooms, with a total of 64,000 sq ft mansion in Windermere, Florida  from satellite view: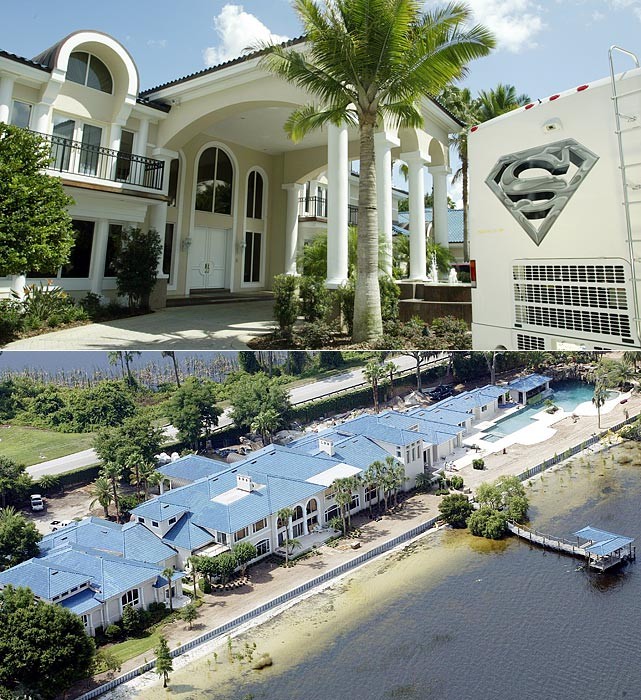 What came to my mind after not even being able to see the mansions from the outside, let alone entering them (let alone owning one!) was a hadith of Prophet Muhammad (saw). The hadith, in Sahih Muslim, which goes as follows:
An-Numan, son of Salem said:
"Amr the son of Aws said: "Anbasa the son of Abi Sufyan said to me (i.e. Amr): "Shall I not tell you of a hadith Umm Habibah, the wife of Prophet Muhammad (saw) has told us?" We replied: "Yes!". He, Anbasa, said: "She told us that the Prophet (saw) said: "Whoever prays 12 prostrations (i.e. 12 rak'as) voluntarily, Allah will build them a house in Jannah". Umm Habibah (may Allah be pleased with her) then said: "I have never stopped praying (i.e. the 12 raka'as) since I heard this hadith from the Prophet (saw)."
Anbasa then said: "I have never stopped praying them since I heard this hadith from Umm Habibah."
And Amr said:  "I have never stopped praying them since I heard this hadith from Anbasa".
And finally An-Nouman said: "I have never stopped praying them since I heard this hadith from Amr".
Allahu Akbar! Basically everyone in that chain who heard the hadith applied it and never stopped afterwards. Brothers and sisters, we may never enter a mansion in our lives let alone own one. However, by the mercy and generosity of Allah, He promised to build us a mansion for every day we pray 12 voluntary raka'as. Allahu Akbar! One of the best ways to divide these 12 voluntary raka'as is as follows:
2 before Fajr
4 before Duhr and 2 after
2 after Maghrib
2 after Isha
Whenever I get a chance and mention this story in my lectures, I illustrate how long completing 1 raka'ah takes. Obviously, it can take as long as you want but, generally, you can spend a comfortable 1 minute to complete 1 raka'ah. With that, you will get a mansion every day you pray for 12 minutes :) May Allah bless you and accept from you.
Feel free to share this post with your friends and family. For every person who ends up doing it because of you will earn them a mansion and so do you! Allahu Akbar :) As the Prophet (saw) said: "The one who guides to which is good is as if they have done it". – Sahih Al-Jami
And Allah knows best.
Wassalaamu alaykum,