Muslim Children's Books: an Exposé
Written by Hasan Jilani
[alert type=red ]Important: We have recently started a crowdfunding campaign on LaunchGood to raise money for printing and shipping. If we don't reach our goal by July 11, this book will not be funded. Please visit our crowdfunding page and claim your copy of the book today! https://www.launchgood.com/projects/project_detail/kidbook Read more about our goals below[/alert]
The state of Muslim children's books is deplorable. There are a few gems, but most books are poorly written and poorly illustrated. We must praise the intentions behind these pioneering efforts, but are they really helping our children?
When a kids' book uses SAT words and dull pictures, it sends a subtle message: Islam is confusing and boring. We think we're helping our children, but instead we may be driving them away from Islam. We need a new approach.
Better Writing
To prove my point, here are a few examples of what's in the market. This excerpt is from one of the few Islamic board books available:
One morning Hamza work up bright and early and went to the family room and said to his brother Ali, 'Assalamalakum, let's go have our breakfast.' Ali replied, 'I'm not going to eat breakfast today because it's the first day of Ramadan and I'm fasting today.' Hamza didn't understand the meaning of fasting.
Reading Grade Level: 9.1 – The toddler has to be in high school to understand this!
Note the long compound sentences, big words like "because" and "understand", use of contractions, and unnecessary details like "family room". A better approach would be to break up the story into smaller sentences, simplify the plot, use smaller words, and avoid contractions.
Here is my re-write:
One day, Hamza woke up. He met his brother Ali. Hamza said, "Let's eat breakfast!" Ali said, "I will not eat breakfast today. It is the first day of Ramadan. I am fasting." What is fasting? Hamza did not know.
Reading Grade Level: 1.9 – Much better!
Here are a couple more examples:
– From reading grade level 7.0 to 3.1 and then 2.8
– From reading grade level 7.4 to 4.4
Better Pictures
Here are a few examples of the illustrations we offer our kids.
These are supposed to be birds. I can understand not wanting to draw living things, but couldn't they just illustrate awesome looking palm trees instead?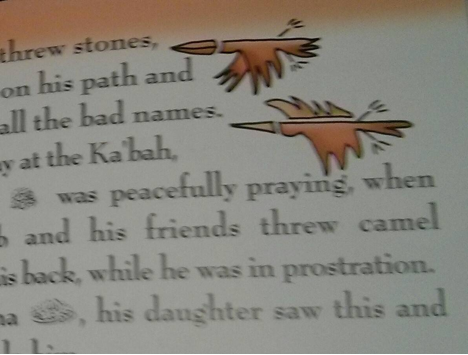 I can understand not wanting to show eyes, but this book shows the back of the girl's head on pretty much every page, even when it's anatomically awkward. They could have just left off the eyes, like they did with other characters in the book.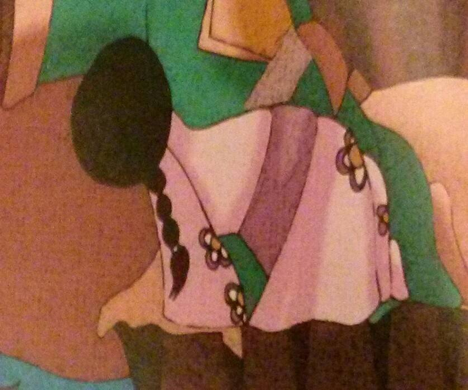 We Can Do Better
 Here are illustrations from a kids' book I'm working on, drawn by the artist behind the Superhanallah web comic: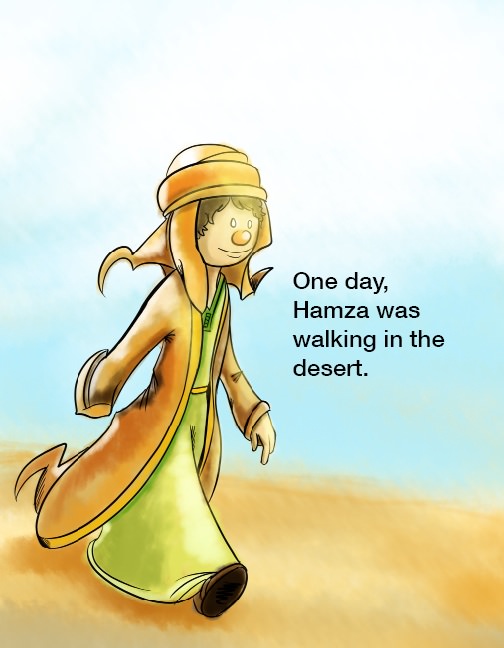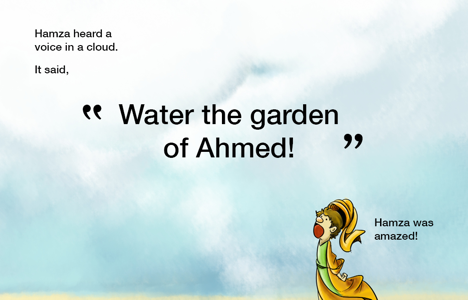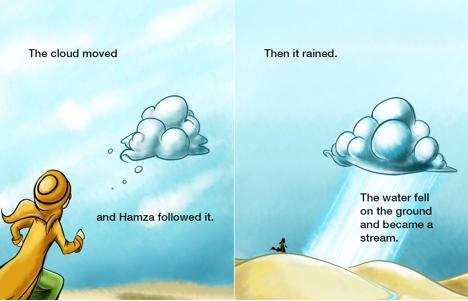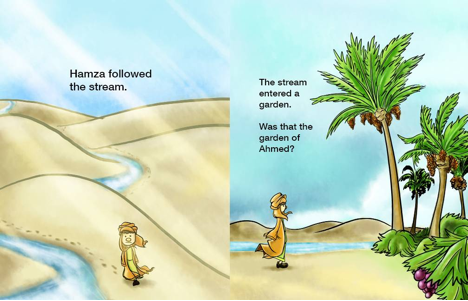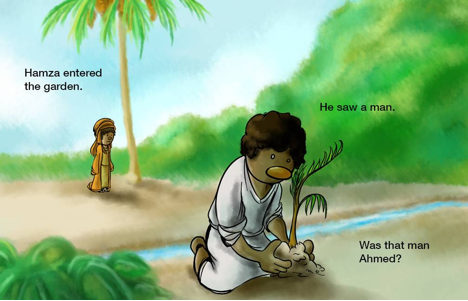 Replace or Compliment?
Dr. Seuss is great. Every kid, Muslim or non-Muslim, should read Hop on Pop and Fox in Socks. Green Eggs and Ham? Eh… The point is Muslim kids' books should compliment, not replace, classic children's books. Not only does this help our children to understand and relate to greater society, but it also frees up Muslim writers from having to teach letters, counting, and colors. We can instead focus on morals, ethics, and identity. But if we hope to have them compliment mainstream American books, they must be on the same level of professionalism and polish. A kid who has the option between Cat in the Hat versus Circumambulation for Kids is going to choose Cat in the Hat. Every. Single. Time.
I am working on a kids' book that sets a new standard of Islamic children's literature. It aims to show the market what "good" looks like in the hopes that it will usher in an era of professionalism and polish we desperately need. If the masses become accustomed to outstanding Islamic kids' books, the industry will have no choice but to improve their offerings. We hope they will mimic our style. Yes, we want our fellow Muslims to make rip offs of our work.
We must do for Islamic kids' books what Dr. Seuss did for modern children's literature. Before Cat in the Hat, many children were not learning to read because, according to Life magazine (May 1954), their books were boring. Dr. Seuss aimed to make a book children couldn't resist. His approach was to use simple words and wonderful illustrations. It is no surprise Cat in the Hat is still popular today. We need the same revolution in Islamic children's literature. Call me Sh. Seussi.
What makes our book different?
Written in simple English (1.4 grade reading level)
Beautiful illustrations that engage young (and old!) readers
Based on interesting hadeeth story that has not been touched by previous authors. We're not rehashing what's already been done.
To top it all off, we're making it a board book. These are rare when it comes to Islamic books because they are very expensive to produce, but they are vital to exposing our children to Islam and literacy at a young age. We should read to our children when they are months old, not years old.
We have recently started a crowdfunding campaign on LaunchGood to raise money for printing and shipping. If we don't reach our goal by July 11, this book will not be funded. Please visit our crowdfunding page and claim your copy of the book today!
https://www.launchgood.com/projects/project_detail/kidbook
Note: all reading grade levels were analyzed using the Flesch-Kincaid formula.