Ready, Set, Go! Food & Nutrition for a Healthy Ramadan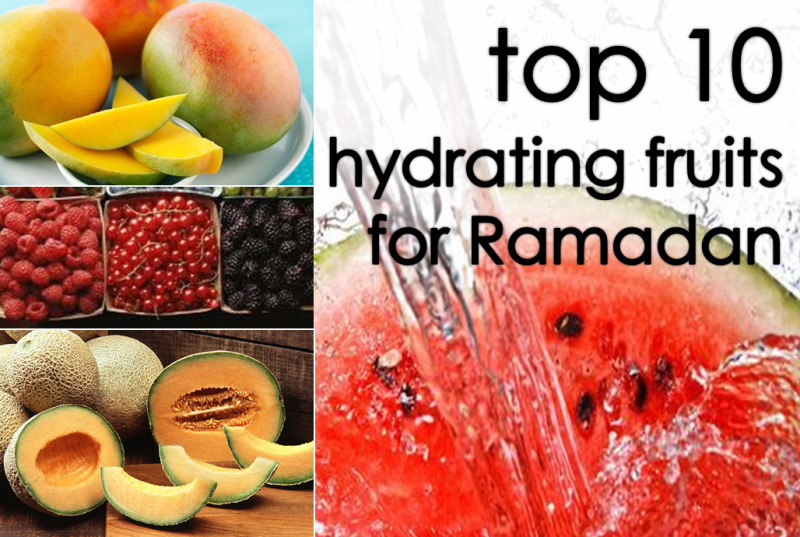 By Karimah Bint Dawoud- Muslim Chaplain & Clinical Nutritionist
Welcome Ramadan
Alḥamdulillāh, all praise is due to Allah the Creator of the heaven and earth and everything in between. As the month of Ramadan is moving backwards through the solar calendar once again, Ramaḍān begins in the heat of summer with long days and short nights in some places of the world. And next year, inshā'Allāh, God willing, the days are going to be even longer. It's the perfect time to take our deen, our Islamic lifestyle, to another level that includes nutrition.

Farewell to Fried Foods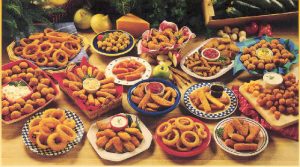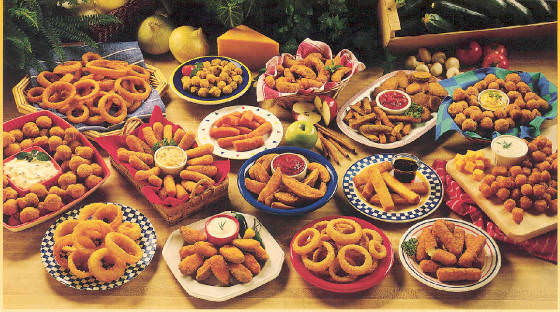 It's time to say good-bye to junk foods, toxins, and bad habits. Fried foods are essentially junk food in comparison to an Islamic "halal and tayyib" diet. Food studies reveal that fried foods damage your body and brain in many ways. They clog arteries and lead to strokes, Alzheimer's disease, inflamed joints, heart attacks, aneurysms, and elevated blood pressure. This is no surprise when most corn oil and rape seed oil (canola) is genetically modified, contains pesticides, and more toxic than soy oil. For more information on these oils see,  "So, You Think Canola Oil is Healthy?"
Purify the Body, Illuminate the Soul
Islam is a complete religion for the mind, body, and soul. We have been gifted with an amazing body, Alḥamdulillāh, praise God. Narrated `Abdullah bin `Amr bin Al-As:
Allah's Apostle said, "O `Abdullah! Have I not been formed that you fast all the day and stand in prayer all night?"

I said, "Yes, O Allah's Apostle!"

He said, "Do not do that! Observe the fast sometimes and also leave them (the fast) at other times; stand up for the prayer at night and also sleep at night. Your body has a right over you, your eyes have a right over you and your wife has a right over you." (Sahih Al-Bukhari)
It is clear from the above hadith, that our body has rights over us. The body needs the right fuel to run at optimum performance. This means eating food that provides long, slow release of energy as well as vital vitamins and minerals.
Sacred Foods in a Six Hour Window
All the foods mentioned in the Quran and Sunnah are beneficial for our health. They are "halal and tayyib" meaning they are lawful AND pure. They are whole meal, quality foods that complement the body.
They are fresh foods, full of sun-fired vitality. However, the wrong combinations of healthy foods can be unhealthy. There is a difference of opinion about "Food Combining theory" between qualified nutritionists, vegan raw foodies whose business often depends on them justifying mixing certain fruits, nuts, and vegetables, and scientists who are usually paid by Big Pharma and the processed food industry.
Islamically, we are allowed to eat meat. Meat is part of the food combining equation. With a little skill and know-how we can eat from all the food groups. This year we are going to try something that seems radical. This is going to take a real shift for some of us. I know many Muslims eat through the night until Fajr, that's not new, however  I am going to introduce good nutrition and food combining into this 6 hour window in which we can eat. This 6 hour, healthy banquet is a long meal. Starting with fluid and more fluid, soups, starters, and salad and then the main course at suhur. What, no dessert? No dessert! Let's save that for Eid, inshā'Allāh.
Breaking Fast: Dates and Water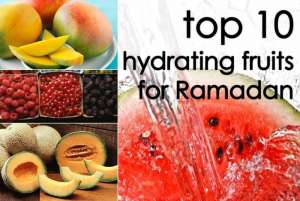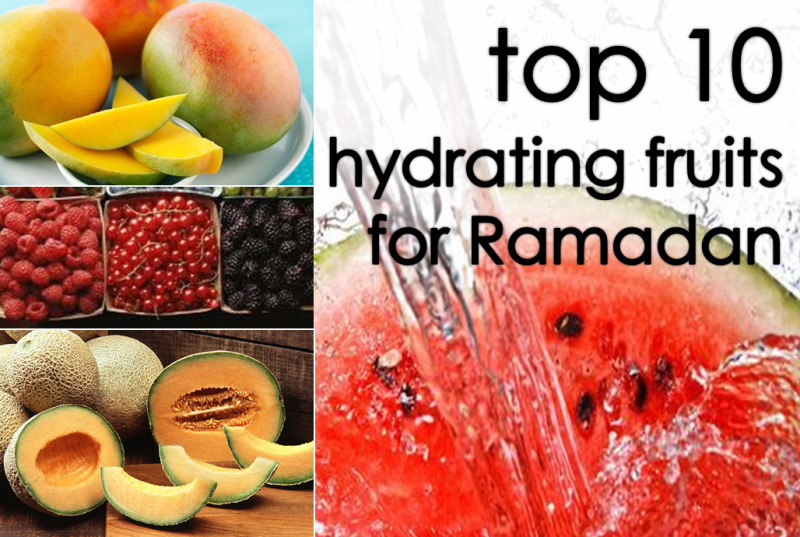 First and most important is hydration. Hydration is going to be the key factor in this year's Ramaḍān nutrition. We are going to have to monitor, regulate, and force ourselves to drink water. It is essential during this 6 hour window that we drink at least 2 liters or 3 ½  pints of water. It can be broken down like this:
Iftar: 500 ml water and dates. Personally, I will be adding a spoon of honey to my iftar water, not only for the energy but also for the healing, anti-bacterial, and anti-fungal properties, as well as much more.
Every hour after that 300 ml or 10 oz of water including at suḥūr.
There is a wisdom to why we eat dates. They are sun-fired packages of high energy multivitamins and minerals. If you don't already, train yourself to love them, they are a superfood.
Caffeinated drinks such as tea or coffee so not count towards this fluid intake, as these will deplete your body of essential vitamins and minerals like magnesium, and also dehydrate you. If you must drink these, then have an additional mug of water and make sure you take a vegan multi-vitamin and mineral supplement.
Maghrib with a Side of Fruits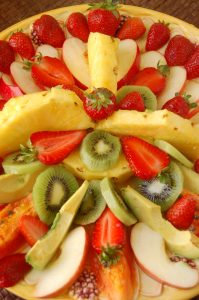 Fruits are so special they will be in paradise. The Holy Quran mentions fruits as a generic term فاكهة  fourteen times.
1. And for them there is fruit, and for them there is what they ask for. [36:57]

2. Therein they will recline; therein they will call for fruit in abundance and drinks. [38:51]

3. Therein for you will be fruit in plenty, of which you will eat (as you desire). [43:73].
Bananas, dates, grapes, figs, and pomegranate are individually mentioned in other chapters.
Fruits are sun-fired foods that have a high water content as well as essential vitamins and minerals.
Eat some sort of fruit salad, fruit juice, or smoothie after breaking fast with water and dates. If time is not on your side, buy pressed fruit juice with bits, not smooth and not concentrate. If you are making it at home, smoothies are better than juices because they contain soluble and insoluble fibers. Fiber is good to combat constipation, encouraging elimination of toxins. It's good for the digestive and circulatory systems of the body.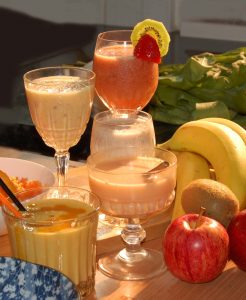 Fruits digest more quickly than vegetables, opening the digestive canal and providing energy, vitamins, and minerals to the organs. To combat your thirst at iftar, have a watermelon smoothie, agua fresca, with honey and lemon, then have another type of fruit smoothie. Melons are the quickest of fruits to digest, taking only 20 minutes. Watermelon can be blended or juiced, including the skin and seeds, which contain the important minerals magnesium, manganese, phosphorus, Zinc, Iron, potassium and copper. All essential!
Keep the smoothies just fruits, no nuts, no dairy, no veggies, then pray Maghrib. This will give your digestive tract time to open up, absorb these essential sugars, vitamins, and minerals and give you energy for the rest of the evening Insha'Allah.
Veggie-Licious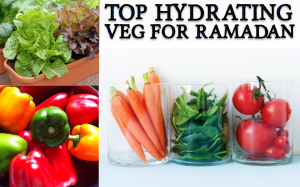 Remember to drink more water while you are preparing this next part of the meal.
Herbage is mentioned a few times in the Quran. Herbage can mean "the succulent part of herbaceous vegetation," 1 All edible plants are considered to be herbage.2
Seest thou not that Allah sends down water from the clouds, then makes it go down into the earth in springs, then brings forth therewith herbage of various hues; then it withers so that thou seest it turn yellow, then He makes it chaff? Surely there is a reminder in this for men of understanding. (39:21)
After Maghrib eat something vegetarian, healthy, and tasty. Have high fiber salads with an amazing dressing or soup. Raw vegetables also have high water, mineral, and vitamin content. This is where you can also eat your starchy carbs. We can have vegetable curry and rice, whole meal pasta with zucchini and tomato sauce, rice flour pancakes (substitute soaked flax seeds for egg to bind), or Mediterranean rice salad with scrumptious asparagus and artichokes. Check out some vegan recipes. There is so much choice BUT no protein at this point. Look at this list of amazing veggies from Allah's Bounty Store:
Starches and Oils
This is where you get to eat your starchy carbs; black, brown, or red rice, whole-meal bread, whole-meal barley, oats, and pasta. White flour, white sugar, and white rice are all refined, processed foods and should be avoided for optimum nutrition.
The Prophet Muhammad

never ate white flour even though it was available.
Narrated Abu Hazim: I asked Sahl bin Sad, "Did Allah's Apostle ever eat white flour?" Sahl said, "Allah's Apostle never saw white flour since Allah sent him as an Apostle till He took him unto Him." I asked, "Did the people have (use) sieves during the lifetime of Allah's Apostle?" Sahl said, "Allah's Apostle never saw (used) a sieve since Allah sent him as an Apostle until He took him unto Him," I said, "How could you eat barley unsifted?" he said, "We used to grind it and then blow off its husk, and after the husk flew away, we used to prepare the dough (bake) and eat it."  (Sahih Bukhari and Tirmidhi)
This is the best time for your healthy oils.  Olive oil is sacred oil, once again mentioned in the Quran. Use olive oil for cooking or salad dressings. Healthy oils are essential for good mental health, helping the brain make the right connections, joint mobility, and lubrication of internal mucous membranes. Everything internal, even the cell walls, need oil.
It should be about 11 pm by the time you finish this meal, time for 'Ishā' and  Tarāwīḥ prayers. Keep drinking water, maybe with a little honey, during breaks in Tarāwīḥ.
If you are going to sleep a few hours, please drink water beforehand. Allow the previous food consumption at least 2-3 hours to digest before eating again, but still drink water.
Suḥūr: Protein Time
This meal needs to be animal protein and vegetables, but not starchy carbs like rice, pasta, or bread for optimum nutrition.
Tests show for the same caloric value, protein gives the most sustained energy. Meat takes 16 hours to digest. Animal protein is best at this time. In accordance with the Quran and Sunnah it is best if the meat is halal and free range, free from growth hormones and antibiotics.
Animal protein contains a special iron called heme iron which is 15% more absorbent than non-heme (plant) iron. Heme iron actually helps the absorption of non-heme iron; therefore, it is a good idea to combine foods from the plant and animal kingdoms for the best balance and benefit.3 Iron is essential for the blood and for transportation of oxygen around the body.
Suggested meals are vegetable omelet and salad, Thai fish veggie soup, kofta in sauce and cooked spinach, grilled chicken and garlic beans, mince lamb and okra salad or lamb tagine with loads of cooked veg. These can be prepared earlier. I know it's really tempting to eat starchy carbs like bread or rice with these meals, it's a habit, a tradition, and it's a pattern we need to break. Starchy carbs need an alkaline stomach environment to enable the enzyme "amylase" to work.  The gastric enzyme "pepsin" is used to break down proteins; it cannot do so in an alkaline environment. The conflicting chemicals needed to breakdown these different food groups are disabled by the presence of the other, causing fermentation of the foods in the digestive tracts.4 The knock on effect of this is bloating, heart burn, indigestion, and wind. Worst of all, the optimum absorption of all the nutrients from the consumed food is inferior.
Please use this food combining chart, this illustrates food group combinations for optimum nutrition and digestion. Optimum nutrition means optimum 'ibādah. And remember, "He who fails to plan, plans to fail."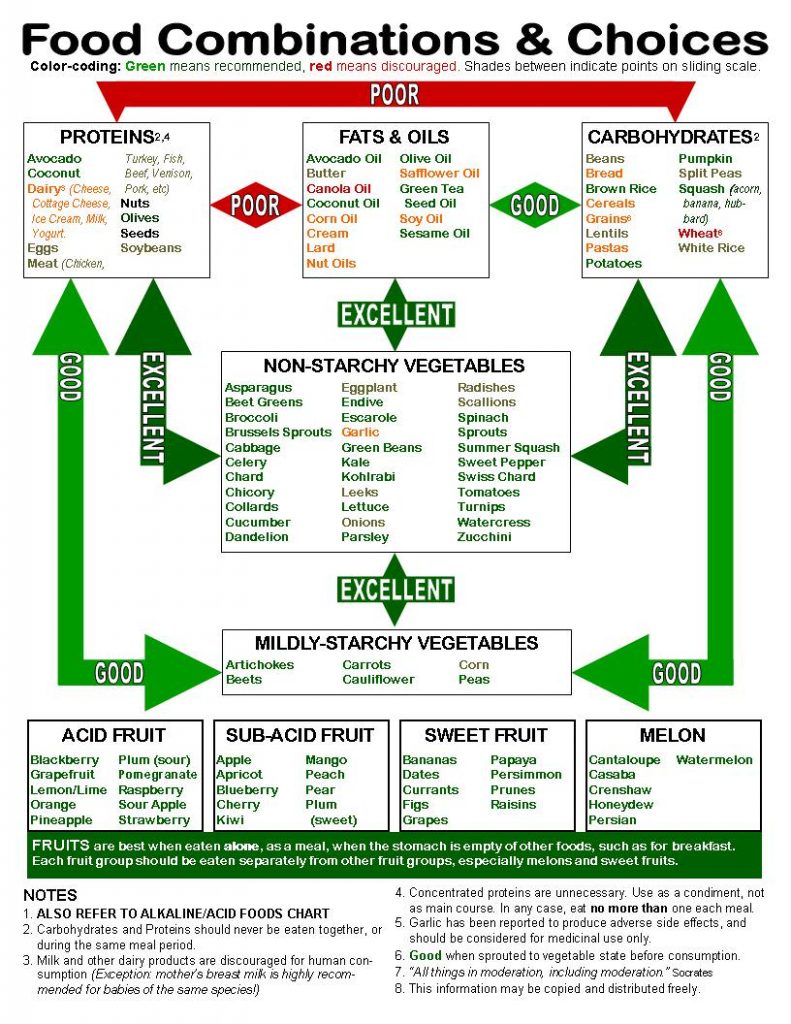 May Allah make this Ramaḍān easy for us and a benefit to us all in this life and in Jannah, Ameen.
Karimah's Blog
www.karimahscuisina.wordpress.com
Further reading:
http://www.cleanse-yourself-lose-weight.com/digestion-time.html
http://www.rawfoodexplained.com/digestive-physiology-and-food-combining/protein-starch-combinations.html
http://www.puristat.com/bloating/digesting-proteins-and-starches.aspx
[divider]
[1] http://www.oxforddictionaries.com/definition/english/herbage
[2] http://www.faculty.ucr.edu
[3] http://www.islamawareness.net/Nature/existence.html
[4] http://www.naturalnews.com/025651_food_protein_foods.html
How Do Muslims Plan for Disability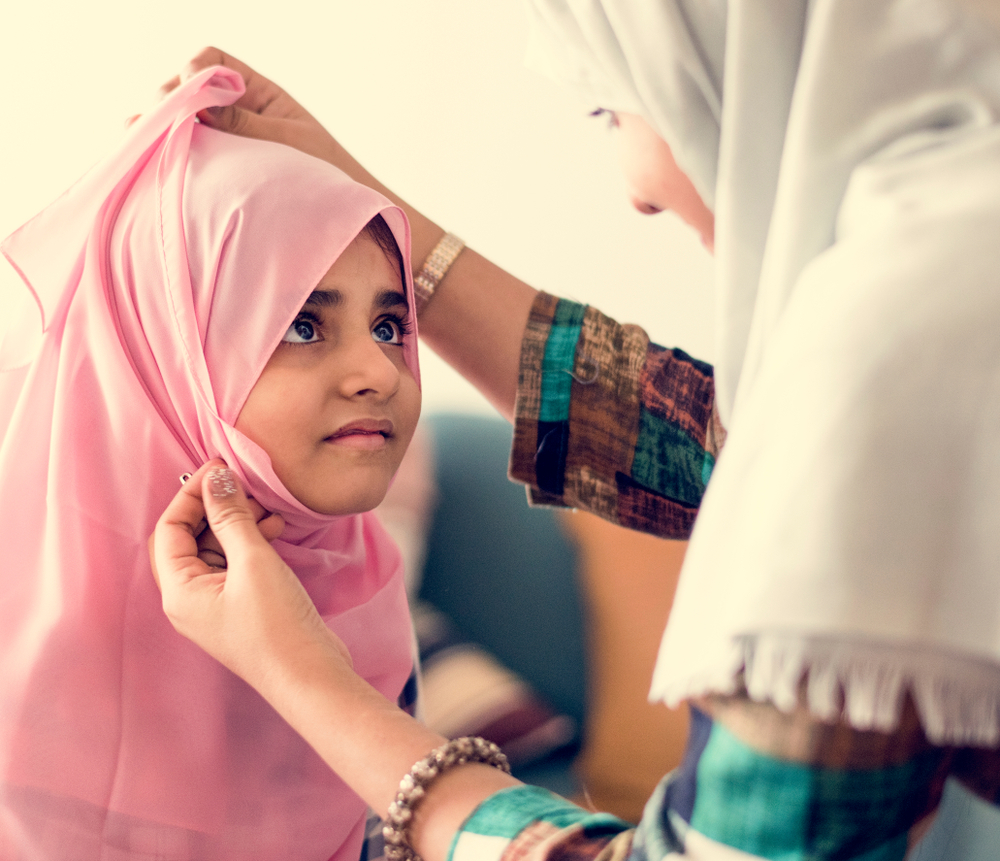 Families with children with disability have an extraordinary set of challenges and blessings.  Disability (or special needs) is a broad term.
Many disabilities will prevent what we often think of as "normal."  It may hinder or prevent educational opportunities, and employment. Many people with "special needs" can get educated, get married and live long and productive lives.  The problem for many parents of younger children with special needs is that they typically have no certainty about their children's future needs. Even if the situation looks dire, it may not stay that way.  

How do parents plan for a world where they may not be around to see how things will end up for their special needs children?  What can they do to help their children in a way that does not violate Islamic Inheritance rules?
Certain types of disability, especially the loss of executive decision-making ability, could also happen well into adulthood.  This can be a threat to a family's wealth and be the cause of internal conflicts. This is the kind of thing every adult needs to think about before it happens.  
The Problem
The issues are not just that parents believe their special needs child will need more inheritance than other children. Muslim parents usually don't think that. Some parents don't want their special needs child to get any inheritance at all.  Not because of any ill-will against their special needs child; just the opposite, but because they are afraid inheritance will result in sabotaging their child's needs-based government benefits.    
Many, perhaps most special needs children do not have any use for needs-based benefits (benefits for the poor).  But many do, or many parents might figure that it is a distinct possibility. This article is a brief explanation of some of the options available for parents of special needs children.  It won't go over every option, but rather those that are usually incorporated as part of any Islamic Estate Planning.
Please Stand By
Example:  Salma has three daughters and two sons.  One of her children, Khalida, 3, has Down Syndrome.  At this point, Salma knows that raising Khalida is going to be an immense challenge for herself, her husband Rashid and all the older siblings.  What she does not know, however, is what specific care Khalida is going to need through her life or how her disability will continue to be relevant. She does not know a lot about Khalida's future marriage prospects, ability to be employed and be independent, though obviously like any parent she has nothing but positive hopes for her child's life.   
In the event of her death, Salma wants to make sure her daughter gets her Islamic right to inheritance.  However, if Khalida needs public benefits, Salma does not want her daughter disqualified because she has her own money.
Her solution is something called a "stand-by special needs trust." This type of trust is done in conjunction with an Islamic Inheritance Plan and is typically part of a living trust, though it could also be a trust drafted into the last will.  I will describe more about what a special needs trust is below. For Salma, she is the Trustee of her trust. After she dies, she names her husband (or someone else) the successor Trustee. The trust is drafted to prevent it from becoming an "available resource" used to determine eligibility for public benefits such as Supplemental Security Income (SSI), Medicaid and other benefits that go with that.
If it turns out that Salma passes away when Khalida is 5, and her assets are held in trust for her until she is 18 and her Trustee determines she does not need a special needs trust, she will get her inheritance precisely like everyone else based on their Islamic right.  If she does need benefits, the Trustee will only make distributions to Khalida that would not harm her eligibility.
This way, there is no need to deny Khalida her inheritance because of her disability, and she is also making sure giving her daughter inheritance would not harm her daughter's healthcare or other necessary support.  
The Shape of Special Needs Trusts
A stand-alone Special needs trusts, which is sometimes called a "supplemental needs trust" the kind without the "stand-by" variation I described above, are a standard device for families that have children with special needs. A trust is a property ownership device. A Grantor gives the property to a Trustee, who manages the property for the benefit of a beneficiary. In a revocable living trust, the Grantor, Trustee, and Beneficiary are typically the same person.  
When the trust is irrevocable, the Grantor, Trustee, and Beneficiary may all be different people. In a special needs trust, the person with a disability is the beneficiary. Sometimes, the person with a disability is also the Grantor, the person who created the trust.  This might happen if there is a settlement from a lawsuit for example and the person with special needs wants it to be paid to the trust.  
In many if not most cases, the goal may not be to protect the beneficiary's ability to get public benefits at all. Many people with a disability don't get special government benefits.  But they do want to protect the beneficiaries from having to manage the assets. Some people are just more susceptible to abuse.
The structure of the arrangement typically reflects the complexity of the family, the desire of siblings and extended family to continue to be involved in the care and attending to the needs of the person with a disability, even if they are not the person directly writing checks.   
Example: Care for Zayna
Example: Zayna is a 24-year-old woman with limited ability to communicate, take care of her needs and requires 24-hour care.  Zayna has three healthy siblings, many aunts, uncles, and cousins. Her father, Elias, earns about $70,000 per year and is divorced. Zayna's mother Sameena cannot contribute, as she is on social security disability. However, Zayna's adult brother and sisters, brother in laws, sister in law and several aunts, uncles want to help Zayna meet her needs E.lyas creates a third party special needs trust that would ensure Zayna has what she needs in the years to come.
Zayna receives need-based public benefits that are vital to her in living with her various disabilities and her struggle to gain increasing independence, knowledge and dignity.  So the trust needs to be set up and professionally administered to make sure that when Zayna gets any benefit from her trust, it does not end up disqualifying her ability to get any needs-based benefit.  
Contributions to the special needs trust will not go against Islamic Inheritance rules unless made after the death of the donor.
If Zayna dies, her assets from the special needs trust will be distributed based on the Islamic rules of inheritance as it applies to her.
When disability planning is not about Public Benefits
Perhaps most families with special needs children do not use any needs-based public assistance.  They are still concerned about special needs and planning for it.
Example:  Khadija, 16, is on the autism spectrum. For those familiar with the autism spectrum, that could mean a lot of things.  For her parents, Sarah and Yacoob, other than certain habits that are harmless and easy to get used to, it means Khadija is very trusting of people. Otherwise, she does well in school, and her parents don't think she needs way more help than her siblings and she has just as good a chance of leading a healthy and productive life as any 16-year-old girl.  
The downside of being too trusting is that the outside world can exploit her.  If she ends up getting inheritance or gifts, she may lose it. The parents decide that when she gets her inheritance, it will be in a trust that would continue through her life.  There will be a trustee who will make sure she has what she needs from her trust, but that nobody can exploit her.
In some ways, what Khadija's parents Sarah and Yacoob are doing is not so different from what parents might do if they have a child with a substance abuse problem.  They want to give their child her rights, but they don't want to allow for exploitation and abuse.
Considering your own needs
There are many people who are easy marks for scammers, yet you would be unlikely to know this unless you are either a close friend or family member, or a scammer yourself.  While this often happens to the elderly, it can happen at just about any age. Everyone should consider developing an "incapacity plan" to preserve their wealth even if they lose their executive decision-making ability.   
There is this process in state courts known as "conservatorship." Indeed, entire courtrooms dedicate themselves to conservatorships and other mental health-related issues.  It is a legal process that causes an individual to lose their financial or personal freedom because a court has essentially declared them not competent to handle their affairs. Conservatorships are a public process.  They can cause a lot of pain embarrassment and internal family strife.
One of the benefits of a well-drafted living trust is to protect privacy and dignity during difficult times.
Example: Haris Investing in Cambodian Rice Farms
Haris, 63, was eating lunch at a diner.  In the waiting area, he became fast friends with Mellissa; a thirty-something woman who was interested in talking about Haris's grandchildren.  The conversation then turned Melissa and her desire to start a business selling long distance calling cards. Haris was fascinated by this and thought it made good business sense. Haris gave Mellissa $20,000.00. The two exchanged numbers. The next day, Mellissa's number was disconnected.
Haris's wife, Julie became alarmed by this.  It was out of character for her husband to just fork over $20,000 to anyone on the spur of the moment.  What was worse is that the business failed immediately.  
Three months later,  Haris meets Mellissa at the diner again.  She then convinces Haris to invest $50,000 in a Cambodian rice farm, which he does right away.   His wife Julie was pretty upset.
How living trusts helps
As it happened though, Haris, a few years before, created a living trust.  It has a provision that includes incapacity planning. There are two essential parts to this:  The first is a system to decide if someone has lost their executive decision-making ability. The second is to have a successor Trustee to look over the estate when the individual has lost this capacity.  This question is about Haris's fundamental freedom: his ability to spend his own money.
If you asked Haris, he would say nothing is wrong with him.  He looks and sounds excellent. Tells the best dad jokes. He goes to the gym five times a week and can probably beat you at arm wrestling. Haris made some financial mistakes. Everyone makes mistakes.
Julie, and his adult children Haroon, Kulsum, Abdullah, and Rasheeda are not so sure it's just a mistake.  The living trust created a "disability panel." This panel gets to vote, privately, in if Haris should continue to act as Trustee of his own money.  If they vote that he should not manage his own money, his wife does it for him.
The family has a way to decide an important and sensitive issue while maintaining Haris' dignity, privacy and wealth.   Haris's friends don't know anything about long distance calling cards or a Cambodian rice farm; they don't know he lost his ability to act as Trustee of his trust.  Indeed the rest of the world is oblivious to all of this.
Planning for everyone
Islamic inheritance is fard and every Muslim should endeavor to incorporate it into their lives.  As it happens it is an obligation Muslims, at least those in the United States, routinely ignore or deal with inadequately.  However, there is more to planning than just what shares go to whom after death. Every family needs to create a system. There may or may not be problems with children or even with yourself (other than death, which will happen), but you should do whatever you can to protect your family's wealth and dignity while also fulfilling your obligations to both yourself and your family.
Should Spiritual Leaders Who Violate Our Trust Be Forgiven?
Some people want to move past the indiscretions of community leaders quickly as though they never occurred while others wish to permanently blacklist them. This article examines a third option between the two that can be a win-win for the fallen leader, the victims, and the community.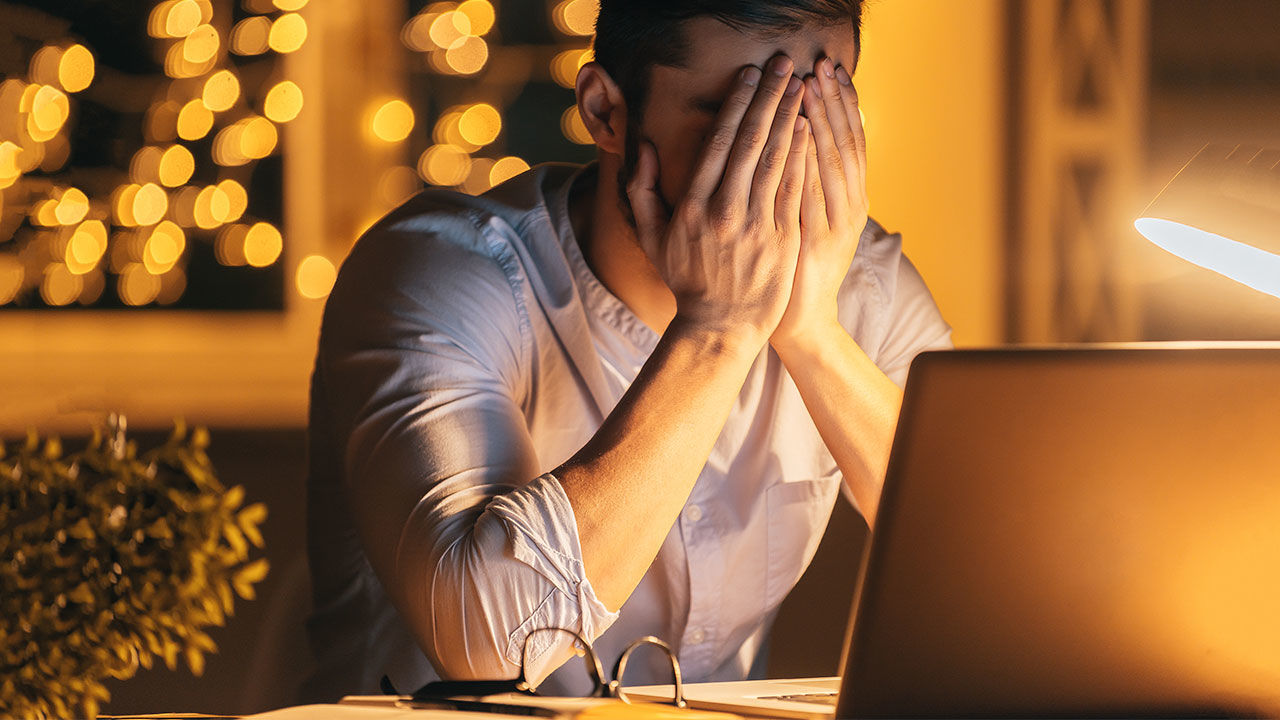 In the past couple of years, a number of simmering scandals among spiritual leaders became public knowledge and the subject of vigorous and often painful public debate.  As someone who has worked in the community dawah space the past 15 years, often acting as a bridge between past and present microcelebrity as well as non-celeb teachers to the community at large, one question I've been asked repeatedly – should community leaders who violate our trust be forgiven?  I'm often asked by people who aren't fanboys / fangirls taken by microcelebrity dawah culture or wearing spiritual blinders for non-celebs, and often don't even understand what has occurred.  Below I share answers I have heard as well as what I believe is fair and pragmatic in many (not all) situations.
Answer #1:  Yes, We Must Forgive Them
One group of people argue we should completely forgive them. No one is perfect, everyone is human and makes mistakes.  If we assume the mistake was truly made, then we should also forgive them and move on. Our faith is replete with statements about Allah's Mercy, and if we want His Mercy, surely we should also give it to others. Oftentimes, members who fall into this group don't actually believe the person in question is at fault and are trying to convince others either on the fence or against the individual to let it go. Of course, there are some who believe the violation occurred and not think it a big deal, while others may think the violation indeed was a big deal, and should still be forgiven. I can agree with some aspects of this, but not completely.

Answer #2:  No, They Should Never Be Forgiven
Another group believes that once a person commits a violation of trust, they are no longer to be trusted again. They should leave their positions and be ostracized from the community permanently. They are to be tarred and feathered and made an example of for life.  Members within this group oftentimes don't need to wait for evidence to arrive at any conclusion – they were judge, jury, and executioner well before there was a trial.  Not all members are like this, of course – some waited for evidence and then reached their conclusions that the gravity of the charges was too much and therefore the person should never be forgiven.
Answer #3:  It Depends – Forgive Them If They Take Ownership and Make Amends
In my view, the problem with the first group is they don't often see that the person did anything wrong, or if they did, it's trivial relative to the khayr, the good and benefit they bring to the community. They keep citing that Allah is forgiving, so we should forgive automatically, but in their haste, they forget that part of the process of making restitution is first sincerely regretting what one has done.
To sincerely regret, one must also move out of denial and into acceptance that they made a mistake. Once one admits failure, they can then ask to be forgiven, and then the aggrieved party is in a position to grant it. The community forgiving and re-integrating a person who refuses to take responsibility for their wrongdoing does neither them, their victims, nor the community any good. We continue to distrust the person and they continue to believe they can get away with whatever they wish because they are "special". Victims fear community integration, everyone becomes cynical about religion, and the cause of calling people to become better worshippers of Allah is harmed.
On the flip side, the second group is far too extreme in their view of justice. To ostracize that person and leave them no path of return means they have no means to redeem themselves, and de facto their families are casualties who must deal with the fallout of being pushed out of the community. I agree that none of us are perfect, and we all often make egregious mistakes. In my own experience, there are many instances where activists who advocate publicly for better are often involved privately in worse than those they go after.
That being the case, there is no person that can't be forgiven, and I would say we shouldn't leave aside this possibility in our dealings with those who fail us just as we expect it when we ourselves fall short, sometimes seriously so. I would add that we would lose the skills and talent of that person – if we believe in allowing people with criminal histories back into the general population and providing them with opportunities to become productive, reformed citizens, I don't see why we wouldn't offer the same to our community and religious leaders.
The key I believe is in following a process which includes the following for the individual:
Taking

Responsibility

:  They own responsibility for the mistake and acknowledge it was made.  No amount of denial, minimization, and spin will suffice.
Make Restitution:  First and foremost, they apologize and make amends as best they can with the victims.  If the issue went public, then they should apologize to those they were serving as a leader for their mistake as well. This includes handling financial compensation.
Remediating Oneself:  Enroll in counseling, therapy, mentorship, and / or group support programs to help them overcome their issues.
Being Held Accountable:  Work with others on concrete milestones of both behavior and programs that demonstrate their commitment to change.  Be able to show the community that they take reformation seriously and are committed to coming out of their mistake a better person, one who can even advise others of the mistake and how not to repeat it.
As someone who has worked in dawah and supported the ascension of numerous modern-day microcelebrity spiritual scholars and teachers, I and others like me act as a bridge between them and the community.  I do not speak for all of them, certainly, but I know that any leader who tries to re-integrate into the community without taking responsibility will continue to find that many will not support them. Most, in this case, feel a sacred duty to oppose their elephant-in-the-room integration to protect the community at large.
Likewise, I know that many like myself would be willing to overlook and forgive such individuals if they took responsibility for their behavior and demonstrated they were taking concrete steps to make amends for their mistakes.  The month of Ramadan is upon us, and sometimes one just has to rip the band-aid off, go through the process of feeling the pain of scrutiny for owning up, and then moving forward to forgiveness.  I won't promise it's easy or that everyone will change, but I can at least say many of us would have an easier time accepting individuals back into the community.
What's your view on these situations?
5 Tips for Surviving Ramadan. In The Summer. When You Have Small Children.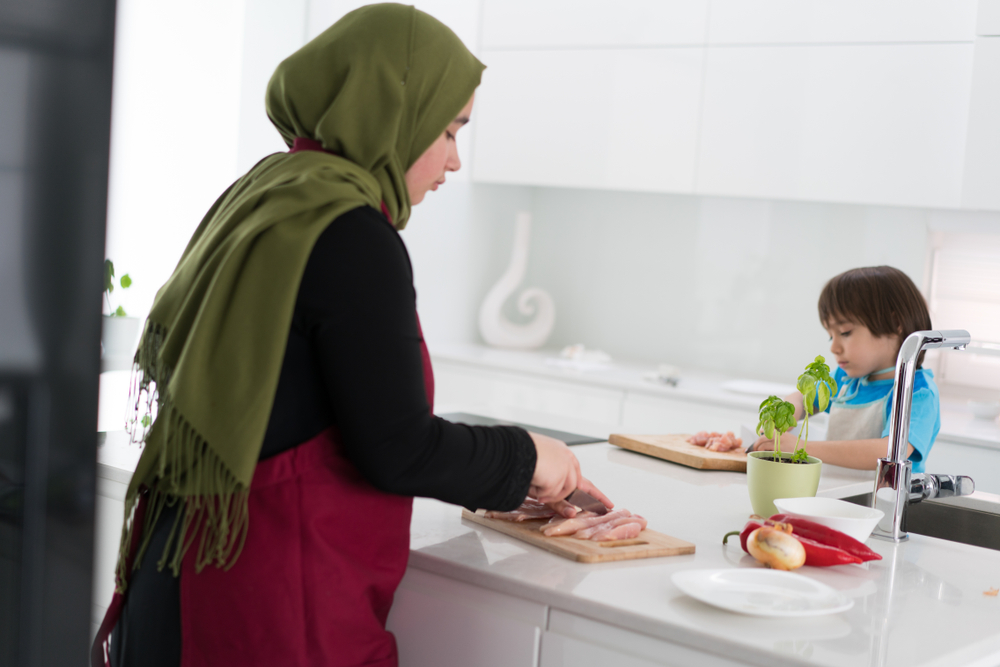 By Afaaf Rajbee
This time a few years ago, I anticipated Ramadan with anxiety. I had 3 children, all under the age of 5, and was part of a large, busy household of working men and women.  When Ramadan finally arrived I was petrified inside at whether I would be able to cope with running after my youngest daughter, managing the school and nursery run with the older two, as well as keeping the house in order and preparing iftar for the family in the evening.

A year later, that anxiety has been replaced with something more positive; Ramadan is challenging there is no doubt about it. But I wanted to share some practical tips, as a mum, that made last Ramadan that much more manageable and a time of spiritual benefit.
1. Prepare the evening meal first thing in the morning. Decide on your menu and write it down into checklist form. This is the time to marinade, whizz up chutneys and even get out serving dishes. All the effort you invest early on will give you more time before Maghrib. It's amazing how hectic it can get in the kitchen just before Maghrib – and when you're dehydrated and tired it's difficult to cook quickly. Instead, try to make your mornings your most productive time in preparing iftar.
2. Use salah times as the markers that divide your activities. I always set myself a target to get everything done in the kitchen before dhuhr. This way I avoided that feeling that I'm taking time away from work to pray salah. Dhuhr salah was a great way to end a productive housework-focussed morning in the kitchen and helped me refocus on the next tasks – whether that was having to go out or completing more housework or listening to a lecture or reading Qur'an.
3. Make sure you pray Asr before you start getting iftar on the table! So many times I've nearly missed Asr because of getting carried away in the kitchen – and this is true for so many mothers I've spoken to. I've found after the kids get home from school and I'd fed them and helped them with homework or reading, 'Asr was a good marker to tie up that stage of the day.
4. Put the kids to bed as early as you can. Your evening ibadat, Qur'an reading and taraweeh depends on this. Leave bedtime any later and I guarantee you'll most likely fall asleep with your kids and you'll wake up 6 hours later feeling awful just having missed sehri, still wearing your day clothes and still having your contact lenses in… That was not a great evening.
5. Ramadan is not the time to deviate radically from your normal routine and responsibilities – else we would simply not receive its benefit. Yes, we should increase in certain types of ibadah – read more Qur'an, pray more nafl salah – but running a household, going out on errands, engaging with our children and keeping them safe is also part of life and hence part of our ibadah. Fasting was not prescribed for a week, or just a few days, but a whole month. The beauty of this duration is that it's not so long to be a physical or mental burden but also it's not so short that you can suspend your daily activities like a holiday. By normal activities, I'm referring to that ironing pile, the paperwork, hoovering. I found that even during the 20-hour fasts I could still pursue my normal routine but at a slower pace. If you do this, you'll have no build up of housework that you'll have to spend ages compensating at Eid time.
As you can probably tell, I'm a big fan of routine. But routine becomes monotonous and depressing if there is no time invested in personal growth, pursuing your passions or helping others. But generally, mothers of small children are tired; remember that Allah

knows your situation and that every aspect of our daily life can become an act of worship if our intentions are to please Him.
Afaaf Rajbee is a graduate in International Relations from the LSE, which surprisingly didn't prepare her for life as a mother to 3 children. She is part of the Charity Week team and volunteers her skills for a variety of different organisations.