In the modern industrialized parts of the world, the mantra is "to maximize freedom means to maximize choice." In order for us to enjoy freedom, we must have more choice. Choice is not limited to material objects such as clothes, cuisine and gadgets, but also our subjectivity; our gender, sexuality and individual characteristics are now our decision. Being your own individual with your own choices is emphasized. Even Barbie teaches young girls, "real style is about fiercely expressing yourself!" Freedom of expression, freedom of religion, freedom of thought, freedom of sexuality etc. have all become markers of a civilized society.
Psychologist Barry Schwartz states that freedom of choice in our modern world has actually left us feeling more dissatisfied. Instead of affording us the joy of freedom, the excess of choice causes paralysis. Whilst his theory has its critics and does not apply to all choices, it resonates with my own experiences in recent decisions.
It also serves to argue for the fixed boundaries provided by religion. Broadly speaking, people are happier when they are given rules and restrictions rather than left to their own desires. Schwartz brings forth the example of two fish. The larger fish says to the small fish, "You can be anything you want to be – no limits." However, if the fishbowl is shattered so as to allow all possibilities, the fish will be overwhelmed with the paralysis of choices rather than gaining freedom.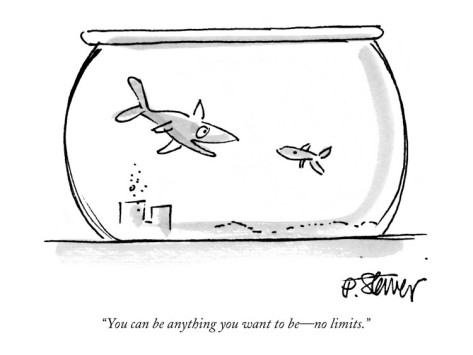 Likewise as humans, we need a fish bowl. Absence of some metaphorical fish bowl is a recipe for misery, disaster and chaos. He does not extend this argument to prove religion is the best way to manage society – this is the position I hold. However, this argument explains how, to an outsider, Islam may seem like a list of dos and don'ts, but to Muslims these very restrictions serve to liberate.