James Holmes' (Dark Knight Killer) Alleged Conversion to Islam – Sloppy Reporting from the Washington Times
It's interesting how quickly news spreads on the internet without a simple checking of sources. Making the rounds on social media and certain websites is a story that James Holmes, dubbed the "Dark Knight killer" for opening fire at a screening of the The Dark Knight Rises in Aurora, Colorado, killing 12 and injuring 58, has converted to Islam. Additionally, the story claiming this states he did so in order to justify his murder spree as striking back against the "infidels".
Very interesting, I thought, except the National Enquirer was quoted as the source, so it seemed like a hoax or another tabloid story, but then the Washington Times quoted the story and gave it more legitimacy. But is it legitimate? Maybe, but as of today, it's looking pretty shaky.
The Washington Times Story
The Washington Times, on its front page, reports this story (click image below to see the story).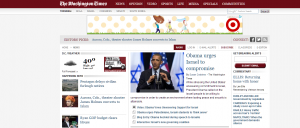 They essentially do a copy/paste job from the Daily Mail, writing the following:
A prison source say the beard James Holmes sported in court last months represents his new-found faith. The source said Mr. Holmes has turned Muslim as a way of justifying his horrific crimes on July 20 which left 12 people dead and 58 people wounded, the Daily Mail reports.
The story then adds
"He has brainwashed himself into believing he was on his own personal jihad and that his victims were infidels," the source told the National Enquirer.
Oh, so did the source talk to the Daily Mail or the National Enquirer? Seems the source was talking to the National Enquirer (a bastion of journalistic integrity and worth quoting), and the Daily Mail was simply repeating it.
The Daily Mail story is here. The story contains a link to the National Enquirer, and one would assume this link leads to the story the National Enquirer broke. In fact, it doesn't. It leads to the National Enquirer's main page where all my favorite celebrity gossip about Britney Spears and Christina Aguilera is to be found.
National Enquirer – No Story Found At All
The front page had no story on James Holmes, which is fine because websites like National Enquirer are expected to cycle through stories and news quickly. So I went to the search engine and typed in "James Holmes Muslim" and no story was found on his "alleged" conversion. I typed in "James Holmes" and again, nothing found. Some interesting stories on Katie Holmes, and some older stories from last year about James Holmes, but that was it, so either the National Enquirer has a really bad search engine, or this is a bunch of made up nonsense.
Here Come the Anti-Muslim Bigots and Losers
True to their level of integrity, this lack of sourcing didn't stop our favorite anti-Muslim bigots from running with it. Some great quotes follow:
The Right Scoop said before quoting an excerpt from the Washington Times:
Apparently James Holmes has converted to Islam to justify the massacre he committed as some sort of Islamic jihad. I'm sure Allah would be proud.
Atlas Shrugged, before quoting the Daily Mail story, adds the following:
Holmes has found Islam and "a way of justifying his horrific murder spreee in Aurora." That's his jihad — what's yours?

"He has brainwashed himself into believing he was on his own personal jihad and that his victims were infidels." I wonder if he'll get special accommodation now. Respect it!

Did he recently convert or was there some knowledge about his leanings before the shooting?
Frontpagemag took a "balanced" approach with this winner
This is far from proven, but if Holmes did indeed covert to Islam, he wouldn't be the first prisoner to go Mohammedan behind bars. This story does come from a prison source to the National Enquirer, which can be unpredictably right and wrong. So take it with some salt.
And after quoting the story followed it with:
Well yes. There are enough Muslims engaging in mass killings. Having a non-Muslim mass killer convert is like shipping coals to Newcastle or murderers to Islam.
What If James Holmes Really Had Converted?
Anyone can become Muslim, and Allah

can forgive any sin. Had he truly become Muslim and been as portrayed, we would acknowledge his Islam and disavow his actions as wrong, reprehensible, and not part of our faith. Converting to our faith doesn't exonerate him from the crimes he committed and the price he has to pay within the legal system.
Conclusion
It appears this story is fake. I haven't been able to source it back to the National Enquirer – that doesn't mean it isn't true, but given the story doesn't exist, the whole thing looks made up and unfortunately was picked up by certain mainstream media sources who have in turn been used as a tool to spread more misinformation by certain anti-Muslim bigots who profiteer on others' hatred. If this story is as it appears, fabricated, then the best action we can do is counter this misinformation with the truth by debunking it wherever it shows up.