I feel like this message is far too important to me and far too sensitive for all of us for me to leave it unexplained.
—–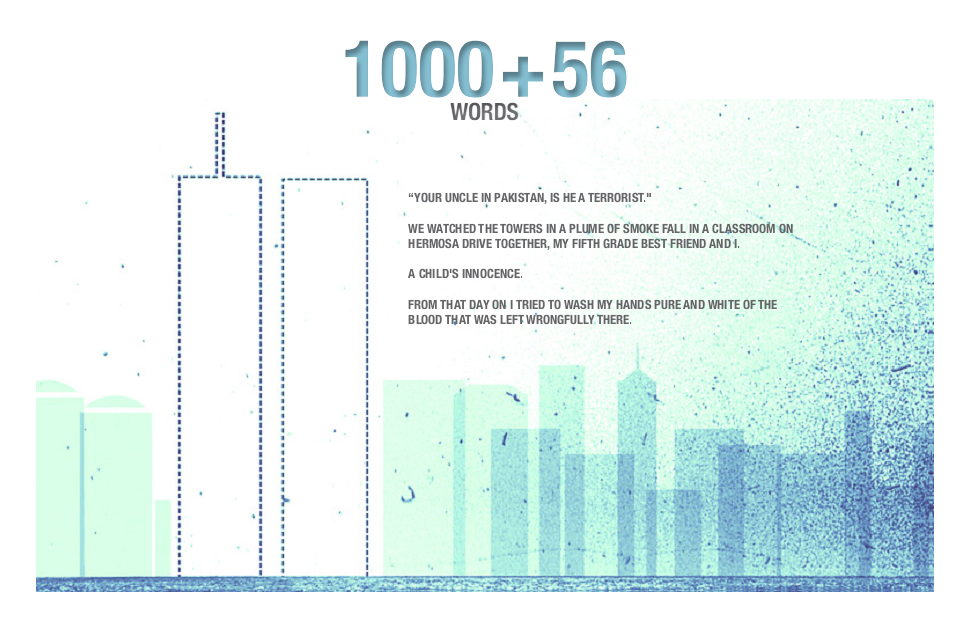 Where were you when it happened?
For me, it was the classroom.  I was in 5th grade when the Twin Towers were attacked.  The school day had just begun when the first plane hit, and my teacher turned on the TV and we watched.  I remember sitting there so confused.  I didn't know what it all meant. I was far too young to understand back then, and sometimes I feel as if I am far too naïve to understand now.  All I can remember was utter confusion.  I came home from school that day, and my mom was sitting in front of the TV watching footage of New York, tuned in with the rest of the world.  I didn't realize the gravity of what had happened until I sat there with my mom, for hours, glued to the TV.
We all felt that same confusion that day, and for the few weeks that followed.  Imagine if that sensation never ended, the feeling of falling zero-gravity into an abyss of disorientation. I believe that many American Muslims felt that way for a long time, or at least I did.
The next day, my best friend asked me that very question, but in an accusative way. "Your uncle in Pakistan, is he a terrorist."  I didn't have enough in me to even understand the suggestion, let alone room enough for me to even answer—period.
American Muslims felt that confusion that held our identities in limbo because that's when the media went to work .  That's when stuff started to soak in.  The "Black criminal" of the 80's under Reagan became the "Muslim terrorist" under Bush II.  We all absorbed it.
I didn't realize how oversaturated I had become, and there were a few times where I just couldn't hold the excess of this ideological work within my little frame, a little brown body marked as "Pakistani-American-Muslim."  Sometimes it just burst out.  And it proved to always be in the classroom.
In the 7th grade, we were sitting in a huge circle in English class.  I don't remember what we were talking about, but I told this same story of what my best friend in the 5th grade had said to me.  I didn't know where it came from, and how this painful, suppressed memory surfaced, but before I knew it, the heat was rising into my fast-flushing face and my voice started shaking.   I was sitting there in tears before I could even get two sentences out, and had to step out of the classroom.  I sat there on the floor and cried in the hallway, my 7th grade best friend, also a white girl, came out and awkwardly patted me on the back.  I don't remember what she said, if anything.  What could she have said?  Was her identity under attack?  Was she being painted and propagated as the "other," the enemy within?  My English teacher came out a few moments later to check on me.  She didn't understand, she couldn't.  She actually seemed frightened.
I think that is when I understood how embarrassing that episode was, and that's when I really started to shut the Pakistani and Muslim-ness, but mostly just the Muslim-ness, out of me.  That is when I wanted to be pure again, washed clean of someone else's sins, another concept that I, as a Muslim who does not believe in the Christian "Original Sin," could not wrap my head around.  (Image: Dimmesdale in The Scarlet Letter.)  I didn't even want to embrace the "positive" image of the Muslim that was affirming the normalized and invisible white ideal that America had expected of me.  I wanted to get as far away as I could from the thing that I didn't understand and the thing that was making me feel like a weirdo, heightening the social anxiety that anyone feels when they are a pre-teen/in their early teenage years.  I was just too young.
The image of those smoking towers is one that I simply couldn't shake, even if I wanted to whitewash it away, it loomed there in the background.
It loomed there in the background, directly behind my teacher's podium in junior year of high school.  I had, for some reason, joined the student government.  The teacher was a racist.  Surprise.  I resigned halfway through the year after feeling alienated socially from all of the kids who were getting laid and wasted and because of the moral dilemma I felt with some of the work they were having me do for the school, like helping to plan school dances.  I approached the teacher, told him I had thought about it and I could no longer continue being a part of that organization.  As I tried to explain to the others in student government why I had decided to leave, they didn't understand.  A moral crisis?  An ethical dilemma?  More than anything, the isolation I felt from all of those people in that room put me at a crossroads in my life.  This was the time to stare in the mirror and decide: was I going to be "white" like every other person, or was I going to be "Muslim," and what did that even mean?
I laid low for the rest of the year.  I had made my decision by the beginning of the next year.  I came to the first day of my senior year of high school wearing a hijab.
And believe it or not, it burst out in the classroom again, but this time it was just a few weeks ago at my university.  We had a professor subbing our class and she had asked us a bunch of questions about how we would introduce ourselves, meaning where we come from, to different people in different places.  In Paris: "I'm American. And well, obviously, Muslim." I had been doing a bunch of readings for that Global Multicultarism class, a class based on the ideas of how identities and citizenship form for minorities, and also for another class, Hip Hop Culture, and I couldn't help but feel the words jumping off the pages and becoming animated in my life and experiences.  As we sat there in class, it had burst in me once again.  On 9/11 and the years that followed, I experienced a hijacking of my identity, "the man" constructing social meanings around my biological and ideological differences. On 9/11 and the years that followed, I experienced a struggle to reclaim ownership of what those three words separated by two hyphens, Pakistani-American-Muslim, meant to me.
It wasn't easy to get to the point where I am today, to the point where I physically wear my faith on my sleeve (read: head.)  Every day that I go outside with my hijab on is another day when I am forced to contend with my identity, what defines who I am for crying out loud, and what others think about it.
So, when a friend of the student government at UCI asked me if I wanted to submit any artwork about my identity for the Art Lab, I couldn't help it.
This is my autoethnography, of sorts.  One where I get to reclaim the image that projected itself into my life.