5-Step Guide to Healthy Ramadan Weight Loss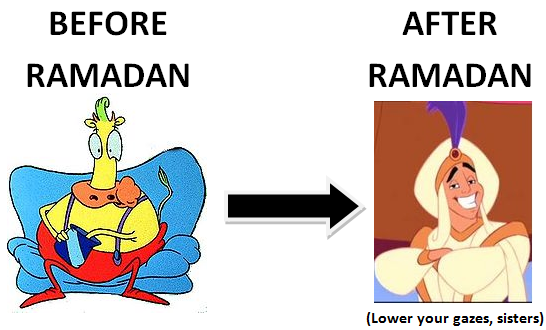 Dr. O blogs at Muslim Medicine, a site that strives to serve only the freshest grade-A certified ẓabiḥah ḥalāl comedy. Contact your local ḥalāl butcher for more details.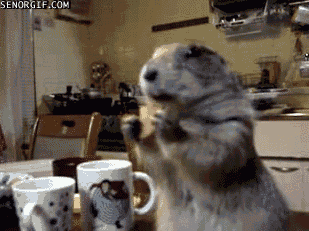 HEY. HEY YOU. YEAH, YOU. STOP DAYDREAMING ABOUT EATING AND PAY ATTENTION.
My dear brothers and sisters, Ramadan is finally here! That special time of the year where our divinely-ordained worship blossoms into a beautiful month of passionate devotion, rigorous spiritual purification, profound remembrance, deep self-reflection, unshakable inner tranquility, and selfless compassion.
Ramadan is a truly blessed time that gives us a much-needed opportunity to rediscover the immaculate wisdom of the Qur'an, to rekindle our relationship with our faith, and to edge ourselves closer to He who fashioned us from clay and dirt, and to partake in vitriolic fighting in our communities over sighting the moon while subsequently declaring others who don't follow our sighting as deviant. Ahh, the inspirational beauty of how we Muslims respectfully treat the entry of Ramadan into our lives.
Anyways, one of the things that make Ramadan truly stand out amongst all the other Islamic months is its mandate of ṣawm, or fasting. It's a built-in rigorous daily spiritual weight-loss program that trims the unsightly chunks of fat off of your īmān, and gives you a sizzling hot spiritual form that just might make some of the angels blush (okay, probably not – but wouldn't that feel pretty awesome?).
Think of Ramadan as the intense P90X workout routine for your īmān – in just 30 days your īmān will have abs of steel and pecs so tough that it'll make  Shayṭān feel like a fat little chubby kid trying to tempt you when he finally pays his bail and gets let out of jail on probation after 'Īd al-Fiṭr. But that's ONLY if you're willing to go the extra mile and give your īmān that workout that it so desperately needs this month!

What your īmān SHOULD feel like after Ramadan ends (without tattoos, of course)
Now, spiritual trimming is wonderful and all, but we know why you're really here. Just admit it: you've been letting yourself go this past year, haven't you? Sneaking in guilty pleasures every now and then like whole family-size bags of M&Ms, weekly orders of super-sized fish filet meals at McDonald's, and massive bowls of the heaviest chicken masala curry drowned in buckets of oil and grease. All those fattening foods have taken their toll on your weight since last Ramadan, and now you're probably gearing up for a grand feast every night after ifṭār as a reward for your fasting, huh? Well, shame on you!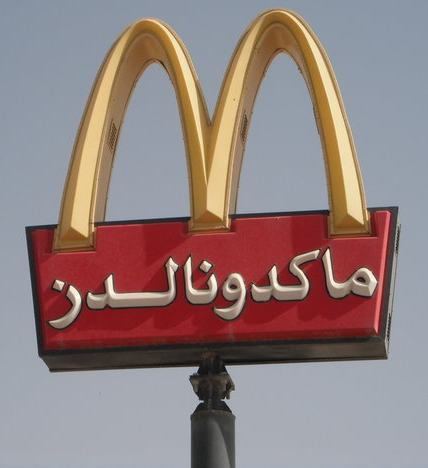 McDonalds – where the only thing heavier than your belly is your guilt of eating regularly here.
Despite the fact that we fast in Ramadan, we like to convince ourselves that we're actually losing weight, but according to clinical obesity research that I myself have completely made up, this is clearly a huge misconception. You might want to ask your kabob roll to leave the room, and tell your Philly cheese-steak to cover its eyes. The information below is not for the weak of heart. Well actually it kind of is, since cardiovascular disease is a side effect of – okay you get the point.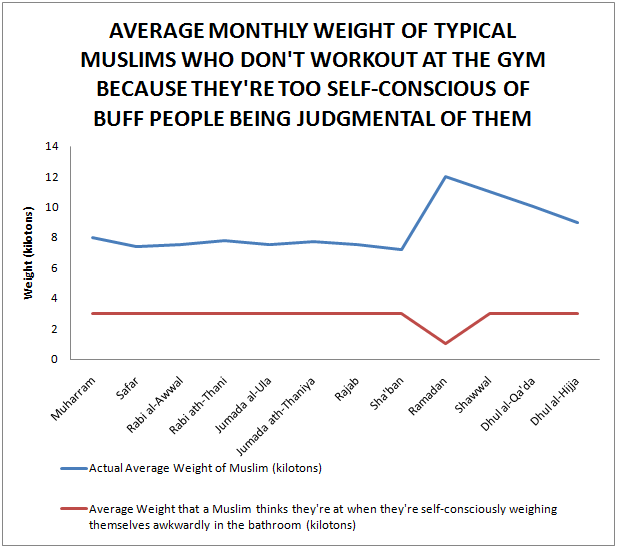 That's right. Kilotons. Does this chart make any sense when you actually think about it? Probably not. But did it make you feel self-conscious? I hope so. We've just been fooling ourselves into thinking that fasting would help trim that stubborn chubby belly fat and get us back on the fast-track to getting married (or if you're already married, getting you back to having your spouse NOT lower their gaze at you out of eye-strain).
You're probably thinking: "Well fine, you've made your case that Ramadan isn't exactly the automatic weight-loss dream-month that most Muslims convince themselves that it is. So what's the solution, then? How do I banish my stubborn unsightly fat to the depths of obscurity like Shayṭān gets banished every Ramadan?" Fortunately for you, my friends, MuslimMatters is here to help. This is our 5-step guide to Healthy Ramadan Weight Loss!
1 STOP SPEED-EATING AT SUḤŪR

Yeah, yeah, we've all heard that familiar excuse: it's nearly 3 minutes to fajr, you just woke up and rolled out of bed, and you gotta quickly grab something before time's up and you're left hungry and grumpy. So you rip open the kitchen cabinets and stuff yourself full of as many chips and cookies you can lay your hands on, then down a giant glass of milk at Guinness world-record speeds all before the game timer reaches zero and the referee blows the whistle and begins the adhān. What's worse than that are the folks who have plenty of time before fajr, but somehow are still frantically gorging like there's no tomorrow. You're chewing furiously all to beat the clock, and to anyone looking at you, it just 'aint a pretty sight.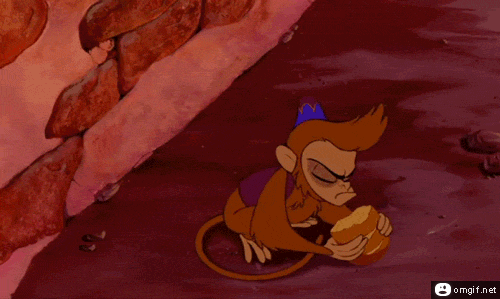 Take it easy there, buddy. Suḥūr isn't an eating contest – it's meant to give you a small energy kick to start your day off, but after you quickly expend that energy, you're on your own for the remainder of the fast. Stuffing yourself with more food doesn't necessarily mean you'll get more energy, so don't fool yourself into thinking a 7-course gourmet suḥūr meal will carry you all the way to ifṭār.
Take it easy, relax, moderate your intake, and eat just enough to give you strength for a small kick in the morning to get you started on your day, and leave it at that. Trust me on this, your body is an amazingly intricate biochemical machine. During a fasting state when your fuel starts to run on empty, your body begins producing hormones which naturally target your fat and energy stores and begin slowly burning them throughout the day to keep you on your feet. Allāh

has given you an incredible body that keeps you constantly monitored on energy and sugar levels. That's as natural as you can get with automatic weight loss.
2 DON'T OBSESS ABOUT FOOD
Let's do a little psychology experiment. I'm going to put a word here, and you tell me the first thing that comes to your mind as soon as you read it. Are you ready?
Chicken.
I'm almost 99% confident I know EXACTLY what you thought about once you read that word. You were thinking about lamb gyros. Don't even try to deny it – you had food on your mind. It's all psychology, and your mind follows that basic impulse just like everyone else's. I'm willing to bet that if I wrote "marriage dinner" as the phrase, the brothers would immediately think about their fantasy future wife's heavenly cooking, and sisters would immediately conjure up warm thoughts of all the romantic candle-light restaurants their future husbands probably won't take them to out of lazy stinginess. The point is, you're too preoccupied with food during Ramadan, and that's got to stop.
While fasting, you can't lose yourself in your day-dreams about the magnificent ifṭār feast waiting for you at maghrib time and drooling over the guessing games you play over what kind of delicious dinner awaits you every night. Obsessing over food while you're fasting is unhealthy and creepy, and points to a deeper dependence on food that you need to break.
Turn off the food channel, stop hanging around the kitchen staring at the fridge, and stop talking about food in general. Focus your time and efforts on worship and remembrance, and make every effort you can to expel all subconscious thoughts of food and drinks. It's tough to break dependance on snacks and meals, I know, but in the end, your tummy and your brain will thank you for it once Ramadan is over. Weight loss is just as much a battle of your mind as it is your body. Train both this Ramadan to give yourself the best edge over fighting your fat.
3 EXERCISE (DUH)
Okay yeah, I know what you're thinking. "Exercising to lose weight?! Gee, thanks for the tip, Captain Obvious." Well you know what, sometimes the most obvious solution is the one most overlooked or brushed off. So you're welcome, Lieutenant Sarcasm. The fact that we're fasting is the single biggest excuse that Muslims always come up with during Ramadan to justify their vegetable lifestyle during this month. Even potatoes get to see more movement than we do during Ramadan since they're skinned, cut up, and cooked almost every night. This is not a month of laziness, so DON'T USE FASTING AS AN EXCUSE FOR YOUR LAZINESS!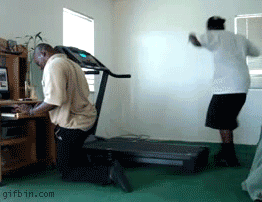 Yes, we're in a weakened state with low energy reserves while fasting, so it's understandable that for older folks, exercising might be dangerous. But for you younger able people, I'm not asking you to do Olympic weightlifting but to be active so you can speed up your body's fat burning. Like I mentioned before, in a fasting state, your body starts to mobilize your fat and begins burning it to power you. If you lay around all day and just nap and rest, your body won't need to burn much fat at all to keep you active, so your stubborn belly fat isn't going to magically disappear just because you've stopped eating for part of the day.
If you're young and able-bodied this Ramadan, start building habits of taking the stairs instead of the elevator, lightly walking to places instead of driving for 5 minutes, and opt to help with heavy work around the house instead of napping all day. Starting up a light, simple, and consistently active routine during Ramadan serves as an excellent means of really shaving off that excess weight and shaping you up quite nicely to force a lot of gaze-lowering once 'Īd al-Fiṭr rolls around.
4 STOP FEASTING AT IFṬĀR
Of all the Ramadan enemies that cause your weight-gain, this here is the biggest culprit. We're all guilty of doing this at one point or another during Ramadan – yes, even you, uncle in self-denial with the dried masala stains on your shalwar and the old grains of biryani from 3 Ramadans ago still imprisoned in your beard. Fasting all day makes even the smallest of ifṭār morsels taste like the most wonderful food in the world, and your appetite at break time is so voracious that you're probably ready to inhale the entire dinner table. That's why we tend to consider ifṭār and the subsequent dinner to be a rewarding entitlement for us that wipes away the guilt of other people seeing us using construction vehicles to pile on mountains of food onto our plates after we break our fasts.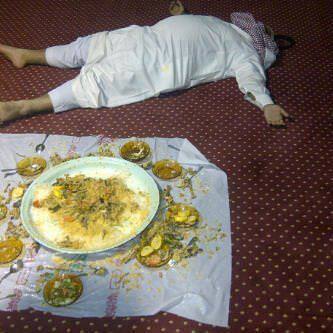 Yup. Your Ramadan seems to be going great.
For the sake of your health and your weight, you need to stop that. The point of ifṭār and the subsequent dinner is to sustain yourself and replenish your strength and energy after a long day's fast. It's not meant for you to consume the entire combined food volume of breakfast, lunch, brunch, afternoon snacks, and dinner all at once in one sitting. What was the entire point of you fasting if you're just going to shamelessly reward yourself at night with a MASSIVE meal fit for Jabba the Hut?
Just like the rule of thumb we established earlier with suḥūr, at ifṭār, eat just enough to stop your hunger pangs, and always moderate your intake and choose healthy meals rich in nutritious value. Lay off candy, junk food, and heavy meals high in fat and calories. If you're serious about losing weight during Ramadan, then you need to get serious about how much you allow yourself to eat at nighttime. We're Muslims for crying out loud, not Sumo Wrestlers. Take a lesson from Prophet Muhammad

and always eat in moderation, especially afterifṭār.
5 BE MINDFUL OF OTHERS
One of the most oft-forgotten aspects of Ramadan is its strong focus on charity and providing means of support for those less fortunate than you. We tend to limit this solely to monetary forms of charity, which detracts focus from an equally important goal for this month: feeding those less fortunate than us. Our money goes a long way, alḥamdulillāh, and it's wonderful that this month opens our hearts and our wallets as well, but it's rare that fasting Muslims reach out to soup kitchens, homeless shelters, and orphanages that are all around us. Not to mention parts of our own ummah which are suffering severely from drought, famine, war, and natural disasters. Giving your money for these causes is excellent, but disingenuous when you're throwing away entire plates and trays of leftover uneaten food every night while other Muslims are clearly starving to death.
Want to know the most sure-fire way of losing weight this Ramadan? Treat each morsel of food that you've been blessed with every night as the most precious commodity you can ask for. Picture that lavish plate of delicious gourmet goodness sitting in the lap of a starving Somalian girl, or in the hands of a grief-stricken refugee mother of a hungry newborn, and I promise you that you'll treat your food with a far deeper level of appreciation than ever before, and you'll certainly think twice before greedily jumping for 2nd, 3rd, and 4th helpings. That crushing guilt becomes even more compounded when you're approaching the garbage can with a half-eaten plate of food with overestimated portions that you yourself slapped on in the hopes that you'd mindlessly devour it.
Ramadan is the month of remembrance, so remember your starving brothers and sisters abroad and make an effort to not just throw money at the problem and feel good about yourself, but also make sincere du'ā' that Allāh

lifts their suffering and showers mercy upon them. Every grain of rice, piece of meat, and drop of water waiting for you at the very end of your fast is an immeasurable blessing from Allāh

. You may be trying to lose weight, but elsewhere your brothers and sisters can only dream about having the kind of food you're breaking your fast with. Don't forget them – and don't take your ifṭār for granted.

And there you have it, folks! Be sure to follow this guide for the remainder of this blessed month and inshā'Allāh you'll see striking results in no time!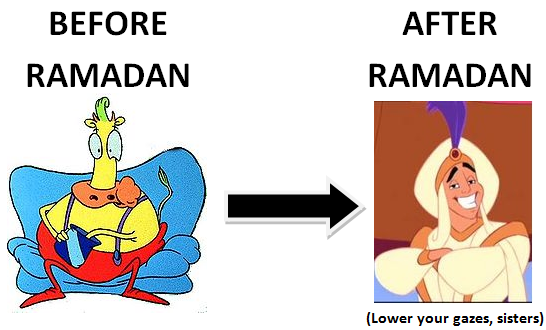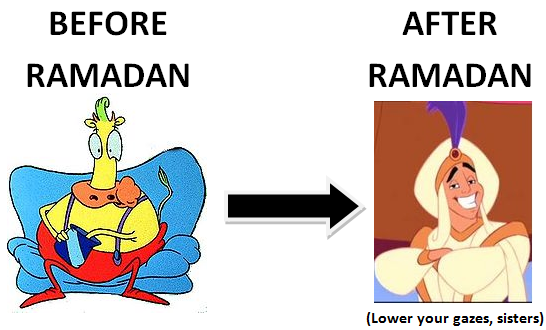 To Kill a Muslim – Part 1
Yahya noticed the obscene gesture that the man across the street gave him, but he ignored it, and chose not to tell his wife Samira. He knew how deep racism ran in these small towns. He would just have to be patient.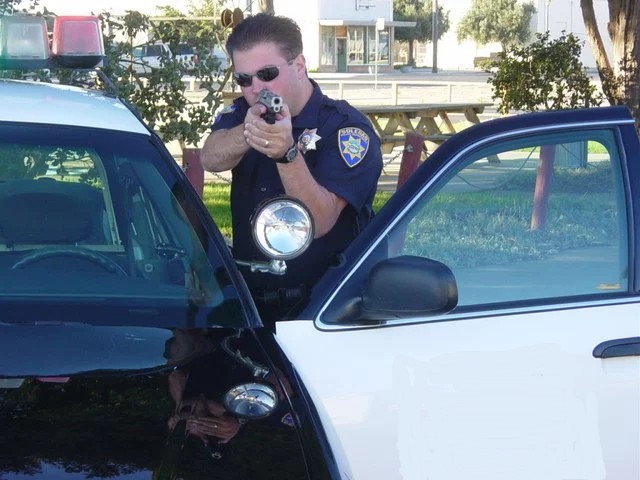 1. Ragheads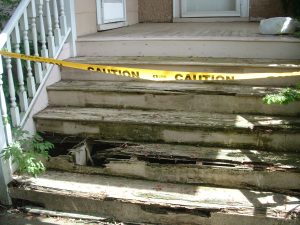 Nursing a warm beer, Chad sat on the ramshackle front porch with the rotting steps and peeling paint. His hand clenched tightly the beer can as he watched the filthy camel hugging family move in across the street. Liquid sloshed over his fist.
It was unbelievable. This was Alhambra, a white town in America. Trump's America. Making America great again, putting the freaks and coloreds back in their places. Sure, there were wetbacks in Alhambra – you couldn't escape them in California – but there were hardly any blacks, and there were certainly no terrorist camel huggers.

Until now. There they were across the street and two houses down, unloading a trailer hooked to a silver Honda Accord. It was a whole family of ragheads – a woman with her stupid oppressed scarf on her head, a little boy and girl, and the father. Chad studied the man with contempt. The guy was tall, maybe 6'1 or 6'2, and black. Well, maybe he was African or some such, 'cause he wore one of those long, colorful African shirts. His skin was mud colored, and his hair was short under that stupid beanie. He was skinny though. Chad was pretty sure he could kick the guy's ass. The man noticed Chad looking and waved. Chad flipped him the bird. The man frowned and went on moving his crap.
Chad spent a lot of time sitting on the porch nowadays, ever since he'd been fired from his loss prevention job at Walmart. That still made his jaw clench and his vision go red every time he thought about it. Some black dude – a gangbanger no doubt – had tried to shoplift box of tampons, of all things, and Chad stopped him. A scuffle ensued. Chad recovered the tampons, but the banger got away. And Walmart fired him. Said he'd violated the terms of service of his employment, which required no physical engagement of any kind. You were supposed to ask the thief to return the goods, but if they refused you were not supposed to stop them, follow them, or "engage" in any way, due to the liability to other customers if the encounter turned violent.
So the shade goes off scot-free, and Chad gets fired. A law abiding, hard working, white American gets fired for doing the right thing. It made him want to smash something. Actually it made him want to smash someone, ideally his Filipino woman boss at Walmart, but any foreigner would do.
So here he was, twenty two and unemployed, nothing but a high school diploma to his name, sitting on his mom's porch. All his old high school friends had jobs and girlfriends. Some even had wives. A couple had gone to college.
It wasn't right. His life wasn't supposed to turn out like this. He'd been a track star in high school – hundred meters and hurdles – and was supposed to have gone to college on a scholarship, but he'd blown out his knee, and they'd all abandoned him. It was like, if you weren't of use to people, they didn't give a crap about you. You were disposable. Blood sucking leeches. They'd given his spot on the track team to a black kid, a sophomore. Kid probably couldn't even read. Was that piece of crap out there now, living the life that should have been Chad's? How could this happen in Trump's America? That was the problem, that it hadn't been Trump's America back then. It had been Barack Hussein's America, the Commie Muslim traitor, damn his terrorist soul.
He seethed with the unfairness of it. He was no genius, he knew that. But he'd been a good runner, talented. He'd had the opportunity to make something of himself, to be the first in his family to go to college. He could have been more than his parents. A teacher maybe, or even a lawyer. His mother survived on welfare and what she could beg, borrow or steal from her string of boyfriends.
As for his dad, sure, Chad admired him in some ways – the man had been a shot caller in the Aryan Nation prison gang, able to point a finger and have another man killed. He'd been looked up to and respected. And he'd taught Chad what it meant to be a proud white man, standing up for your race and not taking any crap from coloreds. But let's face it, Dad had spent 90% of his adult life in prison, and in the end had died the way he lived, with a knife in his gut. That wasn't what Chad wanted for himself.
Plus, if Chad was being honest, he'd evolved beyond this father's way of thinking. His father always used to say that the coloreds – no matter the shade – were filthy and inferior and should all be eliminated, even if that meant a race war across the face of America. It was a certainty, according to him, that the race war was coming. RaHoWa, he used to call it – Racial Holy War. The coloreds were secretly plotting to wipe out white America. It was an assault on the white, Christian values that had built everything worldwide in the modern world.
But when Chad had worked at Walmart he'd been forced to work with people of all colors and even folks from other countries like Filipinos and Chinks. He´d asked a few of them about RaHoWa, trying to find out about their plans to destroy the white race, but they seemed genuinely clueless. Chad slowly realized that RaHoWa was a myth, and that the coloreds were ordinary people like himself. They liked the same sports teams he did, played the same video games, watched the same shows. Yeah, they ate some weird crap and some of them smelled different, and their music was garbage. And they weren't as smart of course. That was a fact. White people were the smartest, they had invented everything. That was why they ran the world. But the point was that the coloreds weren't evil.
He had come to the conclusion that what was needed was not a race war, but separation. Let the coloreds live in their own neighborhoods and go to their own schools. Let them marry their own women and breed their own brats. And Chad and the white people would do the same. Live and let live. Not the Filipino bitch who fired him of course, he still wanted to bust her head open. But the others, yeah.
But the Muzzies – the Islamics – that was a different story. They were terrorist, cult following traitors. Not normal people. Muzzies were evil and sick in the head. Everybody said so. Plus, they lied as part of their sicko religion. It was called takaya or some crap. What kind of twisted bullcrap was that? They beheaded people, for Christ's sake. If you were Christian in their country they would cut off your head with a hunting knife. They were devil worshipers. They should all either be kicked out of the country or killed. Period. And then Mecca should be nuked, and that would be the end of it.
But instead of taking care of business, the government was letting them go around like normal people. Even Trump had wimped out. The evidence was right in front of Chad's eyes. Ragheads in his neighborhood, on his street. It was insane. How could terrorists go around openly showing off their rags? Where was Homeland Security? That was a good idea, actually. See something, say something, right? He took his phone out of his pocket and called 911.
2. Moving Day
Yahya Mtondo noticed the young man across the street staring. He waved, and when the fellow gave him an obscene gesture in return he frowned. In the old days – that is to say, in his angry and lost years of his youth – he would have marched straight over there and punched the man in the face, and damn the consequences. But he wasn't that man anymore. So here merely shook his head and turned back to the job of moving.
His wife Samira must have noticed his expression. "What's wrong habibi?"
He forced a smile. "Nothing's at all, mchumba wangu." Usually he called her mpenzi wangu – my love. But when he wanted to tease her he called her mchumba wangu, my homemaker. It was actually a term of endearment in his native Kenya, or at least it was what his dad always used to call his mom, may Allah have mercy on them. But he knew it annoyed Samira. In any case, he wasn't going to tell her about the young man across the street. Samira tended to worry – she even had anxiety attacks sometimes – and he didn't want to give her anything more to stress over.
"Just tired from the fast," he added. "But I love it. I feel so light and free. I'm a bird doing loop de loops. Oooh!" He spread his arms. "My feathers are as cool as ice."
Samira rolled her eyes. "You're such a nut."
He had not been crazy about the idea of moving to this poor, mostly white enclave in Central California, about twenty miles northeast of Fresno. He knew from experience how deep racism often ran in such towns. And he had two strikes against him in these people's eyes, since he was both African and Muslim. Not that he was ashamed. He was proud of his Kenyan heritage, and was grateful that Allah had guided him to Islam.
They were here because his wife had just completed her medical residency in Fort Worth, Texas, where they'd moved from, and Alhambra Community Hospital had unexpectedly offered her a fellowship in her specialty of oncology. The salary was not spectacular, but it was better than she'd earned as a resident. Between that and his income as a rideshare driver, plus the low property values here in Alhambra, they'd been able to buy a house for the first time, alhamdulillah – thanks to God for all His blessings.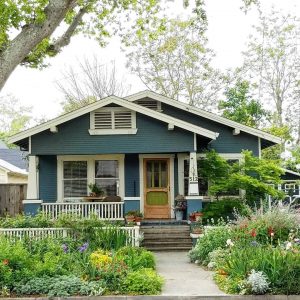 The best part of all was that there was no ribaa involved. No interest. They'd gone through a group called Central Valley Islamic Finance, which helped qualified Muslims to buy cars and homes without interest. Yahya was deeply relieved about that. He ́d made plenty of mistakes in life, but so far he'd managed to avoid the sin of ribaa, sometimes making great sacrifices in the process.
It felt like an achievement. He could see himself on Yawm Al-Qiyamah – the Day of Resurrection – standing before some great angel who held in his hand a parchment listing Yahya´s sins, each with a small checked box: anger, resentment, cursing, jealousy, ingratitude, and more. But then Yahya ́s eyes would settle on the one little unchecked box – Ribaa. He would point to it excitedly, saying, ̈Look, look!̈ And he ́d hope that it might perhaps, offer him a chance for safety on that Day.
It was pretty sad, he knew, when avoiding a major sin was your last chance for salvation. Welcome to the 21st century. Or maybe that was a cop-out. He sighed.
̈Come on babe, tell me. What is it?̈ His sweaty-faced wife touched his cheek. She was always so alert to any sign of inner turbulence on his part.
He smiled. ¨Nothing.¨
She slid her arm through his. ̈Look at our house. Our house. SubhanAllah.¨
He set down the box he had tucked under one arm and studied the house. 701 Minarets Avenue. They had taken the street name as a sign. Their own little homestead, their own piece of earth – of course it all belonged to Allah, but it was theirs to care for. He would import a few elephants and a lion and call it Little House on the Serengeti. He chuckled at his own joke.
The house was small for a family of four – only 1,100 square feet. But it was cute – a little Craftsman bungalow built in 1901, painted teal with white trim, and featuring a small covered veranda to relax on when the weather go too hot, as it often did here in Central California. The yard was planted with wildflowers and native shrubs, while an immense magnolia tree grew in the front yard, casting shade over most of the house, its thick, waxy leaves glowing deep emerald in the morning sun. Some sort of songbird trilled from deep in the tree, praising God in its own language. Yahya loved it.
As an added bonus, Samira's family lived in Los Angeles, only a four hour drive from here.
Allah the Most High had opened a door for them, and they'd walked through, taking the path that the Most Wise chose for them. Yahya knew in his heart that there would be good in this path, or Allah would not have set them upon it. That was trust, tawakkul. Doing your best, then putting your life in Allah's hands and trusting Him to bring you through whatever obstacles you faced. Tawakkul was not, as some thought, naivete. Yahya had not lived an easy life. He ́d experienced terrible tragedies, and had walked through trench and terror, metaphorically speaking, just to stay alive. No, tawakkul was a choice and a mindset. It was faith.
As for the young man across the street, Yahya would make an effort to reach out to the neighbors, get to know them. Weren't Muslims commanded to be kind to their neighbors? Only through kindness could an enemy become a friend.
He kissed his wife on the temple and bent down wearily to pick up the box.This was Ramadan, and Yahya's energy level was at rock bottom. He hadn't taken any food or water in many hours. Fortunately, all the family's possessions fit into a small U-Haul trailer, and the moving was nearly done. That was one advantage of being poor, he thought wryly. It made moving easier.
Ten minutes later, hefting a 6-foot bookshelf and turning, he almost tripped over Sulayman, his four-year-old son, who had picked up a table fan by the cord. Yahya resisted the temptation to chide the boy. The irritability he felt was a byproduct of his hunger and weariness from the fast. Part of the challenge of Ramadan was to overcome that irritability and replace it with compassion. Instead of anger, to give love. Instead of resentment, to exercise generosity. Instead of self-absorption, to expand your sphere of concern to include your family, neighbors, the community, the Muslim ummah, and finally the world. That was Ramadan, and that was Islam.
Sulayman and his three-year-old sister Amirah were only trying to help in their little way. But yeah, they were getting underfoot. He was about to suggest they go play inside the house when he heard sirens approaching. It sounded like there were a lot of them, and they were close. Curious, he set the bookshelf down in the driveway. The sirens kept getting louder, and a moment later a black-and-white Alhambra police cruiser careened around the corner, then another right behind it, tires squealing. Yahya didn't know what was going on – a burglary in the neighborhood, or a domestic dispute maybe? – but he wanted his family out of harm's way.
"Samira," he said urgently. "Take the kids into the house, please. Right away." His wife had also paused to see the source of the commotion. She stood near the front door of the house, her hands gripping tightly on the box of dinnerware she was carrying. Like him, she was tall – about 5'10" to his 6'1" – and though she was Palestinian, her skin was a beautiful shade of brown that fell somewhere between copper and mahogany. Her purple hijab concealed long black hair that she typically wore loose beneath her scarf.
While Yahya was quiet and contemplative, Samira could be loud. She had a laugh that rang out, and a smile that stretched a mile wide. People were drawn to her brash and bubbly personality. Only those who knew her best understood the insecurities and worries that she hid beneath that bright and happy laugh.
As the wailing sirens mounted Samira dropped the box. Whatever was inside shattered when it hit the ground. She scooped up the kids, lifting them bodily off the ground, and disappeared inside the house.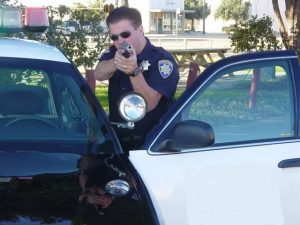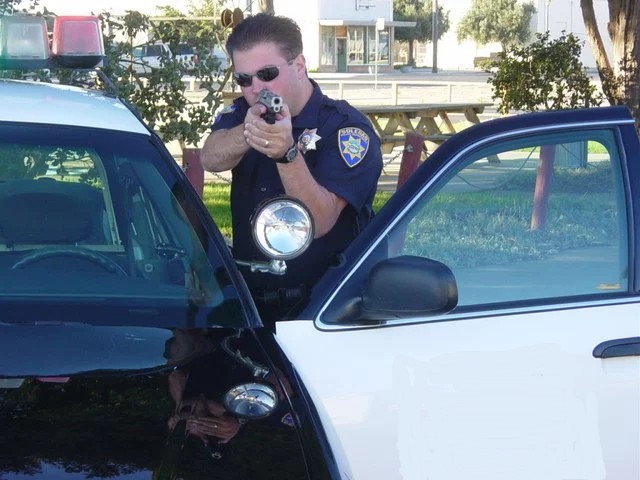 What on earth? What had gotten into her? Yahya was about to go after her when the police cars skidded to a halt in the street in front of his own home. Doors were thrown open, and officers kneeled behind them, pointing their guns at his house. Yahya looked around in confusion. Was a fugitive hiding in his yard?
"Put your hands on your head," someone bellowed through a loudspeaker, "and get down on your knees!"
Again Yahya looked around. Surely they did not mean him?
"You with the hat and the beard! Put your hands on your head and get down on your knees! This is your last warning!"
SubhanAllah, they did mean him! He considered protesting or at least asking for clarification. Then he looked at the barrels of the firearms pointing at him, one of which was bright yellow for some reason – some kind of phaser pistol? he thought crazily – and realized this was not the time for anything less than obedience. Moving slowly so as not to alarm the cops, he put his hands on his head and went down to his knees. Two offers charged forward, their weapons trained on Yahya's chest. One pulled his hands behind his back and handcuffed him, then shoved him forward. He fell, turning his face to the side at the last second and striking his cheek on the driveway. The impact made him grunt in pain. He thought he heard the muffled cries of his wife or children from inside the house. They were probably watching through the window.
This was not something he would have ever wanted them to see. He struggled to rise up, to say to the officers, "Come on now, what's this all about?" He was not personally afraid. It was never his way to be afraid of people or the things people did. He was good with God and trusted in the path. He just didn't want his children to see their father being treated this way.
The cops tased him. He didn't understand at that moment what was happening. Every muscle in his body seized in a terrible cramp. His limbs thrashed uncontrollably and his torso flopped like a dying fish on the floor of a boat. His vision went red as agonizing pain blasted his consciousness. He still heard his family screaming, and in the distance he heard laughter as well – triumphant, mocking laughter. The agony seemed to go on forever, then vanished without a trace, leaving no remainder of pain.
He regained control of himself and turned his head to look at the officers. The one who'd tased him stood rigid, his arms in a classic firing pose, his muscles quivering. He was young and slender, pasty white with red hair and a prematurely receding hairline. What Yahya noticed most of all, however, was that the man was petrified. His eyes were wide with fear. SubhanAllah, what was he so afraid of? He was staring as if Yahya were some mythical monster laying in the driveway, like an abominable snowman. Except he wasn't an abominable snowman. He was an abominable Muslim, apparently.
"Hey," Yahya said in what he hoped was a soothing tone. "It's alright. I'm not-"
"Shut up, faggot!" one of the officers bellowed, and once again the electricity coursed through him. He spasmed and fell hard, striking his mouth this time. Then he felt hard objects hitting him, striking his legs and back. A hammering blow clapped the side of his head, and darkness descended upon his mind.
* * *
Next: Part 2 – The Black Jesus
Reader comments and constructive criticism are important to me, so please comment!
See the Story Index for Wael Abdelgawad's other stories on this website.
Wael Abdelgawad's novel, Pieces of a Dream, is available on Amazon.com.
Gravedigger: A Short Story
A fist crashed into Ghada Aziz's eye, snapping her head back and turning her legs to straw. Pain exploded in her face and she wondered if her orbital socket had just shattered. Somehow she clung to consciousness, covering her head with her arms, then lashing out with a punch of her own.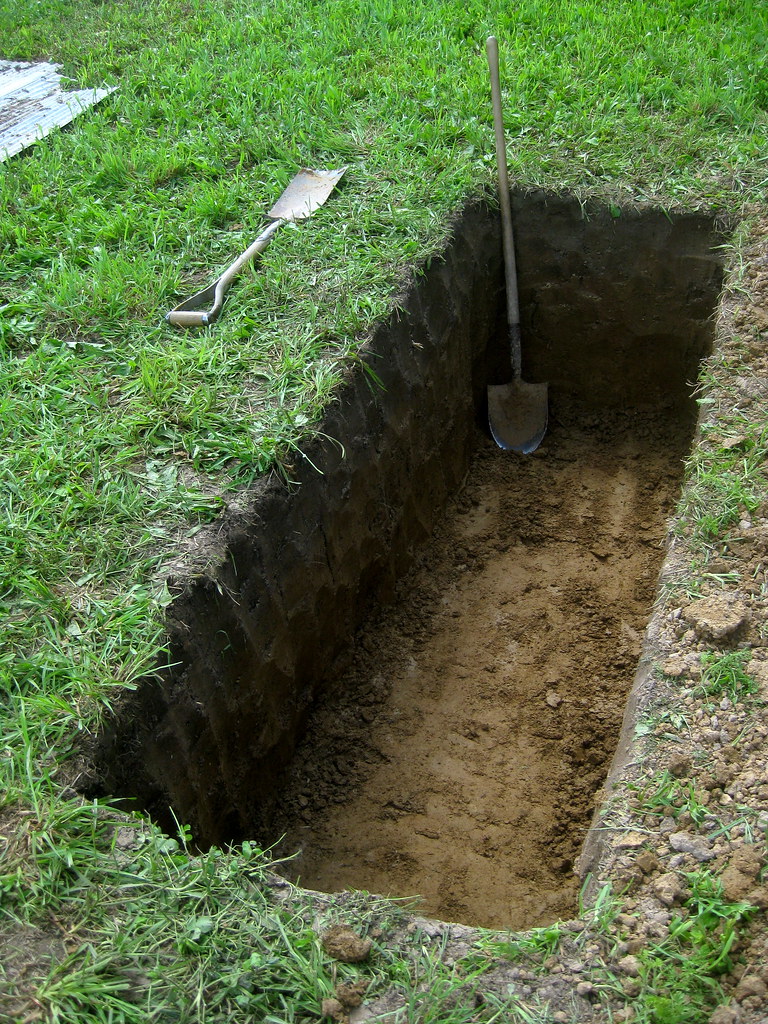 A fist crashed into Ghada Aziz's eye, snapping her head back and turning her legs to straw. Pain exploded in her face and she wondered if her orbital socket had just shattered. Somehow she clung to consciousness, covering her head with her arms, then lashing out with a punch of her own. She couldn't take much more. Her left leg was swollen and numb, her ribs deeply bruised, and blood poured into her eyes from a cut on her forehead.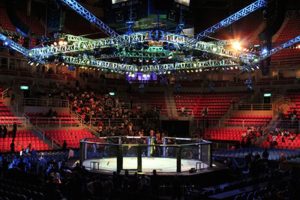 She never saw the blow that knocked her out. She crashed to the blood-spattered canvas, mouth open and drooling, dimly aware of the referee shielding her. A roaring sound like an avalanche filled her ears, and knew it was the sound of the crowd cheering her opponent. This was her sixth loss in the last two years, and the fourth by knockout. She'd once been the seventh ranked female bantamweight fighter in the world, but she was done. Twenty seven years old and washed up, her MMA career was over.
Was it for this that Baba – her father – had fled Iraq with her when she was twelve, leaving behind the land where his wife and son – her mother and older brother – had been slaughtered? Was it for this that he gave up his work as a radiologist to work as a janitor in Los Angeles, somehow managing to pay for her English and karate lessons?

And how had she repaid him? Other Arab-American children became doctors and engineers, but Ghada dropped out of college, driven by her passion for martial arts. The fighting ring was the only place where she felt completely in control of her destiny. Life delivered one crushing blow after another – losing loved ones, loneliness, grief – but in the ring, standing over her opponent in triumph, life was powerless to harm her. Only in the ring did she feel in control, secure.
She wouldn't have blamed Baba for being disappointed in her, but he'd been proud, even when the local Arab community criticized him for letting his daughter adopt immoral ways. He dropped in on her training sessions and hung news stories about her on the wall. Unlike many fighters Ghada had no nickname, and Baba used to teasingly say that she should call herself The Saracen, or The Arab Assassin. As if she needed to call attention to her heritage. She already received death threats from Americans and Arabs alike. The only thing Baba would not do was attend her fights. He couldn't bear to see her getting hit. Baba also supported her financially until she began to win, at which point she bought him a little house in Eagle Rock with a garden that he tended lovingly.
Then he died, his heart giving out on a cold January morning as he raked the leaves in the yard, while Ghada was away at training camp. Her shame at having neglected him was a worse blow than any she'd ever taken in the ring.
Someone gripped her arm. Sibni, she thought in Arabic, her cheek glued to the canvas, her braided black hair soaking up blood. Let me be. But the coach pulled her up and mopped her face as the cut man pressed the freezing end-swell disc into her forehead to stanch the flow of blood. She hung her head, not wanting to see the faces of the leering crowd, many of them overjoyed to see the Arab bitch lose. So much hate she'd faced. All for nothing.
She remembered being surprised at how many people came to Baba's funeral. Arabs and other members of the Muslim community – Pakistanis, Indians, African-Americans, and the odd Latino or white convert – stood in rows to pray.  Non-Muslims came as well, approaching her to offer their condolences. She didn't know most of them. They spoke of her father's generosity or his guidance. While she'd been focused on training, Baba had intertwined with many lives, touching many hearts. That should have been comforting, but it only reminded her that she hadn't been there enough to truly know him. She hadn't been involved. Her grief was a thunderstorm in her head and would not let up. She skipped training sessions, lived on instant noodles and delivery pizza, slept past noon every day and lost fight after fight, unable to win the outer battles while the inner ones raged.
Now that her career was finally over, she fell into a pit of despair. She stopped bathing, washing the dishes, and paying the bills. Late notices came. Sometimes the doorbell rang and people called to her. A few times she recognized the voices of Farah and Summer, two Muslim friends she'd had in high school. They'd drifted away after she became an MMA fighter. Or had she pushed them away, preempting the threat of their rejection? They'd attended a few of her fights as well – she'd seen them in the front rows, cheering. She'd always refused to acknowledge them, fearing that they were there to judge her. They both wore hijab after all, while she was out in front of the world wearing knee-length shorts and a lycra shirt, making a spectacle of herself. So she'd deliberately avoided them, not meeting their eyes when she left the ring after the fights.
Sometimes she thought about killing herself. She resisted the idea, knowing it was against her religion and everything her father had taught her. But… there was no way forward. She was an unemployed college drop-out, finished in her career, alone in the world, and – judging from the unopened late notices she was receiving from the state – about to lose her father's house for non-payment of taxes.
One miserable night, unable to sleep and equally unable to bear her own thoughts, she walked into the kitchen. Roaches scattered. Filthy dishes stewed in the sink. In the middle of the room stood a small table and two folding chairs. Her father used to sit there when he read the newspaper and paid the bills. Why had he kept two chairs there? Perpetually waiting – hoping – for Ghada to return home and join him at that little table? Atop the table stood a glass vase filled with desiccated morning glories. Those same dead flowers had been there since Baba died.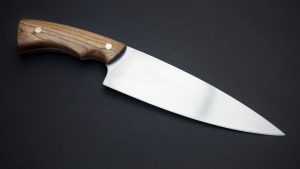 She went to the cutlery drawer and took out a large steel vegetable knife. Her father always kept the knives sharp. She placed the tip against the inside of her left wrist. She would make a long, deep cut, then she'd do the other arm. Then she'd lie down in bed and wait for it to be over.
She pressed the tip of the knife into her wrist. It broke the skin and blood welled up, running in a rivulet into her palm and dripping from her middle finger. It was time to die.
Except… she could not make her hand move. She could not go further. An inner voice said, "This isn't right. There's always another way, a better way. You're a fighter. Don't give up now." She ignored that voice and cut a little further. Blood began to pour now, running down her wrist and hand and spattering onto the kitchen floor. Her arms trembled. One of her elbows bumped the vase on the table. It tipped over, rolled off the table and shattered into a hundred fragments.
A memory came to her in a flash. She was a child in Baghdad, in the small villa they'd called home. Mama was standing on a stepladder, removing a burnt-out fluorescent bulb – the long kind – from the ceiling fixture. She handed it down to Ghada, who was her assistant in everything, whether cooking, cleaning or home repair. "Pass me the new one," Mama said.
"I'll do it, I'll do it!" exclaimed tousle-haired Ibrahim, her younger brother. Before Ghada could stop him he snatched up the new bulb from where it leaned against the wall – and dropped it. Slivers of glass exploded across the floor. Both children froze, expecting to be punished. Their cat, Halawa, came padding in to investigate the commotion. Mama sighed and instructed Ghada to put Halawa in the bathroom before she cut her paws. It was the only room with a door, since the others had only curtains in the doorways. As they all worked to clean the broken glass, Halawa kept crying to be let out. Ghada felt bad for the cat, but it was for the kitty's own good. When they were finally finished and released the cat she trotted out with her tail high, giving them all an accusing look.
Later, Mama said, "What we did with Halawa is a metaphor for how Allah protects us."
"What's a metaphor?" Ibrahim wanted to know.
"An example. Sometimes we feel trapped in our situations. We can't find a way out. We cry and complain, not understanding why Allah has closed the doors. Our vision is small, so we don't see the broken glass all around. We don't realize that we are exactly where we need to be in that moment, and that Allah is protecting us. But if we are patient, the door will open when the time is right."
Remembering this now, remembering her dear, patient mother, and imagining what her mother would say if she could see her daughter in this moment, Ghada cried out and dropped the knife, which fell to the floor with a clatter. Her entire body trembled, with what emotion she could not say. She would wait. She would… try something. What, she did not know.
She left the house for the first time in two weeks and went to visit her father's grave. It was located in a sprawling, hilly cemetery that belonged to the city of Los Angeles. She sat on the grass of his grave and wept, fingering the plaque set into the ground. Sami Daoud Aziz, beloved husband and father. She tried to speak to him or pray over him, but no words came.
On her way out she saw a sign on the gate: Help Wanted. She saved the number in her phone and called it the next morning. The cemetery was looking for a full-time gravedigger. The job paid $15 per hour plus benefits. It was no fortune, but it might allow her to pay the bills, and more importantly she'd be close to Baba. She applied and was accepted.
For the first six months there was hardly a day when she did not think about quitting. The work was grueling, even harder than MMA training. Even as a full time fighter she'd only trained four hours per day. The rest of it was just healthy eating, watching and analyzing training videos, and getting nine hours of sleep every night.
This job, on the other hand, was what she imagined when a convict was sentenced to "hard labor." Not that the environment was forbidding – it was actually extraordinarily beautiful. But this was a green cemetery, which is why the graves were hand dug. There was no gas-powered machinery of any kind, and only two maintenance workers for this entire, sprawling cemetery – herself and Dave, the groundskeeper. No embalming chemicals – Ghada learned all this in time – were used in burials, nor any grave liners or vaults. Only shrouds or biodegradable wooden caskets. Wildflowers were allowed to proliferate freely. Songbirds, squirrels and deer could be seen roaming the grounds, and butterflies were everywhere. With oak and bay trees covering the slopes, it looked more like a natural woodland than a traditional cemetery.
On a typical day Ghada had to dig two or three graves, which meant a full eight or nine hours of digging. She'd wake up in the morning with her muscles still aching from the previous day. At first her hands blistered, then they bled. Finally they grew calloused.
The plus side to the job was that she was close to Baba. She'd sit on his grave every day at lunchtime, sometimes crying, sometimes praying, sometimes just talking to him. Was this morbid? Was she psychologically damaged, unable to let go of the past? She didn't know. She only knew that being near her father comforted her.
Time passed. She paid off her bills. Her muscles stopped aching. Her almond colored skin darkened to cafe-au-lait from working in the sun every day. And she stopped crying. She began to pray again and to fast in the holy month of Ramadan, two things she hadn't done since she was a teenager. Her own transformation amazed her at times. She thought back to the night she'd pressed the knife to her wrist. Was it Allah who'd put that memory in her head at that moment – the memory of her cat Halawa and the broken glass? Regardless, alhamdulillah – all praise to God.
* * *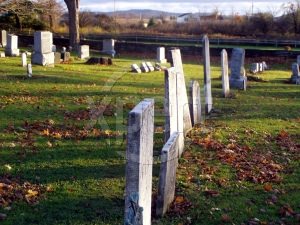 She tossed the last spadeful of dirt and mopped her brow. The sun was straight overhead, illuminating even the inside of the grave. Unhooking a tape measure from her belt, she checked the grave. One shovel deep, two and a half feet wide by seven long. Industry standard. Satisfied, she tossed the shovel out and leaped out of the grave, tucking and rolling as she cleared the top. Time for lunch.
The back east acre was screened by a row of pines. Management kept the maintenance equipment in a shed back here, but there was a narrow stretch of clear grass. Ghada always spent the first half of her break practicing martial arts here. It was something she'd come back to this year. She wasn't training for anything. It was movement for the sake of movement. Running through footwork and strikes, angling in and out, the workout left her physically energized and as emotionally serene as a summer sky. She hadn't been in a gym in two years, so she worked on fundamentals, sometimes combining the moves she already knew in inventive ways.
Later, sitting on the grass of Baba's grave, she unwrapped the 'eggah sandwich she'd prepared that morning. It was a dish her mother had taught her to make – a patty formed from a blend of eggs, broccoli and cheese, served in pita bread with a hummus spread. With it she had a cup of hasa al-khadr – vegetable soup spiced with ginger, garlic, cilantro and cumin. Eating these traditional foods made her feel that she was carrying on her cultural heritage in some way, and also kept her healthy for the extreme labor of this job.
The warm sunshine on her face felt pleasant. The air smelled of bay leaves and wild roses. Two squirrels chased each other around a tree and up and down the trunk. Watching them, Ghada smiled. Life was good. It amazed and pleased her that she could think this. The only thing lacking in her life was companionship. She had no family, no friends. She was all alone in the world.
As if disproving her assertion, Dave the groundskeeper sauntered over from where he'd been digging out a patch of invasive broom grass. He carried his lunch bag in one hand and thermos in the other. Ghada didn't mind. Nearing forty, tall but stoop shouldered, Dave was harmless, not to mention married. He and his wife June were MMA fans. He'd been thrilled to meet her when she first started, as he'd seen her fight when she was in her prime. He kept telling her she should be coaching fighters, not digging graves. She always shrugged this off. Maybe someday. The fighting world felt too much like the bad old days – though, if she was honest with herself, there was still a part of her that wondered how far she could have gone as a fighter if Baba had not died.
They ate in silence for a while. This was one of the things she liked about Dave. The two of them were well attuned to each other's moods.
"You don't talk to your dad much anymore," Dave said. He nodded to her father's plaque.
Ghada remembered how she used to sit here and confess her sins, sometimes weeping, sometimes telling Baba haltingly about her life, as if she expected him to condemn her failings. Why had she thought that? He'd never condemned her in life, after all. He'd done nothing but love her. My shining star, he used to call her.
"I've said it all."
"So you two are good?"
She smiled. "Yeah."
"You've changed since you started here."
"No kidding. I don't wake up with my limbs aching like I just ran a marathon. I remember when digging a single grave was exhausting. Blisters everywhere, my back sore, everything."
"Not just that. You're peaceful."
She nodded. "It's this job." She waved a hand at a bluejay that sat on the branch of a nearby oak tree, watching them and waiting for crumbs, no doubt. "Life amid death, you know? It's a constant reminder to live in the moment."
Her phone rang. That was odd. No one ever called her. She dug it out of her pocket and looked at it, then frowned. It was her coach. She hadn't spoken to him in two years. For a moment she thought of not taking the call. But that was the old Ghada. The new Ghada had nothing to fear from the past. "You sure you have the right number?" she greeted him, then listened as he spoke. "I'll get back to you," she said when he was done. "I know. Give me a half hour."
"What was that about?" Dave asked. "You look like you've seen a dead body." He grinned at his own joke. Funerals were a part of daily life here.
She said nothing.
"You're scaring me, kiddo."
"Sorry. You know the WFC? The World Fighting Championship?"
"Of course. You know I'm a fan. There's an event tonight. June and I are going."
"Oh. Well, the woman who was supposed to fight against Viviani Silva had an injury. They want me to fight her."
It was Dave's turn to gape. "Viviani 'The Monster' Silva? That's a title fight!"
"No one else wants it on such short notice. Or if they do, they're too far away."
"Man! Wait 'til I tell June. She'll freak out."
Ghada put up a hand. "I haven't said I'll do it. Listen, do you mind leaving me alone for a bit?"
"Sure." He scooped up his lunch and hurried off, no doubt to call his wife.
She ran a hand through the grass of her father's grave. She was not afraid. Where once the storm had raged inside her, now she was the eye. "But Baba," she said aloud. "That's not my life anymore."
Does the dream still live inside you? came his reply. If so then seize it, habibti, my love, my shining star.
* * *
"I owe you big time for taking this." Her coach hustled her into the arena. "No one expects you to win, okay? All you have to do is put on a show. Flash that Aziz spirit, try to make it through the first round. Even if you lose you make fifty grand. You look fit at least. Better than the last time I saw you."
Not much of a pep talk, Ghada thought. To hell with him if that was all he thought of her. She'd fight, but for herself, not for her coach or anyone else. Oddly, the thought of the fight itself excited her more than the $50,000 purse. What did she need $50K for anyway? She had everything she needed in life. What thrilled her was the opportunity to plunge into combat once again, to hit and be hit in a battle that was mental and emotional even more than physical. Those electric, brutal, and vivid minutes in which she was more fully alive than 99.99% of human beings.
Five minutes later she stood on the scale at the weigh-in, fight officials all around and press bulbs flashing. Viviani 'The Monster' Silva had already weighed in, but was there to check out the competition. The thick-jawed, heavily tattooed woman postured and called out insults. She looked exotic and mean in her skin-tight short-shorts and halter top.
Ghada, on the other hand, wore her usual knee-length shorts and a form fitting long sleeved shirt. It was her concession to Islamic modesty and she knew it was insufficient, but it was the best she could do in the ring. Her jet black hair was braided in cornrows, close to the scalp. She ignored The Monster and let out a slow breath, unperturbed. She saw surprise on the faces of the officials. Did they remember the out of shape, emotionally depressed wreck of a fighter from two years ago? Her eyes flicked to the wall mirror, curious to see herself as they saw her. Standing 5'7", she weighed in at 133 pounds. That was near the upper weight limit for a bantamweight, but there was not an ounce of fat on her. Her legs were rock solid and rippling with muscle, her arms powerful and well defined even through the shirt, her shoulders like two small boulders. She looked like a granite statue. The gravedigging, she realized. Digging graves was the most physically taxing thing she'd ever done. When she'd first started she couldn't dig a single grave without resting multiple times. Now she could dig for ten hours, wake up the next day and do it again, as easy as babaganoush. She'd never been stronger in her life, both physically and emotionally.
She looked to The Monster and saw a flicker of doubt on the woman's face. The hair stood up on Ghada's arms. I'm going to win this fight. The premonition hit her like the light of the summer sun, leaving no room for doubt. She was going to win. She was going to become the next women's bantamweight champion of the world.
What would she do after that? Would she continue to fight, or become a coach as Dave was always telling her to do? Or would she go back to digging graves? She didn't know. But she was sure she was going to win. She could feel it in her bones, as surely as her ancestors had been able to feel the approach of a sandstorm or the coming of the rain.
Someone called out her name. She looked over the crowd and spotted Farah and Summer at the back of the crowd of spectators. They grinned and waved. How had they known she would be here? In the past she would have looked away, not wanting to acknowledge them. But this time she smiled and waved, genuinely happy to see them. Their faces lit up and they shrieked as if they'd just met a celebrity.
The fight announcer approached, shook her hand. "Do you have a nickname you want me to use when I announce you?" he asked.
Ghada's smile spread into a grin. Then she laughed out loud. "Sure. Call me Gravedigger."
THE END
* * *
See the Story Index for Wael Abdelgawad's other stories. Wael's novel, Pieces of a Dream, is available on Amazon.com.
The Fast and the ¡Fiesta!: How Latino Muslims Celebrate Ramadan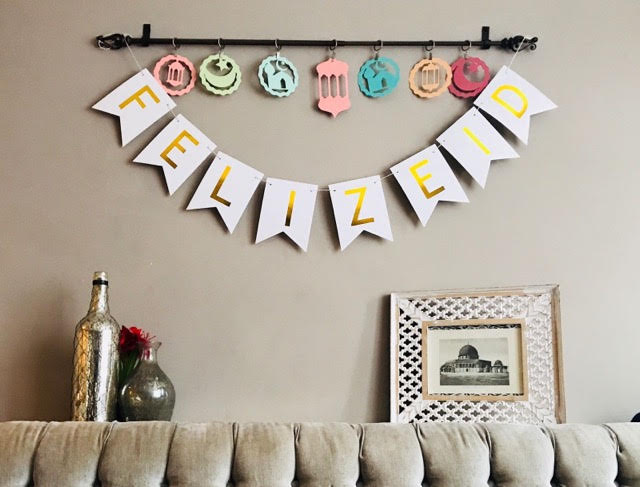 When the month of Ramadan is approaching, the Ortiz-Matos family begins to prepare the only way they know how, Puerto Rican style. Julio Ortiz and his wife, Shinoa Matos, reside in Brooklyn, New York. They are both Puerto Rican converts to Islam and their native tongue is Spanish. They have been Muslim for two decades each and married for close to 14 years. The couple has three children, ages 9, 7, and 5. Although Shinoa is also half Greek, she identifies herself as part of the ever-growing Latino Muslim population, a community that is bringing its very own sazon, or Latin flavor, to spice up Islamic holiday traditions.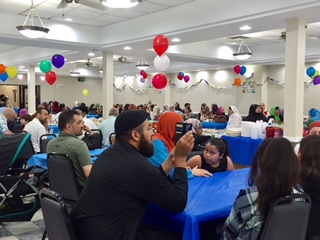 Preparations for Ramadan for this Muslim familia, or family, consists of planning together with their children to get them excited about the fasting season. They discuss how they will plan out the month in order to reap its many rewards, and the husband and wife decide on a schedule so they can alternate between attending the taraweeh prayers and babysitting. With the help of their children, Julio and Shinoa make a list of foods and ingredients they will need for their suhur, or pre-dawn meals, and iftar, their dinner after breaking the fast. These feasts will feature a variety of Puerto Rican dishes such as pollo guisado (stewed chicken), sorullos (corn dumplings stuffed with cheese), pasteles (meat-filled dumplings made out of root vegetables, green bananas, and plantains), tortilla española (Spanish omelets), empandas (meat-filled turnovers), and finger foods such as guava, cheese, and Spanish olives, coupled with the iconic Ramadan dates.

Right before Ramadan, the Ortiz-Matos home is decorated with typical fiesta décor, shining lights, pom poms, and banners in Spanish. One of their most unique Ramadan and Eid traditions is dressing up in Puerto Rican cultural attire. Shinoa explains, "My husband can usually be found wearing a guyabera (Caribbean dress) shirt in different colors along with a matching kufi. My sons will also wear tropical shirts with their own kufis. This year I am planning on dressing all my children in typical jibaro (Puerto Rican country) clothing, complete with my daughter in a bomba skirt and my sons with machetes and sombreros de paja (straw hats)!" To prepare for Eid, they redecorate the house with Feliz Eid (Happy Eid) signs and fill decorative bowls with traditional Puerto Rican sweets made with coconut, passion fruit, and pineapple.
As converts, Julio and Shinoa know the isolation that new Muslims can feel during the holidays, so they also make a habit out of spending the month with fellow Latinos and converts. Not only does Shinoa want to make sure that no one is spending Ramadan and Eid alone, she also wants her children to feel a sense of belonging. She said, "This helps to reinforce the (concept of a) Latino Muslim community in the eyes of our children because even though all Muslims are brethren, it is important for them to be able to see representation in others they associate with."
Even though they live in Brooklyn, Julio and Shinoa often attend the North Hudson Islamic Educational Center, or NHIEC, in New Jersey. This mosque across the Hudson River caters to the predominately Hispanic population of Union City and its surrounding areas. Due to its location, NHIEC is the home of one of the largest Latino Muslim communities in the nation and has been catering to their growing needs by providing simultaneous Spanish interpreting of Friday sermons, an annual Hispanic Muslim Day for the past two decades, and continuous educational programs specially geared towards Spanish-speakers and new Muslims of Hispanic heritage. During Ramadan, NHIEC offers iftar events catered by local Latino restaurants, like the Peruvian eatery, Fruit Punch, or the Arab/Hispanic fusion buffet called Fiesta. They also host potlucks, in which Latino Muslim converts and veterans alike breakfast by sharing their country's typical dishes. The mosque is decorated with streamers, balloons, and flags from all 21 majority Spanish-speaking countries.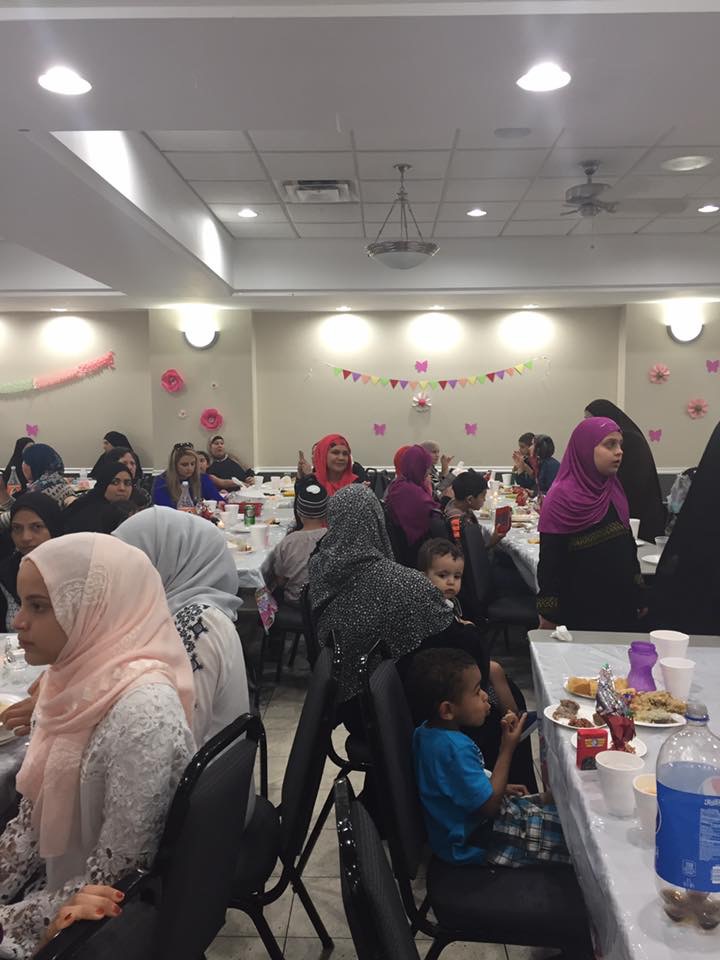 Halal on the Hudson
Union City may be known as "Havana on the Hudson" because of its large Cuban population, however, South Americans like Ecuadorians and Peruvians are also plentiful. Nylka Vargas is a mixture of both; residing near NHIEC, this Latina conversa (convert) is a social worker by day and an active member of NHIEC's dawah committee by night. She and her Syrian husband plan out their Ramadan by renewing their intentions, assessing their spiritual needs, crossing out to do items, cleaning, and clearing their schedules for the month. While subtle decorating is also part of the prep, Nylka prefers to set aside a quiet space at home for prayer and reflection.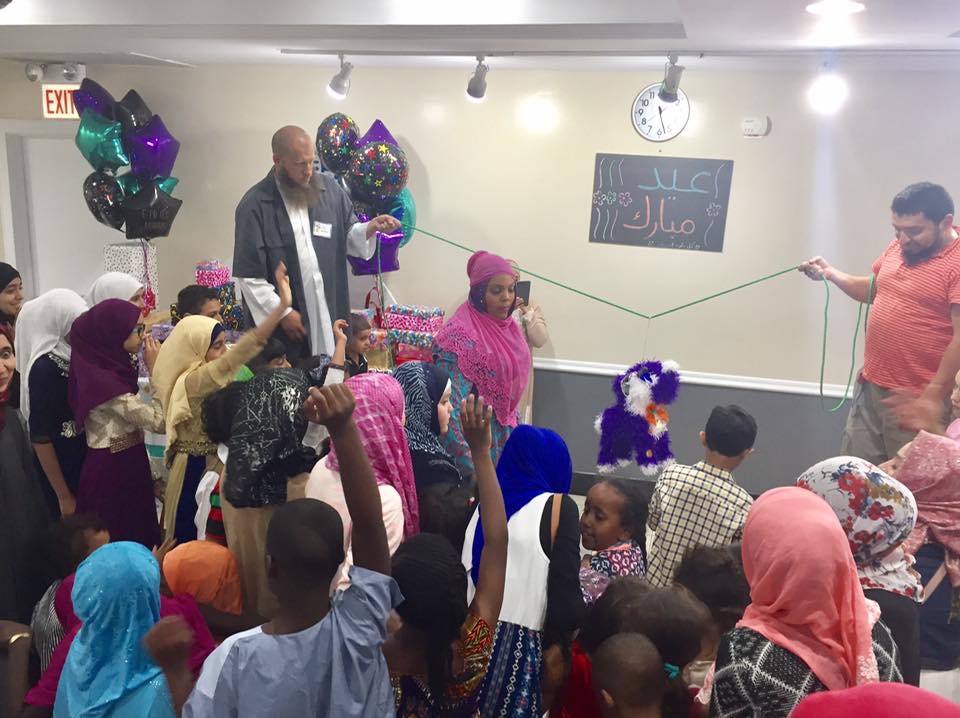 It is in the mosque where she works passionately alongside other Latino Muslims to make the month of Ramadan memorable for fellow Latinos. Due to most Latin American Muslims converting to Islam, their relatives are usually non-Muslims who do not celebrate Ramadan or Eid. Nevertheless, NHIEC provides an inclusive atmosphere, where converts are invited to bring their families to break fast and enjoy the festivities. They host yearly dawah and converts Ramadan programs, an annual grand Iftar for converts with Latin dishes, converts get-together iftars, and a program called "Share Your Iftar with a Convert" to actively encourage the community to break their fast with new Muslims. They also teach Ramadan prep classes, arts & crafts for children, and organize a converts Eid extravaganza.
Nylka says, "We take much pride in bedazzling and giving our Eid Party a custom touch with all kinds of Eid decorating pieces and an entertainment combo. It is always about what the community wants." One of Nylka's fellow dawah committee members is Flor Maza. Flor is a Salvadorian convert and mother of three married to an Egyptian Muslim. Ramadan is an exciting and busy time for Flor, who is a full-time pastelera (baker); she caters to the NHIEC community, literally, decorating and preparing all kinds of postres (desserts), both Spanish and Arabic. She has learned how to prepare typical Egyptian dishes and sweets and alternates between these and Latin-inspired foods for iftar.
"I have not lost my culture, but I am learning from other cultures," she joyfully explained, "All cultures are beautiful." Flor believes that Ramadan is a time to learn tolerance, patience, compassion, and gratefulness, and to collaborate in doing good. She demonstrates this by sharing her delicious meals and confections with the community during the many NHIEC events. When asked if anything distinguishes her as a Latina Muslim, she said, "Anyone can recognize a Latino Muslim because we, Latinas, are helpful, we preserve our culture and are proud of our language."
NHIEC is one of a few Islamic centers in the U.S. where guests can experience the festivities of Ramadan and Eid in Spanish. When the time for Eid prayer comes, the Muslim community in Union City and surrounding areas, pray outside either in a park or in a local school's soccer field. Non-Muslim neighbors hear the Takbirat al Eid, witness the Eid prayer, and listen to the sermon that follows on the loudspeakers, while admiring huge green banners with golden letters that read, "Happy Eid, Eid Mubarak (in Arabic script), and Feliz Eid."
A Mexican, Haitan, and Puerto Rican Ramadan
Eva Martineau-Ocasio was born in Mexico to a Mexican mother and Haitian father and she was brought up speaking Spanish at home. She is married to Ismail Ocasio, a Puerto Rican who was raised Muslim in New York by convert parents. They have three girls, ages 6, 3, and 6 months and reside in Brooklyn. While they have always practiced their faith, the couple has become more diligent about making Ramadan extra special and memorable for their children.
The focal point of their Ramadan décor is a table spread with Islamic and Ramadan-themed books (some in Spanish, others in English), arts and crafts, tools, calendars, and projects they will use to celebrate Ramadan. As with the Ortiz-Matos family, great care is given to set the mood for the commencement of the Month of Mercy. As Eva explained, "We prepare ahead of time by reading books and telling stories to remind ourselves about Ramadan. We use lights, banners, and homemade decorations to make Ramadan special in our home. In recent years, my sister and I even opened a small online shop to sell some of our decor." With her girls, the young mother, nurse and midwife student weaves prayer mats for their dolls and paints small glass linternas (lanterns) to display on their holiday table.
While other Muslim families have similar routines to welcome Ramadan, what sets the Martineau-Ocasios and other Latino Muslims apart is the way they have tailored their cultural traditions to adapt to Islamic practices. "Food and language play the largest roles in shaping the way we experience Ramadan outside of the important religious-based practices," Eva said, "I strive to make Ramadan as special and exciting for my children as Christmas was for me growing up." The family enjoys fast-breaking meals representative of their unique mix of Mexican, Puerto Rican, and Haitian culture. Some of their staples include tacos, fajitas, frijoles refritos (refried beans), Haitian style beef BBQ ribs, Haitian black rice, Puerto Rican arroz con maíz (yellow rice with corn), and even American Mac and Cheese.
They also celebrate with the general community and enjoy breaking fast with Arab and South Asian cuisine, as well. As a family, they attend Ramadan gatherings at the Muslim Community Center (MCC) and the MAS Brooklyn mosque in New York, where they are recognized as being Latino Muslims because of their language, Spanish, which they use with their children.
Ramon F. Ocasio, Ismail's father and Eva's father-in-law, shares a deeper perspective about celebrating Ramadan as a Puerto Rican Muslim of well over four decades. Ocasio was born in the Bronx and raised in El Barrio, Spanish Harlem in Manhattan. He embraced Islam in 1973. For this father and grandfather, nothing identifies as uniquely Latino in his practice of Ramadan aside from the food. He says, "My family prepares iftars featuring Latin cuisine for some masjids, both suburban and in the inner city. Just food, no unique decor. Food is the common denominator. Aside from that, there is nothing I can point to that is uniquely Latino in our celebrations." His personal favorites are pasteles, roasted leg of lamb (a halal substitute for pernil, a traditional pork dish), arroz con gandules (rice with pigeon peas), and flan (a custard dessert with caramel sauce).
When his children were young, he admits that things were a little different, with Eid gatherings in the park that drew thousands of Muslims, trips to Toys'R'Us for presents, movies, games, and outings. "Seasons change, families grow, our method of celebrating will change with it," Ocasio reminisces, "During a span of forty plus years, it can change quite a bit. As parents, we've tried our best to make Ramadan and Eids special for our children. For the most part, we have been successful."
Ramadan for the Latino Muslims of Chicago
Another Latino Ramadan legacy is being constructed west of the Tri-State area, in the Windy City. Rebecca Abuqaoud is the founder and director of Muslimahs of Chicago and a community organizer at Muslim Community Center at Elston Avenue (MCC), and at the Islamic Community Center of Illinois (ICCI). She hails from Lima, Peru, and she and her husband, Hasan Abuqaoud, have three children. Rebecca has been involved in organizing Ramadan events for the Latino community and for Muslim women and children for many years.
One of these is the annual, "Welcoming the Arrival of Ramadan," where female speakers are invited to present, and babysitting is provided to ensure mothers are able to attend. The dinner consists of a potluck, and attendees share their cultural dishes. Guests can choose from a variety of ethnic foods, including arroz con gandules, arroz chaufa (Peruvian rice), salads, pollo rostisado (rotisserie chicken), chicken biryani, and other Pakistani and Arab delicacies. This event began as an initiative for Spanish-speakers only, at the request of Latino Muslim women, however, it has grown to become a bilingual affair and draws anywhere from 60-80 attendees.
Rebecca is known in her community for dedicating her time to sharing her years of experience, Islamic knowledge, and wisdom with others. She said, "I really love being with my Latino sisters, I understand the help and support they need in their journey to Islam. I've been blessed to have knowledgeable Islamic teachers in my life and now it's time to pass that knowledge to my new sisters in Islam; I thank Allah for such an opportunity." Among other social events during Ramadan, Rebecca holds a Halaqa Book Club for ladies in Spanish at the ICCI, and for Eid, she assists with the Eid Potluck Fiesta at MCC.
In the North of Chicago, Ramadan and Eid is a family affair, and this includes the children of Latino converts. During Ramadan, mothers are encouraged to decorate their homes and the masjid to make the season exciting for their children. In the mosque, Rebecca and other volunteers prepare fun activities for them related to Eid, such as a puppet show, decorating paper plates, creating Eid greeting cards for their families, and pretend "baking" cookies and cupcakes with play-dough. The children also enjoy listening to other kids recite the Qur'an and chatting over pizza, snacks, cake, and juice.
The Eid Potluck Fiesta at MCC, sponsored also by Ojalá Foundation, is an effort that began to create a safe space for converts to celebrate Eid together. Everyone is invited to attend and can bring dishes to share. The walls are decorated for the occasion and candy-filled piñatas are set up for the children. Not only do the Latino Muslims enjoy these festivities, but also diverse members of the community who join them in the unifying celebration that is the culmination of the Month of Mercy and Forgiveness.
Feliz Eid
All the Latino Muslims who participated in this interview mentioned that the most significant aspect of Ramadan is the same across the board: to gain the maximum benefit from the intense self-reflection, fasting, constant prayer, spiritual cleansing, and dedication to the Qur'an. Cultural practices and celebrations are secondary to the religious aspect of Ramadan. However, the collective sentiment of those who converted to Islam is that they feel a sense of loss when they are celebrating Eid without their extended non-Muslim family. There is always, "something missing."
Latino culture is hugely family-centered, and thus, holidays are often a time to reunite with relatives. Eva Martineau summed it up as this: "For converts, missing out on the family aspect of any celebration can leave us with a sense of sadness and longing." Her suggestion, and that of other Latino Muslims is that, like NHIEC, ICCI, and MCC (in NY and Chicago), Islamic centers across the U.S. should host Ramadan and Eid events catering to not only Latino Muslims but converts in general. As individuals, fellow Muslims can also host those who may otherwise not have anyone to break the fast with, in their iftars and Eid celebrations. This will provide those newer Muslims with that sense of brotherhood and sisterhood they long for, and maybe in return, they can taste some of those yummy ethnic dishes.
Feliz Ramadan!
Note: A modified version of this article appeared in Islamic Horizons Magazine May/June 2019 edition.