Reader's Opinions | Remembrance of Allah
As-Salāmu`Alaykum Readers,
The Prophet

 said:
"There is a polish for everything that takes away rust; and the polish for the heart is remembrance of Allāh." [Bukhari]
Then, should we not strive to take the name of Allāh

 in all our actions and spend our idle time making tasbīḥ?
He

 said:
"Allāh says: I am to my servant as he expects of Me, I am with him when he remembers Me. If he remembers Me in his heart, I remember him to Myself, and if he remembers me in an assembly, I mention him in an assembly better than his…" [Bukhari & Muslim]
Indeed what better thing would there be than to have your Lord remember you?
The Qur'ān says on this subject:
"And remember the Name of your Lord and devote yourself to Him with a complete devotion." [Al-Muzzammil  8]
"Those men and women who engage much in Allāh's praise. For them has Allāh prepared forgiveness and a great reward." [Al-Aḥzāb 35]
"Those who believe, and whose hearts find comfort in the remembrance of Allāh! " Behold in the Remembrance of Allāh do hearts find satisfaction." [Al-Ra'd 28]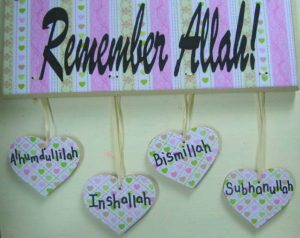 So continuous dhikr (remembrance of Allāh) not only polishes our heart and cleanses it, but also serves our case in the court of Allāh on the day when we will need it most. In addition, it helps our hearts find comfort which most of us try to seek daily through various means.
The Qur'ān also warns us:
"And whosoever turns away from the remembrance of the Most Beneficent (Allāh), We appoint for him Shaitan (Satan – devil) to be a  companion to him." [Al-Zukhruf 36]

"O ye who believe let not your riches or your children divert you from the Remembrance of Allāh if any act thus, the loss is their own." [Al-Munāfiqūn 9]

"…And whosoever turns away from the Reminder of his Lord, He will cause him to undergo a severe Penalty." [Al-Jinn  17]

"And keep yourself (O Muhammad) patiently with those who call on their Lord morning and afternoon, seeking His Face, and let not your eyes overlook them, desiring the pomp and glitter of the life of the world; and obey not him whose heart We have made heedless of Our Remembrance, one who follows his own lusts and whose affair (deeds) has been lost." [Al-Kāhf  28]
Thus, we should try and spend as much time in dhikr and make it a habit to remember Allāh

.
This is a beautiful part of a lecture (in Arabic with English subtitles) by Sheikh Salih Al-Mughamisi, Imam of Masjid Al-Quba in Medina.
[youtube -IvAaC2p0n8]
How do YOU polish YOUR heart?
Let us know below!
Related articles:
How to Acquire the Love of Allah (SWT) (muslimmatters.org)
How Does One Soften Their Heart? (suhaibwebb.com)
Taqwa – Consciousness of Allah (discomaulvi.wordpress.com)