Embracing the Winter Blues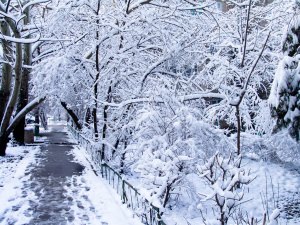 When the days shorten and the nights lengthen, we know all too well that winter is upon us.  For some people, they experience what is known as "Seasonal Affective Disorder", more commonly known as the winter blues.  With symptoms ranging from sleeping too much, to having little energy, to feeling depressed, the winter blues seems to have a tendency of affecting people in areas of limited daylight hours such as the Northern USA, Canada, and the United Kingdom.
However, if we were to examine the season of snow from an Islamic perspective, we would quickly realize there is a great blessing in the time of winter.  Al-Ḥasan al-Baṣri is reported to have said, "How good winter is for the believer! Its night is long, so he prays in it; and its day is short, so he observes fasting in it."
Indeed, some of our pious predecessors would look forward to winter for the purpose of the night prayer.  If you think about it, the last one-third of the night, the extra blessed time to perform the tahajjud prayer, is longer during the winter time.  Our pious predecessors would look forward to having these long nights to pray tahajjud and would cherish having a longer time to spend in their ṣalāh and du'ā'.
How does one make tahajjud?  I have to admit, I am not regular with my tahajjud.  In reality, my consistency is rather deplorable.  However, let me share with you one 'trick' I've started using this year.  I started drinking a lot of water before I go to sleep in the evenings.  Why?  Well, you see, my bladder is strong, alḥamdulillāh, and so when I need to use the bathroom, my bladder will wake me up in the middle of the night forcing me out of my comfortable bed.  So, if you make it to the bathroom, why not just make wuḍū' and then pray two raka'āt of tahajjud then?
Moreover, the time for fajr comes in later during the winter time.  So if you were to wake up in the winter time when you would normally wake up for fajr in the summer (say 5 am), then you would have some prime tahajjud time!  Consistency is the key, so make du'ā' that I too am able to achieve some consistency when it comes to the night prayer, inshā'Allāh.
Furthermore, the short days allow us to be able to keep extra nawāfil fasts without difficulty.  Indeed, when our day ends around 5 pm, we often times don't even notice the thirst from our fasting!  So why not take it upon ourselves to do some extra fasting during these blessed days so we can reap in some of blessings of the winter time!  Why not start fasting the three white days of the lunar month every month?  Indeed, the fasts are easy yet virtuous and rewarding,inshā'Allāh!
Additionally, one can look forward to making wuḍū' with the cold water of winter.  Why you would ask?  Well, it's a great time to reflect upon the blessings of warm water and furthermore we can hope to reap in the extra reward of having to go through the 'hardships' of making wuḍū' with the cold water.  Indeed, if something is difficult for us and we do it solely for Allāh, our reward is with Him, inshā'Allāh!  Furthermore, our delicate care in using cold water for making wuḍū' keeps us closer to the Sunnah of not being extravagant in making wuḍū' and wasting excess water!
In conclusion, there are many beautiful bounties that come with the beginning of the winter season.  Only a few simple blessings have been listed above, but, de facto, many more do exist.  For example, many of the women in the winter time are forced to cover their bodies as compared to the summer time when they are wearing clothes yet many of them are still naked.  Hence, winter times makes it easier for the Muslim man to lower his gaze too, inshā'Allāh.
So, as winter time approaches, let us embrace the cold and benefit ourselves from this beautiful season, inshā'Allāh!