RE: CNN "Cain's message — Muslims need not apply" some thoughts on tactics & strategy for US Muslims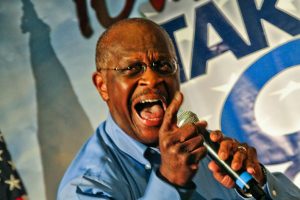 Dear Dean of Comedy,
Asalaam Alaikum,
I am a fan, so please take my comments as constructive criticism, insha'Allah, a conversation starter for American Muslim activists to examine our messages, strategies and tactics.
In response to your piece on CNN, I would like to make the following points:
Point #1 – Please do not add fuel to a fire: "Not only is Cain's policy regarding American Muslims morally wrong and illegal, how would it work from a practical standpoint? How could he tell if a person is Muslim? Job applicants could lie about their religion in order to have a chance at a job, especially in this tough economy." – A major smear against our community is the "taqqiya" (lying to or deceiving of non-Muslims to get the upper hand over them) concept. It has been used so effectively with some segments of the population that they will not accept anything a Muslims says or does. The above quote actually will read to those folks as "see, I told you them Muzlims will lie to get what they want!"
Point #2 – Muslims should consider ourselves equal to anyone and everyone else: With regards to your analysis of Romney and McCain in 2007, McCain also said that cabinet level appointments should be based on merit and qualifications alone. This is a very American standard and one that Muslims should adopt so that we are not putting ourselves on the path to entitlement thinking. In 2007, Romney said that the American Muslim population was not significant enough to warrant a cabinet level appointment. So while Romney's position has moved in a more just direction, Muslims should continue to focus on producing some of the best educated and most successful members of society. That is what we have done and what we must continue to do to determine our long-term success. The path Romney described in 2007 is one of a special interest group.
Point #3 – Islam & Muslim are not terms that equal to a race. Muslim diversity must be promoted: While I love the Reagan quote you used to close the article, the way you structured your piece conflates the very different forms of bigotry that Reagan saw fit to list as separate threats. Yes, the fact of the matter is that Herman Cain is against Muslims as a group. Yes, the majority of the American Civil Rights movement is one of racial tension. While anti-Semitism provides a middle ground, Muslims do not have a single racial, ethnic  or cultural background which makes the defamation we face much closer to the founding fathers concerns over religious persecution.
American Muslims are as diverse as America itself so what better way to respond to the so-called "constitutionalists" than to show them how they are going against the Framers of the Constitution desires for our nation?
We are not a race and should be very careful of using racial analogies to frame our modern issues. Want proof? Look to the same Gingrich statements you paraphrase in your piece. Gingrich makes ridiculous analogies between Islam, Communism and Nazism. Silly arguments like this can only be made if Muslims are allowing ourselves to be seen as a monolith. Racializing Islam sets the stage for the artificial analogy between Muslims and Nazis and Communists because the rich diversity of our Ummah is ignored and we are then seen as a tribe rather than a religion. The argument has become that by virtue of simply being Muslim (if seen as a monolith) we have joined a totalitarian doctrine. Our diversity of thought, diversity of religious interpretation along with the greater Muslim community's richness of spanning vast ethnic divides can all be seen with suspicion rather than the admiration it rightfully merits.
Point #4 – Good work on not using tired, problematic terminology: I applaud you for not using the term Islamophobia, which re-enforces the problems I list in point 3. The use of the term ultimately leads to the logical conclusion of Huntington's the clash of civilizations theory. When we say that fear of Muslims is Islamophobia, non-Muslims can be made to believe that Islam itself is the problem. This is because we did not address the fear. It does not matter if the fear is misplaced, it only matters that it exists. By simply telling someone who is terrified of small spaces that they are claustrophobic, I have not given them any therapy, I gave their fear a label. As someone not suffering from claustrophobia, it may give me a sense of satisfaction to know a term that describes the condition, but did it help me deal with the claustrophobe?
This open letter is nothing more than an opportunity to discuss some key strategic and tactical issues. I did in fact really appreciate your piece and applaud your effort. Thank you for a great opportunity to examine how we see ourselves and how we challenge anti-Muslim defamation. Thanks for making us laugh and by all means keep destroying stereotypes with humor!
JazakAllahu Khairan,
Iesa Galloway