Egypt | A Crash Course in Life Lessons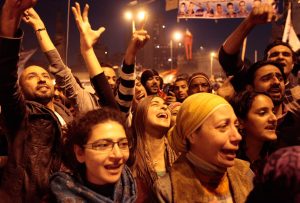 Energy, enthusiasm and new found hope fills the air as people continue to celebrate in Tahrir Square in Egypt. It's hard to believe that just a week ago the mood in this very square was one of fear, frustration and uncertainty. Many times in life we feel overwhelmed with the trials and tribulations we face. We may feel that we are in complete darkness and we can't even get a glimpse of the light at the end of the tunnel. With the onset of the demonstrations in Egypt, I personally felt like my world turned upside down without a warning. Being a foreigner away from all family support we felt vulnerable and our families worried about our safety insisting that we leave the country until the violence and danger subsided.
Next Flight Out
We waited anxiously to hear if there were any seats available to fly out of Cairo. Our only request was to leave on the next flight after the  8am curfew. All flights were fully booked. We got desperate so we asked for tickets to any nearby country: Turkey, Bahrain, Qatar or even Europe if necessary. The call came in and there were 5 one-way tickets to Rome and from Rome to Dubai. Now we just needed 7 more tickets for our friends who were visiting us. They had come over for lunch and were stranded at our place because the rioting was too close to their home and the curfew was being strictly enforced from 4pm. They had to stay the night in order to avoid any danger. This actually created a good distraction for our 6 kids who thought it was a big slumber party.
Pack Light
Having the kids preoccupied with their friends and their dreams of making popcorn, watching cartoons and having pillow fights allowed us parents to make the really tough decisions. Are we doing the right thing to leave? Where do we stay? What do we take with us? My husband kept emphasizing to pack light. Under normal conditions, I struggle with the task not to over pack so the thought of packing light when I am not even sure how long I will be away was an impossible mission for me. How do you pack for a trip when all along you know that there is a possibility of never coming back or worse; you come back and all your belongings have been taken or burned?
Trail of Memories
I tried my best to remain positive, but my eyes were filled with tears as I looked at all our belongings that I had to leave behind – I knew that the material things could  eventually be replaced but everything that had sentimental value was irreplaceable. I had to turn my back on all the amazing books which were like wise companions that had sculpted my perspective and nourished my mind, the stacks of albums that were filled with beautiful Kodak moments with witty captions  and our souvenirs from our travels abroad. I glanced at our children's huge file filled with awards and accomplishments which  I had meticulously collected through the years and had guarded like a treasure.  The tears roll down uncontrollably as I reflect back and I pray that we can once again return to our home and resume our life in Egypt.
Too Close for Comfort
I had to be strong, overlook my emotional attachments and focus on our safety. We were hearing so many horror stories from our friends in the downtown area. People were looting  stores, burning police trucks and setting buildings on fire. All along I was comforted by the fact that we live in the suburbs and that we were away from the chaos. Even though we were in New Cairo, neighbors were going  around advising us to park our cars away from our houses so that if the cars were torched our houses would not catch on fire. They even told us to gather our weapons and be ready to protect our homes. The comfort I once had was quickly fading.   When I realized that the mall which was completely looted was only 15 minutes away from our house, my hands started to shake. I felt the severity of the situation and all I could think of was leaving the country.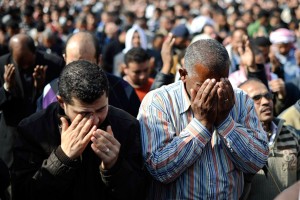 Aching Hearts
As we were frantically preparing to leave, my heart was overflowing with emotions. I thought about the many reasons we had chosen to move to Egypt. After living most of our lives in America and a few years in Dubai we made the difficult decision to make hijra in order for our children to become fluent in Arabic, memorize Quran and live in a more conservative society. With these aspirations we left behind all that we were familiar with, left all our friends and plunged into the unknown with complete trust in Allah. The results of moving  were astounding! Alhamdulillah, our children are learning to be fluent in Arabic, Quran is a priority and we have built a strong network of practicing friends. The more I numerated the many blessings of moving to Egypt, the more my heart ached for having to leave and possibly not being able to come back.
Crash Course in Life Lessons
There are times in life where one learns pearls of wisdom gradually over a period of time and then there are times when you get a crash course in half a dozen life lessons all at once.  The experience of evacuating Egypt was definitely a crash course and the lessons from it have impacted my life in a profound way.
1.    Appreciate everything and don't take anything for granted. One of the most underappreciated things in the world is security. It's really easy to feel entitled to have security and the only time you will ever even become aware of it and truly appreciate it is when it is threatened. You really can't imagine what a blessing it is to go to bed not fearing that people may break in. Therefore, thank Allah for being able to walk in the streets without fear and sleeping without having to protect your home and belongings.
2.    Nothing lasts forever. Difficulty and ease are both temporary; therefore we need to remain emotionally stable at all times. When we are faced with trials and tribulations we should take comfort in knowing that these difficult times will soon pass. Also, when we are elated we should not feel overly confident that everything will remain at this euphoric state. The best way to ensure you are balanced is to increase your gratefulness and strengthen your bond with your creator.
3.    Be detached from the material things. The more attached we are to our possessions the harder it is to leave them behind or lose them. Prophet Mohammad (peace and salat upon him) advised us to live in this world as a traveler meaning that we should "pack light" (I have yet to master this) and feel that we are in transit in this world. The experience of going on hajj prepared me to some extent for this detachment, but I still have a long way to go.
4.    Never underestimate your potential. We need to see ourselves as agents of change. Whether the change involves our personal and family life or our country's improvement.
5.    Reframe. Ask yourself what is good about this situation? There is always something positive to focus on. Many times it is through trials and tribulations that we acquire the most valuable lessons in our lives. Not only do we need to reframe on an individual basis, but even collectively we need to see events in our community and in our countries as taking place for the best. It's important to be cognizant of the fact that many times the situation has to become worse before it gets better.
6.    Trust Allah's plan. Even though you may have planned and micromanaged the next decade, always keep in mind that Allah's master plan is better. There is wisdom in everything that happens and we need to embrace the challenges; believing that we are benefitting from the experience. Never feel disappointed from unexpected events. Allah is prescribing an antibiotic tailored for our specific weaknesses in order to strengthen us and help us combat the diseases of our hearts.
Even though we left to ensure our safety, our hearts remained in Egypt and our eyes wept for the people who were struggling and putting their lives on the line. We continue to pray earnestly for the safety of all people and the success of Egypt. We anxiously await our return to the country we now call home and to resume our peaceful life there.
The revolution in Egypt demonstrates that everything happens for a reason and that ease follows difficulty.  What facilitated these events was the incredible perseverance and courage of the people.  If they had given up and lost hope they would never have reached their dreams of freedom. Each one of us needs this kind of resilience and persistence with complete trust in God's power to achieve our goals.  The most amazing aspect of this revolution was that it was peaceful. The voices of the Egyptians echoed throughout the world awakening the hearts of millions.  There was a universal support for people demanding their basic rights which created an unsurpassed unity.  Uniting for the sake of justice overcame the tension that had developed earlier that year between Christians and Muslims.  We can now look back and realize that many times things have to get worse before they get better and that there is always hope even in the bleakest hours.