Take 5 – New Video Blog from Abu Abdissalam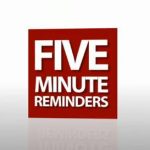 Abu Abdissalam (from AlKauthar) has started up a new video blog which will focus on delivering 5 minute reminders to the reader. It's a new project that's just launched and the first video is below.
You can subscribe to the YouTube channel to stay up to date on upcoming videos.
[youtube]http://www.youtube.com/watch?v=9w8EwOdDN_c[/youtube]