Updated-3 | In the Wake of Obsession Hate DVD: Muslim Children Gassed in Dayton Ohio Mosque
*Please see this official MM statement on this incident* 
Update 10/20/08
Mystery still shrouds as to what actually happened at the Dayton Mosque, when an unknown chemical irritant was sprayed inside a mosque. Initially, the police said that a can of pepper spray was found NEAR the mosque. Later, they "learned" it was inside the mosque. While police interviewed a 10-year old boy, there has been no conclusion to the case, esp. one that is circulating around that a Muslim boy was responsible. I am still wondering how police could have been not spot-on on such an important piece of information, i.e. the location of the spray can. In conclusion, yes indeed this may well have been a prank, an unfortunate one to say the least, but even the police haven't concluded that outsiders were not involved. So, we await final judgement. If outsiders were not involved, then this is also to be considered good news, to be thankful that the situation is not as bad as we thought it was.
At the same time, the story of "Obsession DVD" and its fear and hate-mongering doesn't change an iota. Please read below for that story, which forms the bulk and essence of this post.
Update 10/13/08
Chris Rodda, original author of the dailykos, responds to the  Dayton daily news, and also investigates the mysterious redirected links to scrubbed stories. I have also linked to the cache story below. See here.
Since this story was originally posted, the Dayton newspaper ran a couple of more stories, one stating that the spray attack was not being treated as a hate-crime, and the other decrying that bloggers were sensationalizing this story (boo hoo). As I stated in this post, I do not know if there is any connection between the DVDs and the spray attack. I believe that common sense dictates that hatred will eventually spew out in the form of some hate-crime sooner or later. And what the DVD attempts to do is to disseminate hatred.
Regardless, the eye-witness email account continues to reflect some of the terror the spray inflicted, even if it turned out not to cause enduring physical harm. Emotional trauma is far more difficult to erase and rectify than any physical hurt. Finally, whether the incident was really as bad as I and many others believe it was, whether the incident was related to the DVD or not, is really inconsequential in the big picture. The facts on the DVD about the producers, distributors, financiers, and the organizers of islamophobia, which form the bulk of this post, do not hinge on the Dayton incident.
Interestingly, but not surprisingly, the hate-mongers continue to remain undeterred, and are in the process of releasing another video on the "third jihad". The same foundation, the same characters, but with the addition of their new star– a "Muslim"-traitor, a clown, sell-out, our own "Uncle Tom", the male Irshad Manji– Dr. Zuhdi Jasser. Apparently, Jasser, who can't get any attention or love, even from a small minority of Muslims, is getting a big bone from the Israel-obsessed neocons/right-wing zionists.
Thus, Omid Safi, whose full document on Obsession can be found here, is suggesting that we collect information about this clown, Jasser, his views, his background, etc. So, I ask our readers to start collecting information on him. If anyone wants to volunteer to do an "expose" on him, that will be great. Here's a starting point: Radical Islam Wants You…and America. Please let us know or share information in comments.
——————————————
She told me that the gas was sprayed into the room where the babies and children were being kept while their mothers prayed together their Ramadan prayers.Panicked mothers ran for their babies, crying for their children so they could flee from the gas that was burning their eyes and throats and lungs. She grabbed her youngest in her arms and grabbed the hand of her other daughter, moving with the others to exit the building and the irritating substance there. The paramedic said the young one was in shock, and gave her oxygen to help her breathe. The child couldn't stop sobbing.
Let's step back a bit…Imagine this headline: "Chemicals sprayed into Synagogue, Children Hurt".
Imagine how this headline would be blurting out of every mass media outlet, out of every politician's mouth… Obama and McCain would be personally heading to the Synagogue, proclaiming the strongest messages against such terrorism, calling for the attackers to be brought to full justice, and repudiating whatever may have been responsible for leading to this hate-crime.
Nothing less would be expected of the America that I thought I knew.
Yet, replace Synagogue with a Mosque, and there is deafening silence in the mainstream media. Were it not for this highly-recommended diary on Dailykos, I wonder if even the liberal blogs would have picked it up. How apathetic has our national media become to crimes against Muslims in America? Don't Muslims deserve that these stories be told? Is it only when Muslims commit terrorism that the stories are worthy of front-page news, yet when we are subjected to terrorism, it doesn't merit any media attention? [YOU, as a fair-minded individual can do something about it. And I mention some ways in the conclusion to make a difference, so be sure to read all the way to the end. You can be sure of one thing, if we don't care enough to do something, we can't blame the media for being indifferent.]
This didn't happen in some far away place — but right here in Dayton, and to my friends. Many of the Iraqi refugees were praying together at the Mosque Friday evening. People that I know and love.

I am hurt and angry. I tell her this is NOT America. She tells me this is not Heaven or Hell — there are good and bad people everywhere.
The Dayton Daily News reported the news in a completely matter of fact manner. Interestingly, this is a cached link, the original link now points to a DIFFERENT story that is a headline on this not being a hate-crime. Why the original link was not left in place, as is "normal"… I'll let you figure that out. Nothing in the news tells us about the horrors that transpired in the mosque. The quoted portions above and below (in red-italics) were copied from the dailykos story, based on an eye-witness's account.
She tells me that her daughters slept with her last night, the little one in her arms and sobbing throughout the night. She tells me she is afraid, and will never return to the mosque, and I wonder what kind of country is this where people have to fear attending their place of worship?

The children come into the room, and tell me they want to leave America and return to Syria, where they had fled to from Iraq. They say they like me, … , and other American friends — but they are too afraid and want to leave. Should a 6 and 7 year old even have to contemplate the safety of their living situation?

Did the anti-Muslim video circulating in the area have something to do with this incident, or is that just a bizarre coincidence? Who attacks women and children?
So, did the video cause the incident? That is the million-dollar question, and until the culprits are captured and interrogated, we may never know. If you haven't already heard of this anti-Muslim DVD, then a one-sentence description should suffice (until more on it later in the story): 77 minutes of pure propaganda, consisting of footage that interlaces videos of violent Muslims with those of Nazis, suggesting that Muslims are out to destroy Western civilization. Millions of Americans all over the country are 'mysteriously' receiving this DVD, absolutely free, in their mail.
I, for one, am not ready to buy it off as a coincidence. As I discussed in my post, Islamophobia already exists, the question is how widespread does Islamophobia become, and when the inevitable hate-crimes start coming in droves. Let me share one paragraph from that post:
[O]ne can think of racism or prejudice as a pyramid, with the bottom base being a myriad and widespread negative opinions and beliefs, which I have already described in the preceding paragraphs. The next, less-widespread, step up on this pyramid would be hate-talk. A step further up will be actions motivated by hate, like throwing a pig's head into a mosque. Further steps up (less frequent but of higher intensity) would include direct attacks on Muslims and eventually to Muslim deaths and even large-scale terrorism (a plan by a Florida doctor to bomb Muslim educational centers was derailed in Florida in 2002 before it could be enacted). The question is not whether such hate-crimes will happen (because they already are); rather the question is when and how many.

What the propagators of this video are attempting to do is to continue building the base of the hate-pyramid. They are trying to influence and coax the average American into seeing Islam as a threat, and Muslims as enemies. By mixing images of Nazis and Muslims, they are engaged in willful and dishonest fear-mongering, designed to further their goal of sidelining Muslims in all spheres of American influence.
Who is responsible for spreading Islamophobia?
The real obsession is in fact for Israel. What we are constantly finding is that many of the leading Islamophobia creation campaigns have sponsors that have the following in common: radical Jewish, obsessed with Israel (not simply pro-Israel but who support Israel's interests over America's), staunchly Zionist, and usually ultra right-wing conservative. In general, they fall under the umbrella of neoconservatives. While some from the Christian Evangelical community have spewed vitriol against Muslims and against the Prophet Mohammed, in general, they have engaged in more talk than substance. No doubt, some Evangelicals are "part of the plan", but they usually play supporting, not strategy-development, roles.
Unlike the likes of the late Fallwell, Pat Robertson, etc. this neoconservative bunch of thinkers and intellectuals has laid out a more sinister, well-orchestrated plan to change the hearts and minds of average Americans. While Israel's outgoing prime-minister bemoans the rise of extremism among Jewish settlers, and Jeffrey Goldberg describes the dialogues within Israel about the existential concerns of Israel and how the hawkish influence is actually strengthening this fear, it seems that the debate in America about support of Israeli hawkish policies is one that is barely off the ground.
The end-goal of these Neocons & friends is set by the following logic:
The American Israeli political landscape is dominated by hawkish influence, so much so that proper Israel has much more of an open and free discussion of the future of Israel than the discussion in America. This cannot be allowed to change.

American Muslims are a threat to America's heavy-handed favoritism of Israel. If American Muslims start gaining political influence, then they will demand fairness in the Middle East process, or at least the opening up of an intelligent and balanced discourse.

The way to stifle this debate is to marginalize Muslims to the point that their presence in any political landscape will become caustic (remember Obama's "Muslim smear"?).

How do you marginalize Muslims? Create widespread propaganda of fear; establish images of everyday Muslims as the next potential terrorists in the minds of the average Americans. Repeat. As long as there is no Muslim voice, there would be no challenge to the Israeli domination of viewpoints (and especially its right-wing flavor) in American culture and media.
Lest I be accused of anti-Semitism, which happens anytime you mention the word Jewish in an unfavorable light (yet it is okay to scream islamofascism, Islamic radicalism, radical Muslims, radical Islam all the time), let me mention something important: Like followers of all major religions, Jews are not monolithic. The Jews involved in organizing efforts to promote islamophobia effort represent a small minority of right-wing, hawkish, radical elements, whose obsession with Israel overrides everything else. They would not even hesitate to label Jews with opposing opinions as self-haters!
In any case, you will find the common thread of social identities that I just mentioned (with few exceptions) in the following examples; major Islamophobia-organizers and websites against Muslims in America:
And now comes the distribution of TWENTY-EIGHT MILLION DVDs. In a poignant online piece, "saul relative" writes about what the DVD represents and what its ultimate goals are. Though the short-term goal indeed is political, there is a much more sinister long-term goal that I have already highlighted above.
The DVD is a 60-minute expose of militant Islam called "Obsession: Radical Islam's War Against the West" and is ideologically slanted toward painting Muslims as evil and bent on the destruction of the United States. It was nationally premiered on Fox News during the 2006 mid-term elections. Labeled highly divisive by many mainstream religious groups, "Obsession" shows Islam as a radically dangerous religion bent on the destruction of Western civilization,
The author also mentions how terrorism has struck America only a few times in history, and while waging foreign wars, the government
has done nearly nothing with regard to domestic defense measures except to marginally increase airport security and restructure the various intelligence agencies".

[the Clarion Fund tactics] are meant to appeal to fears of the voters. It is meant to appeal to an emotional level. In psychological terms, this might precipitate a fight or flight response. With no direct threat of immediate personal harm, the fight response will most likely prevail

Fear is the strongest motivator of human action. The perception of security from that fear will have a very strong influence on the way an individual votes. The Clarion Fund is employing that motivator in swing states to potentially bring those states into the Republican fold and deliver to John McCain the electoral votes needed to become the next president.

To some, like the Clarion Fund, the truth may be irrelevant. Getting the candidate of their choice elected is all that matters."
Some of the claims of the DVD:
Just like the individuals mentioned above who leading the charge of Islamophobia, other players in the video share similar background including Carline Glick (Israel On Campus Coalition), and Nonie Darwish & Walid Shoebet (these two are of the evangelical Christian persuasion, but no less obsessed with Israel). What I would like the reader to contemplate the following:
Consider the cost of such of production and distribution of such an effort. My own back-of-the-envelope estimate puts this at between $50-150 million! Who is bank-rolling it?
Consider the timing and states chosen for the distribution. A few weeks before the presidential elections where one candidate, Obama, despite his pro-Israel stance, is just not as "tried and tested" as McCain. The tiny bit of risk that Obama may be actually fair in Middle East policies is strategically unacceptable for the neocons. The states are of course the swing-states, which makes the political motive even more obvious
Consider the channel of distribution. Newspapers. They could have done it through a myriad of other distribution channels, but they chose newspapers. Why? While there is the efficiency argument in that they are using an established distribution network, there is a more Machiavellian reason at play. In one word- credibility! How many people may not have noticed the "advertisement" disclaimer (if there was even one)? The average American still maintains some trust in newspapers, and by agreeing to distribute hate-literature, our newspapers have failed us in the sense of their social responsibility.
Who is behind it?
For this, I will be depending heavily on Omid Safi's (a Professor of Religious Studies at UNC) research, much of which is excerpted below. The DVD references the "Clarion Fund" as its creator. Clarion was incorporated in 2006. It uses the website, "radicalislam.org". As most Muslims now recognize, "radical" is just a softener, the intention is to malign all Muslims. In essence, if you practice Islam, you are a radical.
The DVD was produced by a person called Raphael Shore (yes, sharing the same social identities as the other culprits). Raphael Shore is part of a missionary Israeli "Jewish penitent" (baal teshuva) group, called Aish HaTorah ("Fire of the Torah"), whose mission has been to call "assimilated" Jews back to Judaism. Although Aish HaTorah denies involvement,
Ronn Torossian, spokesman for Aish HaTorah, said that his group would in "no way be involved with Clarion Fund or Obsession because Aish HaTorah is a charity and must remain apolitical."

Ross, the Clarion spokesman, was listed as an Aish HaTorah international fundraiser on a federal election donation form in June 2007. [Source]
More from Omid:
It turns out that Raphael Shore, a Canadian rabbi, is also the director of the International wing of Aish HaTorah. His business card is available as a PDF on line. According to the paperwork filed with the Delaware state authorities, Clarion uses the same address as Aish HaTorah in New York.

Raphael Shore is also the director of Hasbara Fellowships, a group with the transparent website: http://www.israelactivism.com/ Here there is another connection to Aish HaTorah, as Hasbara is part of the Aish HaTorah network. The connections between Obsession and Israeli groups like Aish HaTorah and Jewish advocacy groups on behalf of Israel like Hasbara Fellowship and Honestyreporting.com is beyond dispute. The producers of the documentary just don't want you to know about it.

The spokesperson for the Clarion Fund, Gregory Ross, did not deny that this article had appeared on their site, he was only upset that they had been caught with it! The Clarion Fund has been established as a 501(3)c non-profit organization. These types of non-profit organizations are not to endorse one political candidate over another, precisely what Clarion seems to have done, and is now busy hiding its track records. NPR reported on this, and the possibility of a forthcoming FEC probe.

Who Distributes the DVD?
According the New York Times, when Shore and Co. could not find any traditional distributor for their propaganda, they formulated a strategy of working with Neo-Conservative organizations like Heritage, College Republicans, and above all, Jewish organizations.

NPR has reported that an organization called Endowment for Middle East Truth (EMET), is also responsible for distribution of the Obsession DVD. The positions of EMET are the positions of Likud party in Israel, and that of the illegal Settler movement It was EMET that on March 25th, 2008 sponsored a showing of Obsession on Capitol Hill.

"EMET was also requested to help the Republican Policy Committee with a Sense of the Congress resolution talking about Israel's inherent right to defend itself…" In other words, Clarion Fund claims to be non-political, but uses a pro-Israel ally of Republicans to distribute its product.

In short, the distributors of the Obsession DVD are the most ardent and fanatical supporters of Israel, a fact that the Obsession DVD conveniently omits, and the newspapers who spread the 28 million copies of this DVD like a virus never looked into. EMET also has a cozy relationship with the right-wing Jewish billionaire Sheldon G. Adelson, who has a proven track record of using his wealth to push both Israeli and Republican agendas. A recent investigative piece in the New Yorker proved many details of his agenda.

To place Adelson on the political spectrum, it is good to recall that he has described himself as a critic of AIPAC—from the far right! In other words, he feels that AIPAC (American Israel Public Affairs Committee) has been too soft on Palestinians. (!) Adelson has been a longtime contributor to Jewish and Republican causes, including the campaigns of George W. Bush. Initially, he had designs of spending $250 million dollars to set up an organization called Freedom Watch to keep Obama out of the White House.
Conclusion
It should not come as a huge surprise as to how much influence the Israeli lobby holds in American politics, especially its hawkish, right-wing section. It is a taboo of course to talk about this influence as the writers of the "Israel Lobby" book learned. What is a bit surprising is how easily foreign entities from Israel have been able to register charitable organizations in America, and using supposedly apolitical entities, to influence elections in the States.
What is particularly disappointing is that more newspapers did not refuse to distribute this video. Would they have distributed it if the video was on radical Judaism or radical Christianity? Would they have distributed it if was about the Israeli settlers' harassment and stalking of Palestinian locals? If it is all about freedom of speech, then why is the speech that maligns Muslim, incites hatred and potentially hate-crimes, acceptable, yet the speech that highlights other injustices unacceptable?
We don't know for sure if the video caused the hate-crime at the Dayton mosque. But, we cannot deny the proximity of timing of distribution of the DVD and the crime. Common sense suggests that if you inculcate enough hatred in individuals, it will be a matter of time before this hatred develops into actions of hate. History provides sufficient proof for this claim. What is especially ironic, and I conclude with this, is that while the video tries to portray Muslims as Nazis, it is the video itself that is spreading the same sort of hatred and intolerance about Muslims similar as what the Nazis created towards Jews, which ultimately led the Nazis to execute one of the greatest crimes against humanity. Contemplate that!
What can you do?
If this all bothered you, and it should for moral reasons, regardless of your religious identity, then don't just sit there and bemoan this miscarriage of media responsibility. Do your part:
Write a letter to your local newspaper, wherever you are, but especially if you are in one of the states where the distribution took place (consider these guidelines). You have a better chance of getting published than writing to one of the national newspapers.
Write to the national newspapers. But be very succinct and add some "color" or "reasoned emotion", it may increase your chance of getting published
If you have the time, write an op-ed. There is enough information in this post for you to cobble together a short piece (different newspapers have different word limits)
Cross-post on your own blog or on facebook or wherever you "communicate electronically".
Email about this post, or excerpts from it to your friends and family.
If you are into making videos, make a short video that highlights a bit of the DVD, and a 3 minute talk about how you feel about it. Post it on youtube.
If you do any of the above, add a comment below to encourage others. Even copy/paste your letter so others can use it as template for doing their own writing.
Please demand that this come up at the VP debate by sending a message to Gwen Ifill as a comment on a previous diary mentioned.
What am I supposed to say to them? My words can't keep them safe from what is nothing less than terrorism, American style. Isn't losing loved ones, their homes, jobs, possessions and homeland enough? Is there no place where they can be safe?

She didn't want me to leave her tonight, but it was after midnight, and I needed to get home and write this to my friends. Tell me — tell me — what am I supposed to say to them?"
See Also:
Related Posts:
5 Quick Things Americans Can Do For Uyghurs Today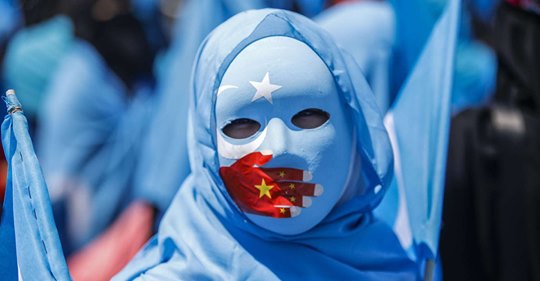 "I may die, but let it be known that my nation will continue their struggle so long the world continues to exist." Kazakh leader Uthman Batur. He said these words as Chinese authorities executed him for resisting the communist occupation. Currently, China has, one million Uyghurs (Uighurs), Kazakhs, and other Muslim minorities held in concentration camps in the Xinjiang Uyghur Autonomous Region (XUAR) (East Turkistan) in northwestern China.
Their struggle surpasses the 10 or so years since we have become aware of it. Just like the Rohingya genocide, we waited till the last minute. We are always late and say, "Never Again." It happens again and again.
In my lifetime, there have been horrendous genocides that could have been prevented to stopped. As a child, I remember Rwanda in the headlines, then a year later Bosnian genocide. Then we hear these demonic stories after the fact. I remember stories from survivors from Bosnia, and thinking to myself, "How are you here and functioning?"
Let us not be fooled to why this is happening now. It is related to economic advantages. The Chinese government's present signature foreign policy initiative is the "Belt and Road Initiative" (BRI) that seeks to connect the PRC economically to the rest of the Eurasian continent through massive infrastructure projects that will stimulate international trade. The western and south-western components of the BRI require the XUAR to serve as a transportation and commercial hub to trade routes and pipelines that will join China with Central and South Asia, the Middle East, and the entirety of Europe. As a result, the XUAR has become an important strategic region for the Chinese, and the state views its indigenous populations as an obstacle to developing its vision for this future critical center of international commercial networks.1
The expansion of their trade route also ties in Iran hence the sanctions placed, but that's a different report for a different time. China, of course, has defended their actions by claiming its an anti-terrorism plan. Getting reliable information is hard. China has made it a point to make things difficult for reporters. Yanan Wang, a China-based journalist from the Associated Press, has reported extensively on and from Xinjiang.
In a ceremony at Asia Society on Tuesday commemorating AP's 2019 Osborn Elliott Award for Excellence in Journalism on Asia, Wang described the subtle ways government minders worked to thwart her reporting: "(Both of the times we went there we arrived at the airport, we had a welcoming committee from the local authorities. They're always very polite and professional. They say that "you've arrived in Xinjiang and we're here to assist you in your reporting. Tell us what you're working on so we can help you." They offer us drives in their car and plenty of hospitality.
Basically, from the moment we arrive, we're followed by at least one car. There are a bunch of interesting scenarios that we came across. You can see that the local handlers are trying hard to be professional. They are members of the propaganda department, so they're PR professionals. They don't want to make it appear like it's so stifling. At one point, we were taking photos, and someone suddenly appeared on the scene to say he was a "concerned citizen." He said he'd seen us taking photos and that it was an infringement of his privacy rights. He had this long monologue about privacy rights and about how it wasn't right for us to take photos of him without his knowledge. We asked him, "Well, where are you in these photos?" and he'd go through all of them. He said we had to delete all of them. He'd say, "This is my brother," or "This is my place of work, you have to delete it."
They had all of these interesting tactics to work around the idea that they were trying to obstruct our reporting and make it appear that someone who claims to be a concerned citizen.)"2
On top of that, locals that talk to journalist are punished, sometimes go missing.
I decided to do something this time around; I got in touch with an Uyghur community near my residence to see how an individual could help. It started at a Turkic restaurant, and from there, I have been involved in whatever capacity I am able. Through this effort, I got in touch with a Turkic professor in Turkey who has students stranded as they are cut off from contacting family back in Xinjiang. He helps them out financially; my family and friends help with what they can.
As Muslims in the West, there is no doubt we should act. Prophet Muhammad, peace and blessings be upon him, said "Whosoever of you sees an evil, let him change it with his hand; and if he is not able to do so, then [let him change it] with his tongue; and if he is not able to do so, then with his heart, and that is the weakest of faith" (Muslim).
How Can You Help Uyghurs
Here are a few things you can do to help:
1. Ask Congress to pass To pass S.178 & H.R.649 Uyghur Human Rights Policy Act of 2019. Urge your senator and representative to support this cause. It has been introduced. This bill can help the Uyghur community to be treated like Tibetans (another region oppressed by China).
2. Stay informed. The mainstream media is not the place to get accurate information on the situation. Be skeptical of where the data is coming from, stick to reliable sources that are verified. As mentioned above, journalists find it difficult to report.
3. Donate to Uyghur Human Rights Organizations to end concentration camps: UHRP, Uyghur American Association  Donate to Awareness Campaigns: Save Uigur Campaign 
4. Boycott or reduce buying Made in China products
5. Follow these links for updated information: facebook.com/Uyghur-Human-Rights-Project-227634297289994/ and facebook.com/ChinaMuslims
This crisis is an ethnic cleansing for profit. These are dark days as we value profit over people.
1.Statement by Concerned Scholars on mass detentions | MCLC …. https://u.osu.edu/mclc/2018/11/27/statement-by-concerned-scholars-on-mass-detention s/
2.Why It's So Difficult for Journalists To Report From …. https://asiasociety.org/blog/asia/why-its-so-difficult-journalists-report-xinjiang
Retire Aladdin To The Ends Of The Earth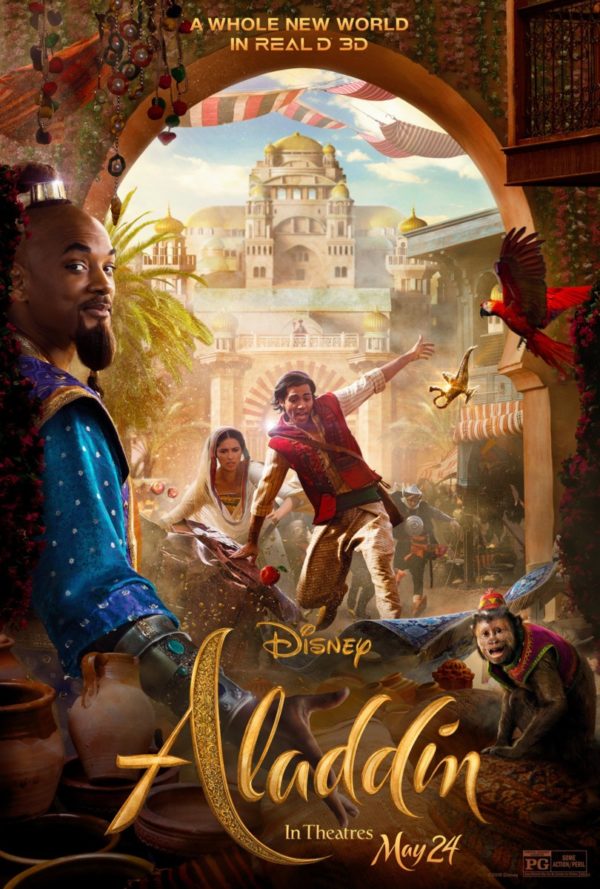 By Jinan Shbat
I grew up in an upper-middle-class suburb in Ohio, where I never felt different than the kids in my neighborhood. Sure, my siblings and I had odd-sounding names, and we spoke a second language. But to our neighbors and classmates, we were white, like them. However, that perception changed when I was 11-years-old, when a Disney cartoon movie named "Aladdin," was released based off of a character created by a French orientalist at the height of Orientalism. At first, my siblings and I were excited because we thought Disney had made a movie that represented us. However, shortly after the movie came out, the questions began.
Are you from Agrabah?
Do you have a magic carpet? Are you going to be married off to someone your parents choose? Do you have outfits like Jasmine?" My head was swarming with all these questions, and I admit, I was intimidated. A little scared, too. I didn't know how to answer them, and so I just shook my head and walked away.
My parents thought they were doing us a favor by buying the movie and have us watch it anytime other kids came over to play. This just created a larger divide between us, and soon my siblings and I were the "other." It made me hyper-aware of my brown skin, my visiting foreign grandparents, and my weird-sounding name that no one could ever pronounce correctly. As I grew up, the movie and its racist, Orientalist tropes followed and haunted me. Anytime anyone found out I was Arab, they would ask, "oh, like Aladdin?" I didn't know how to answer that. Was Aladdin Arab? South Asian, Persian? These were all different ethnicities, yet the movie seemed to be an amalgamation of them all, set in a fiction land I could not identify.
Why is Disney's Aladdin Harmful?
It may not seem like a big deal to be misidentified in this way, but it is. And these stereotypes that have been present in Hollywood for decades are a huge disservice to our communities- all our communities- because when you misidentify a person's culture, you are saying that all people of color are interchangeable— which is dehumanizing.
With the new release of the live action version, "Aladdin" is reinforcing the trauma and obstacles we have had to fight for the last 30+ years. The addition of a diversity consulting firm made Disney look good; it showed good faith on their part to receive feedback on the script to try and improve it.
However, issues remain with the original story itself, and no amount of consulting will change that.
Although the Aladdin remake was marked by controversy over Disney "brown-facing" its white cast, and despite original Aladdin's racist history, last weekend Disney's live-action version soared to $207.1 million globally. Money experts tell us that the remake success comes from the "power of nostalgia"- that is, the film's ability to connect with feel-good memories.
The original production is the second highest grossing film project in Disney history. Last weekend, millions flocked to the remake in record numbers, despite critics' negative and mixed reviews.
The accompanying Aladdin Jr. play is also a major concern, sales of which will skyrocket because of the film. Disney only recently removed the word 'barbaric' in its description of Arabs in the opening song. Many more problems abound, but Disney promises through its licensing company, Music Theatre International, to keep the concepts explored in the original production intact.
A Whole New World Needs Less Anti-Muslim Bigotry
From my perspective, as an organizer that fights a huge Islamophobia network in my daily work, it would be a disservice to my work and our community to sit by and allow racist, Islamophobic, orientalist tropes to make their way into our theaters, homes, and schools. What exactly is not a big deal in this movie? The depiction of Arabs and South Asians as one demographic, the storyline of forced marriage, power struggles, a black man playing a genie literally bound by chains to a lamp?
Hollywood's history of Islamophobia needs to be rectified. There is a plethora of writers, actors and creative minds with alternative positive portrayals of Muslims, Arabs and South Asians. Our consumer appetite must shift to embrace authentic stories and images about people like me.
Aladdin is beyond repair; in its original form, it is problematic. No number of meetings with executives will fix the problems that are still prevalent. It should be retired, indefinitely, and put on the shelf with all the other racist caricatures from Hollywood history.
It's our duty to speak out- and if you don't believe we should, then you can choose to stay silent. I cannot.
Jinan Shbat is an organizer in Washington DC.
Faith Community Stands With Peace And Justice Leader Imam Omar Suleiman During Right Wing Attacks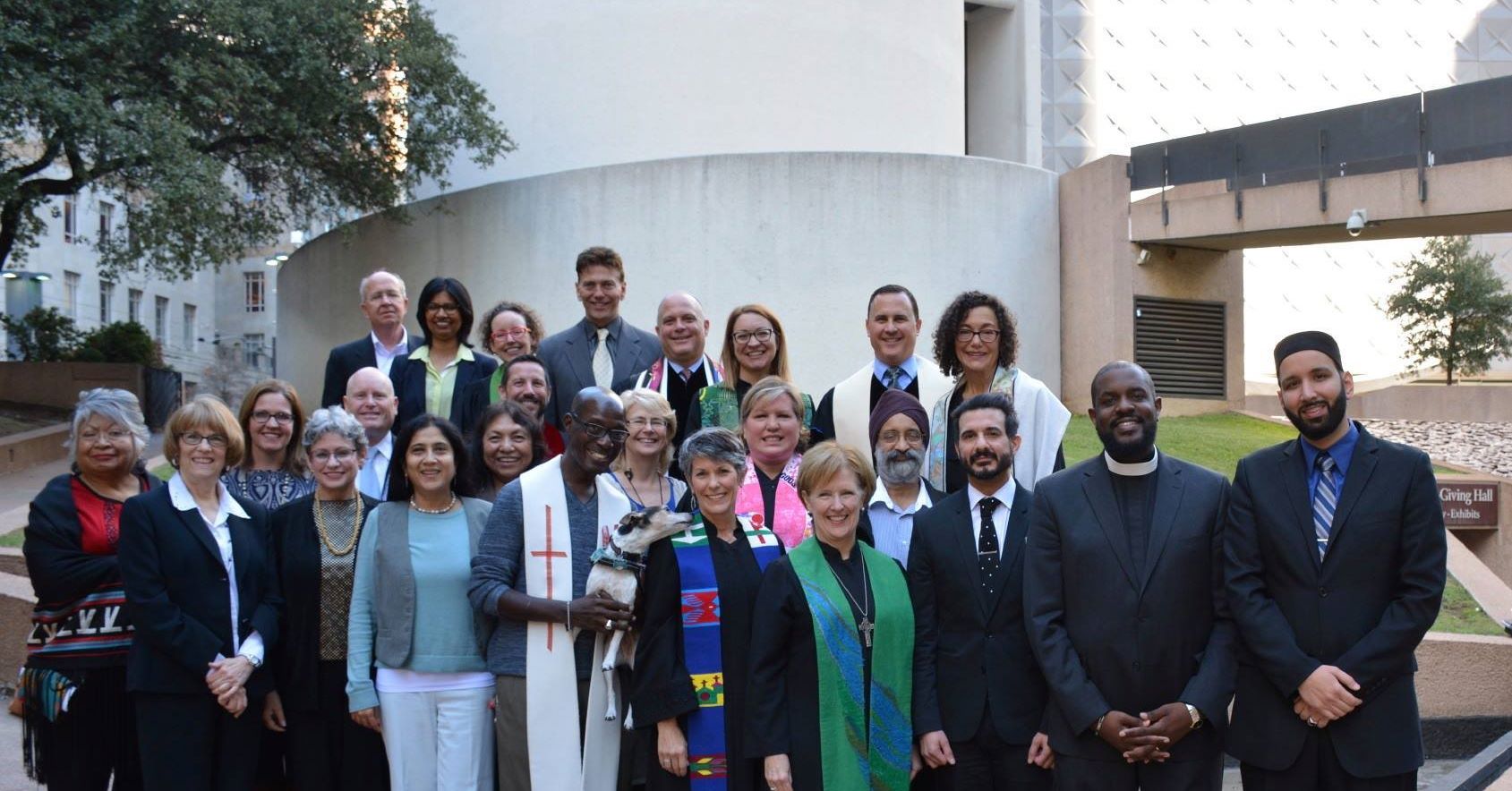 In a follow up to the right-wing media platforms attack on Imam Omar Suleiman – calling him anti-semitic, a common tactic used to discredit both Muslim activists, as well as criticism of Israel policies, Faith Forward Dallas issued a statement.
Faith Forward Dallas at Thanksgiving Square – Faith Leaders United for Peace and Justice is a Texas-based interfaith organization that has worked on many initiatives with Imam Omar Suleiman.
The statement reads:
"Imam Omar Suleiman a spiritual and moral voice for peace with justice!!!!!

Time after time in our city, in the United States and around the world, Imam Omar Suleiman has been a spiritual and moral voice for peace with justice. When others seek to divide, he calls for unity. Faith Forward Dallas at Thanks-Giving Square works to unite faith leaders for justice and compassion. Imam Suleiman has been a trusted leader among us. In the wake of his beautiful prayer to open the House of Representatives on May 9, he has received threats of violence and words of vilification when instead he should have our praise and prayers. We call upon people of good will everywhere to tone down the rhetoric, to replace hate with love, and to build bridges toward the common good.

Faith Forward Dallas at Thanks-Giving Square"
Commenters on the Faith Forward Dallas statement have left comments of support.
The group has invited locals and other leaders to endorse and share the statement. "Endorsed! I love and fully you Imam Omar Suleiman!" wrote Karen Weldes Fry, Spiritual Director at Center of Spiritual Learning in Dallas (CSLDallas), commenting on the statement.
Some commentators do not understand the manufactured controversy.  Heather Mustain writes, "What people are writing is so vile. They obviously didn't even listen to his prayer!" Imam  Omar Suleiman delivered the opening prayer in the US House of Representatives on May, 9th, 2019  at the invitation of Rep. Eddie Bernice Johnson (D) of Dallas, TX.
"I'm grateful for the faith leaders with whom I've built relationships with and served with for years that have shown full support throughout this process. Together we've stood with one another in solidarity in the face of bigotry, and in the support of others in any form of pain. We will not let these dark forces divide us," said Imam Omar Suleiman in response to the outpouring of love from the people he has worked with on the ground, building on peace, love, and justice.