Dr. Ali al-Timimi's Hearing: October 23rd, 2008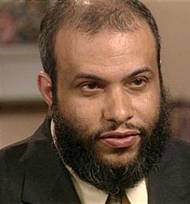 One of the greatest mistakes of the Bush Administration in its national policies to quell radicalization has been its failure to recognize and separate true militants (and hence actual potential terrorists) from normal, practicing Muslims. It is because of this ignorance that many hundreds, in fact thousands, of innocent people have been locked up, deported, or otherwise harassed in the last few years. Sometimes, the very people who would be the best defense against radicalization are the subject of such governmental scrutiny.
Perhaps the most painful of the voices that has been locked up and silenced is that of Dr. Ali al-Timimi, an intellectual theologian and political analyst, and one of the more sophisticated voices of reason representing orthodox Islam in the Western world. On April 26, 2005, after three years of a long witch-hunt led by the Justice Department, he was convicted in the U.S. District Court for the Eastern District of Virginia of soliciting others to levy war against the United States and inducing others to use firearms in violation of federal law.
I personally owe a lot to Sh. al-Timimi, and I can say (with pride) that fifteen years ago, back in the early 90's, he played an instrumental role in shaping and directing me to take the path that has led me to where I am today. I had the opportunity to be of the first batches of his students – in fact he was the first teacher who taught me the realities and intricacies of tawhid and aqidah, which, to this day, remains my primary focus and speciality. After my return from Madinah, I had the opportunity to visit Dr al-Timimi in May of 2005, when he was under house arrest, awaiting sentencing. He had an electronic bracelet around his ankle which monitored his every movement and precluded him from even stepping outside his house. And even during that meeting, his inevitable sentencing weeks away, he took interest in my life plans, and expressed great happiness at the progress of my studies, even suggesting specific topics and avenues that I should explore as a doctoral student at Yale (I had yet to start back then). It was with great sadness that we all received the news, on the 13th of July, 2005, of his life sentence, along with seventy years, without the possibility of parole.
I believe it was an egregious mistake of the highest order to target Dr. al-Timimi and make him out to be some sort of terrorist mastermind. He has many times, publicly and privately, rebuked the jihadist militants and criticized their errant methodologies. In one lecture, he said "If you consider this [speaking in the context of the reality of jihad], then we can frankly say that certain acts of violence perpetrated by Muslims against non-combatant unbelievers over the last ten or fifteen years clearly contradict Islam. It is exceedingly important that Muslims are the first and foremost to condemn and reject such actions." After the first World Trade Center bombings, many years before 9/11, he said in a lecture at Purdue, "What I would like to emphasize is that according to Islamic law, this act perpetrated by those Muslims is forbidden. It is exceedingly important that we Muslims have no hesitation in declaring that. Yes we should be strict with our religion. And yes we should hold firm to it. But at the same time, when a Muslim does something criminal we Muslims will all say that it is immoral without any uneasiness on our part to assert that."
The irony of the matter is that,  far from curbing radicalization, the overzealous actions of the Justice Department in targeting Dr. al-Timimi has in fact exacerbated the situation and made him a cause célèbre to the very groups that the government is seeking to target. It adds more fuel to their already raging fire that they build against the entire 'United States', as it demonstrates, in their eyes, that the whole country is 'out to get Islam and all Muslims'.
But the message of Shaykh was always one of pragmatic realism grounded in the Quran and Sunnah. He was indeed critical of many aspects of American foreign policy (these days, which rational human being is not?), but he never espoused any radical message of terrorism, nor did he secretly live a double life as a University academic by day (he had just finished his PhD in computational biology from George Mason), militant extremist by night.
I have had the opportunity to speak to many political players in Washington; from  presentations in the State Department to conferences attended by DHS officials and counter- terrorism experts. In every such gathering at which I have spoken, I have brought up the name and case of Dr. al-Timimi as a prime example of the total ineptitude shown by the D of J and the Attorney General's office. I hope that this has some effect in directing future policy.
Dr al-Timimi's case has been taken on by Jonathan Turley, a professor of law at George Washington Law School. Turley was ranked as 38th in the top 100 most cited "public intellectuals" in a recent study. He was found to be the second most cited law professor in the entire country. Turley alleges that the government acted inappropriately and broke the law in its method of targeting and spying on Dr. al-Timimi, hence he launched an appeal more than two years ago, which is finally coming to a verdict.
This is also a good opportunity for us to show our support of Prof. Turley, who has taken on this and other cases, such as the Sami al-Arian one, because he believes that they show a clear breach of fundamental constitutional rights in the actions of the current administration. It's people like Jonathan Turley who show us, in actions and words, the other side of America; a side that, sadly, many Muslims fail to appreciate and be grateful for. His actions are truly commendable, and we should do our best to show that appreciation to him.
Dr. al-Timimi's appeal will soon be heard in the Fourth Circuit Court of Appeals. A tentative date of October 23rd has been set. The following message is from Sr. Ziyana al-Rawahi, Dr. al-Timimi's wife. Out of all of us, her loss is the most personal and the most difficult to bear.
As we remember Sh. al-Timimi in our duaas, let us also remember his wife and his parents, and ask that Allah grant him a speedy victory, and his family much patience and reward. Ameen Ya Rabb al-Alamin!
Yasir Qadhi
———- Forwarded message ———-
From: Ziyana Al-Rawahi

Dear brothers:

Assalamu alaikum:

Inshallah you had a nice Ramadan and Eid holiday with your families.

I would like to let you know that there is a hearing on Ali's behalf on October 23 Inshaallah. As the lawyer stated there will be two classified motions to address and the Judge will have to will have to decide whether she is going to order serious relief in the case. The hearing will be closed to the public.

Please spread and make dua.

Salam,

Ziyana