Kaffiyeh Day: What It's Really All About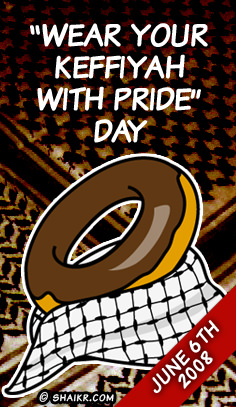 On Sunday June 1st, I launched an event which you may by now have heard of: International "Wear Your Kaffiyeh with Pride" Day, to take place this coming Friday, God-willing. This is in response to the now famous Dunkin' Donut ad incident, which we wrote about last week.
The response so far has been amazing. But now I feel somewhat overwhelmed… I didn't realise this Kaffiyeh Day thing was going to be noticed by this many people! All good and success comes from God. But even with all the positive comments, I still wonder whether I did the right thing? Is this just a huge waste of time? Are things really going to change after Friday? Will the press even give two hoots about a bunch of Facebookers wearing kaffiyeh?
Sometimes it's better to go unnoticed. As a former victim of merciless teasing during my school days, my natural instinct is not to do anything which has the potential to make me a butt of someone else's jokes. So I can't help but worry: am I setting myself up for some major embarrassment here? Okay, I agree; that shouldn't matter. That's a selfish thought. Bad me!
If I am honest, I wasn't that moved by the whole DD ad episode. It was one of many stupid things reported by the press that made my eyes roll, but not much more than that. What actually inspired me to launch this event was reading how others felt hurt by the actions of the company. This may sound bad, but… it was almost pathetic to see people complain, and feel powerless, just cos some silly woman got her silly way.
Some people might wonder: "So what? Why should this incident cause such a stir? Haven't we got more important matters to deal with?". Yes, of course we do. But the thing is, human beings love symbolism. DD pulling the add due to the complaints made by a minority of haters represents a much bigger problem in the eyes of many, and for others, is the straw that broke the camel's back.
In turn, Kaffiyeh Day is no more than a symbolic gesture: that we're tired of being misrepresented and branded as 'evil', just because we may look the same as other people who do bad things. Either we're too brown, too hairy (in the case of beards), too covered (in the case of the hijab), or too "Arab", in the case of the kaffiyeh. Enough, people! We don't dress this way to emulate terrorists. The terrorists dress this way, cos… well, I guess they need to wear clothes like the rest of us!
So I thought: why not take back the power? And in my gut, Kaffiyeh Day seemed like a simple way of doing that – in addition to writing complaint letters to DD, and other direct means of activism, which are more likely to change the world, God-willing.
Admittedly, this event is a little superficial on the face of things, and perhaps is more reactive, than proactive. But even if none of the true "evil-doers" take notice of us on Friday 6th June, 2008, I pray that this act of solidarity will at least empower the participants enough to eventually take more significant action than wearing a kaffiyeh on the same day as 2000+ other people (and counting!). We've all got to start somewhere, eh? :)
I for one have learnt a fantastic lesson about the power of social networks to rally people to a common cause in a very short period of time. And I couldn't have achieved this feat if there were not so many people out there with enough good in their hearts, and enough sense in their heads to understand the true concept of this event: we wear the kaffiyeh not to promote Arab culture, but to dispel hate, prejudice and racism. And you gotta love humanity for retaining the willpower to fight against such oppressive deeds – even if it's just by wearing a scarf.
The Prophet of Islam (peace be upon him said):

"Whosoever of you sees an evil action, let him change it with his hand; and if he is not able to do so, then with his tongue; and if he is not able to do so, then with his heart; and that is the weakest of faith."

[Related by Muslim]

For more information about Kaffiyeh Day, check the Facebook Events page, or the official blog page. A press release can also be found here.