An Evening with Jamal Zarabozo, Siraj Wahaj & Yasir (Organized by WhyIslam)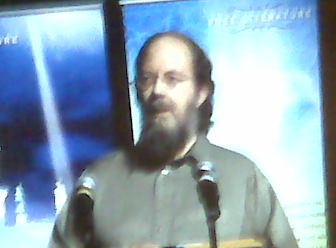 There is an exciting message for MM readers & Muslims of America towards the end of this post.
On Saturday night, I attended ICNA-NJ / WhyIslam's evening lecture program on "In the footsteps of Ibrahim (AS)". There were about 700-800 folks in attendance.
The program was well organized and the talks were awesome mashallah. Imam Siraj started with an excellent reminder, followed by a more academic lecture from Shaykh Jamal (JZ), and then culminating in a tafseer-story-narrating-type lecture by Shaykh Yasir.
Between the lectures, a nearly hour-long fundraising effort was undertaken to support the purchase of a building that will serve as offices, recreation and dawah center for ICNA-NJ & their fabolous undertaking of WhyIslam.org and 877-why-islam toll-free number. I definitely recommend supporting this wonderful effort, which is helping to bring the message of Islam to thousands of people around the globe. The moderator pointed out that whyislam.org receives nearly 3 million hits every month, which is quite exceptional. You can donate here.
I should add that I did find a bit distasteful, the lack of any prior notice regarding the fundraising activity. Organizations should be upfront of fundraising activities so that people are not thinking "bait and switch" in the back of their minds. Furthermore, it just seems that Muslim organizations have not learned or are not improving on the old fundraising shticks. Going on the stage and presenting a few ayahs and hadeeth, reminding people how we don't care about the Ummah if we don't donate, etc. just doesn't do it for many people, faced with the multitude of Islamic projects that need our support. Instead, a newer approach, with perhaps auctions or other creative ways, is needed. As for the fundraising last night, had it not been for Imam Siraj, the goal of $100K was looking untenable. Imam Siraj's involvement at least got them close alhamdulilah.
The highlights of the program for me personally were:
Imam Siraj's tribute to Shaykh Jamal (he called him Doctor a few times, not sure if I missed out on his PhD??) on JZ's excellent books, and the effect those have had on Imam Siraj, especially the 3-volume explanation of Imam Nawawi's 40 hadith (buy here).
Imam Siraj related a story about his parents (as he talked about not being left out of family gatherings on Thanksgiving, as a convert): Imam shows up at Thanksgiving at his parents' house. His son shouts "so grand-ma and pau-pau, when are you becoming Muslim?". And his mother says: "well, might as well do it tonight!" And both his mother and step-father became Muslims (hmm, actually not sure about the step-dad part). I should mention that before he started the story, he did look at Jamal, and said that he knows that they don't agree on this (i.e. on partaking in the celebration).
Imam Siraj's unplanned dive into fundraising activities, after the official fundraising Shaykh had a dismal start (no one was raising his or her hand to pledge, and things were become a tad embarrassing)… so Imam gets up and says, "no, no, no"… that he won't let this happen. And here comes the expertise and the creativity! He shouts out that he will go around the entire audience and shake the hands of 50 people, each pledging $1000! Now, this seemed incredulous after the "silent" start. But, Imam Siraj rocked the room… and secured what he pledged… with one generous desi uncle wanting 5 handshakes!
Seeing Shaykh Jamal Zarabozo after 5+ years. His beard is whiter but his sense of humor still resilient.
Shaykh Yasir Qadhi's lengthy tribute to Shaykh Jamal: "He is my inspiration for my thirst of knowledge and the path I undertook". I am not sure, but I think I noticed Shaykh Jamal wiping off some tears (or perhaps it was my imagination).
Shaykh Yasir's special announcement: "Ibrahim (AS) is sending his salam to all of you"… based on a hadith in Tirmidhi.
A special guest was also among the attendees: Abu Muslimah (a pic of him with Yasir is below), who had positive discussions (that was the sense I got) with JZ & YQ post-program. Interestingly, an African-American brother came on the stage after the program and started arguing with YQ about the Sunni Pledge. I find the myopia amazing— aren't there more important and significantly stifling social problems that a particular strain of "salafism" in the Northeast is causing (that other African-American brothers such as Tariq Nelson– see here and the article linked in the comments to an interview with Tariq, and recently Abdur-Rahman have been talking about) that the brother should be worrying about? I doubt the pledge or lack thereof is going to have any effect on the bigger problems facing their communities. [I emphasize both the "strain" context, and the regional context, because some people like to generalize for a variety of reasons (from ignorance to maliciousness)].
There is another special and exciting message for all the Muslims in America. Inshallah, Shaykh Jamal is going to be "getting out" and traveling again, after nearly 10 years of pretty much staying put in Colorado. He wants to be "active" and involved in programs. In fact, he may even be relocating to a big Muslim community (privileged information about where:) ). Also, there is a chance that he may show up at Texas Dawah next week!! Small chance, but possible and inshallah probably likely next year. You may also be seeing him at other conferences and events. May Allah make his reinvigorated desire a reality.
For MM readers, there is another exciting possibility: As we talked over breakfast, Shaykh Yasir and I told Shaykh Jamal about our little effort here on MM. Now, Shaykh Jamal could never be a blogger (he still relies on the fax machine for communications :) ), but he pretty much consented to writing and sharing articles on MM. In fact, there are some pieces already prepared that we may be seeing exclusively on MM soon! They will be of a more academic nature, but hey anything from JZ is awesome. May Allah make this possibility a reality as well– all JZ fans, make dua!
P.S. Sorry for the grainy pictures… can't do much better with a cell phone camera. Top picture is of Jamal Zarabozo, bottom (in order): Siraj, Yasir, Abu Muslimah with Yasir on his left.
See also (including audio): A conversation with Jamal Zarabozo  & Audio here