When Faith Hurts: Do Good Deeds = Good Life?
Loving Allah and trusting the Wisdom and Purpose in everything He throws your way- even if it hurts. It is a time to learn.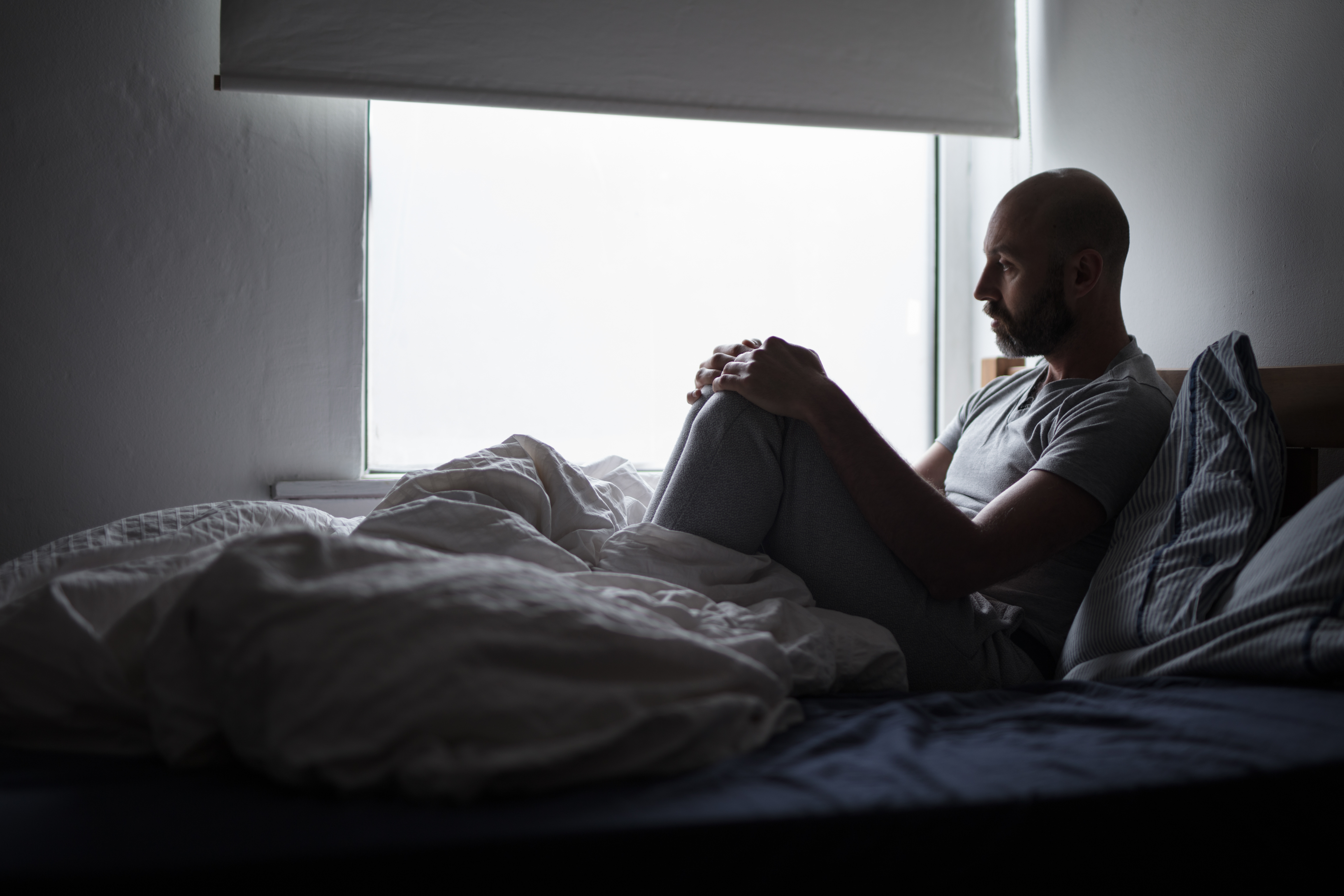 The Messenger of Allah

said that the faith in our hearts wears out the way our clothes wear out. Deterioration, maintenance, and renewal are part of the cycle.  That's life with all that hurts. That's normal.
But what happens when that's life, but life is not your normal? What happens when it feels like life isn't normal, hasn't been normal, and won't be normal for a foreseeably long time?  For some of us, refreshing faith becomes secondary to just keeping it.
It's easier to say Alhamdulillah when you are happy. It's harder when you're not. That's human nature though. There's nothing wrong with that, but there is something wrong with what we teach about faith that can leave us unprepared for when Allah tests it. I believe that our discussions about faith tend to be overly simplistic. They revolve around a few basic concepts, and are more or less summed up with:
Support MuslimMatters for Just $2 a Month
MuslimMatters has been a free service to the community since 2007. All it takes is a small gift from a reader like you to keep us going, for just $2 / month.
The Prophet (SAW) has taught us the best of deeds are those that done consistently, even if they are small. Click here to support MuslimMatters with a monthly donation of $2 per month. Set it and collect blessings from Allah (swt) for the khayr you're supporting without thinking about it.
Faith = Happiness
Righteousness = Ease
Prayer = Problem Solved
Good Deeds Equals Good Life?
Basically, the TLDR is Good Deeds = The Good Life. None of these statements are technically untrue. The sweetness of faith is a joy that is beyond any other gratitude, for any other thing in this world. Righteousness in the sight of Allah will put you on the path to the good life in the afterlife. Making dua can be the solution to your problems. But when we say these things to people who have true faith but not happiness, or righteous behavior yet distressing hardship, we're kind of implying that that either Islam is broken (because their prayers seem unanswered), or they are broken (because their prayers are undeserving of answers.) And neither of those is true either.
Allow me to elaborate. I think it's safe to say that there is not a single parent who has not begged Allah to make their sick or disabled child well again. Yet, our Ummah still has sick and disabled children. Through history, people have begged Allah for a loved one's life, and then buried them – so is prayer not equal to problem solved?
Many righteous people stand up, and are then ostracized for their faith. Many people speak truth in the face of a tyrant only to be punished for it. Many of us live with complete conviction, with unshakeable belief in the existence and wisdom and mercy of Allah, and still find ourselves unhappy and afraid of what He has willed for us.
Are We Broken?
No, but our spiritual education is. In order to fix it, we have to be upfront with each other. We have to admit that we can be happy with Allah and still find ourselves devastated by the tests He puts before us, because faith is not a protection from struggle.
Has anyone ever said this to you? Have you ever said this to anyone else?
No one ever told me. It was hard for me to learn that lesson on my own, when I pleaded with Allah to make my son's autism go away, and it didn't. Everyone told me –Make dua! The prayer of a mother for her child is special! Allah will never turn you down!
It was hard trying to make sense of what seemed like conflicting messages- that Allah knows best, but a mother's prayer is always answered. It was even harder facing people who tried to reassure me of that, even when it obviously wasn't working.
"Just make dua! Allah will respond!"
I'm sure people mean well. But it's hard not to be offended. Either they assume I have never bothered to pray for my son, or they imply that there must be good reason why Allah's not granting to my prayers. What they don't consider is that allowing my test to persist – even if I don't want it to- is also a valid response from Allah.
I have been told to think back in my life, and try to determine what sin caused my child's disability, as if the only reason why Allah wouldn't give me what I asked for was because I was so bad I didn't deserve it. As if good deeds equaled the good life, and if my life wasn't good, it's because I hadn't been good either.
Bad Things Happen to Good People
You can assume whatever you like about my character, but bad things do happen to good people, even when they pray. You can try your hardest and still fall short. You can pray your whole life for something that will never come to you. And strength of faith in that circumstance doesn't mean living in a state of unfulfilled hope, it means accepting the wisdom in the test that Allah has decreed for you.
That's a bit uncomfortable, isn't it.  When we talk about prayer and hope, we prefer to talk about Zakariyyah

– who begged Allah for a child and was gifted with one long after anyone thought it even possible. But we also need to talk about Abu Talib.
The Prophet Muhammad

was raised by his uncle Abu Talib, and in his mission to preach Islam he was protected by Abu Talib.  But Abu Talib died without accepting Islam, was there something wrong with the Prophet, that Allah did not give him what he asked for? Was he not good enough? Did he not pray hard enough? Astaghfirullah, no. So if Prophets of God can ask for things and still not get them, why are we assuming otherwise for ourselves?
Making a Bargain with Allah
If we can understand that faith is not a contract for which we trade prayers for services, then maybe we can cope better when fate cannot be bargained with. Maybe it won't have to hurt so bad – on spiritual level – when Allah withholds what we ask for, even when we asked for the "right" things in the right way and at all the right times.
Life is not simple. Faith is not simple. The will of Allah is not simple, no matter how much we want it to be, and when oversimplify it, we create a Muslim version of Prosperity Gospel without meaning to.
If you've never heard of it, prosperity gospel is a religious belief among some Christians that health and wealth and success are the will of God, and therefore faith, good deeds and charity increase one's wellbeing. Have faith, and God will reward you in this life and the next. That's nice. But it's too simple. Because the belief that Good Deeds = The Good Life doesn't explain how Ibraheem

's father tried to have him burnt alive.
Yusuf

's brothers left him for dead in the bottom of a well. He grew up a slave and spent years in prison for a crime he did not commit. Aasiya

– the wife of the Pharoah – one of the four best women in the history of womankind – died from her husband's torture.
Good people are not guaranteed good lives. Islam is what we need, not a system of practices that we use to fulfill our needs.
When we limit our understanding of faith to a simplistic, almost contractual relationship with Allah, then we can't even explain the things that Allah Tested His own prophets with.
Nor can we understand, or even begin to cope with- what He Tests the rest of us with either. We have to be real in our talk about faith, because otherwise we set each other up for unrealistic expectations and lack of preparation for when we face hardship. Faith is not protection from hardship. Faith is part of hardship. And hardship is part of faith.
Allah

asks us in the opening of Surah 'Ankabut,
Do people think once they say, "We believe," that they will be left without being put to the test? We certainly tested those before them. And ˹in this way˺ Allah will clearly distinguish between those who are truthful and those who are liars.
Allah says in Surah Baqarah, ayah 155: "And most certainly shall We try you by means of danger, and hunger, and loss of worldly goods, of lives and of the fruits of your labor. But give glad tidings to those who are patient in adversity.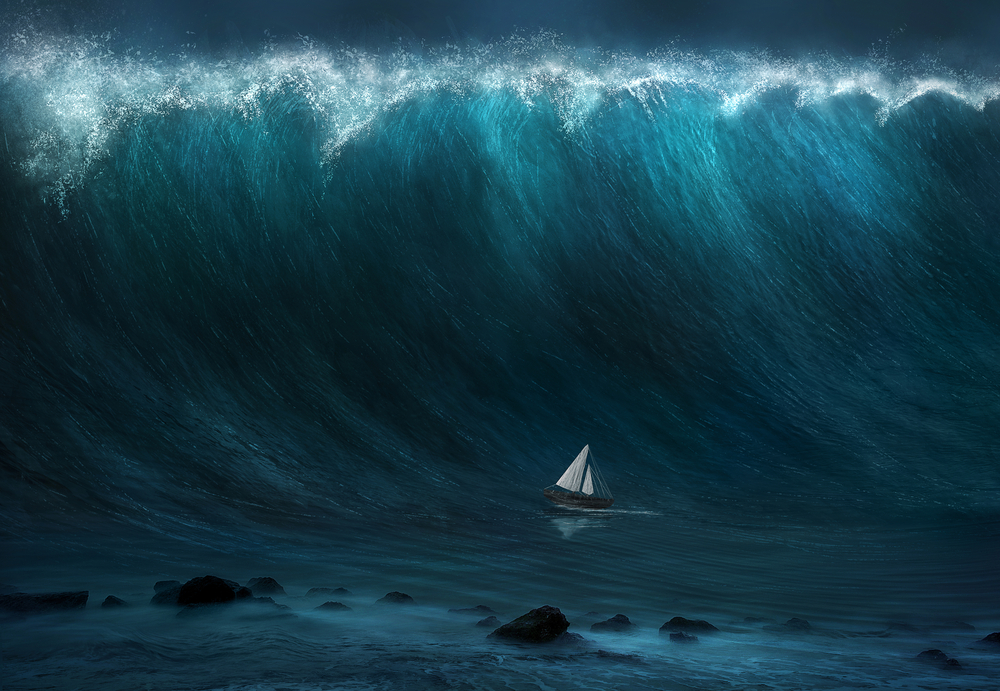 Allah Tests Everyone Differently
Allah tests each of us differently, but in every single case – every single time – a test is an invitation to success. Hardship is the process through which we prove ourselves. Experiencing it– and then drawing closer to Allah through it –is how faith is tested as well as strengthened.
If we can change how we perceive hardship, then we can also change how we perceive each other. On our cultural subconscious, we still see worldly failure as being equivalent to spiritual failure. So when we see people who are homeless, we assume fault. When we see people facing depression or divorce, we assume fault. We even look at refugees and victims and special needs children and we look for fault. Because if it's that bad then it's has to be someone's fault, right?
Fault is how we place blame. Blame is how we know whose mistake it is. But the will of Allah is never a mistake, it's a test.  Instead of faulting each other for what Allah tests us with, we could respect each other for the struggles we all endure. We could see each other with more compassion for our challenges, and less aversion when Allah tests us with dealing each other.
So when you've done things the right way, but the right things aren't happening. Or you've been charitable to others, and they're being evil towards you. Or you've earned only halal, but haram- it's been taken away from you, remember this- your faith is being tested. Allah tests those that He loves. When He raises the difficulty level, Allah is extending a direct invitation for you to climb higher.
So How Do We Succeed When Faced With Failure?
The first thing to do is redefine failure. There is only one true failure in this life, and that is dying on the wrong side of Siraat ul Mustaqeem, because if close your eyes and wake up in Jahannam, no success in this life can compensate for that.
I find that helpful to remember, when I fail to stay fit because I can't exercise without hurting myself, when I fail to fast in Ramadan because it's dangerous for me to do so- when I fail to discover a cure for my family's personal assortment of medical issues through rigorous internet "research," none of that is my failure either. And I can feel a lot of different ways about these situations, but I do not feel guilty- because it's not my fault. And I do not feel bitter, because my test is my honor. Even when I do feel scared.
Being scared in not a failure either. Neither is being unemployed. Being unmarried is not a failure. Being childless is not a failure. Being divorced is not a failure. Nothing unpleasant or miserable or unexpected is a failure. It's all just a test, and seeing it as a test means you have the state of mind to look for the correct answers.
Not even sin is failure, because as long as you are alive, your sin stands as an invitation to forgiveness. The bigger the sin, the greater the blessings of repenting from it.  Everything that goes bad is the opening of the door for good. A major sin can be the first step on a journey that starts with repentance and moves you closer to Allah every day thereafter. Sin only becomes failure when it takes you farther away from Allah, rather than closer to him.
Jahannam is the Only Failure
Addiction is not a failure. Depression is not a failure. Poverty is not a failure. Jahannam is the only failure. Everything else is a gap in expectations.
You assumed you would have something, but it's not written for you. You assumed you'd ask Allah for something and He'd give it to you, but what is that assumption based on again? That good deeds are the guarantee to the good life, and that prayer equals problem solved?
Allah has all the knowledge, Allah has the wisdom, Allah is the best of Planners – how are you assuming that your wishes supersede His will? Even when you put your wishes in the form of a prayer?
They don't. It is absolutely true that Allah may choose to rewrite Qadr itself based on your prayers – but that's still His choice. Allah has always, and will always be in control of this world. And that means your world too. If you still think you're in control, you will find it really, really hard to cope the first time you realize you're not.
When we understand that we don't get to control what happens and what doesn't, we can then release ourselves from the misplaced guilt of things going wrong.  Lots of special needs parents struggle with guilt. I meet them often – and every single parent has asked the question- directly or indirectly-
What did I do for my child to deserve this?
Can you hear the presumption in there? That the parents were good, so why did something bad happen? They were expecting for good deeds to equal the good life.
There's a second presumption in there too, that their life choices were a determining factor of what happened to their child. That is a presumption of control. And as long as you try to hold on to that presumption of control, there is the constant feeling of failure when it just doesn't work the way you think it will.
I am not proposing that we lose hope in Allah and despair of His Mercy. I am in no way insinuating that Allah doesn't hear every prayer, hasn't counted every tear, and isn't intimately aware of your pain and your challenges. Allah hears your prayers, and in His wisdom, sometimes he grants us exactly what we want. In His Wisdom, sometimes he grants us exactly what we need.
Even if we don't see it.
Even if it scares us.
Even if it hurts us – because Allah has promised that He will never, ever break us.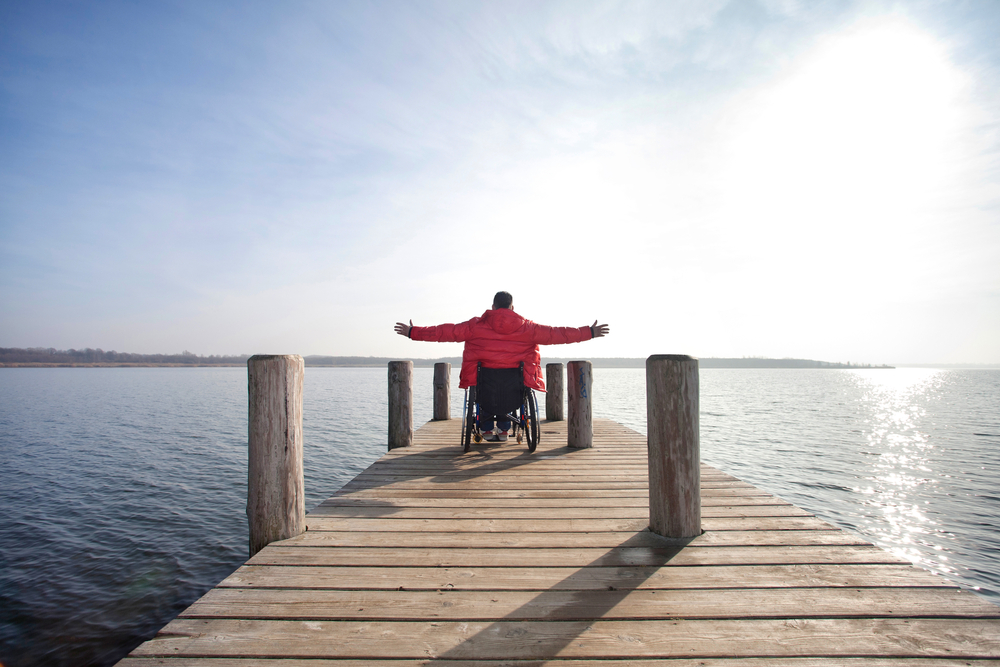 Allah Tests Us in His Mercy
I am proposing that we put trust in the wisdom of Allah, and understand that when He tests us, that is part of his mercy, not a deviation from it. When He grants something to us, that is part of His mercy, and when he withholds something from us, that too is part of His Mercy, even if we don't like it. Even when we ask Him to take it away.
The third thing I would like to propose, is that we correct our understanding of – Fa Inna Ma'Al usri yusraa, Inna Ma'al usri yusra.
So verily, definitely, for sure- with hardship there is ease. Again, Inna – for sure, with hardship there is ease.
I'm sure lots of you have said this to people you loved, or to yourself when you're struggling with something and you're just trying to get through it. But did you mean that this hardship will end, and then things will be good again? Like as soon as things have been hard for a while, Allah will make them easy again?
Would you believe that's not really what that means? Ma'a means with, not after. With this hardship, there is ease. And maybe you're like aww man, but I wanted the ease! I want the hardship to go away and Allah I'm ready for my ease now!
But that hardship, will bring you ease. Allah does not tell us what the ease will be, or when it will be- but He says it's there, so trust Him. Even if you can't see it right away, or in this life –it will become apparent.
I can tell you some of the ease I found with mine.
Learning When It Hurts
When my son was diagnosed with autism, my husband and I had to drop everything. We dropped our plans to save, to travel, and to live the charmed life of neurotypical parents whose only fears are that their children may grow up and NOT become Muslim doctors. We spent our earnings and our savings and our time and our nights and our tears and Alhamdulillah, we learned patience. We learned perspective. We learned compassion.
We really learned what we thought we already knew – about unconditional love and acceptance. We learned to be bigger than our fears, and smaller than our own egos. We learned to give and take help. We learn to accept what wisdom our cultures could offer us, and respectfully decline what did not. We learn to set boundaries and make rules that did justice by our children and our family, regardless of whether they were popular. With hardship comes ease.
When we couldn't afford therapy for my son, my husband and I founded a not for profit organization in the UAE that provided it for my son and dozens of other people's sons and daughters. Three and a half years ago I left that organization to seek better educational opportunities for my son here in the US, but it's still running. The seed that our challenges planted has grown into something beyond us. With our hardship came ease for ourselves and others as well.
When I was diagnosed with Ehlers-Danlos syndrome, my health issues were upgraded from challenging to permanent. I had to rethink how I lived, how I planned, how I dressed, and even – my relationship with Allah. But if I had never been sick, I would never have started writing. When it hurt, I wrote. When I was scared, I wrote. When I was lonely, I wrote. And by and by the grindstone of fear and sickness and frustration sharpened my skills. Where I am today both spiritually and professionally – is actually a direct result of both autism and chronic illness. With hardship comes ease.
I don't like my hardships, but I don't have to. You don't have to either. Being a good Muslim doesn't always mean being a happy Muslim. It just means being Muslim, no matter the circumstances.
That means loving Allah and trusting the Wisdom and Purpose in everything He throws your way – even if not loving everything He throws your way. You may hate your circumstances, and you may not be able to do anything about them, but as long as you trust Allah and use your hardships to come closer to him, you cannot fail, even if this life, you feel as if you never really succeeded.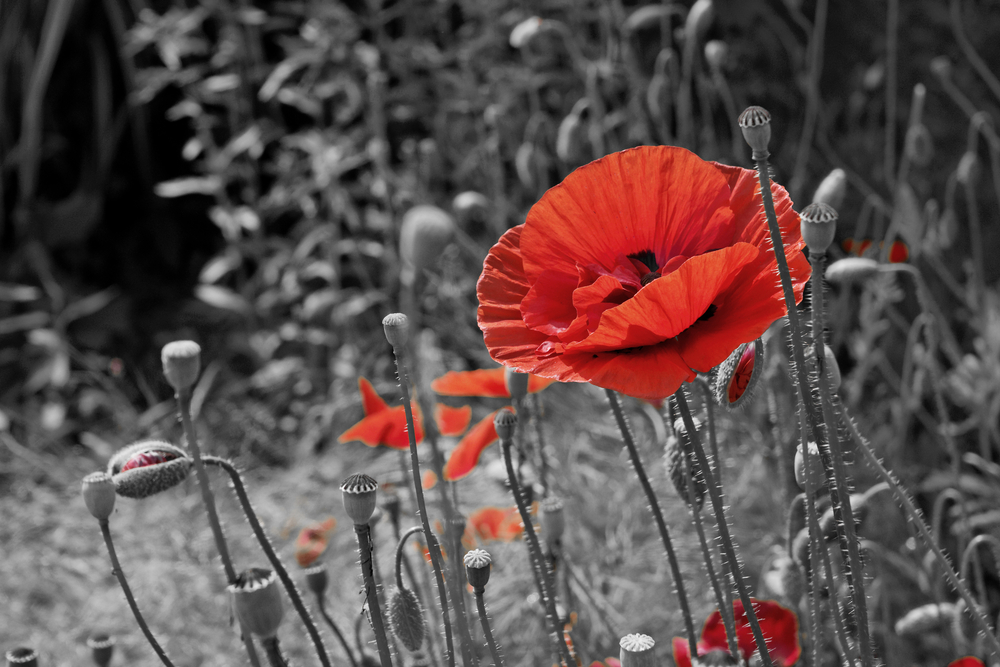 Faith Wears Out In Our hearts, The Way Our Cothes Wear Out on Our Bodies
The hardship that damages and stains us is Allah's invitation to repair, renew, and refresh ourselves. Our test are an invitation, an opportunity, an obstacle – but not a punishment or divine cruelty. And when we know that those tests will come, and some may even stay, then we can be better prepared for it.
Trust Allah when He says that He does not burden any soul with more than it can bear. He told us so in Surah Baqarah Ayah 286. Remember that when you are afraid, and Allah will never cause your fear to destroy you. Take your fear to Allah, and He will strengthen you, and reward you for your bravery.
Remember that when you are in pain. Allah will never cause your pain to destroy you. Take your pain to Him, and He will soothe you and reward you for your patience. Take it all to Allah – the loneliness, the anxiety, the confusion. Do not assume that the only emotions a "good Muslim" takes to Allah are gratitude and happiness and awe. Take them all to Allah, uncertainty, disappointment, anger — and He will bless you in all of those states, and guide you to what is better for you in this life, and the next, even if it's not what you expected.
The struggles in your life are a test, and whether you pass or fail is not determined on whether you conquer them, only on whether you endure them. Expect that they will come, because having faith is not protection from struggle. Faith is protection from being broken by the struggle.
I ask Allah to protect us all from hardship, but protect us in our hardships as well. I ask Allah to grant us peace from His peace, and strength from His strength, to patiently endure and grow through our endurance.
Ameen.
Support Our Dawah for Just $2 a Month
MuslimMatters has been a free service to the community since 2007. All it takes is a small gift from a reader like you to keep us going, for just $2 / month.
The Prophet (SAW) has taught us the best of deeds are those that done consistently, even if they are small. Click here to support MuslimMatters with a monthly donation of $2 per month. Set it and collect blessings from Allah (swt) for the khayr you're supporting without thinking about it.
Undisputed And Undefeated: 13 Ways Khabib Nurmagomedov Inspired Us To Win With Faith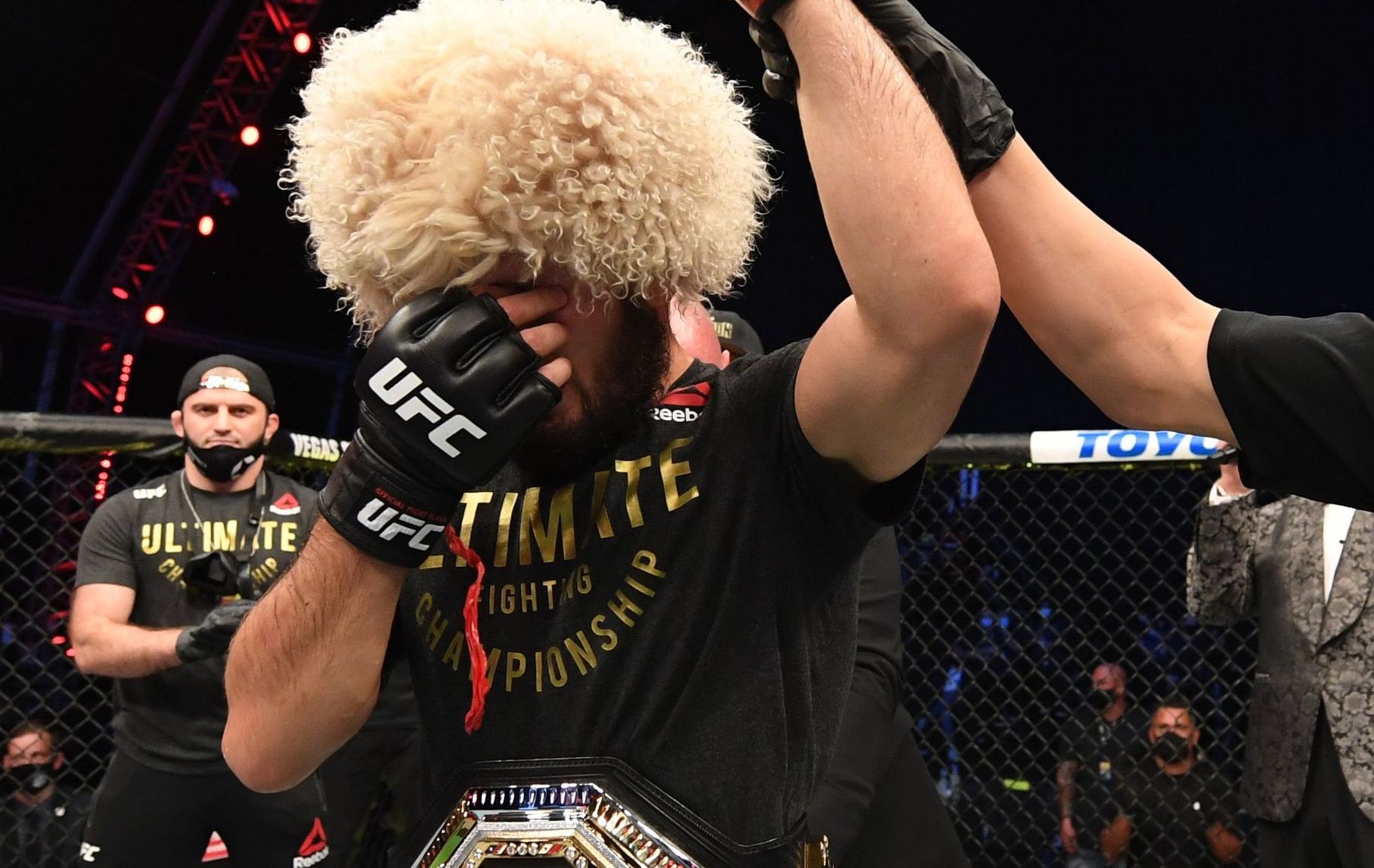 Many fans anxiously watched UFC 254 with bated breath as Khabib "The Eagle" Nurmagomedov went head-to-head with Justin "The human highlight reel" Gaethje. The latter had just come off a spectacular TKO win against a formidable and feared fighter in the form of Tony Ferguson, beating him over 5 nerve-wracking rounds by outstriking him with a combination damaging head shots and crippling low kicks.
We all knew what both would do – Khabib would go for the takedown, and Gaethje would try to keep the fight on the feet and opt for stand-up striking – which fighter's strategy would prevail? Alhamdulillah, it was Khabib, in a mere 2 rounds.  We weren't in the fight, but we are all nervous and supplicating, making du'a to Allah

to give him another victory.
And so it was that after the win, he collapsed in the middle of the ring to cry, as this was his first fight after the loss of his father due to complications with Covid-19. He cried, and many a man cried with him, feeling his pain. Gaethje revived from his triangle choked slumber and consoled his former foe, telling Khabib his father was proud of him.
Support MuslimMatters for Just $2 a Month
MuslimMatters has been a free service to the community since 2007. All it takes is a small gift from a reader like you to keep us going, for just $2 / month.
The Prophet (SAW) has taught us the best of deeds are those that done consistently, even if they are small. Click here to support MuslimMatters with a monthly donation of $2 per month. Set it and collect blessings from Allah (swt) for the khayr you're supporting without thinking about it.
We were all sure when "The Eagle" got on the mic, he would say he wanted to fight GSP, George St Pierre, and then retire 30-0, as he had said in previous press conferences leading up to the fight.  Instead, he surprised us all by announcing his retirement at 29-0, and I couldn't help but marvel that not only was he turning away from a lucrative final fight, but the way in which he announced his retirement reminded us of our faith, our deen, our religion, Islam.
Allah

says in the Qur'an
"And remind, for indeed, the reminder benefits the believers."
Throughout his MMA career, Khabib has proudly worn his faith on his sleeve. As he has risen to become the current pound-for-pound #1 fighter in the world and arguably the GOAT, the greatest of all time, his unwavering example as a practicing Muslim transformed him into a global phenomenon and role model for many of us by reminding us to be better worshippers, to be closer to Allah

.
Let's look at a few of the ways he did this:
1. Beginning with Alhamdulillah
The announcer at UFC 254 began by congratulating Khabib on a job well-done yet again by praising him, stating, "The world is in awe of your greatness once again…your thoughts on an epic championship performance, congratulations." Khabib didn't immediately begin talking about himself. Instead, he said:
"Alhamdulillah, SubhanAllah, God give me everything…"
After stating this, he went on to announce his retirement, his reasons for retiring, and thanked everyone who supported his professional MMA journey.
The Reminder
Alhamdulillah is literally translated into "All Praise Belongs to God". Khabib begins by thanking Allah

, pointing out that his talents and abilities are a gift, a blessing from the Most High. When we have any blessing from Allah

, we must remember that whatever our own effort, our abilities, our support, and our achieved outcomes ultimately tie back to support from our Rabb, our Lord, who controls all.
If you've ever seen Khabib point at himself, shake his finger back and forth as if to say, "No" and then point up to the sky, this is a nonverbal way of him saying, don't think all these great things you see are from me – they're from Allah above.
2. The Prostration of Thankfulness – Sajdat al-Shukr
You may have noticed at the end of Khabib's victory, when the announcer states that he's the winner of the bout, he falls into a prostration known as Sajdat al-Shukr – the Prostration of Thankfulness (to Allah).
The Reminder
Performing this is recommended when someone receives something beneficial (eg good news, wealth, etc) or if they avoided something potentially harmful (e.g. job loss, healing from a disease, etc). The Prophet

would do this when he received good news. The believer should remember to be thankful to Allah

as much as they can.
See also:
3. Establishing the 5 Daily Prayers
Years ago (early 2018), Khabib visited my local masjid in Santa Clara, California (not far from where he was training in San Jose at the AKA gym). Many at the masjid didn't know who he was, but we heard he was the #1 contender for the UFC Lightweight championship belt, at that time held by Tony Ferguson.
He did a Q & A with the community, and someone asked him a general question about what he would recommend for the youth.  He said, and I'm paraphrasing:
Take care of your prayers, if you come to Day of Judgment not take care of your prayers, on that day you will be smashed.
The Reminder
The second pillar of Islam that Allah

has commanded us to follow is to pray to Him 5 times daily. Khabib was no doubt referencing the following statement of the Prophet (saw):
"The first action for which a servant of Allah will be held accountable on the Day of Resurrection will be his prayers. If they are in order, he will have prospered and succeeded. If they are lacking, he will have failed and lost…"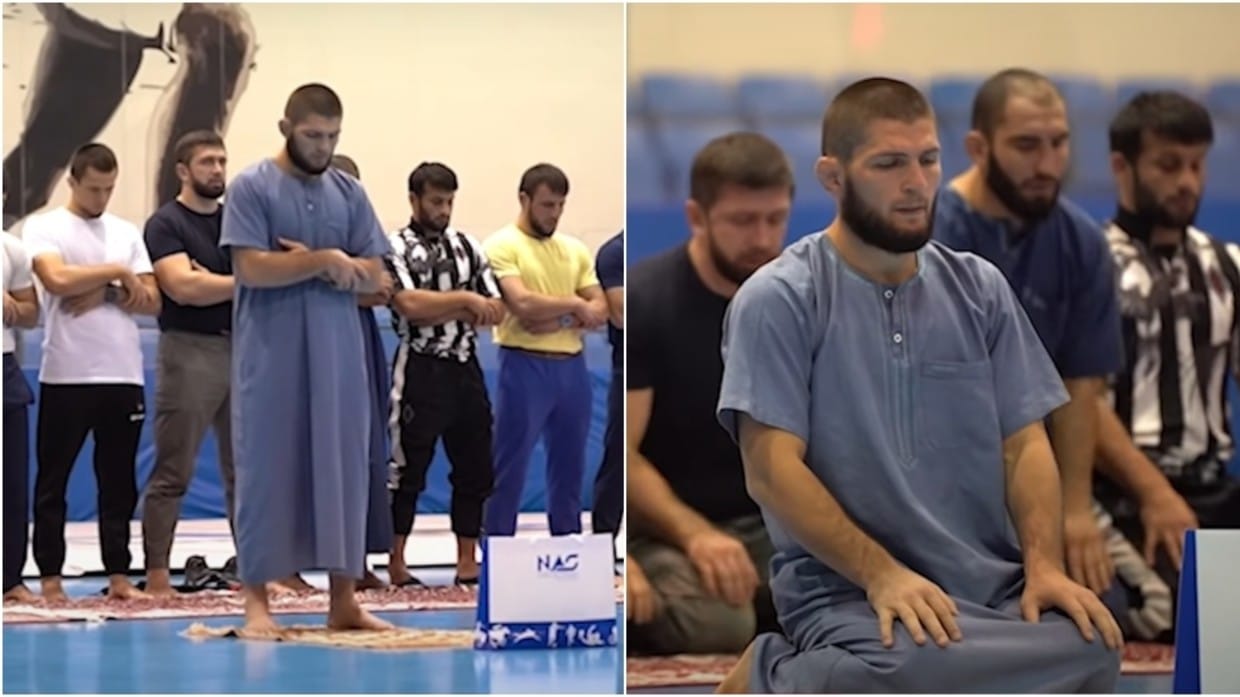 Shaykh AbdulNasir Jangda notes that when the Prophet

first began his mission of da'wah and faced devastating rejection from family and community, Allah told the Prophet to stand and pray. The reason for this is because when we are weak and suffering, the place to turn to for strength is back to Allah in prayer. There is no doubt Khabib's strength came from his connection to Allah

which in turn came from his 5 daily prayers.
Praying multiple times daily, consistently, can be challenging; when it was legislated by Allah to the Prophet

, Musa

kept telling him to go back and ask Allah

for a reduction, saying, "Your people will not be able to handle it."
Khabib is a great reminder that no matter how high you climb in life and career, no matter how busy you think you are, worshipping Allah is the most important deed one can do, and this discipline is the most important habit to build.
4. Strong Wrestling Game
In a sport that sees far more striking and kicking than it does wrestling, Khabib came to dominate the lightweight division of the UFC with a strong grappling style that is a combination of sambo (a Soviet martial art), judo, and wrestling. Famously, he outwrestled a bear when he was much younger.
During his fights, he doesn't close out his bouts by pummeling his opponents and causing them damage as most strikers would. Most of his hits open up his opponents to being forced to tap out via submission. Even his last opponent, Justin Gaethje, noted that he was much happier to be choked out in a submission, as all he would get is a pleasant nap, as opposed to striking, which could have long-term health consequences.
The Reminder
The Prophet

was not only able to wrestle, he took down the strongest wrestler in Makkah. Rukanah, the famed Makkan wrestler, challenged RasulAllah because of his hatred for the da'wah. The Prophet

accepted his challenge and took him down multiple times, body slamming him again and again. It was said that after the conquest of Makkah, Rukanah accepted Islam.
5. Fighting / Training through Sickness and Injury
During the post-fight press conference with UFC President Dana White, it was revealed that Khabib had broken one of his toes 3 weeks before the fight. Prior to that, he had taken two weeks off upon arriving at Fight Island having contracted mumps, according to AKA trainer and coach Javier Mendez. Khabib is quoted as having told Mendez, "My toe may be broken, but my mind is not." In addition to this, his father had just passed away months earlier, and this would be his first fight without his father present.
The Reminder
In addition, the Prophet

has told us, "A strong believer is better and is more beloved to Allah than a weak believer, and there is good in everyone…" This strength includes strength of body, mind, and spirit; not just when conditions are perfect, but when trials surround you from every conceivable direction.
6. Relationship With His Father



After defeating Justin Gaethje, Khabib went to the center of the ring and cried, and everyone cried with him. We all knew his father's death weighed heavily on his mind and his heart, and this was his first fight without him. His father was his mentor and trainer, whom everyone could obviously see he both loved and greatly respected.
In the post-fight question and answer with Dustin Poirier, Khabib was asked, "What's your message for your young fans out there who look up to you so much?" he responded:
"Respect your parents, be close with your parents, this is very important. Parents everything, you know, your mother, your father, and that's it, and everything in your life is going to be good, if you're going to listen to your parents, mother, father, be very close with them, and other things come because your parents gonna teach what to do."
The Reminder
There isn't enough space in this article to go over how much emphasis our faith places on respecting our parents. Allah says in the Qur'an:
Your Lord has commanded that you should worship none but Him, and that you be kind to your parents. If either or both of them reach old age with you, say no word that shows impatience with them, and do not be harsh with them, but speak to them respectfully. [17:23]
7. Relationship With His Mother
Our parents ultimately want us to succeed, but also want us to maintain our well-being. Without his father's presence, it was clear that Khabib's mother didn't want him continuing in the Octagon (the UFC ring). After 3 days of discussion, Khabib gave his word to her that this would be his final fight. After beating Justin Gaethje in UFC 254, Nurmagomedov announced he was retiring because he promised his mother that he would retire and that he's a man of his word.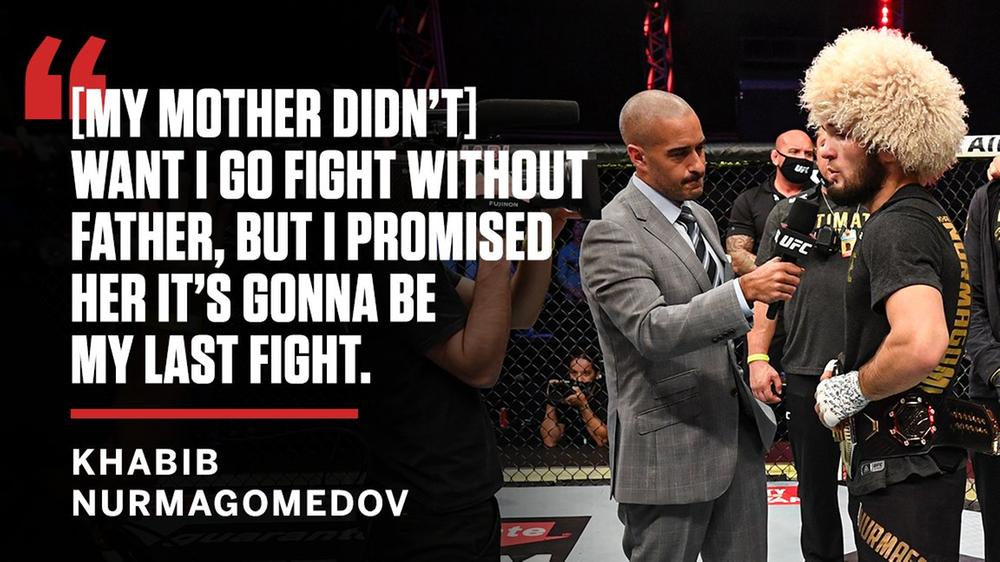 The Reminder
This hearkens back to a statement of the Prophet

about how much respect mothers deserve. A man asked the Messenger of Allah, peace and blessings be upon him, "Who is most deserving of my good company?" The Prophet said, "Your mother." The man asked, "Then who?" He (saw) said "Your mother." The man asked again, "Then who?" The Prophet again said, "Your mother." The man asked again, "Then who?" The Prophet finally said, "Your father."
Khabib easily had millions more to make on a journey to hit 30-0 in his professional fighting career and decided to hang it all up to make his mother happy. This is true respect and obedience, and for that matter, the love of a mother for her son and his well-being over monetary gains.
8. Respect for Muhammad Ali
When asked about the comparisons between himself and Muhammad Ali, Khabib stated that it was an inappropriate comparison. He noted that Muhammad Ali didn't just face challenges in the ring, but challenges outside of it due to racism, and that he was an agent of change with respect to bringing about greater civil rights for African Americans.
The Reminder
In his final sermon, Prophet Muhammad

said, "There is no superiority of an Arab over a non-Arab, or of a non-Arab over an Arab, and no superiority of a white person over a black person or of a black person over a white person, except on the basis of personal piety and righteousness."
From the 7th century until today, our faith recognizes that people are not judged by their race, but by their actions and the intentions behind those actions. In the video above, Khabib recognized both the wrongness of racism, and the challenge it posed along the way of Muhammad Ali's own journey, and that his contributions to social justice transcended his involvement in sport.
9. His Conduct with Other Fighters
With the exception of the fight with Conor McGregor, Khabib always dealt with his opponents with respect. He hugs them, shakes their hand, and says good things about their accomplishments and strengths both before and after fights. In a sport known for heavy trash talking and showboating to build hype, Khabib kept his cool and his manners.
The Reminder
The Prophet

said:
"The only reason I have been sent is to perfect good manners."
Maintaining good character and conduct during press-conferences was Khabib's calling card; even when trash talkers like Tony Ferguson tried to go after him, he would still recount Ferguson's formidable stature as a fighter.
When reporters tried throwing him a softball opening to insult Ferguson's mental health, Khabib responded that he didn't want to talk about Tony Ferguson's problems if he they were real; if Ferguson truly has a problem, then we should help him, as we all have problems.
10. Fighting Those Who Dishonor Faith and Family
As mentioned above, Khabib is known for being very respectful of his opponents during press conferences. He speaks well of their strengths, shakes their hands, hugs them; he even runs up to his opponent after a fight and hugs them, consoling them and wishing them well. After his win against Poirier, he traded shirts with him and donated $100k to Poirier's charity.
The exception was the infamous UFC 229 which Muslim fans watched holding years, maybe decades of pent up anger at the type of crass secular arrogance represented by Conor. We desperately wanted Khabib to maul the mouthy McGregor. The latter had gone after his family, his faith, his nationality, anything and everything to hype up the fight and try to get under the champ's skin. Some people lose their calm, and others, well, they eat you alive.
Khabib made it clear he wasn't having any of that. He took the fight to Conor and choked him out with a neck crank. We then learned why he was called "The Eagle" as he hopped the cage and jumped into the audience to go after other members of Conor's team who had spoken ill of him, giving birth to "Air Khabib".
The Reminder
When our faith and family is spoken of in an ill fashion, it's not appropriate that we sit there and take it. Khabib never cared when it was criticism against him, but once it went to others around him, he took flight. We as Muslims should never give anybody who tries to attack and dehumanize us a chance to rest on their laurels. We should strive ourselves to take the fight back to them by whatever legal means necessary, as Khabib did, whether it is cartoons of the Prophet

or political pundits and satirists who monetize hatred against Muslims.
11. Shaking Hands and Training with Women
In numerous public instances, Khabib reminded us that our faith demands we don't shake with the opposite gender. As one of my teachers taught us, the Qur'an instructs us to "lower our gaze" when dealing with women. If we shouldn't even look at them out of respect for Allah's command, how can we take it to the next level and touch them?
Extended to this is even more serious physical contact like training at the gym. Cynthia Calvillo, one of Khabib's teammates at AKA gym, said the following about Khabib and his unit:
"It's a little bit weird because of their religion and stuff…They don't talk to women you know. I mean we say 'hi' to each other but we can't train with them. They won't train with women…I don't think any other woman does."
The Reminder
Our faith places stricter physical and social interaction boundaries between men and women. Keeping matters professional and respectful with the opposite gender need not include physical contact. The Prophet

was said to have never touched non-mahram women. It was narrated that he said,
"It is better for you to be stabbed in the head with an iron needle than to touch the hand of a woman who is impermissible to you."
For this reason, the majority of scholars prohibited physical contact between men and women with some exceptions (e.g. old age). Watching Khabib maintain this practice, even in public where it could potentially embarrass him and cause undue negative attention, gives us all inspiration to deal with this issue in the workplace better. He encourages us to strive for better tolerance and awareness of our faith rather than forcing us to conform.
12. Not Making a Display of The "Trophy" Wife
If you follow Khabib's Instagram, you won't find lewd pics of him and a significant other. In fact, you won't find any pictures at all of him and his wife. Who she is is a mystery to all. In an age and a sport where many post photos with their romantic partners, Khabib again is a standout with his gheerah, his honorable protectiveness for his significant other.
The Reminder
We are again reminded that a part of manhood is to have protective ghayrah, jealousy over one's spouse. Ibn al-Qayyim also said, bringing in the concept of chivalry,
"The dayyuth / cuckold is the vilest of Allah's creation, and Paradise is forbidden for him [because of his lack of ghayrah]. A man should be 'jealous' with regards to his wife's honor and standing. He should defend her whenever she is slandered or spoken ill of behind her back. Actually, this is a right of every Muslim in general, but a right of the spouse specifically. He should also be jealous in not allowing other men to look at his wife or speak with her in a manner which is not appropriate."
13. Owning His Mistakes, Looking to Be Forgiven
Finally, it should be noted there is no real scholarly disagreement on prohibiting striking the face. Recognizing this, Khabib stated when asked if "he thinks the AlMighty will be satisfied with him for taking part in haram fights for money," he replied, "I don't think so."
In an interview with the LA Times, he said:
"You go to mosque because nobody's perfect. Everybody makes mistakes, and we have to ask Allah to forgive us. This is very important mentally, to be clear with Allah. This is not about the UFC. There is nothing else more important to me than being clear with Allah. And being clear with Allah is the No. 1 most hard thing in life."
The Reminder
We as human beings aren't perfect – perfection is only for Allah

. We all make mistakes, sometimes small, sometimes large, but in the end, He

is ready to forgive us if we're willing to recognize our failings and ask to be forgiven.  Allah says in the Qur'an in 2:222:
"Allah loves those who always turn to Him in repentance and those who purify themselves."
There are no sins so great that redemption is beyond any of us. Whatever Khabib's flaws, his value as a positive change maker and faith-based role model globally outweighs his negatives.
Part of seeking forgiveness is the process, and the first part of that process is acknowledging the mistake. This means not being in denial about it or not justifying it, just owning it. As Khabib has owned his mistake publicly, there is no need for us to try and justify it either.
We can own that there are problems with MMA and the industry, in participating as well as watching and supporting. At the same time, we can do as Dr Hatem al-Hajj said about Muhammad Ali: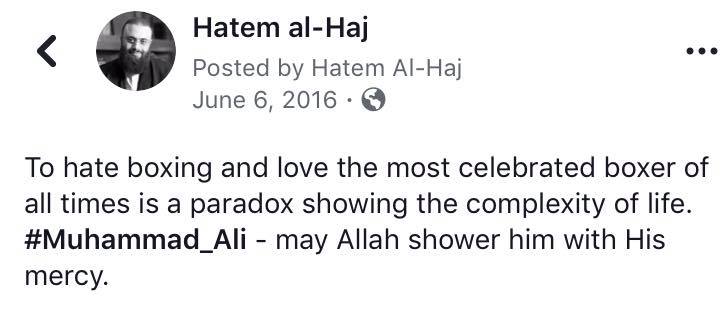 Concluding Thoughts
While UFC pundits will forever debate over the greatest of all time, there is in doubt that Khabib Nurmogomedov, the first Muslim UFC champion, will always be our GOAT.
I ask that Allah

accepts the good from what Khabib has done, rewards him tremendously for the inspiration he's given us all to better focused on the akhirah, the next life, and continues to make him a powerful sports icon who uses his platform as Muhammad Ali did to teach Islam and exemplify it in the best way for all of us to benefit and follow.
Ameen.
Support Our Dawah for Just $2 a Month
MuslimMatters has been a free service to the community since 2007. All it takes is a small gift from a reader like you to keep us going, for just $2 / month.
The Prophet (SAW) has taught us the best of deeds are those that done consistently, even if they are small. Click here to support MuslimMatters with a monthly donation of $2 per month. Set it and collect blessings from Allah (swt) for the khayr you're supporting without thinking about it.
Does A Muslim Have To Wish Well For An Oppressor Who Is Struck With Disease?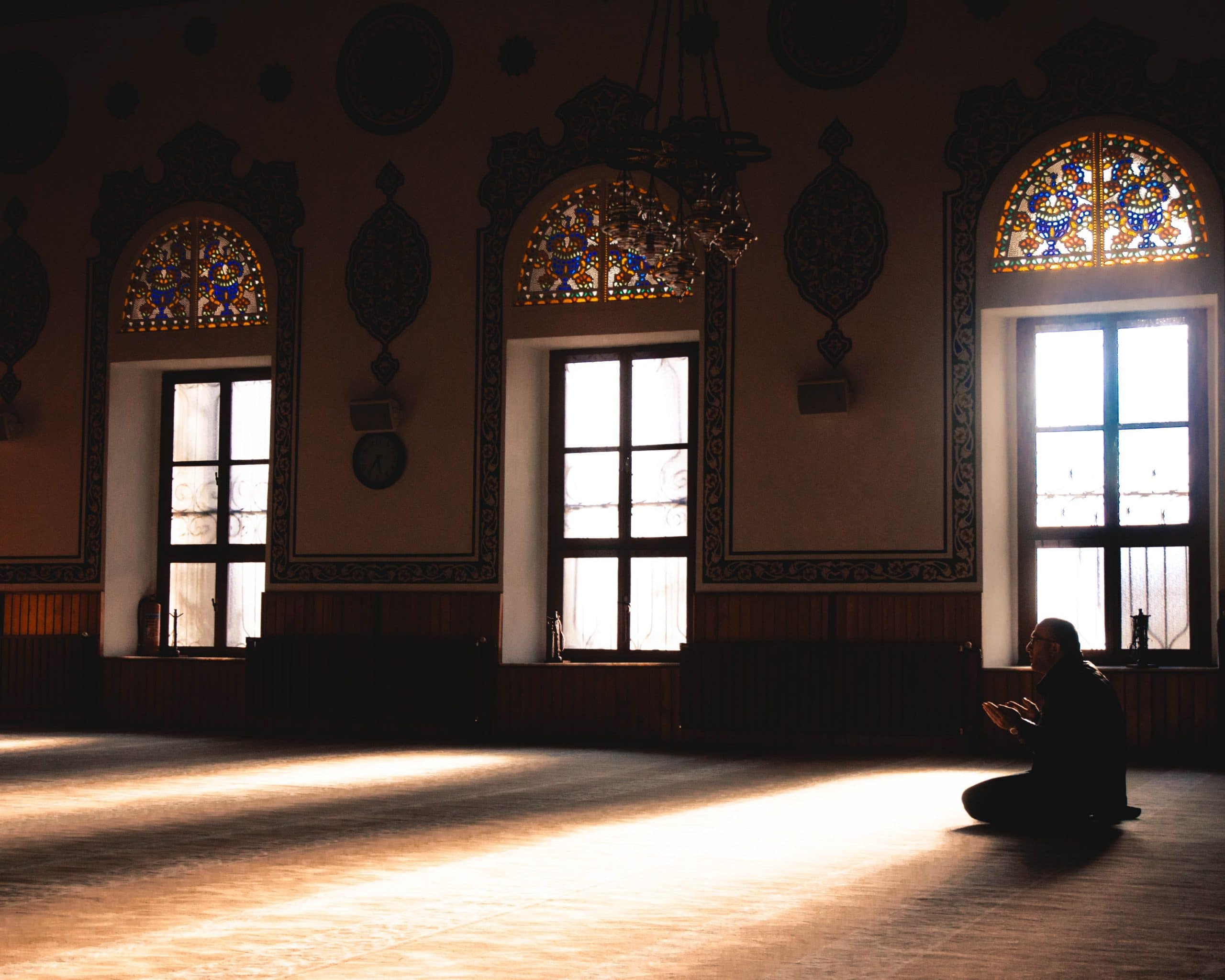 First, we should differentiate between those who want to curse at the oppressor because it's a fad, and those who do so because they either experienced oppression directly from said oppressor, or they genuinely empathize with those who have been directly oppressed.
To those who are doing it as a fad, I say what my teachers always said to me:
"Islam is not for blowing off steam."
You cannot use Islam as an outlet for immaturity. Imam Shafi'i said if you are stuck between two options, choose the one that goes against your desires for there is a higher likelihood that the truth lies in that option.
Support MuslimMatters for Just $2 a Month
MuslimMatters has been a free service to the community since 2007. All it takes is a small gift from a reader like you to keep us going, for just $2 / month.
The Prophet (SAW) has taught us the best of deeds are those that done consistently, even if they are small. Click here to support MuslimMatters with a monthly donation of $2 per month. Set it and collect blessings from Allah (swt) for the khayr you're supporting without thinking about it.
Second, we also have to be careful not to restrict the Islamic position on something just because it sounds like the moral high road. This may be personal preference for some to hold back from cursing the oppressor, but that doesn't mean Islam specifically asks this of us.
What is the standard?
The Qur'an – "Tell my servants to say the best word."
"I was not sent as one who always curses." -Hadith
"The Muslim is not one who always curses." -Hadith
Scholars noticed that the Prophet ﷺ used the word اللعّان (la'aan) instead of لاعن (laa'in). The former is صيغة المبالغة which means that one is always cursing, where the latter is a description for one who curses once. If the Prophet ﷺ meant to say that the Muslim NEVER curses he would have said "A Muslim is not one who curses even once."
Instead, what He ﷺ actually said is it is not part of the character of a Muslim that they frequently curse, which is why he used the word لعّان.
Also, the Prophet ﷺ could not have meant that he never cursed, because he himself cursed at an entire tribe. In an authentic hadith in Saheeh Muslim, Khifaaf ibn Imaa' al-Ghifaari narrates that the Prophet ﷺ made the following dua during salah:
اللَّهُمَّ العَنْ بَنِي لِحْيَانَ، وَالْعَنْ رِعْلًا، وَذَكْوَانَ، ثُمَّ وَقَعَ سَاجِدًا.
"Oh Allah, send your curse upon Bani Lihyaan, and curse Ri'l, and Thakwaan – and then the Prophet ﷺ fell in prostration."
There is no way that the Prophet ﷺ would command us never to curse and then in certain instances invoke the curse of Allah on others. This proves that cursing is in fact necessary sometimes.
Abu Bakr [ramhu] told Urwah bin Masood to lick the genitalia of Al-laat, which was an idol that was worshipped at the time. This was after Urwah disrespected the Prophet ﷺ. This is a hadith in Bukhari and the Prophet ﷺ did not scold AbuBakr

for his reaction and all the narrations that say the Prophet ﷺ scolded him are weakened if not fabricated. We know the rulings on the Prophet ﷺ's silence. His silence is legislation. If there was something wrong with Abu Bakr

' s words the Prophet ﷺ would have HAD to say something about it. His ﷺ silence means he agreed with what Abu Bakr

did.
Even if you do not want to curse, why should you wish well on any oppressor when Allah cursed all oppressors in the Qur'an? You can be clever. Look at the following example.
When Jamal Abdel-Nasser died, Imam Mohammed al-Ghazzali (ra) said: "Oh Allah have mercy on him in the same way he had mercy on your Ummah."
لما مات جمال عبد الناصر قال الشيخ الغزالي: اللهم ارحمه بقدر ما رحم الامة
So I can say, (and again this is in the case of wanting to avoid cursing): Oh Allah! Have mercy on Trump to the same degree that Trump had mercy on the immigrant mothers who had to be separated from their children as a result of his ruthless policies.
For Tarbiyah purposes, it is beneficial to teach your children and students of knowledge never to curse. This was the methodology of Imam AbdelQadir Jilani (ra) who would force his students never to curse even against oppressors. However, this is in the context of Tarbiyah and preparing students for scholarship and leadership, not the context of Fiqh. This is so that the students lean more towards the Prophetic reality and is also more in line with the hadith we mentioned in the beginning! A student of knowledge and future leader should not be in the habit of constantly cursing.
Many spiritual paths force their students into a certain "extreme" to discipline them and make their default setting leaning towards what is more spiritually beneficial, so that only when it is absolutely necessary will they use these "licenses" that allow them to express their anger. When it comes to the general masses though, we should not make it seem like this is absolutely not allowed, or that it is even spiritually superior to wish well on an oppressor.
We should not be in the business of telling people that Islam forces you to wish well on forces of evil.
The Prophet ﷺ passed by a janazah and said: "Relieved and one who others are relieved from." Upon being asked, the Prophet ﷺ explained: "The Believer is relieved at the moment of their death from the toil of life. As for the wicked, the people, land, trees and animals are relieved from their presence as soon as they die."
May the eyes of the oppressors never find rest. Ameen.
Support Our Dawah for Just $2 a Month
MuslimMatters has been a free service to the community since 2007. All it takes is a small gift from a reader like you to keep us going, for just $2 / month.
The Prophet (SAW) has taught us the best of deeds are those that done consistently, even if they are small. Click here to support MuslimMatters with a monthly donation of $2 per month. Set it and collect blessings from Allah (swt) for the khayr you're supporting without thinking about it.
Dr Yaseen Mazhar Siddiqui: An Obituary Of A Scholar of Seerah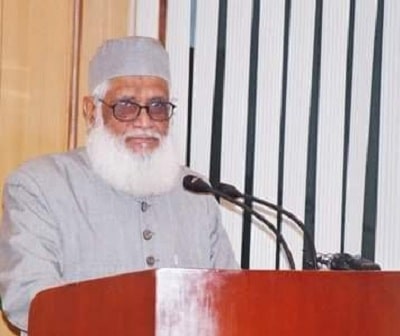 A leading scholar of Islamic studies with focus on Seerah literature and history, he unconventionally broke many stereotypes—both orthodox and modern and all his life epitomized the cause of Islam on the intellectual front.
With the death of Yaseen Mazhar Siddiqui, at the age of 76, Muslims in South Asia lost one of the most respected and leading scholars of Islam. A graduate of, and now professor at Aligarh University is less known in the West for his 29 books than for his Catalogue of Arabic Manuscripts at the Aligarh Muslim University, India, published in London in 2002 by the Furqan Heritage Foundation. An eminent Muslim religious scholar, academic and historian who served as director of the Institute of Islamic Studies at Aligarh Muslim University. Siddiqui was a well-placed and reputed figure of great spiritual and intellectual insight recognized on national as well as international level. Siddiqui was instrumental over the past 30 years in the framing, development and streamlining the influence of Islam in Aligarh Muslim University. To commemorate the outstanding services of Hazrat Shah Waliullah and to promote the Islamic values, the Institute of Objective Studies instituted an Award known as "Shah Waliullah Award" to honour eminent scholars who have done outstanding work in Social Sciences, Humanities, Law and Islamic Studies. The fifth Shah Waliullah Award was rightly conferred on Prof. Mohd Yasin Mazhar Siddiqi, as the renowned scholar for his contribution to Sirah and Historiography in Islamic Perspective in 2005.
Siddiqui was an exceptionally modest and humble man, with an intellectually engaging and honest commitment to Islam, away from self-eulogizing claims of pseudo-intellectualism. His commitment to Islam, which occupied him for his whole life, left an indelible mark in the hearts and minds of people across territorial boundaries. One thing all this illustrates is Siddiqui's intense sense of duty — a sense that he unthinkingly expected his colleagues to share. Siddiqui's well-stocked mind, clarity and unflinching intellectual honesty devoted to respond the questions of Orientalist scholarship on Sirah literature and subsequent other corollaries. He had little time for Islam's own accounts of its origins rather his interest revolved around "Qurʾān and Sirah" and its role in shaping the worldview of Muslims who are struggling to makes sense of their identity amid the challenges emerging from dominant discursive colonial Eurocentric episteme. Leaving the conventional hollow claims, without efforts to prove how and why so much sanctity is attached to Islam and its sources—Qurʾān and Sunnah/Sirah being the primary one, he reckoned, to fill the gap using contemporary sources and knowledge of Hadīth, from orientalist and now its pedigree of modernist claims. This task required both personal and intellectual bravery. As he knew the central beliefs of Islam, such as the way the Quran took shape, the place of Sirah, its underlying methodology, he was equally aware how outside scrutiny has tempered the flare, especially when the conclusions are expressed in a witty and sardonic style. His soft way of speaking, affectionate manner and hospitable nature made him a much-loved figure. Because of his erudition most people who came in contact with him thought of him as a teacher; many saw him as a spiritual mentor. With his humble appearance, it was easy to mistake him for a country bumpkin.
Support MuslimMatters for Just $2 a Month
MuslimMatters has been a free service to the community since 2007. All it takes is a small gift from a reader like you to keep us going, for just $2 / month.
The Prophet (SAW) has taught us the best of deeds are those that done consistently, even if they are small. Click here to support MuslimMatters with a monthly donation of $2 per month. Set it and collect blessings from Allah (swt) for the khayr you're supporting without thinking about it.
Born in India in 1944 in the Lakhimpur Kheri district of United Provinces of British India. He graduated in the traditional Dars-e-Nizami (pure religious textual studies of Islamic texts) studies from Nadwatul Ulama in 1959, and Master's in literature from the University of Lucknow in 1960. He passed the intermediate exams from the Jamia Milia Islamia in 1962 and then acquired a B.A. in 1965 and B.Ed. in 1966 from the same University. In 1968, Siddiqui recieved a M.A. degree in History, M.Phil. in 1969, and Ph.D. in 1975 from the Aligarh Muslim University. Yasin Mazhar Siddiqui benefited from great teachers like Maulana Rabi Hasni Nadvi, Maulana Syed Abul Hassan Ali Nadvi, Maulana Ishaq Sandelvi K. A. Nizami, Abd al-Hafīz Balyāwi and Rabey Hasani. Anwar was welcomed as an independent member of various advisory committees and expressed pride in the research done in the field of Sirah.
Professor Siddiqui wrote more than 40 books and 300 research articles in Urdu, Arabic and Persian. His publications and presentations have reverberated throughout the discipline of Islamic studies and social sciences, profoundly shaping the scholarship of a new generation of scholars as they develop a thoughtful, knowledgeable, and critical approach to Seerah and history. He was well known for the great quality and high calibre of his originality of research in Islamic studies and all related subjects. He was recognized as one of the compelling and intellectually grounded voice on Seerah studies.  As a scholar and teacher, he embodied and followed strong moral and political principles, and formulated new ways of understanding the subject of Seerah, history, religious freedom, and the rights of religious minorities. His writings on the Prophet and his teachings garnered wide acclaim. He wrote extensively in reputed literary journal, 'Nuqoosh' and got international 'Nuqush Award', 'Seerat-e-Rasool Award' and 'Sirah Nigari Award'. Two of his most popular works are Muslim Conduct of State and Introduction to Islam. The first book was Ehd-e-Nabwi mai Tanzīm-e-Riyāsat-o-Hukūmat and the second book The Prophet Muhammad: A Role Model for Muslim Minorities has gained such wide acclaim—mainly for the reason that its contents are divided into chapters (which stand on their own as a monograph) which deal with related specific subject matter. It is easy to understand how his style of presentation has endeared the book not only to common folk, but also to the people who would like to gain a reasonable insight into the true spirit of the teachings of Islam.
Almost every country outside the traditional Muslim "heartlands" asserts Siddiqui in his book 'The Prophet Muhammad—A Role Model for Muslim minorities' is home to a Muslim minority population today. For such Muslim communities, the political perspectives reflected by the corpus of traditional fiqh are of little or no relevance, and can even be hugely problematic. Siddiqui therefore takes it upon himself to develop an understanding of Muslim jurisprudence that is particularly suited to their context, making a valuable contribution to the limited, but slowly expanding, corpus of writings on fiqh al-aqalliyat or fiqh for [Muslim] minorities. Siddiqui argues that the basis of fiqh for Muslim minorities must lie in the Makkan period of life of the Prophet Muhammad

and his companions, a period of around thirteen years when the Muslims were a minority and did not enjoy political domination. In many senses, their position resembled that of Muslim minorities today. Muslim minorities need to see the role of the Prophet and the early Muslims in that period as a model for them to emulate, Siddiqui suggests:
The Prophet

had close personal ties with several non-Muslims in Mecca, and Muslim minorities, Siddiqui advises, must emulate him in this regard and must have "excellent social relations with non-Muslims" (p. 194).
As Siddiqui succinctly puts it:
Muslims all over the world, especially Muslim minorities, have to prove that they are the best community, devoted to the cause of protecting mankind against suffering and blessing everyone with happiness, regardless of caste, colour or creed. Their position is of the best community and their duty is to serve mankind […] Their presence must guarantee help for everyone, especially of their non-Muslim country. However, this cannot be affirmed merely verbally or by recounting old stories. They have to prove it by their conduct. (p. 194)
This monograph and his other works are a brilliant contribution to the on-going debates about fiqh for Muslim minorities. It provides valuable insights for developing new and more relevant understandings of Islamic jurisprudence in Muslim minority contexts, envisaging the possibility of reconciling Islamic commitment with Muslim minority-ness, an issue that has largely escaped the attention of Islamic scholars but one that has sometimes been, and continues to be, a troubling one for many Muslims living as minorities. Siddiqui's diverse and intellectually engaging work that speaks eloquently to a wide spectrum of readers with different backgrounds and interests. To use terms such as "monumental", "one-of-a-kind", and "exceptional" to describe this work is not exaggeration. A committed Muslim, throughout his career Siddiqui maintained the principle of genuinely evidence-based research. Dapper and courteous, he was a highly effective communicator, quoted widely in the local context  as well as cited in academia.
A direct criticism to his work also emerges from scholars who assert that in his Introduction of The Prophet Muhammad—A Role Model for Muslim minorities' Siddiqi (p. 62) formally describes himself as a humble and error-prone human being. However, he then proceeds to negate the worth of all previous biographies of the Prophet, claiming that these 'conventional' authors used 'outdated methodology and lines of argument'. Consequently, according to him, all previous studies of the Makkan period were 'markedly inadequate' and 'the entire life history of the Prophet remains to be analysed' since 'no biographer of his has ever given thought to this obvious fact that the Makkan period of his life represents the phase of subjugation'. Therefore, Siddiqi considers the conventional treatment of the Makkan and Madinan periods of Islamic history as 'downright pernicious' (p. ix). One wonders indeed whether the author is aware of some of the most popular biographies of the Prophet—beyond the classical ones: Ibn Ishaq, Ibn Hisham, and Ibn Kathir—including the works by Muhammad Hamidullah, Muhammad Haikal, Martin Lings, Karen Armstrong, and Tarik Jan, all contradicting his assertions.
With quite a serious criticism on his assertions about various aspects of mis-reading the Seerah of the Prophet there still remains a lot to be talked about his contribution to diverse areas of Islamic Studies. And though he is no longer here to share his thoughts, he has done enough to enable us to think with him. Certain towering intellectuals become integral to the vey alphabet of our moral and religious imagination. They live in those who read and think them through-and thus they become indexical, proverbial, to our thinking. Siddiqui lived so fully, so consciously, so critically through the thick and thin of our times that he is definitive to our critical thinking, just like Mustafa Azami, Abul Hasan Ali Nadvi, or other Muslim luminaries are. He was – and remains – a brilliant intellectual, whose legacy of rethinking certain conventional assertions around Islam and efforts still reverberate today and will continue to do so.
He cultivated with joyous attention her relationships with family and friends. He mentored, as one of his students mentioned once, with remarkable care and intensity, demanding their best work, listening, responding with a sharp generosity, coming alive in thought, and soliciting others to do the same. He immersed himself, in illness and heath, in reading the Quran post morning prayers and transformed himself and transmitted the values of thought and love, leaving now a vibrant legacy that will persist and flourish among all whose lives were touched by his life and work.
May Allah Almighty bless him with the loftiest of abodes in the Gardens of Firdaus in the company of Allah's beloved Messenger

and grant all those who cherished him patience.
Support Our Dawah for Just $2 a Month
MuslimMatters has been a free service to the community since 2007. All it takes is a small gift from a reader like you to keep us going, for just $2 / month.
The Prophet (SAW) has taught us the best of deeds are those that done consistently, even if they are small. Click here to support MuslimMatters with a monthly donation of $2 per month. Set it and collect blessings from Allah (swt) for the khayr you're supporting without thinking about it.