More Baby, Less Shark: Planning For Kids In The Masjid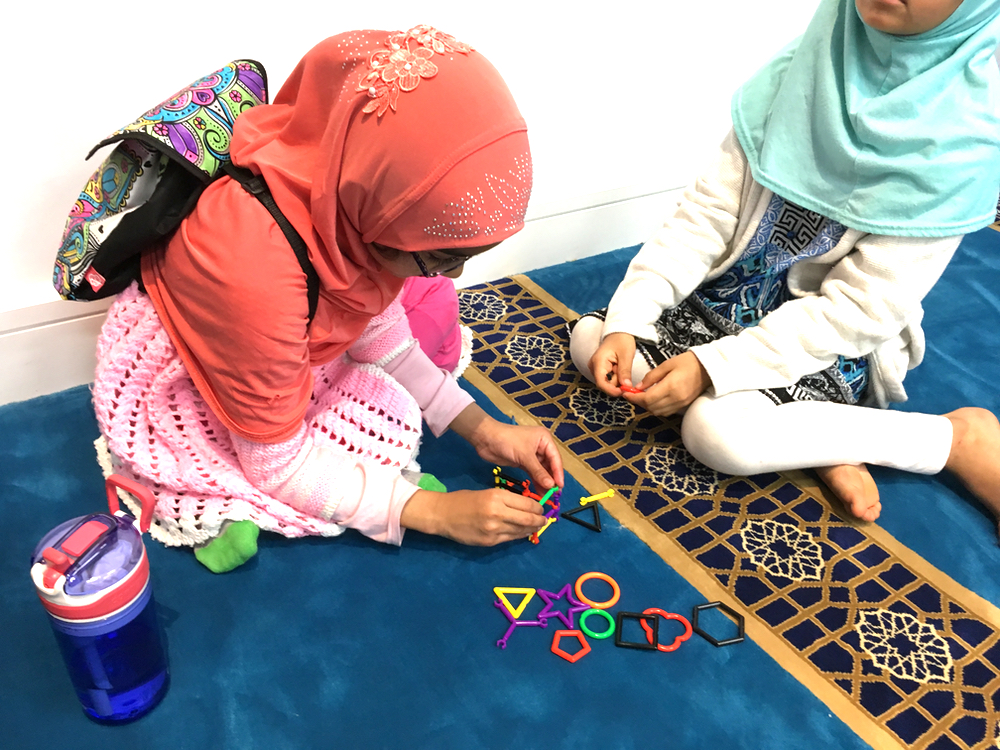 Of all the challenges that your focus can face in prayer, there are few as insidious as Baby Shark.
Doo-doo-doo doo. Baby Shark, doo doo doo doo. Baby Shark.
If you are not a parent, or have the type of amnesia that parents sometimes develop once their kids grow up, then you might assume that not having kids in the masjid is actually a solution to Baby-Shark induced distraction.
The inconvenient (and often sticky) truth is that not having kids in the masjid is a serious problem, not a solution. No kids in the masjid means an entire generation of the Muslim community growing up outside of the Muslim community.
Restricting the presence of children and assigning masjid priority to fully-formed, quietly attentive, and spiritually disciplined attendees – like adults – is a bit like restricting health club membership to triathletes. You're already fit. So can we please let someone else use the treadmill, even if they're not using it as well as you could?
The masjid is the center of the community for all Muslims, not a sanctuary for the preservation of reverent silence.  For a more detailed discussion on this, please see this great Soundvision article, Children in the Masjid, Making Space for Our Future.
For suggestions on how to help your children enjoy the masjid without Baby-Sharking the rest of the congregation to tears, I present the following recommendations.
Come Prepared
Rather than assume your child will be entertained by nothing but the carpet and how many weird faces they can spot in the bilaterally symmetrical patterns, bring them something to play with. One way to do this is to prepare your child a special bag for the masjid.
Stock it with as many things applicable:
A reusable water bottle: Select a bottle that your child can drink from on their own, preferably not likely to tip or spill onto the masjid carpet. No one appreciates a soggy sujood
A nut-free snack: If you think it's too much trouble to be considerate of people with life-threatening allergies, consider how much trouble it is to bury a child who dies of anaphylaxis. Children share snacks in the masjid, and that's ok as long as no one dies.
A small, quiet toy: The dollar store can be tremendously helpful in keeping your inventory fresh and financially feasible. Please be aware of swallowing hazards, since your child is likely to share the toy with others. One hopes.
A sweater or blanket: Sitting for long periods of time in an air-conditioned building can make anyone cold.
Art Supplies: Pack crayons, pencils, or markers IF you feel your child can refrain from drawing on the walls, or allowing other, smaller children from doing so. Magic Erasers don't work on the prayer rug.
Critically- and I do mean critically- don't let your children access the special masjid bag unless they are in the masjid. The last thing you want is for your child to be bored with its contents before they even make it to prayers. Storing this bag somewhere inaccessible to your child can help keep its contents fresh and interesting longer.
Non-parent tip: Keep allergen-free lollipops in your pocket. Reward the kids sitting nicely (with parents' permission) and you have killed two birds with one stone.
You've  helped a child establish a happy memory and relationship to the masjid.
Kids with lollipops in their mouths make less noise.
Do not pack:
Balls: Not even small ones, not even for small children. Your child may not have the gross-motor skills to kick or throw a ball at people who are praying, but there will always be children in the masjid who do. They will take your child's ball, and they will play ball with it, because that's what balls are for. Consider also the potential damage to light fixtures, ceiling fans, audio/video equipment, and the goodwill of people who get hit, run down, or kicked in the shins. The masjid is just not the place to play ball, even if the floor is green and has lines on it.
Scooters: Do not bring scooters, skateboards, heelies, or other mobility toys that would turn your child a faster-moving object than they already are. Your child's long-term relationship with the community can be fostered by not crashing into it.
Slime: Slime and carpets do, in fact, go together. They go together so well as to be inextricable of one-another. Please, do not bring slime to the masjid.
Gum: Please, for the love of everyone's socks, no gum.
Toy Guns, Play-weapons: It should go without saying. And yet, I have seen nerf guns, foam swords, and toy guns in masjid. Apart from the basic indoor etiquette of not sword-fighting, nor launching projectiles in a house of worship, please be sensitive. No one wants to see guns in their masjid.
Non-parent tip: If children playing near you are making "too much noise" smile and find another place to sit if possible. It is not always possible to ignore or move away from disruptions, but glaring, eye-rolling, and making tsk-tsk sounds is not likely to effect long-term change in either the child's behavior or the parents' strategic abilities. At best, you will embarrass the parents. At worst, you will push families away from the faith and the community while confirming the opinion that masjids are full of cranky, impatient people who wish kids didn't exist in the masjid while criticizing Muslim youth for not being there. 
Avoid Electronics. But if you can't…
I am prefacing this suggestion with a disclaimer. Habitually putting your child on a smartphone or tablet so that you can "enjoy" the masjid without the "hassle" of you making sure they behave properly is not good parenting. A child being physically present but mentally absent in the masjid is not a long-term strategy that any parent should get behind.
Having said that, if you do give your kids a tablet or phone in the masjid, please disable Youtube and bring over-ear headphones.
Do not rely on YouTube Kids to take responsibility for your child's content choices either. Long after Baby Shark has sunk to the depths of the internet, there will always be loud, inappropriate, or just plainly distracting and disturbing things that your child can access on it.
Instead of relying on Youtube at all, install child-friendly apps that you know won't have external links embedded in their ads, and won't lead to inadvertent, inappropriate viewing in case your child – or my child sitting next to them – click out of their app and into the great wide world. I highly recommend anything from the Toca Boca suite of apps.
Non-parent tip: If you see a child on a tablet, do not lecture their parent. As a special needs parent, there are times when I too allow my autistic son onto a tablet to prevent a meltdown or try to get just 15 more minutes out of him so I can finish attending a class. Do not automatically assume laziness or incompetence on behalf of parents whose children you see on an electronic device. 
Reward for Success, in this life and the next
You show up in the masjid because you hope for a reward from Allah. As an adult, you have the ability to delay the gratification of this reward until well after you die. Your kids, however, don't.
Motivate your kids with small rewards for small accomplishments as you remind them of the reward that Allah has for them too. You can choose to reward a child after every two rakah, or after every two days. How often you reward them, and what you choose to reward them for depends on their age and their capabilities.
Make dua for your kids when you reward them. If they get a small handful of gummy bears after a good evening at the masjid, pair it with a reminder of the bigger reward too.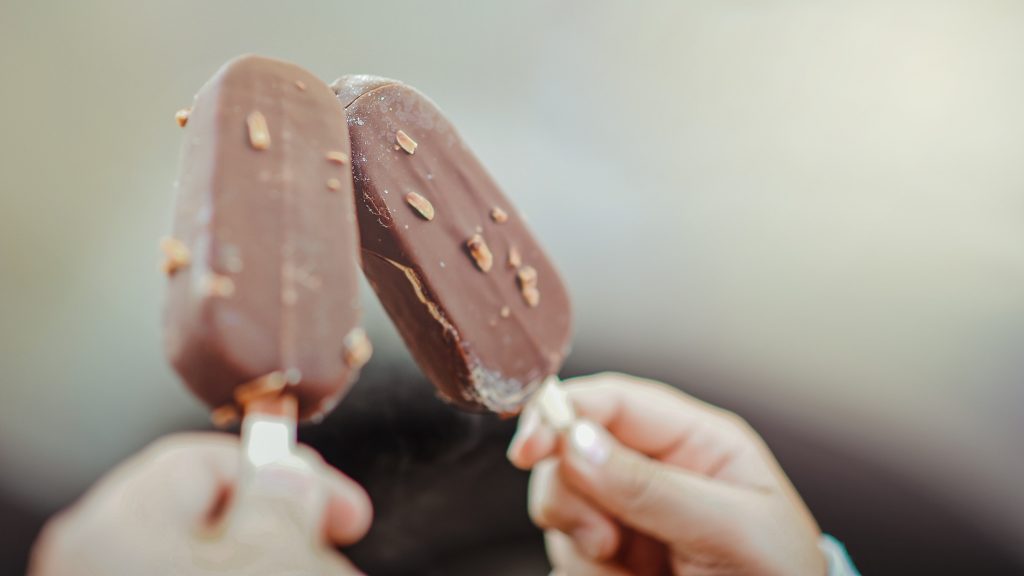 "Here's the ice cream I promised you for doing awesome in the masjid today. May Allah grant you mountains of ice cream in Jannah so big you can ski down them. Ameen."
Non-parent tip: It's not your job to discipline the children of others, but you can help praise them. Randomly compliment kids who are sitting nicely, sharing toys, playing quietly, or wearing cute headgear. Their parents will likely not mind.
Reinforce the rules – but define them first.
"Be Good In the Masjid" is a vastly different instruction depending on who you're instructing. For a teenager, praying with the congregation is reasonable. For a two-year-old, not climbing the congregation is reasonable.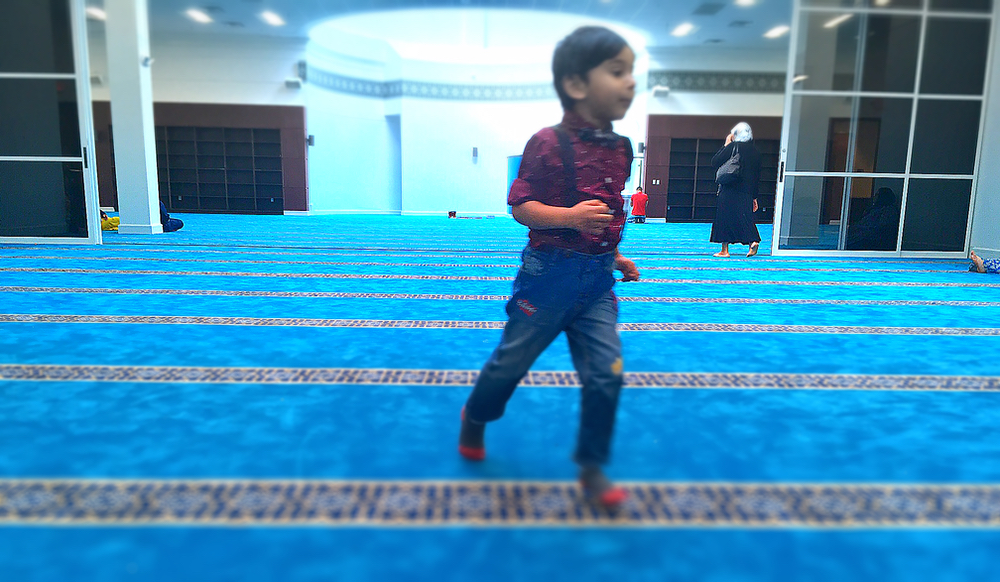 Define your rules and frame them in a positive context that your children can remember. Remind them of what they're supposed to be doing rather than calling them out for what they are not. For example, no running in the masjid vs. please walk in the masjid.
| | |
| --- | --- |
| Avoid saying this: | Try saying this instead: |
| Stay out of my purse | Please use the toys in your bag |
| Don't draw on the walls | Crayons only on the paper |
| No yelling | Please use your "inside" voice |
| No food on the carpet | Please have your snack in the hallway |
| Don't run off | Stay where I can see you, which is from [here] to [here.] |
| No peeing the carpet | We're taking a potty break now, and we'll go again after the 4th rakah'. |
| No hitting | Hands nicely to yourself. |
While it might look like semantics, putting your energy into "To-Do's" versus the "To-Don'ts" has long-term benefits. If your child is going to hear the same thing from you a hundred times before they get it right, you can help them by telling them what the right thing is. Think of the difference between the To-Do statement "Please use a tissue," versus the To-Don't statement of "Don't pick your nose." You can tell you kid a hundred times not to pick his or her nose, but if you never tell them to use a tissue, you're missing the opportunity to replace bad behavior with its functional alternative.
Plan for Failure
Kids don't walk the first time they try. They won't sit nicely the first time you ask them to either. Decide what your exact plan is in case you have to retreat & regroup for another day.
How much noise is too much? Do your kids know what you expect of them?
Where are the physical boundaries you want your kids to remain in? Do they know what those boundaries are?
For kids too small to recognize boundaries, how far are you ok with a little one toddling before you decide that the potential danger may not be worth it?
Talk to your spouse or other children and get everyone on board. Being on the same page can look like different things according to different age groups. A plan of action can be "If we lose Junior Ibn Abu, we're taking turns in prayer," or "If you kick the Imam again, we're all going home."
If your child is too small, too rowdy, or too grumpy to sit quietly at the masjid, please take turns with your spouse. The masjid is a sweet spiritual experience that both parents should be able to enjoy, even if that means taking turns.
Don't Give up
If you find yourself frustrated with being unable to enjoy the masjid the way you did before your child starting sucking on prayer rugs, remember this:
Raising your children with love and patience is an act of worship, even if it's not the act of worship you thought you were coming to the masjid for. No matter what your expectations are of them – or how far they are from meeting them – the ultimate goal is for your child to love Allah and love the House of Allah.
When they get things right, praise them and reward them, and remind them that Allah's reward is coming too. When they get it wrong, remind them and forgive them, and don't give up. The only way children learn to walk is by falling down over, and over, and over again.
Avoiding the masjid because your kids don't behave correctly is like not allowing them to walk because they keep falling down. The key is to hold their hand until they get it right, and maintain close supervision until you can trust them to manage on their own, InshaAllah.
The Unexpected Blessings of Being Alone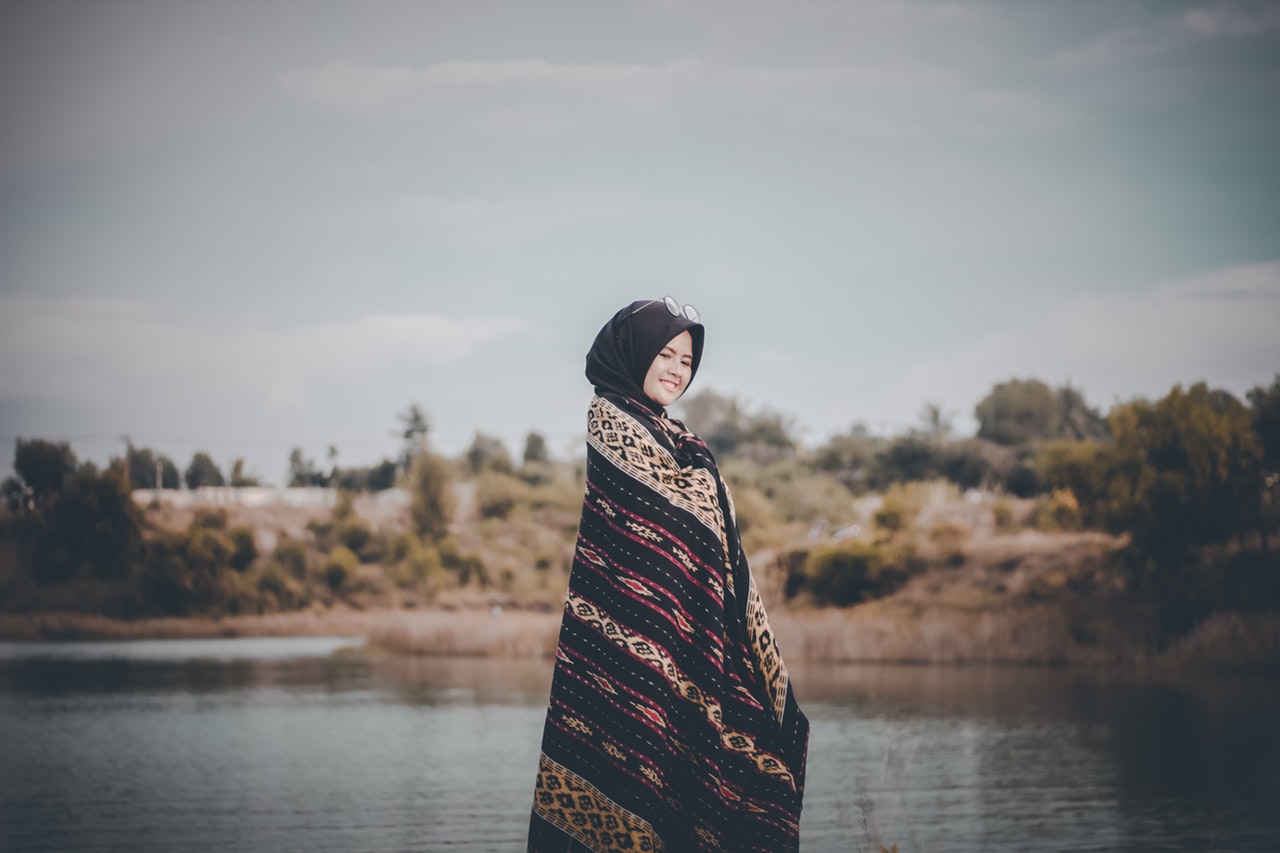 My seven-year old son sat on the ground, digging a hole. Around him, other children ran, cried, and laughed at the playground.
"He's such a strange kid," my oldest daughter remarked. "Who goes to the playground and digs holes in the ground?"
In an instant, scenes of my ten-year-old self flashed through my mind. In them I ducked, hiding from invisible enemies in a forest of tapioca plants. Flattening my back against the spindly trunks, I flicked my wrist, sending a paper shuriken flying towards my pursuers. I was in my own world, alone.
It feels as if I have always been alone. I was the only child from one set of parents. I was alone when they divorced. I was alone when one stepmother left and another came in. I was alone with my diary, tears, and books whenever I needed to escape from the negative realities of my childhood.
Today, I am a lone niqab-wearing Malay in the mish-mash of a predominantly Desi and Arab Muslim community. My aloneness has only been compounded by the choices I've made that have gone against social norms- like niqab and the decision to marry young and have two babies during my junior and senior years of undergrad.
When I decided to homeschool my children, I was no longer fazed by any naysayers. I had gotten so used to being alone that it became almost second nature to me. My cultural, religious, and parenting choices no longer hung on the approval of social norms.
Believe it Or Not, We Are All Alone
In all of this, I realize that I am not alone in being alone. We all are alone, even in an ocean of people. No matter who you are, or how many people are around you, you are alone in that you are answerable to the choices you make.
The people around you may suggest or pressure you into specific choices, but you alone make the ultimate choice and bear the ultimate consequence of what those choices are. Everything from what you wear, who you trust, and how you plan your wedding is a result of your own choice. We are alone in society, and in the sight of Allah

as well.
The aloneness is obvious when we do acts of worship that are individual, such as fasting, giving zakah, and praying. But we're also alone in Hajj, even when surrounded by a million other Muslims. We are alone in that we have to consciously make the choice and intention to worship. We are alone in making sure we do Hajj in its true spirit.
We alone are accountable to Allah, and on the Day of Judgment, no one will carry the burden of sin of another.
مَّنِ اهْتَدَىٰ فَإِنَّمَا يَهْتَدِي لِنَفْسِهِ ۖ وَمَن ضَلَّ فَإِنَّمَا يَضِلُّ عَلَيْهَا ۚ وَلَا تَزِرُ وَازِرَةٌ وِزْرَ أُخْرَىٰ ۗ وَمَا كُنَّا مُعَذِّبِينَ حَتَّىٰ نَبْعَثَ رَسُولًا
"Whoever accepts guidance does so for his own good; whoever strays does so at his own peril. No soul will bear another's burden, nor do We punish until We have sent a messenger." Surah Al Israa 17:15
On the day you stand before Allah you won't have anyone by your side. On that day it will be every man for himself, no matter how close you were in the previous life. It will just be you and Allah.
Even Shaytaan will leave you to the consequences of your decisions.
وَقَالَ الشَّيْطَانُ لَمَّا قُضِيَ الْأَمْرُ إِنَّ اللَّهَ وَعَدَكُمْ وَعْدَ الْحَقِّ وَوَعَدتُّكُمْ فَأَخْلَفْتُكُمْ ۖ وَمَا كَانَ لِيَ عَلَيْكُم مِّن سُلْطَانٍ إِلَّا أَن دَعَوْتُكُمْ فَاسْتَجَبْتُمْ لِي ۖ فَلَا تَلُومُونِي وَلُومُوا أَنفُسَكُم ۖ مَّا أَنَا بِمُصْرِخِكُمْ وَمَا أَنتُم بِمُصْرِخِيَّ ۖ إِنِّي كَفَرْتُ بِمَا أَشْرَكْتُمُونِ مِن قَبْلُ ۗ إِنَّ الظَّالِمِينَ لَهُمْ عَذَابٌ أَلِيمٌ
"When everything has been decided, Satan will say, 'God gave you a true promise. I too made promises but they were false ones: I had no power over you except to call you, and you responded to my call, so do not blame me; blame yourselves. I cannot help you, nor can you help me. I reject the way you associated me with God before.' A bitter torment awaits such wrongdoers" Surah Ibrahim 14:22
But, Isn't Being Alone Bad?
The connotation that comes with the word 'alone' relegates it to something negative. You're a loser if you sit in the cafeteria alone. Parents worry when they have a shy and reserved child. Teachers tend to overlook the quiet ones, and some even complain that they can't assess the students if they don't speak up.
It is little wonder that the concept of being alone has a negative connotation. Being alone is not the human default, for Adam

was alone, yet Allah created Hawwa

as a companion for him. According to some scholars, the word Insaan which is translated as human or mankind or man comes from the root letters that means 'to want company'. We're naturally inclined to want company.
You might think, "What about the social aspects of Islam? Being alone is like being a hermit!" That's true, but in Islam, there is a balance between solitary and communal acts of worship. For example, some prayers are done communally like Friday, Eid, and funeral prayers. However, extra prayers like tahajjud, istikharah, and nawaafil are best done individually.
There is a place and time for being alone, and a time for being with others. Islam teaches us this balance, and with that, it teaches us that being alone is also praiseworthy, and shouldn't be viewed as something negative. There is virtue in alone-ness just as there is virtue in being with others.
Being Alone Has Its Own Perks
It is through being alone that we can be astute observers and connect the outside world to our inner selves. It is also through allowing aloneness to be part of our daily regimen that we can step back, introspect and develop a strong sense of self-based on a direct relationship with Allah.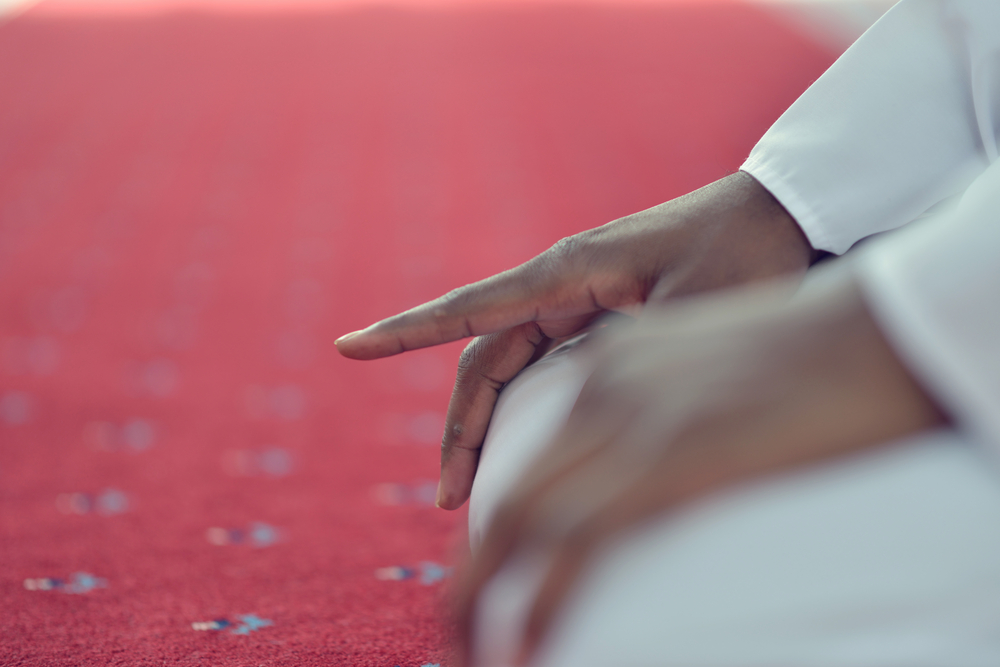 Taking the time to reflect on worship and the words of Allah gives us the opportunity to meaningfully think about it. It is essential that a person gets used to being alone with their thoughts in order to experience this enriching intellectual, emotional and spiritual experience. The goal is to use our thoughts as the fuel to gain closeness to Allah through reflection and self-introspection.
Training ourselves to embrace being alone can also train us to be honest with ourselves, discover who we truly are, and work towards improving ourselves for Allah's sake. Sitting with ourselves and honestly scrutinizing the self in order to see strengths, weaknesses, and areas for improvement is essential for character development. And character development is essential to reach the level of Ihsaan.
When we look into who we want to be, we are bound to make some decisions that might raise eyebrows and wag tongues. Being okay with being alone makes this somewhat easier. We should not be afraid to stand out and be the only one wearing praying or wearing hijab, knowing that it is something Allah will be pleased with. We should not be afraid to stand up for what we believe in even if it makes us unpopular. Getting used to being alone can give us the confidence to make these decisions.
Being alone can strengthen us internally, but not without pain. Emory University neuroscientist Gregory Berns found that people who dissent from group wisdom show heightened activation in the amygdala, a small organ in the brain associated with the sting of social rejection. Berns calls this the "pain of independence."
All our prophets experienced this 'pain of independence' in their mission. Instances of different prophets being rejected by their own people are generously scattered in the Quran for us to read and reflect upon. One lesson we can extract from these is that being alone takes courage, faith, conviction, and confidence.
We Come Alone, Leave Alone, Meet Allah Alone
The circumstances that left me alone in the different stages of my life were not random. I always wanted an older brother or someone else to be there to rescue me from the solitude. But the solitude came with a blessing. Being alone gave me the time and space in which to wonder, think, and eventually understand myself and the people around me. I learned reflection as a skill and independent decision-making as s strength. I don't mind being alone in my niqab, my Islam, or my choices. I've had plenty of practice after all.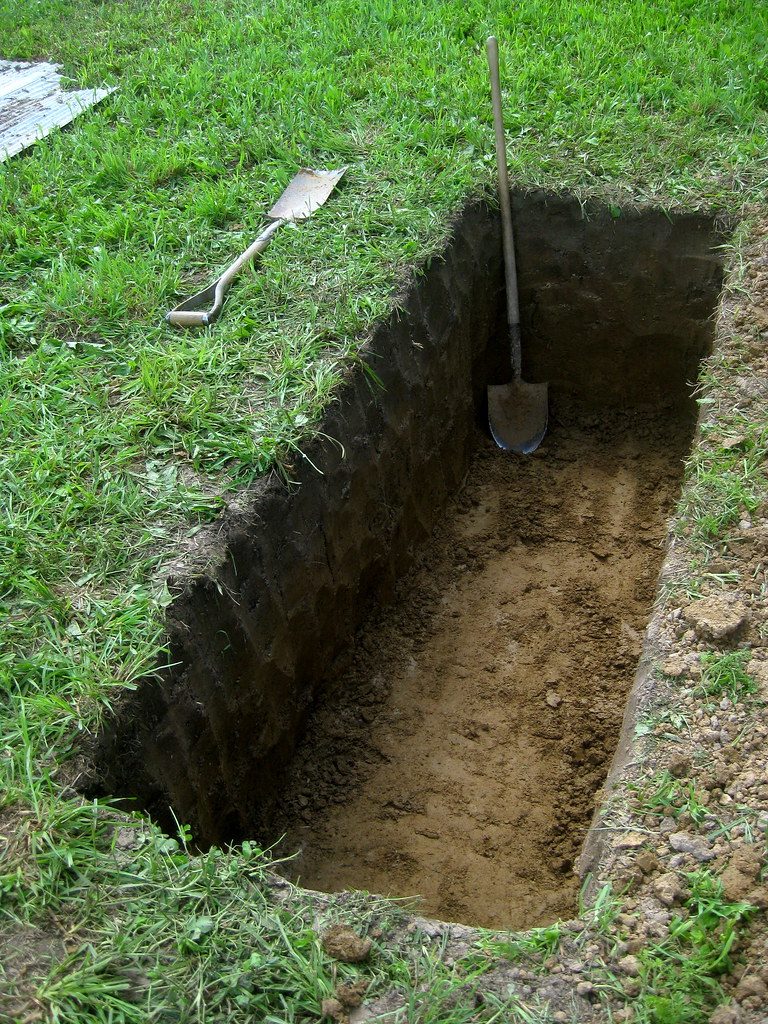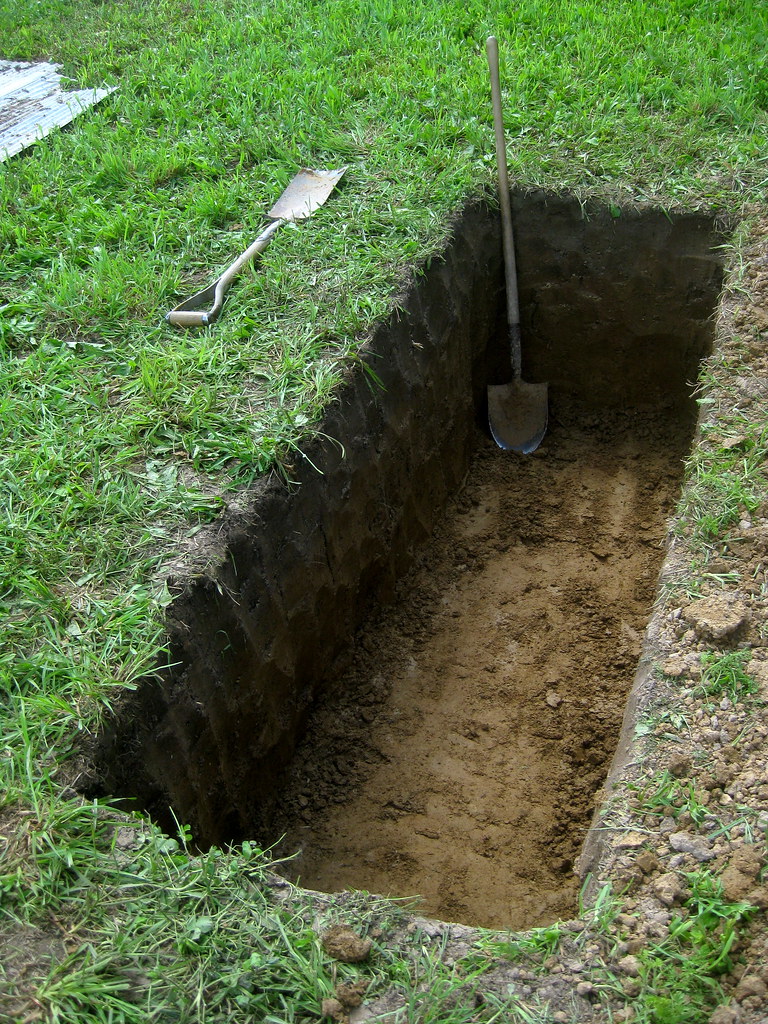 You are born alone and you took your first breath alone. You will die alone, even if you are surrounded by your loved ones. When you are lowered into the grave, you will be alone. Accepting this can help you make use of your moments of solitude rather than fear them. Having the courage to be alone builds confidence, strengthens conviction, and propels us to do what is right and pleasing to Allah regardless of human approval.
Ya Qawmi: Strengthen Civic Roots In Society To Be A Force For Good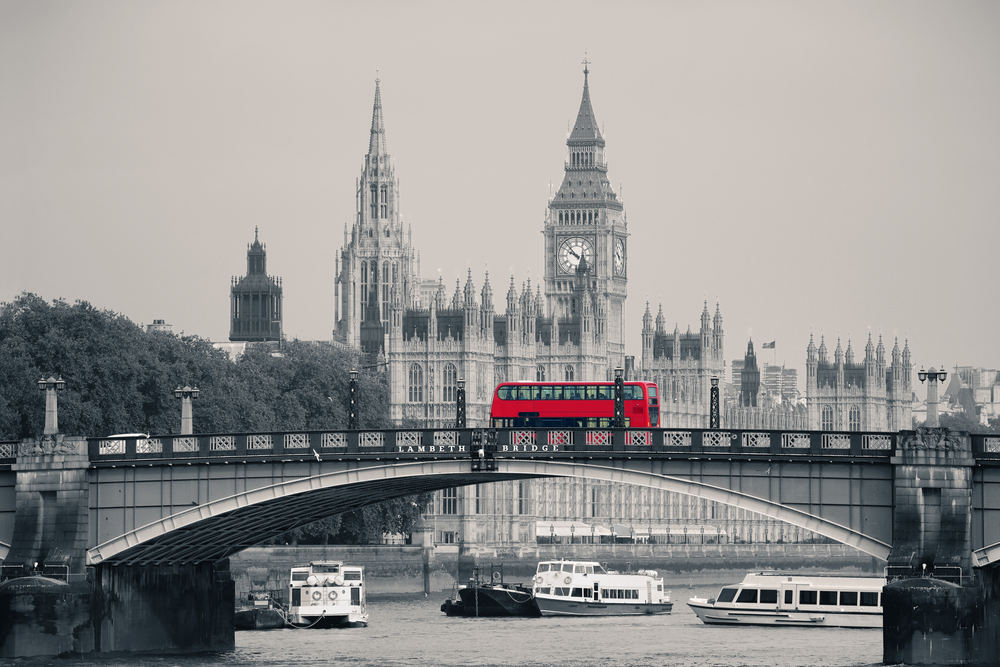 For believers the traditions and teachings of the Prophets (blessings on them), particularly Muhammad

, are paramount. Each Prophet of God belonged to a community which is termed as their Qawm in the Qur'an. Prophet Lut (Lot) was born in Iraq, but settled in Trans-Jordan and then became part of the people, Qawm of Lut, in his new-found home. All the Prophets addressed those around them as 'Ya Qawmi' (O, my people) while inviting them to the religion of submission, Islam. Those who accepted the Prophets' message became part of their Ummah. So, individuals from any ethnicity or community could become part of the Ummah – such as the Ummah of Prophet Muhammad.
Believers thus have dual obligations: a) towards their own Qawm (country), and b) towards their Ummah (religious companions). As God's grateful servants, Muslims should strive to give their best to both their Qawm and Ummah with their ability, time and skillset. It is imperative for practising and active Muslims to carry out Islah (improvement of character, etc) of people in their Ummah and be a witness of Islam to non-Muslims in their Qawm and beyond. This in effect is their service to humanity and to please their Creator. With this basic understanding of the concept, every Muslim should prioritise his or her activities and try their utmost to serve human beings with honesty, integrity and competence. Finding excuses or adopting escapism can bring harm in this world and a penalty in the Hereafter.
Like many other parts of the world, Britain is going through a phase lacking in ethical and competent leadership. People are confused, frustrated and worried; some are angry. Nativist (White) nationalism in many western countries, with a dislike or even hatred of minority immigrant people (particularly Muslims and Jews), is on the rise. This is exacerbated through lowering religious literacy, widespread mistrust and an increase in hateful rhetoric being spread on social media. As people's patience and tolerance levels continue to erode, this can bring unknown adverse consequences.
The positive side is that civil society groups with a sense of justice are still robust in most developed countries. While there seem to be many Muslims who love to remain in the comfort zone of their bubbles, a growing number of Muslims, particularly the youth, are also effectively contributing towards the common good of all.
As social divisions are widening, a battle for common sense and sanity continues. The choice of Muslims (particularly those that are socially active), as to whether they would proactively engage in grass-roots civic works or social justice issues along with others, has never been more acute. Genuine steps should be taken to understand the dynamics of mainstream society and improve their social engagement skills.
From history, we learn that during better times, Muslims proactively endeavoured to be a force for good wherever they went. Their urge for interaction with their neighbours and exemplary personal characters sowed the seeds of bridge building between people of all backgrounds. No material barrier could divert their urge for service to their Qawm and their Ummah. This must be replicated and amplified.
Although Muslims are some way away from these ideals, focusing on two key areas can and should strengthen their activities in the towns and cities they have chosen as their home. This is vital to promote a tolerant society and establish civic roots. Indifference and frustration are not a solution.
Muslim individuals and families
Muslims must develop a reading and thinking habit in order to prioritise their tasks in life, including the focus of their activism. They should, according to their ability and available opportunities, endeavour to contribute to the Qawm and Ummah. This should start in their neighbourhoods and workplaces. There are many sayings of the Prophet Muhammad on one's obligations to their neighbour; one that stands out – Gabriel kept advising me to be good to my neighbour so much that I thought he would ask that he (neighbour) should inherit me) – Sahih Al-Bukhari.
They must invest in their new generation and build a future leadership based on ethics and professionalism to confidently interact and engage with the mainstream society, whilst holding firm to Islamic roots and core practices.
Their Islah and dawah should be professionalised, effective and amplified; their outreach should be beyond their tribal/ethnic/sectarian boundaries.
They should jettison any doubts, avoid escapism and focus where and how they can contribute. If they think they can best serve the Ummah's cause abroad, they should do this by all means. But if they focus on contributing to Britain:

They must develop their mindset and learn how to work with the mainstream society to normalise the Muslim presence in an often hostile environment.
They should work with indigenous/European Muslims or those who have already gained valuable experience here.
They should be better equipped with knowledge and skills, especially in political and media literacy, to address the mainstream media where needed.
Muslim bodies and institutions
Muslim bodies and institutions such as mosques have unique responsibilities to bring communities together, provide a positive environment for young Muslims to flourish and help the community to link, liaise and interact with the wider society.
By trying to replicate the Prophet's mosque in Madinah, they should try to make mosques real hubs of social and spiritual life and not just beautiful buildings. They should invest more in young people, particularly those with professional backgrounds. They should not forget what happened to many places where the Muslim presence was thought to be deep-rooted such as Spain.
It is appreciated that the first generation Muslims had to establish organisations with people of their own ethnic/geographical backgrounds. While there may still be a need for this for some sections of the community, in a post-7/7 Britain Muslim institutions must open up for others qualitatively and their workers should be able to work with all. History tells that living in your own comfort zone will lead to isolation.
Muslim bodies, in their current situation, must have a practical 5-10 year plan, This will bring new blood and change organisational dynamics. Younger, talented, dedicated and confident leadership with deep-rooted Islamic ideals is now desperately needed.
Muslim bodies must also have a 5-10 year plan to encourage young Muslims within their spheres to choose careers that can take the community to the next level. Our community needs nationally recognised leaders from practising Muslims in areas such as university academia, policy making, politics, print and electronic journalism, etc.
Chronicles of A Muslim Father: It All Began With a Prayer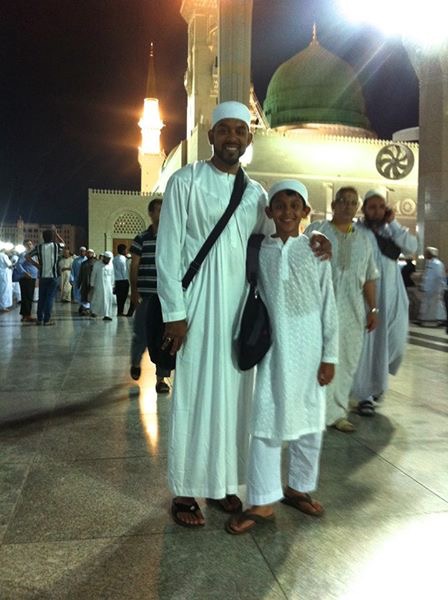 They say it takes a village to raise a child. Family, friends, neighbors, coaches, and teachers are all part of that community and the pillars of that system are the parents. Mothers specifically have and continue to make monumental contributions to this effort. But what about Muslim fathers?
There are thousands of blog posts and hundreds of books on the fundamentals of raising Muslim children in the current climate written by mothers across a diverse array of the spectrum. They have tackled issues that range from Aqiqa's to matrimonials and beyond, but when I needed a fresh perspective on raising Muslim children by someone like me, a Muslim father, I could hardly find any readily available resources.
I don't know if this is a cultural deviancy or just men in general, but we leave all the parenting to the mothers and justify skimming over our responsibilities in the name of "breadwinning". Whatever the case may be, I am a person who is constantly looking for guidance so that I, as their father and the head of the household, can make the right moves for my kids morally, academically and socially.
Furthermore, I am convinced that there are thousands, if not millions of Muslim fathers, just like me looking for the same thing that are coming up empty handed just like I did.
It's for this reason, with the help of Allahﷻ that I have endeavored to fill in this much-needed gap and compose this essential series that will be comprised of archives from my own experiences coupled with advice on best practices and pitfalls in raising Muslim children from a father's perspective.  
I hope and pray that my work will be a source of guidance for both mothers and fathers on raising Muslim children, if not at the very least a catalyst for a call-to-action for fathers to assume their respective roles. May Allahﷻ guide all of us to be the best parents for our children and raise our children amongst the righteous to be the coolness of our eyes. 
Jameel Syed  
Hajj 2000- I find myself at the time of Tahujjud standing humbled with all my faults in front of the ancient house of Allahﷻ trying to collect myself under the shade of night, to muster up the courage to address my Lord in efforts to ask…
What makes me think my voice would reach Him amongst a legion of believers who have come to this place with their righteous deeds and all I have to offer Him are years ladened with transgressions? How do I ask? Where do I begin…
Standing at six feet, I began to shrink both in stature and in spirit. Tears began to swell up in my eyes as I stood as still as a statue. I truly felt more insignificant than the idea of the word "below" itself. As natural as rain falling from the sky to the ground, in one action I collapsed into prostration, embracing the ground as if it were life itself. There I remained for what seemed like an eternity— sometimes praising Him, other times asking for His forgiveness as my body shook uncontrollably with tears running a constant flow. I had no concept of my surroundings or that the world existed at all. In that moment in the darkness, I just felt it was me, Him and the appeal that I had to make. I knew that I had no right. It was not my place to ask and that I had come with nothing to offer, but there was no place else to go, nobody else to turn to. I maintained my sajdah for what seemed like an eternity. Eventually, I summoned up my courage and brought the sentiments of my heart to my lips:
"Ya Allahﷻ pair me with a righteous wife who will give me righteous children." 
At that moment, my prayers that were for me were for them. My tears flowed for them, whatever ramblings came from my mouth were for the unborn children that I have never met. If you think about it, it seemed foolish, so absurd, but in my bones, it felt so right. I didn't even have a wife and there I was begging for righteous children. The truth in context was that I wanted something very special from the Treasury of His Majesty and I came to His House to humble myself to get it.
It was on the sound of the Fajr adhan that I finally arose from my prostration. My cheeks and kurta (shirt) wet with tears and all that was left was contemplation. It seemed as if I was transitioning into yet a different train of thought. 
I began to take account of who I am, what I wanted and what I needed to do. I didn't know the first thing about being a husband or father. I didn't want to repeat the same mistakes I made as a son. I wanted my children to have the best in this world and the next but didn't have a clue on how to pave that path. I wanted to endeavor to strive to be at least as good as my own father and put my family first. In all honesty, as these thoughts began flooding my head, I felt totally helpless and totally overwhelmed. 
I knew that I would have to sacrifice, upgrade my character, prioritize to put the pleasure of Allahﷻ at the forefront of my thoughts and actions. This was a huge shift from how I lived my life for the past couple of decades. My time was mine, my money was mine and I impulsively chased my desires. All that had to change!
Change Brings Change
One thing did, however, make sense to me:
I thought to myself that if I laid down the track based upon my style of thinking, it would certainly be disastrous. I needed to consult with scholars and gather as much information as I could to construct a path in accordance with what Allahﷻ has prescribed to give myself a chance at achieving my dream.
This, I concluded, was what was needed to be done in order to ensure a chance of success. I felt resolute to act upon it. At that thought, the Muaddhin began to recite the Iqama and the entire ordeal concluded.
Six months later, I found myself in the living room of Dr. Ahmed Muneeruddin whose lineage goes back directly to AmĪr-ul-Mu'minīn, Umar Al-Farooq (May Allahﷻ be pleased with him). I was witness to one of the most profound events of my lifetime. My father (the late) Dr. Abdus-Salam Syed recited Khutbah Al-Haajah for the company that was present, which included immediate family from both sides. He then turned his attention to his host and began to declare with profound emotion:
"Praise to be Allahﷻ and blessings and peace be upon His final Prophet and Messenger Muhammadﷺ. I enjoin you to fear Allahﷻ. I have come to you to engage your noblest daughter Maria Muneeruddin to my son Jameel Abdul Syed in accordance with the Sunnah of the Prophetﷺ and the pleasure of Allah ﷻ ." 
He then went on to conclude with Du'a for happiness, well being, prosperity, that the beginning and end of this affair should be on the straight path and that this union should bare righteous children in the future.
She was going to be the mother of my children
It is noteworthy that I had only known my future wife then for two weeks in total with no more than two physical meetings and a half a dozen phone calls.
She presented very strong qualities, which matched all of the qualifiers outlined by the Prophetﷺ: Beauty, wealth, status and religion. As most prospective couples do, we dialogued back and forth measuring each other up against our ideals, but truthfully my decision to pursue her at the end had little to do with any of her questions to my answers. Rather it was the fact that when I looked into her eyes, I saw the mother of my future children and I knew that no other woman on the face of this earth could hold that status for me. It was a feeling I knew to be true and the final criterion for my decision that I feel my heart was guided by Allahﷻ. The series of events that led to my engagement was idiosyncratic and unplanned. In my experience, when Allahﷻ wants something to happen, it happens rather quickly and arrives unannounced and there's nothing anyone can do about it. 
Our marriage took place on July 1st, 2001 in Ontario, Canada. Shortly thereafter she became pregnant and learned that it was going to be a baby boy. Both of our families were elated. It was the first child of the next generation on both sides. We debated back and forth about the name until we finally reached a unanimous decision: Muhammad Jibril Syed. Maria constantly listened to Surah Al-Baqarah during her pregnancy and prayed for him during this eight-month period. My job was to keep her happy! 
On March 13th, 2002, Jibril had arrived at Crittenton Hospital in Rochester, Michigan honoring both Maria and me with the titles of parents. I gingerly picked up the boy and took him to my father who raised the adhan in his right ear and the iqama in his left as per the tradition of The Prophetﷺ. The feeling was indescribable. A feeling of pride, disbelief, elation. Maria felt the same, but she was obviously exhausted. The hospital was flooded with friends and family— it was total chaos. I had to escape, if only for a moment.
I broke away from the excitement and retreated to the hospitals chapel to pray. After prayer, I sat by myself in that room and reflected on how I got to this point. That prayer I made during Tahajjud in front of the Kaabah. It was the beginning of my journey into fatherhood. My heart softened and I began to cry. SubhanAllah, I thought to myself. "Just look at the plan of Allahﷻ. He didn't turn a deaf ear to the pleas of a sinner that day. He's given me so much in such a short period of time. I promised myself that I would not be an ungrateful slave. That I would honor the trust that He's bestowed on me with this child and any other future children by devoting myself to try and raise them in accordance with His pleasure.
As I walked out of the chapel and back to my family, I thought to myself: "I wonder what he's gonna call me…"