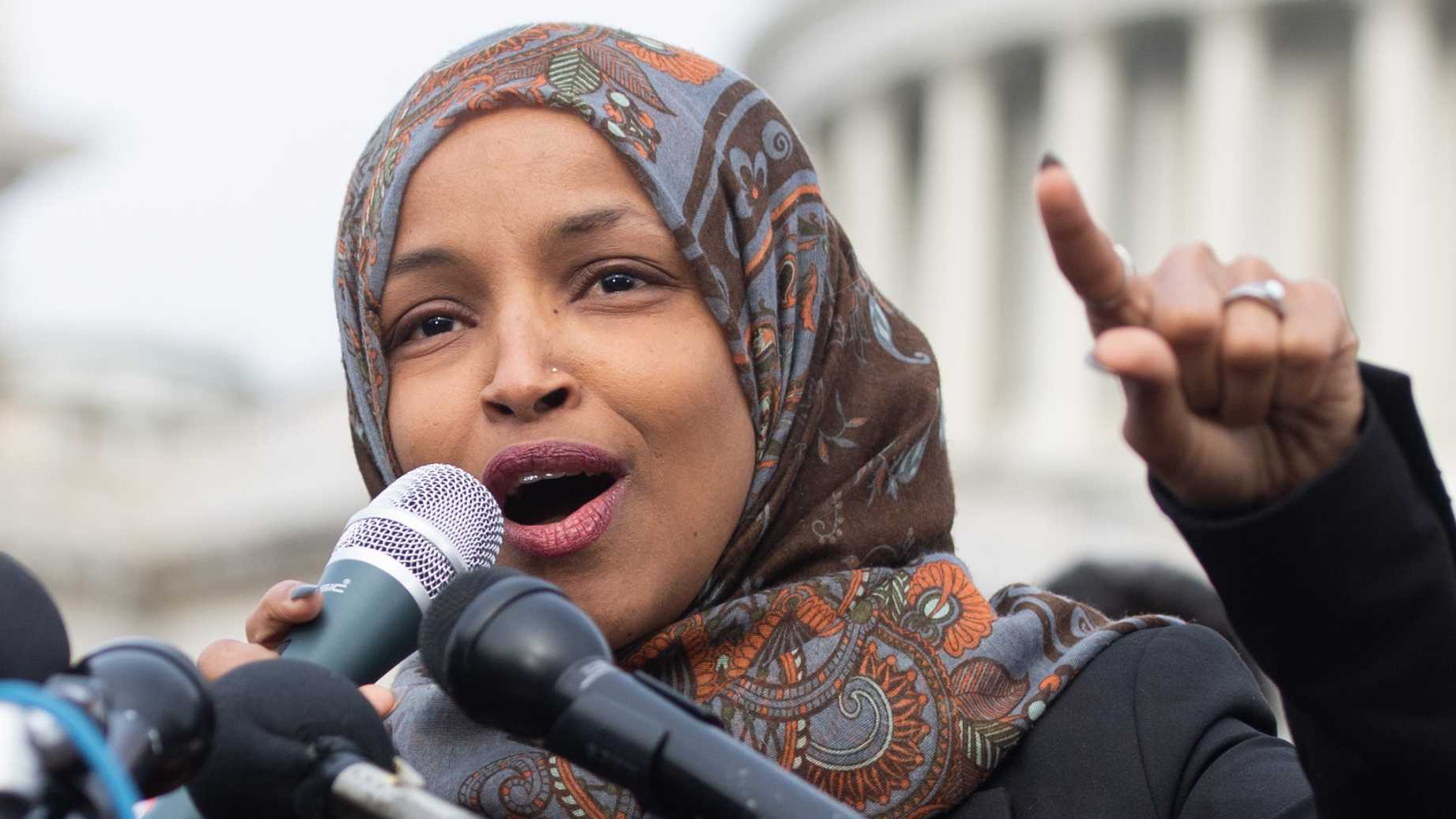 I Stand With Ilhan
This week marked International Women's Day. Among other things, the day provides us with an opportunity to reflect on the amazing contributions women make to our lives, families and societies. With their grace, dignity, forbearance, sacrifice and courage, women enrich our lives in countless ways.

Speaking of courage, what better day to mention the immense courage being displayed by Congresswoman Ilhan Omar. By being a voice for the voiceless, long-suffering masses of Palestine, she has exposed herself to death threats, demonization, character assassination and other hazards that usually befall those who raise their voices to call for fairness and balance in how the Israeli/Palestinian issue is represented and adjudicated in this country.
How many more bombardments of Gaza; how many more targeted assassinations; how many more intentionally murdered and maimed unarmed protesters; how many more babies euphemistically "put on a diet" or systematically starved; how many more checkpoints; how many more political prisoners; how much more humiliation, great and small, before someone in the halls of power in this country raised their voice to say enough is enough?
Ilhan Omar had the courage to raise her voice, despite the risks, and for that I salute her. While I would not endorse everything she advocates, I will say during this time when she needs the support of our community, that I stand with Ilhan. May God bless and protect her.
Imam Zaid Shakir
---
Y'all began Black history month attacking Ilhan Omar and began women's history month attacking Ilhan. Y'all really hate Black Muslim women who question stuff.

— Margari Aziza (@Margari_Aziza) March 5, 2019
---
I'm not feeling the, "I know she said some hurtful stuff but…" messages surrounding Ilhan Omar from some of those claiming to support her. She never accused American Jews of double loyalty or used any anti-semitic words. She spoke to AIPAC's crazy influence in DC and how politicians are expected to be uncritical of our relationship with Israel even as it continues to expand its occupation and pass more apartheid laws. Let's stop pretending like there is any legitimacy to the attacks on her that are not only racist, dangerous, and Islamophobic, but meant to send a message to other young elected officials that they better not step out of line or else… which is actually proving her point.
Imam Omar Suleiman
---
Actually, a dark day for freedom of speech when the First Amendment is suppressed in the name of a terrible ally. At least Trump is being honest that @IlhanMN's "terrible" (more like terribly honest) comments were about Israel, not Jews. And that is protected! https://t.co/g63j75MGmw

— AS (@amadshk) March 5, 2019
---
Anyone informed about the Israeli-Palestinian conflict will tell you that nothing Ihan Omar said about the issue, in the last week or before that, was inaccurate, controversial, racist or exaggerated. These criticisms of Israel are relatively tame by any standards.Had anyone else made these comments, especially at some small event at a bookstore in Washington, those words wouldn't have left that room.
But Ihan Omar isn't just anyone. For the first time, there are members of US congress, who are opening up for debate the unquestionable support Israel gets from the US. There are lawmakers, with powers to introduce bills on the House floor, who are not afraid to call for boycotts and sanctions against Israel. Up until now, the most any US politician ever did was criticize Israel – 'as a friend'. No one would ever dare to question if that friendship was a healthy one or if it was in US interests.
Ihan Omar, along with Rashida Tlaib, are going where no one in US politics has gone before. This has gotten Israel and its supporters extremely worried and threatened.The uproar has nothing to do with what they say. It has everything to do with what they represent and the potential consequences of them questioning a political alliance that everyone assumed is unshakable. These tactics of putting them under intense pressure and scrutiny are nothing more but an attempt to shut them out. The only appropriate response is to keep speaking, keep protesting and keep fighting for Palestinian rights.
---
It's racist and Islamophobic to presume that anything @IlhanMN says about Israel is anti-semitic. That's peddling anti-Muslim stereotypes, that all Muslims inherently hate Jews. #IStandWithIlhan

— Ahmed Bedier (@bedier) March 5, 2019
---
Anti-Semitism is a hateful and dangerous ideology which must be vigorously opposed in the United States and around the world. We must not, however, equate anti-Semitism with legitimate criticism of the right-wing, Netanyahu government in Israel. Rather, we must develop an even-handed Middle East policy which brings Israelis and Palestinians together for a lasting peace.
What I fear is going on in the House now is an effort to target Congresswoman Omar as a way of stifling that debate. That's wrong.
Congressman Bernie Sanders
---
This is why I am a lower case democrat. I said this before and I will say it again – you are either consistent standing up against all forms of racism including islamophobia or you are just a hypocrite.
Nancy & Chuck puffed their chest against a Black Muslim Congresswoman to put her in her place but when the same Congresswoman is being called a terrorist and receiving public and private death threats – silence.
We stand with Congresswoman Ilhan Omar ALWAYS. The silence from Democratic leadership is DEAFENING. Islamophobia is also unacceptable and until that's the case, the Democrats cannot claim higher moral ground.
Linda Sarsour
---
To regard any criticism of Israel as a criticism of Judaism, and therefore racism – is a superficial attempt to shut down the conversation on the human rights violation that is the occupation of Palestine.
Ilhan Omar isn't criticizing Judaism, she's criticizing a political ideology that allows one people to occupy, imprison, and oppress another on the basis on their religion. Condemning that oppression is not racism, it is human decency.
Faith Community Stands With Peace And Justice Leader Imam Omar Suleiman During Right Wing Attacks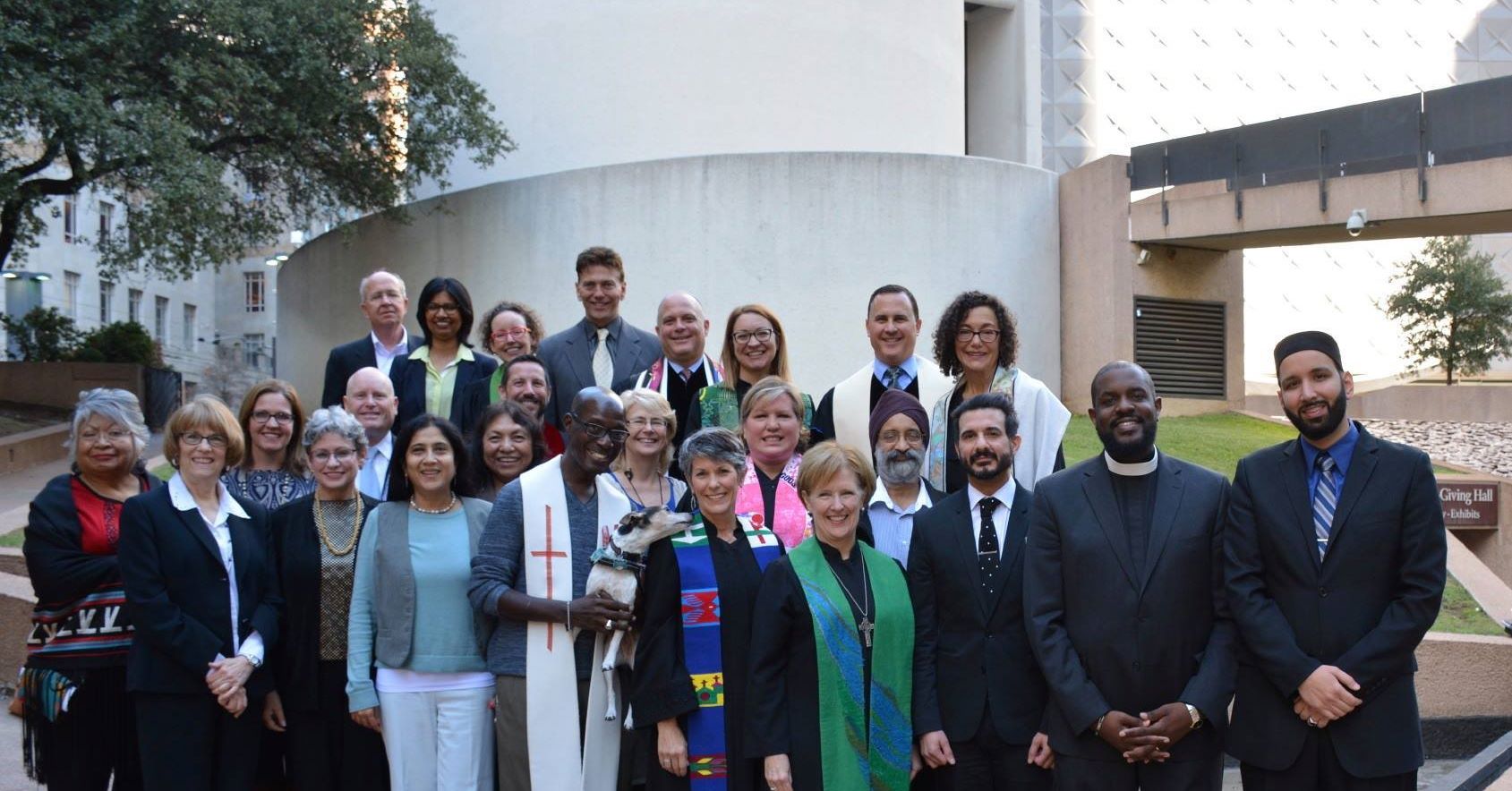 In a follow up to the right-wing media platforms attack on Imam Omar Suleiman – calling him anti-semitic, a common tactic used to discredit both Muslim activists, as well as criticism of Israel policies, Faith Forward Dallas issued a statement.
Faith Forward Dallas at Thanksgiving Square – Faith Leaders United for Peace and Justice is a Texas-based interfaith organization that has worked on many initiatives with Imam Omar Suleiman.

The statement reads:
"Imam Omar Suleiman a spiritual and moral voice for peace with justice!!!!!

Time after time in our city, in the United States and around the world, Imam Omar Suleiman has been a spiritual and moral voice for peace with justice. When others seek to divide, he calls for unity. Faith Forward Dallas at Thanks-Giving Square works to unite faith leaders for justice and compassion. Imam Suleiman has been a trusted leader among us. In the wake of his beautiful prayer to open the House of Representatives on May 9, he has received threats of violence and words of vilification when instead he should have our praise and prayers. We call upon people of good will everywhere to tone down the rhetoric, to replace hate with love, and to build bridges toward the common good.

Faith Forward Dallas at Thanks-Giving Square"
Commenters on the Faith Forward Dallas statement have left comments of support.
The group has invited locals and other leaders to endorse and share the statement. "Endorsed! I love and fully you Imam Omar Suleiman!" wrote Karen Weldes Fry, Spiritual Director at Center of Spiritual Learning in Dallas (CSLDallas), commenting on the statement.
Some commentators do not understand the manufactured controversy.  Heather Mustain writes, "What people are writing is so vile. They obviously didn't even listen to his prayer!" Imam  Omar Suleiman delivered the opening prayer in the US House of Representatives on May, 9th, 2019  at the invitation of Rep. Eddie Bernice Johnson (D) of Dallas, TX.
"I'm grateful for the faith leaders with whom I've built relationships with and served with for years that have shown full support throughout this process. Together we've stood with one another in solidarity in the face of bigotry, and in the support of others in any form of pain. We will not let these dark forces divide us," said Imam Omar Suleiman in response to the outpouring of love from the people he has worked with on the ground, building on peace, love, and justice.
#UnitedForOmar – Imam Omar Suleiman Smeared by Right-Wing News After Opening Prayer at US House of Representatives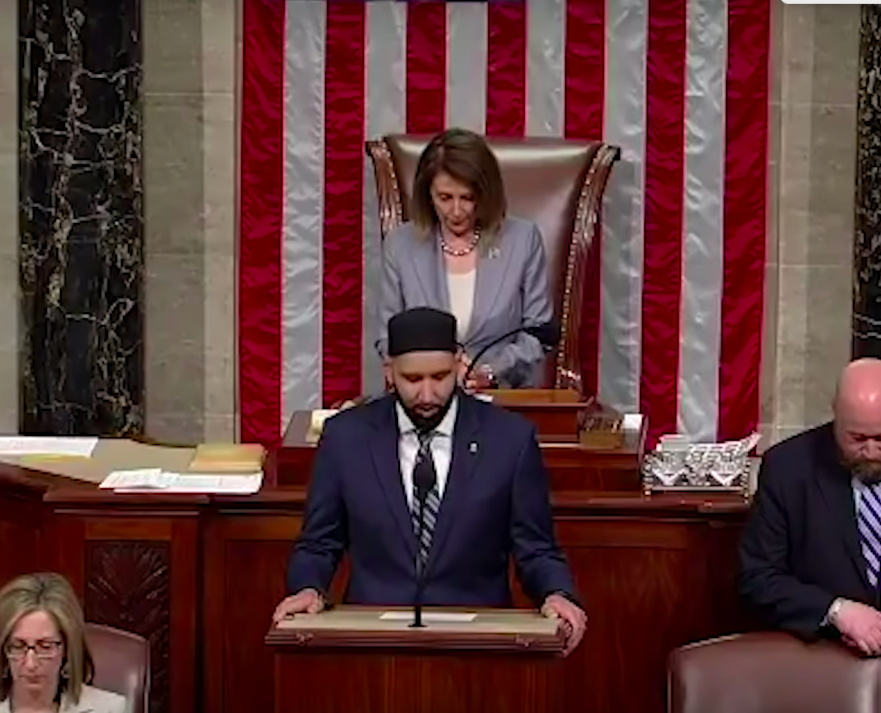 Sh. Omar Suleiman delivered the opening prayer in the US House of Representatives yesterday, May, 9th, 2019  at the invitation of Rep. Eddie Bernice Johnson (D) of Dallas.
Immediately since, right wing media platforms have begun spreading negative coverage of the Imam Omar Suleiman – calling him anti-semitic, a common tactic used to discredit both Muslim activists as well as criticism of Israel policies.

News outlets citing the criticism have pointed to a post from The Investigative Project on Terrorism or ITP, as the source. The  ITP was founded by and directed by noted Islamophobe Steven Emerson. Emerson's history of hate speech has been documented for over two decades.
Since then, the story has been carried forward by multiple press outlets.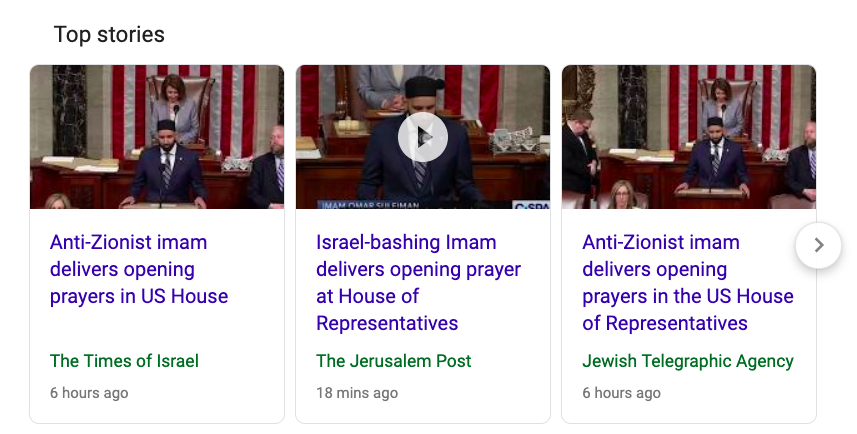 The immediate consequence of this has been the direction of online hate towards what has been Imam Omar Suleiman's long history of preaching unity in the US socio-political sphere.
"Since my invocation I've been inundated with hate articles, threats, and other tactics of intimidation to silence me over a prayer for unity," Imam Omar Suleiman says. "These attacks are in bad faith and meant to again send a message to the Muslim community that we are not welcome to assert ourselves in any meaningful space or way."
MuslimMatters is proud to stand by Imam Omar Suleiman, and we invite our readers to share the evidence that counters the accusations against him of anti-semitism, bigotry, and hate. We would also encourage you to reach out, support, and amplify voices of support like Representative E.B.Johnson, and Representative Colin Allred.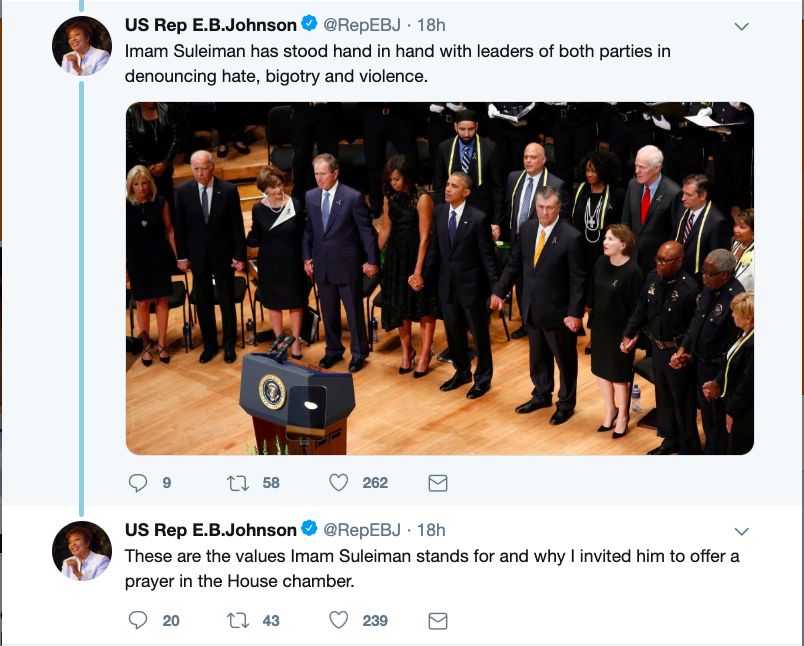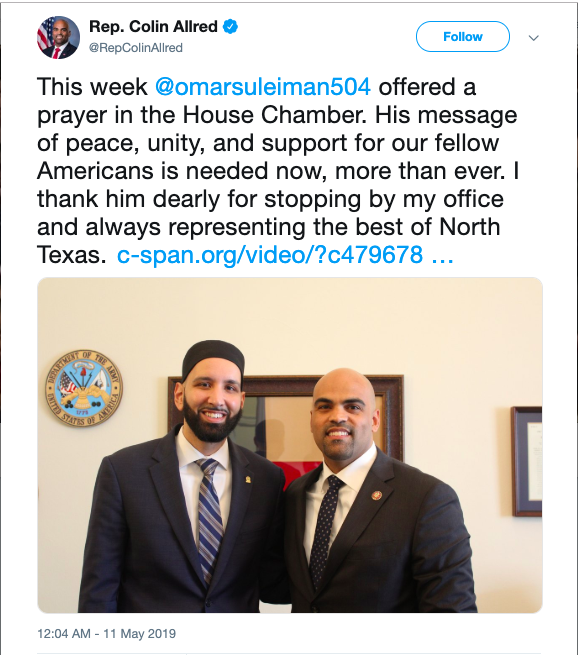 You can help counter the false narrative, simply by sharing evidence of Imam Omar Suleiman's work. It speaks for itself, and you can share it at the hashtag #UnitedForOmar
JazakAllahuKheiran
---
At an interfaith panel discussion, three North Texas religious leaders promoted understanding and dialogue among Muslims, Jews, and Christians. Amid a vexed political and social climate, three religious leaders in North Texas—a priest, an imam, and a rabbi—proved it's possible to come together in times of division. Source: DMagazine.com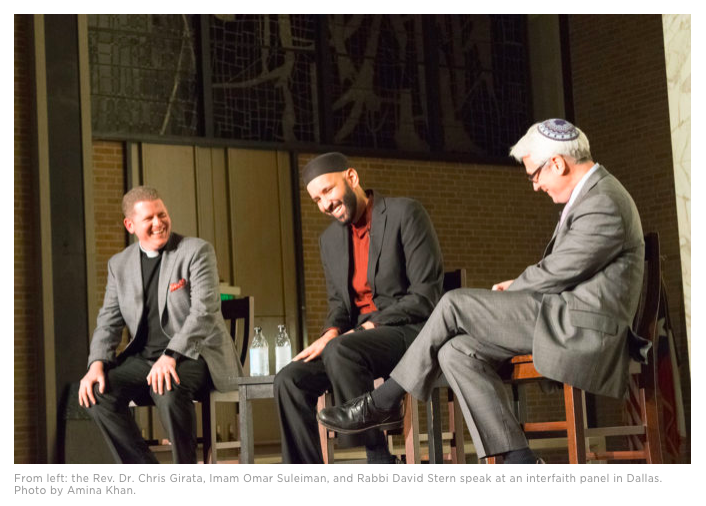 ---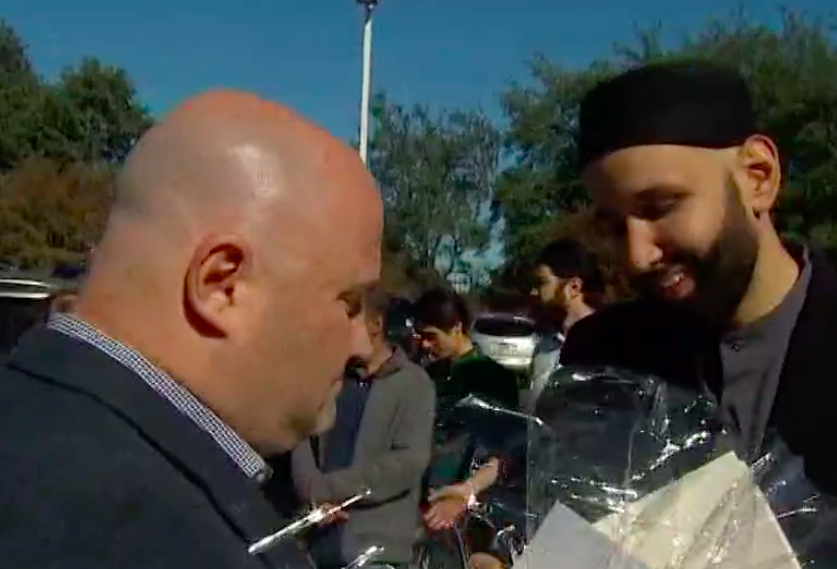 The congregation, led by Imam Omar Suleiman, penned more than 150 cards and letters. source: WFAA News
---
"We must recognize that the white supremacy that threatens the black and Latino communities, is the same white supremacy that spurs Islamophobia and antisemitism," -Imam Omar Suleiman
Source: Bend The Arc
---
"When any community is targeted, they need to see a united faith voice — that all communities come together and express complete rejection of anything that would pit our society against one another more than it already is." -Imam Omar Suleiman
Source: Kera News

---
Source: The Carter Center
---
Imam: After devastating New Zealand attack, we will not be deterred
"My wife and I decided to take our kids to a synagogue in Dallas the night after the massacre at Tree of Life in Pittsburgh to grieve and show solidarity with the Jewish community. My 5-year-old played with kids his age while we mourned inside, resisting hate even unknowingly with his innocence…" Source: CNN
Ben Shapiro Gets Wrecked on the BBC for Racism Against Palestinians and American Jews
Andrew Neil so thoroughly destroys Ben Shapiro that he has a snowflake meltdown and retreats in the middle of the interview to his own safe space, off-camera.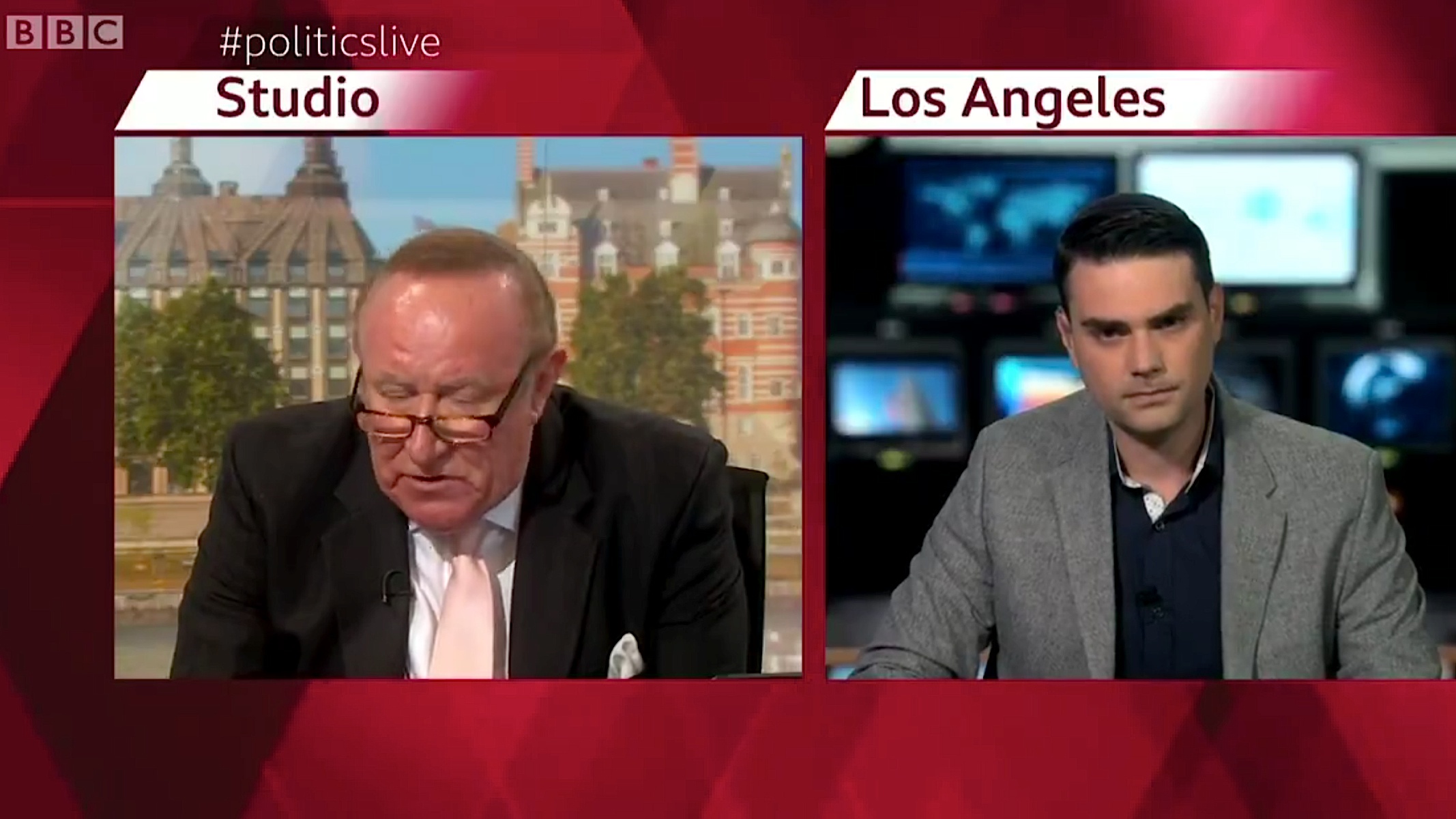 The video plays at the 10:00 minute mark where Neil begins to break down Shapiro on his statements about President Obama, Palestinians, and American Jews.
Let's set the context – popular conservative commentator Ben Shapiro, known for his aggressive debate style in the public square, visited the BBC to promote his new book.  The interviewer, Andrew Neil, after giving Shapiro a chance to introduce himself to the BBC audience, questioned him about the anger both the left and the right feel towards one another, and Shapiro's own role in stoking that anger and polar opposition within the Republican party over many years.

The reason for this line of questioning is because Shapiro claims this to be a problem in American discourse and fails to consider his own contribution to the problem, and it is this hypocrisy that Neil confronts him about.  Shapiro attempts to respond, but is promptly crushed by Neil's responses with Shapiro's own quotes.  For example, he brings up the following tweet written about Palestinians which Shapiro agrees was wrong but hasn't taken down:
Israelis like to build. Arabs like to bomb crap and live in open sewage. This is not a difficult issue. #settlementsrock

— Ben Shapiro (@benshapiro) September 27, 2010
Shapiro futilely attempts to respond, but Neil continues to quote Shapiro until he is left with no choice except to throw ad hominems at his interviewer, which were deftly turned back on Shapiro, leaving him to look even more petty for his attempted condescending remarks.  The end result is the man claiming earlier to welcome a spirited debate quickly found himself running away to lick his wounds.
Perhaps the greatest irony in this debate – Shapiro accused Neil of being an opinion journalist of the left-leaning variety, while Neil is a conservative and chairman of The Spectator, whose editorial outlook is conservative.