The Haramness Of The Way Asia Bibi Was Treated In The Name of Islam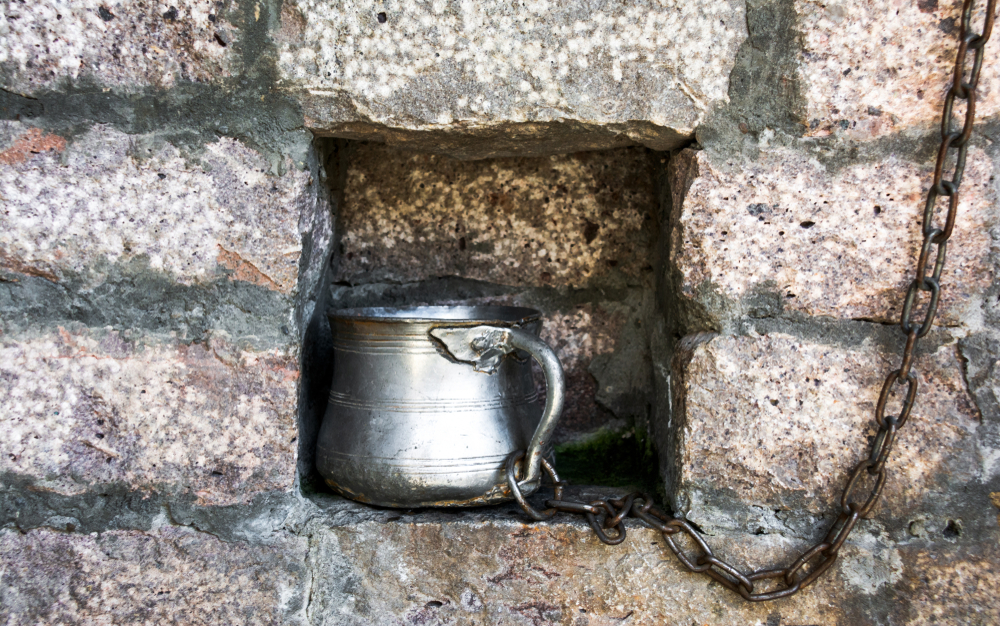 News of the dismissal of Asia Noreen Bibi's case (a Christian woman accused of blasphemy and imprisoned for almost a decade) in Pakistan has erupted on TV screens and social media feeds. The more I read about the case and watch the hysteria unfolding in the name of preserving the sanctity of the Prophet, the more embarrassed I feel and frustrated with the misuse of Islamic doctrine. Obviously, this is not the first time nor the last when actions are being done in the name of Islam, but these actions have nothing to do with Islam.
Asia Noreen Bibi is a Christian woman, who lived in a small village in Pakistan; she was from one of the only three Christian families in the village. One day she accompanied her co-workers to a nearby farm for extra work.  As she fetched berries under the scorching sun, she wanted nothing more than a few sips of cold water. She walked up to the well in the farm, and as she drank some water in a metal-glass, another woman, Musarat, angrily told her that it was forbidden for a Christian to drink water from the same utensil from which Muslims drink and that some of the co-workers considered her to be unclean because she was a Christian.

Even though a lot of Asia Noreen's story is "he said – she said", I do believe this part of the story because I've heard this notion many times before. Muslims in Pakistan have asked me if they were allowed to share utensils with non-Muslims. This question often arises among the laborers, and most often amongst the affluent families who have Christian housemaids. 
I was once visiting my in-laws in Lahore when a lady who offered on-call beauty salon services came over. She was Christian. While she was doing my pedicure, I started talking to her about her life as a minority in Pakistan. I could relate to some of the emotions and incidents she shared, because I grew up as a minority in the U.S. At the same time, there were some incidents she recalled that were completely ridiculous and I thanked God that I never had to go through them, like some "well-educated" women refusing to eat or drink from utensils that this woman had touched, because she didn't share the same faith.
There's a misconstrued belief among some people in Muslim majority countries that people of other faiths are "impure", so much so that their touch can impurify our food and drink. This belief is obviously wrong.1 Much of this is class related discrimination, as the same people would have no issue serving dignitaries and CEOs (who are Christian) in their prized gold-plated crockery, in fact, it would be a matter of pride. They would also have no issues visiting non-Muslim countries and eating at restaurants and hotels. 
Going back to Asia Noreen's story, an argument broke out among the working women in the field. Again, the story has a lot "he said – she said" but one thing is clear that it was the Muslim woman who raised the issue of Asia contaminating the water by drinking from it simply because she was a "filthy Christian."
The argument was prolonged when Asia also insulted her co-worker Musarat's faith which happens to be my faith too. However, I find my sentiments more sympathetic and align with Asia than Musarat and her co. Is it strange that I applaud Asia for speaking up and defending herself?
Although I don't agree with Asia's statement at all, the more important question right now is, was her "reaction" wrong? Was she to be blamed for becoming angry and insulting Islam or the Prophet in response to the Muslim women insulting her faith and her Prophet?
I've tried to evaluate the situation by putting myself in her shoe. What if I was in the U.S surrounded by a group of Christians and I was criticized for taking a few sips of water in a scorching hot day and was called a "filthy Muslim"?
Had I have not known any better, I might have insulted Jesus too in "reaction". But those Muslims who actually study the simple basics of Islam, know that we are not allowed to insult anyone else's religion, no matter what.
What About Musarat's Blasphemy: Isn't Esa Our Prophet too?
In the case of Asia, it just happens so that her Prophet Jesus

, is my beloved Prophet too. So as I type this article, I'm wondering why isn't Musarat on trial for insulting our Prophet Jesus (may God's peace and blessings be upon him)?
This whole situation is wrong on so many levels. First of all, non-Muslims do not contaminate our water or food by touching it. Second, we are not allowed to put down other people's religious beliefs. Third, a man was rewarded with Paradise for giving water to a thirsty dog– whose saliva can actually contaminate our utensils– and these women were more concerned about the religious beliefs of a thirsty woman– who was their coworker, and a neighbor– than her state of thirst on a hot summer day.
And most importantly, this Blasphemy Law of Pakistan is far from actual Islamic Law. Our Prophet Muhammad

, never punished anyone for insulting him neither did he ever instruct any of his companions to punish anyone who'd insulted our Prophet. This was not only the case when Muslims were the minority and were being persecuted, but it continued to be the case even after Muslims became stronger and gained political power.
In fact, in our religion, there is more emphasis on respect being earned than forcing it out of people. Non-Muslims, even the ones who opposed Prophet's message, respected him for his good moral qualities. Islam emphasizes character building, earning respect through love and kindness rather than forcing it upon others through fear and authority. The woman who threw trash on Prophet Muhammad

to irritate him, later converted to Islam because of his kindness towards her when he went to visit her after she got sick.
If the love of Prophet truly resides in our hearts, then it would show more in following into his footsteps and carrying on his legacy by showing kindness to a thirsty woman rather than declaring the water "haram" because of her touching the utensils.
Truth be told, the Blasphemy Law is a misrepresentation of Islam because we are taught to leave those people alone who mock or insult our Creator or His Verses in Qur'an, hence insulting the Prophet would fall in the same lines.
"And when you (Muhammad

) see those who engage in false conversation about Our Verses (of Qur'an) by mocking at them, stay away from them till they turn to another topic…" (6:68)
Allah

is instructing the Prophet to walk away from people who are insulting Allah or the verses from Qur'an, not punish them by any means. In fact, he's being told to join them back after they've changed the topic.
So where does the blasphemy law come into the picture?
According to the story, Asia supposedly insulted our Prophet

after Musarat insulted Jesus

. Aren't we told not to insult other people's religion or religious deities for the exact same reason, i.e. so as not to provoke the reaction from them!
"And do not insult those they invoke other than Allah, lest they insult Allah in enmity without knowledge…" (6:108)
I am not an apologist but today I apologize from the bottom of my heart to Asia, her husband, her daughters and her family, and all the religious minorities living in "Muslim" countries on behalf of all the Muslims who are Muslims because they were born in Muslim families and have yet to learn their religion in its proper format. What Islam truly is and what it has become in the hands of Muslims can be two very opposing things at times.
Do I find it surprising that in some news outlets it has been reported that Musarat had some property disputes with Asia's family in the past!
My religion has been long used and abused by people for their self-interest, be it political gain, power gain or personal gain. When nothing else works, then they use Islam to mobilize people's sentiments to advocate their agenda and win the situation in their favor, whether its extremists using Islam for their political gain, or MBS calling Jamal Khashoggi an Islamic extremist to justify his brutal killing, or Musarat claiming to defend our Prophet by accusing Asia of insulting our Prophet.
It is also said that Musarat and other Muslim women asked Asia to convert to Islam to redeem herself. My sincere advice to Musarat and all those Pakistanis who are protesting against Asia being acquitted that they should be more worried about redeeming their own souls, and they should learn the basics of Islam and build Islamic character for their own salvation first.
1 Report from Abu Dawood (3839): "We live next to some of the People of the Book who cook pork in their vessels and drink wine in their vessels." The Messenger of Allaah (peace and blessings of Allaah be upon him) said: "If you can find anything else, eat from them and drink from them, but if you cannot find anything else, then wash them with water and eat and drink." Saheeh Abi Dawood.
The Prophet

was invited to eat some barley bread and other food by a Jewish boy.  Narrated by Ahmad, in Irwa' al-Ghaleel, 1/71.
The Prophet

and his companions did wudoo' from the leather water skin of a mushrik woman. Narrated by al-Bukhari, 337; Muslim, 682.
Faith Community Stands With Peace And Justice Leader Imam Omar Suleiman During Right Wing Attacks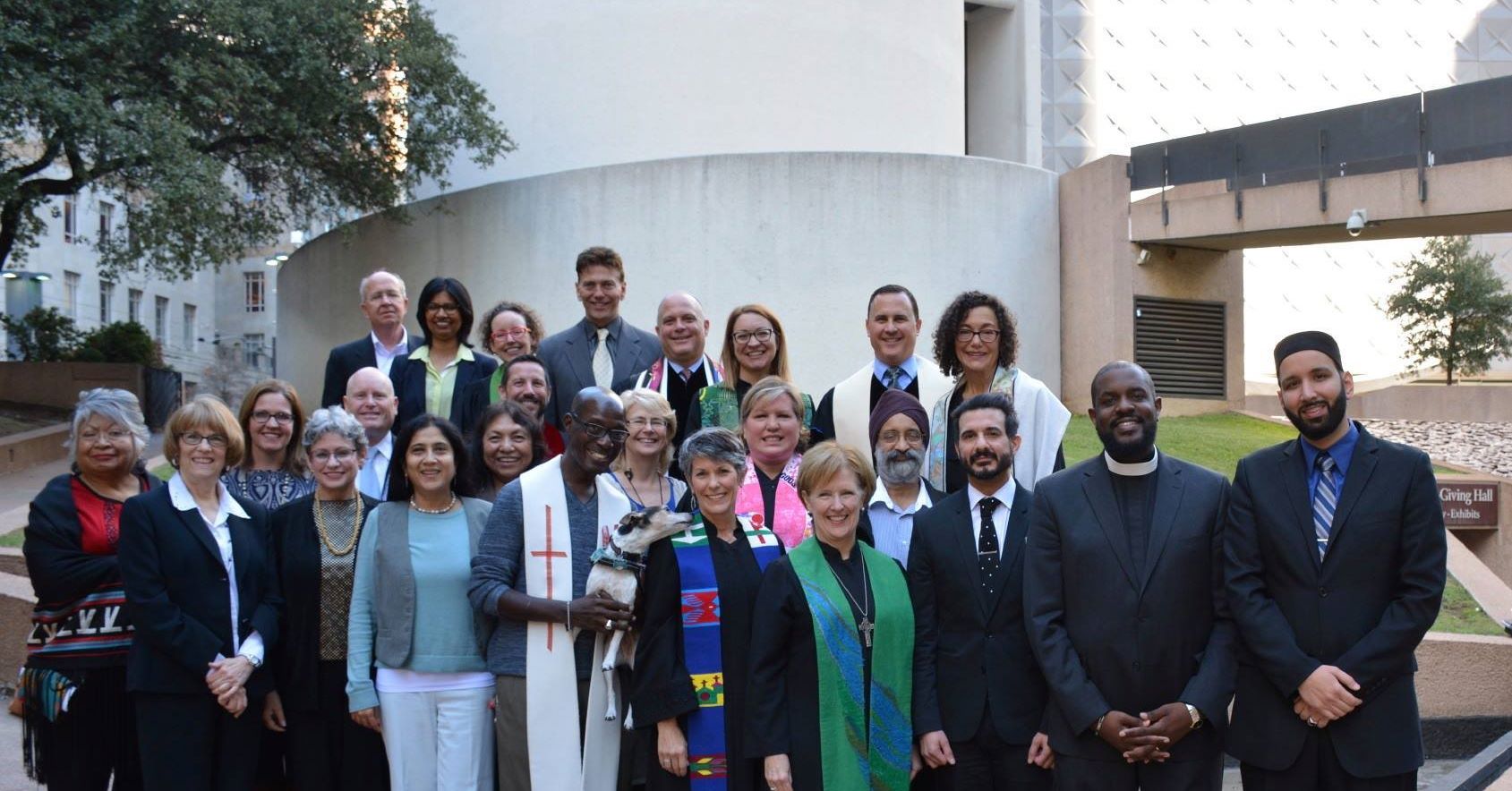 In a follow up to the right-wing media platforms attack on Imam Omar Suleiman – calling him anti-semitic, a common tactic used to discredit both Muslim activists, as well as criticism of Israel policies, Faith Forward Dallas issued a statement.
Faith Forward Dallas at Thanksgiving Square – Faith Leaders United for Peace and Justice is a Texas-based interfaith organization that has worked on many initiatives with Imam Omar Suleiman.

The statement reads:
"Imam Omar Suleiman a spiritual and moral voice for peace with justice!!!!!

Time after time in our city, in the United States and around the world, Imam Omar Suleiman has been a spiritual and moral voice for peace with justice. When others seek to divide, he calls for unity. Faith Forward Dallas at Thanks-Giving Square works to unite faith leaders for justice and compassion. Imam Suleiman has been a trusted leader among us. In the wake of his beautiful prayer to open the House of Representatives on May 9, he has received threats of violence and words of vilification when instead he should have our praise and prayers. We call upon people of good will everywhere to tone down the rhetoric, to replace hate with love, and to build bridges toward the common good.

Faith Forward Dallas at Thanks-Giving Square"
Commenters on the Faith Forward Dallas statement have left comments of support.
The group has invited locals and other leaders to endorse and share the statement. "Endorsed! I love and fully you Imam Omar Suleiman!" wrote Karen Weldes Fry, Spiritual Director at Center of Spiritual Learning in Dallas (CSLDallas), commenting on the statement.
Some commentators do not understand the manufactured controversy.  Heather Mustain writes, "What people are writing is so vile. They obviously didn't even listen to his prayer!" Imam  Omar Suleiman delivered the opening prayer in the US House of Representatives on May, 9th, 2019  at the invitation of Rep. Eddie Bernice Johnson (D) of Dallas, TX.
"I'm grateful for the faith leaders with whom I've built relationships with and served with for years that have shown full support throughout this process. Together we've stood with one another in solidarity in the face of bigotry, and in the support of others in any form of pain. We will not let these dark forces divide us," said Imam Omar Suleiman in response to the outpouring of love from the people he has worked with on the ground, building on peace, love, and justice.
#UnitedForOmar – Imam Omar Suleiman Smeared by Right-Wing News After Opening Prayer at US House of Representatives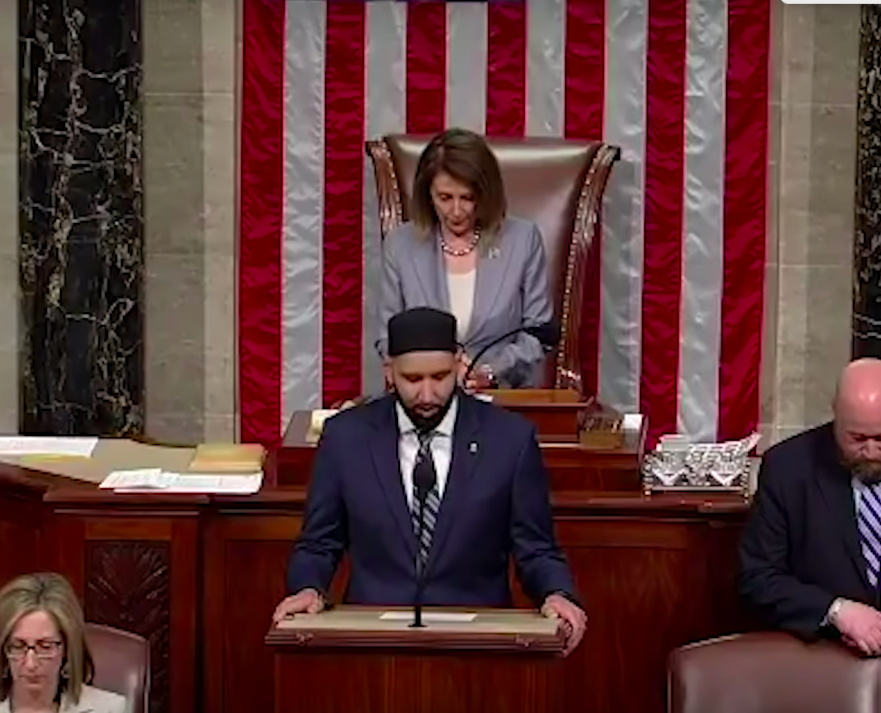 Sh. Omar Suleiman delivered the opening prayer in the US House of Representatives yesterday, May, 9th, 2019  at the invitation of Rep. Eddie Bernice Johnson (D) of Dallas.
Immediately since, right wing media platforms have begun spreading negative coverage of the Imam Omar Suleiman – calling him anti-semitic, a common tactic used to discredit both Muslim activists as well as criticism of Israel policies.

News outlets citing the criticism have pointed to a post from The Investigative Project on Terrorism or ITP, as the source. The  ITP was founded by and directed by noted Islamophobe Steven Emerson. Emerson's history of hate speech has been documented for over two decades.
Since then, the story has been carried forward by multiple press outlets.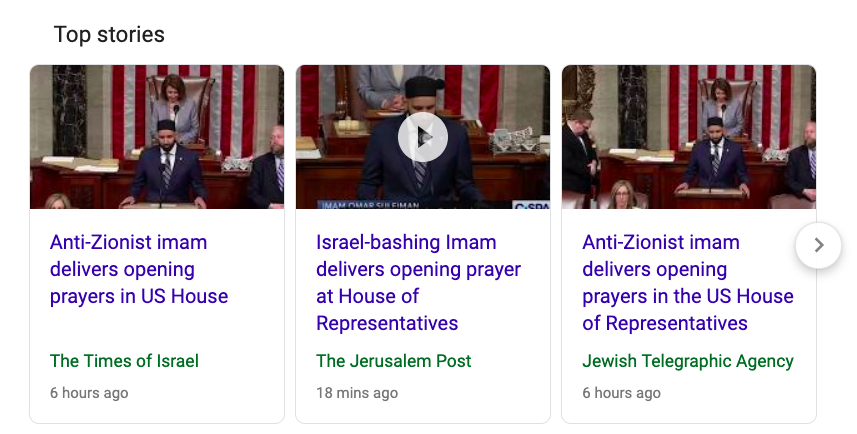 The immediate consequence of this has been the direction of online hate towards what has been Imam Omar Suleiman's long history of preaching unity in the US socio-political sphere.
"Since my invocation I've been inundated with hate articles, threats, and other tactics of intimidation to silence me over a prayer for unity," Imam Omar Suleiman says. "These attacks are in bad faith and meant to again send a message to the Muslim community that we are not welcome to assert ourselves in any meaningful space or way."
MuslimMatters is proud to stand by Imam Omar Suleiman, and we invite our readers to share the evidence that counters the accusations against him of anti-semitism, bigotry, and hate. We would also encourage you to reach out, support, and amplify voices of support like Representative E.B.Johnson, and Representative Colin Allred.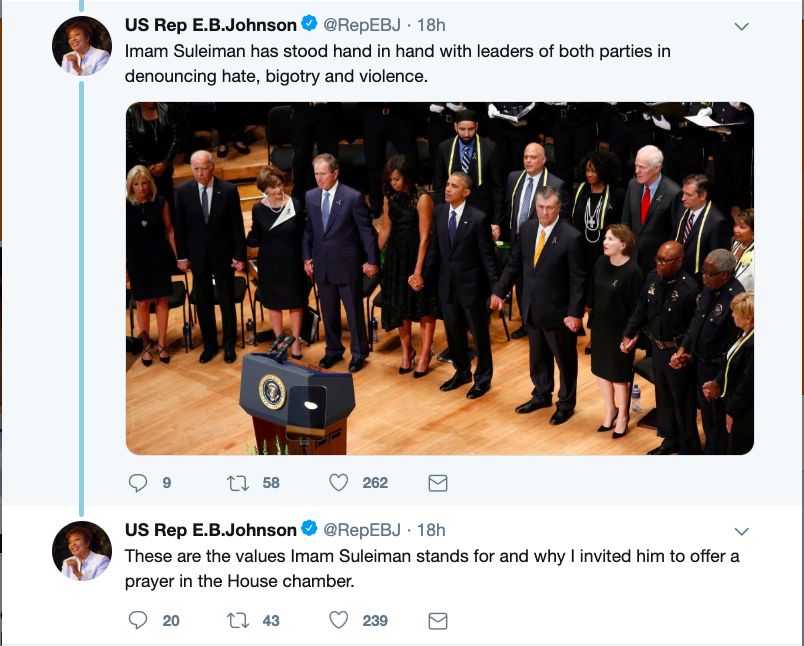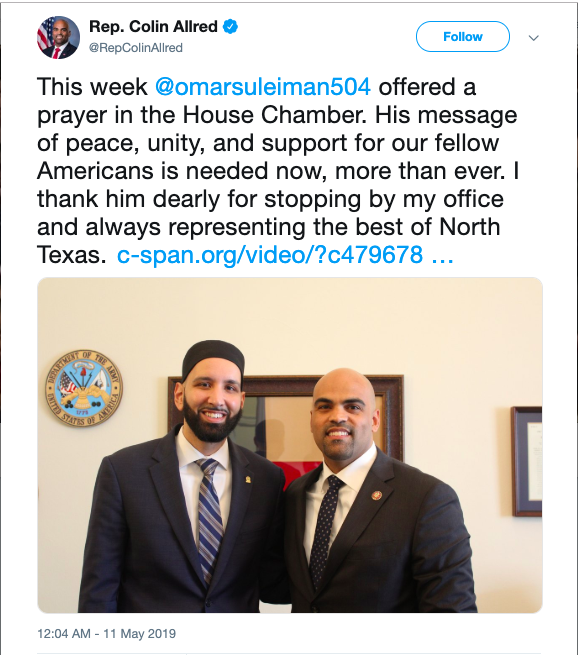 You can help counter the false narrative, simply by sharing evidence of Imam Omar Suleiman's work. It speaks for itself, and you can share it at the hashtag #UnitedForOmar
JazakAllahuKheiran
---
At an interfaith panel discussion, three North Texas religious leaders promoted understanding and dialogue among Muslims, Jews, and Christians. Amid a vexed political and social climate, three religious leaders in North Texas—a priest, an imam, and a rabbi—proved it's possible to come together in times of division. Source: DMagazine.com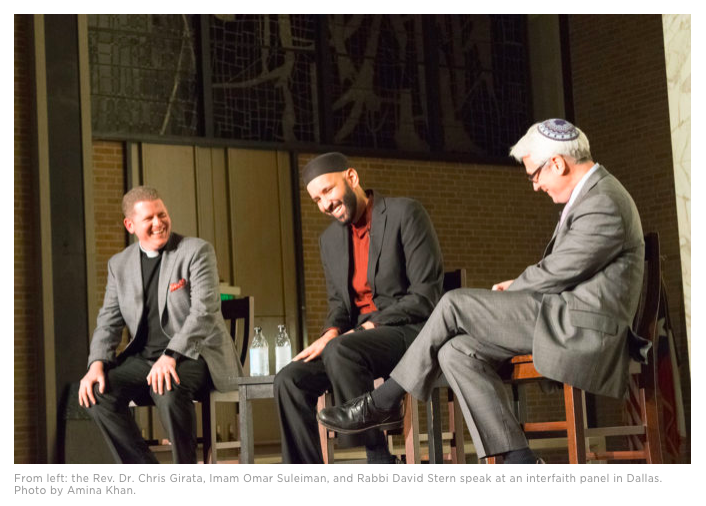 ---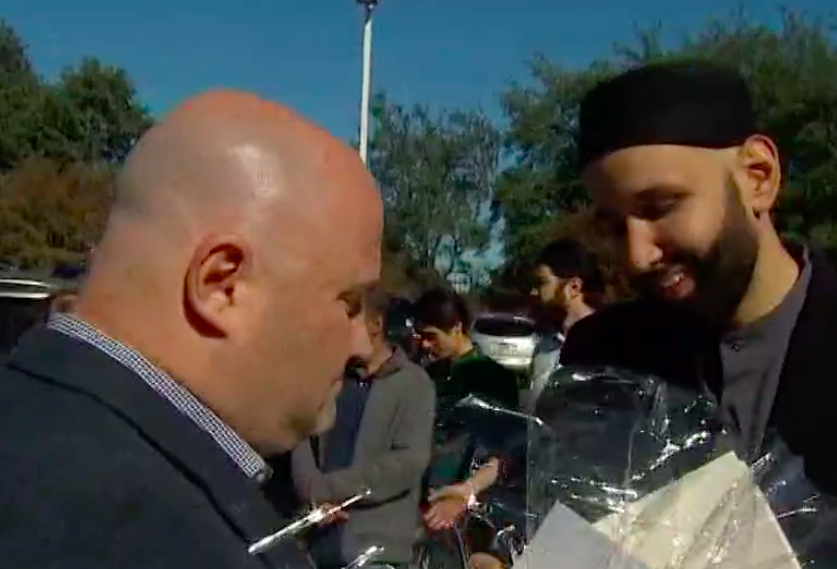 The congregation, led by Imam Omar Suleiman, penned more than 150 cards and letters. source: WFAA News
---
"We must recognize that the white supremacy that threatens the black and Latino communities, is the same white supremacy that spurs Islamophobia and antisemitism," -Imam Omar Suleiman
Source: Bend The Arc
---
"When any community is targeted, they need to see a united faith voice — that all communities come together and express complete rejection of anything that would pit our society against one another more than it already is." -Imam Omar Suleiman
Source: Kera News

---
Source: The Carter Center
---
Imam: After devastating New Zealand attack, we will not be deterred
"My wife and I decided to take our kids to a synagogue in Dallas the night after the massacre at Tree of Life in Pittsburgh to grieve and show solidarity with the Jewish community. My 5-year-old played with kids his age while we mourned inside, resisting hate even unknowingly with his innocence…" Source: CNN
Ben Shapiro Gets Wrecked on the BBC for Racism Against Palestinians and American Jews
Andrew Neil so thoroughly destroys Ben Shapiro that he has a snowflake meltdown and retreats in the middle of the interview to his own safe space, off-camera.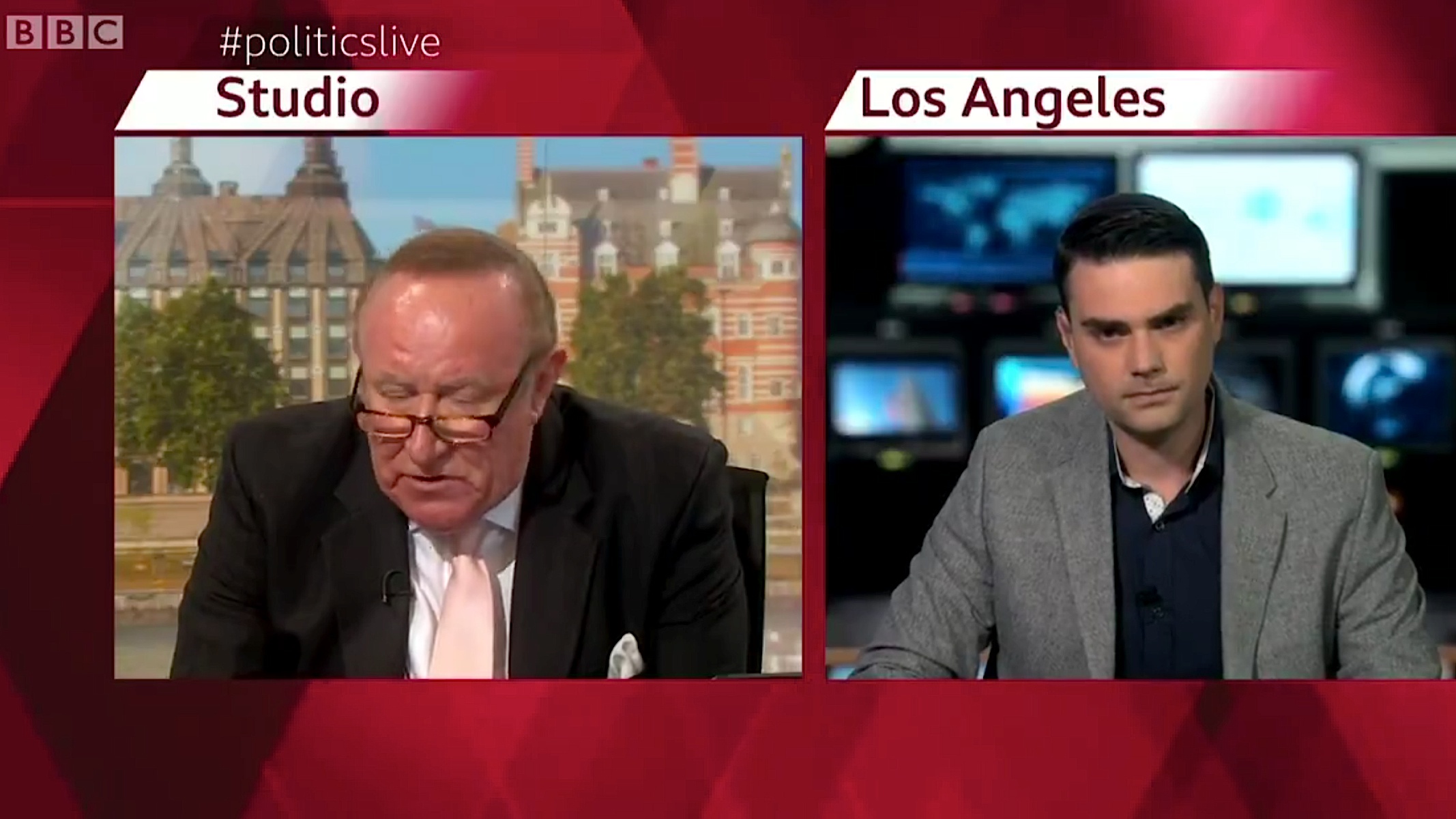 The video plays at the 10:00 minute mark where Neil begins to break down Shapiro on his statements about President Obama, Palestinians, and American Jews.
Let's set the context – popular conservative commentator Ben Shapiro, known for his aggressive debate style in the public square, visited the BBC to promote his new book.  The interviewer, Andrew Neil, after giving Shapiro a chance to introduce himself to the BBC audience, questioned him about the anger both the left and the right feel towards one another, and Shapiro's own role in stoking that anger and polar opposition within the Republican party over many years.

The reason for this line of questioning is because Shapiro claims this to be a problem in American discourse and fails to consider his own contribution to the problem, and it is this hypocrisy that Neil confronts him about.  Shapiro attempts to respond, but is promptly crushed by Neil's responses with Shapiro's own quotes.  For example, he brings up the following tweet written about Palestinians which Shapiro agrees was wrong but hasn't taken down:
Israelis like to build. Arabs like to bomb crap and live in open sewage. This is not a difficult issue. #settlementsrock

— Ben Shapiro (@benshapiro) September 27, 2010
Shapiro futilely attempts to respond, but Neil continues to quote Shapiro until he is left with no choice except to throw ad hominems at his interviewer, which were deftly turned back on Shapiro, leaving him to look even more petty for his attempted condescending remarks.  The end result is the man claiming earlier to welcome a spirited debate quickly found himself running away to lick his wounds.
Perhaps the greatest irony in this debate – Shapiro accused Neil of being an opinion journalist of the left-leaning variety, while Neil is a conservative and chairman of The Spectator, whose editorial outlook is conservative.