Lessons from Ibrahim: Sacrifice and Islamic Schools
By Imam Jawad Rasul
Ibrahim

is mentioned 69 Times in the Quran. He is the only person other than the Prophet Muhammad

who has been presented to us as an example to follow. As Allah says in the Quran: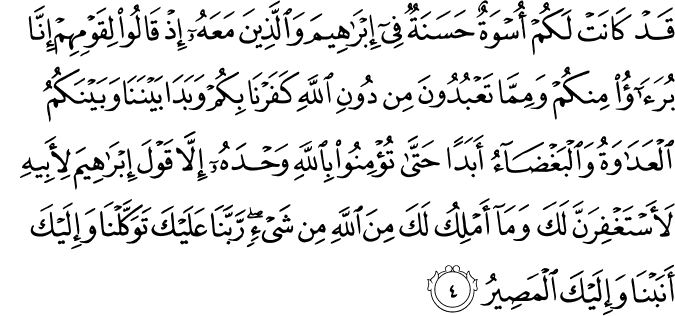 "You already have an excellent example in Abraham and those with him, when they said to their people, "We totally dissociate ourselves from you and ˹shun˺ whatever ˹idols˺ you worship besides Allah. We reject you. The enmity and hatred that has arisen between us and you will last until you believe in Allah alone." The only exception is when Abraham said to his father, "I will seek forgiveness for you, ˹" adding, "but˺ I cannot protect you from Allah at all." ˹The believers prayed,˺ "Our Lord! In You we trust. And to You we ˹always˺ turn. And to You is the final return." (60:4)
He is an example for us in so many different aspects, such as his dawah techniques, his forbearance, his duaas, and his wisdom. But let us take a closer look at his sacrifice, and particularly, his sacrificing of his family.
Most of us are willing to make sacrifices for the things we want, but we have our limits of how much and what we are willing to sacrifice. I have heard people say, "I can sacrifice anything but I cannot sacrifice my family." We work hard for our families, and particularly our children. We love them more than anything else.  Ibrahim

also loved his family very much, especially his son, Ismael

.
According to some scholars, Ibrahim

was in his 80s when Allah gave him Ismael through Hagar. His first test with his family came when Allah commanded him to leave his son Ismael and his mother Hagar in the barren valley of Makkah. Ibrahim

fulfilled the command, sacrificing his young child and Hagar by leaving them in the place Allah commanded. After leaving them, when they could not see him, he stopped and called out to Allah saying,

"Our Lord, I have established some of my offspring in an uncultivated valley, close to Your Sacred House, Lord, so that they may keep up the prayer. Make people's hearts turn to them, and provide them with produce, so that they may be thankful." (14:37)
Ibrahim's Sacrifices
In order for the house to be populated, someone had to make the sacrifice and be the first to set up camp in this area. Allah commanded Ibrahim

and he readily sacrificed his family to establish what was going to become Umm-ul-Qura. It is said that wild animals inhabited this area, and at night Hagar started to hear the animals howling nearby. Arabian leopard, desert lynx, striped hyena and Arabian wolves are just some of the wild animals that are known to have existed in the land now known as Saudi Arabia.
After a few years, another test came. When Ismael grew old enough to start working with his father and accompanying him to places, Allah showed Ibrahim

a dream,

"And when he reached with him [the age of] exertion, he said, "O my son, indeed I have seen in a dream that I [must] sacrifice you, so see what you think." He said, "O my father, do as you are commanded. You will find me, if Allah wills, of the steadfast." (37:102)
Ibrahim

once again readily fulfilled the command of Allah and took Ismael to the place where he intended to sacrifice him. Iblees (Satan) appeared to him at three different points on the way, trying to dissuade him from sacrificing his son and was pelted by Ibrahim

. Ibrahim

laid his son down, covered his eyes, and started to slaughter his son. Allah called out to Ibrahim,




"O Ibrahim, You have (already) fulfilled the vision. Indeed, this is how We reward the good-doers. That was truly a revealing test. And We ransomed his son with a great sacrifice." (37:104-107)
When Ibrahim

opened his eyes, he saw that a ram from Jannah had been slaughtered by him, while Ismael was standing next to him with an angel accompanying him. Ibrahim

sacrificed his own family and literally offered a human sacrifice. However, our Lord and the Lord of Ibrahim

is not one who is merciless. Rather he is the most merciful of all. When he commanded a sacrifice, he rewarded those who offered the sacrifice with the greatest of rewards in this dunya and in the akhirah.
As a result of Ismael

and Hagar being left in Makkah, Allah gave them Zam Zam and sent Jurhum to settle there. Makkah became the mother of cities and its founders were the family of Ibrahim

. Allah saved Ismael

and sacrificed a ram from Jannah instead. Allah also gave Ibrahim

the great status of Khalilullah (The Close Friend of Allah) and made his actions a must do ritual to be followed and imitated by millions of people until the Day of Judgment.
Let's reflect on how well we are following the example of Ibrahim

. It is not uncommon that situations arise in the work of dawah that require serious sacrifices. Imams, teachers, presidents, and other volunteers often find themselves in these situations.One such example is when it comes to starting and running Islamic schools. I have had the honor of being involved in starting two full-time Islamic schools and I have seen the extreme ups and downs that come with that. Hypocritical double standards of parents and community members as well as the unwillingness to sacrifice are two things that bother me the most.
Hypocritical Double Standards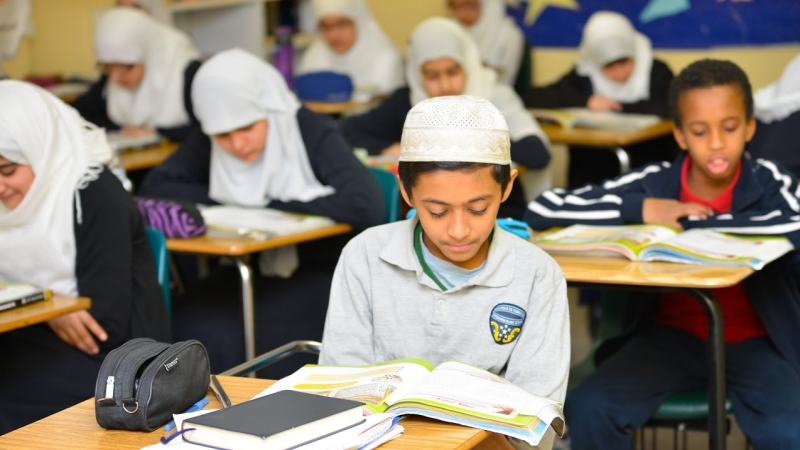 It is completely understandable that parents want the best teachers, the best facility, the best curriculum, the best security, the best extra-curricular activities, and so on. Many parents choose to not support an Islamic school due to the inability of most (if not all) Islamic schools to be able to provide the most perfect experience for a child. The thing that bothers me is when a parent is willing to forego so much of those demands when it comes to choosing a regular public or private school. One would think that perhaps having to pay tuition is the reason, but I have seen quite a few parents paying more for a private school and demanding less from them. However, Allah describes this dilemma clearly in Surah Al-Baqarah as he says:

"Shaitaan threatens you with poverty and orders you to immorality, while Allah promises you forgiveness from Him and bounty. And Allah is all-Encompassing and Knowing." (2:268)
Parents feel that they will go broke and lose their children to something really bad if they send them to Islamic schools, but the same parents have no problem spending the same or more money on things which have no lasting benefit for this life or the next. The day parents apply the same standards to both Islamic and secular schools is the day they will realize that Islamic schools, in most cases, are a better deal, even with all their shortcomings, in this world and the next.
Unwillingness to Sacrifice
Closely related to the above point is the unwillingness of parents to sacrifice for the greater good. Ibrahim

must not have wanted to slaughter his child, but he did it knowing that if Allah is asking, it must be for something good. Parents in our time also need to understand that investing their money and their children in Islamic schools, and helping with constructive feedback, is no less than a sacrifice for the greater good. It is similar to supporting ethical businesses and giving them business for the sake of their survival, even though we may not need a particular product of theirs. Also, just the way Ismail

was NOT actually sacrificed; your children will also come out better than their peers, if the intentions are in the right place.
In conclusion, I would like us all to reflect on how much we are willing to sacrifice for Allah, His Messenger, and for Islam. If we are willing to sacrifice only what's extra, that may not cut it. We must be willing to sacrifice that which we love the most. This is our Jihad in this time and place here in the west. Allah says in Surah Tawbah: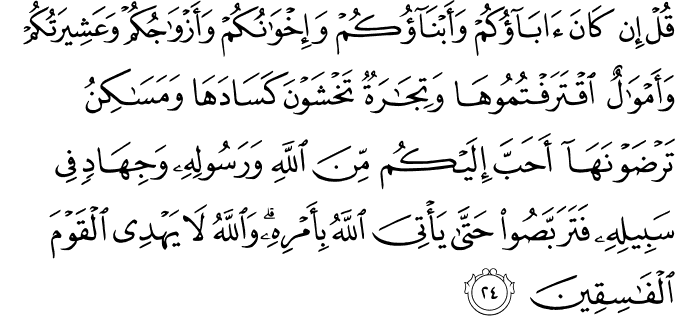 "Say, [O Muhammad], "If your fathers, your sons, your brothers, your wives, your relatives, wealth which you have obtained, commerce wherein you fear decline, and dwellings with which you are pleased are more beloved to you than Allah and His Messenger and jihad in His cause, then wait until Allah executes His command. And Allah does not guide the defiantly disobedient people." (9:24)
Disclaimer: I am fully aware that some Islamic schools have some serious problems. I am not advocating blind sacrifice. I am simply advocating that each person consider the local Islamic school to be his or her OWN project that must succeed. Instead of just criticizing, offer constructive criticism with the purest of intention. Also, support your local Islamic school even if you have to make some sacrifices.
---
Imam Jawad Rasul was born in Pakistan and grew up in New York City. He memorized the Quran at Muslim Center of New York between the ages of 13-15 and then began Islamic Studies privately. He was Imam of Masjid At-Taqwa in Atlantic City, New Jersey, where he remained four years. Imam Jawad also holds a bachelor's degree in Media and Communications Arts from City College of New York. He is currently the Imam of the Islamic Society of Augusta.
How to Teach Your Kids About Easter
Don't tell my dad this, but growing up, I was sure I wanted to be a Christian. It had nothing to do with the theology though, it was – really and truly – all about the chocolate.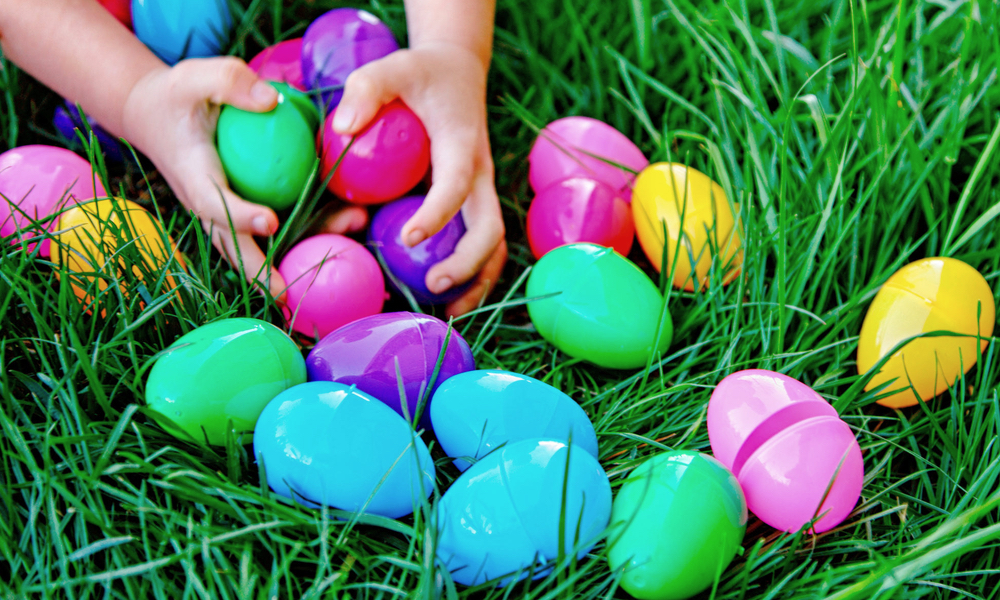 Don't tell my dad this, but growing up, I was sure I wanted to be a Christian. It had nothing to do with the theology though, it was – really and truly – all about the chocolate.
Don't get me wrong, I did not grow up in any sort of conservative, chocolate-deprived bubble. My mother was – and still is – a Christian. My father was – and still is – Muslim, and our home was a place where two faiths co-existed in unapologetic splendor.
My mother put up her Christmas tree every year.  We children, though Muslim, received Easter baskets every year. The only reason why I wished I was Christian too, even though I had no less chocolate in my life than other children my age, was because of the confusing guilt that I felt around holiday time.
I knew that the holidays were my mother's, and we participated to honor and respect her, not to honor and respect what she celebrated. As a child though, I really didn't understand why we couldn't celebrate them too, even if it was just for the chocolate.
As an adult I've learned that I'm not alone in this conflicted enthusiasm for the holidays of others. Really, who doesn't like treats and parties and any excuse to celebrate? As a parent though, I've decided that the best policy to use with my children is respectful honesty about where we stand with regard to other religions.
That's why when my children asked me about Easter, this is what I told them:
The holidays of every religion are the right of the people who follow them. They are as precious to them as Eid and Ramadan are to us.
Part of being a good Muslim is protecting the rights of everyone around us, no matter what their religion is. There is nothing wrong with non-Muslims celebrating their religious non-Muslim holidays.
We don't need to pretend they're not happening. Respectful recognition of the rights of others is part of our religion and our history. We don't have to accept what other people celebrate in order to be respectful of their celebrations.
The problem with Muslims celebrating non-Muslim religious holidays is that we simply don't believe them to be true.
So when it comes to Easter specifically, we break it down to its smaller elements.
There is nothing wrong with chocolate. There is nothing wrong with eggs. There is nothing wrong with rabbits, and no, they don't lay eggs.
There is nothing wrong with Easter, but we do not celebrate it because:
Easter is a celebration based on the idea the Prophet Isa

was Allah's son, who Allah allowed to be killed for our sins. Easter is a celebration of him coming back to life again.
Depending on how old your child is, you may need to break it down further.
Allah

Created the sun, Allah is not a person whose eyes can't even look directly at the sun. Allah Created space, Allah is not a person who can't survive in space. Allah Created fire, Allah is not a person who cannot even touch fire. Allah is not a person, He does not have children as people do. Prophet Jesus [alayis] was a messenger of Allah, not a child of Allah.
Allah is also the Most-Merciful, Most-Forgiving, and All-Powerful. When we make mistakes by ourselves, we say sorry to Allah and try our best to do better. If we make mistakes all together, we do not take the best-behaved person from among us and then punish him or her in our place.
Allah is Justice Himself. He is The Kindest, Most Merciful, Most Forgiving Being in the entire universe. He always was, and always will be capable of forgiving us. No one needed to die in order for Allah to forgive anyone.
If your teacher failed the best student in the class so that the rest of the students could pass, that would not be fair, even if that student had offered that. When people say that Allah sacrificed his own son so that we could be forgiven, they are accusing Allah of really unfair things, even if they seem to think it's a good thing.
Even if they're celebrating it with chocolate.
We simply do not believe what is celebrated on Easter. That is why we do not celebrate Easter.
So what do we believe?
Walk your child through Surah Ikhlas, there are four lines and you can use four of their fingers.
Allah is One.
Allah doesn't need anything from anyone.
He was not born, and nor was anyone born of Him. Allah is no one's child, and no one is Allah's child
There is nothing like Allah in the universe
Focus on what we know about Allah, and then move on to other truths as well.
Christians should absolutely celebrate Christian holidays. We are happy for them.
We do not celebrate Christian holidays, because we do not accept what they're celebrating.
We are very happy for our neighbors and hope they have a nice time.
When your child asks you about things like Christmas, Easter, Valentines, and Halloween, they're not asking you to change religions. They're asking you for the chance to participate in the joy of treats, decorations, parties, and doing things with their peers.
You can provide them these things when you up your halal holiday game. Make Ramadan in your home a whole month of lights, people, and happy prayer. Make every Friday special. Make Eid amazing – buy gifts, give charity, decorate every decorat-able surface if you need to – because our children have no cause to feel deprived by being Muslim.
If your holidays tend to be boring, that's a cultural limitation, not a religious one. And if you feel like it's not fair because other religions just have more holidays than we do, remember this:
Your child starting the Quran can be a celebration
Your child finishing the Quran can be a celebration
Your child's first fast can be a celebration
Your child wearing hijab can be a celebration
Your child starting to pray salah can be a celebration
Your children can sleep over for supervised qiyaam nights
You can celebrate whatever you want, whenever you want, in ways that are fun and halal and pleasing to Allah.
We have a set number of religious celebrations, but there is no limit on how many personal celebrations we choose to have in our lives and families. Every cause we have for gratitude can be an opportunity to see family, eat together, dress up, and hang shiny things from other things, and I'm not talking about throwing money at the problem – I'm talking about making the effort for its solution.
It is easy to celebrate something when your friends, neighbors, and local grocery stores are doing it too. That's probably why people of many religions – and even no religion – celebrate holidays they don't believe in. That's not actually an excuse for it though, and as parents, it's our responsibility to set the right example for our children.
Making and upholding our own standards is how we live, not only in terms of our holidays, but in how we eat, what we wear, and the way we swim upstream for the sake of Allah.  We don't go with the flow, and teaching our children not to celebrate the religious holidays of other religions just to fit in is only one part of the lesson.
The other part is to extend the right to religious freedom – and religious celebration – to Muslims too. When you teach your children that everyone has a right to their religious holidays, include Muslims too. When you make a big deal out of Ramadan include your non-Muslim friends and neighbors too, not just because it's good dawah, but because being able to share your joy with others helps make it feel more mainstream.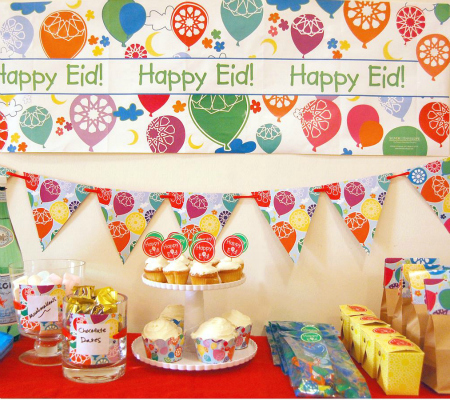 Your Muslim children can give their non-Muslim friends Eid gifts. You can take Eid cookies to your non-Muslim office, make Ramadan jars. You can have Iftar parties for people who don't fast.   Decorate your house for Ramadan, and send holiday cards out on your holidays.
You can enjoy the elements of celebration that are common to us all without compromising on your aqeedah, and by doing so, you can teach your children that they don't have to hide their religious holidays from the people who don't celebrate them.  No one has to. And you can teach your children to respect the religions of others, even while disagreeing with them.
Judaism, Christianity, and Islam are bound by a common thread, and there is much we come together on. Where the threads separate though, is still a cause for celebration. Religious tolerance is part of our faith, and recognizing the rights of others to celebrate – or abstain from celebration – is how we celebrate our differences.
MuslimARC Releases Guide for White Muslims By White Muslims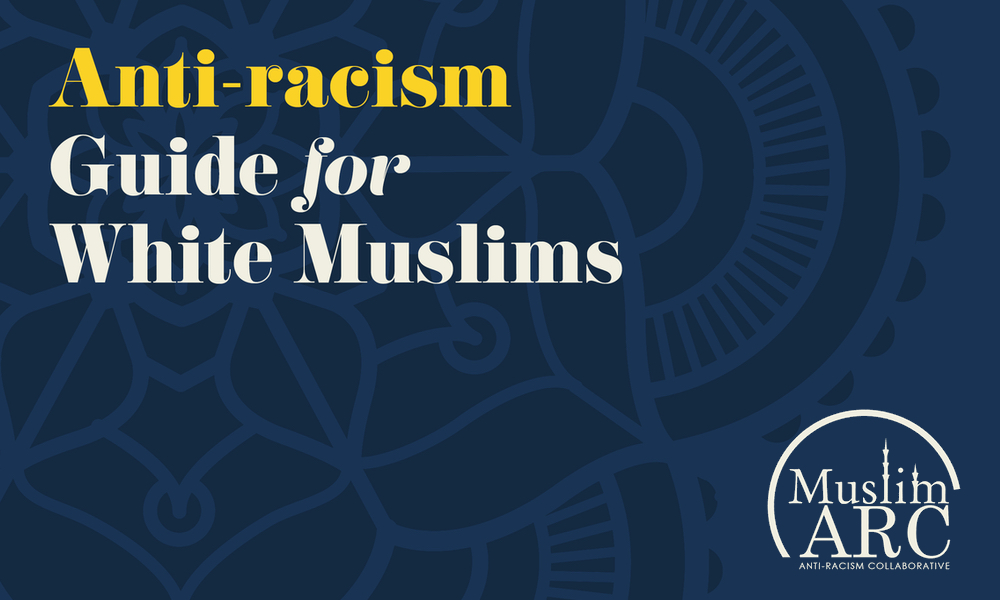 "As people who are both white and Muslim, we straddle two identities -one privileged in society and the other, not. We experience Islamophobia to varying degrees, sometimes more overtly depending on how we physically present, and at the same time we have been socialized as white people in a society where white people hold more social power than People of Color (POC). The focus of the toolkit is to provide resources and information that will help guide us toward good practices and behaviours, and away from harmful ones, as we challenge racism within the Muslim community (ummah) and in society at large." MuslimARC Guide
As part of our mission to provide education and resources to advance racial justice within the Muslim community, the Muslim Anti-Racism Collaborative (MuslimARC) is producing a series of community-specific guides to be a resource for those who want to engage in anti-racism work within the Muslim community.
The first in this series, the MuslimARC Guide for White Muslims, has been written specifically for white Muslims, by white Muslims under the guidance of the anti-racist principles of MuslimARC. It is a tool and resource for engaging in conversations about racism and provides guidance in how to truly be a good ally to Muslims of color in this anti-racism work.
The Guide was developed by two white Muslim members of MuslimARC, myself (Bill Chambers) and Lindsay Angelow. The experiences, approaches, recommendations, and resources are based upon our own experiences, those of other white Muslims we have encountered or spoken to, and research and analysis by others who have been cited in the Guide.
We cannot always be aware when we say or write something that reflects our own white privilege and need to be open to feedback from Muslims of color. In our own experience in developing this Guide, we worked to practice that approach when we received feedback from other MuslimARC members and incorporated their analysis to strengthen this work.
My own personal process of helping to develop this Guide made me aware of the many times I was in discussions with Muslims of color especially women, when I had to not only check my white privilege, but also the white male privilege that comes with it. It is difficult not to feel defensive when you realize you may have said too much and listened too little on a topic that is really not about you. As one behavior the Guide suggests we avoid, "Don't assume what People of Color need and try to swoop in to deliver. Instead, ask what you can do."
For the white Muslim audience of the Guide, in reading this you will automatically feel defensive either that others may do these things but not me or that none of this behavior is based on racism or white privilege. Our advice is to examine that defensiveness and take the opportunity not to act on it, but instead, consider some of the alternative approaches we recommend in the Guide. 
The Guide provides a review of our role in addressing racism in the ummah; description of some of the ways white Muslims perpetuate racism; and specifically, how to be actively anti-racist in our work. A list of educational resources is provided including available training; articles on white Muslims and allyship; and guides to anti-racist parenting. A last and very important part of the Guide is organizations like MuslimARC that you can be involved in to do this anti-racist work.
"People, We have created you all from a single man and a single woman, and made you into races and tribes so that you should get to know one another." (49:13) One of our most important purposes is to really "get to know" the different races and groups Allah has put us in, all the time knowing we all come from the same source and will return together. If this Guide does anything, let it inspire self-knowledge about our white privilege as Muslims and help us to get to know how to be better allies to our brothers and sisters of color.
You can find the  #AntiRacismGuide for White Muslims at http://www.muslimarc.org/whitemuslimguide
Further reading:
White Activism Is Crucial In The Wake of Right-Wing Terrorism
Are You Prepared for Marriage and Building a Family?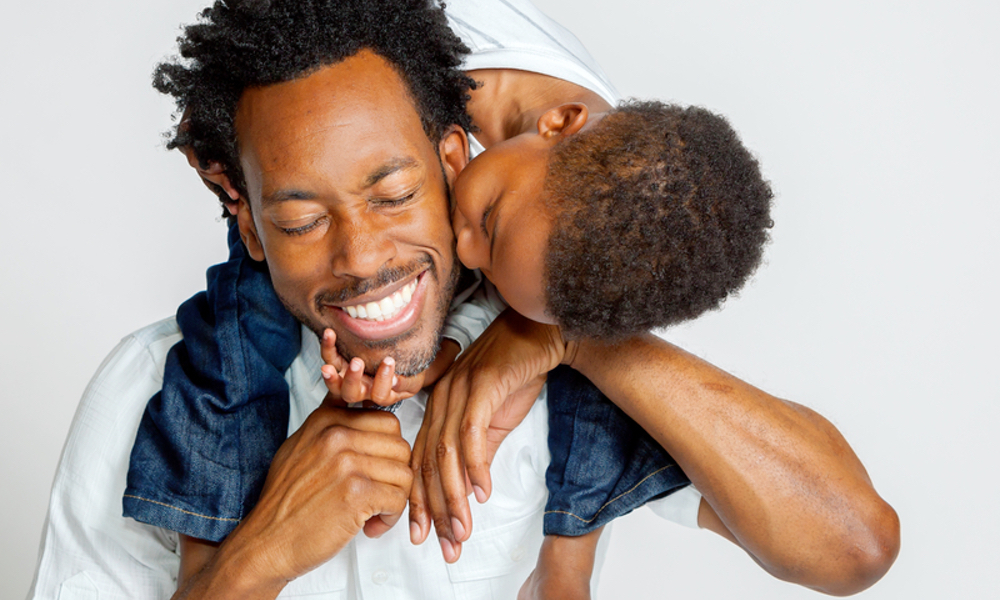 High School is that time which is ideal for preparing yourself for the rest of your life. There is so much excitement and opportunity. Youth is a time of energy, growth, health, beauty, and adventure. Along with the thrill of being one of the best times of life, there is a definite lack of life experience. In your youth, you end up depending on your own judgments as well as the advice of others who are further along the path. Your own judgments usually come from your own knowledge, assumptions, likes, and dislikes. No matter how wise, mature, or well-intended a youth is compared to his or her peers, the inherent lack of life experience can also mislead that person to go down a path which is not serving them or their loved ones best. A youth may walk into mistakes without knowing, or get themselves into trouble resulting from naivety.
Salma and Yousef: 
Salma and Yousef had grown up in the same community for many years. They had gone to the same masjid and attended youth group together during high school. After going off to college for a few years, both were back in town and found that they would make good prospects for marriage for each other. Yousef was moving along his career path, and Salma looked forward to her new relationship. Yousef was happy to settle down. The first few months after marriage were hectic: getting a new place, organizing, managing new jobs and extended family. After a few months, they began to wonder when things would settle down and be like the vision they had about married life.
Later with valuable life experience, we come to realize that the ideas we had in our youth about marriage and family are far from what are they are in reality. The things that we thought mattered in high school, may not matter as much, and the things that we took for granted really matter a lot more than we realized. In retrospect, we learn that marriage is not simply a door that we walk through which changes our life, but something that each young Muslim and Muslima should be preparing for individually through observation, introspection, and reflection. In order to prepare for marriage, each person must intend to want to be the best person he or she can be in that role. There is a conscious process that they must put themselves through.
This conscious process should begin in youth. Waiting until marriage to start this process is all too late. We must really start preparing for marriage as a conscious part of our growth, self-development, and character building from a young age. The more prepared we are internally, the better off we will be in the process of marriage. The best analogy would be the stronger the structure and foundation of a building, the better that building will be able to serve its purpose and withstand the environment. Another way to think of this process is like planting a seed. We plant a seed long before the harvest, but the more time, care, and attention, the more beautiful and beneficial the fruits will be.
Sarah and Hasan:
Hasan grew up on the East Coast. He had gone to boarding school all through high school, especially since his parents had died in an unfortunate accident. His next of kin was his aunt and uncle, who managed his finances, and cared for him when school was not in session. Hasan was safe and comfortable with his aunt and uncle, but he always felt there was something missing in his life. During his college years, Hasan was introduced to Sarah and eventually they decided to get married.
The first week of his new job, Hasan caught a really bad case of the flu that made it hard for him to get his projects done. Groggy in bed, he sees Sarah appear with a tray of soup and medicine every day until he felt better. Nobody had ever done that for him before. He remembered the "mawaddah and rahmah" that the Quran spoke of.
Knowledge, Skills, and Understanding:
The process of growing into that person who is ready to start a family is that we need to first to be aware of ourselves and be aware of others around us. We have to have knowledge of ourselves and our environment. With time, reflection and life experience, that knowledge activates into understanding and wisdom. This activity the ability to make choices between right and wrong, and predict how our actions will affect others related to us.
Preview:
This series is made up of several parts which make up a unit about preparation for family life. Some of the topics covered include:
The Family Unit In Islam
Characteristics of an Individual Needed for Family Life
The Nuclear Family
The Extended Family
Hamza and Tamika
Tamika and Hamza got married six months ago. Tamika was getting her teacher certification in night school and started her first daytime teaching job at the local elementary school. She was shocked at the amount of energy it took to manage second graders. She thought teaching was about writing on a board and reading books to kids, but found out it had a lot more to do with discipline, speaking loudly, and chasing them around. This week she had state testing for the students and her finals at night school. She was not sure how to balance all this with her new home duties. One day feeling despair, she walked in her kitchen and found a surprise. Hamza had prepared a beautiful delicious dinner for them that would last a few days, and the home looked extra clean too. Tamika was pleasantly surprised and remembered the example of our Prophet Muhammad

.
The Family Unit in Islam
We always have to start with the beginning. We have to ask, "What is the family unit in Islam?" To answer this we take a step further back, asking, "What is the world-wide definition of family? Is it the same for all people? Of course not. "Family" means a lot of different things to a lot of different people across the world. As Muslims, what family means to us, is affected by culture and values, as well as our own understanding of Islam.
The world-wide definition of family is a group of people who are related to each other through blood or marriage. Beyond this point, is where there are many differences in views. Some people vary on how distantly related to consider a family. In some cultures, family is assumed to be only the nuclear family, consisting of mom dad and kids only. Other cultures assume family includes an extended family. Another large discrepancy lies in defining family roles and responsibilities. Various cultures promote different behavioral norms for different genders or roles in the family. For example, some cultures promote women staying at home in a life of luxury, while others esteem women joining the workforce while raising their kids on the side. Living styles vary too, where some cultures prefer individual family homes, while in other parts of the world extended families live together in large buildings always interacting with each other.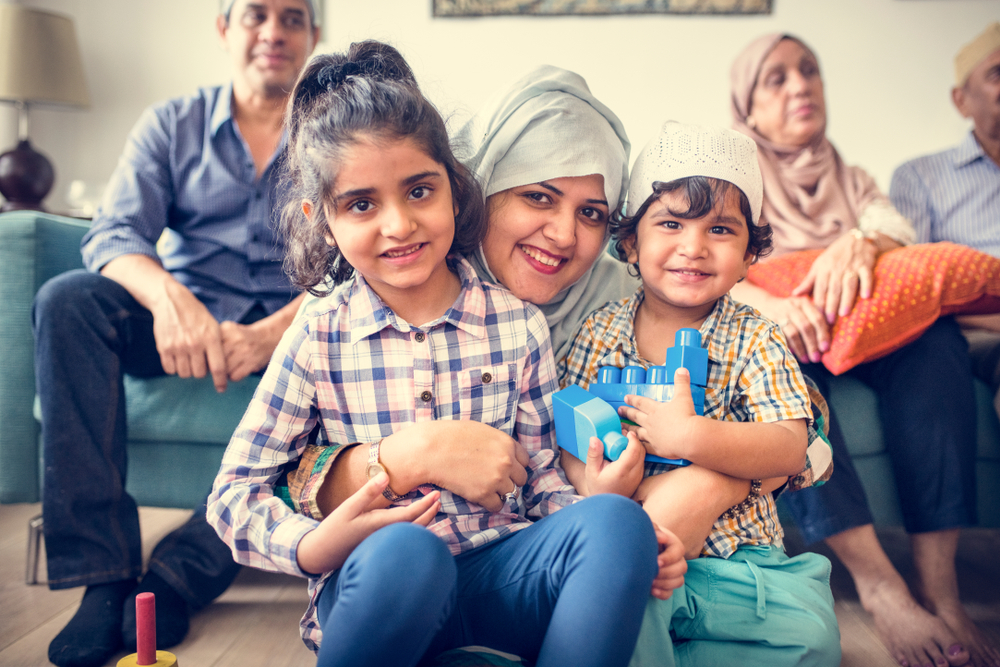 Layla and Ibrahim   
Layla and Ibrahim met at summer retreat where spirituality was the focus, and scholars were teaching them all day. Neither of them was seriously considering getting married, but one of the retreat teachers thought they might make a good match. It seemed like a fairytale, and the retreat gave them an extra spiritual high. Layla could not imagine anything going wrong. She was half Italian and half Egyptian, and Ibrahim came from a desi family. Soon after the nikah, Layla moved across the country into Ibrahim's family home, where his parents, three siblings, and grandmother lived.  Come Ramadan, Layla's mother-in-law, Ruqayya, was buying her new clothes to wear to the masjid. It was out of love, but Sarah had never worn a shalwar kameez in all her life! Ruqayya Aunty started getting upset when Layla was not as excited about the clothes as she was.
As Eid approached, Layla had just picked a cute dress from the department store that she was looking forward to wearing. Yet again, her mother-in-law had other plans for her.
Layla was getting upset inside. It was the night before Eid and the last thing she wanted to do was fight with her new husband. She did not want that stress, especially because they all lived together. At this point, Layla started looking through her Islamic lecture notes. She wanted to know, was this request from her mother-in-law a part of the culture, or was it part of the religion?
Marriage
The basis of all families, undoubtedly, is the institution of marriage. In the Islamic model, the marriage consists of a husband and a wife. In broad terms, marriage is the commitment of two individuals towards each other and their children to live and work together to meet and support each other's needs in the way that they see fit. What needs they meet vary as well, from person to person, and family to family. The marriage bond must sustain the weight of fulfilling first their own obligations toward each other. This is the priority. The marriage must also be strong enough to hold the responsibility of raising the kids, and then the extended family.
How are we as Muslims unique and what makes us different from other family models? We are responsible to Allah. The end goals are what makes us different, and the method in which we work. In other family systems, beliefs are different, goals are different, and the motives are different. Methods can especially be different. In the end, it is quite a different system. What makes us better? Not because we say we are better or because we automatically feel better about ourselves due to a misplaced feeling of superiority. But instead it is because we are adhering to the system put in place by the most perfect God, Allah, the Creator and Sustainer of all the worlds, the One Who knows best what it is we need.
Family Roles:
Each person in the family has a role which Allah

has meant for them to have, and which ethics and common sense tell us to follow. However, our nafs and ego can easily misguide us to live our family life in the wrong way, which is harmful and keeps us suffering. Suffering can take place in many ways. It can take place in the form of neglect or abuse. In the spectrum of right and wrong, Allah

tells us that we are a nation meant for the middle path. So we should not go to any extreme in neglect or abuse.
What are the consequences of mishandling our family roles? Allah

calls this type of wrongdoing "transgression" or "oppression". There are definitely consequences of oppression, abuse, and neglect. There are worldly consequences which we feel in this life, and there are long term consequences in the Akhirah.
Razan and Farhaan
Razan and Farhan had gotten married two years ago. Since they were from different towns, Razan would have to move to Farhaan's hometown. On top of the change of married life, Razan felt pangs of homesickness and did not know many people in the new town. However, Farhaan did not realize what she was going through. He still had the same friends he grew up with for years. They had a die-hard routine to go to football games on Friday night and play basketball on Saturday at the rec center.
Razan was losing her patience. How could he think it was okay to go out with his friends twice on the weekend? Yet he expected her to keep the home together? Her blood started to boil. What does Islam say about this?
Mawaddah and Rahma
The starting point of a family is a healthy relationship between the husband and wife. Allah SWT prescribed in Surah 25: verse 74, that the marriage relationship is supposed to be built on Mawaddah (compassion) and Rahma (mercy). A loving family environment responds to both the needs of the children and the needs of parents. Good parenting prepares children to become responsible adults.
Aliyaah and Irwan
Aliyaah and Irwan had homeschooled their twin children, Jannah and Omar, for four years. They were cautious about where to admit their children for the next school year. Aliyaah felt that she wanted to homeschool her children for another few years. There were no Islamic Schools in their town. Irwan wanted to let his kids go to public schools. He felt that was nothing wrong with knowing how things in the real world are. However, every conversation they started about this issue ended up into a conflict or fight. This was beginning to affect their relationship.
Parenting
Two significant roles that adults in a family play are that they are married and they are parents. It is important that parents work to preserve and protect their marital relationship since it is really the pillar which supports the parenting role. Parenting is a role which Allah

directly addresses in our religion. We will be asked very thoroughly about this most important role which we will all play in our lives.
There is a hadith in which the Prophet Muhammad

reminds us,
"All of you are shepherds and responsible for your wards under you care. The imam is the shepherd of his subjects and is responsible for them, and a man is a shepherd of his family and is responsible for them. A woman is the shepherd of her husband's house and is responsible for it. A servant is the shepherd of his master's belongings and is responsible for them. A man is the shepherd of his father's property and is responsible for them". (Bukhari and Muslim)
Islam has placed a lot of importance on the family unit. A family is the basic building block of Islam. A strong family can facilitate positive social change within itself and the society as a whole. The Quran asserts that human beings are entrusted by their Creator to be his trustees on Earth, thus they need to be trained and prepared for the task of trusteeship (isthiklaf).
Asa youth, it is important to make a concerted effort to develop our family skills so that we grow into that role smoothly. Proper development will prepare a person emotionally, mentally, spiritually, and physically for marriage and family life.
Mona Islam is a youth worker, community builder, motivational speaker, writer, and author. For the past 25 years, Sr. Mona has been on the forefront of her passion both locally and nationally, which is inculcating character development in youth (tarbiyah).  Sr. Mona has extensive knowledge of Islamic sciences through the privilege of studying under many scholars and traveling worldwide.  An educator by profession, she is a published author, completed her masters in Educational Admin and currently doing her doctorate in Curriculum and Instruction. Sr. Mona is married with five children and lives in Houston, TX.