Cuts to Healthcare Mean Assisted Suicide For Many Trump Supporters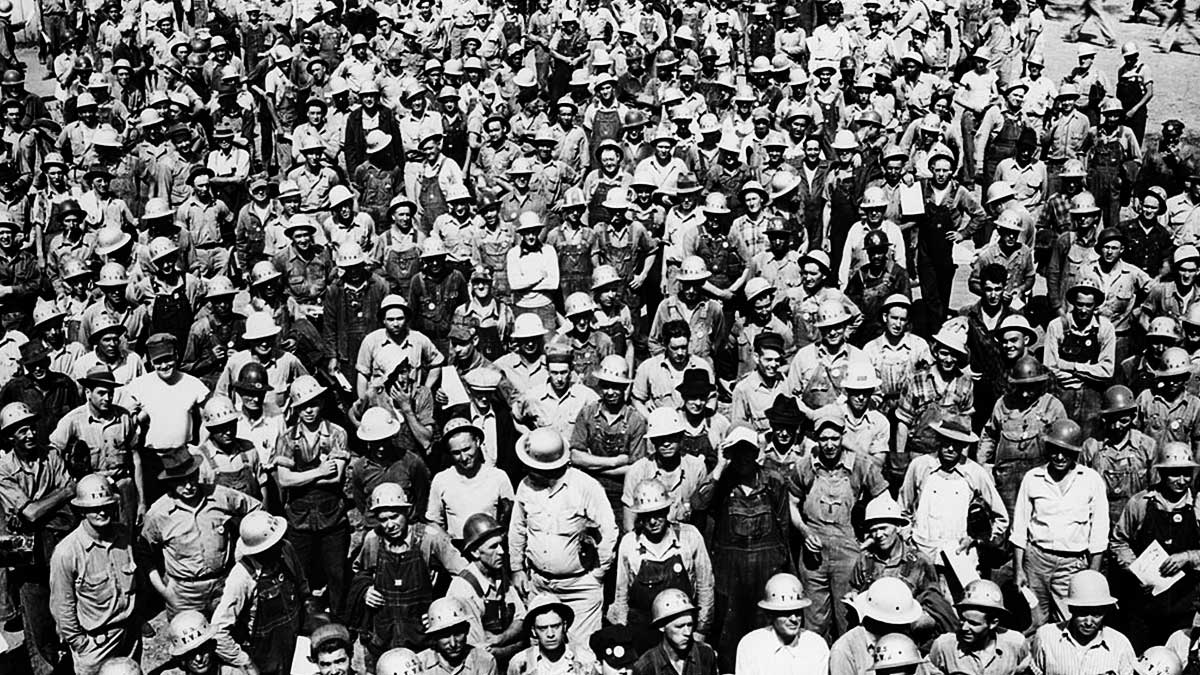 Our newly minted 24 minute media cycle keeps us all on our heels. If you're like me, you wake up in the morning fully embracing the possibility of nuclear holocaust, ripping satire and an incalculable amount vitriol coming from our President's mouth. Just weeks ago, the former leader of our nation, Barack H. Obama, had "tapped the Trump tower phones." Before that 3,000,000 people illegally voted opposing Trump, in a Trump win over Hillary Clinton. There's a well full of examples I could cite. Lies seem to have weaved themselves so cleanly into our daily political diet, that it's almost become second nature authenticate even what our eyes clearly see. I maintain, it isn't one particular untruth that sends the dominoes falling with this administration, but in regards to its crusade against healthcare, the future is folding into a gray.
Assuming that in the next 2 to 3 years the Affordable Healthcare act signed into law by Barack Obama, is repealed and replaced, people will suffer. The GOP's replacement plan is being championed as a free market blessing, a mighty medical unicorn that undoes the "socialist tyranny" Obamacare represents. The lie they are telling their base, the invigorated masses who stood haughtily in rallies all of over the country, about healthcare reform, is a fib they can't live with, literally. Repeals of Obamacare will kill the very people who benefit most from its mandates, and only fatten the pockets of the heroes they trusted to make America great again.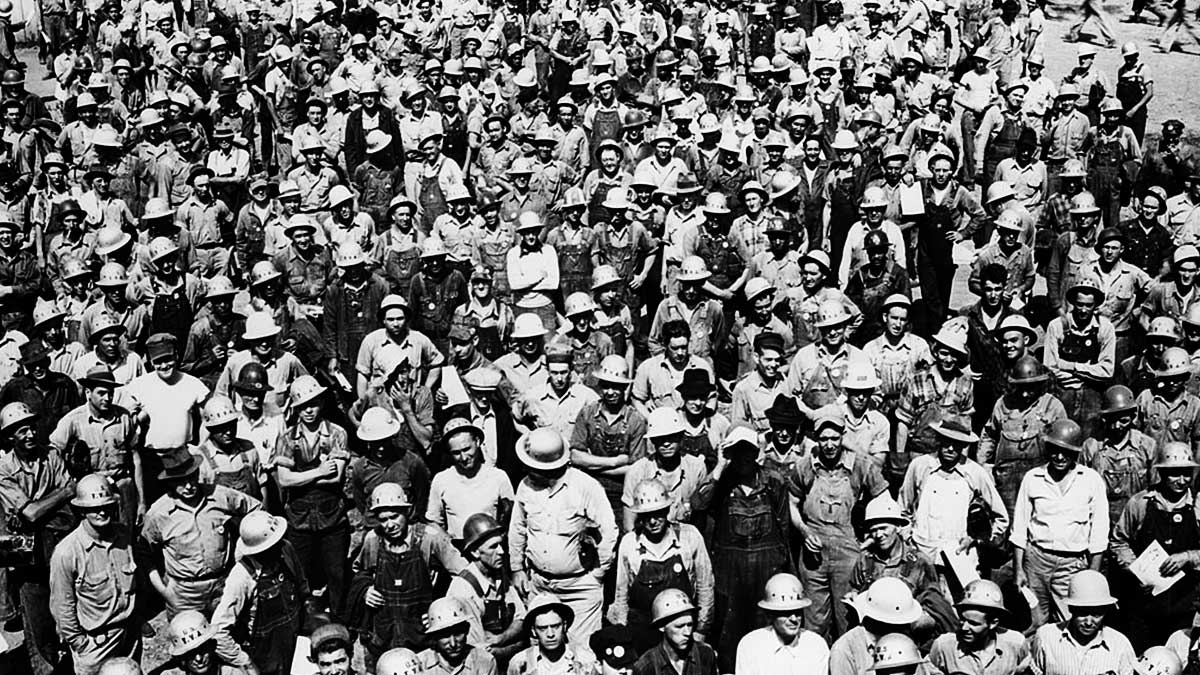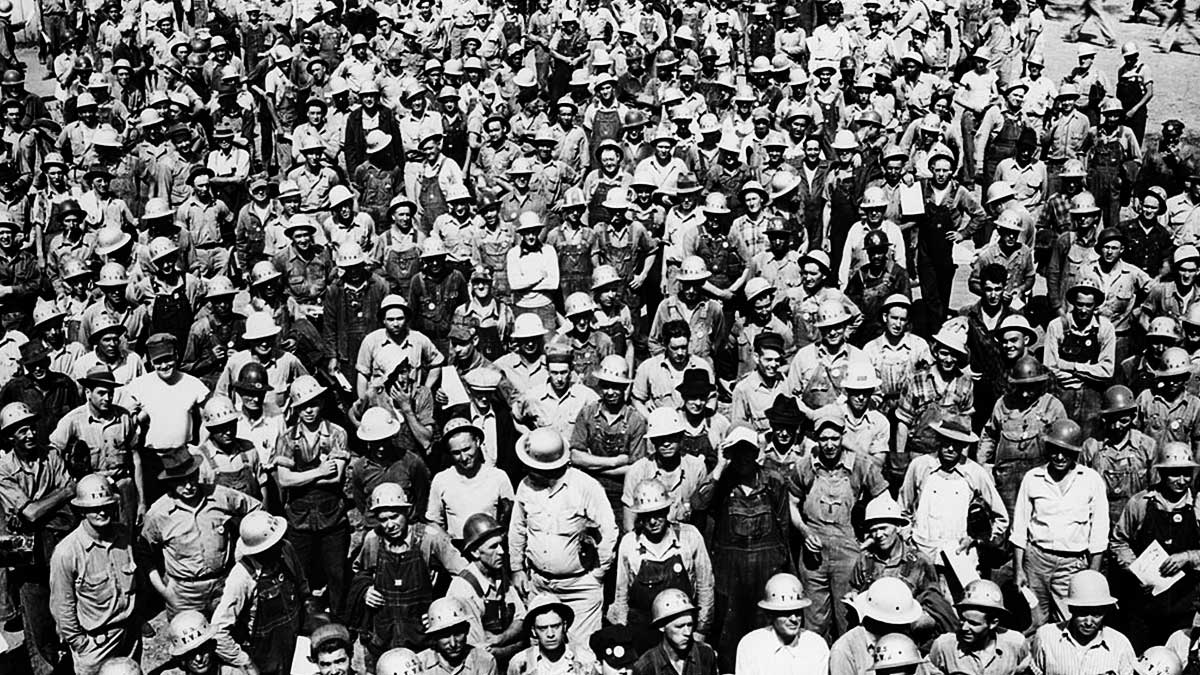 Against Interests but not Against the Grain
We'll never escape the fact that when positioned to decide who would govern America, 63% of white men and 53% of white women voted for Donald Trump.
The 2016 election was said to have been the race for the working class, an appeal to the swath of people past administration's had forgotten. A portrait was carefully painted over the last four years of a white laboring majority being denied access into the multicultural zion President Obama was laying groundwork for. Journalist Amanda Taub made the concept plain in her recent New York Times editorial arguing, "For generations, working-class whites were doubly blessed: They enjoyed privileged status based on race, as well as the fruits of broad economic growth. White people's officially privileged status waned over the latter half of the 20th century with the demise of discriminatory practices in, say, university admissions. But rising wages, an expanding social safety net and new educational opportunities helped offset that. Most white adults were wealthier and more successful than their parents, and confident that their children would do better still."
Hindsight would prove that this sort of racial anxiety isn't abnormal. History mightily argues that it's standard. Any threats toward the loss of whiteness/power has repeatedly landed the poor white working class voting-block on the short end of the political stick. In 1619, the Maryland Segregation policy was enacted as the first racially structured social exclusion maneuver. It dynamically changed personal interlockings of white slaves, who up until then observed an unlegislated privilege among their Black counterparts. From then on, no matter how heavy the weight of being suspended on a humiliating ring of a class apparatus, white slaves and indentured servants could feel a sense of comfort knowing that Black people would be doled out the worst treatment possible. A good portion of thinkers have tried to work around this age-old ideology citing economic strain influencing how this segment sees the political process. Some argue that the White working class voting constituency doesn't condemn itself at all at the ballot. Veteran community organizer, Kirk Noden, put the assertion to test in an editorial this past November offering, "Race is undoubtedly a very important piece of this.
The issue of race is intertwined with the phenomenon of decreased opportunity for white people, scarcity of resources, and the clash of two Americas—weak market and strong market. Immigrants, by and large, are not moving to places like Ohio. In fact, a study a few years ago showed that out of the four US metro areas with the lowest immigration levels, two were in Ohio: Youngstown and Dayton. Immigrants are moving to places that have opportunity, strong local economies. White working-class people in Ohio don't understand how those economies work, and see immigrants having more opportunity than they do. There is truth to this, in that weak-market cities offer far less opportunity than strong-market cities." Noden took on the challenge of using an overly homogenous place like Youngstown, Ohio as a case study. It would hold water if Trump hadn't become the leader of the United States. And in peering into the one coffer of policy that could affect them the most, healthcare, we can see that Noden's studied block, chose nationalism, racism, and bigotry in exchange for a slow death.
Should this too pass
Barring the high chance that representatives exert political will over repeal, several major blows will be made to insurance patrons everywhere, but we need to digest a sample of the details. According to the Congressional Budget Office, the amount of uninsured Americans under 65 is poised to double as Obamacare goes under. By 2026, 24 million people are projected to lose what insurance they did have. The most daunting avenue this legislation may take us down, is where the elderly are sabotaged. Reporter Danielle Kurtzleben details, "But it wouldn't work out the same for everyone. Many younger Americans would end up paying less, as would people young and old alike making middle-to-upper-middle incomes, according to the CBO analysis. However, premium costs would hit many low-income adults hard, particularly older low-income adults. A 64-year-old making $26,500 a year would pay around $1,700 in premiums right now. Under the proposed changes, that person would pay $14,600, more than eight times more." A stronghold of then candidate Donald Trump's base was rural White Americans aged 60 years old or above, making no more than $25,000 a year. This seasoned group, under the heel  of old age and the many diet and lifestyle based diseases, is looking at going to battle in the doctor's office with $7,000 less in each of their insurance war chest. And that's just for starters. The numbers, figures, and estimations all point towards agony. Such agony should be studied and made reference to, the next time we have a charismatic "leader" tapping in to what makes America hate so well. 
Sadly, White America may have voted to cut off its nose to spite its face, and it will hurt.
Faith Community Stands With Peace And Justice Leader Imam Omar Suleiman During Right Wing Attacks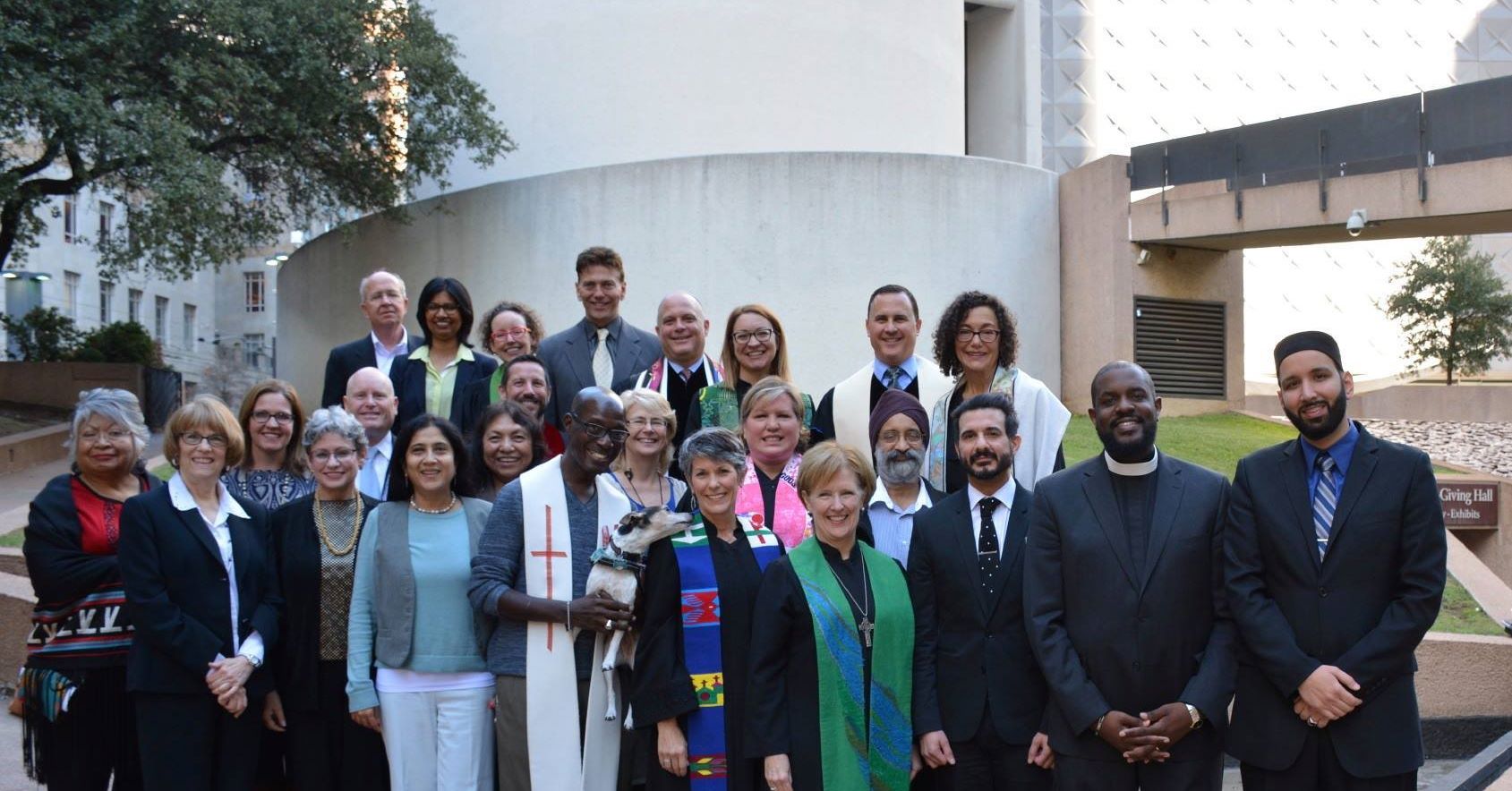 In a follow up to the right-wing media platforms attack on Imam Omar Suleiman – calling him anti-semitic, a common tactic used to discredit both Muslim activists, as well as criticism of Israel policies, Faith Forward Dallas issued a statement.
Faith Forward Dallas at Thanksgiving Square – Faith Leaders United for Peace and Justice is a Texas-based interfaith organization that has worked on many initiatives with Imam Omar Suleiman.

The statement reads:
"Imam Omar Suleiman a spiritual and moral voice for peace with justice!!!!!

Time after time in our city, in the United States and around the world, Imam Omar Suleiman has been a spiritual and moral voice for peace with justice. When others seek to divide, he calls for unity. Faith Forward Dallas at Thanks-Giving Square works to unite faith leaders for justice and compassion. Imam Suleiman has been a trusted leader among us. In the wake of his beautiful prayer to open the House of Representatives on May 9, he has received threats of violence and words of vilification when instead he should have our praise and prayers. We call upon people of good will everywhere to tone down the rhetoric, to replace hate with love, and to build bridges toward the common good.

Faith Forward Dallas at Thanks-Giving Square"
Commenters on the Faith Forward Dallas statement have left comments of support.
The group has invited locals and other leaders to endorse and share the statement. "Endorsed! I love and fully you Imam Omar Suleiman!" wrote Karen Weldes Fry, Spiritual Director at Center of Spiritual Learning in Dallas (CSLDallas), commenting on the statement.
Some commentators do not understand the manufactured controversy.  Heather Mustain writes, "What people are writing is so vile. They obviously didn't even listen to his prayer!" Imam  Omar Suleiman delivered the opening prayer in the US House of Representatives on May, 9th, 2019  at the invitation of Rep. Eddie Bernice Johnson (D) of Dallas, TX.
"I'm grateful for the faith leaders with whom I've built relationships with and served with for years that have shown full support throughout this process. Together we've stood with one another in solidarity in the face of bigotry, and in the support of others in any form of pain. We will not let these dark forces divide us," said Imam Omar Suleiman in response to the outpouring of love from the people he has worked with on the ground, building on peace, love, and justice.
#UnitedForOmar – Imam Omar Suleiman Smeared by Right-Wing News After Opening Prayer at US House of Representatives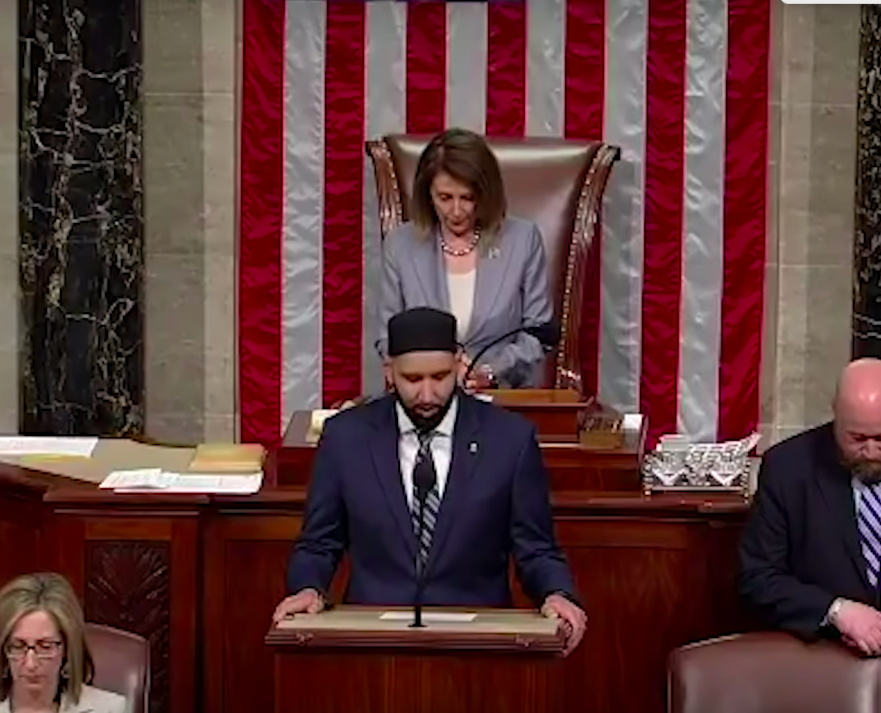 Sh. Omar Suleiman delivered the opening prayer in the US House of Representatives yesterday, May, 9th, 2019  at the invitation of Rep. Eddie Bernice Johnson (D) of Dallas.
Immediately since, right wing media platforms have begun spreading negative coverage of the Imam Omar Suleiman – calling him anti-semitic, a common tactic used to discredit both Muslim activists as well as criticism of Israel policies.

News outlets citing the criticism have pointed to a post from The Investigative Project on Terrorism or ITP, as the source. The  ITP was founded by and directed by noted Islamophobe Steven Emerson. Emerson's history of hate speech has been documented for over two decades.
Since then, the story has been carried forward by multiple press outlets.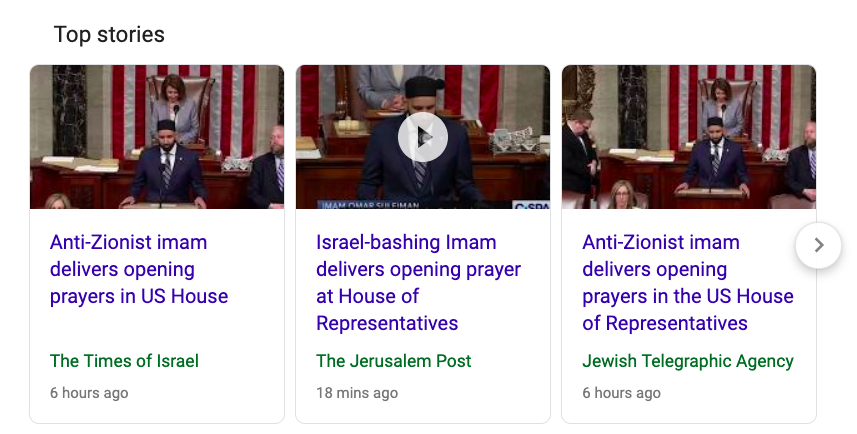 The immediate consequence of this has been the direction of online hate towards what has been Imam Omar Suleiman's long history of preaching unity in the US socio-political sphere.
"Since my invocation I've been inundated with hate articles, threats, and other tactics of intimidation to silence me over a prayer for unity," Imam Omar Suleiman says. "These attacks are in bad faith and meant to again send a message to the Muslim community that we are not welcome to assert ourselves in any meaningful space or way."
MuslimMatters is proud to stand by Imam Omar Suleiman, and we invite our readers to share the evidence that counters the accusations against him of anti-semitism, bigotry, and hate. We would also encourage you to reach out, support, and amplify voices of support like Representative E.B.Johnson, and Representative Colin Allred.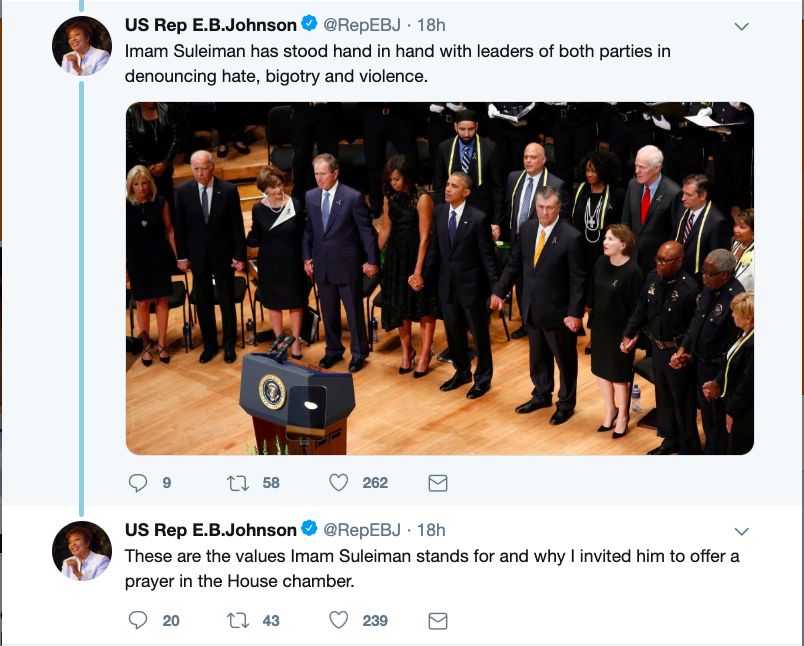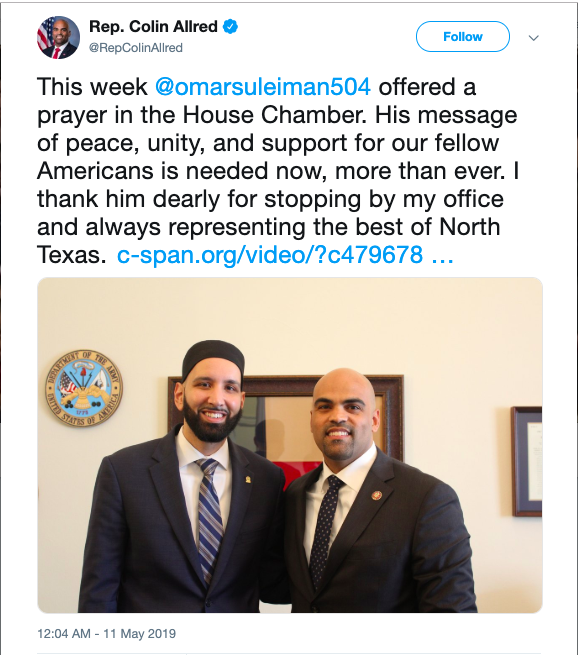 You can help counter the false narrative, simply by sharing evidence of Imam Omar Suleiman's work. It speaks for itself, and you can share it at the hashtag #UnitedForOmar
JazakAllahuKheiran
---
At an interfaith panel discussion, three North Texas religious leaders promoted understanding and dialogue among Muslims, Jews, and Christians. Amid a vexed political and social climate, three religious leaders in North Texas—a priest, an imam, and a rabbi—proved it's possible to come together in times of division. Source: DMagazine.com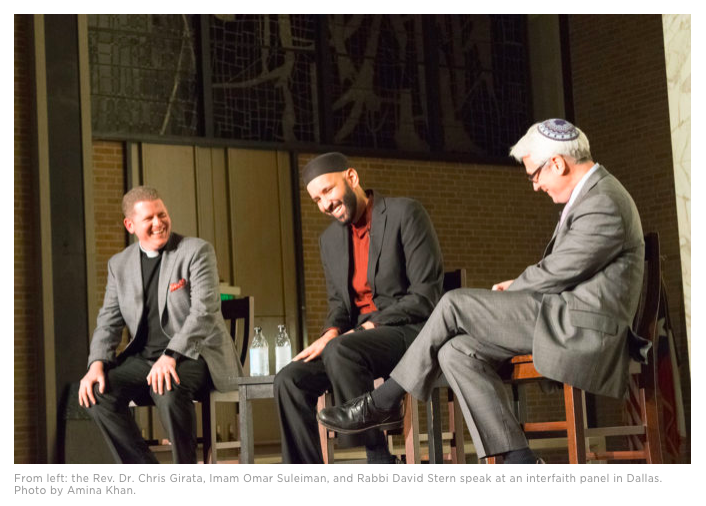 ---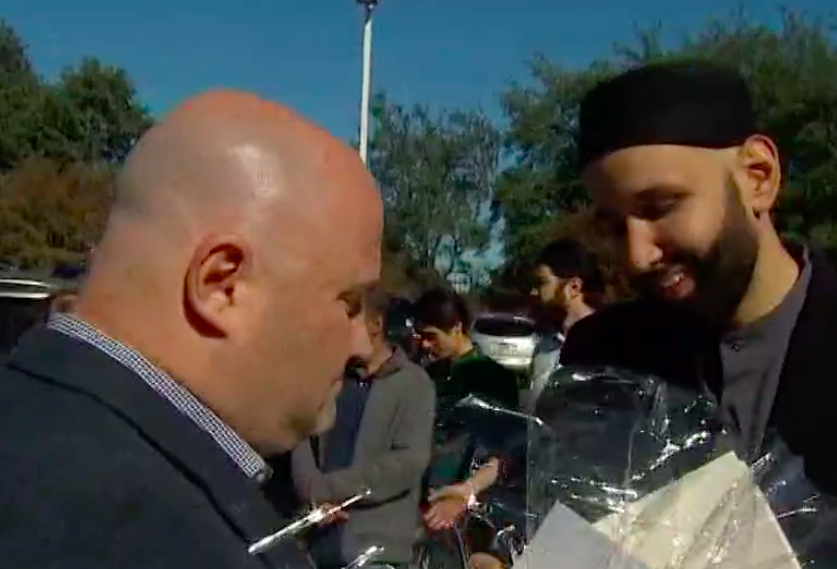 The congregation, led by Imam Omar Suleiman, penned more than 150 cards and letters. source: WFAA News
---
"We must recognize that the white supremacy that threatens the black and Latino communities, is the same white supremacy that spurs Islamophobia and antisemitism," -Imam Omar Suleiman
Source: Bend The Arc
---
"When any community is targeted, they need to see a united faith voice — that all communities come together and express complete rejection of anything that would pit our society against one another more than it already is." -Imam Omar Suleiman
Source: Kera News

---
Source: The Carter Center
---
Imam: After devastating New Zealand attack, we will not be deterred
"My wife and I decided to take our kids to a synagogue in Dallas the night after the massacre at Tree of Life in Pittsburgh to grieve and show solidarity with the Jewish community. My 5-year-old played with kids his age while we mourned inside, resisting hate even unknowingly with his innocence…" Source: CNN
Ben Shapiro Gets Wrecked on the BBC for Racism Against Palestinians and American Jews
Andrew Neil so thoroughly destroys Ben Shapiro that he has a snowflake meltdown and retreats in the middle of the interview to his own safe space, off-camera.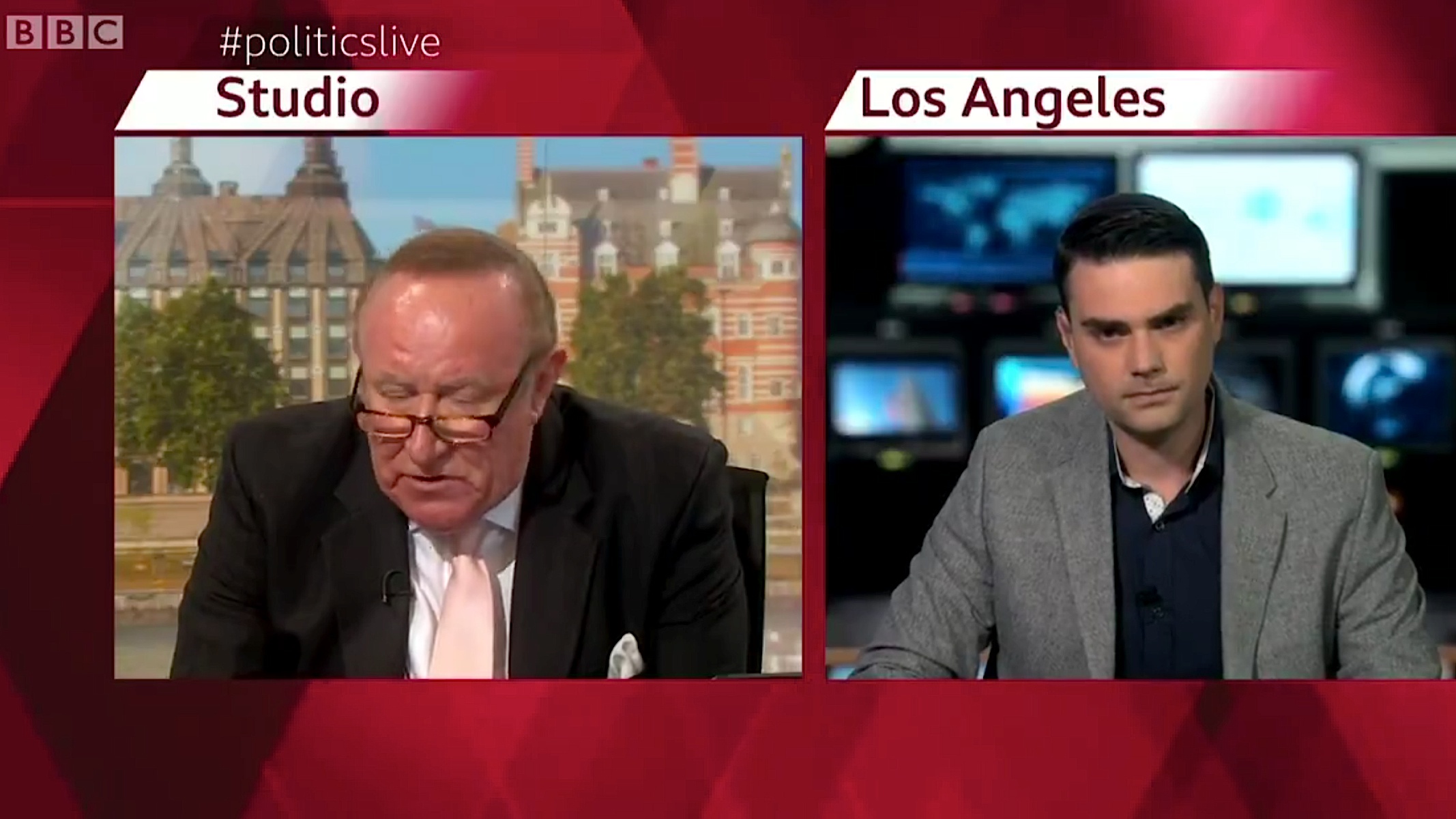 The video plays at the 10:00 minute mark where Neil begins to break down Shapiro on his statements about President Obama, Palestinians, and American Jews.
Let's set the context – popular conservative commentator Ben Shapiro, known for his aggressive debate style in the public square, visited the BBC to promote his new book.  The interviewer, Andrew Neil, after giving Shapiro a chance to introduce himself to the BBC audience, questioned him about the anger both the left and the right feel towards one another, and Shapiro's own role in stoking that anger and polar opposition within the Republican party over many years.

The reason for this line of questioning is because Shapiro claims this to be a problem in American discourse and fails to consider his own contribution to the problem, and it is this hypocrisy that Neil confronts him about.  Shapiro attempts to respond, but is promptly crushed by Neil's responses with Shapiro's own quotes.  For example, he brings up the following tweet written about Palestinians which Shapiro agrees was wrong but hasn't taken down:
Israelis like to build. Arabs like to bomb crap and live in open sewage. This is not a difficult issue. #settlementsrock

— Ben Shapiro (@benshapiro) September 27, 2010
Shapiro futilely attempts to respond, but Neil continues to quote Shapiro until he is left with no choice except to throw ad hominems at his interviewer, which were deftly turned back on Shapiro, leaving him to look even more petty for his attempted condescending remarks.  The end result is the man claiming earlier to welcome a spirited debate quickly found himself running away to lick his wounds.
Perhaps the greatest irony in this debate – Shapiro accused Neil of being an opinion journalist of the left-leaning variety, while Neil is a conservative and chairman of The Spectator, whose editorial outlook is conservative.