One Night In Aleppo… Will Change You
Innovation isn't something that most Muslim organisations are accused of lately. We tend to be behind the curve on most things, if we're even on it at all. So when I got an invite to a unique experiential event called "One night in Aleppo", I was keen to see what it was all about.
Organised by Islamic Relief UK, the event was designed to highlight the suffering of the ordinary Syrian people that has tragically reached the 5th anniversary with no end in sight.
I went expecting to sit in a lecture theatre and hear speakers who would tell us about the dire situation in Aleppo and perhaps see a few file clips from the news. So I finished up quickly at work and sent my Medical students away with homework and proceeded to the event, but my mind was elsewhere.
I was thinking about the piles of marking I had to do, planning my Charity Week meetings for the coming week and what I needed to pick up from the supermarket on the way back home. My mind was everywhere but on the event that I was going to. I certainly wasn't thinking about Syria.
All that changed the minute I walked through the door of the non-descript building and pushed aside the curtain.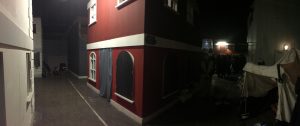 What I saw before me was nightmarish.
The dingy lights.
The broken glass.
The empty shops and homes.
The demolished mosque with no minaret.
The unexplained splatters of blood leaving trails of broken dreams and families in their wake.
The ghostly figures standing in the corners of the ruined buildings making me realise – shockingly – that there were some who still lived there.
Everything that had preoccupied my mind seconds ago had been pushed out. The tragedy of Syria had collided with my brain head-on and what I was left with was a deepening sense of dread.
Islamic Relief had hired a venue used for WW2 simulation war games and converted it into the streets of Aleppo. You know a conflict is bad when a WW2 scene needs to be made more harrowing to reflect it.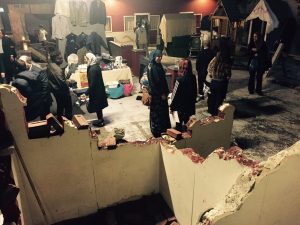 They also hired actors to act out scenes of ordinary people and their extraordinary struggle to survive through the chaos. There was a teacher desperate to learn about the fate of her school children. There was a medic struggling to help an injured lady with little equipment in the ruins of the hospital. There were aid workers being overwhelmed by the scale of the disaster. Most hauntingly of all, there was a couple consoling each other about the loss of their little son.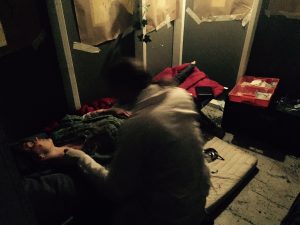 I felt numb, desolate and angry. If this re-enactment of Aleppo could be so moving, how much more desperate must the real city be?
It has been 5 long years.
5 years of tragedy.
5 years of killing.
5 years of fleeing.
5 years of watching a people torn apart, city by city, family by family, person by person.
Today, as I write this, Aleppo is surrounded by the forces of darkness preparing to snuff out any remnant of hope left in that broken, battered city. We have yet to figure out how we are going to stop this and the other conflicts that afflict us. Until we do, we can at least donate to help them in their hour years of need.
www.islamic-relief.org.uk/current-appeals/syria-appeal
I'm grateful to Islamic Relief for organising an event this innovative and immersive that it managed to shake me out of the rat race. One night in Aleppo was a glimpse into hell, but the fact that we are able to put on events like this to remind us of their suffering gave me hope amidst the darkness.
May Allah protect the people of Aleppo and the oppressed wherever they may be.