Stats not Stories: Problems with our Islamic History
Admit it. You're bored by Islamic History. Sure, you might say that you find it fascinating, but the likelihood is that you are far more likely to be enamoured by the idea of what Islamic history should be like rather than the history itself.
How can I justify saying this? Well, lets take any other aspect of life that you are definitely not bored by. The latest Star Wars movie perhaps, Super Bowl 50 or all 7 Harry Potter books. Anything at all. Odds are that you can remember a lot about them in vivid detail. But if you're asked the same thing about pretty much any aspect of Islamic history, the details are likely to be nowhere near as clear or captivating.
Relax. For once, it is not your fault.
Islamic history is the poor cousin of the Islamic sciences. It can often be poorly taught, poorly understood and even more poorly preserved. The blame for this partly falls on the shoulders of the Islamic historians themselves. Apart from some notable exceptions, many Islamic history books are dreary affairs over-filled with numbers, dates and exceptionally long names of individuals who sound very similar.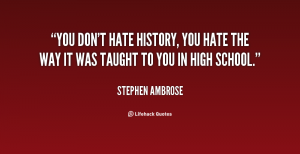 It is not that Islamic history itself is boring. On the contrary, I would make the case that no other history is as palpitation inducing, full of giddy highs and dramatic – seemingly bottomless – lows. However, even the most amazing thriller can go from awe to yawn if the main focus is on the factual details rather than the story itself.
In 2007 Deborah Small at the Wharton School of Business conducted an experiment to see how people would react to a charity campaign that was presented primarily using facts and figures as compared to the same campaign presented as a story. The outcome wasn't even close. Stories trump stats every time. Or, as Stalin would say "The death of one man is a tragedy. The death of millions is a statistic." He should know. He was kind of an expert on the subject.
In fact, we don't need to look to modern research to prove this. The Quran itself is full of stories and lessons, but short on details. How many animals made it on to the Ark? Where exactly did Khidr live? What was the name of the Pharoah that was the arch-nemesis of Musa

? The lack of facts and figures detracts nothing from the power of these stories and their ability to inspire and transform those hearing them.
Allah

was explicit on this point when it came to the stories of the Companions of the Cave. Allah admonishes those who debate on the exact number of those in the cave saying "Now some say they were three and the fourth one is their dog and some will say they were five and the sixth one is their dog, guessing randomly at the unseen." It is unfortunate that we don't heed this lesson when it comes to how we teach our own Islamic history.
Maya Angelou said 'I've learned that people will forget what you said, people will forget what you did, but people will never forget how you made them feel.' If we want our Islamic history to be relevant and life-changing, we need to put away the facts and figures and bring out the monsters and legends.