Erasing Race: Problems with our Islamic History
Here's a little exercise. Try naming 5 prominent Muslims of African origin from the history of Islam. Pick from any period right from the early Makkan period to the last few decades. Aside from Malcolm X, Muhammad Ali and Bilal

who else do you have on the list? I'm going to be presumptive and say that there aren't many of us who've managed to get to 5.
How is that possible? There were quite a few Sahaaba of African origin, and not just a token one. Islam had spread to the African continent properly during the lifetime of the Prophet

himself – in fact, even before it reached Madinah. Within a generation of the Prophet's

passing, a significant part of Africa was under Islamic rule and has stayed Muslim ever since. So why is so little known about prominent African Muslims?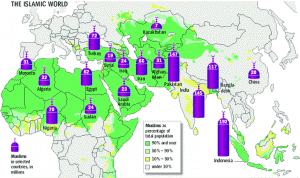 The sad thing is that I could replace "African" with pretty much every major Muslim ethnicity or region. Whether it be the South East Asian Archipelago (with almost as many Muslims as there are in the Middle East), the Central Asian Republics, or the Turkic tribes in the Caucasus regions – the dearth of knowledge about our Islamic heritage is noticeable.
Islamic history is too often the history of the Arabs. Sure, the Ottomans get a cameo appearance, but that is partially because their history became intertwined with that of the Arab heartlands. The rest of the history of Islam beyond the Middle East seems to be relegated to the footnotes of dry academic works. Actually, they often don't even make it to the footnotes.
Some commentators like Will Kymlicka make a case for Arab ethnic chauvinism as an explanation for the lack of a multicultural history. While there may be some truth to this, there is little evidence to show that there is a concerted campaign to suppress non-Arab Islamic history. It seems more likely that this neglect is a consequence of a variety of factors including the lingering effects of the brutal colonization of most of the non-Arab world over the last few centuries and the pathetic socio-economic situation that they have been mired in ever since.
The resulting selective Arab-centric view of history is unfortunate in a Muslim world that largely lies outside the the Middle East and has been significantly shaped by non-Arabs. It has had many unintended and profound consequences, some of which I will discuss below:
When your history is largely devoid of characters and role models that you can relate to, you will become detached from it. The average Muslim seeking to enhance their knowledge of the faith often prioritises sciences such as tafsir, hadith studies, fiqh, tajweed – anything but Islamic history. This relative indifference is reflected also at the societal level where non-Arab Muslims are rarely inspired by historical figures or incidents that would potentially be easier for them to relate to. The few times that we are able to break this trend (e.g. Malcolm X in America or Imam Shamil in the Caucuses), we are rewarded with transformative figures that capture the imaginations of generation after generation of their countrymen.
When your history is geographically and ethnically restricted, your worldview will be limited and parochial. One of the unique attributes of the spread of Islam was its ability to enhance existing cultures rather than dissolve them into a worldwide mono-culture. Knowledge of the historical perspectives of Muslims from other parts of the world helps guard against narrow-mindedness – a particularly virulent feature of the modern Muslim world. Indeed, one of the life-changing aspects of the Hajj is to witness the unity of purpose despite the lack of uniformity of views, cultures or experiences of the pilgrims from every corner of the globe.
When your history fails to acknowledge the contributions and legacies of other races, you make it easier to dehumanise them. This may sound like an extrapolation too far, but many historians including Gerda Lerner (in her seminal work "Why history matters") have convincingly shown how glossing over the positive contribution of other races and ethnicities is a political strategy used to perpetuate injustice. This selective reading of history explains how the slave trade flourished in many Muslim lands and still does in the form of modern indentured labour in parts of the Middle East. Racism, nationalism or sectarianism rarely coexist in the same space with cultural and historical awareness.
There can be no denying that Islam was born in the Arab world, but it is telling that the most diverse and multicultural period that most people are likely to read about in Islamic history is Madinah during the lifetime of the Prophet

. Shining a spotlight on the contributions and legacies of non-Arab Muslims and cultures would connect many more Muslims to their history in a meaningful way, expand our horizons, and guard against oppression of one group by another. Most importantly, it would enhance the appreciation of traditional Islamic history by making it part of a larger, more intricate historical universe. That's something – inshaAllah – that we can all look forward to.
Featured image: Askia Muhammad by Leo Dillon
Muslim world image: Der spiegel online