My Starry Night – How Van Gogh Gave Me A Glimpse of Allah's Plan


When things that you thought were entirely unrelated to each other come together, it is a joy and a relief. A joy because you experience firsthand a flash of the divine plan: It's all connected! Everything! Everyone! And a relief, because for that fraction of time, things make sense. Order is present and it is established and it is manifest.
This is what faith means to the faithful. The constant knowledge that there is reason and order behind everything, even, or rather especially, when we can't see it.
But when does this faith begin in us? And how? As children, can we pinpoint any spot in our childhood in which we directly witnessed the machinations of divinity? Perhaps not. But as adults, as parents, with all the experience and wisdom that age brings us, I have come to believe, that if we are present and paying close attention, we stand good chance of catching glimpses of the divine plan in the lives of our children.
Art history is not something I would have ever thought to include in my children's homeschool curriculum. It simply would not have occurred to me. But all of a sudden, art history has become an integral and exciting part of our educational journey. My six year old son, Beta, is enthralled and I am running, breathlessly alongside him, often behind him, trying to keep up.
It all begins with that glorious website, beloved by parents everywhere, Starfall. Beta browses through it regularly and one day he stumbles upon the extremely short biographies of six renowned artists. I hear him reading along with the chirpy web voice about Marc Chagall. Paul Gaugin. Van Gogh.
"My favorite artist is Van Gogh." Beta announces a few weeks later, apropos of absolutely nothing. (most of his pronouncements are like that – seemingly out of left field, but usually as a result of a long, internal dialogue which suddenly comes to be verbalized.) Van Gogh, Van Gogh, Van Gogh. I hear his name dozens of times a day. I nod and smile but pay little other heed. After all, I'm not very interested in art history.
Two Saturdays on, we are in a bookstore and my three children are sitting on the floor playing the awful game of who can pull out dozens of books from the lowest shelf and makes the biggest pile. They're dragging and yanking and a mountain of book is growing beside me when plop! a storybook about a little girl visiting an art museum falls straight (from the heavens?) into Beta's lap. He is captive and quiet for the next half an hour. The game is forgotten and he is entranced. We obviously purchase the book and bring it home.
Three days later, we are making our Plan for the Day and the kids clamor painting. Painting! Argh, I think, I am so not in the mood. I am feeling angry and confused about the kids and what their education or lack thereof is looking like. But they beg and plead, so painting it is. I bring out the paints and lay out the paper on the ground. Fine! Paint! I am sulky, already anticipating the mess to follow.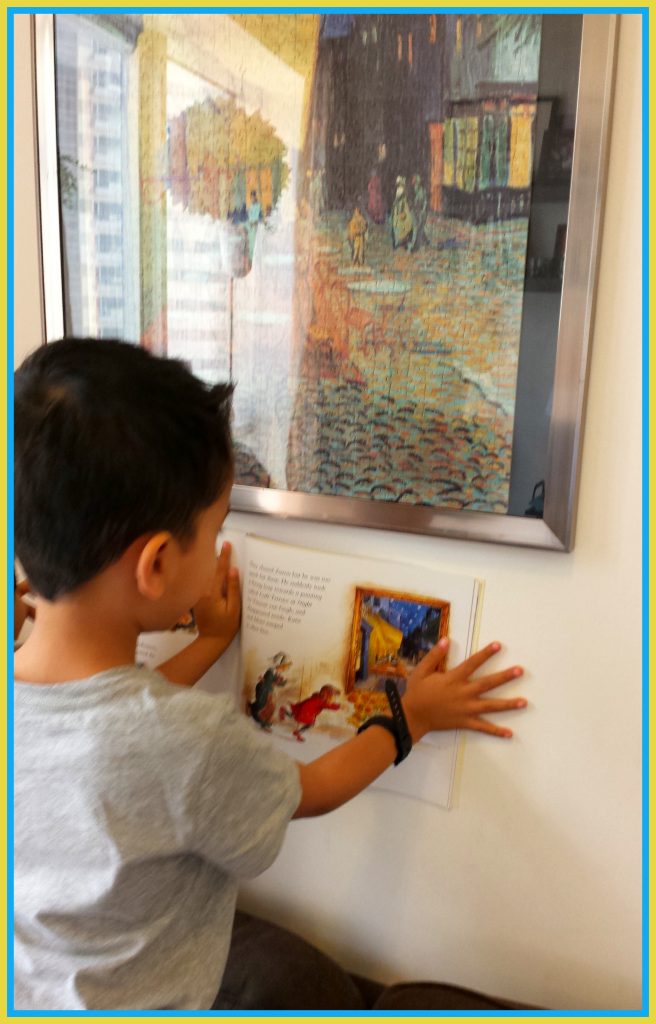 But instead of painting, Beta is crouched in front of his bookshelf. He has opened up the story book we bought last week and is intently studying the pictures inside. I see him staring at "Café at Night". I ask him, "Hey, we have this picture in our house. Can you think where?" He looks at me amazed. This picture? In OUR HOUSE? How does he not know this?! I think the same to myself. How does he not know this? Our apartment is tiny. There are only two pieces of art on the walls. This is yet another example of what an internal life this boy of mine leads.
We walk ten steps over to the living room wall. There, in its full 1500 piece glory is the jigsaw puzzle of Van Gogh's Café at Night. Beta is laughing and laughing. "It's so beautiful, Mumma. It's so beautiful. Look! It's in my book and it's on our wall!" Yes, yes it is.
"Today, I'm going to paint like Van Gogh," he declares. I show him how to Google images. We type in Van Gogh and stare silently at the dozens of image tiles that pop up. He eventually points to Starry Night. We leave it open on the laptop. I begin pouring out our acrylics, white, black, blue, yellow. When the materials are ready, I leave him to it. He looks back and forth from the screen to his paper for a long while. I walk around the house, doing my chores. Every so often, I pop my head in and I talk him through it whenever he seems confused. "Try using more white." "Mix blue and black for this part." He keeps going and going and an interesting version of Starry Night slowly but surely begins to appear on his paper.
It takes our entire morning and most of the afternoon, this "lesson". It is Reading and Writing and Art and Art History and Computer Skills and Speech Therapy and Fine Motor Skills and Concentration and Logic all rolled into one. For a boy with many delays, including sensory processing, who just two years ago would howl uncontrollably if a speck of paint touched his fingers, it is progress. It is dedication and focus and frustration and effort and achievement.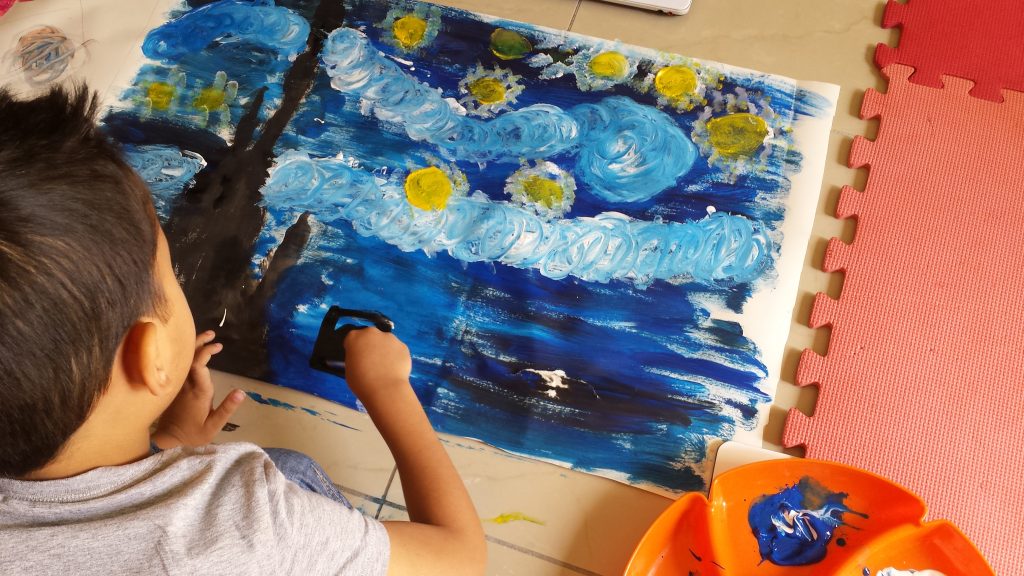 When he is finished, we spread it on the balcony to dry. He turns to the iPad, his preferred refuge when he has been outward for too long, and I am sitting on the floor, physically spent but mentally satisfied. I am looking at the Beta-Van Gogh styled splatters of paint. I am thinking.
I am thinking of a day long time ago.
Six years ago to be precise: After two years of wanting and trying and praying, I am finally pregnant. We are happy but nervous. At the end of the doctor's appointment that marks the end of the first trimester, we are cautiously jubilant. We are wandering around a toy store. We want to buy something but superstitiously don't want to buy anything for the baby. I find myself gravitating towards the jigsaw puzzles. My husband, Hums, laughs. "You've never done a puzzle before and you're going straight for a 1500 piece one?" Yep, I nod. I don't know why I pick the one I do. It's a Ravensburger edition of a Van Gogh. They don't come cheap. For an unemployed couple who feels like throwing up when it's time to pay for groceries, this is a splurge. But I am driven by something. I must get this puzzle. I must.
I come home with my Café at Night. I spend the rest of my pregnancy working on it. It is a very slow and painstaking, often frustrating, process. But as the days slip by like beads on a tasbeeh and I get bigger and bigger, so does the puzzle. I finish just a couple of weeks before Beta is born. It is beautiful. It is the only beautiful thing in our bare apartment and it makes us happy to look at it. The rich colors and the relaxed mood of the café diners under the twinkling stars help us forget, if only for a few minutes, the burden of our financial strain. A few months later, when we realize we are moving from Canada, bone broke, I make Hums promise that one day we will come back to that same shop and get me Starry Night. That's the one I really wanted. But they were out of stock. Hums promises and we move across the world.
Six years later, it appears that I got my starry night. That I got it from this child, this child that I carried inside me while I searched the shelves of the toy shop for the puzzle; this child with all of his struggles, this child who has taught me patience, gratitude, and what hopeful happiness tied only to unshakeable belief in the promises of Allah looks like, this child who is the shining light, the shimmering star of my life, is the cherry on top of a very sweet cake.
For the adult, this is the lucky break. It is a front row seat to the grandest show of all. It is how parenting becomes the blessed opportunity to look both backward and forward so that we may witness the way flashes of light, His Light and His plan, are scattered throughout our lives starting from when we are not even born.
For the six year old, when things, seemingly unrelated – what you saw on a website, what's hanging on your living room wall, the new book you bought last week, a painting lesson – come together in one exquisite whole, it is the picture of learning. But not just academic learning, no. It is the beginning of his education of what it means to be human, of what it means to be a trusting servant of his Lord, of what it means to have faith. He doesn't know it yet but he is taking the tiniest starting steps towards understanding a little of what his mother and his mother's mother and all his ancestors from time immemorial have been trying to learn and remember about life itself:
Nothing is random. Everything is connected. Every person you meet, every decision you take, every mistake you make, every purchase, every encounter, every success, every failure, everything has a purpose.
And all that this life, this starry, starry life asks of you is that even though you often don't see that purpose for years and years or maybe even ever, you trust.
Always.
You trust that you are part of a bigger puzzle. You trust that the pieces of this puzzle are slowly but surely coming together. You trust that the puzzle may be frustrating, confusing or time consuming, but ultimately it is beautiful because the Maker is beautiful and He is Wise.
You trust.
And you keep the faith.
Always.
Hiba Masood is a writer, a motivational speaker and an entrepreneur. You can find more of her thoughts on life, faith and parenting on her page www.facebook.com/etdramamama