Studying Islam Overseas: Nadwatul 'Ulama in India | The Motherland – Prelude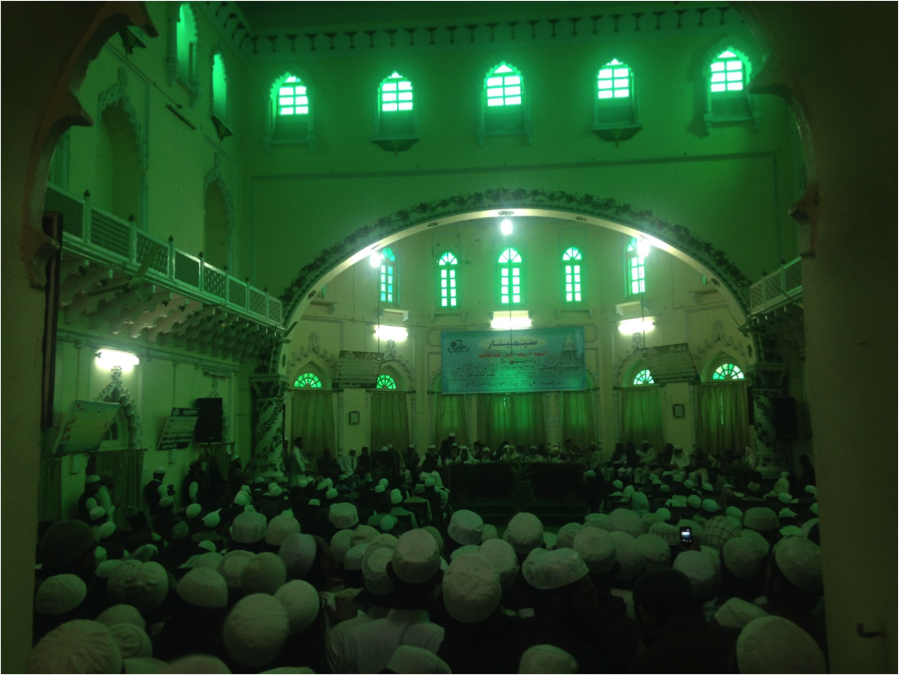 (Updated)
Prelude | Part I | Part II | Part III | Part IV | Part V | Part VI | Part VII
This post is a prelude to the "The Motherland" series which will go over the benefits and challenges of studying Islam overseas in India, institutions of learning there in, and Nihal Khan's journey of studying at Nadwatul 'Ulama in the 2014-2015 academic calendar year. The subsequent articles in this series will detail his experiences and reflections from his travels and studies in India.

. . .
Between the Traditional Study of Islam and Academia
Though I was initially planning on pursuing law school as a career path, but I can happily say I found my niche in the academic study of religion, more so of Islam. I consciously decided to pursue Islamic studies at a full-fledged level in my last year of undergrad at Montclair State University. Though generally the eastern and western traditions of studying Islam have been at odds with each other ever since the days of British colonization, I found that in today's day and age there is a dire need to synthesize both of these philosophies to an extent in which they become workable realities.
In summary, the eastern study of Islam is focused on classical textual understanding in which the soul of Islam is understood and envisioned as absolute truth—commonly taught in madrasas and Islamic universities in the Muslim world. The western study of Islam is focused on orientalist analyses of the religion, anthropological, historical, and sociological factors that affected the adherence of Islam in those frames. This form of study is common in western universities that teach religion in a deconstructionalist form while ignoring the matter of absolute truth.
I had already been looking at Nadwatul 'Ulama prior to pursuing Islamic studies as a research career. I was seeking spiritual gratification through the traditional Islamic sciences. After being accepted into the Hartford Seminary's Master's in Islamic Studies program, I decided to make this a full-time endeavor.
But why Nadwatul 'Ulama?
Nadwatul 'Ulama: Why Did I Chose to Study Here?
Firstly, being an overseas citizen of India (OCI) and possessing a lifetime visa to the country had made my task of studying 75% easier. The biggest issue students of the sacred Islamic sciences face with studying overseas is constantly getting a visa renewed. Though the Hartford Seminary had accepted me and allowed me to pursue extracurricular research, they were not funding my trip nor had I asked them to do so. With the OCI, I did not need to do specific field research where the contingency of my visa's validity was dependent upon a university, nor was I really eligible to spend a large chunk of time in any other country due to the visa issue. With the OCI, I can enter and exit India as I please.
Secondly, Nadwatul 'Ulama seemed like the easiest institution to be admitted into for a foreigner while not having to worry about an unstable political climate and tough admission guidelines. Madinah University, Umm al-Qura, Imam Muhammad, Qaseem, and the other Saudi universities are not bad places to study as a student who has an idea of Islamic thought, but admissions take a year (sometimes even more) and there is no guarantee that I would get in. Madinah also has a strong population of American students, hence that is a huge plus to keep you socially engaged (though Nadwa is lacking in this regard and can significantly negatively affect someone, I came here knowing this). Sadly Yemen, Syria, and Egypt have all fallen into a great amount of political turmoil in recent years which deterred/prevented me from studying over there, so Dar al-Mustafa, Al-Azhar, and Abu Noor were all out of the question.
The Rumi Darwaza: An entry gate into Old Lucknow built by the Mughal dynasty.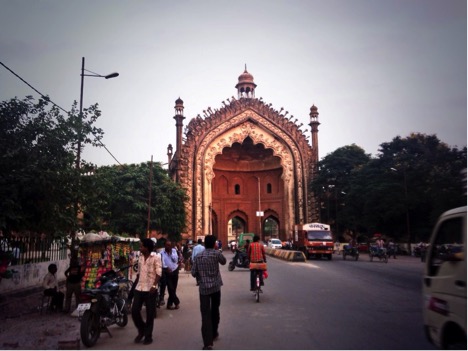 Due to my Indian ethnicity and the post-2008 politics between India and Pakistan due to the Mumbai bombings, Darul Uloom Karachi, Binoria Town, Ashrafiyyah, the International Islamic University of Islamabad, and all the other Pakistani institutions became very limited choices for me. The only places left were maybe some universities in Jordan or Qasid Institute, the International Islamic University of Malaysia, the European Institute of Islamic Sciences in France, or Darul Ulooms in England or the United States. I did not look at universities in Jordan much, Qasid seemed to be mainly focused on Arabic and did not have a complete Islamic studies program (someone can correct me if I am wrong here), Malaysia was not on my radar since I did not know anyone from there at the time, I got word from people that the EIIS in France was not at its peak that it was known for, and because I am a former student of the madrasa system within America, I wanted to get a different experience of studying Islam outside of that environment (England is included here).
There were also some institutions in the gulf countries such as Qatar and Kuwait, but I was not too interested as the curricula were not my cup of tea for what I needed. Not to mention I wanted a feel of what it was like to live outside of the United States–which I would not have achieved by living in a gulf country that looks, feels, and operates very much like America. But some places like the Qatar Institute of Islamic Sciences seemed to show a very nice advanced curriculum with famed Muslim philosophers as visiting professors such as Dr. Tariq Ramadan and Dr. Jasser Auda.
Thirdly, Nadwatul 'Ulama has quite a jubilant history within the subcontinent in the areas of unity within the Muslim community, academia, comparative studies, all while rooted in the traditional textual understanding of Islam. In the late 1800s, some forty to fifty years after the great mutiny where thousands of Indians–regardless of religion, were massacred at the hands of British imperialists, Muslims were figuring out what direction they wanted to take their educational institutions. In a nutshell, India's largest and most influential Muslim thinkers at the time—who would later found the erudite institutions known as Aligarh Muslim University (AMU) and Darul Uloom Deoband, presented two approaches to preserving Islam which each side disagreed with. The AMU approach was more concerned about teaching the secular sciences within a Muslim shell (I will be writing more about AMU in a future MM article), while Deoband's (also in an upcoming article) was entrenched in understanding, teaching, and preaching the textual tradition of Islam.
The tomb of Nawab Saadat Ali Khan, a former ruler of Awadh. A not-so-common tourist attraction with a beautiful view in Lucknow.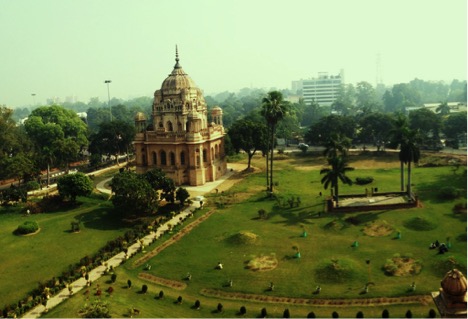 In the midst of these two schools, a conference of scholars representing each approach (and from outside these two groups) formed a think tank of sorts called the Nadwatul 'Ulama (the conference of scholars). They had a conference which eventually blossomed into the institution which we have today in Lucknow. The premise was to be open and inviting to Muslims of all backgrounds, schools of thought, associations–be it Deobandi, Ahle Hadith (Salafi), Sufi, Hanafi, Shafi, Hanbali, political activists (which would lead to the later formation of the Jamaat-e-Islami), and others–as well as recognize the academic needs of the time and provide solutions for them. This sense of unity and functionality within the subcontinent really struck me in a positive light, as this institution preserved the Muslim community at a time of great strife and turmoil while not limiting their intellectual abilities of growth. I have studied in various traditions throughout my short life and learned to be critical of whatever religiously-political reactionary establishment of Islam that I had taken from. Hence, Nadwa just seemed like the right fit for me. I felt these similar values are what American Muslims are in need of, hence after visiting in 2014, I applied and got into Nadwatul 'Ulama.
Academics
There are various streams at Nadwa to study from according to the student's liking. All of these streams fall under the traditional Dars al-Nizami curriculum with some tweaks from the institution. Though foreign students are usually not turned away, officially you need to have a valid visa to stay in India to be given admission, A student should be able to converse either in Urdu or Arabic (you can learn either during your stay) so that you are not placed in the first year of the program. (Though my personal recommendation, it is better to get a good grounding in your basics back home before coming to large institutions where you are not given individual attention due to the large volume of students). Though a "section" is the English rendering, the following are all technically traditional 'alimiyyah programs with respect to the curriculum. Here is the break down:
The 'Aaliyah Section (BA Equivalent)
This section is four years long and is Nadwa's main stream. Many students that study here usually come from another madrasa branch of Nadwa in India, have studied before the beginning of the first year of this program, and are given the most attention from the BA equivalent streams. The strong points of this section and the khusoosi are Arabic, Fiqh, and Hadith. This section is taught fully in Urdu
The Khusoosi Section (BA Equivalent)
Though similar to the 'aaliyah section, the khusoosi is mainly for students that are coming from a high school (10+2) or BA program. Basically, the students here have not studied in a madrasa for a majority of their lives (do not forget that India has very clean-cut delineations for students studying specific majors. What you study is what you will be working in for the rest of your life). I have a lot of respect for many students in this section as they went from studying commerce, finance, or engineering to Islamic studies. This section also has a large amount of students who may be in between certain milestones in their life, so many may not stick around for next year. Some are studying in this program because they failed other majors in college and are trying to establish themselves in a completely different field. Students spend three years here and then automatically transfer into the 'aaliyah section in the last two years. This section is also taught fully in Urdu.
The Arabic Section (BA Equivalent)
This section mainly caters to foreigners who do not have a stronghold in Urdu. All subjects mirror the khusoosi section, except that all classes are taught in Arabic, Shafi'i fiqh is learned by the students instead of Hanafi fiqh, and there is much more emphasis on Hadith over Fiqh. I initially took admission here but transferred into the Urdu section later as I felt the studies were stronger in terms of academic rigor in the latter. At the same time the students in the Urdu section were much more inclined towards in-depth study as their environments and teachers sought to do that much better.
A view of the Nadwa Masjid from the Athar hostel.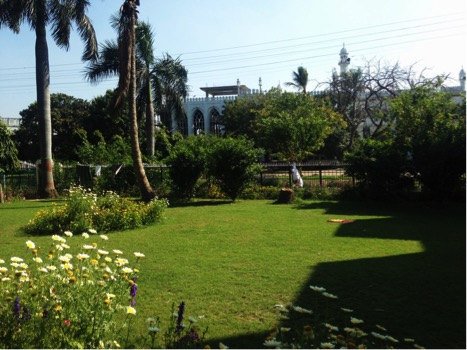 Do not think you will not learn Arabic in the other sections, rather I have seen better Arabic speakers come from the Urdu section compared to the Arabic section. As mentioned before, the only plus advantage is that all classes are taught in the Arabic language.
For those wondering, there is no dedicated one year for dawrah al-hadith (a complete reading of all six books of hadith) at Nadwatul 'Ulama in the BA Equivalent ('alimiyyah) sections. Though you begin studying the six books of hadith, Nadwa wants you to finish the Fadeelah program if you would like to finish Bukhari and Muslim, the two main canonical works of Prophetic traditions in Sunni Islam.
The Fadeelah Section (MA Equivalent/Takhassus/Specialization)
This is probably the crux of Nadwa's academic offerings. After completing one of the above sections and having a grasp in Urdu and Arabic, students are given the choice of specializing in a science —Prophetic traditions (hadith), Quranic exegesis (tafsir), Islamic law (fiqh), Islamic evangelism (da'wah), completing the remaining portions of the collections of Bukhari and Muslim, and learning to research texts, write articles, and the like. This is a two year program and comes highly recommended by many people such as Shaykh Akram Nadwi of the United Kingdom.
Nadwa definitely has the environment needed for a student of Islamic sciences to progress in whatever they are studying.  These are the base programs. Students are expected to read books outside of class, engage in short research projects, as that is the actual point of coming to Nadwa in the view of all the teachers. Though it takes time to break in to the culture, food, and people, once you get into the swing of things you will be able to drink from the wells of knowledge therein. My own personal out-of-class educational endeavors took me to Mazahir al-Uloom in Saharanpur where I sat with Shaykh Yunus Jaunpuri (India's most senior scholar of hadith) for two days, Darul Uloom Deoband, and various madrasas in Gujarat. Just to show how big of a deal Shaykh Yunus is, Shaykh Akram Nadwi is also currently in the midst of authoring a book on him and his accomplishments in the sciences of hadith.
This series will be continued every week and will cover the various experiences and lessons I learned throughout this endevour to study Islam in India. I hope to convey to readers how life is in India for an American through speaking about my interactions with health care, law enforcement, locals, Islamic institutions, what students of knowledge should consider before thinking about studying overseas, and lastly reflections and recommendations on the institutions and places I have and will continue to visit within India.
. . .
Check out Part I of this series: Experiences of Islam, Politics and Culture in India.
The Duplicity of American Muslim Influencers And The 'So-called Muslim Ban'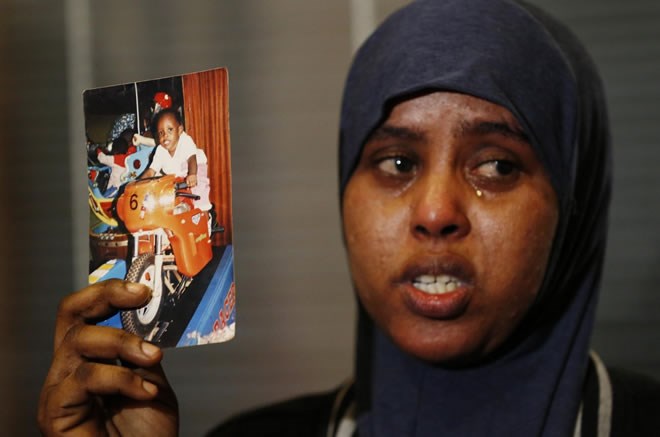 As we approach the beginning of another painful year of the full enforcement of Presidential Proclamation 9645 (a.k.a. 'the Muslim ban') that effectively bars citizens of several Muslim majority countries from entering into the United States, the silence remains deafening. As I expected, most of the world has conveniently forgotten about this policy, which thus far has separated over 3,000 American families from their spouses and other immediate relatives. In June 2019, the Brennan Center of Justice notes that: The ban has also kept at least 1,545 children from their American parents and 3,460 parents from their American sons and daughters. While silence and apathy from the general public on this matter is to be expected— after all, it is not their families who are impacted— what is particularly troubling is the response that is beginning to emerge from some corners of the American Muslim social landscape.
While most Muslims and Muslim groups have been vocal in their condemnation of Presidential Proclamation 9645, other prominent voices have not. Shadi Hamid sought to rationalize the executive order on technical grounds arguing that it was a legally plausible interpretation. Perhaps this is true, but some of the other points made by Hamid are quite questionable. For example, he curiously contends that:
The decision does not turn American Muslims like myself into "second-class citizens," and to insist that it does will make it impossible for us to claim that we have actually become second-class citizens, if such a thing ever happens.
I don't know— being forced to choose exile in order to remain with one's family certainly does sound like being turned into a 'second-class citizen' to me. Perhaps the executive order does not turn Muslims like himself, as he notes, into second-class citizens, but it definitely does others, unless it is possible in Hamid's mind to remain a first-class citizen barred from living with his own spouse and children for completely arbitrary reasons, like me. To be fair to Hamid, in the same article he does comment that the executive order is a morally questionable decision, noting that he is "still deeply uncomfortable with the Supreme Court's ruling" and that "It contributes to the legitimization and mainstreaming of anti-Muslim bigotry."

On the other hand, more recently others have shown open disdain for those who are angered about the 'so-called Muslim ban.' On June 6th, 2019, Abdullah bin Hamid Ali, a Senior Faculty Member at Zaytuna College, Islamic scholar and the founder of the Lamppost Education Initiative, rationalized the ban on spurious security grounds. He commented that,
The so-called Muslim ban, of course, has us on edge about his potential. But, to be fair, a real Muslim ban would mean that no Muslim from any country should be allowed in the US. There are about 50 Muslim majority countries. Trump singled out only 7 of them, most of which are war torn and problem countries. So, it is unfair to claim that he was only motivated by a hatred for Islam and Muslims.
First, despite how redundant and unnecessary this point is to make again, one ought to be reminded that between 1975 and 2015, zero foreigners from the seven nations initially placed on the banned list (Iraq, Iran, Libya, Somalia, Sudan, Syria, and Yemen) killed any Americans in terrorist attacks on U.S. soil and zero Libyans or Syrians have ever even been convicted of planning a terrorist attack on U.S. soil during that same time period. I do not think these numbers have changed over the last 4 years either. If policy decisions are supposed to be made on sound empirical evidence and data, then there is even less justification for the ban.
Second, Bin Hamid Ali comments that 'the so-called Muslim ban, of course, has us on edge about his [Trump's] potential.' Whoa… hold on; on edge about his potential? For the millions of people banned from entering the United States and the thousands of Muslim families connected to these millions of people, this 'potential' has been more than realized. To reduce the 'so-called Muslim ban' to just targeting 'war torn and problem countries' is to reduce our family members—our husbands, wives, and children—to (inaccurate) statistics and gross stereotypes. Are spouses from Syria or Yemen seeking to reunite with their legally recognized spouses or children any less deserving to be with their immediate family members because they hail from 'problem countries'? How can one be concerned with stereotypes while saying something like this? Is this not the exact thing that Abdullah bin Hamid Ali seeks to avoid? Surely the Professor would not invoke such stereotypes to justify the racial profiling of black American citizens. What makes black non-Americans, Arabs, and Iranians any different when it comes to draconian immigration profiling? From a purely Islamic perspective, the answer is absolutely nothing.
More recently, Sherman Jackson, a leading Islamic intellectual figure at the University of Southern California, King Faisal Chair in Islamic Thought and Culture and Professor of Religion and American Studies and Ethnicity, also waded into this discussion. In his essay, he reframed the Muslim ban as a question of identity politics rather than basic human right, pitting Muslim immigrants against what he calls 'blackamericans' drawing some incredibly questionable, nativist, and bigoted conclusions. Jackson in a recent blog responding to critiques by Ali al-Arian about his own questionable affiliations with authoritarian Arab regimes comments:
Al-Arian mentions that,
"the Muslim American community seemed united at least in its opposition to the Trump administration."  He and those who make up this alleged consensus are apparently offended by Trump's so-called Muslim ban.  But a Blackamerican sister in Chicago once asked me rhetorically why she should support having Muslims come to this country who are only going to treat her like crap.
These are baffling comments to make about 'Trump's so-called Muslim ban.' Jackson creates a strawman by bringing up an anecdotal story that offers a gross generalization that clearly has prejudiced undertones of certain Muslim immigrants. Most interesting, however is how self-defeating Jackson's invocation of identity politics is considering the fact that a large number of the 'blackamerican' Muslims that he is concerned about themselves have relatives from Somalia and other countries impacted by the travel ban. As of 2017, there were just over 52,000 Americans with Somali ancestry in the state of Minnesota alone. Are Somali-Americans only worth our sympathy so long as they do not have Somali spouses? What Jackson and Bin Hamid Ali do not seem to understand is that these Muslim immigrants they speak disparagingly of, by in large, are coming on family unification related visas.
Other people with large online followings have praised the comments offered by Abdullah bin Hamid Ali and Sherman Jackson. The controversial administrator of the popular The Muslim Skeptic website, Daniel Haqiqatjou, in defense of Jackson's comments, stated:
This is the first time I have seen a prominent figure downplay the issue. And I think Jackson's assessment is exactly right: The average American Muslim doesn't really care about this. There is no evidence to indicate that this policy has had a significant impact on the community as a whole. Travel to the US from those four countries affected by the ban was already extremely difficult in the Obama era.
What Haqiqatjou seems to not realize is that while travel from these countries was difficult, it was not as 'extremely difficult' as he erroneously claims it was. The US issued 7,727 visas to Iranian passport holders in 2016 prior to the ban. After the ban in 2018, that number dropped to 1,449. My own wife was issued a B1/B2 Tourist visa to meet my family in 2016 after approximately 40 days of administrative processing which is standard for US visa seekers who hold Iranian passports. On the other hand, she was rejected for the same B1/B2 Tourist visa in 2018 after a grueling 60+ day wait due to Presidential Proclamation 9645. At the behest of the Counselor Officer where we currently live, she was told to just finish the immigration process since this would put her in a better position to receive one of these nearly impossible to get waivers. She had her interview on November 19, 2018, and we are still awaiting the results of whatever these epic, non-transparent 'extreme vetting' procedures yield. Somehow despite my wife being perfectly fine to enter in 2016, three years later, we are entering the 10th month of waiting for one of these elusive waivers with no end time in sight, nor any guarantee that things will work out. Tell me how this is pretty much the same as things have always been?
What these commentators seem to not realize is that the United States immigration system is incredibly rigid. One cannot hop on a plane and say they want to immigrate with an empty wallet to start of Kebab shop in Queens. It seems as if many of these people that take umbrage at the prospects of legal immigration believe that the immigration rules of 2019 are the same as they were in 1819. In the end, it is important to once again reiterate that the Muslim immigrants Jackson, Bin Hamid Ali and others are disparaging are those who most likely are the family members of American Muslim citizens; by belittling the spouses and children of American Muslims, these people are belittling American Muslims themselves.
Neo-nationalism, tribalism, and identity politics of this sort are wholly antithetical to the Islamic enterprise. We have now reached the point where people who are considered authority figures within the American Islamic community are promoting nativism and identity politics at the expense of American Muslim families. Instead of trying to rationalize the 'so-called Muslim Ban' via appeals to nativist and nationalist rhetoric, influential Muslim leaders and internet influencers need to demonstrate empathy and compassion for the thousands of US Muslim families being torn apart by this indefinite Muslim ban that we all know will never end so long as Donald Trump remains president. In reality, they should be willing to fight tooth-and-nail for American Muslim families. These are the same people who regularly critique the decline of the family unit and the rise of single-parent households. Do they not see the hypocrisy in their positions of not defending those Muslim families that seek to stay together?
If these people are not willing to advocate on behalf of those of us suffering— some of us living in self-imposed exile in third party countries to remain with our spouses and children— the least they can do is to not downplay our suffering or even worse, turn it into a political football (Social Justice Warrior politics vs. traditional 'real' Islam). It seems clear that if liberal Muslim activists were not as outspoken on this matter, these more conservative voices would take a different perspective. With the exception of Shadi Hamid, the other aforementioned names have made efforts to constrain themselves firmly to the 'traditional' Muslim camp. There is no reason that this issue, which obviously transcends petty partisan Muslim politics, ought to symbolize one's allegiance to any particular social movement or camp within contemporary Islamic civil society.
If these people want a 'traditional' justification for why Muslim families should not be separated, they ought to be reminded that one of al-Ghazali's 5 essential principles of the Shari'a was related to the protection of lineage/family and honor (ḥifẓ al-nasl). Our spouses are not cannon fodder for such childish partisan politics. We will continue to protect our families and their honor regardless of how hostile the environment may become for us and regardless of who we have to name and shame in the process.
When I got married over a year prior to Donald Trump being elected President, I vowed that only Allah would separate me from my spouse. I intend on keeping that vow regardless of what consequences that decision may have.
Photo courtesy: Adam Cairns / The Columbus Dispatch
Raising A Child Between Ages 2-7 | Dr Hatem Al Haj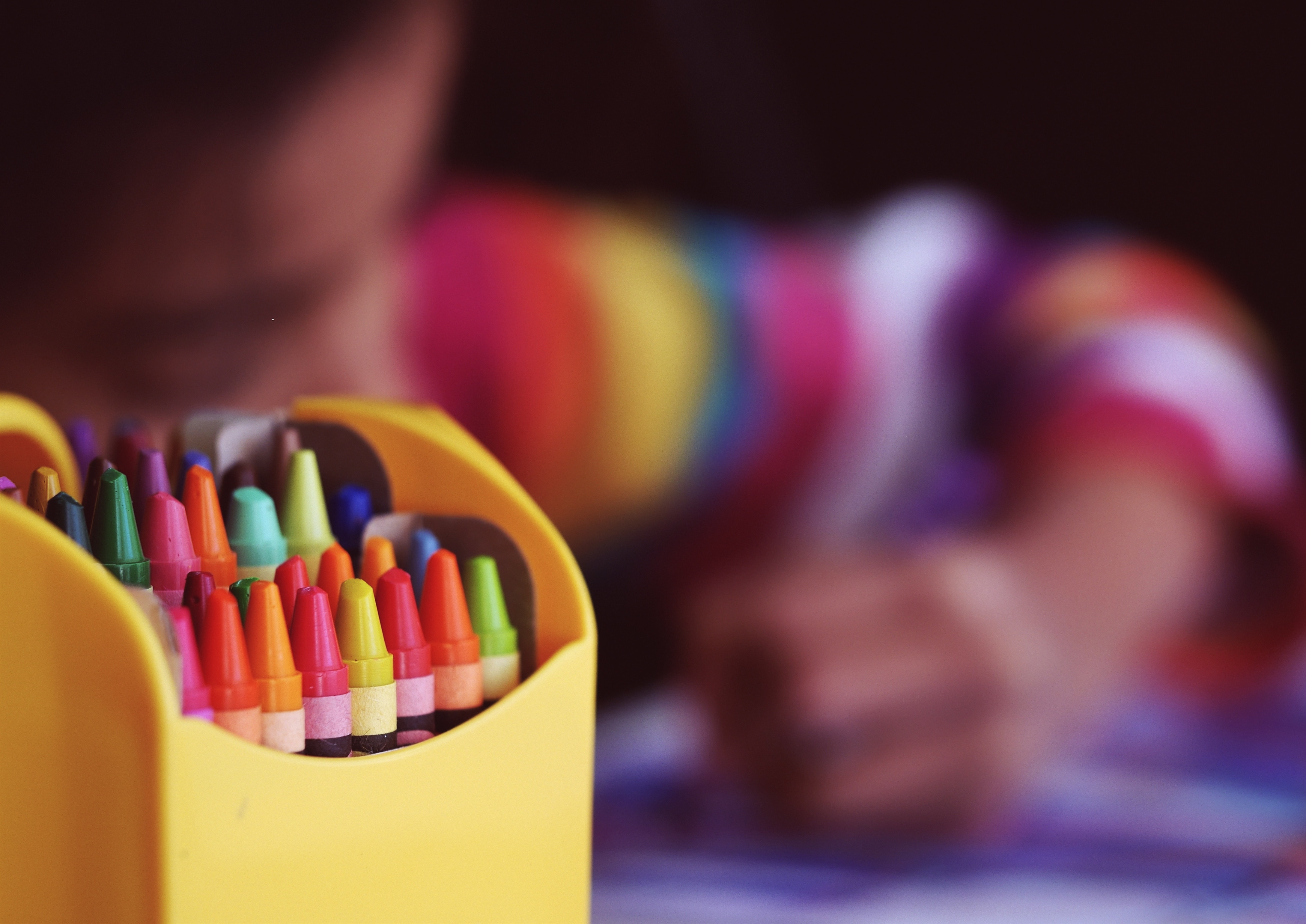 This is called a pre-operational period by Jean Piaget who was focused on cognitive development.
Children this age have difficulty reconciling between different dimensions or seemingly contradictory concepts. One dimension will dominate and the other will be ignored. This applies in the physical and abstract realms. For example, the water in the longer cup must be more than that in the shorter one, no matter how wide each cup is. Length dominates over width in his/her mind.
Throughout most of this stage, a child's thinking is self-centered (egocentric). This is why preschool children have a problem with sharing.

In this stage, language develops very quickly, and by two years of age, kids should be combining words, and by three years, they should be speaking in sentences.
Erik Erikson, who looked at development from a social perspective, felt that the child finishes the period of autonomy vs. shame by 3 years of age and moves on to the period of initiative vs. guilt which will dominate the psycho-social development until age 6. In this period, children assert themselves as leaders and initiative takers. They plan and initiate activities with others. If encouraged, they will become leaders and initiative takers.
Based on the above, here are some recommendations:
In this stage, faith would be more caught than taught and felt than understood. The serene, compassionate home environment and the warm and welcoming masjid environment are vital.
Recognition through association: The best way of raising your kid's love of Allah and His Messenger

is by association. If you buy him ice cream, take the opportunity to tell them it is Allah who provided for you; the same applies to seeing a beautiful rose that s/he likes, tell them it is Allah who made it. Tell them stories about Prophet Muhammad

. Statements like: "Prophet Muhammad was kinder to kids than all of us"; "Prophet Muhammad was kind to animals"; " Prophet Muhammad loved sweets"; " Prophet Muhammad helped the weak and old," etc. will increase your child's love for our most beloved

.
Faith through affiliation: The child will think, "This is what WE do, and how WE pray, and where WE go for worship." In other words, it is a time of connecting with a religious fraternity, which is why the more positive the child's interactions with that fraternity are, the more attached to it and its faith he/she will become.
Teach these 2-7 kids in simple terms. You may be able to firmly insert in them non-controversial concepts of right and wrong (categorical imperatives) in simple one-dimensional language. Smoking is ḥarâm. No opinions. NO NUANCES. No "even though." They ate not ready yet for "in them is great sin and [yet, some] benefit for people."
Promote their language development by speaking to them a lot and reading them books, particularly such books that provoke curiosity and open discussions to enhance their expressive language. Encourage them to be bilingual as learning two languages at once does not harm a child's cognitive abilities, rather it enhances them.
This is despite an initial stage of confusion and mixing that will resolve by 24 to 30 months of age. By 36 months of age, they will be fluent bilingual speakers. Introduce Islamic vocabulary, such as Allah, Muhammad

, masjid, Muslim, brothers, salaat, in-sha'a-Allah, al-Hamdulillah, subhana-Allah, etc. (Don't underestimate the effect of language; it does a lot more than simply denoting and identifying things.)
In this pre-operational period, their ability of understanding problem solving and analysis is limited. They can memorize though. However, the focus on memorization should still be moderate. The better age for finishing the memorization of the Quran is 10-15.
Use illustrated books and field trips.
Encourage creativity and initiative-taking but set reasonable limits for their safety. They should also realize that their freedom is not without limits.
Between 3-6 years, kids have a focus on their private parts, according to Freud. Don't get frustrated; tell them gently it is not appropriate to touch them in public.
Don't get frustrated with their selfishness; help them gently to overcome this tendency, which is part of this stage.
Parenting: Raising a Child from Age 0 to 2 | Dr. Hatem Al Haj
Reflection On The Legacy of Mufti Umer Esmail | Imam Azhar Subedar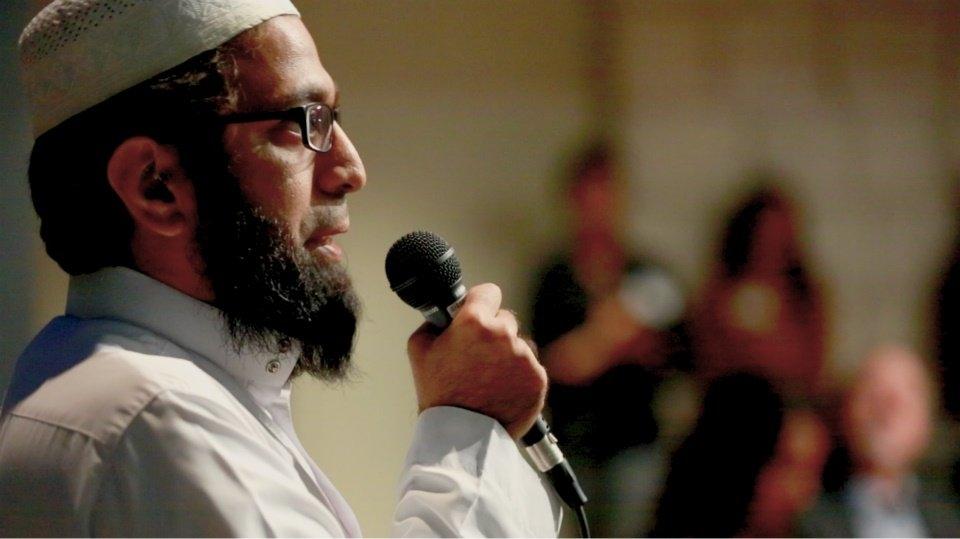 "An ocean of knowledge which once resided on the seabed of humbleness has now submerged below it, forever."
"Why didn't you tell me!! You call me your younger brother, but you couldn't even tell me you were ailing?!"
I could've called you or visited you so I could apologize for all the pain I caused you; thank you for all the good you did for me throughout my life despite all that pain. if nothing else, just so I could say goodbye to you."
(My selfish mind continued to cry out as I stood in front of his grave— praying.)

As I sat down to compile my thoughts, upon returning home, I put my feelings of loss aside and tried to analyze your decision of not informing me about your illness from a different perspective.
Possibly, your own.
Why would you tell me?
This was just like you. You never wanted to hurt a soul; forget about making them worry about you, augmenting their own worries. For you were the sponge for our worries, the shock absorber of our concerns, and the solid wall that shouldered the pain of those around him.
You weren't just a big brother, my big brother, you were a true human. A lesson on humanity.
You were always there for me.
"I GOT A QUESTION" sent at 2 AM.
"Sure" was your response.
We spoke for over 40 min.
That night.
Your strength reflected my weakness- always urging me to do better, be more like you.
I was told you were in hospital by a close family member early Friday morning before Jummah prayers. I was supposed to call you. That was my responsibility. However, the preparation of the Friday Sermon was my excuse not to do so.
As I exited from delivering the Friday services, I received a message from you, the one who was spending the last days of his life in a hospital, never to be seen outside of the confines of those walls ever again.
That message you wrote- you knew me so well.
"As-salaam alaikum, I thought you were already American?"
(You were catching up with me as I had become an American citizen the day before. You wanted to congratulate me, without complaining to me.)
"I heard you are in the hospital?! How are you? What's going on?" I asked immediately.
"Getting some treatment done. Mubarak on your American citizenship" was your response.
Diversion. A stubborn man with a heart of gold. You wanted to celebrate people even at the cost of your own life.
Your last words to me were digital, even though your connection with me spans a lifetime. As much as I wish I had heard your voice one last time, I try to find the beauty in that communication too as I can save and cherish those last words.
We grew up together in Canada in the '80s- Mufti Umer and I. Our fathers were tight- childhood buddies. He ended up becoming the inspiration for my family to trek towards a path devoted to Islam, beginning with my brother and then myself.
He was my support from the time when I came to England to study at the Dar Al Uloom and wanted to call it quits and go home, to when he hosted me when I visited him in Austin in 2002, all the way till 2019, after I was married and settled with kids he loved like his own.
He visited us here in Dallas and had met them in his unique way of showering them with love. And why wouldn't he? My wife and I are here under one roof all because of his earnest desire to help people.
He introduced us to each other.
"I want you to marry my younger brother." A message he sent to my wife over 17 years ago.
She was his student. He was her mentor, support beam, confidante, and best friend. (Well, we all feel like he was our best friend, only because he truly was.)
I am sharing my life story not only because he was an integral part of it, but throughout (he was also a major part of my wife's life when she really needed him) but because that final text message wrapped it all up- the gift that he was to me and my family. It showed how much he was invested in us as individuals, as a couple, and as a family.
That message wrote:
"I thought you've been a citizen since marriage."
(FRIDAY, AUGUST 30TH @ 3: 07 PM)
This is just my story featuring Mufti Umer Ismail.
I am confident that there are thousands more out there without exaggeration.
I'll conclude with a word he corrected for me as I misspelled it on my Facebook page a few months ago when Molana Haaris Mirza, a dear colleague, passed away in New York. He didn't do it publicly, he did it through that same Facebook text messenger that kept us in touch- with love and sincere care for me in his heart.
"As-salaam alaikum the word is Godspeed. Sorry for being [a] grammar freak."
(MARCH 28TH, 2019 @6: 04 PM)
Godspeed, my dear brother. Godspeed.
Azhar Subedar