Three Musts for Every Muslim College Student This Year
By Meena Malik
A young Muslim graduates high school and goes off to college, and then discovers that she is indeed a Muslim and begins practicing Islam through self-motivation. Sound familiar? Did it happen to you? Well, it sure happened to me.
There's just a slight catch-22 that us newly-caring Muslims might face though—we benefit from having been raised in a Muslim family, but simultaneously feel as if we are fresh converts to Islam in some aspects of our faith. We might remember how to properly make wudu from Sunday School, but maybe forgot or never learned how to read Arabic. We might be familiar with what the Qur'an teaches about Prophet Jesus peace be upon him, but maybe never learned about mahram family relationships. Other than just plain ignorance of certain issues, we might also have years of misunderstandings and misconceptions of Islam that we learned from a young age to overcome as well.
At the time when I was experiencing this myself, I looked at the converts around me and found so much respect for them. I thought, they probably know how to pray better than I do, or look at how much time and effort they are putting into learning how to read Arabic, or wow, they are reading so many books about Islam. And then I decided—it's time that Muslims who go through an awakening and want to start practicing Islam welcome that kind of learning spirit and dedicated effort in their own lives.
Here is my advice on three things for young Muslims who find themselves in this situation to do over the next school year. The following three pieces of advice are great things to work on while you have a lot of free time, flexibility of planning your schedule, and have a group of Muslim students around you.
1. Relearn your daily prayers.
Many of us learned how to pray at a young age, and maybe we forgot how to do some of it, were taught incorrectly, or were not taught about prayer with all of its complexities. Salah is a pillar of Islam and is one of the most vital acts of worship for believers. Pretend like you never learned how to pray, and completely relearn how to pray. Take a class or read a book about how to pray and all the rulings associated with different scenarios that can happen during prayer. Utilize local scholars, and also take advantage of the group dynamic you have in the MSA. Ask a brother or sister to help you, even if it is just testing you on one dua related to prayer a week for the entire semester. I know, this sounds way too simple—but this is too important to skim over and ignore. By the end of your praying re-education, you should be able to correctly perform prayer without any doubt that it is one hundred percent legitimate.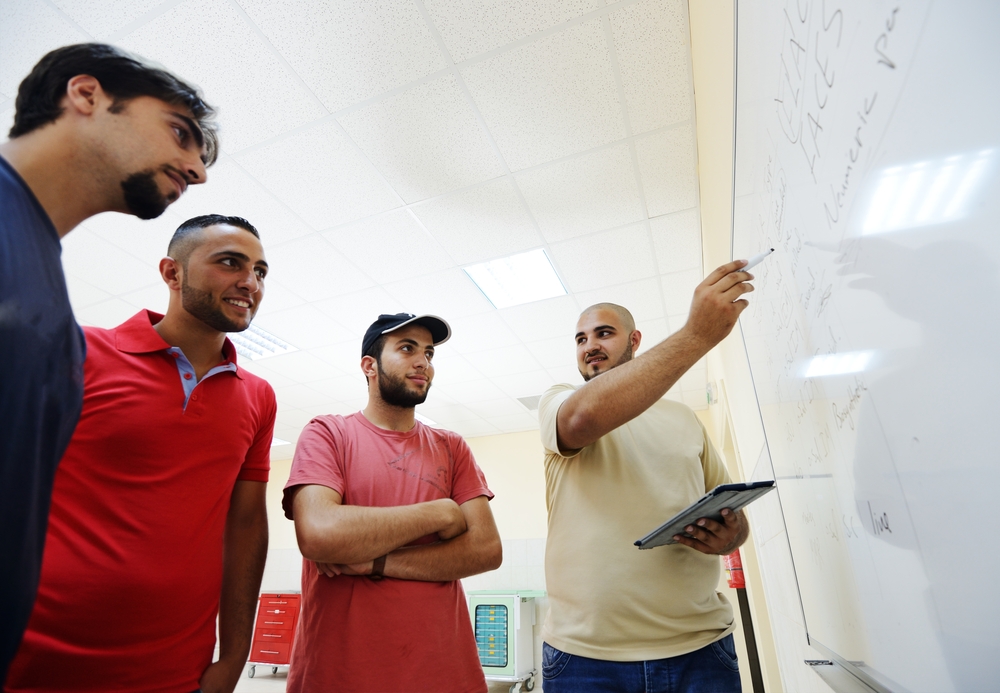 2. Thoroughly Revise all of the Qur'an You Memorized as a Kid
How many of us learned how to rattle off surahs as kids to our parents or Qur'an teachers? It is so vital for us to thoroughly revise all of the Qur'an that we have memorized as kids, to make sure that we have memorized it correctly and recite it correctly. It is very likely that we have forgotten surahs that we knew as kids. How many of us memorized the last juz of the Qur'an, but now can't recite it fifteen years later? The Qur'an has a right over us, and we will be asked about all of the Qur'an we have forgotten. (Let's just hope you're not a hafidth, otherwise this will take ages!) You are so blessed to be around other Muslim students who probably also have a lot of time on their hands. Find a buddy or two and schedule your free time for memorizing together or testing one another.
3. Improve Your Ability to Read and Recite the Qur'an
If you were lucky as a kid, your parents took (in some cases, dragged) you to Arabic and Qur'an reading classes. If you are lucky, you still pretty much remember how to read Arabic and how to recite the Qur'an decently well. But there is a great likelihood that you forgot how to read Arabic, or never really learned how to pronounce a letter or two or all of the recitation rules. If you keep asking yourself, when I recite Surat al Fatiha, why doesn't it sound like the imam at the masjid?, then you know you are desperately in need of help. The validity of your prayer and your ability to revise your memorization heavily rely on your ability to read and recite Arabic correctly.
Get a local Qur'an teacher to test you and see what level you are at. You might be surprised to know that he or she has seven year old students who are at a much more advanced level than you! Then, identify your resources (local teachers, classes at nearby masjids, or other Muslim students who can help you improve) and get on it.
4. Wait—I know how to pray, got all my surahs down, and can read like Shaykh Sudais, what about me?­
Well, look at you, big shot on campus! How many people in your MSA can you help memorize the dua for tashahhud or revise Surat Al Asr? There you go, you've got all kinds of things to be busy with!