"Brand Islam" – Commercial Encroachment or an Act of Faith?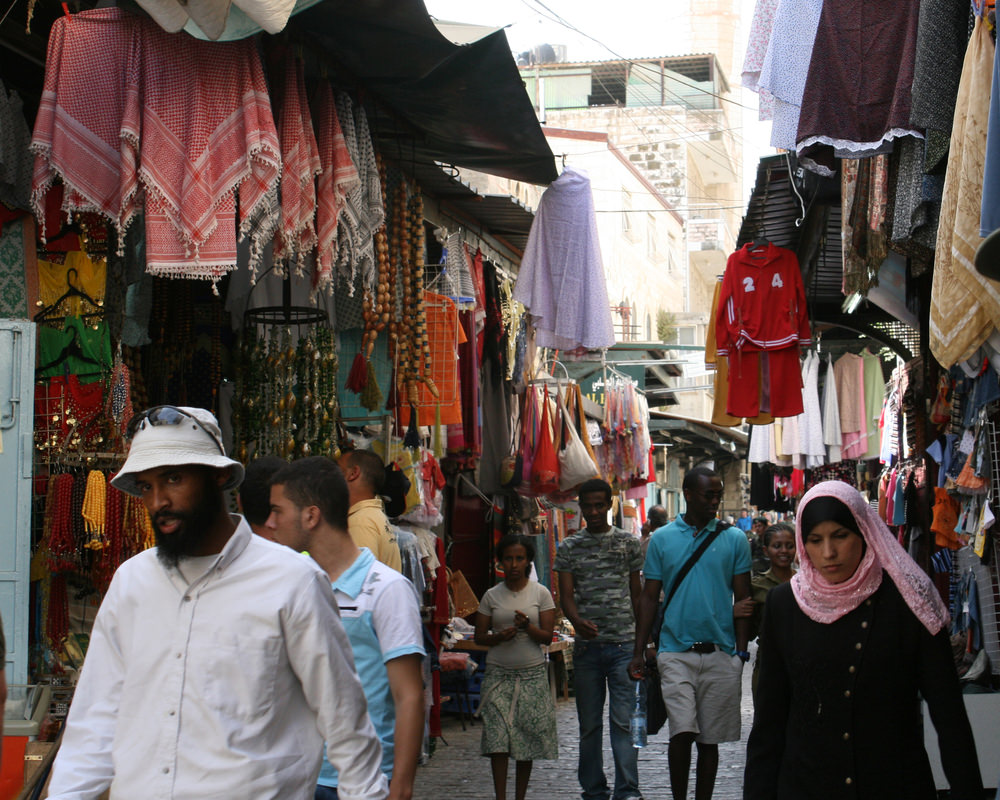 By Lubaaba Amatullah
Seen from above, the size of the bazaar is incredible, row upon row of colorful stalls selling everything from food to ethnic clothing and books. This is the Islamic Society of North America's (ISNA) annual convention in Washington D.C., and by the looks of this bazaar, faith has taken a consumerist bend.

Welcome to Brand Islam.
One stall sells t-shirts; from the tongue-in-cheek, "I'm fly 'Coz my Imaan is high" and "Think I'm hot? Hell is hotter. Lower your gaze," to the cheerful, "Smile, its sunnah!" Another stall sells halal sweets and frozen foods, packaged to perfection so as not to look out of place in any standard American supermarket. Yet another stall sells designer hijabs, patented "pins-free" styles to silks and cashmeres with a broad selection of jeweled pins and brooches. Many stalls are from local businesses, yet several are from other cities and even abroad; one ethnic wear shop flew in especially from Pakistan, another Islamic book shop flew in from Britain. Brand Islam seems to be truly making its mark – on a global scale.
The bazaar is teeming with shoppers as they make purchases for upcoming Eid or wedding events, stock up on the latest literature, or enjoy the latest in halal savory snacks. Notwithstanding the countless lectures, seminars, and workshops the conference conducts, led by world class speakers, many flown in specially, the bazaar remains a central attraction of the convention. At the end of each day, one overhears attendees speaking of their purchases; the latest book by Professor Tariq Ramadan, a new Emirati jilbab adorned with Swarovski crystals, or a child's new salwar kamiz for the upcoming Eid celebrations.
A few months later, across the border in the Canadian capital of Toronto, is the annual Reviving the Islamic Spirit (RIS) conference, and the story is much the same. An event that hosts tens of thousands of Muslims from across Canada and abroad, the conference hall is matched in size by its adjacent bazaar hall. Arabic calligraphers design names with flourish. The largest stall is for women's modest fashion, selling outerwear such as jilbabs and long coats, to casual tops and skirts. A store selling beautiful Arabic calligraphy showpieces delicately carved out of wood catches the eye. Verses of the Qur'an and the names of Allah adorn the vast display. One can't resist purchasing a piece – God's name, "Al-Rahman, The Merciful" – a small coffee table showpiece, an affordable token from a pricey selection. The eye however lingers on the gorgeous circular carved, "Ayat al-Kursi, the Verse of the Throne," a vast bronze creation well beyond budget, although well within dreams.
But is there something unsettling in the commercialization of faith that this bazaar seems to epitomize? Should faith be a t-shirt worn, or a state of mind and heart? Is there something paradoxical in the materialism of luxury hijabs?
Muhammad Haque, an organizer at an American Muslim charity which held a stall at this year's ISNA bazaar, doesn't think so. "The commercialization of Islam has brought products and services that fulfill the needs of Muslim consumers," he suggests. To Muhammad, the benefit of brand Islam is not only for the consumers, "Doors are opened for entrepreneurs into niche markets who otherwise would have failed to penetrate a mature and competitive conventional market."
However, there are those who feel commercialization is contrary to the spirit of faith. Rofiqul Islam is a Briton who often attends Islamic events such as the massive Global Peace and Unity (GPU) conference held annually in London. His thoughts on the shifting culture are mixed. "Modern expansion and commercialization is far from the true spirit of Islam. It's driven by selfish ends," he contends, adding that, "It is by revealing and upholding the truth, Muslims inspired people around the world, rather than commercial culture and marketing of religion."
Although the commercialization of faith may seem worryingly contrary to the spiritual nature of Islam, there is no denying the attraction it has for Muslims of all leanings. Nabeela Chowdhury, a Canadian who enjoys attending RIS, feels the bridging and unifying factor that comes with the branding of Islam, "To me commercialization of Islam is a good thing because it brings the Muslims together as a large community. By drawing people to events like RIS and ICNA (Islamic Circle of North America) conferences, Muslims can feel and show their community spirit while also learning from the live lectures by diverse speakers. Alongside that they can also shop for Islamic goods."
While a prayer in a mosque may be a more traditionally encouraged form of faith, to many, Islamic products are a bridge to faith for those less inclined to a mosque setting but more likely to seek out quirky new styles and delicious halal food. Yet, branding Islam is not simply about consumer products at major conventions. In a climate where Islam is frequently misrepresented in the press and disproportionately aligned with acts of terror, marketing the faith has taken another role.
Inspired by Muhammad, a British campaign which included a series of advertisements across London's transport services, has turned to commercial culture to strengthen the image of the faith. The initiative saw the marketing of Islam and the Prophet Muhammad's positive message through showcasing successful Muslims who affirm the Islamic Prophet as the inspiration for their positive actions. From converted MTV presenter and environmental activist, Kristiane Backer, to leading human rights barrister, Sultana Tafadar, and Cambridge University Professor, Dr. Timothy Winter, advertisements sought to counter controversial and inaccurate portrayals of Islam.
Whatever one thinks of Islam's growing commercial culture, one fact remains true: it is a culture that is rapidly expanding to match its ever-increasing demand. Each new convention draws an even bigger crowd and ever more consumers to the floors of the mandatory bazaar. Meanwhile, outside the walls of Islamic conferences, the Muslim community is finding ever more creative ways to adapt consumerism to their faith and culture. How this will translate in the long run remains to be seen. For now, however, Brand Islam appears here to stay.
Faith Community Stands With Peace And Justice Leader Imam Omar Suleiman During Right Wing Attacks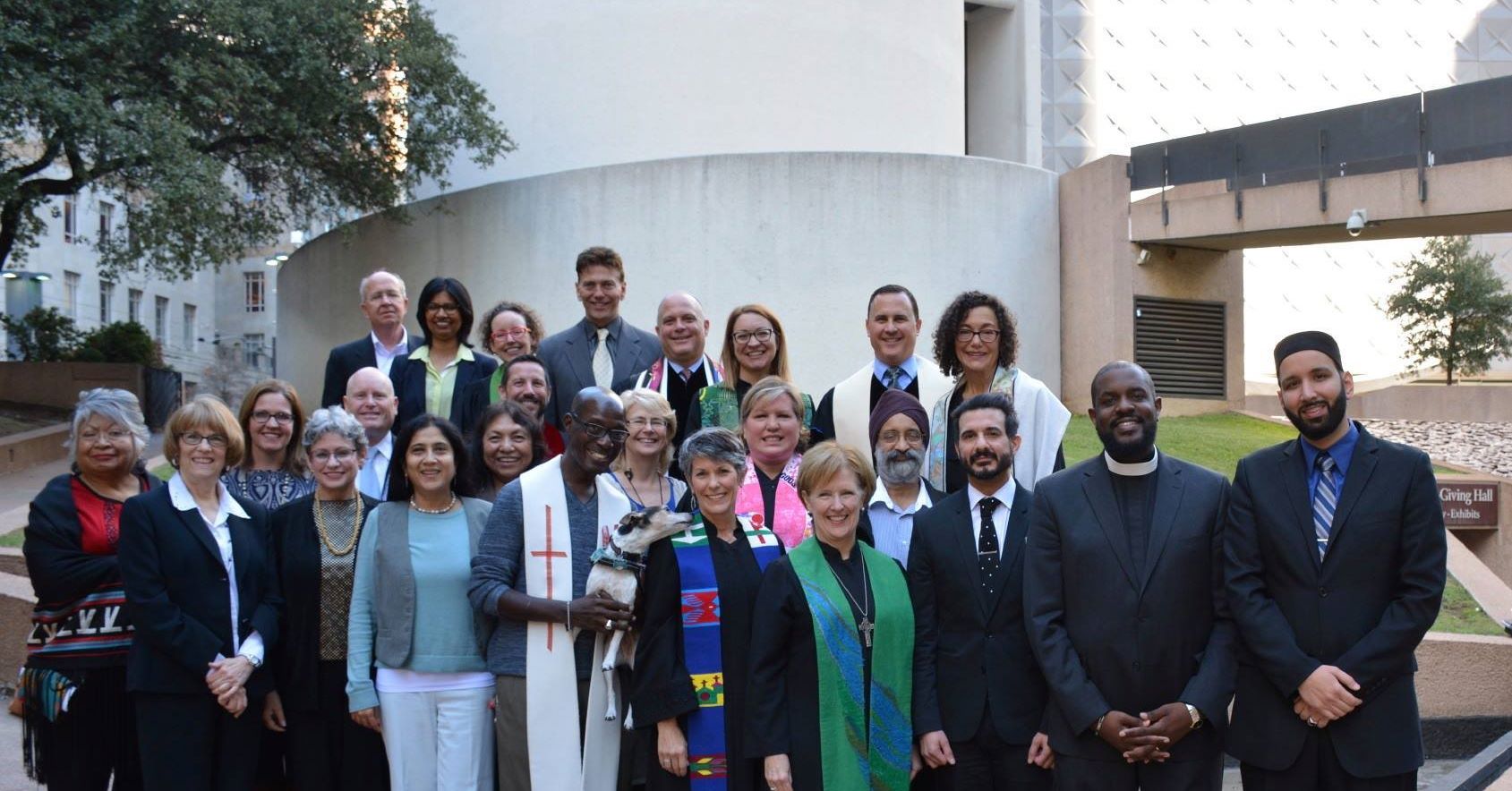 In a follow up to the right-wing media platforms attack on Imam Omar Suleiman – calling him anti-semitic, a common tactic used to discredit both Muslim activists, as well as criticism of Israel policies, Faith Forward Dallas issued a statement.
Faith Forward Dallas at Thanksgiving Square – Faith Leaders United for Peace and Justice is a Texas-based interfaith organization that has worked on many initiatives with Imam Omar Suleiman.

The statement reads:
"Imam Omar Suleiman a spiritual and moral voice for peace with justice!!!!!

Time after time in our city, in the United States and around the world, Imam Omar Suleiman has been a spiritual and moral voice for peace with justice. When others seek to divide, he calls for unity. Faith Forward Dallas at Thanks-Giving Square works to unite faith leaders for justice and compassion. Imam Suleiman has been a trusted leader among us. In the wake of his beautiful prayer to open the House of Representatives on May 9, he has received threats of violence and words of vilification when instead he should have our praise and prayers. We call upon people of good will everywhere to tone down the rhetoric, to replace hate with love, and to build bridges toward the common good.

Faith Forward Dallas at Thanks-Giving Square"
Commenters on the Faith Forward Dallas statement have left comments of support.
The group has invited locals and other leaders to endorse and share the statement. "Endorsed! I love and fully you Imam Omar Suleiman!" wrote Karen Weldes Fry, Spiritual Director at Center of Spiritual Learning in Dallas (CSLDallas), commenting on the statement.
Some commentators do not understand the manufactured controversy.  Heather Mustain writes, "What people are writing is so vile. They obviously didn't even listen to his prayer!" Imam  Omar Suleiman delivered the opening prayer in the US House of Representatives on May, 9th, 2019  at the invitation of Rep. Eddie Bernice Johnson (D) of Dallas, TX.
"I'm grateful for the faith leaders with whom I've built relationships with and served with for years that have shown full support throughout this process. Together we've stood with one another in solidarity in the face of bigotry, and in the support of others in any form of pain. We will not let these dark forces divide us," said Imam Omar Suleiman in response to the outpouring of love from the people he has worked with on the ground, building on peace, love, and justice.
#UnitedForOmar – Imam Omar Suleiman Smeared by Right-Wing News After Opening Prayer at US House of Representatives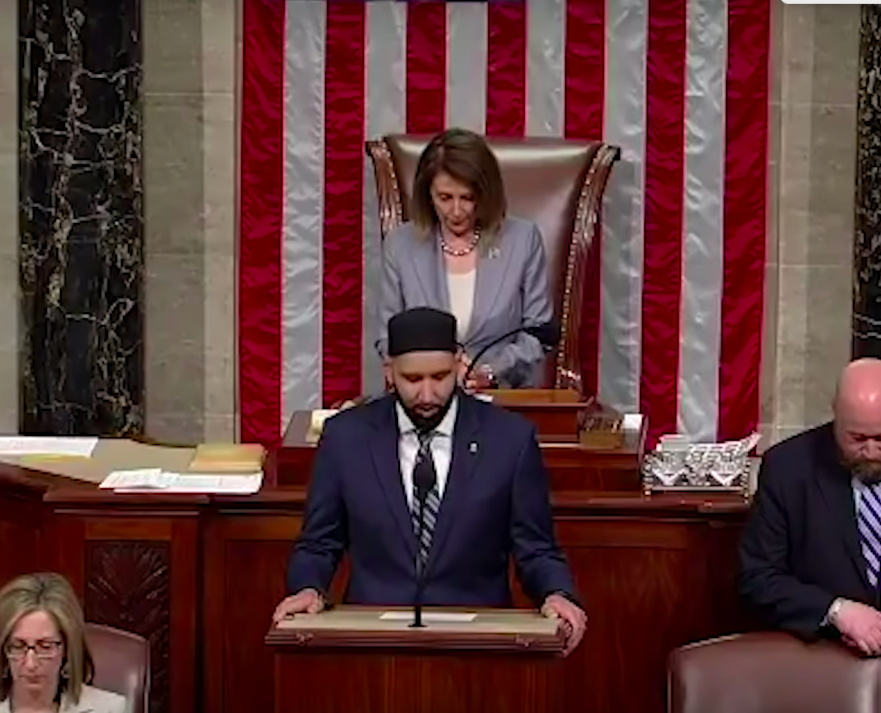 Sh. Omar Suleiman delivered the opening prayer in the US House of Representatives yesterday, May, 9th, 2019  at the invitation of Rep. Eddie Bernice Johnson (D) of Dallas.
Immediately since, right wing media platforms have begun spreading negative coverage of the Imam Omar Suleiman – calling him anti-semitic, a common tactic used to discredit both Muslim activists as well as criticism of Israel policies.

News outlets citing the criticism have pointed to a post from The Investigative Project on Terrorism or ITP, as the source. The  ITP was founded by and directed by noted Islamophobe Steven Emerson. Emerson's history of hate speech has been documented for over two decades.
Since then, the story has been carried forward by multiple press outlets.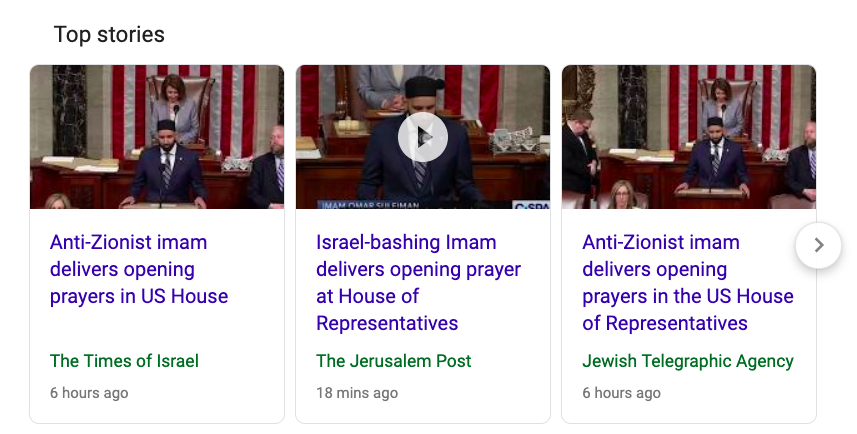 The immediate consequence of this has been the direction of online hate towards what has been Imam Omar Suleiman's long history of preaching unity in the US socio-political sphere.
"Since my invocation I've been inundated with hate articles, threats, and other tactics of intimidation to silence me over a prayer for unity," Imam Omar Suleiman says. "These attacks are in bad faith and meant to again send a message to the Muslim community that we are not welcome to assert ourselves in any meaningful space or way."
MuslimMatters is proud to stand by Imam Omar Suleiman, and we invite our readers to share the evidence that counters the accusations against him of anti-semitism, bigotry, and hate. We would also encourage you to reach out, support, and amplify voices of support like Representative E.B.Johnson, and Representative Colin Allred.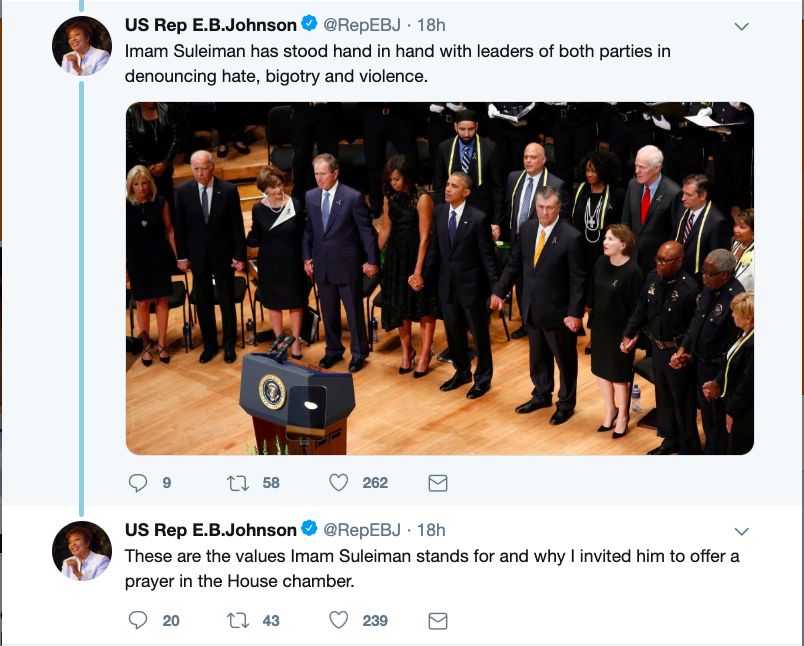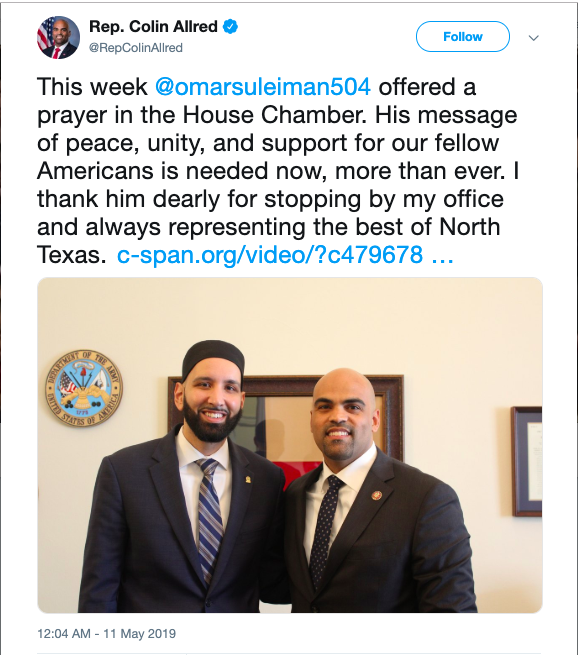 You can help counter the false narrative, simply by sharing evidence of Imam Omar Suleiman's work. It speaks for itself, and you can share it at the hashtag #UnitedForOmar
JazakAllahuKheiran
---
At an interfaith panel discussion, three North Texas religious leaders promoted understanding and dialogue among Muslims, Jews, and Christians. Amid a vexed political and social climate, three religious leaders in North Texas—a priest, an imam, and a rabbi—proved it's possible to come together in times of division. Source: DMagazine.com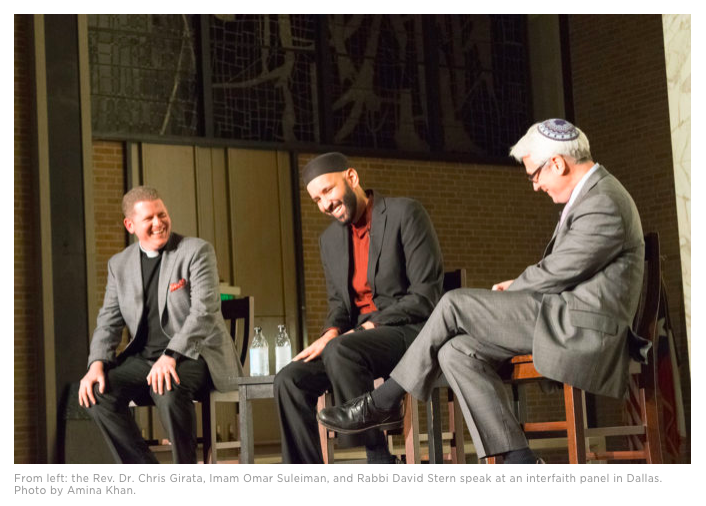 ---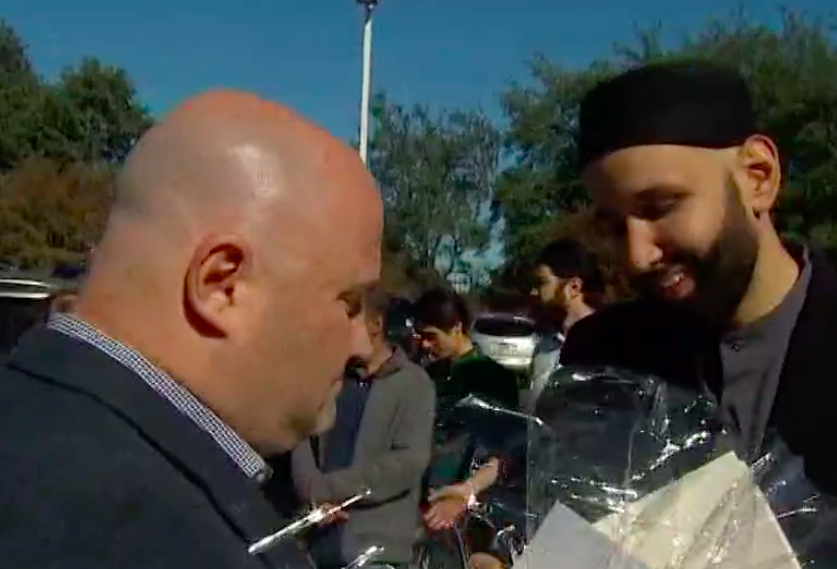 The congregation, led by Imam Omar Suleiman, penned more than 150 cards and letters. source: WFAA News
---
"We must recognize that the white supremacy that threatens the black and Latino communities, is the same white supremacy that spurs Islamophobia and antisemitism," -Imam Omar Suleiman
Source: Bend The Arc
---
"When any community is targeted, they need to see a united faith voice — that all communities come together and express complete rejection of anything that would pit our society against one another more than it already is." -Imam Omar Suleiman
Source: Kera News

---
Source: The Carter Center
---
Imam: After devastating New Zealand attack, we will not be deterred
"My wife and I decided to take our kids to a synagogue in Dallas the night after the massacre at Tree of Life in Pittsburgh to grieve and show solidarity with the Jewish community. My 5-year-old played with kids his age while we mourned inside, resisting hate even unknowingly with his innocence…" Source: CNN
Ben Shapiro Gets Wrecked on the BBC for Racism Against Palestinians and American Jews
Andrew Neil so thoroughly destroys Ben Shapiro that he has a snowflake meltdown and retreats in the middle of the interview to his own safe space, off-camera.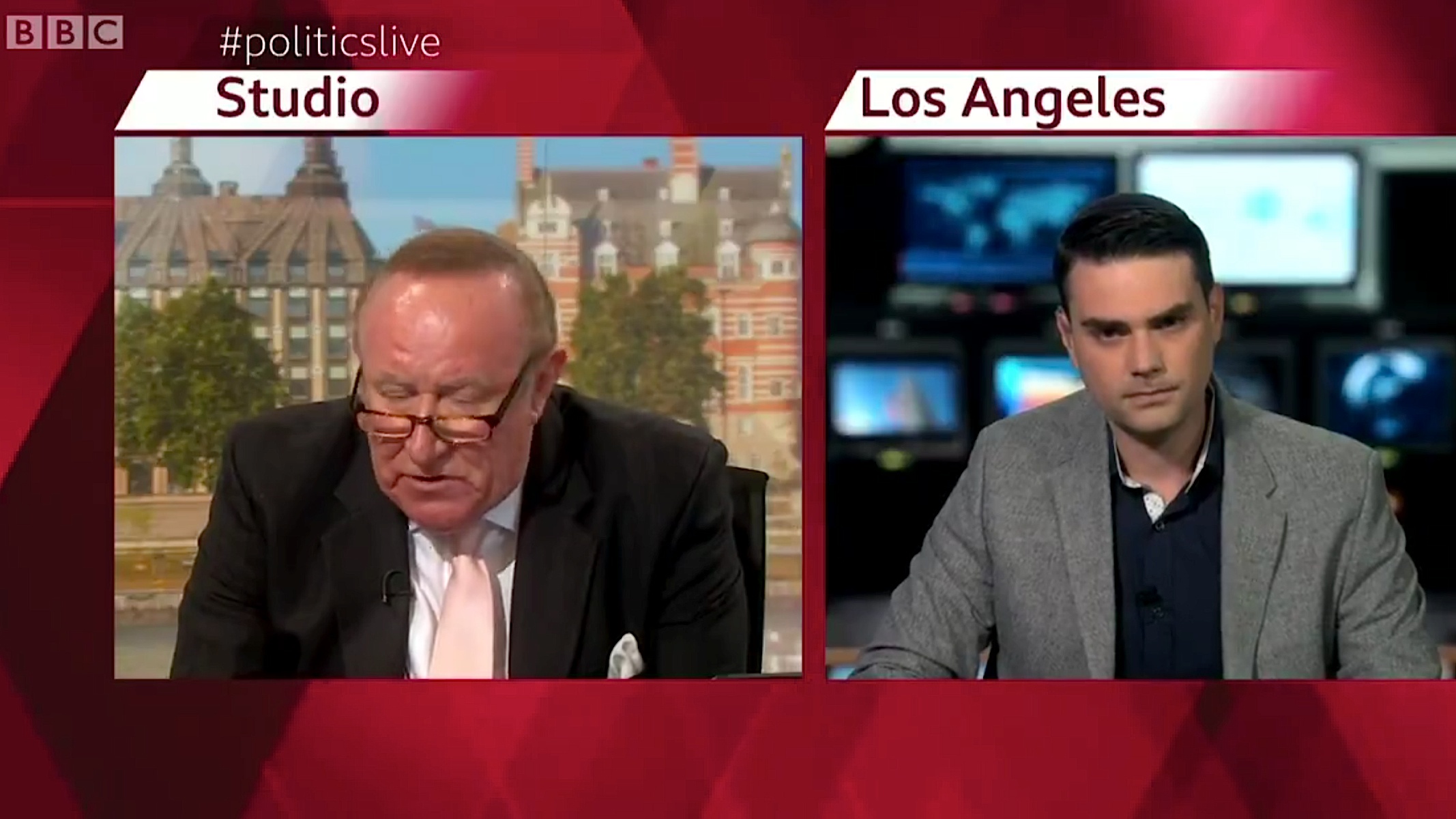 The video plays at the 10:00 minute mark where Neil begins to break down Shapiro on his statements about President Obama, Palestinians, and American Jews.
Let's set the context – popular conservative commentator Ben Shapiro, known for his aggressive debate style in the public square, visited the BBC to promote his new book.  The interviewer, Andrew Neil, after giving Shapiro a chance to introduce himself to the BBC audience, questioned him about the anger both the left and the right feel towards one another, and Shapiro's own role in stoking that anger and polar opposition within the Republican party over many years.

The reason for this line of questioning is because Shapiro claims this to be a problem in American discourse and fails to consider his own contribution to the problem, and it is this hypocrisy that Neil confronts him about.  Shapiro attempts to respond, but is promptly crushed by Neil's responses with Shapiro's own quotes.  For example, he brings up the following tweet written about Palestinians which Shapiro agrees was wrong but hasn't taken down:
Israelis like to build. Arabs like to bomb crap and live in open sewage. This is not a difficult issue. #settlementsrock

— Ben Shapiro (@benshapiro) September 27, 2010
Shapiro futilely attempts to respond, but Neil continues to quote Shapiro until he is left with no choice except to throw ad hominems at his interviewer, which were deftly turned back on Shapiro, leaving him to look even more petty for his attempted condescending remarks.  The end result is the man claiming earlier to welcome a spirited debate quickly found himself running away to lick his wounds.
Perhaps the greatest irony in this debate – Shapiro accused Neil of being an opinion journalist of the left-leaning variety, while Neil is a conservative and chairman of The Spectator, whose editorial outlook is conservative.