Does Bill 60 Mean Leave Canada for Muslim Families?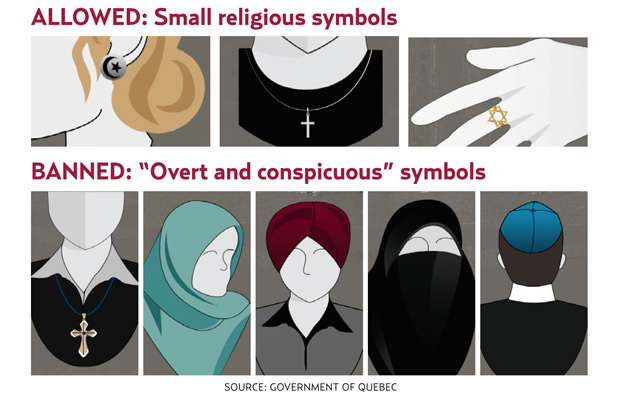 By Kiran Malik-Khan
"Mom, are we going to leave Canada?" Shahzaib, my almost 10-year-old's voice was laced with nervousness, his big brown eyes filled with a worry that can cut through a mother's heart. But, my answer came gently, yet firmly.
"Yes, hon, if Bill 60 gets passed, and if it ever gets adopted by all of Canada; we would leave. In a heartbeat."
 He got it.  Sheheryar, my older one was already asking follow-up questions.  I was glad, and relieved. They understood – being a Muslim came first. We had just discussed Bill 60. My sons couldn't fathom the "unfairness," of it.
And, unfair just begins to describe it.  Bill 60 is the secular values charter being advocated in Quebec.  It is Parti Quebecoi's latest ploy to grab the headlines.  Funny how it manages to pummel basic religious values embraced by four major religions: Islam, Sikh, Judaism, and Christianity in order to create secular ones.  The separatist government led by Democratic Institutions Minister Bernard Drainville is championing the bill, which asks civil servants to get rid of "ostentatious religious symbols."
Ostentatious? Right click the word and here's what you learn:  ostentatious is a synonym for flamboyant, showy, brazen, and pretentious.  It is the opposite of modest, which is exactly the main reason for the hijab, and other religious "symbols" being discussed. 
Maybe Drainville can use English lessons? But, I digress.  I am unable to comprehend the chutzpah possessed by Bill 60 supporters.  What gives them the right to single out the hijab, a mandatory observance for Muslim women, or the Sikh turban, the Jewish kippa, and the Christian cross?  How is it democratic to set aside the rights of those embracing their religions in favor of those who stand for nothing?  There is no method to this madness.
And, in what can only be deemed as phenomenally ironic – Drainville banned the use of "racist" during the Bill 60 hearings now going on in Quebec.  So he's not a racist? The supporters aren't racists. Who's the racist? If you can answer this question, you are surely smarter than I am.
Is this about emulating France? The Francophone in Quebec and their ceaseless yearning for the motherland has gone too far. Whatever unfulfilled desires Quebecers may have when it comes to their heritage, projecting them on other multicultural groups is simply uncalled for!
Nevertheless, here's how you can help.  And, it doesn't matter whether you wear the hijab, live in Canada, or what your political stance is – this is about basic human rights. This is what North America is all about – embracing democracy in its purest form. 
First things first
Quebec's Premier Pauline Marois has recently said she'll "listen to citizens," when it comes to Bill 60.  Please e-mail her here.  Your two minutes will go a long way in helping her understand that this is making waves across the continent, if not the world.  Apathy needs to end where our religious duties begin.  This is for the sake of Allah.  Not tomorrow. Now.
There is also a petition going around, which is crawling at best.  Please take a moment to sign it, and add to the noise.  Every little bit counts. 
And, lastly there is a Facebook page and Twitter account of the same name:  Support Another, and while as a communications professional, I don't think they are doing a great job – the Facebook page is limited to photos only, and the Twitter account is unkempt – they are still portals.  Using the #Quebec and #Bill60 hashtags on Twitter helps as well.  They have turned out to be effective.
Rocking the boat has never been easy.  Leading your daily life with ease is perhaps the single most important thing dear to many of us.  But, what do we stand for? Is it okay to shrug and ignore this because we don't live in Quebec? How would we answer Allah on the Day of Judgement? How would we justify not caring for our fellow Muslims, and fellow human's plight? We are to care for all – regardless of religion – that's Islam.
Speaking of caring, I want to take this opportunity to thank Muslimmatters EIC, Hena Zuberi, who has been a big help MashAllah via Twitter. She said Labaik when I requested her help. And, immediately invited me to write this piece.  JazakAllah Khair sister, I'm grateful. 
So once again, please take a few moments to e-mail the Quebec Premier.  Please sign the petition.  And, share them too.  If we won't care, who will?
[Ed. Note] Further readings:
http://www.theglobeandmail.com/news/politics/quebecs-charter-of-values-debate-a-hearing-in-name-only/article16397798/
http://globalnews.ca/news/1090217/quebec-charter-hearing-witness-relates-mosque-experience-in-testimony/
http://www.montrealgazette.com/life/Editorial+Couillard+needs+together+Bill/9408619/story.html
Retire Aladdin To The Ends Of The Earth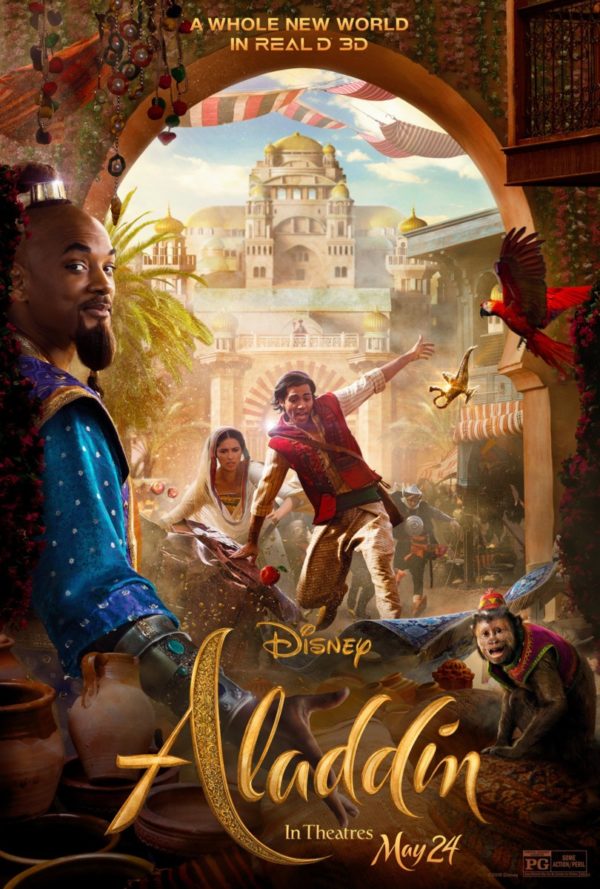 By Jinan Shbat
I grew up in an upper-middle-class suburb in Ohio, where I never felt different than the kids in my neighborhood. Sure, my siblings and I had odd-sounding names, and we spoke a second language. But to our neighbors and classmates, we were white, like them. However, that perception changed when I was 11-years-old, when a Disney cartoon movie named "Aladdin," was released based off of a character created by a French orientalist at the height of Orientalism. At first, my siblings and I were excited because we thought Disney had made a movie that represented us. However, shortly after the movie came out, the questions began.
Are you from Agrabah?
Do you have a magic carpet? Are you going to be married off to someone your parents choose? Do you have outfits like Jasmine?" My head was swarming with all these questions, and I admit, I was intimidated. A little scared, too. I didn't know how to answer them, and so I just shook my head and walked away.
My parents thought they were doing us a favor by buying the movie and have us watch it anytime other kids came over to play. This just created a larger divide between us, and soon my siblings and I were the "other." It made me hyper-aware of my brown skin, my visiting foreign grandparents, and my weird-sounding name that no one could ever pronounce correctly. As I grew up, the movie and its racist, Orientalist tropes followed and haunted me. Anytime anyone found out I was Arab, they would ask, "oh, like Aladdin?" I didn't know how to answer that. Was Aladdin Arab? South Asian, Persian? These were all different ethnicities, yet the movie seemed to be an amalgamation of them all, set in a fiction land I could not identify.
Why is Disney's Aladdin Harmful?
It may not seem like a big deal to be misidentified in this way, but it is. And these stereotypes that have been present in Hollywood for decades are a huge disservice to our communities- all our communities- because when you misidentify a person's culture, you are saying that all people of color are interchangeable— which is dehumanizing.
With the new release of the live action version, "Aladdin" is reinforcing the trauma and obstacles we have had to fight for the last 30+ years. The addition of a diversity consulting firm made Disney look good; it showed good faith on their part to receive feedback on the script to try and improve it.
However, issues remain with the original story itself, and no amount of consulting will change that.
Although the Aladdin remake was marked by controversy over Disney "brown-facing" its white cast, and despite original Aladdin's racist history, last weekend Disney's live-action version soared to $207.1 million globally. Money experts tell us that the remake success comes from the "power of nostalgia"- that is, the film's ability to connect with feel-good memories.
The original production is the second highest grossing film project in Disney history. Last weekend, millions flocked to the remake in record numbers, despite critics' negative and mixed reviews.
The accompanying Aladdin Jr. play is also a major concern, sales of which will skyrocket because of the film. Disney only recently removed the word 'barbaric' in its description of Arabs in the opening song. Many more problems abound, but Disney promises through its licensing company, Music Theatre International, to keep the concepts explored in the original production intact.
A Whole New World Needs Less Anti-Muslim Bigotry
From my perspective, as an organizer that fights a huge Islamophobia network in my daily work, it would be a disservice to my work and our community to sit by and allow racist, Islamophobic, orientalist tropes to make their way into our theaters, homes, and schools. What exactly is not a big deal in this movie? The depiction of Arabs and South Asians as one demographic, the storyline of forced marriage, power struggles, a black man playing a genie literally bound by chains to a lamp?
Hollywood's history of Islamophobia needs to be rectified. There is a plethora of writers, actors and creative minds with alternative positive portrayals of Muslims, Arabs and South Asians. Our consumer appetite must shift to embrace authentic stories and images about people like me.
Aladdin is beyond repair; in its original form, it is problematic. No number of meetings with executives will fix the problems that are still prevalent. It should be retired, indefinitely, and put on the shelf with all the other racist caricatures from Hollywood history.
It's our duty to speak out- and if you don't believe we should, then you can choose to stay silent. I cannot.
Jinan Shbat is an organizer in Washington DC.
Faith Community Stands With Peace And Justice Leader Imam Omar Suleiman During Right Wing Attacks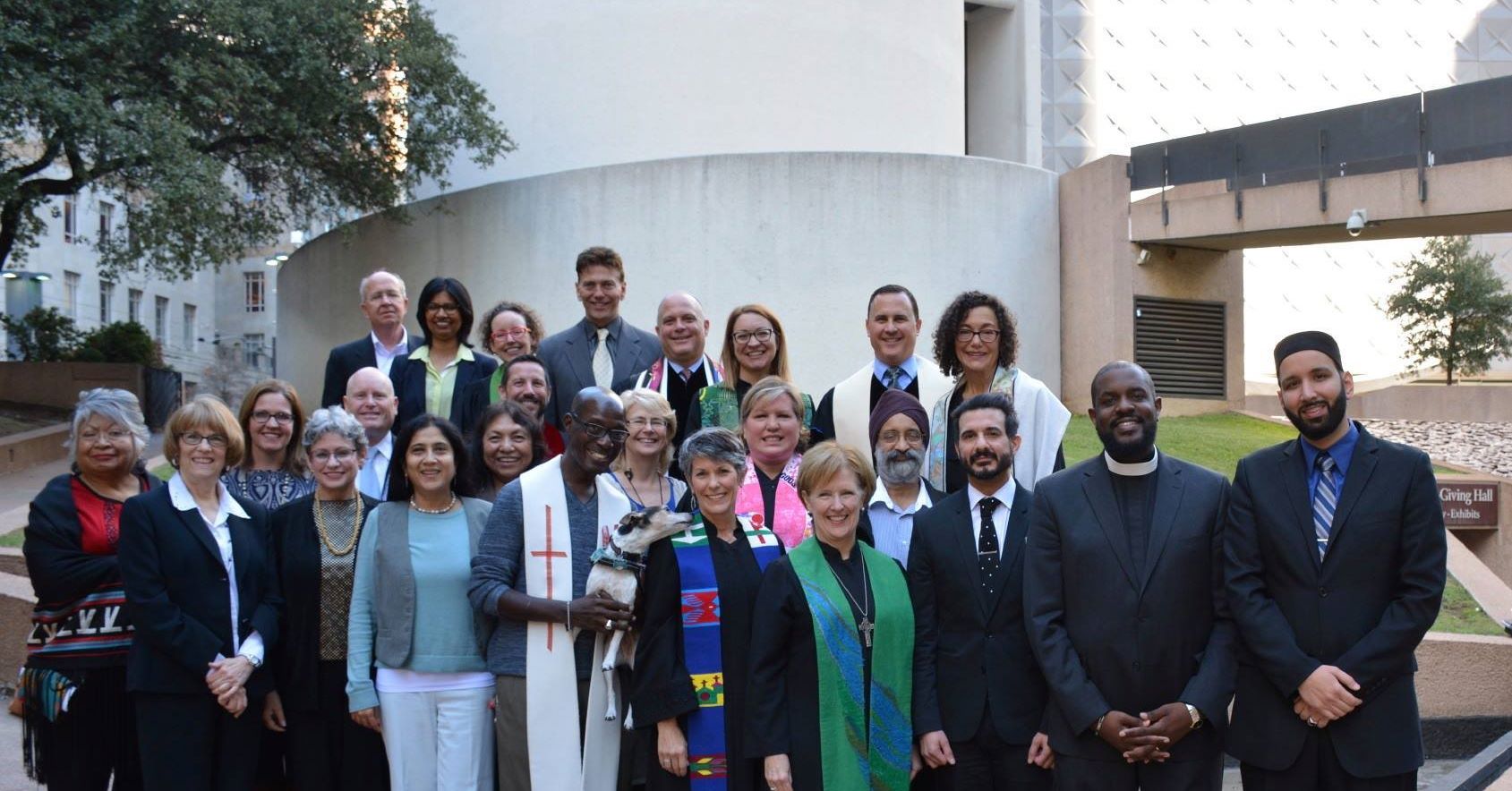 In a follow up to the right-wing media platforms attack on Imam Omar Suleiman – calling him anti-semitic, a common tactic used to discredit both Muslim activists, as well as criticism of Israel policies, Faith Forward Dallas issued a statement.
Faith Forward Dallas at Thanksgiving Square – Faith Leaders United for Peace and Justice is a Texas-based interfaith organization that has worked on many initiatives with Imam Omar Suleiman.
The statement reads:
"Imam Omar Suleiman a spiritual and moral voice for peace with justice!!!!!

Time after time in our city, in the United States and around the world, Imam Omar Suleiman has been a spiritual and moral voice for peace with justice. When others seek to divide, he calls for unity. Faith Forward Dallas at Thanks-Giving Square works to unite faith leaders for justice and compassion. Imam Suleiman has been a trusted leader among us. In the wake of his beautiful prayer to open the House of Representatives on May 9, he has received threats of violence and words of vilification when instead he should have our praise and prayers. We call upon people of good will everywhere to tone down the rhetoric, to replace hate with love, and to build bridges toward the common good.

Faith Forward Dallas at Thanks-Giving Square"
Commenters on the Faith Forward Dallas statement have left comments of support.
The group has invited locals and other leaders to endorse and share the statement. "Endorsed! I love and fully you Imam Omar Suleiman!" wrote Karen Weldes Fry, Spiritual Director at Center of Spiritual Learning in Dallas (CSLDallas), commenting on the statement.
Some commentators do not understand the manufactured controversy.  Heather Mustain writes, "What people are writing is so vile. They obviously didn't even listen to his prayer!" Imam  Omar Suleiman delivered the opening prayer in the US House of Representatives on May, 9th, 2019  at the invitation of Rep. Eddie Bernice Johnson (D) of Dallas, TX.
"I'm grateful for the faith leaders with whom I've built relationships with and served with for years that have shown full support throughout this process. Together we've stood with one another in solidarity in the face of bigotry, and in the support of others in any form of pain. We will not let these dark forces divide us," said Imam Omar Suleiman in response to the outpouring of love from the people he has worked with on the ground, building on peace, love, and justice.
#UnitedForOmar – Imam Omar Suleiman Smeared by Right-Wing News After Opening Prayer at US House of Representatives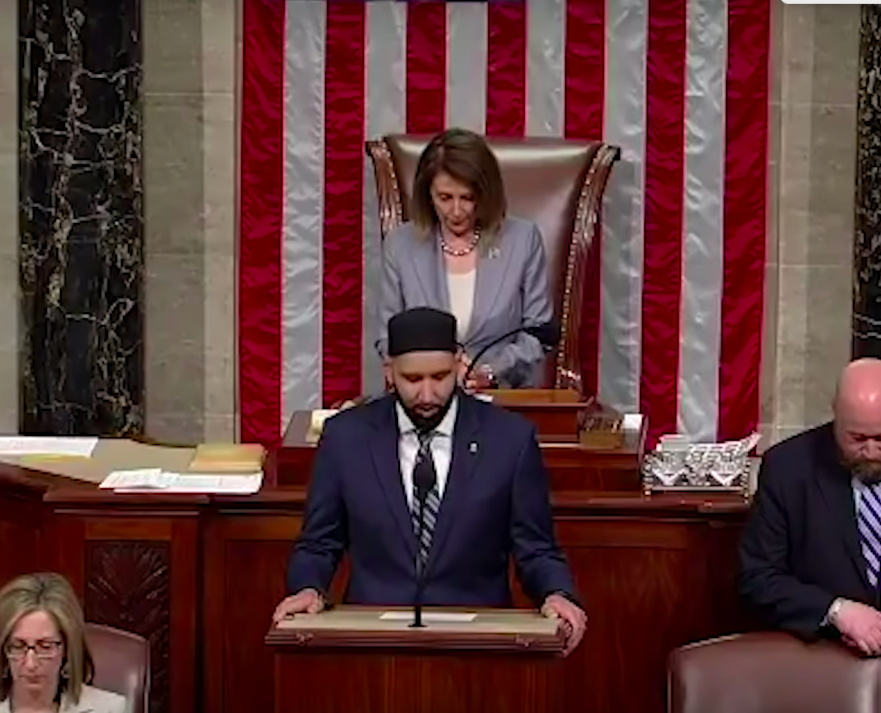 Sh. Omar Suleiman delivered the opening prayer in the US House of Representatives yesterday, May, 9th, 2019  at the invitation of Rep. Eddie Bernice Johnson (D) of Dallas.
Immediately since, right wing media platforms have begun spreading negative coverage of the Imam Omar Suleiman – calling him anti-semitic, a common tactic used to discredit both Muslim activists as well as criticism of Israel policies.
News outlets citing the criticism have pointed to a post from The Investigative Project on Terrorism or ITP, as the source. The  ITP was founded by and directed by noted Islamophobe Steven Emerson. Emerson's history of hate speech has been documented for over two decades.
Since then, the story has been carried forward by multiple press outlets.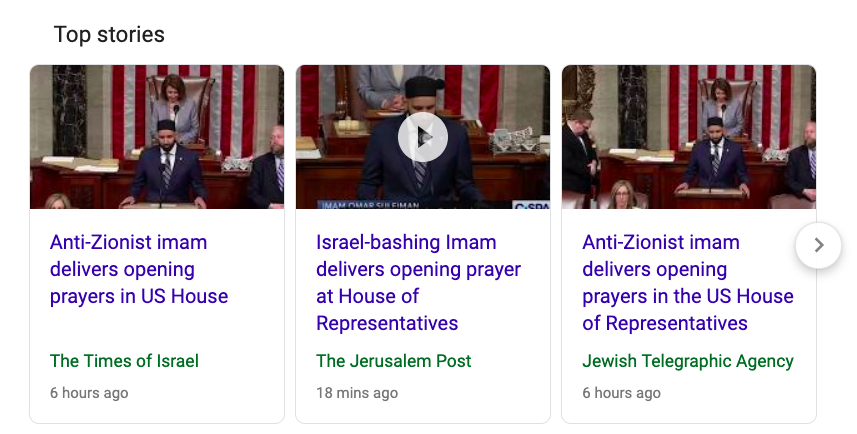 The immediate consequence of this has been the direction of online hate towards what has been Imam Omar Suleiman's long history of preaching unity in the US socio-political sphere.
"Since my invocation I've been inundated with hate articles, threats, and other tactics of intimidation to silence me over a prayer for unity," Imam Omar Suleiman says. "These attacks are in bad faith and meant to again send a message to the Muslim community that we are not welcome to assert ourselves in any meaningful space or way."
MuslimMatters is proud to stand by Imam Omar Suleiman, and we invite our readers to share the evidence that counters the accusations against him of anti-semitism, bigotry, and hate. We would also encourage you to reach out, support, and amplify voices of support like Representative E.B.Johnson, and Representative Colin Allred.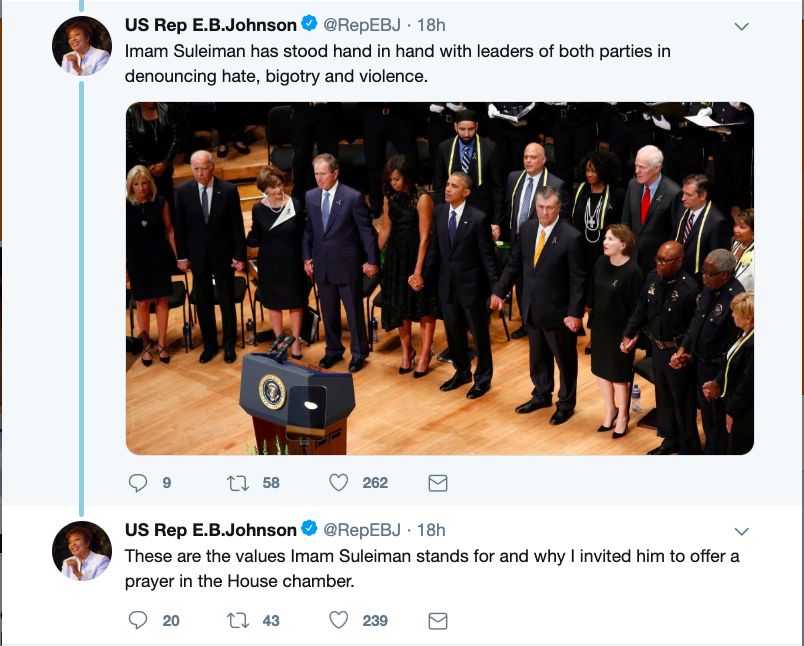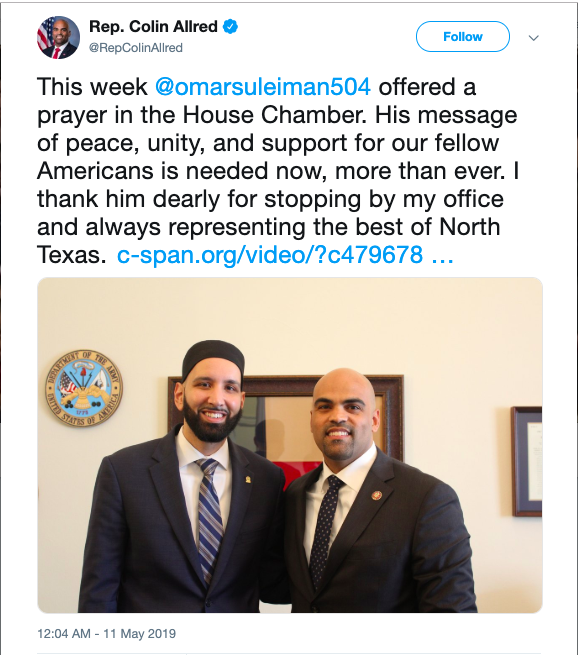 You can help counter the false narrative, simply by sharing evidence of Imam Omar Suleiman's work. It speaks for itself, and you can share it at the hashtag #UnitedForOmar
JazakAllahuKheiran
---
At an interfaith panel discussion, three North Texas religious leaders promoted understanding and dialogue among Muslims, Jews, and Christians. Amid a vexed political and social climate, three religious leaders in North Texas—a priest, an imam, and a rabbi—proved it's possible to come together in times of division. Source: DMagazine.com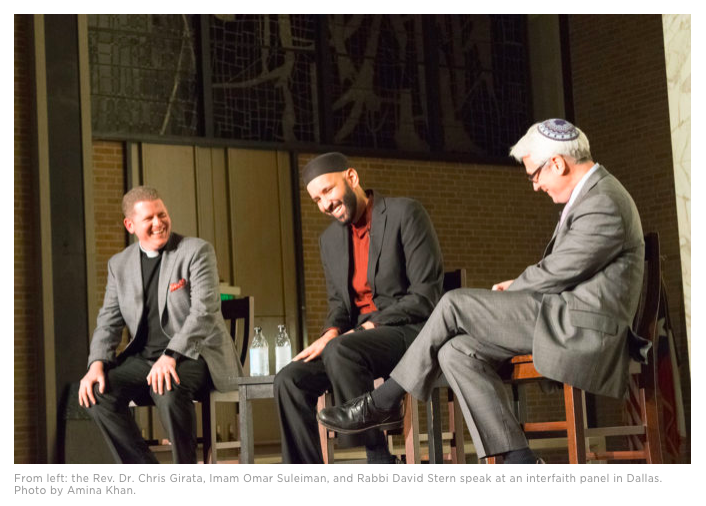 ---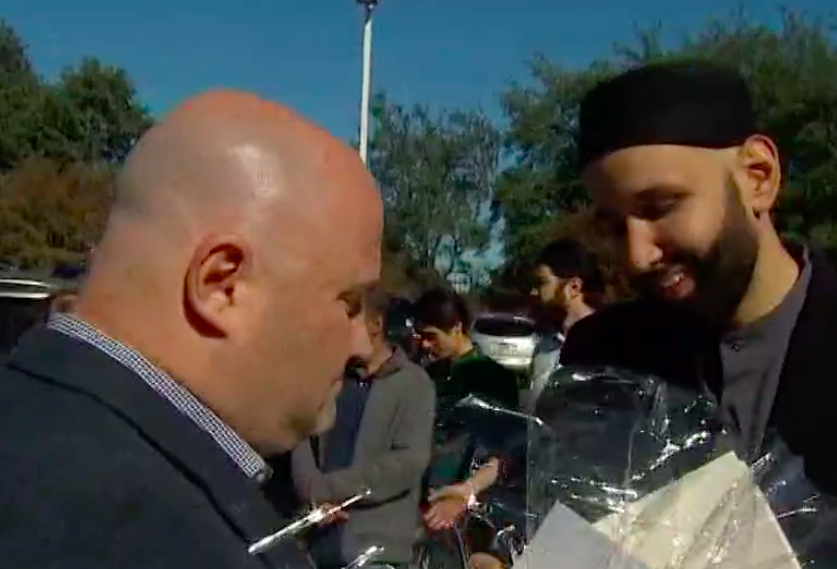 The congregation, led by Imam Omar Suleiman, penned more than 150 cards and letters. source: WFAA News
---
"We must recognize that the white supremacy that threatens the black and Latino communities, is the same white supremacy that spurs Islamophobia and antisemitism," -Imam Omar Suleiman
Source: Bend The Arc
---
"When any community is targeted, they need to see a united faith voice — that all communities come together and express complete rejection of anything that would pit our society against one another more than it already is." -Imam Omar Suleiman
Source: Kera News

---
Source: The Carter Center
---
Imam: After devastating New Zealand attack, we will not be deterred
"My wife and I decided to take our kids to a synagogue in Dallas the night after the massacre at Tree of Life in Pittsburgh to grieve and show solidarity with the Jewish community. My 5-year-old played with kids his age while we mourned inside, resisting hate even unknowingly with his innocence…" Source: CNN