Settling into a routine that guides our life on a regular basis can be a great thing, but sometimes the monotony or hustle of the daily grind can become draining—sometimes even spiritually draining!  There are times when we yearn to take a break from the daily routine and do something different that will be rejuvenating.
Introducing—the "Noor Jar."
This is something that came my way during the Health and Happiness Fair hosted by a student organization at my university.  It was a day's event on campus where they had arts and crafts, games, desserts, and other fun activities that students could participate in for free.  One of the booths was a "shine jar" booth, where you are given a plain jar to decorate and are meant to fill it with something.  Some of the ideas that were given were a "date night jar" with ideas for dates written on popsicle sticks or a gift to a graduating friend full of memories that you share with them written on slips of paper.
My idea was to create a "Noor Jar," almost like a personal "date night jar," but filled with activities that I could do to help keep myself spiritually renewed and happy.  Every month, I pick out a slip of paper and write it on my calendar to do for that month.
How to Make Your Own Noor Jar
1. Get a jar or any type of container.  This can be something you go out and buy or something you have lying around the house.  The only thing to keep in mind when you are making your Noor Jar is that you should be able to fill it with something that is easy to write on, like slips of paper or popsicle sticks.
2. Decorate your Noor Jar.  Have fun with this – you can go as simple as leaving your Noor Jar as is because it already looks great, or as complex as painting it and designing it in other ways.  Expend some energy in making your Noor Jar feel special, because the purpose it is meant to serve is special in and of itself.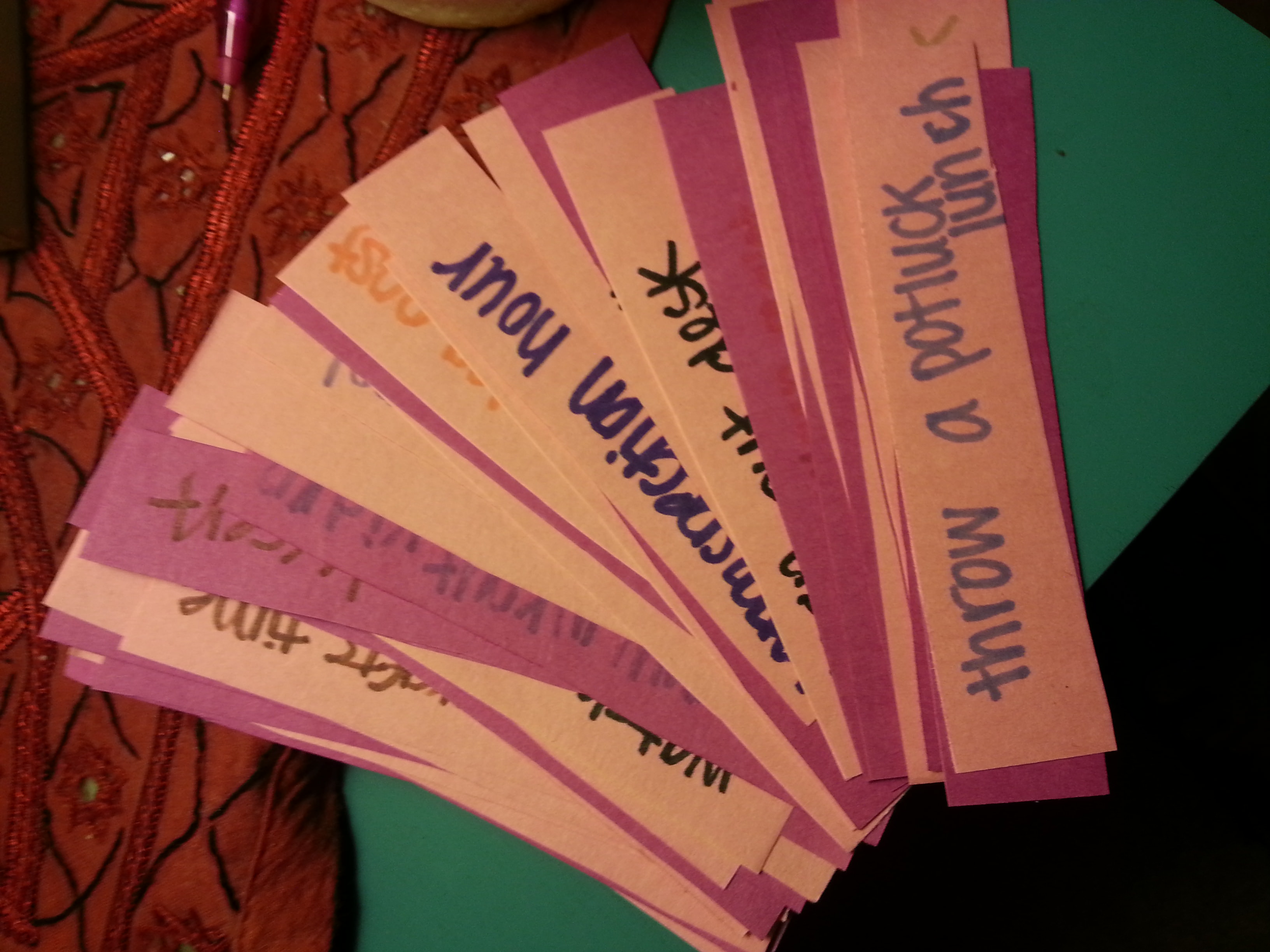 3. Fill your Noor Jar with activities.  Find some popsicle sticks, cut slips of paper, or find anything else that you can write on and get to stuffing your Noor Jar!  This one can be a little tough, but you'll think of great things to include in there!  The goal is to put anything that will bring your spirits up and make you happier.  Here are some examples of activities that I put in my own Noor Jar:
            Spiritual activities:   These can be activities that are generally considered good deeds or acts of worship.
i.       make dua for a special friend
ii.      give a small donation to a worthy cause
iii.      visit a different masjid for a lecture
iv.      memorize a new dua
           Social activities:  These can be activities that will help you spend time with the important people in your life.  One of the ways to grow as a believer is through good companionship and meaningful relationships!
i.      have a picnic at the park
ii.      bake with a friend
iii.      buy a gift for someone for no reason
          Personal growth activities:  These are activities you do for your own growth as a person or things you'd do to have some quality alone time.
i.      read a book you've been dying to read
ii.      spend a morning at the beach
iii.      turn off cell phone for a day
iv.      keep a character journal for a week
           Fun outings:  These are activities that you'd do every once in a while, fun day trips you would take or something that you would spend a little bit of money on.
i.      visit a museum
ii.      go on a hike in the mountains
iii.      take a day trip to the city
iv.      try out a new restaurant
            Chores or things you try to avoid doing:  These are meant to be those annoying chores or errands you have to run occasionally, but just hate doing!  If you ignore these for too long, they can end up being an unnecessary source of stress and frustration that can put a damper on your day-to-day happiness.
i.      get a car wash
ii.      clean out clothes from the closet and donate
iii.      delete old files from computer and update external hard drive
4. Use your Noor Jar!  Figure out how often you will use your Noor Jar—weekly, monthly, once every 3 months—whatever works best for you!  And then follow through and don't let your Noor Jar get sad by leaving it all alone collecting dust on a shelf.
Something I have come to learn is that we need to find our own happiness, and if it's not there, we need to create it for ourselves.  I thought this was a great way to bring some excitement in my life and to make sure that I don't drown in the hustle and bustle of the every day.  I have been using my Noor Jar for the past 4 months now. I love it and look forward to drawing a new activity from my Noor Jar every month!
You can customize your own "Noor Jar" for what you're looking for, and some spin-off ideas for different jars you could have could be things like:
new recipes you'd like to try
different daily duas/dhikr you would like to memorize and implement
friends you'd like to call and keep in touch with
I hope you enjoy your Noor Jar as much as I enjoy mine!